Dark hair is a classic, but it can easily fall flat when worn on its own. If you want to add some dimension to your locks or just simply breathe some life into them, adding highlights on dark hair is a fabulous idea.
So which shade should you choose? Frankly, you can go for just about any color because the dark hue works well with whatever color you have your eyes on.
But to help narrow down your choices, here are a few tips to keep in mind:
If you want a natural sunkissed look, go for highlight colors that are no more than four shades lighter and focus on placing the highlighted strands in the areas of your hair that are frequently exposed to light.
Consider your skin tone when choosing between warmer or cooler shades (i.e. warm shades for warm skin tone, cool shades for cool skin tone, and either of the two for neutral skin tone).
Now, if you're ready, go and explore some of the best highlight ideas for dark hair below.
Gorgeous Highlight Ideas for Dark Hair
Take a look at some of the best highlights on dark hair that we've come across:
1. Pink Balayage on Brown Lob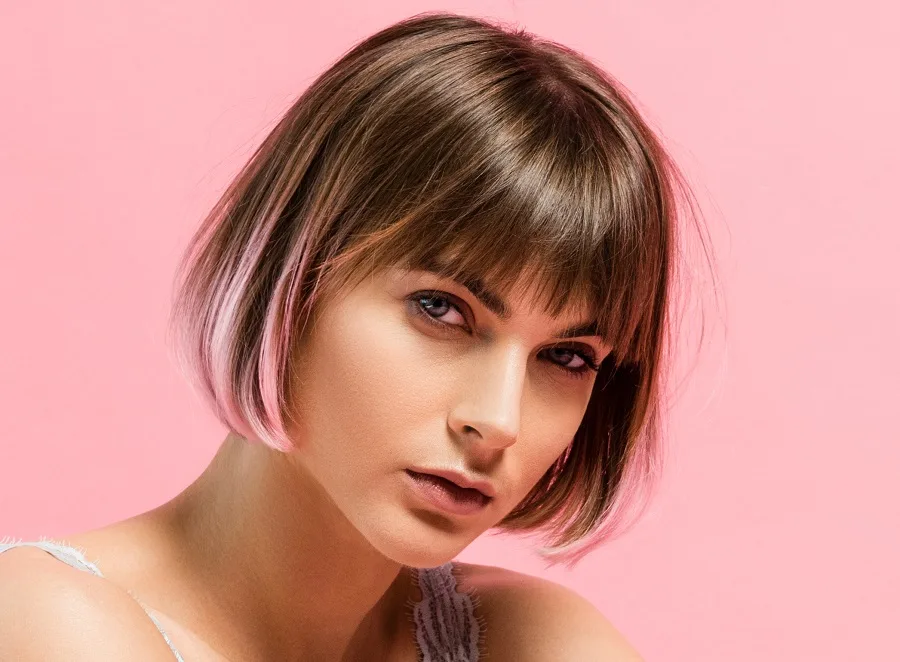 A baby pink ombre is exactly what you need to make this classic brown bob pop. This beautiful pastel pink shade is great for bringing out the rosiness from your cheeks and brightening your facial features at the same time.
2. Light and Caramel Blonde Chunky Highlights
This hair color gives us 2000's vibes, and we love it. These chunky highlights will give you a major throwback and make your hair look more voluminous and a whole lot thicker, so it's the perfect option for women with fine hair.
3. Copper Blonde Highlights on Auburn Wavy Hair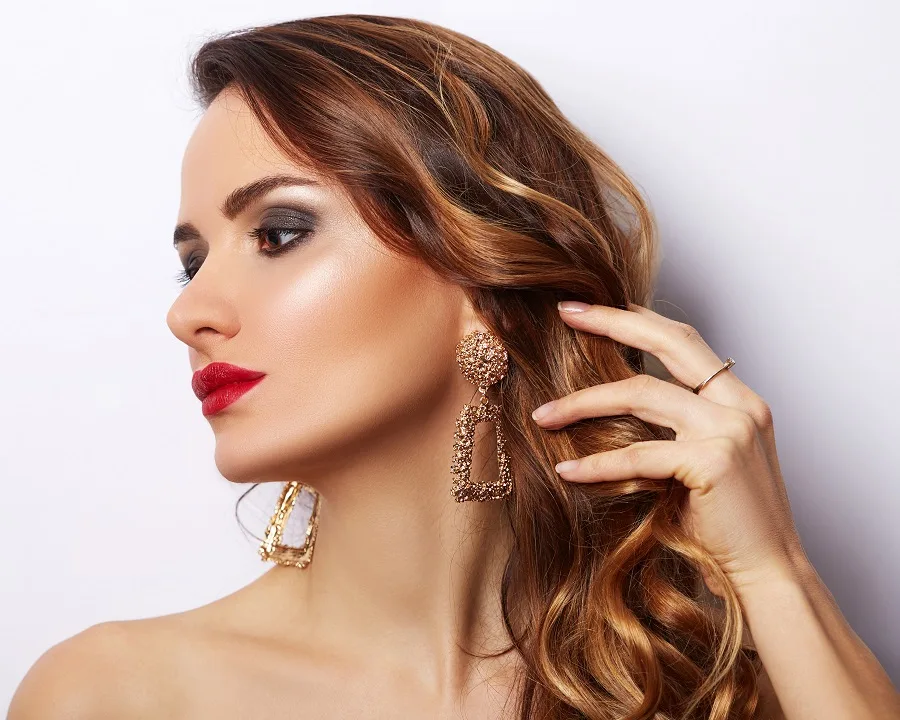 The deep auburn shade already has a lot of richness and warmth to it, but we highly recommend adding copper blonde highlights if you want to bring it to the spotlight. Since it also has a subtle red hue, it will give your hair a natural glow.
4. Pintura Highlights on Dark Red Brown Hair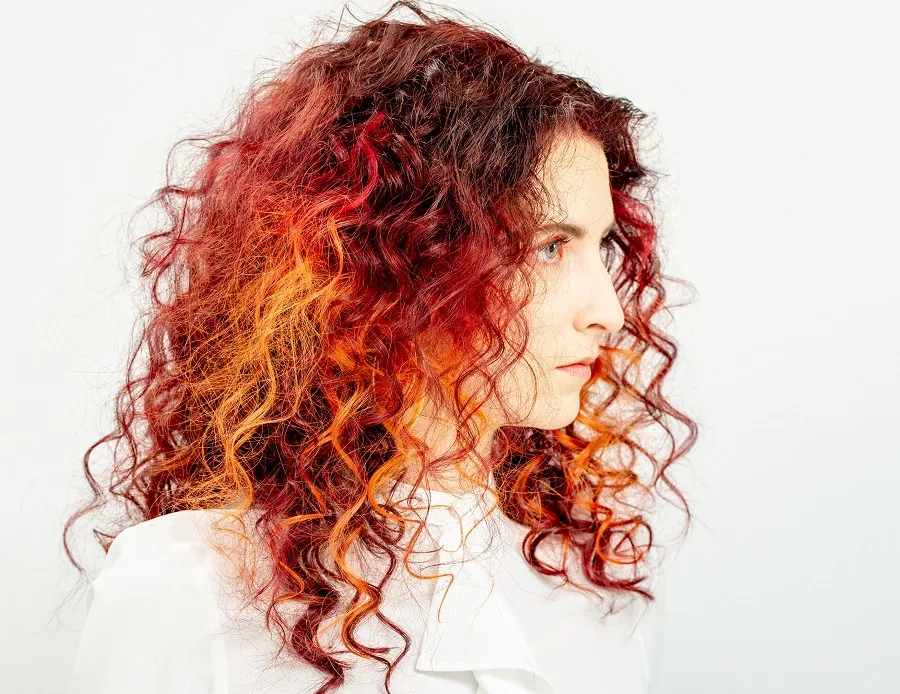 For a unique take on highlights on dark hair, ask for Pintura highlights from your stylist. This is a freehand balayage coloring technique that will allow your stylist to create a custom paint for your hair, like this bright and eye-catching look.
5. Pastel Purple Highlights on Black and Brown Lob
Add depth and dimension to your black and brown hair with pastel purple highlights. This light shade will add a feminine touch and cool tone to these dark colors.
6. Dip-Dyed Blonde Afro Curls
There's no better way to bring your afro curls to life than by dyeing them a brown-blonde shade. This coloring technique is called dip-dyed because the color is only applied on the tips, making it seem like the curls have been dipped in the dye.
7. Honey Highlights on Wavy Medium Brown Hair
Honey blonde is the perfect shade for giving your dark hair that sunkissed glow. The contrast between the blonde highlight and your base will also give your hair a better dimension and prevent it from looking too flat.
8. Bronde Moneypiece Highlights
If you want to enjoy the brightening benefits of blonde highlights but find it to be a bit warm, go for the next best thing which is bronde. This shade falls right between blonde and brown hues, so it will give you that subtle glow.
9. Metallic Blonde Babylights on Dark Auburn Layers
With these metallic gold highlights, you can make your dark hair shine bright. Just add a few thin streaks of this dazzling shade and you can give your hair the glow-up it needs.
10. Pastel Green Face-framing Highlights
Steal everyone's spotlight with this seafoam green money piece highlights. This pastel green is the touch-up you need to achieve a glamorous and expensive look even with a simple layered haircut like this one.
11. Dark Brown Updo + Multicolor Balayage
Give your formal updo a fun and playful touch with a few highlighted strands in deeper and darker colors. The richness of these hues is enough to give the updo a unique and creative spin while still maintaining its elegance.
12. Red Bangs on Jet Black Choppy Hair
Red highlights are exactly what you need to complete this edgy choppy hairstyle. The red tips emphasized the choppy cut of the bangs and complemented the overall gothic look of this hairstyle.
13. Light Blonde Chunky Highlights on Brown Hair
Blonde highlights are a classic and for lots of good reasons. Its light shade adds great contrast against dark hair which creates texture and dimension. But above all, it's the perfect color for giving your brown hair that sunkissed glow.
14. Chestnut Brown on Dark Curly Hair
Add a subtle pop of color to your jet-black curls with bright chestnut brown highlights. This will prevent your black hair from becoming too flat. Plus, the shine of the highlights will make the curls look bouncier.
15. Grey Moneypiece Highlights
If you want to keep your hairstyle sweet, and subtle, yet still stylish, ashy grey highlights are what you need. This smoky shade will give your hair a touch of mystery. But most of all, it counteracts the redness in the skin and transforms it into a light rosy blush.
16. Peacock Highlights on Black Short Hair
Admit it, the combination of colors in the peacock's tail is captivating. That's why it makes sense to use these colors on your dark hair highlights if you want them to stand out. To maximize the color blend's charm, you can use eye makeup in the same shade too.
17. Black Braided Updo with Caramel Blonde Balayage
This glamorous updo is sure to turn heads wherever you go. Since the caramel blonde is applied as a balayage, it placed great emphasis on the braids even if the rest of your hair is in a dark shade.
18. Blue Highlights on Dark Straight Hair
Wearing a full head of blue hair is definitely intimidating. Lucky for you, there's a way for you to ease into this beautiful shade and that's blue highlights on dark hair.
The key to this perfect look is to choose a rich and deep shade of blue instead of the bright and vivid ones.
19. Dark Copper Hair with Blonde Face-framing Highlights
This blonde and copper duo will definitely pile on warmth after warmth on your hair, so it's perfect for women with neutral or warm skin tones. The copper base will bring out the color in your eyes while the blonde highlight will instantly brighten your skin.
20. Black Ponytail with a Splash of Bright Magenta
For eye-popping highlights on dark hair, bright magenta is your best option. With its vivid hue, this shade is certainly not for the faint of heart but it's perfect for women who love to make a statement.
21. Yellow Blonde Front Highlights on Reddish Brown Shag
For those who want a more eye-catching shade of blonde, choose the warmest and brightest hue which is yellow blonde. With its unparalleled warmth, this highlight color would certainly look amazing against your dark reddish brown hair.
22. Black Shag Mullet with Purple Tips
Let's level up your shag mullet with an equally unique purple shade. This bright hue will give your hair a touch of royalty and that extra radiance you won't get from any other shades.
23. Full Silver Highlights on Layered Dark Hair
With this beautiful silver balayage, you can say goodbye to plain dark hair and hello to a fabulous ashy mane. This metallic version of platinum highlights will give your hair the extra dose of shine and light that it needs.
24. Blonde Peekaboo Highlights on Brown Wavy Lob
Surprise everyone you meet by adding blonde peekaboo highlights to your dark wavy lob. This technique will involve dyeing the strands underneath your hair a gorgeous blonde shade that will peek through every time you tuck your hair underneath your ear.
25. Black Wavy Lob with Blonde Moneypiece Highlights
Get that glow on your black wavy lob with blonde money piece highlights. Designed to frame your face beautifully, these highlighted strands will add that sunkissed glow to your hair and instantly brighten your complexion at the same time.
26. Fire Highlights on Brown Bob
If looking lit is what you're after, then this combination of red, yellow, and orange highlights is just what you need. While you're at it, opt for a blend of wider and thinner highlights to add extra pizzazz to your look.
27. Dark Brown French Braid with Multicolored Strands
Give your feminine French braids a fun and edgy twist with multicolored highlights. But instead of vibrant and neon shades, opt for darker and deeper hues that will complement your hairstyle's natural elegance.
28. Full Blonde Chunky Highlights
Go for that full retro look and create an illusion of thicker hair at the same time with blonde chunky highlights on dark hair. These wide highlights will create a stark contrast against your dark base and will certainly give it that head-turning glow.
29. Brown and Copper Blonde Highlights
Stick to the classics by going for a blend of copper and brown highlights on dark brown hair. Since these hues are just a few shades lighter than your base, they will blend seamlessly into your dark hair sea and give it subtle depth and dimension.
30. Lavender Face-framing Highlights
You can jump on the lavender bandwagon without fully committing to it by adding a few lavender baby lights and face-framing streaks to your dark hair. This pastel shade will not just add a splash of color, but it will also soften your facial features.
31. Black Top Bun with Green Highlights
To make your simple top bun look high fashion, a splash of green would certainly do the trick. Dark emerald green highlights on dark hair are your best option. Not only will it give off that elegant touch, but it wouldn't also require lots of bleaching and color lifting sessions.
Adding highlights on dark hair is the best way to give it an attention-grabbing update. The key to getting a hairstyle that suits you best is to choose the right color of highlights that would complement both your dark base and skin tone.