People joke that blondes have more fun and white blonde hairstyles are one of the top picks among brave hair fashionistas. It's a super bright color which will always catch the eye. This is a great shade for people who want to stand out from the crowd.
White Blonde Hairstyle Ideas
If your hair is not naturally white blonde in color, you may need to bleach it. Bleaching your hair will strip away all of the natural colors. Bleach is a harsh chemical and will damage your hair if it is not used properly. It will make your hair brittle and could make it fall out. Always follow the instructions. If you want to go blonde, check out these hairstyle ideas.
Platinum blonde hair is so bright that it really stands out in the crowd. Women with naturally platinum blonde hair will often have thinner hair, so may need to try some volume boosting tips.
White Blonde Highlights and Lowlights

Women who do want to add more texture and depth to their hairstyle should consider getting highlights and lowlights. Subtle color changes make the hair look thicker.
Thick Plait

Fat chunky plaits can be used in both casual and formal hairstyles. Create a crown in your hairstyle for a beautiful look for a wedding hairstyle.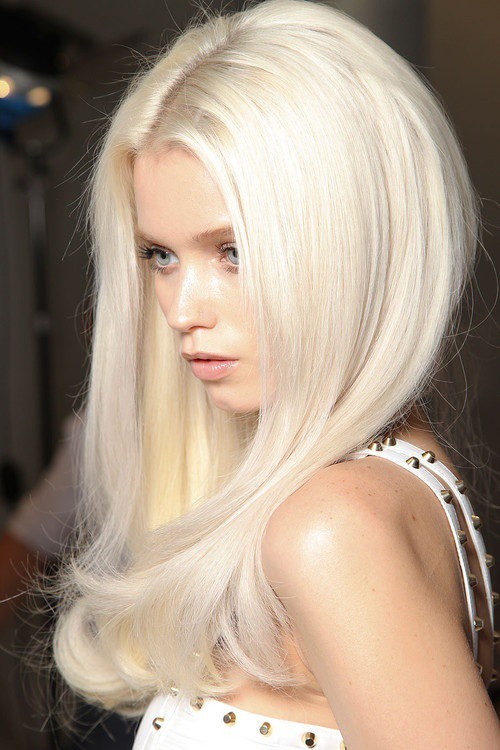 Super sleek barbie style hair is perfect for showing off your white blonde color. Use frizz protection products on your hair to reduce the risk of flyaway ends.
Blonde Gray Ombre

An Ombre color is one which gradually changes from one shade to another. White blonde and gray hair colors go really well with one another in an Ombre hairstyle.
Stylish and Greyish
Gray hair doesn't have to be a bad thing. Uniform grayish hair color can look really ethereal. Cut your hair in a stylish way to enhance the look even further.
Cotton Candy

A short voluminous style with big curls creates a cotton candy effect in a white blonde hairstyle. This look is really fun and flirty.
White blonde hair is bright and breezy. Your hair will look brilliant if you choose to color it with this shade of dye or bleach.