Last year Kylie Jenner brought back platinum & white blonde hair in fashion, along with her sister Kim Kardashian West. People joke that blondes have more fun and white hairstyles are one of the top picks among brave hair fashionistas.
It's a super bright color that will always catch the eye. This is a great shade for people who want to stand out from the crowd.
If you want to end up with this bombshell and beach-perfect hairdo, this article will help you achieve perfect white blonde highlights, ombre or balayage, while also suggesting the top 15 stunning & feminine design options.
How To Get White Blonde Hair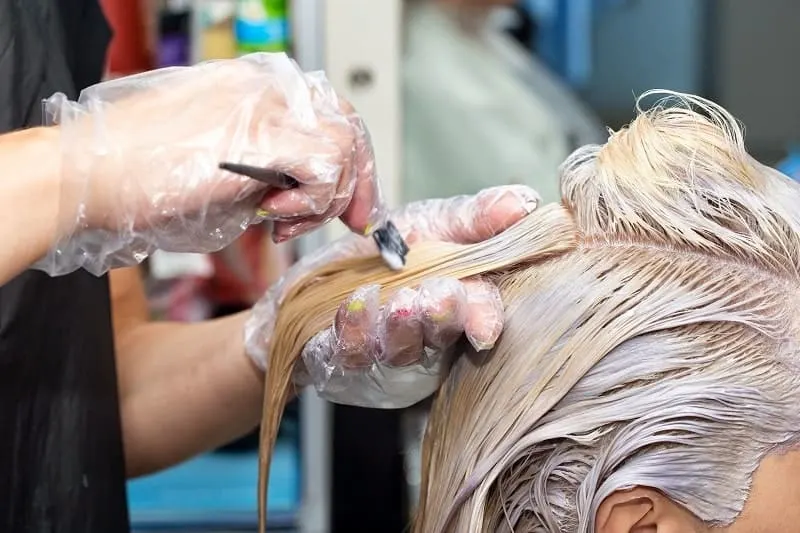 Step 1: Part your hair in sections and make sure you use a hair mask before the bleaching process. This will protect your strands additionally before you coat them in bleach, so drench your strands in some additional moisture.
Step 2: If you are also dying your roots make sure you start with them and apply bleach there first. Apply the bleach with a brush and let it sit on top for 30 minutes.
Step 3: Since your natural pigments are quite strong & dark on their own, you'll probably have to redo the process in a few weeks. Why? Because you will be left with a slight yellowish outcome. If you want to have a white-blonde hairstyle, it is crucial to repeat the process.
Step 4: Next time use two parts of a developer and one part toner and leave it on for 10 minutes. The toner will easily remove any yellow hues and will leave you with icy white hair.
Step 5: Minimize the washing and wash your hair twice a week, tops. This will help your hair color to stay in place a lot longer. Also, use purple shampoos since these are inexpensive yet ideal at keeping the tone of your hair fresh.
Watch The Following Video to Get White Blonde Hair Like Grannys at Home
Maintenance – What Experts Say:
Although this may seem a bit odd, you should skip on applying conditioner. It can reflect light and take away your new color while allowing the previous one to peek through.
Stay away from excessive use of heat tools. Bleach and heat don't go hand in hand, so try to keep your hair long & healthy on its own, while staying away from curling irons, blow dryers, hair straighteners, etc. If you really have to use them, make sure you protect your hair with heat-protective sprays.
Pass on using oil-based products but use a lot more of lavender shampoos & toners, as previously mentioned. Oils can awake the yellow tint in your hair, and cause it to lose bleach a lot faster.
White Blonde VS Platinum Blonde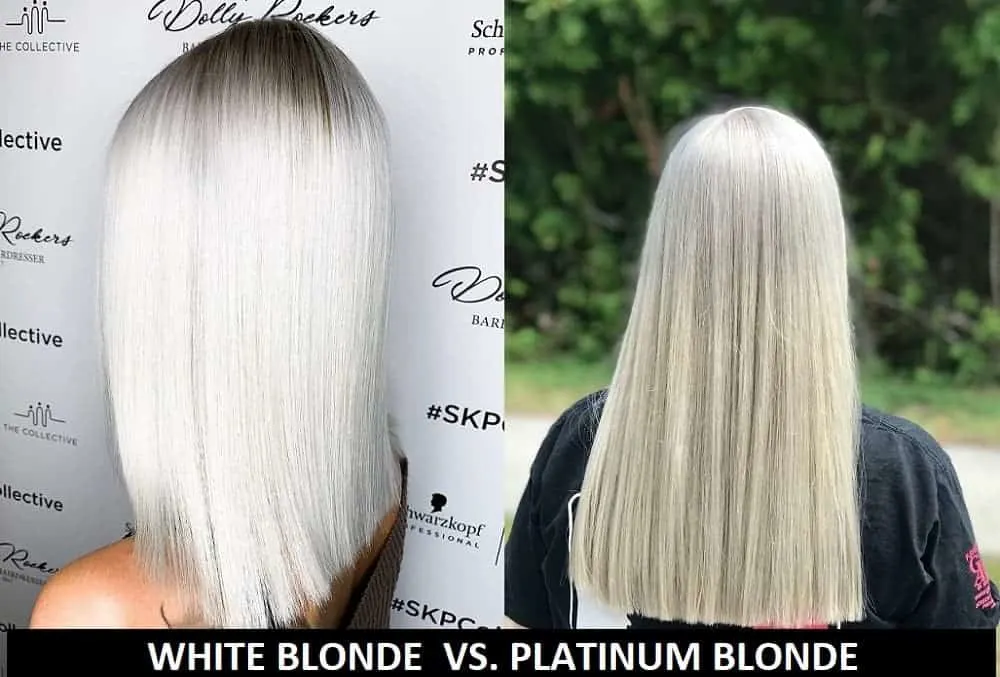 The main difference between these two blonde hair shades is that platinum hair will always have a slight hint of color to it. This means that it is very light and bleach-like, but with some yellow tones.
However, white blonde is a pure white (almost silver like color) where all of your natural hair is bleached, and there are no signs of other colors peeking through.
Top White Blonde Hairstyle Ideas
If your hair is not naturally white blonde in color, you may need to bleach it. Bleaching your hair will strip away all of the natural colors.
Bleach is a harsh chemical and will damage your hair if it is not used properly. It will make your hair brittle and could make it fall out. Always follow the instructions. If you want to go white, check out these hairstyle ideas.
1. Platinum Bob with White Highlights
A medium bob cut, when paired along with some white blonde highlights, won't go undetected! If this is your first time experimenting with simple styles (such as a bob) make sure you add an element of surprise and throw in some icy highlights.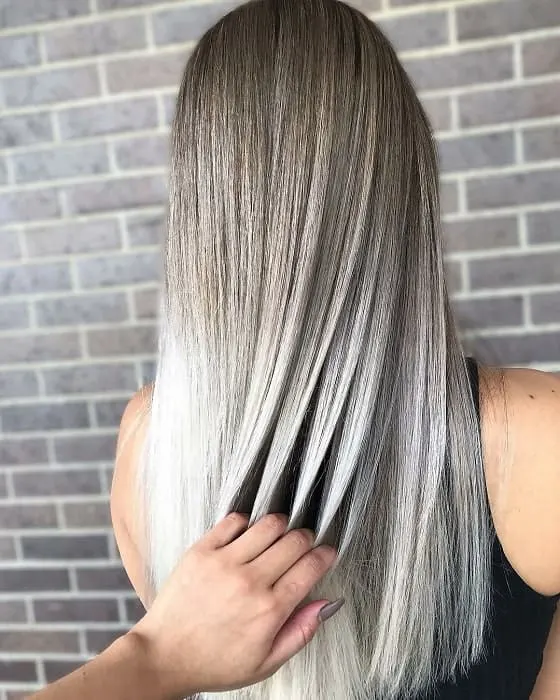 If you have naturally straight hair and you don't like curling it, simply give it some life & attitude by getting a set of white blonde ombre.
This white ombre look will suit you for both casual & night-time events and will look the best on younger women.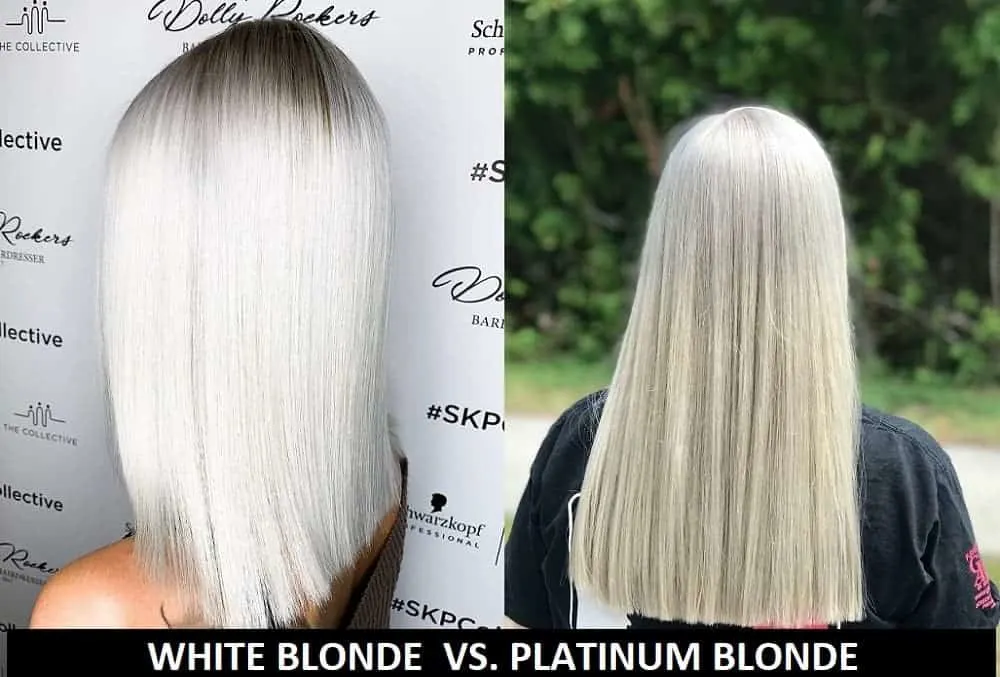 Platinum white hair is so bright that it really stands out in the crowd. Women with naturally white blonde hair will often have thinner hair, so may need to try some volume-boosting tips.
These babylights are peeking through at the end of this frizzy & textured messy bob hairdo, and they look appropriate for women who are in their mid-30s, working from nine to five.
This white blonde highlighted hairstyle is easy to achieve, all you need is a bit of a texturizing spray and you'll be good to go!

Women who do want to add more texture and depth to their hairstyle should consider getting highlights and lowlights with white blonde hair. Subtle color changes make the hair look thicker.
If you want your hair to look icy cold & fresh simply dye it entirely white blonde! This look is a lot similar to Kylie's and Kim's and is ideal for women who are trying to cover up some of their gray hairs.

Fat chunky plaits can be used in both casual and formal hairstyles. Create a crown in your hairstyle for a beautiful look for a wedding hairstyle.
These beautiful low-lights are ideal for women who want to look attention-seeking with their new white blonde hairstyle.
If you have naturally long, thick, and wavy hair, round up the entire look by getting these feminine & playful highlights, just around your ends.
Super sleek barbie style hair is perfect for showing off your white-blonde color. Use frizz protection products on your hair to reduce the risk of flyaway ends.
10. Blonde Gray Ombre

An Ombre color is one which gradually changes from one shade to another. White blonde and gray hair colors go really well with one another in an Ombre hairstyle.
These bob balayage white highlights are so well done and are ideal for women who love to look simple, yet classy.
If you don't feel like coloring the entire portion of your hair icy white, only get a set of white blonde balayage and enjoy your cute look. Also, don't forget to curl the strands just to give your hair a bit of that va-va-voom vibe.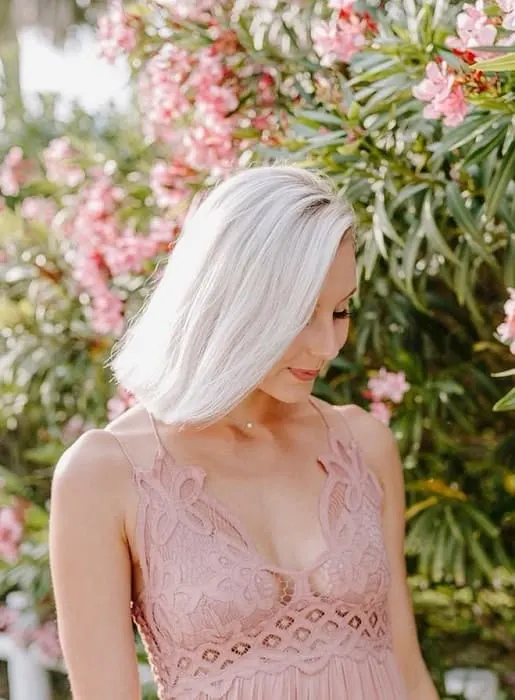 Sleek platinum white hair doesn't have to be a bad thing. Uniform whitish hair color can look really ethereal. Cut your hair in a stylish way to enhance the look even further.
For girls who are off to semi-formal events: this white blonde hairdo is a must! It is ideal for prom, weddings, and will suit every woman so well, no matter her age.
Make sure you set the curls with a lot of hairsprays and safely dance the night away!
14. Cotton Candy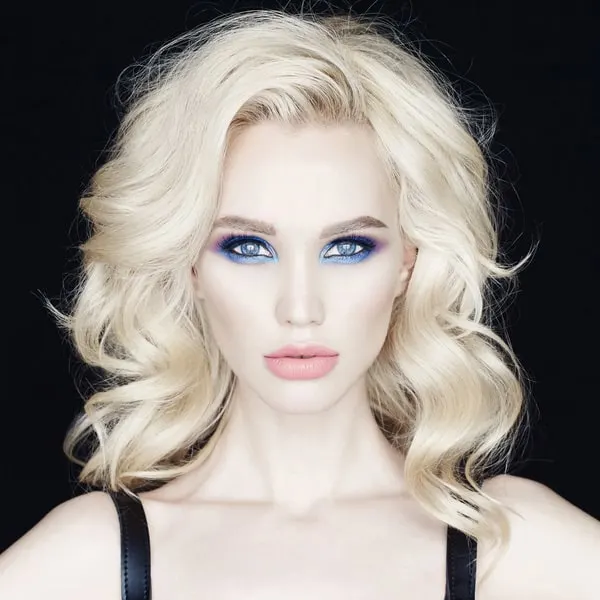 A short voluminous style with big curls creates a cotton candy effect in a white blonde hairstyle. This white blonde hair is bright and breezy. Your hair will look brilliant if you choose to color it with this shade of dye or bleach.
If you love ombre blonde hairstyle ideas; why not get one? This one is very dramatic-looking and is done so well where the top part of dark brown hair has seamlessly blended into an icy white end.
If you don't mind its upkeep know that this white blonde ombre hairdo is ideal for you!
FAQs on White Blonde Hairstyles
Can black women also try white blonde hair?
A white hairstyle can look so good when done the right way and at a professional salon. However, black women can have a hard time trying to cover up their natural darker pigments.

Since their hair is often very thick, long, dry, super dark & frizzy, it may take several attempts and one hell of a hairstylist to help you transition into a white blonde hairdo. Although it is not impossible, it is still quite hard to achieve.
How long do blonde highlights last?
Know that highlights and hair in general when bleached cannot fade. This is because you've previously stripped down all of your color and have left your hair bare.

Although the highlights won't fade, they can easily change their tone and go from cool to warm, and vice versa.
Ready to rock white blonde hairstyles in 2023? Both balayage and white ombre styles will suit every woman who loves a pair of attention-seeking highlights. Also, these will look great on you no matter your age, as long as you don't have too dark or hard-to-maintain hair.