Do you like the way straight hair looks and want to find out how to rock the style for yourself? Luckily, there's no shortage of straight hairstyles for black women.
Best Straight Hairstyles for Black Women
Whether you're wanting to grow out your natural hair but want to look stylish in the meantime, or you're just bored of your current look and need some new ideas, straight hairstyles come in all lengths and styles. So if you have a round, oval, heart, or square-shaped face, you'll find that at least a couple of these looks are perfect for you.
Check out these 21 straight hairstyles for black women for beautiful inspiration!
1. Black Short Straight Hair
Prefer a more manageable length? A shoulder-length bob with subtly flipped ends is the look for you. When you only need a center part, you can't get more low maintenance.
2. Long Straight Hairstyle
Show off your straight locks with a long hairstyle that comes past the neckline. For a bit more flair, deep colors like burgundy will complement your skin tone.
3. Medium Black Straight Hairstyle
When you want a hair length that's in between long and short, medium length is manageable but will still make you feel feminine. Pull the top half up into a cute braided bun or pony accented with small gold hoops to add glitz to the style.
4. Crochet Straight Hair for Black Women
If your hair hasn't grown out long enough yet, a crochet hairstyle that adds extensions is one option to achieve your desired length. It also lasts 4-8 weeks, so you're all set with style for a while!
5. Natural Straight Hair
For naturally straight hair, wear it down and wind-blown for celeb style. Pair it with a cute fedora or comb in a messy center part.
6. Pixie With Choppy Fringe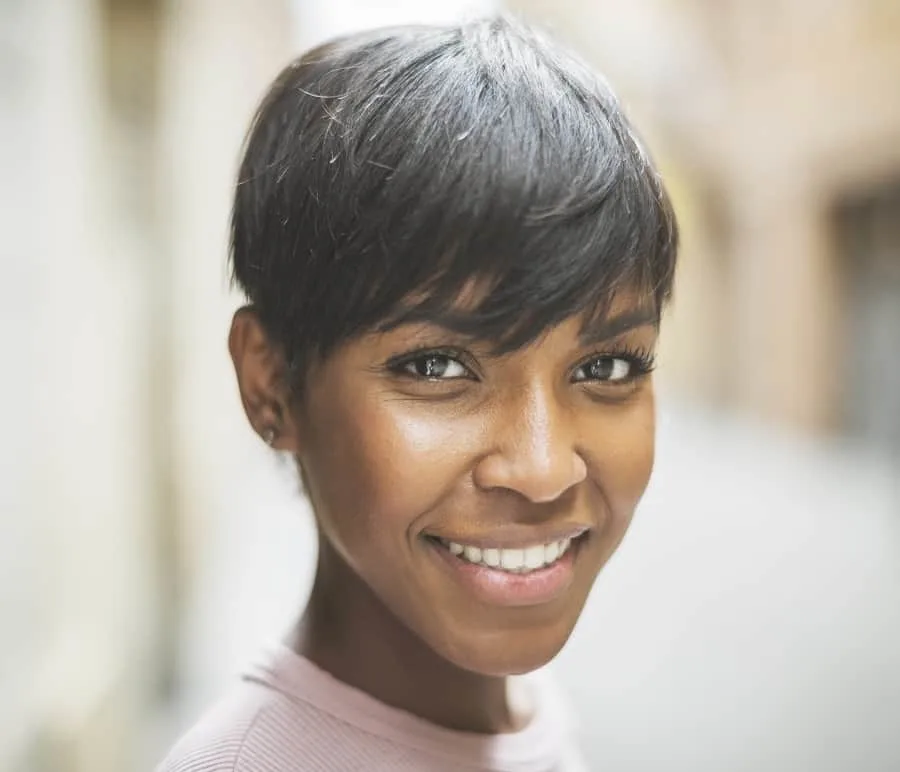 For black ladies who want to show off their natural growth, a textured pixie adds shape to short straight strands, while choppy, side-swept bangs add a modern touch—style with a hydrating pomade to keep everything in place.
7. Middle-Part Low Bun
Keep your look lowkey by smoothing your hair back into a pinned chignon with a center part. Not only does it keep frizz and flyaways at bay, but it also keeps your hair out of your face. Transition the look from the office to date night by adding a colorful barrette at the top of the bun.
8. Over-the-Shoulder Ponytail
Longer lengths can be hard to manage, but a simple, over-the-shoulder ponytail ensures your straightened natural hair stays put. Additionally, it doesn't require you to wrap your hair tie as tightly as a high ponytail, helping you prevent breakage.
9. Pigtails
Perfect for girls or those black women young at heart, classic pigtails are a cute and easy straight hairstyle that fits well into your early morning routine. You can try different parting techniques or add accessories like bows when you have extra time.
10. Razored Layers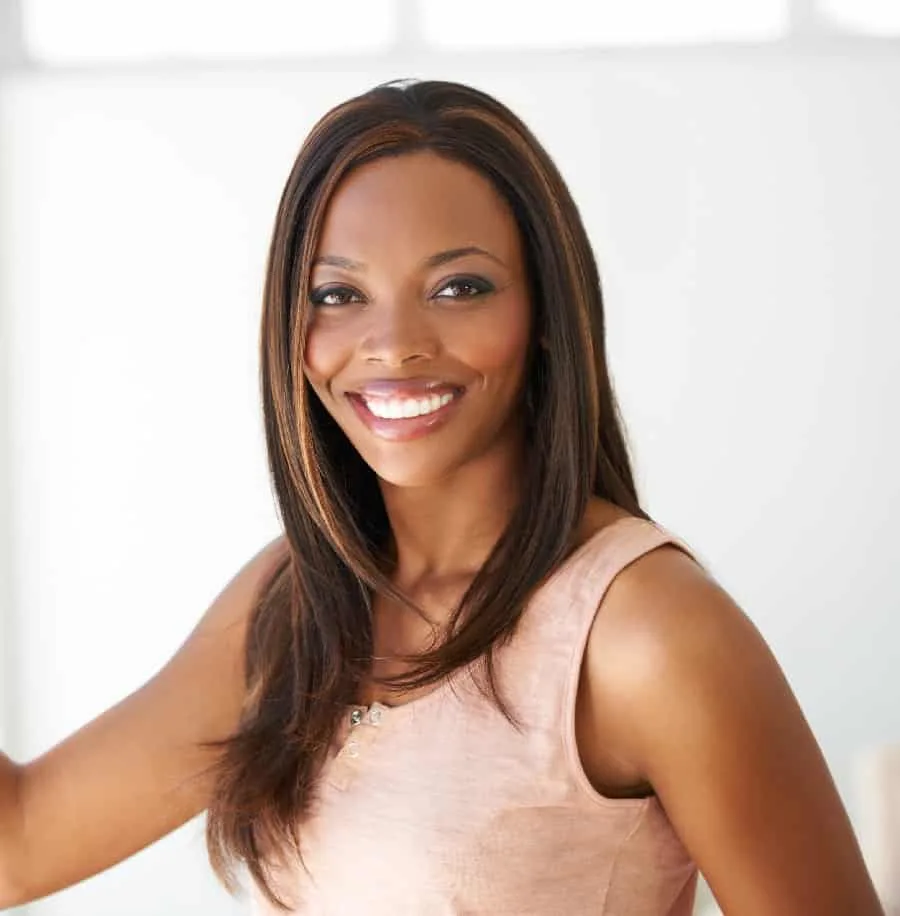 Razored layers take the weight off of long, black straight hair and create face-framing pieces that emphasize your natural beauty. Ask your colorist for chunky blonde highlights to break up the color.
11. Long Pixie Cut
The awkward grow-out stage creates a tempting opportunity to cut your hair short again. A versatile and edgy mid-length pixie is an increasingly trendy way to style hair that's shorter in the back and longer in the front, as it tames some of the more unruly pieces without sacrificing your hard-won growth.
12. Chin-Length Bob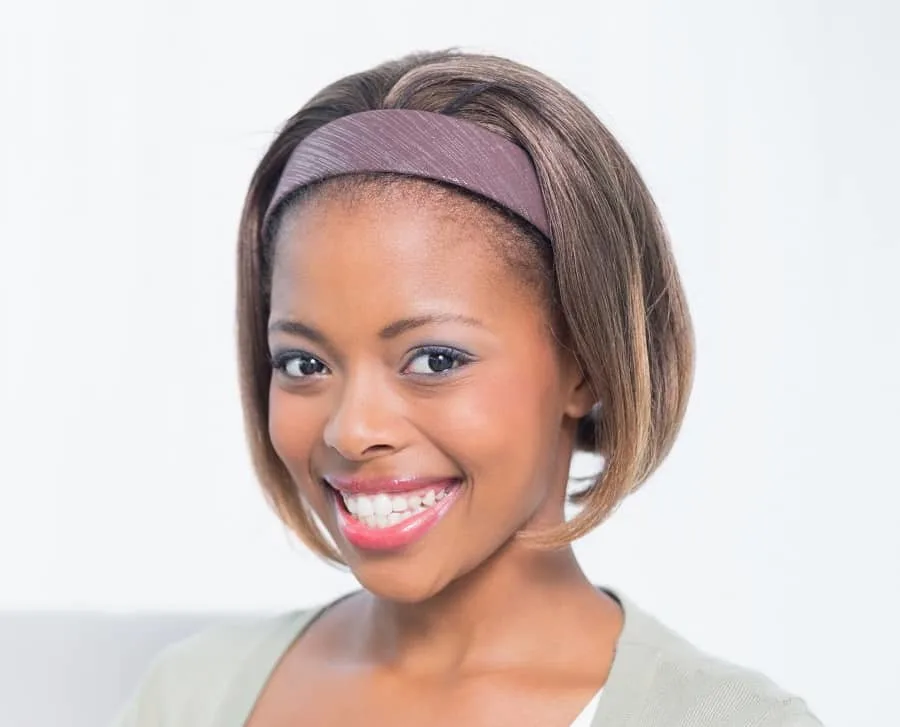 Bobs are a popular straight hairstyle for black women, as they require very little work and offer more styling options than a pixie cut. One downside, though, is that they often come with bangs that are too short to tuck behind the ears. A headband solves that problem and opens the door for a range of colorful accessories to enhance your look.
13. Loose Braid
Bad hair days can damper your mood, but this carefree style can turn things around in less than five minutes. Start by plaiting your hair; the messier, the better. Once secured, gently tug on the loops of the braid to loosen them further. Add a knotted headband or head scarf in an outfit-coordinating color for a bit of flair.
14. Ombre Lob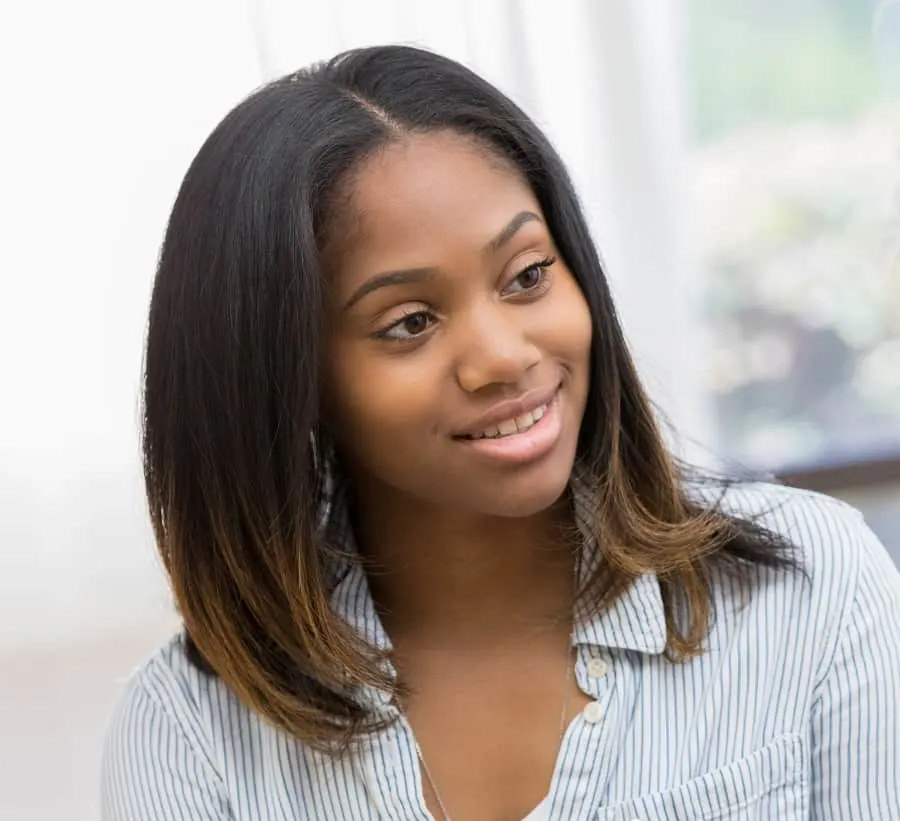 You don't have to cut all the length off of your hair to enjoy a bob's effortless styling and elegance. The lob, short for long bob, falls at the shoulder and makes a perfect canvas for a black-to-blonde dye job to spice up your look.
15. Black Straight Bob
This short straight bob flatters women with an oval shaped face. Cut hair at the jawline or shoulders and comb in a side part for volume or a chic center part for date night.
16. Black Straight Hairstyle with Weave
Another way to extend the length of your straight hair is with a weave. Worn slightly wavy or pin-straight, the style is timeless. A weave lasts almost two months, as well, so you won't have to do much keep.
17. Black Straight Ponytail
A straight high ponytail similar to singer Ariana Grande's is a hot trend these days. Paired with extra long bangs and wrapped in gold elastic, this is one dramatic style.
18. Black Straight Hair Bun
Heading to the gym or going out somewhere fancy this weekend? Wind up your straight hair into a thick bun to maintain style during your sweat sesh and pair your favorite jewelry with the bun for formal occasions.
19. Black Straight Hair with Bangs
Long bangs on a straight hairstyle will help you with a round face or a large forehead. Make sure they come past eyebrows for a sophisticated look that'll also look great when pulled back into a pony.
20. Thick Straight Hair for Black Women
Love the idea of having thick hair? Crochet or weave hairstyles will get you there! For extra body, use a curling iron or blow dryer to create large waves.
Your long straight hair will look adorable with a half updo like a medium or tiny bun and bangs. Color it up with dark red or bright orange to spice up the style.
These 21 straight hairstyles for black women are all easy to achieve with help from your stylist. For the woman wanting a protective hairstyle while growing out natural hair, or just to switch up your daily look, you can't go wrong with any of them.