Updos are favorite to every woman because of their ease and versatility. No matter you have dark skin or not, you know how convenient updos are. In this article, we want to present the most beautiful updo hairstyles that are perfect for black women.
If you haven't tried a braided bun, messy curly ponytail with beads, or a faux hawk, they need to be on your list. These styles are protective for black women wanting to grow out their locks while rocking a chic easy hairdo. And no matter your hair texture, there's a style that will work with it.
Trendy Updo Hairstyles for Dark Skin
Sometimes it can be easy to fall into a rut of pulling your black hair up into a bun or ponytail. But what's the fun of having hair if you can't style it into something gorgeous? Your next beautiful look is below in this list of 35 updo hairstyles for black women.
1. Thick Curly Bun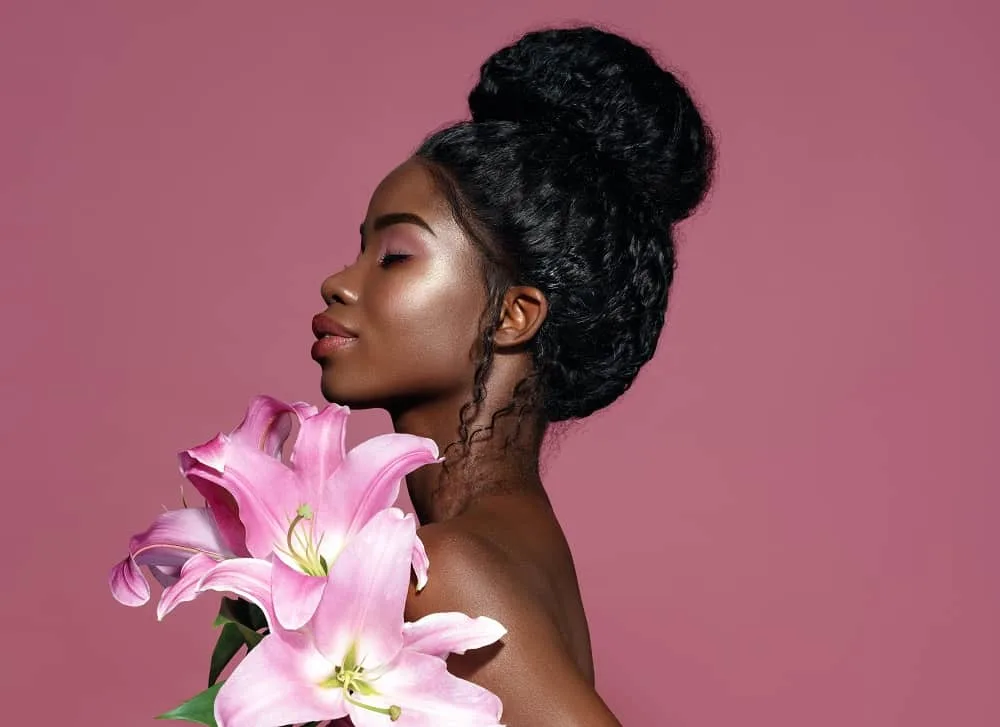 Those soft curls in your black hair deserve to be shown off! A large bun designed specifically for thick hair is the way to go. A sock bun accessory will help you get this perfect round shape. When finished, loosen a few tendrils for softness.
2. Loose Space Buns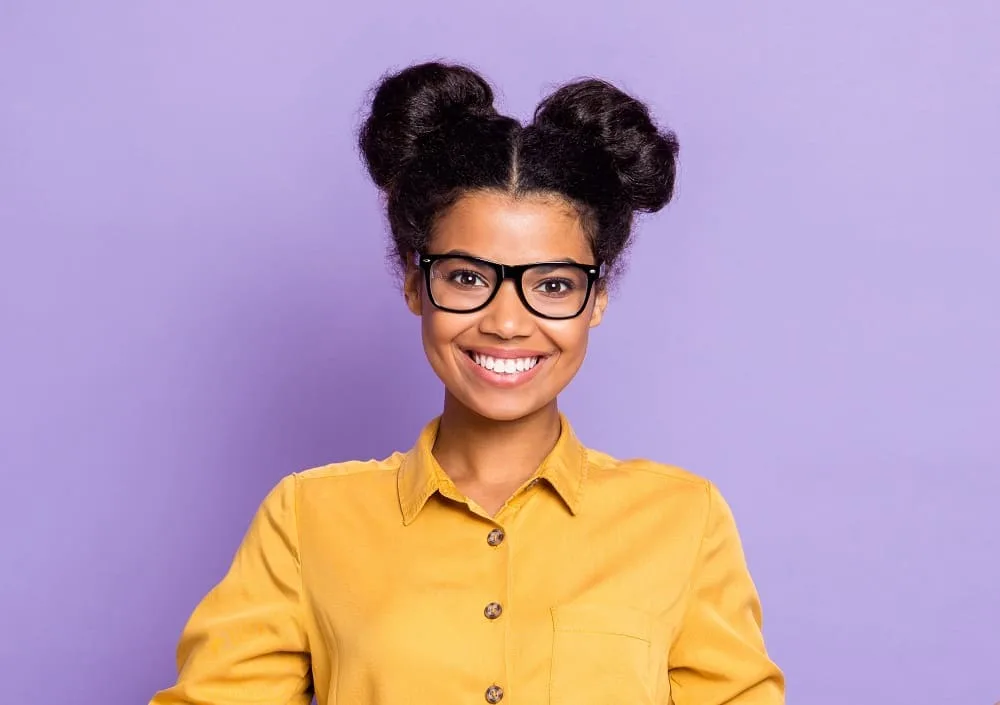 Space buns are often misunderstood! These beauties are no longer just for little girls. To try this updo for your black hair, first comb it out into a center part. Then loosely form two high ponytails, wrapping the hair loosely around for a thicker result.
3. Low Teased Bun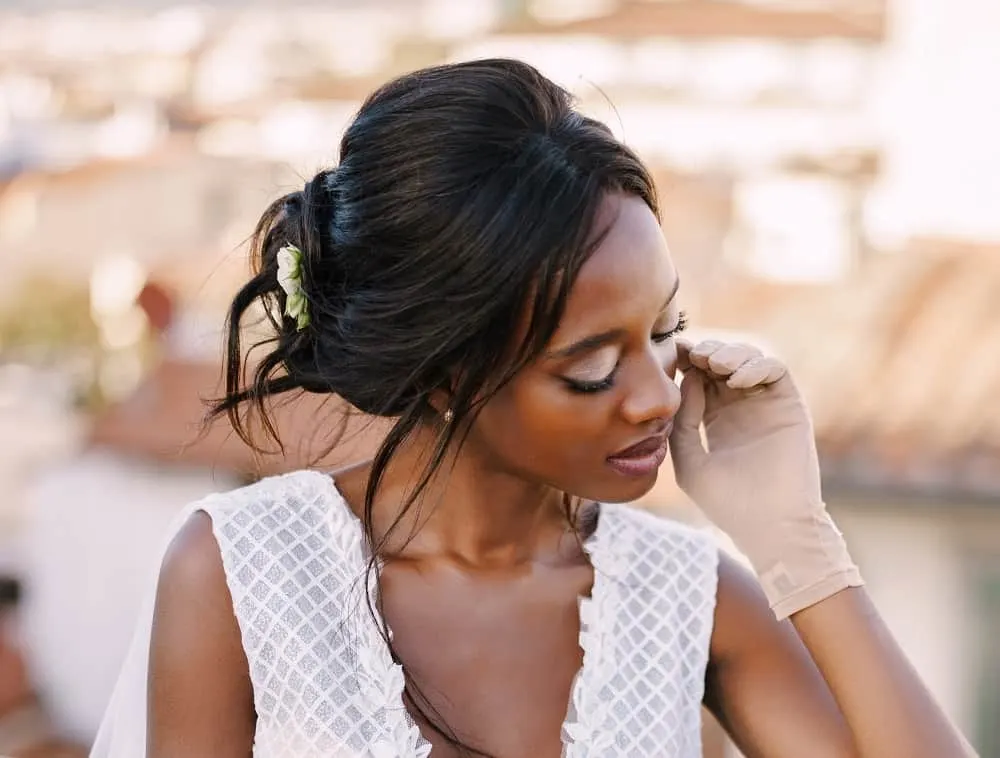 A wedding or date is the perfect occasion to flaunt your black hair in this beautiful updo. To give it a little height, tease the crown first before gathering together a messy, low bun.
4. Afro Ponytail + Bandana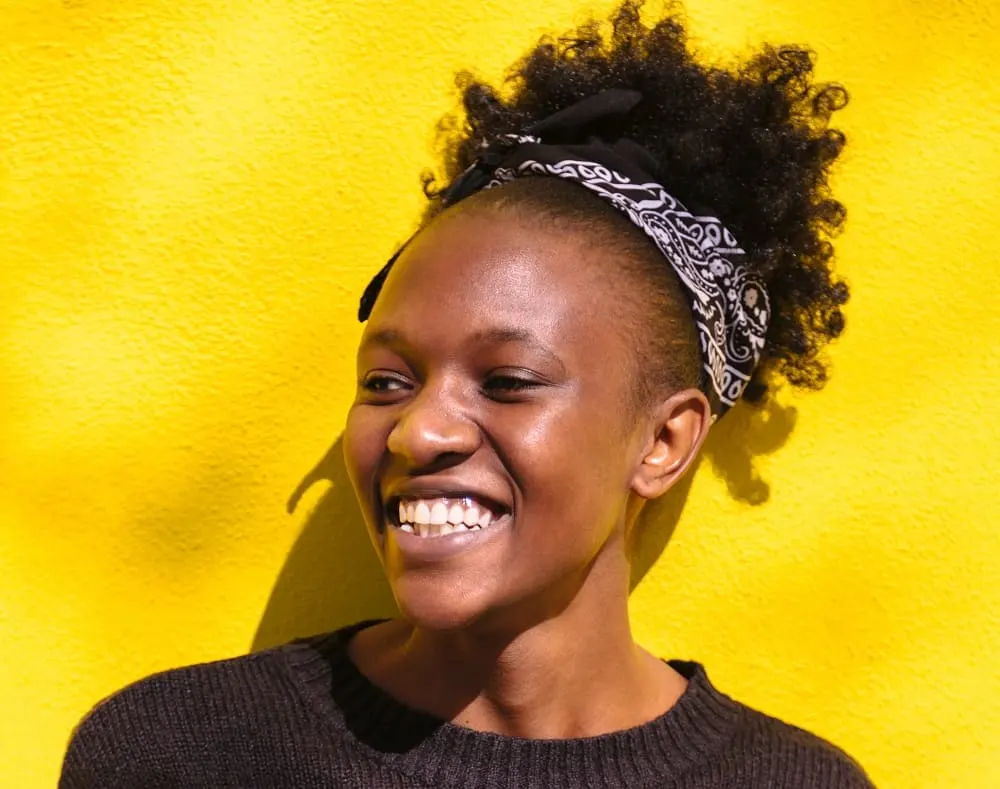 Using fun accessories is one of the best parts about having hair! If you have afro-textured or very thick curly hair, make a high ponytail, using a bandana to smooth hair off the face and add color and personality.
5. Sectioned Ponytail Bun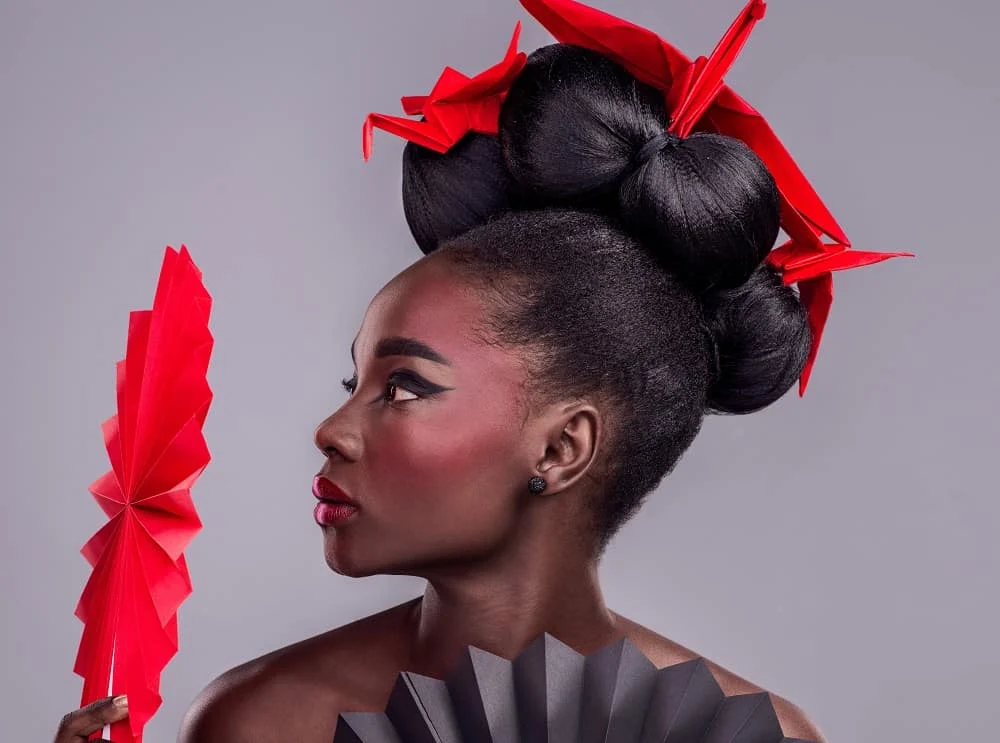 If you love model-worthy looks, you'll love this statement updo for black hair! It's smoothly combed into a high ponytail, then sectioned off before being wrapped into a bun. For added drama, play with bold, bright hair clips.
6. Messy Bun for Curly Hair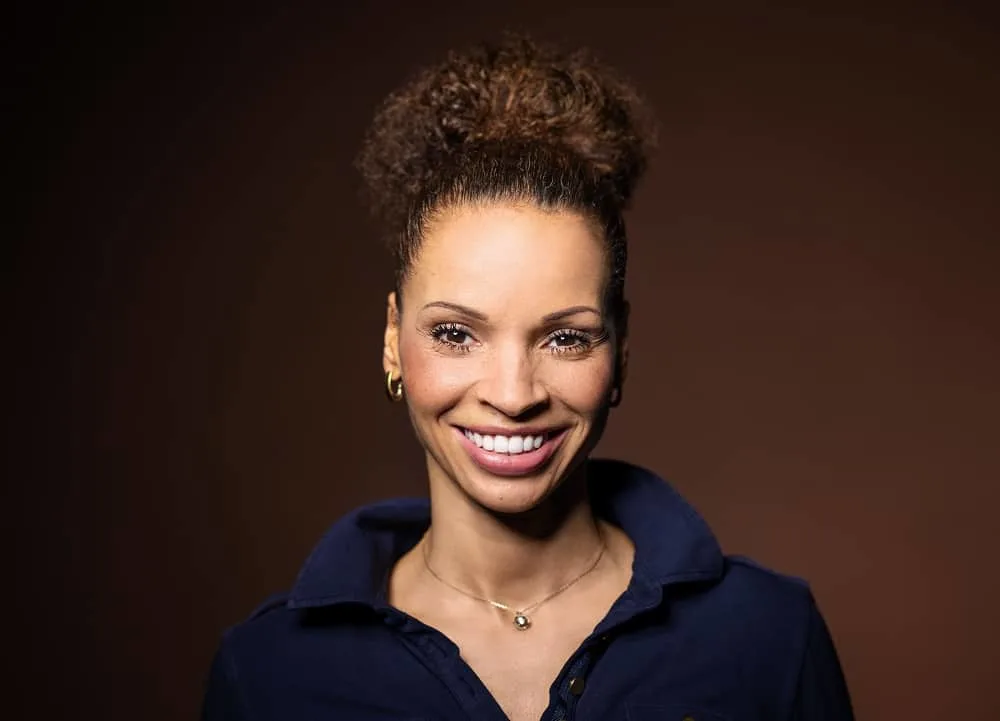 Take the struggle out of styling natural black curly hair and just go with a messy bun! This updo is never out of style and takes just a minute to throw up in the morning. Keep it from looking too sloppy and bedhead by using anti-frizz spray to smooth hair.
7. Braid Bun with Short Bangs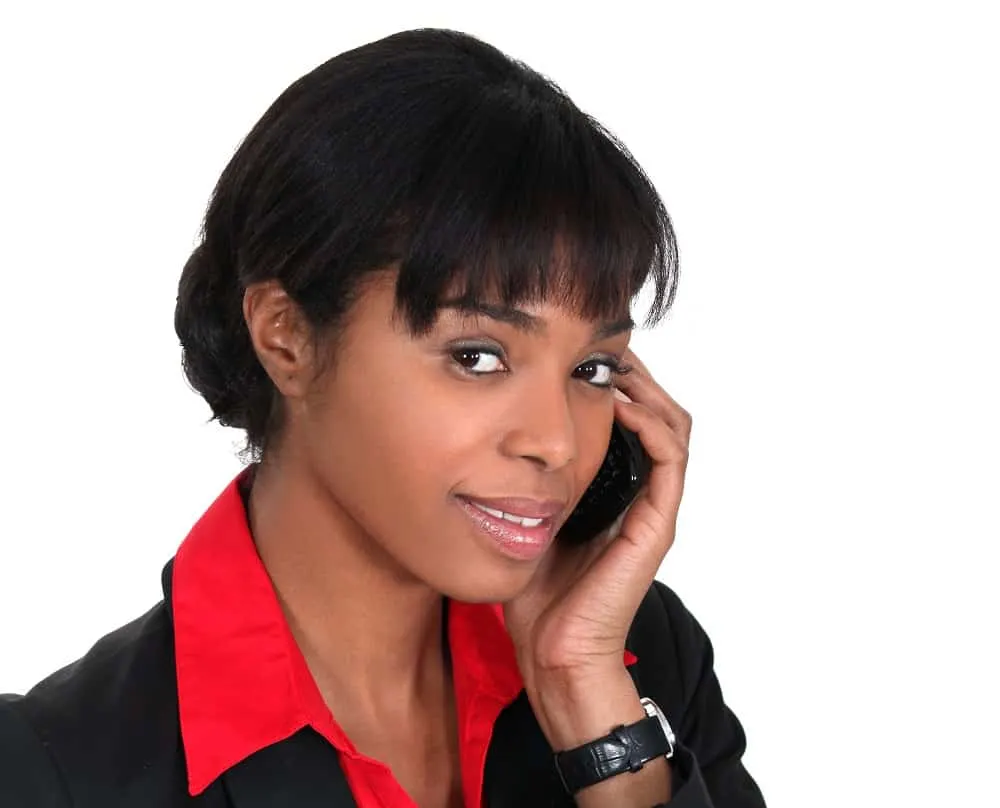 Work hairstyles don't have to be boring. Treat your black hair to an elegant updo one day. A low braided bun is chic, especially when paired with short straightened bangs.
8. Box Braid Bun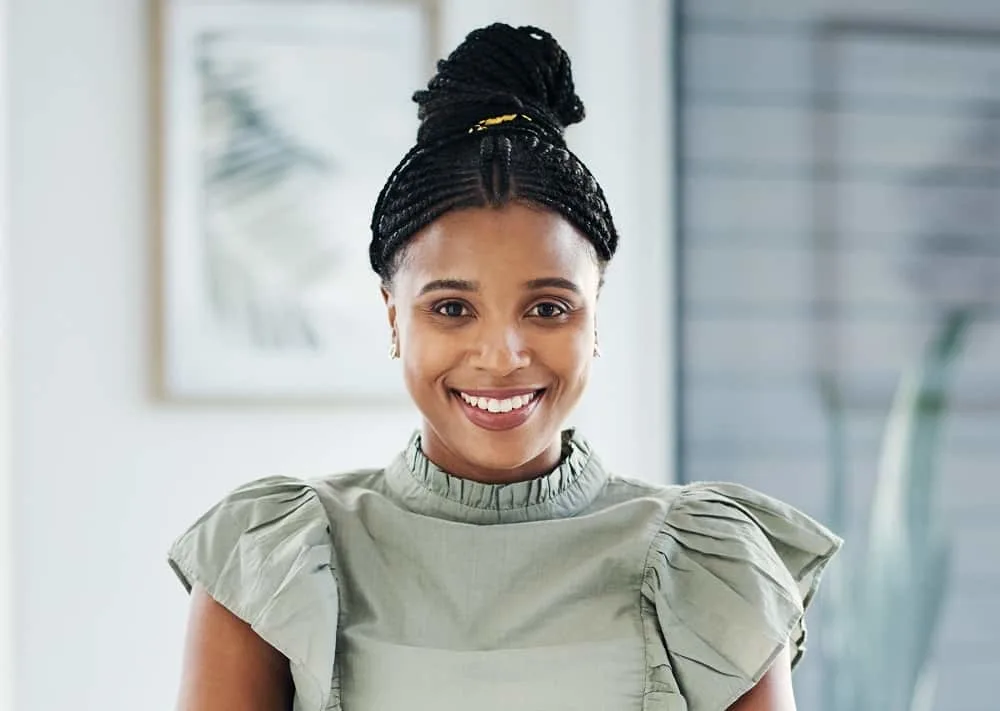 Both micro braids and box braids are a popular, protective hairstyle for women with black hair. When you go with extra long braids, you can make this bun updo featuring a bright colorful hair tie for pop!
9. Thick Curly Bouffant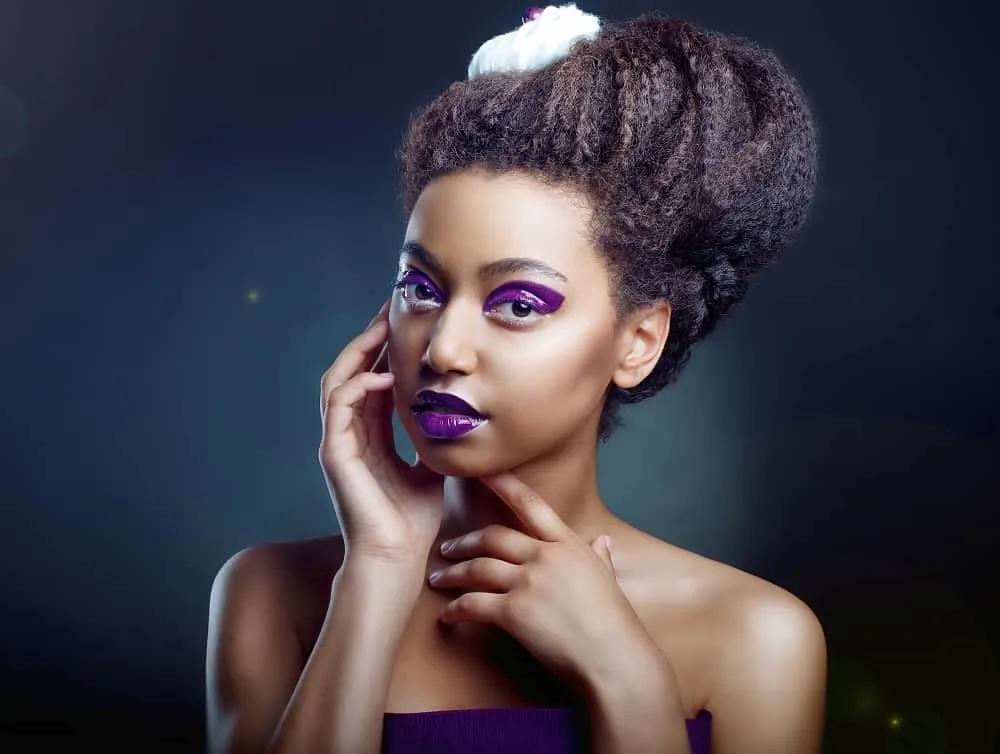 When you need a dramatic updo for a special occasion, you can't go wrong with a bouffant! The elegant look is ideal for black women with thick curly hair. Use hair accessories in contrasting colors like white feathers or flowers to dress it up.
10. Swirled Braids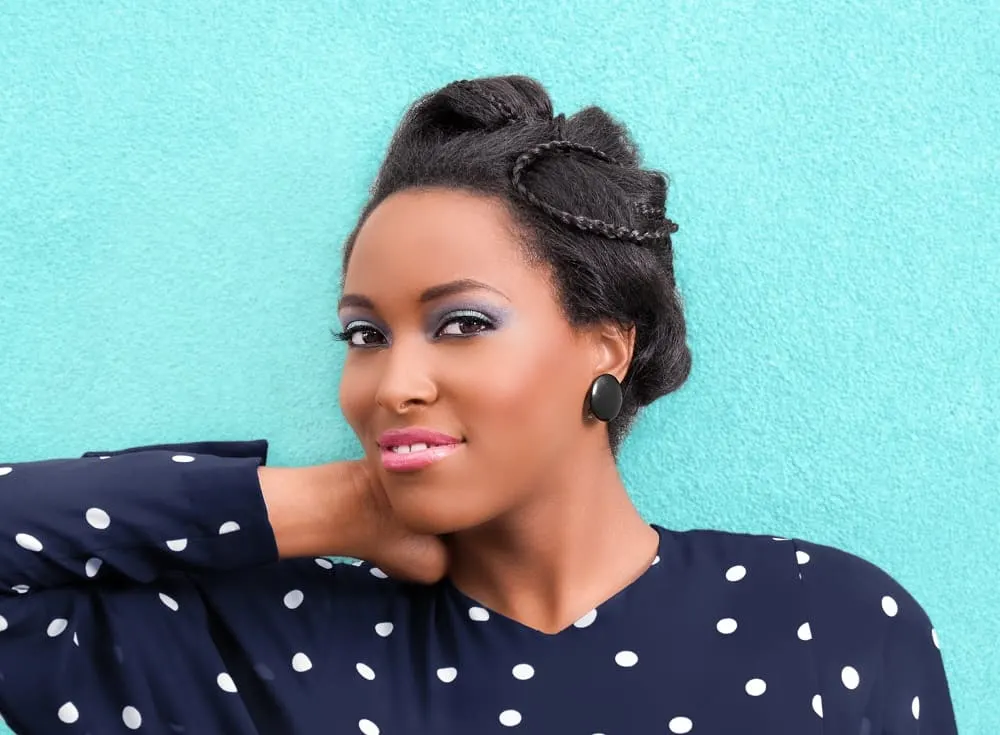 If you have short black hair, you can still rock an updo! Try this wavy style which uses thin, swirled braids to add that soft, feminine touch.
11. Curly Detailed Faux Hawk
Use your creativity and achieve stunning variations of updo hairstyles. A thick faux hawk is edgy yet still feminine when filled with curls. The sides are shaved with lined details that can easily be shaped into zigzags or waves.
12. Braided Triple Bun
Form three sections at the back of your head to create twisted buns. The front section of the hair is then braided and formed into a circular bun.
13. Black Curly Ponytail
Luscious tight curls are draped over the head with this black ponytail. Wear a printed or colored bandana just at the forehead line to complete this look.
14. Black Braided Wedding Bun
For the special day, choose a braided bun semi off center close to the forehead. While shaved sides are a beautiful edge, this look is gorgeous without. Pin in a jeweled faux flower that will pair well with or without a veil.
15. High Thick Bun
This is probably one of the commonly seen black hair updos. A high thick bun is the perfect option for a chic daytime look but can easily be taken into a nighttime date style. Smooth frizz with hairspray for sleekness.
16. Jumbo Braided Crown
Braided crowns are super romantic. Thicken up your braid with a weave or sew-in. Leave two thinner braids near ears loose for softness.
17. Ballerina Bun with Bangs
If you have long bangs, straighten them to wear with this sophisticated ballerina bun hairstyle, professional for the office and sweet to wear at any time.
18. Stacked Bun with Weave
Stacked buns make for a beautiful hairstyle for black women with thick hair. Adding in a weave will give you longer length to make your bun taller. Straighten the hair first, then wind it up, smoothing baby hairs for finish.
19. Curly Black Ponytail with Tendrils
The soft tendrils on this curly ponytail frame the face delicately. Adding a flowered headband or other hair accessories will dress it up for special occasions.
20. Burgundy Finger Wave Updo
A perfect black updo hairstyle to wear on your special day. Adding color, like this deep burgundy, will update the classic finger wave hairstyle, which can work for both long and short hair.
21. Long Wavy Ponytail
Show off your long locks on a ponytail with wavy ends. Smoothing down bumps and frizz keeps the look elegant, as does wrapping your pony with a section of hair instead of using an elastic.
22. Natural Black Formal Updo
For afro-textured hair, a blowout will tame frizz so you can sweep hair up into a smooth double bun. One wrapped at the back, and one at the front.
23. Caramel Twists and Braid Updo
A combination of braids and twists fill this black updo with detail. Add caramel highlights for a nice complement that also flatters dark skin.
24. Sleek Ballerina Bun for Child
Your daughter will love this high ballerina bun. Create a ponytail, then wrap up locks into a top knot or bun, smoothing hair with product.
25. Cornrow and Curls Updo
French braided cornrows detail the back of this black curly hair updo. Define your curls with a hair oil which will also keep your locks healthy and shiny.
26. Low Bridal Bun
Looking for a bridal updo for black women? Low buns are the perfect bridal hairdo when you don't want to wear your hair down. Fill it with curls and leave tendrils to drape down the sides of your face for the ultimate romantic vibes.
27. Braided Mohawk
A mohawk isn't typically the hairstyle you wear to a formal event, but when you combine braids with it, it's a must-try! Use a Dutch braid to create this mohawk, then pull the woven strands loose a bit to make it soft and romantic.
28. Side Swooped Bun
We love this elegant updo hairstyle for black women. Tyra Banks has rocked this side bun on more than one occasion. One easy way to get the look for yourself is by combing the hair in one direction near the nape of the neck, then forming a low ponytail and winding hair around it. Secure it in place with a plain hairpin or a fancy flowered one.
29. Crochet Pony with Beads
A poofy ponytail is just the thing to turn your traditional ponytail into something fresh. The ends stun with magenta color, while pretty silver beads decorate the slicked-back top.
30. Box Braided Bun
When you have long box braids, you'll want to wear them down all the time to show off the length. But try out this beautiful bun updo, perfect for anywhere from just a gym workout to that fancy date night you've got coming up.
31. Half Twisted Bun for Black Hair
These twisted black locks are smooth spirals all the way down past shoulders, featuring ends that are loose romantic curls. Pull the top half of your hair into a gorgeous bun centered on the top of your head for a statement style.
32. Twisted Top Knot
For long black locks, a top knot is one of the most gorgeous hairstyles you can rock. To start, straighten the hair to maximize its length. Then comb and smooth it all into the top knot, finishing with style spray for shine.
33. Black Messy Updo with Bangs
Look effortlessly beautiful with a messy updo that shows off your best feature: thick curls. Whether it's a messy bun or ponytail, throw it up on top of your head and let curly bangs lie across your forehead.
34. Braided Updo with Shaved Sides
A braided mohawk with shaved sides is the epitome of edge for a woman's hairstyle. For maximum detail, choose highlights in a dark color, like this maroon, and shave in lines to the sides of your head.
35. Bun for Straight Hair
When you have a fancy evening planned, sweep your straight hair into a low bun. Fasten a gold chain adorned with a flower into the hair to feel like a princess and you're set! To touch up frizz, use fingers to apply an anti-frizz creme that will also increase shine.
To keep your curls or other textured hair healthy, take care of it with conditioners and hair oil. At the end of the day, your perfect updo hairstyle will make you feel like a queen.