These days it seems many women are choosing to wear hairstyles for straight hair, whether it's naturally straight or they achieve smooth locks with a flat iron.
Straight hair is a texture easily achievable on any woman, no matter their texture, and there is always a cute cut ready to help it flatter your face shape. From layering and color to updos and a mix of long or short haircuts, you won't be running out of ideas for straight hairstyles anytime soon.
For the best haircuts and hairstyles for straight hair, pick from one of these 45 beauties!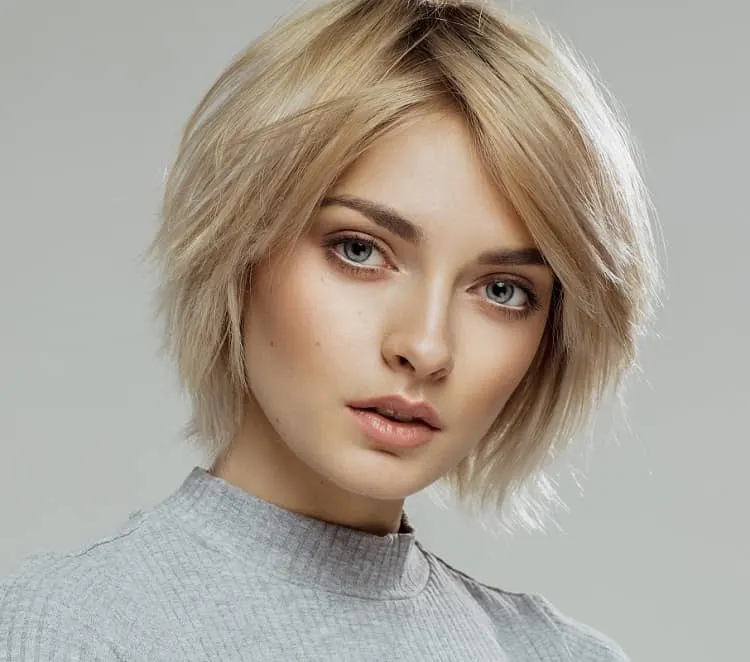 Straight hair is one texture that always looks great as a pixie. Wear it short or keep it on the longer side like this one which covers the ears, comes just past the jawline, and has a layered part.
2. Hairstyle for Fine Straight Hair
If you have fine hair, you'd do well with short layers. Near the crown of the head, short layers will fluff up the hair and make it look fuller. Around the head, the layers just make cute style and shape. Leave bangs longer for a soft, feminine feel.
3. Layered Straight Hair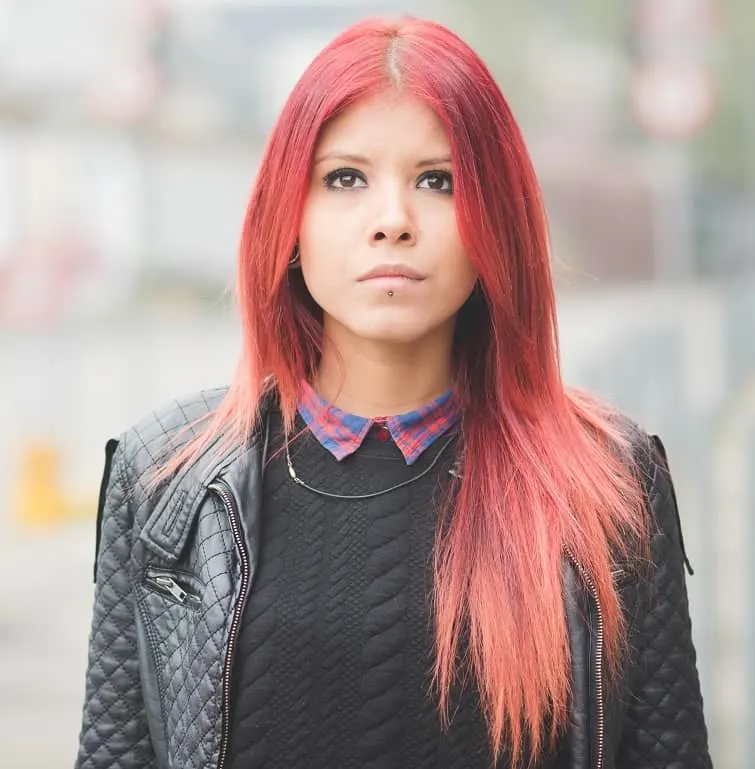 Long straight hair will also take to layering. It's a popular haircut method because of how it reduces bulkiness in hair. In this style, layers are most prominent at ends. The bold color will have you feeling fierce!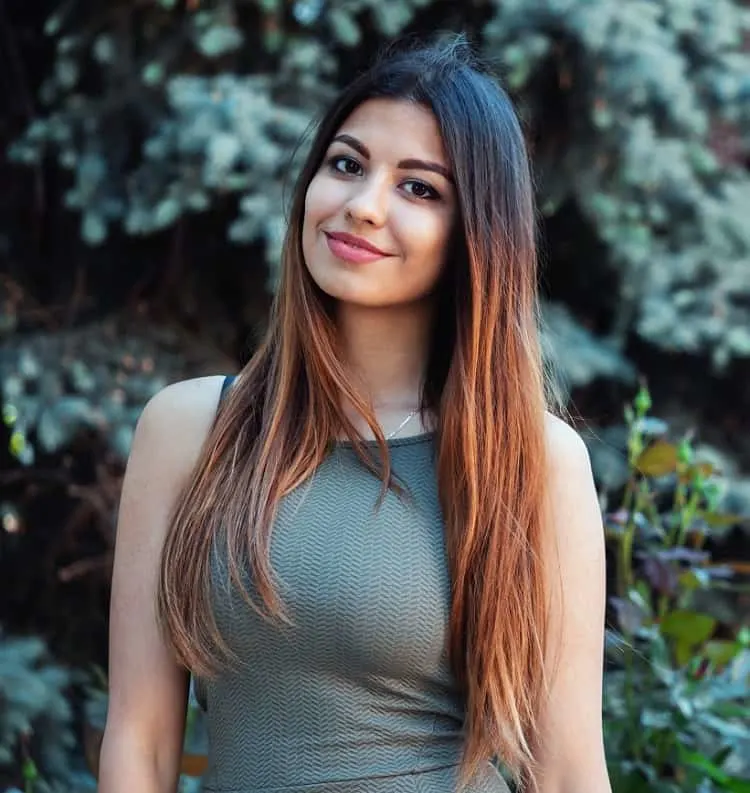 This long haircut has a medium shade of brown as balayage. Your dark eyes and eyebrows will match perfectly! Keep the layers focused at ends for shape; it's best to start them at the shoulder for hair that is this long.
5. Medium Straight Hair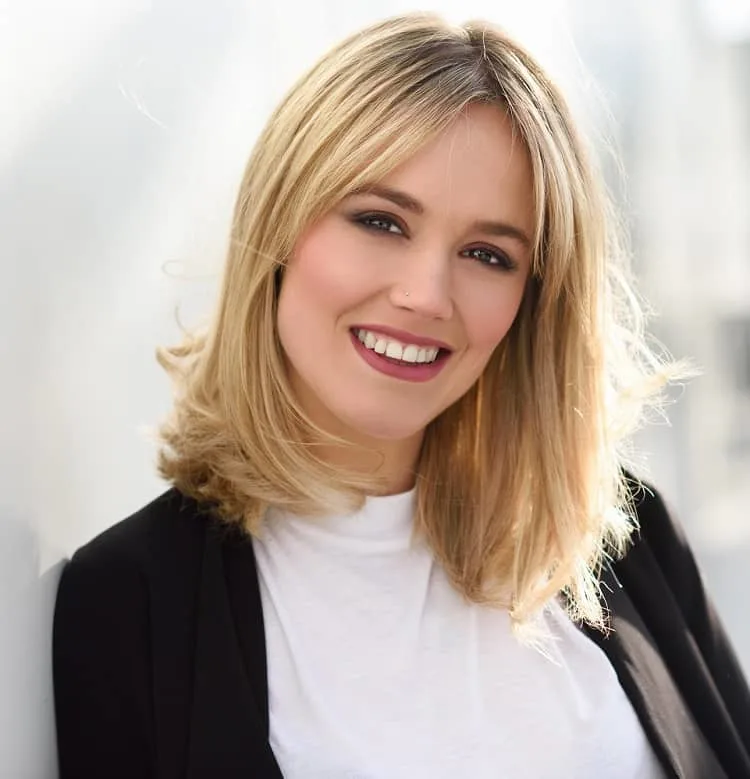 Medium length hair comes to the shoulders. This style features center-parted hair, a subtle curtain bang, and flipped ends created by layers. Worn down or up, it's a flattering look for all faces.
If you prefer to keep your hair short like a pixie and you have straight hair, your style will be very low-maintenance. But to edge it up a bit, keep bangs short. You can create the little curls at their tips by using a round brush.
7. Side Part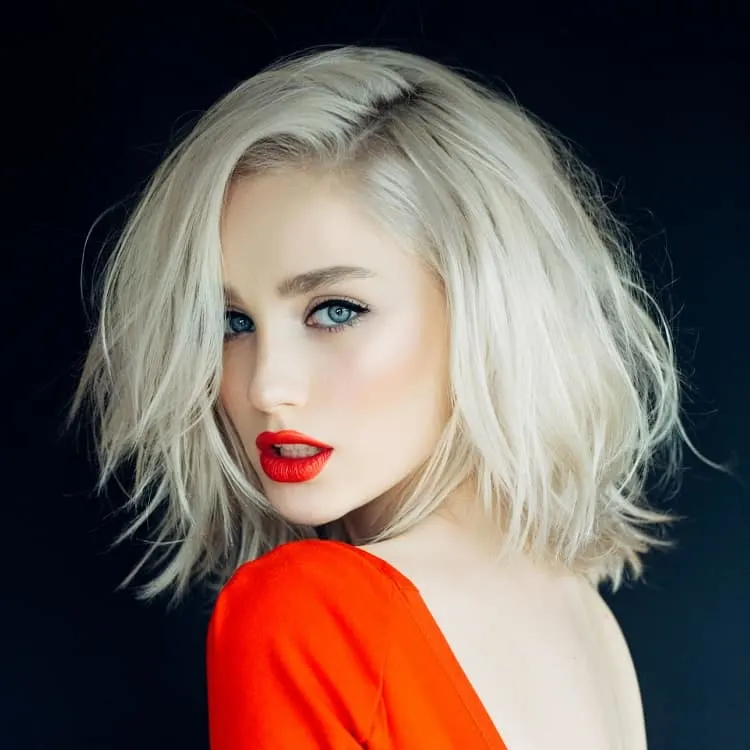 Marilyn Monroe would definitely approve of this sexy blonde blowout. To get this much volume, part hair at the side and don't be afraid to use hairspray to tease the hair. The more layers you have, the fuller your mane will feel.
8. Balayage on Straight Hair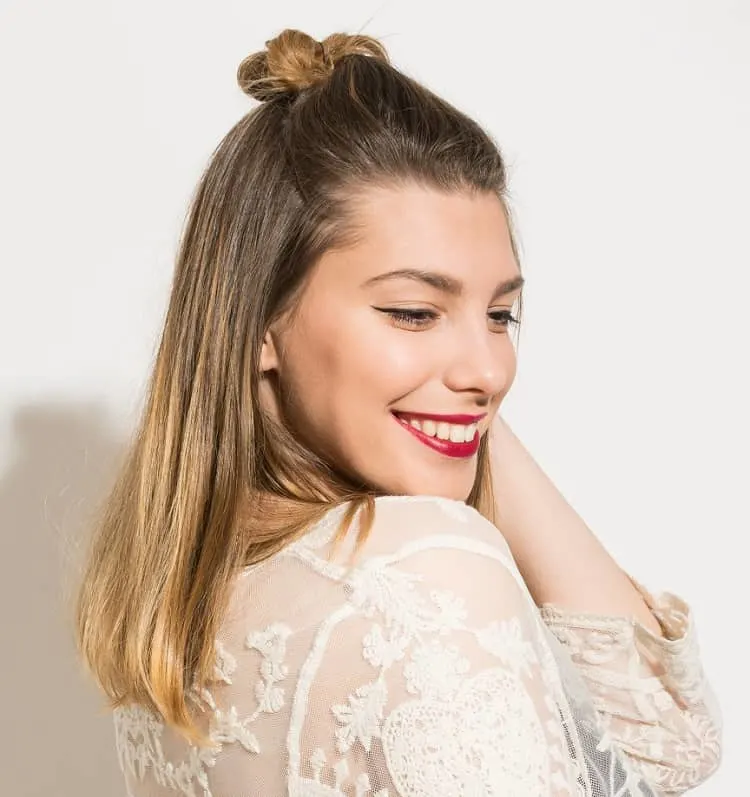 Doing a balayage of any color on straight hair is a classy way to wear color. This blonde looks super natural to the wearer's natural color and is super cute as a half updo.
9. Straight Hairstyle for Round Face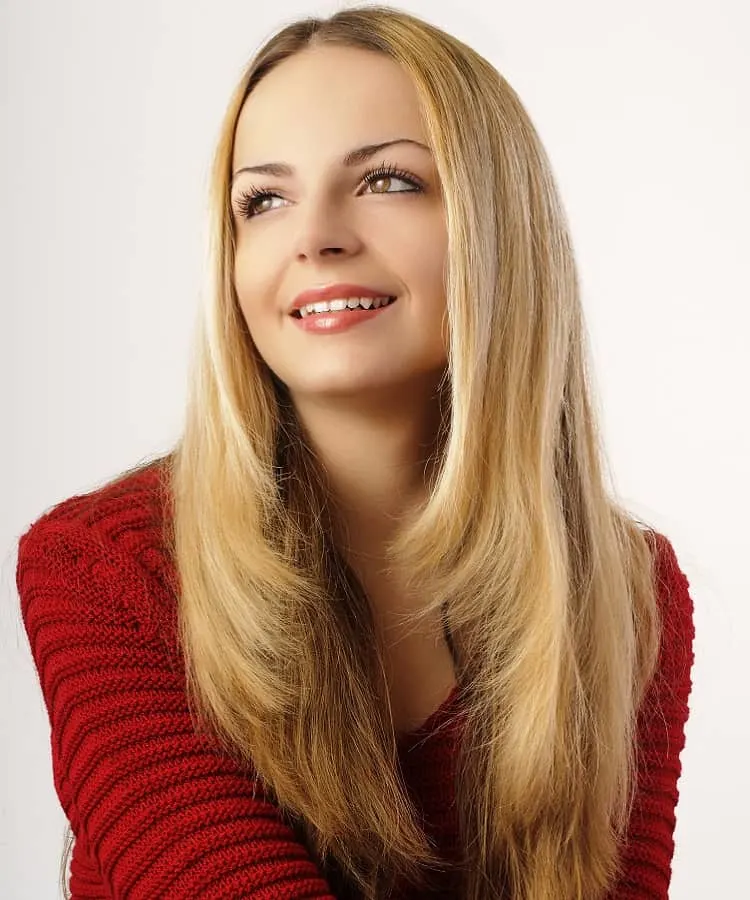 On a round face, long straight hairstyles are a popular choice for women. The hair falls flat against the head, which helps in not making the face even more round, and layers are visibly seen from the front. A center part is all you need to show off your new look!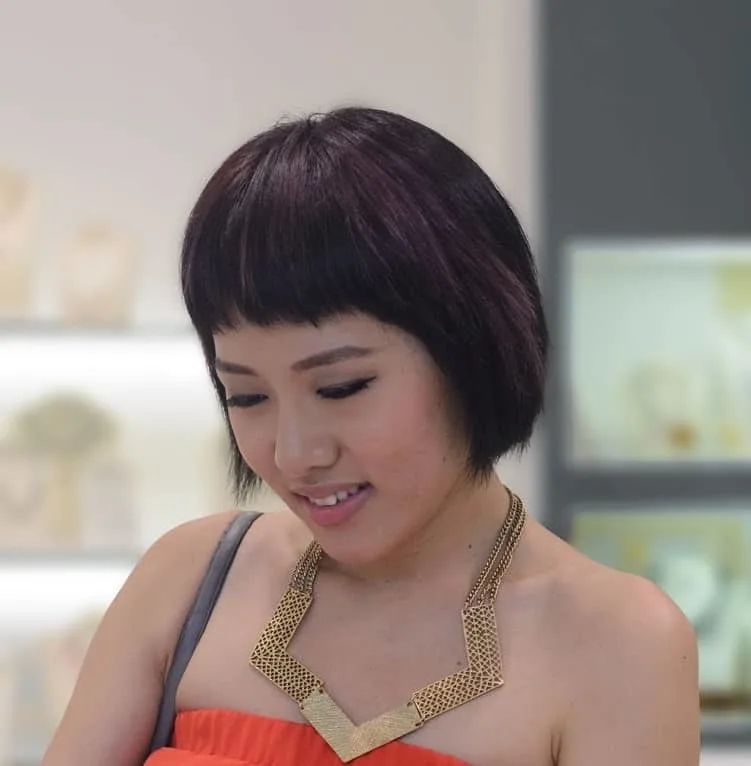 Especially for small faces, a bob is the perfect flattering straight bob hairstyle. If your hair isn't naturally straight, flat iron it to get these edgy semi-blunt bangs. A bit of burgundy hair color stands out against dark hair.
11. Blunt Bob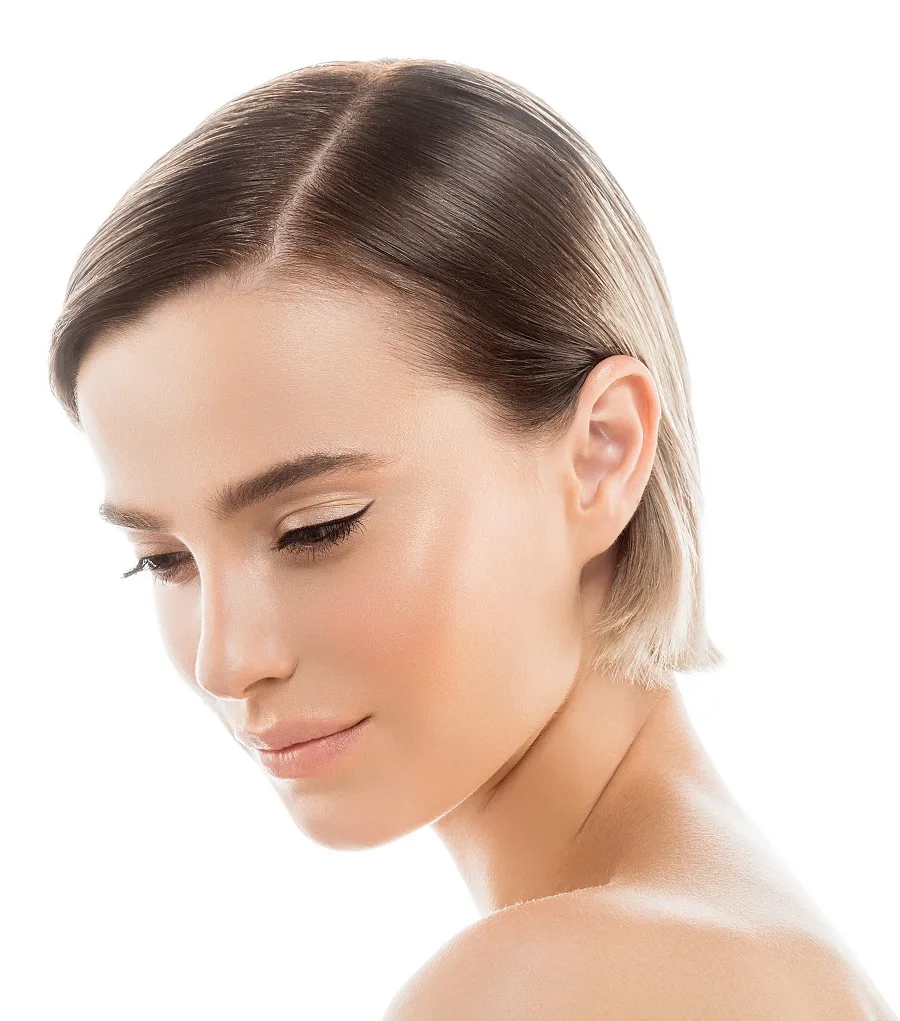 For a modern and fashion-forward twist on the classic bob, try the blunt bob. It's like the classic bob minus the layers. Instead, the ends of the hair are cut into a single straight line.
To give the blunt shape a bit of movement and depth, pair it with a side part.
12. Top Knot with Blunt Bangs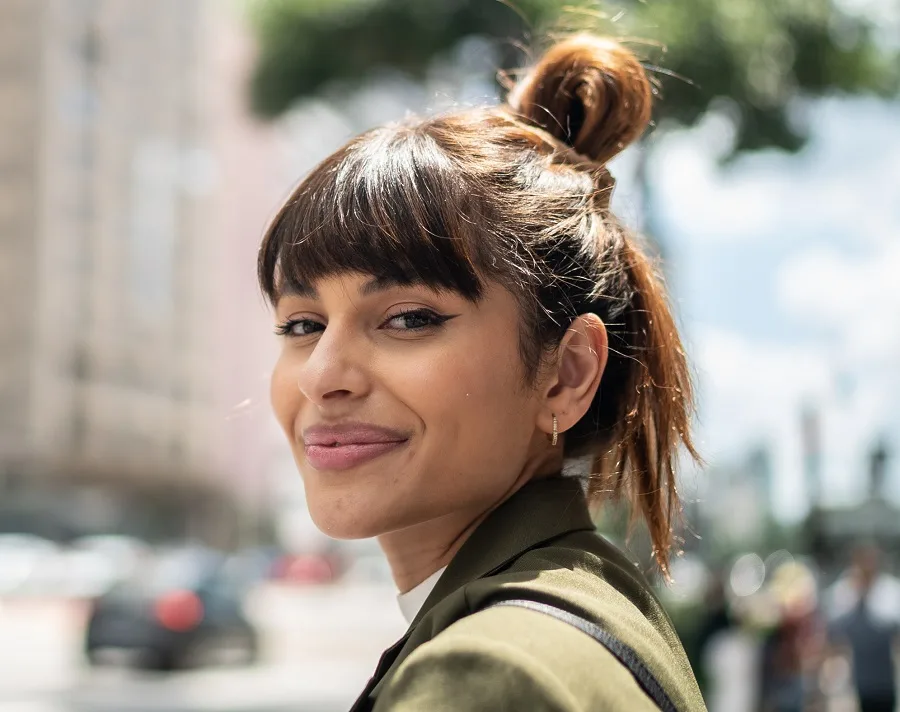 Do you want to make your straight hair look edgy and cool? Don a top knot for an effortlessly chic appearance. Add on blunt bangs for a fashion-forward touch.
13. Dyed Undercut
Do you know want to make your undercut look more badass? Dye it with a vibrant shade — like this electric blue color. It will highlight your undercut and make it the apple of everyone's eye.
14. Platinum Ombre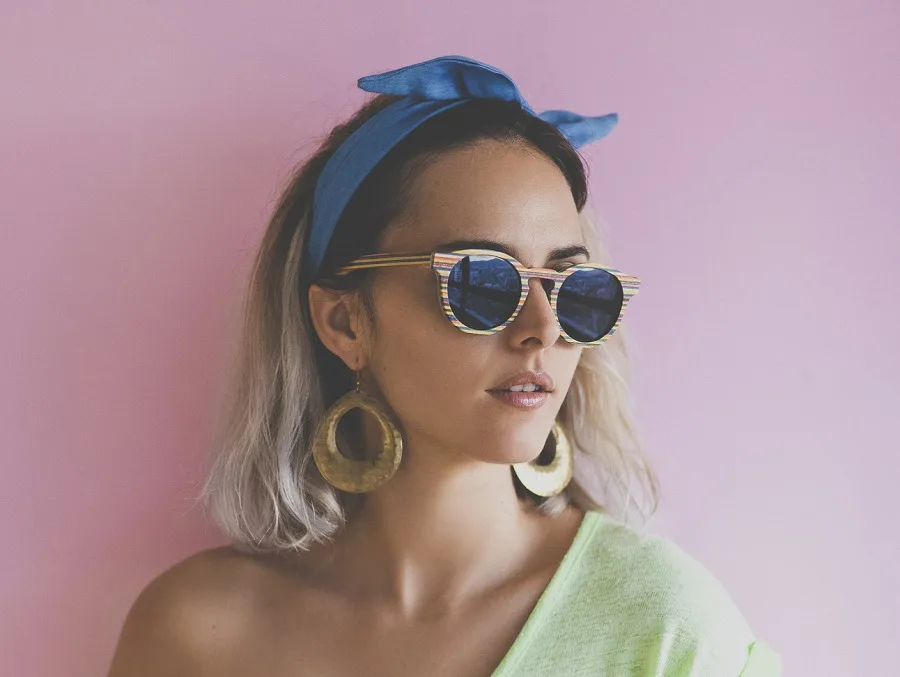 Make your straight hair beach or party-ready by dyeing it with this gorgeous shade of platinum blonde. The ombré effect is one good way to incorporate this hair color into your look.
Finish it off with a beautiful bow, large earrings, and colorful sunglasses and you're ready to party!
15. Messy Middle Part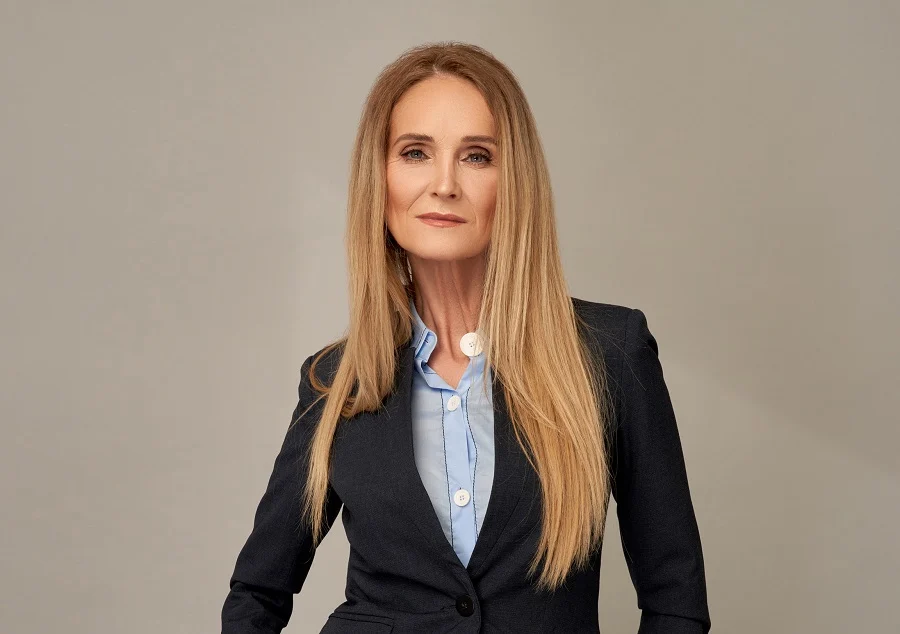 Do you wish to amp up your long hair game? Go for the middle part.
This is the best parting for older women since the middle part does a great job of concealing age-related hair issues like thinning and hair loss.
For a more youthful appearance, go for messy instead of a sleek middle part.
16. Messy Side Fishtail with Wispy Bangs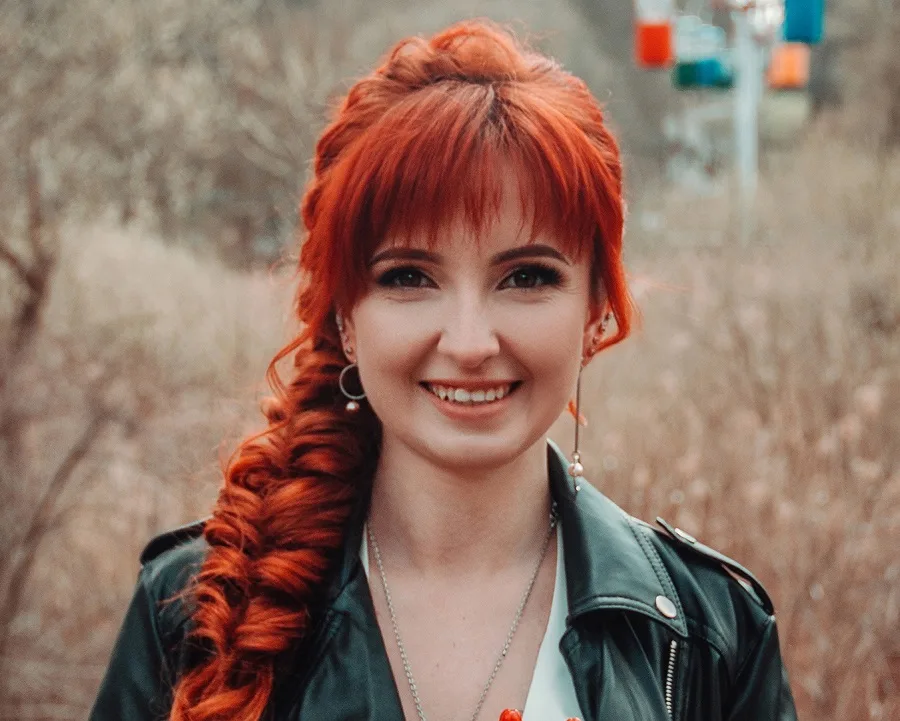 There's just something so mysterious and enchanting about the red hair shade. As if that's not enough, you can even add in this mermaid-like side fishtail braid that will make you look and feel like a princess.
The wispy bangs added a feminine and modern touch to the overall look.
17. Sleek Fishtail Braid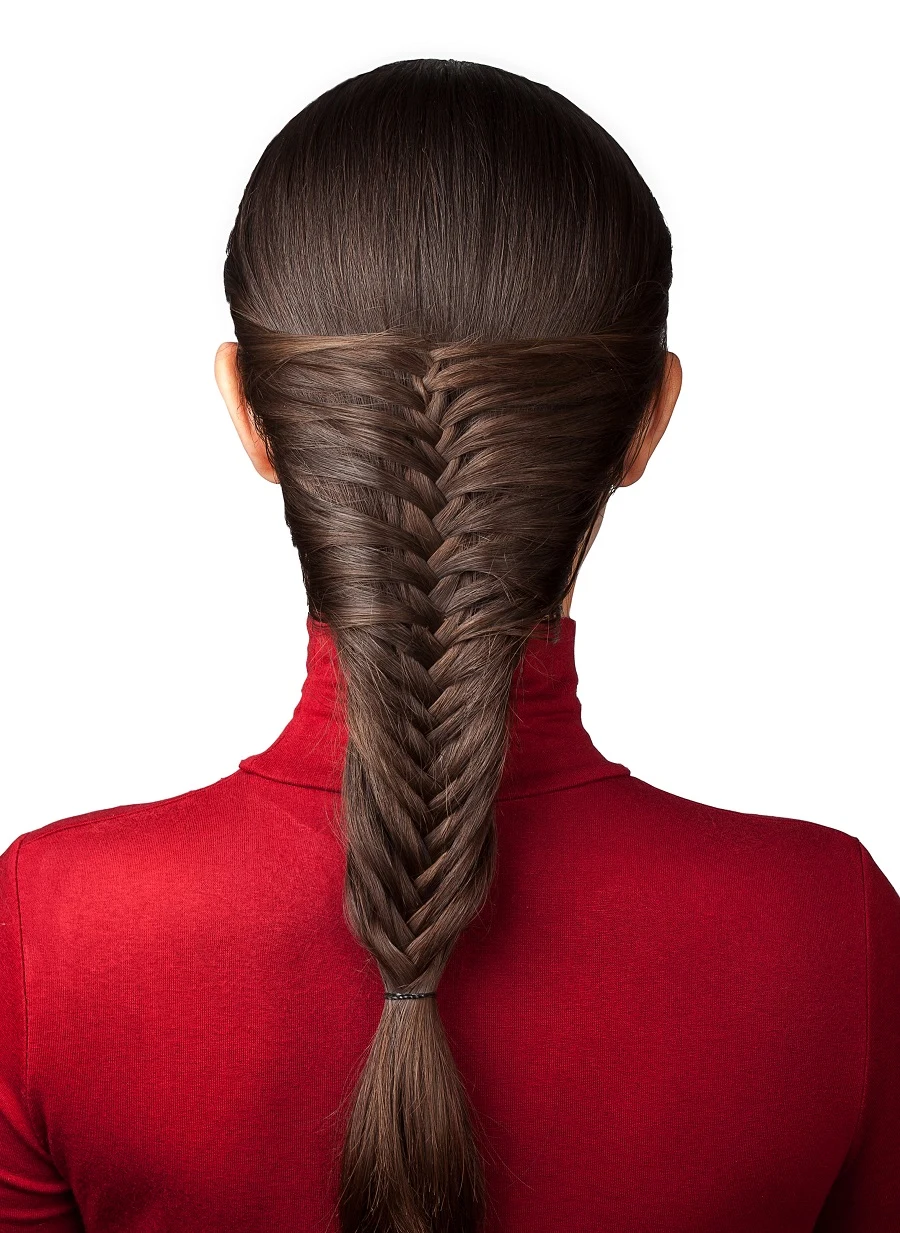 To keep your long straight hair sleek and modern, you can also go for this perfectly designed fishtail braid. This is a classy and stylish hairstyle that's perfect for the office.
18. Slicked Back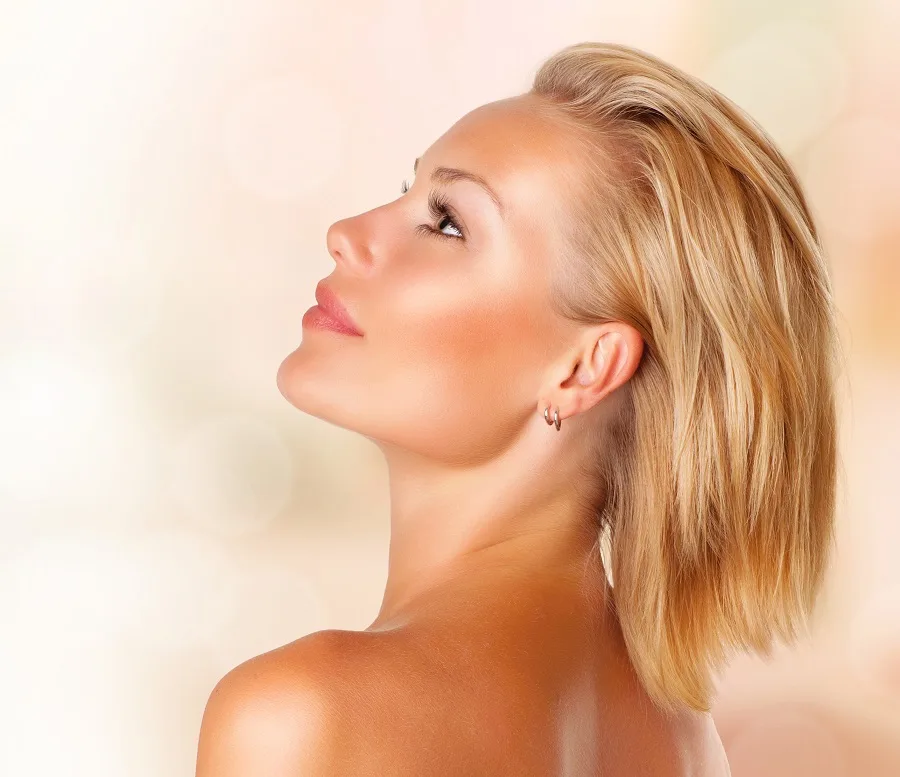 Now, here's the best one for the Alpha female– the slicked-back hairstyle. It keeps hair away from your face in the trendiest and classiest way possible, giving you an air of authority no other hairstyle can achieve.
19. Bob Balayage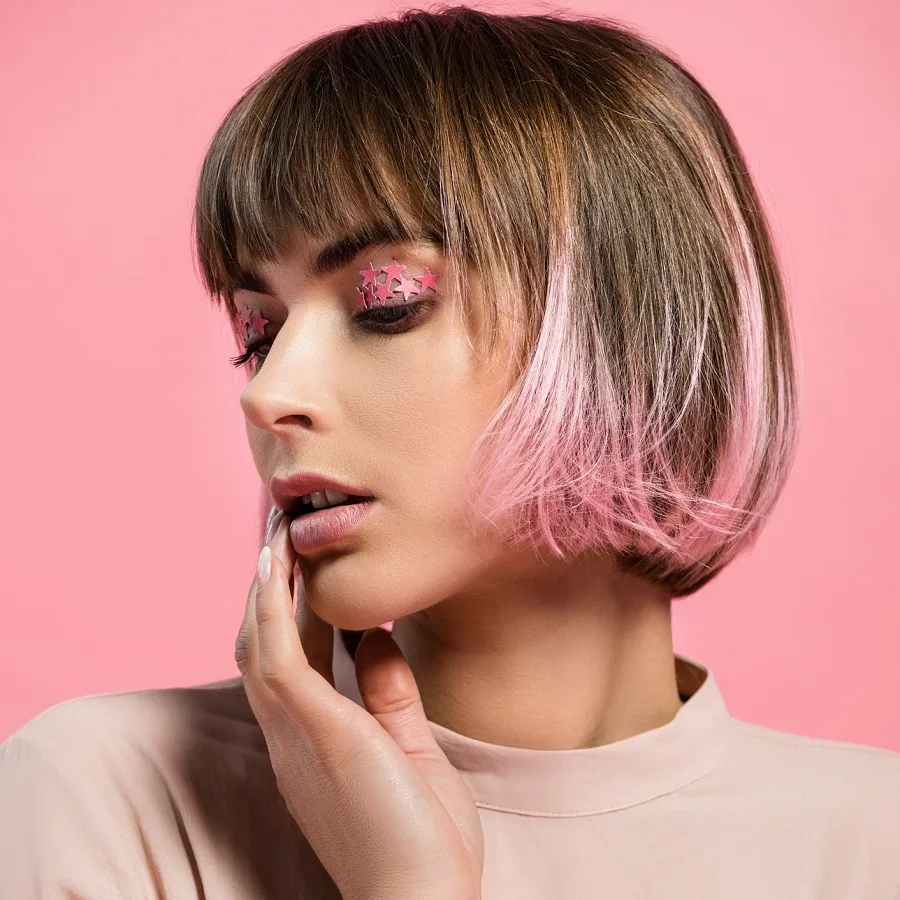 Are you getting tired of the usual bob? Why don't you try a pink hair shade for a refreshing change?
If you're not brave enough to don a head full of pink hair, opt for a playful balayage that will give your hair a pop of color without the full commitment.
20. Pixie Cut
Contrary to popular belief, anyone can wear a pixie cut. You just need to find the right length and style for you.
If you have a heart or oblong face shape, this classic pixie cut is the most suitable for you. Just make sure to stock up on hair gel so you can style it perfectly.
21. Mohawk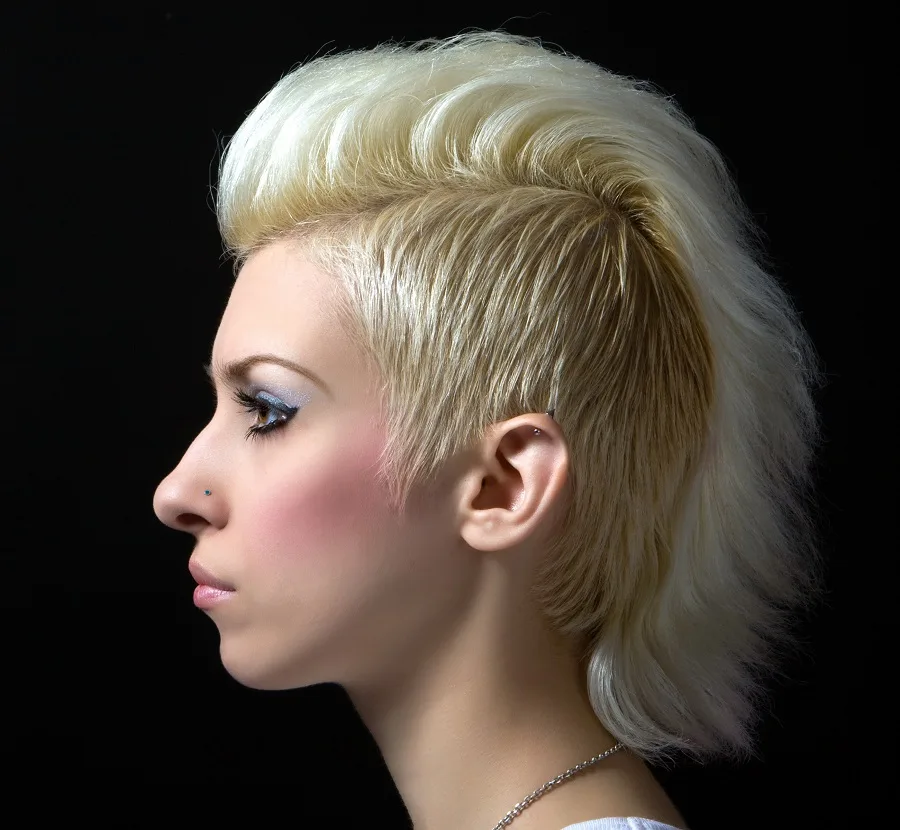 If you love taking risks, go for a mohawk haircut. This unique hairstyle opens up the sides of your face and emphasizes your beautiful cheekbones and gorgeous jawline. So rest assured, the risk is all worth it!
22. Bubble Ponytail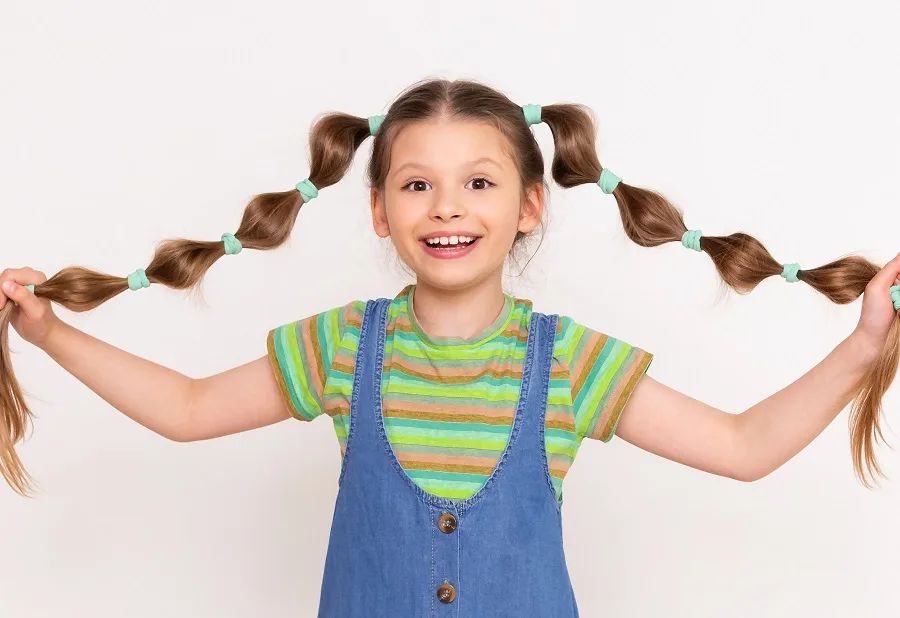 For a unique and cute straight hairstyle for little girls, try the bubble ponytail. The bubble appearance makes everyone's favorite childhood hairstyle look playful and classy at the same time.
23. Curly Side Bun with Braided Crown
Are you looking for a bridal hairstyle for straight hair? Go for braids and buns.
The curly bun is a more elegant take on the classic bridal bun. On the other hand, the braided crown adds pizzazz to the already gorgeous hairstyle.
24. Two-Tone Hair Color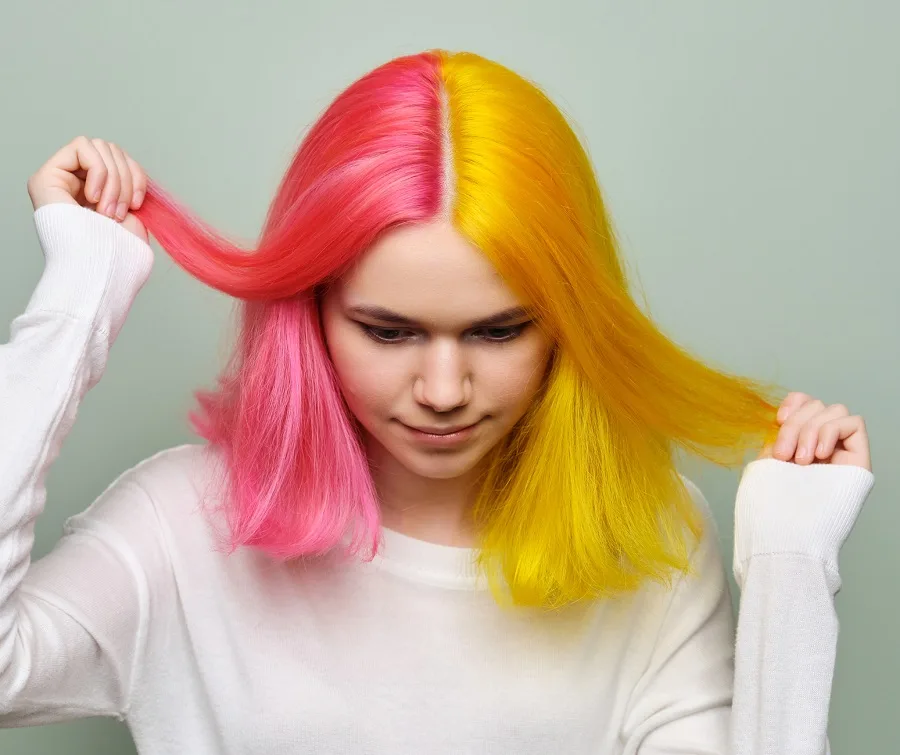 Can't choose between two hair colors? Why not go for both? This two-tone hair color idea is the best solution to your dilemma.
Aside from the fact that it allows you to enjoy the best of both colors, it also adds dimension to your hairstyle.
25. Pink Ombré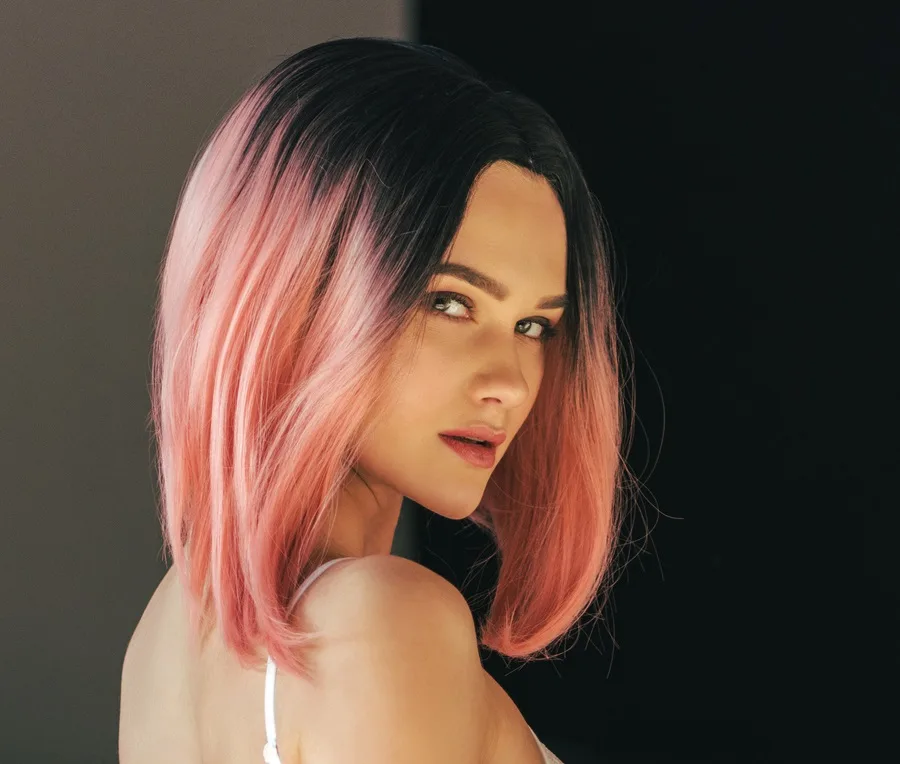 Let's face it– pink is the prettiest hair color out there. So if you want to take your classic lob to a whole new level, pink ombré is the way to go. The contrast between the dark and light hair color makes the pink stand out even more.
26. Ultra-short Layered Haircut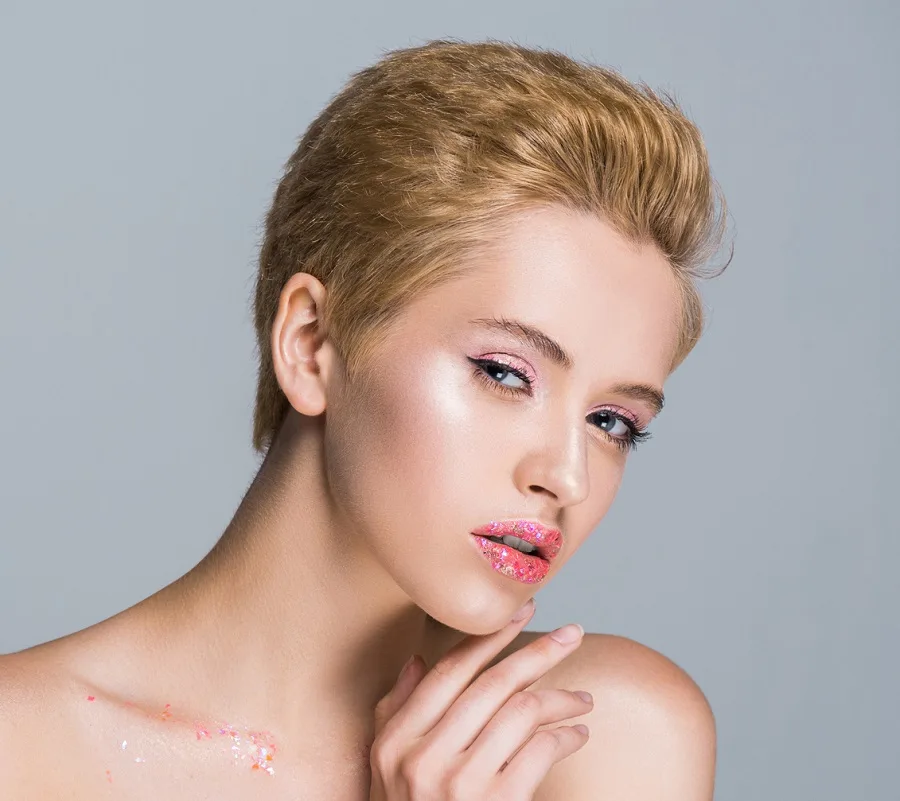 If you want an empowering hairstyle for straight hair, try this ultra-short layered hairstyle. The short length makes the hairstyle look cool and edgy while the soft layers add a touch of feminity to it.
27. D0uble Braided Buns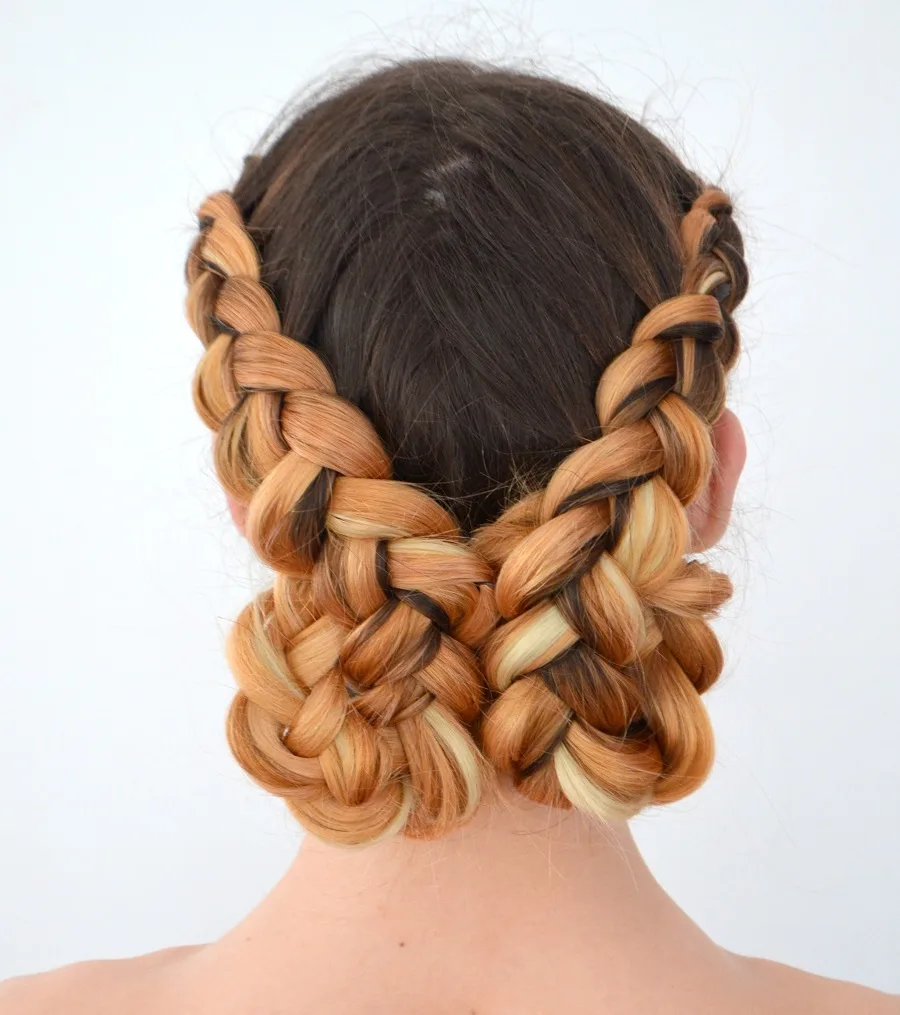 Double your bun, double the fun! And as if that's not enough, you can even amp up your bun game by adding braids to it!
28. Mullet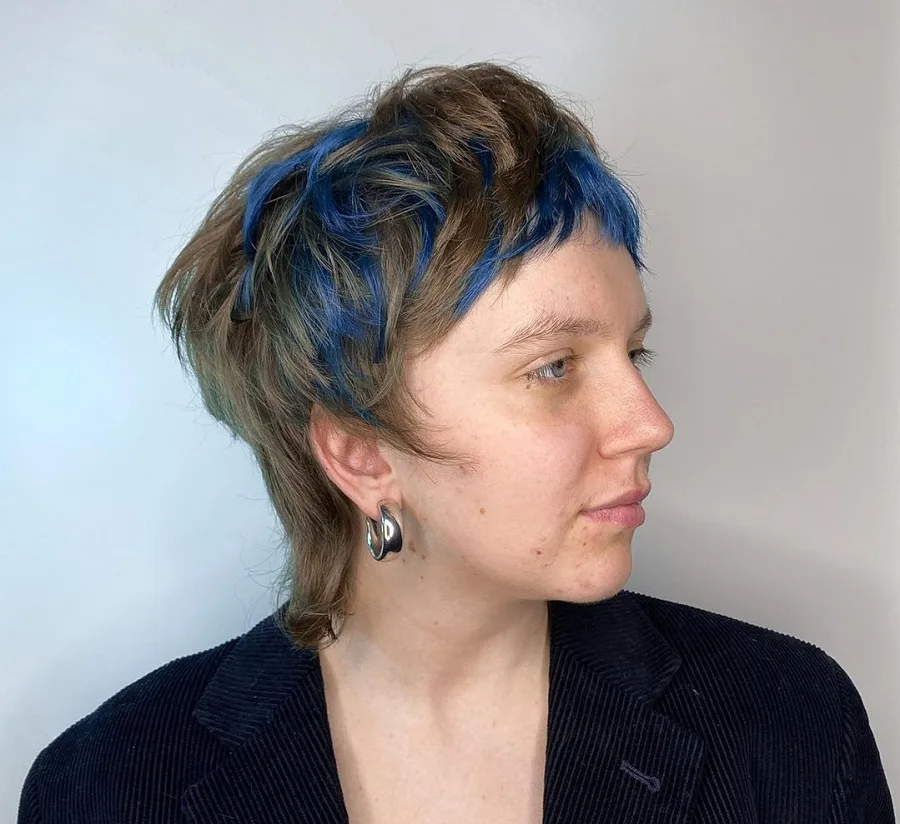 If you want to make your straight hair look thicker, go for a layered and shaggy cut like the mullet.
To add more texture, apply texturizing spray and run your fingers through your hair as you blow-dry it.
29. Pin up Coiffure with Headband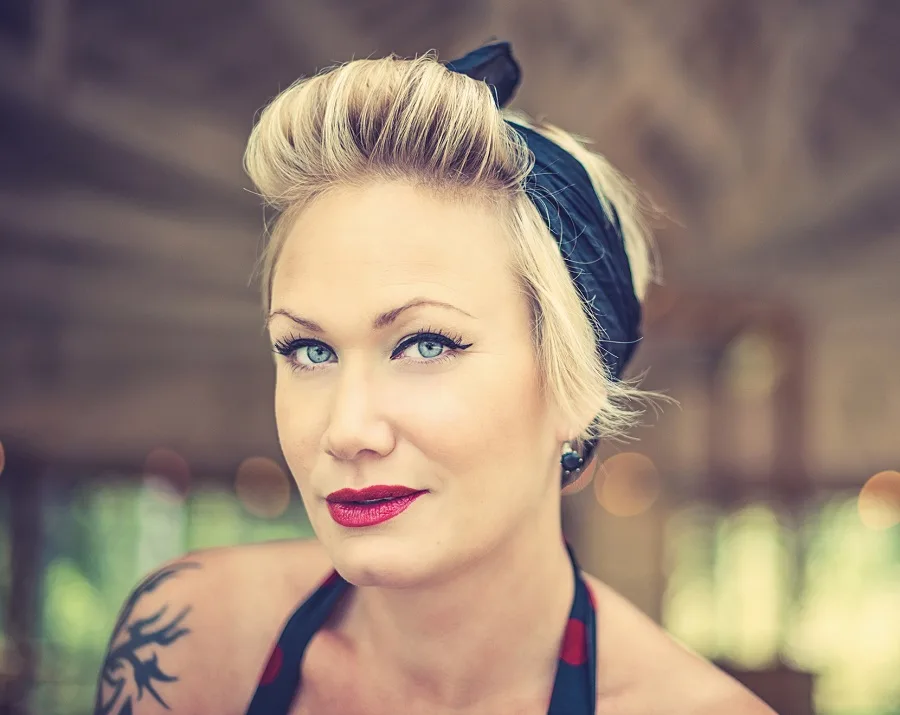 Let's bring the 70's back with this glamorous and fabulous hairstyle! To achieve this sassy hairstyle, you would need bobby pins and a light hairspray. Finish off the look with a simple headband which will give the feminine hairstyle a modern twist.
30. Multi-colored Spiked Mohawk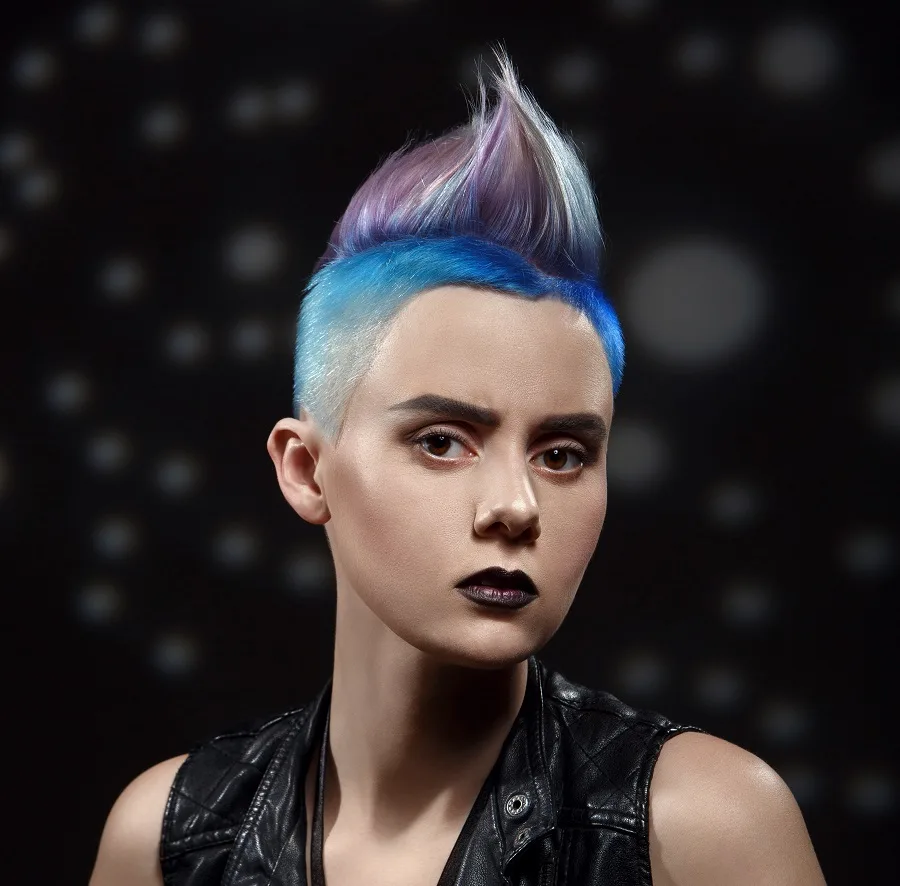 Don't want to settle with the usual mohawk? Well, go for the spiky one which makes your hair stand out (literally and figuratively).
And as if that's not enough, add multiple colors to your hair, and your hair will definitely be a cut above the rest!
31. Messy Straight Hairstyle
Wear your straight hair in a thick side braid for major boho vibes. Be sure to pull each section loose to thicken up the braid. The key to getting this look is to not make it too perfect, flyaways are welcome!
32. Silky Straight Hair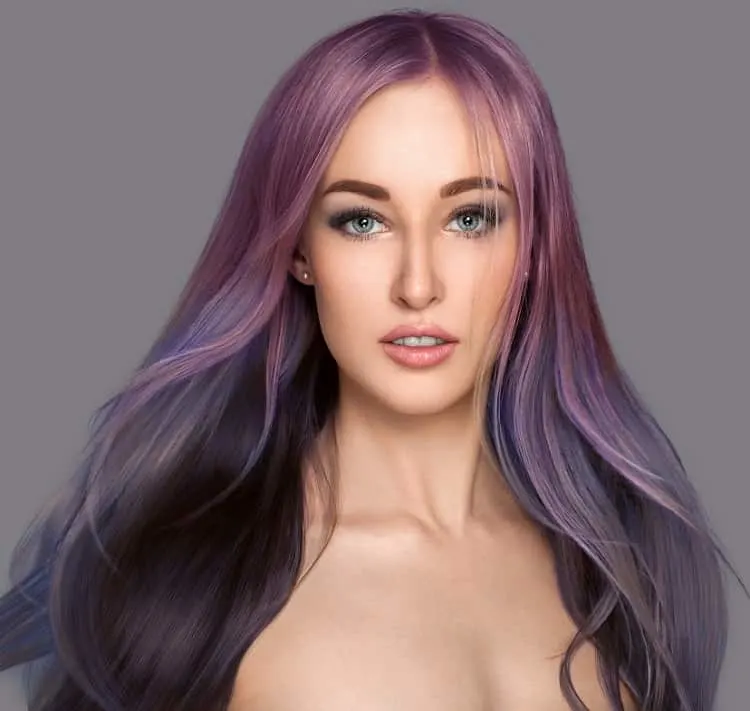 Who says you can only wear colors like these at Halloween? Pink and lavender mix on long straight hair for a creative take on the traditional style. Keep your locks silky with a conditioner specific to your hair type.
33. Straight Hair Updo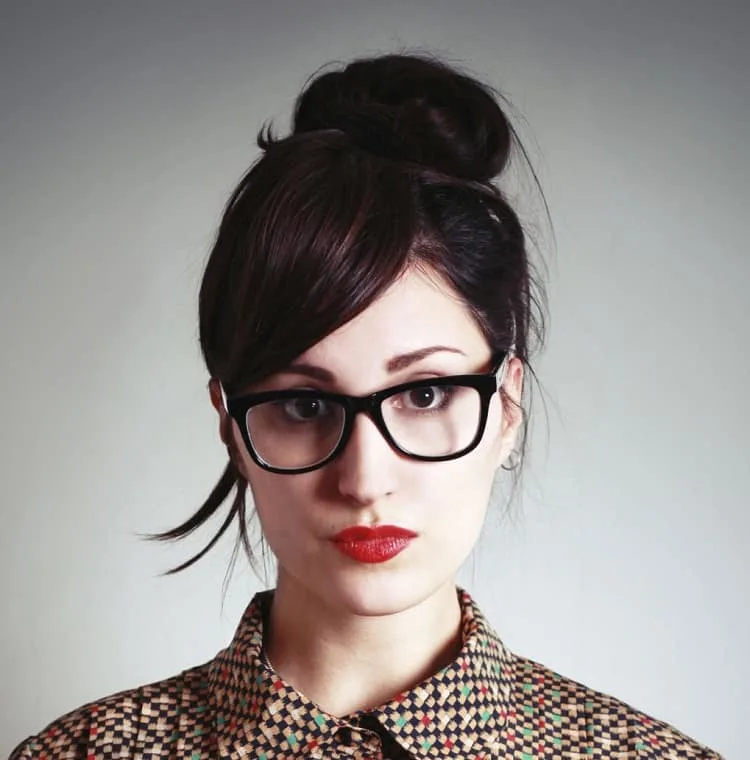 Paired with glasses, this updo for straight locks is very sexy schoolteacher, but without the specks, it's still beautiful! Brush a thick side bang across half of your forehead for a dimension update and twist the rest of the hair into a small bun.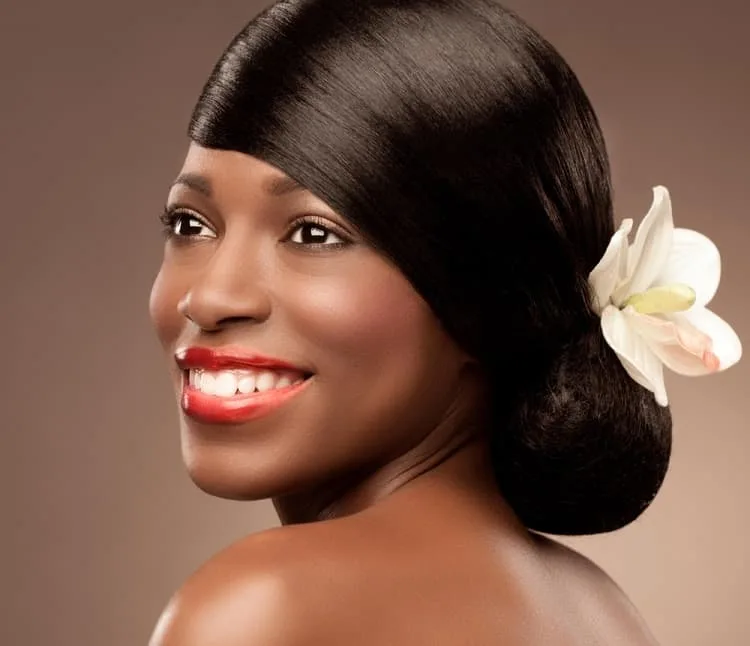 When it's date night, you need to try this side bun that pops with flower detail. Straight hair is brushed smooth and a deep side part is formed so that the rest of the hair covers most of the forehead.
35. Straight Hairstyle for Prom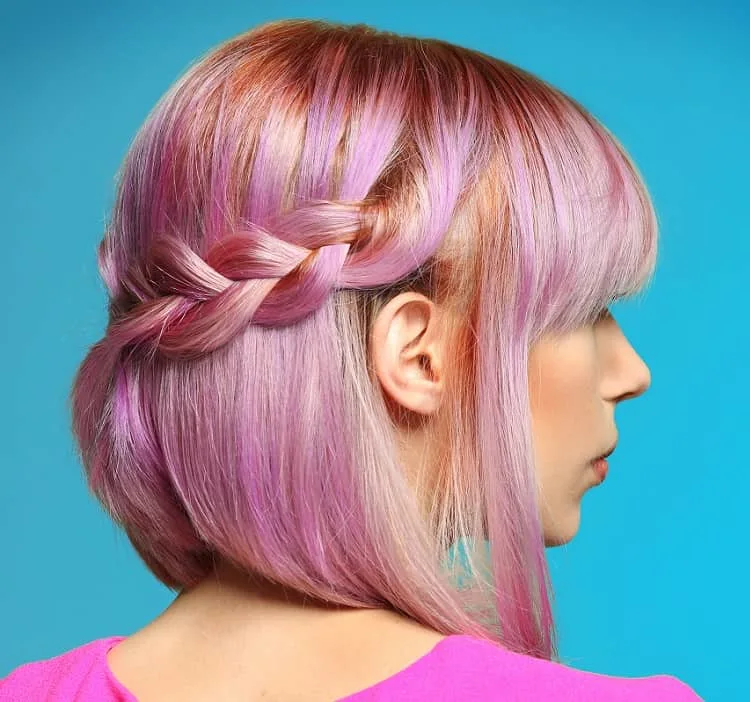 Prom will be more memorable if you have a cute hairstyle that makes you feel gorgeous. Try this short style with a thick braid. If you have bangs, brush them so they lie flat against your forehead. The pink color is another fun detail you can play with to add more style!
36. Highlights on Straight Hair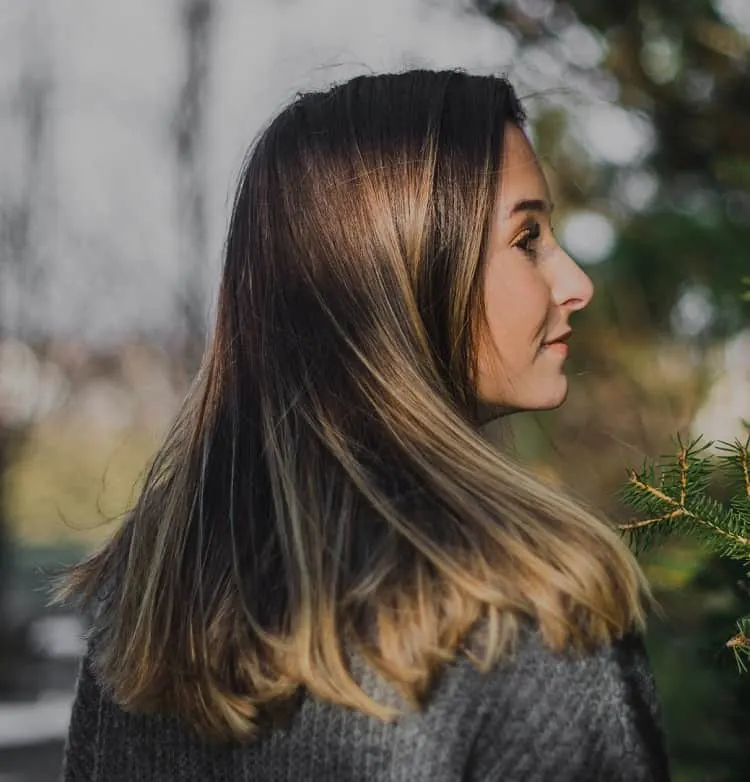 When you're ready to add a little something special to your straight hair, try highlights. On brown hair, for example, light blonde looks supernatural and is easily maintained.
37. Straight Hairstyle for Wedding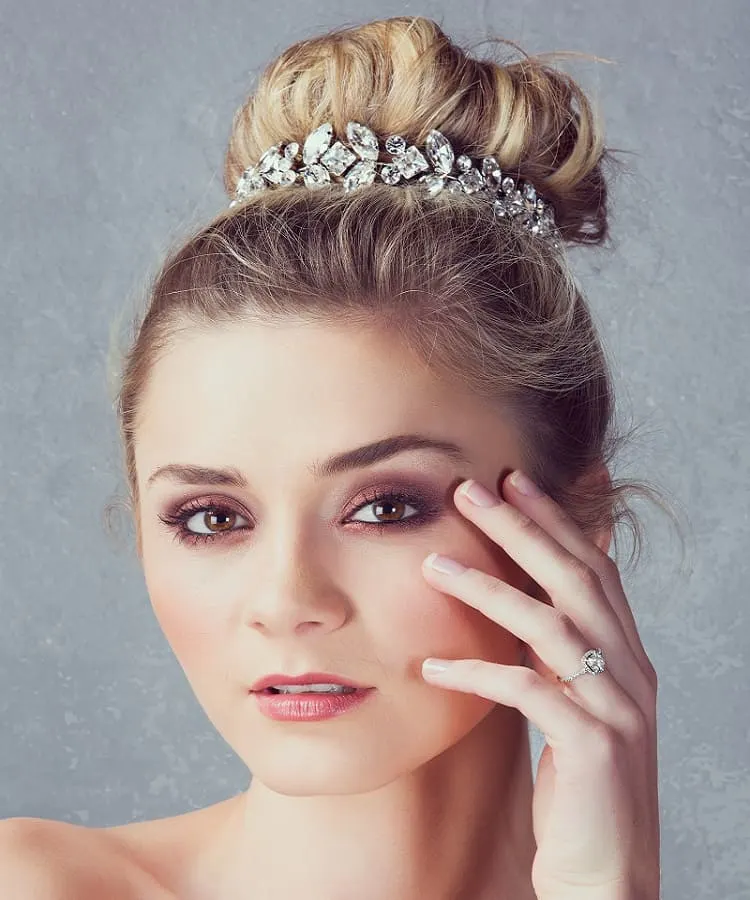 On the big day, make your hair do the work: come it up into a ballerina bun with only minimal flyaways for softness. Add a rhinestone tiara or hair clip and you're ready to say "I do!"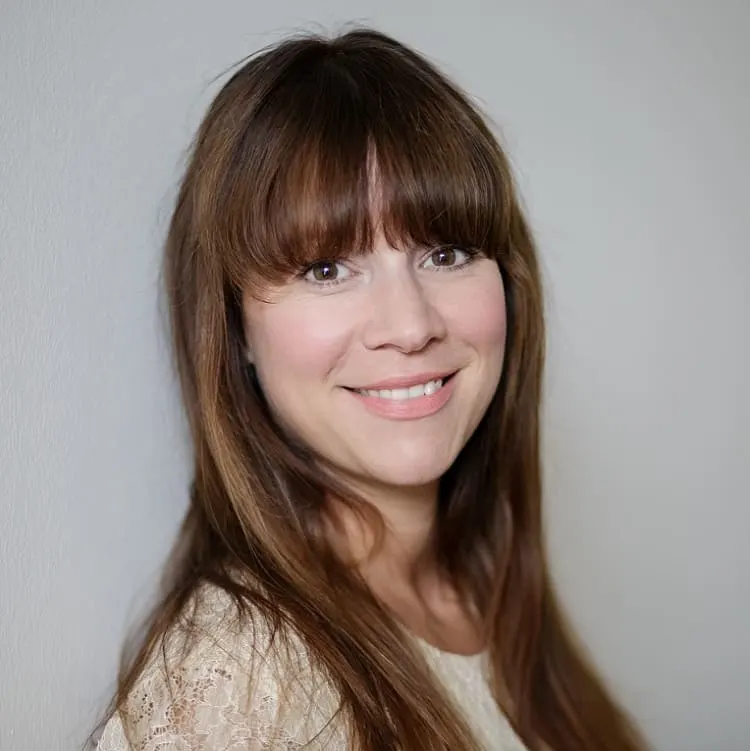 The best way to wear bangs with straight hair is by keeping their length at least the eyebrows. This not only makes your eyes pop, but it comes across as very chic and adult.
39. Straight Hairstyle with Braid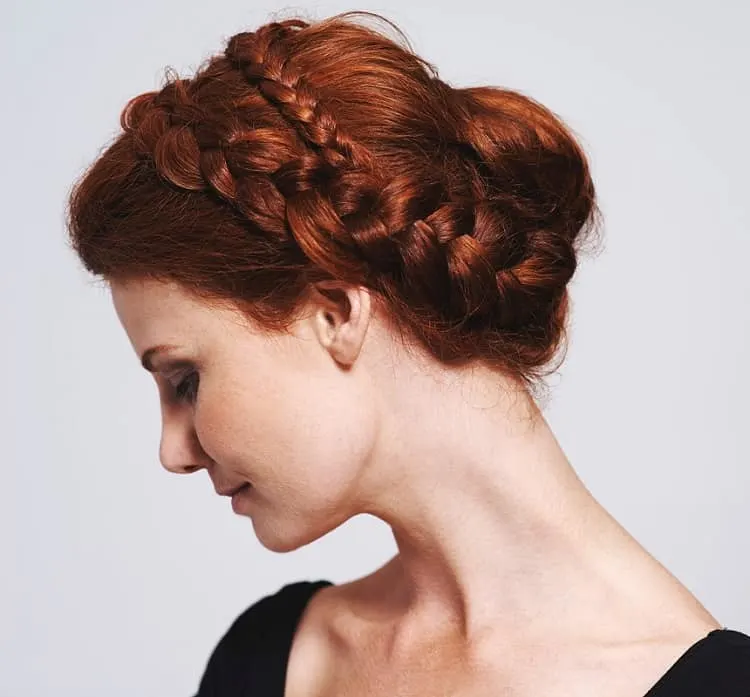 Before you go for your usual bun hairstyle, try adding a crown braid. You can take a small section of hair from one side and braid it over the head to the other. Wear one or two crown braids for princess feels!
40. Straight Ponytail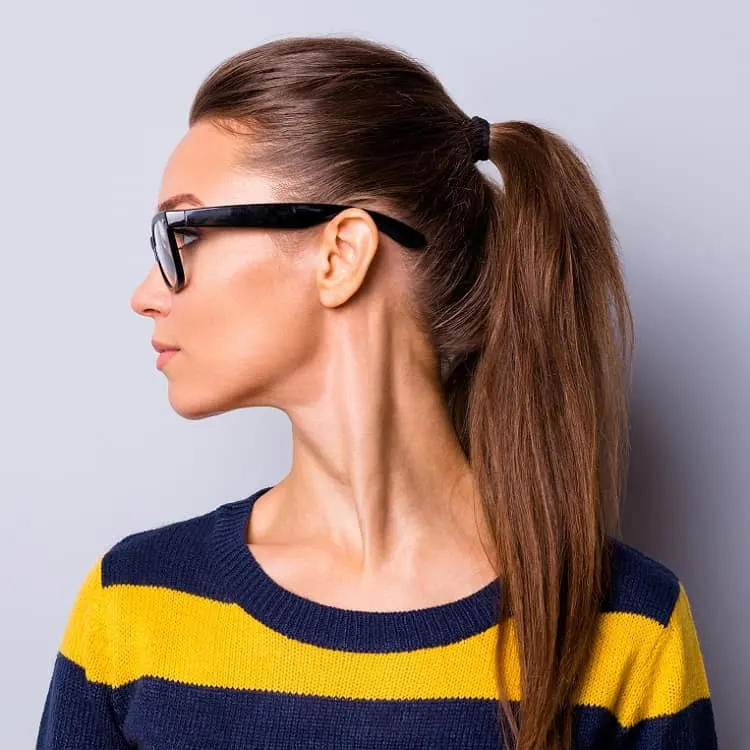 There's never a bad time to wear a ponytail. This medium-height one gets chic style from the teasing of the hair near the forehead. It helps the style look more polished.
41. Hairstyle for Asian Women With Straight Hair
Asian women typically wear their hair long and straight with minimal styling. But just by adding these thick straight bangs, you're one step ahead and closer to a more chic do.
42. Half Updo for Straight Hair
How can you liven up your favorite half updo? Crimp your straight hair to get tiny waves, then fishtail braid the top. Depending on what accessories you pair with it, it's the modern boho style you need in your life!
43. Thick and Straight Hair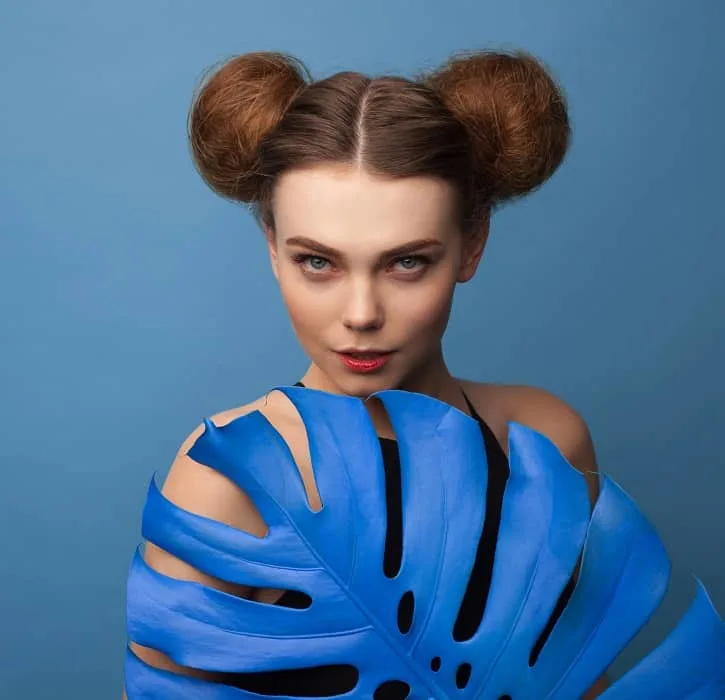 Thick hair does looks amazing when it's tamed into an updo. Try these jumbo space buns separated by a center part. Seal with hairspray to banish frizz and you're off on your day.
44. Women over 60 With Straight Hair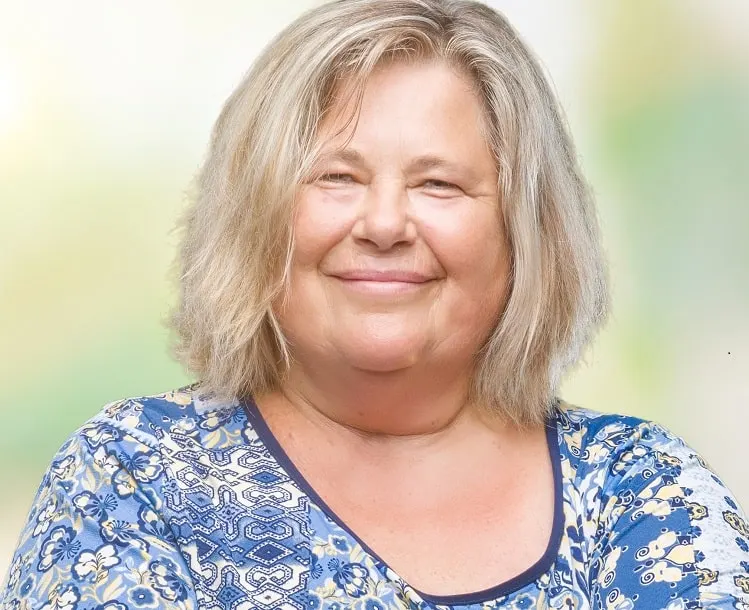 If you're a woman over 60 and want something more age-appropriate, a layered side-parted haircut is just for you. If your hair is frizzy at the ends, straighten it for smoothness.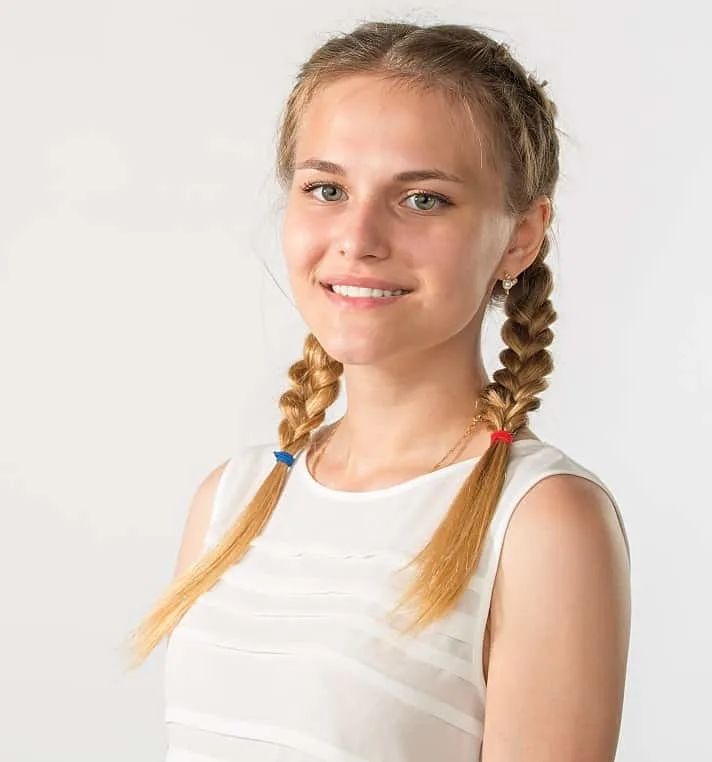 Has it been a while since you've tried two low braids (pigtails)? Make the look more sophisticated on your straight hair by not braiding all the way to the ends.
FAQs
Here are the most commonly asked questions regarding hairstyles for straight hair.
Can I get cornrows on straight hair?
Yes, you can get cornrows on almost any hair, straight included. But, be aware that if you have very fine hair, it will take a good amount of product and maintenance to keep them in.
Can I scrunch straight hair?
Yes, scrunching straight hair can add waves and structure. One way to scrunch straight hair is to section your wet hair and roll it up with clips. Next, apply a light hairspray and let it dry. Once it finishes drying, release the clips and smooth your hair with a light layer of serum.
Will hair get straighter with age?
It is possible but not always the case that hair gets straighter with age. Sometimes, hair follicles can change shape with hormonal changes due to aging. In addition, drugs, vitamins, and chemical treatments throughout your life can also potentially change the follicle shape.
Does straight hair grow faster?
Genetics, diet, and hormonal state are the determining factors of hair growth. People with straight hair have round follicles, which better grip the hair. Therefore, straight-haired people have the potential to grow their hair longer, but not necessarily faster.
What's the best length for straight hair?
The best length for straight hair will depend on your face shape and hair quality. For instance, a shorter length that doesn't elongate the face is best for those with a rectangular-shaped face. Oval faces are the most versatile for hair cuts.

You can either go for a short bob or if you choose to go long, opt for minimal layers to avoid drawing down your face. If you have very fine hair, a shorter cut will keep it looking voluminous and healthy.
Should I wear my straight hair up or down?
Wearing your hair up or down depends on the occasion and your personal style. Both styles can accentuate your facial features depending on the cut or the up-do.
All of these hairstyles for straight hair are easy to put together and will go miles toward making your daily look updated. Just remember if you're going to be using a flat iron regularly, use a protective styling spray.
You May Also Like