How many times have you wanted to try bangs with your current hairstyle but weren't sure if you could pull them off? Or do you already have bangs and need some ideas for a new hairstyle? Rest assured, black hair looks stunning with bangs!
Bangs are one of those things that look good with any hairstyle whether your locks are straight or curly, thin or thick, or somewhere in the middle. And if you think you don't have the face to pull them off, we'll show you several different-shaped faces to reassure you that you can.
Black Hairstyles with Bangs
We have listed 30 bangs hairstyles that are perfect for black women. There are various colors, textures, and plenty of ways you may want to try the style on your own!
1. Springy Curls, Straight Bangs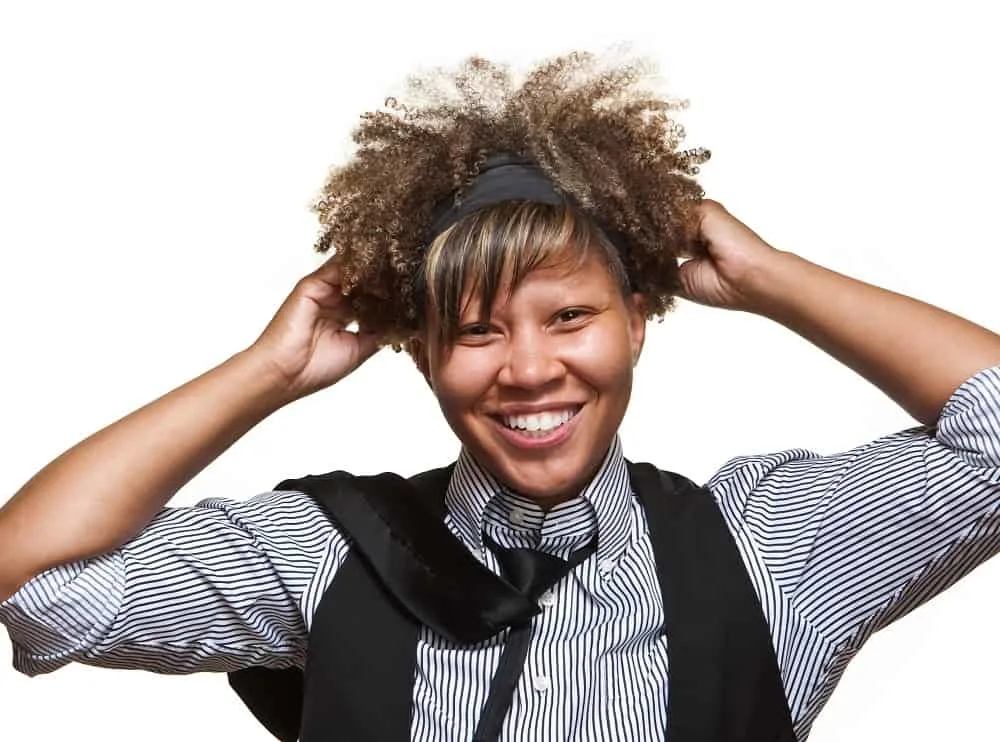 If you have black curly hair shaped like springs, they'll look amazing as a cute short bob with bangs. For contrast, wear fringe straight and layered to one side. Blonde highlights will bring some light to your face.
2. Long Side Swept Bangs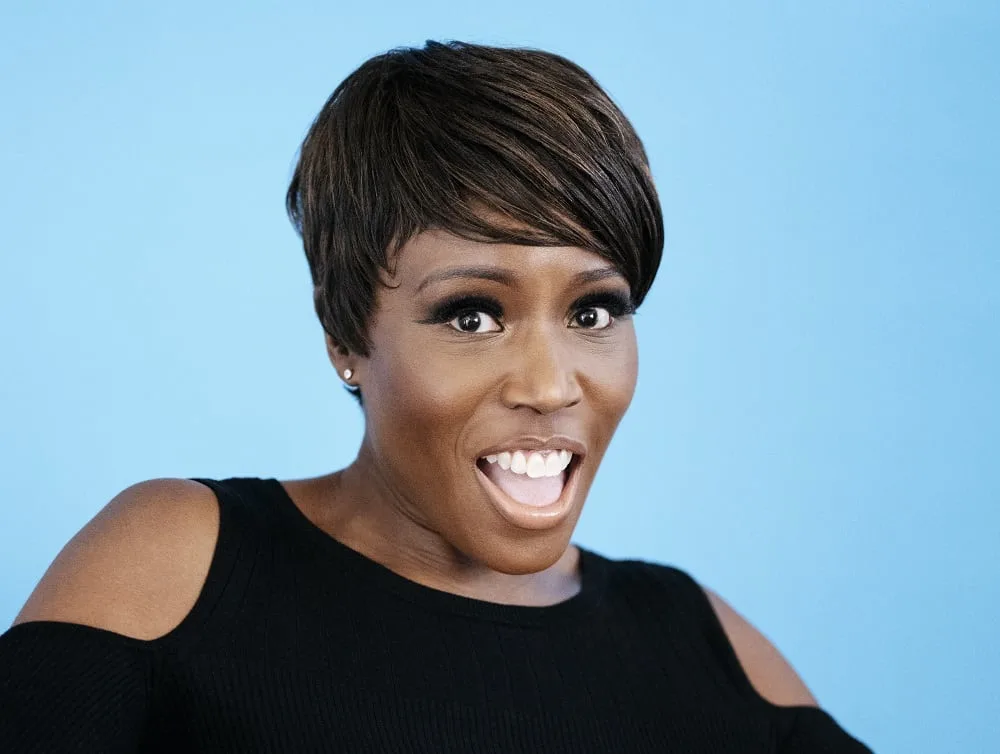 Prefer a shorter hairstyle? Get that chic, flawless style easily with a long pixie. This one features a heavy part that helps long bangs stay easily swept to the side for a flattering look.
3. Thick Curly Bangs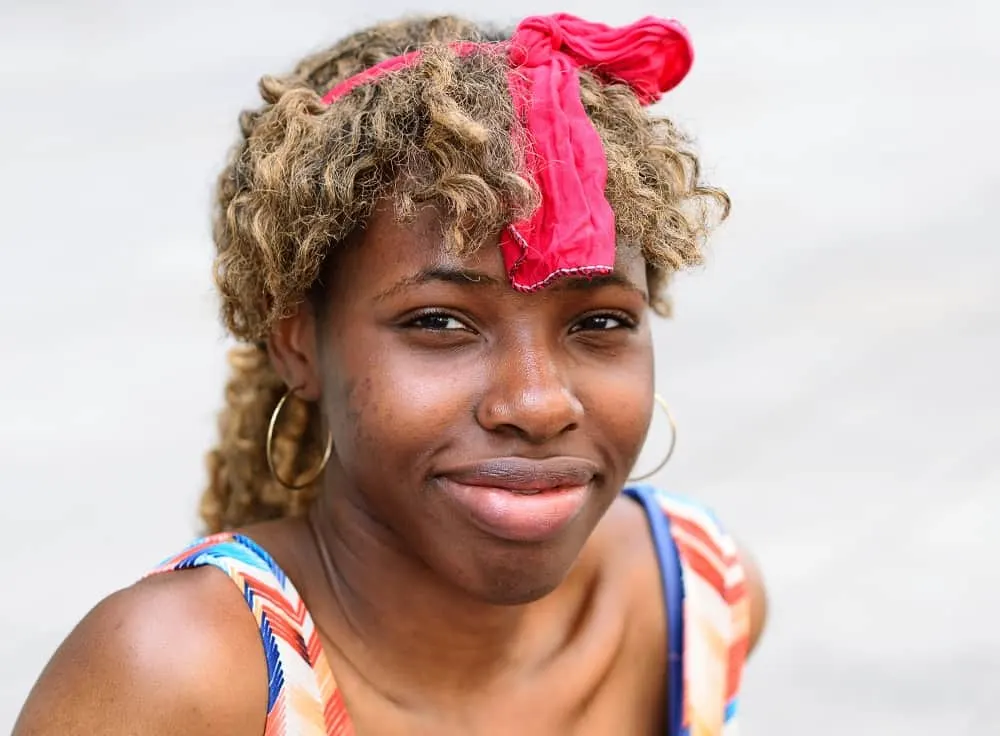 We love the way blonde highlights lighten up this black hairstyle with curly bangs. If you're looking for a new summer hairdo, this medium length one is for you! Pair a brightly colored bandana with it for a pop of color.
4. Thick Updo with Straight Bangs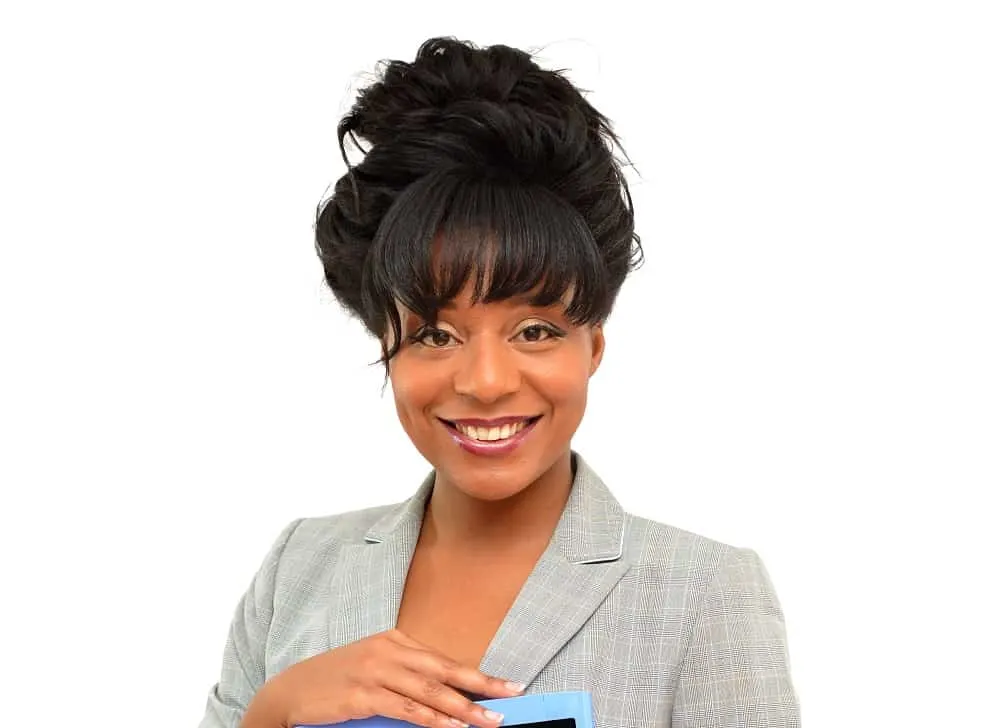 There's a slight wave to these long straight bangs, which makes them a soft touch to any woman's face shape. Wear them with a black updo hairstyle, like this high bun featuring lots of volume.
5. Swept Back Style with Side Bangs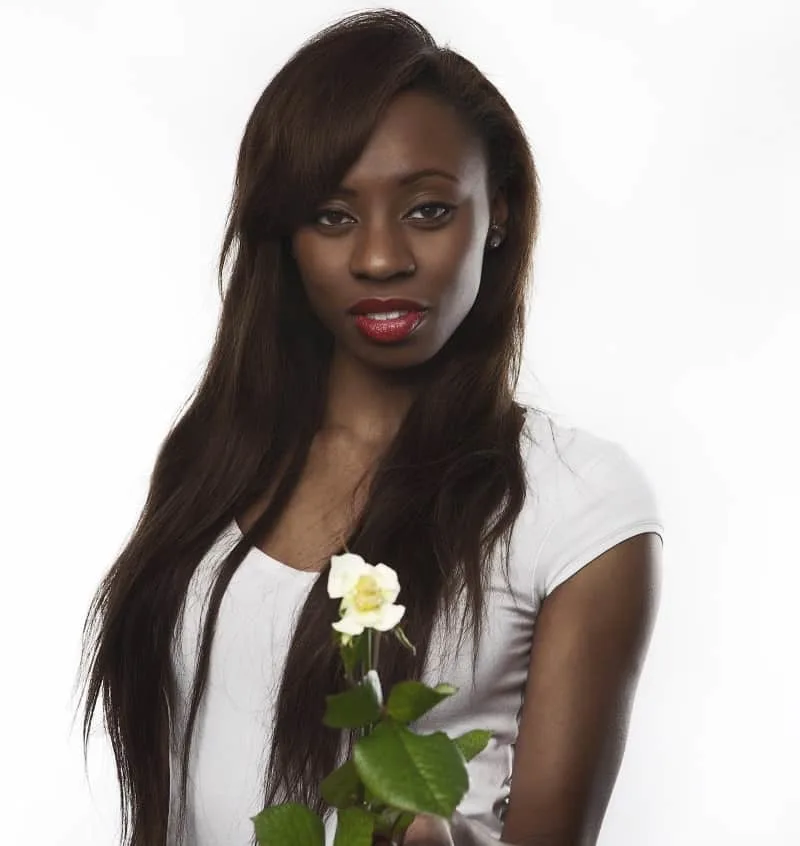 Do you have hair that is longer than shoulder length? Instead of straight bangs that come down across the forehead, opt for a black hairstyle featuring a softly curled side bang. On the other half, use a little hair product to sweep the hair away from your face.
6. Thick and Curly with Wispy Bangs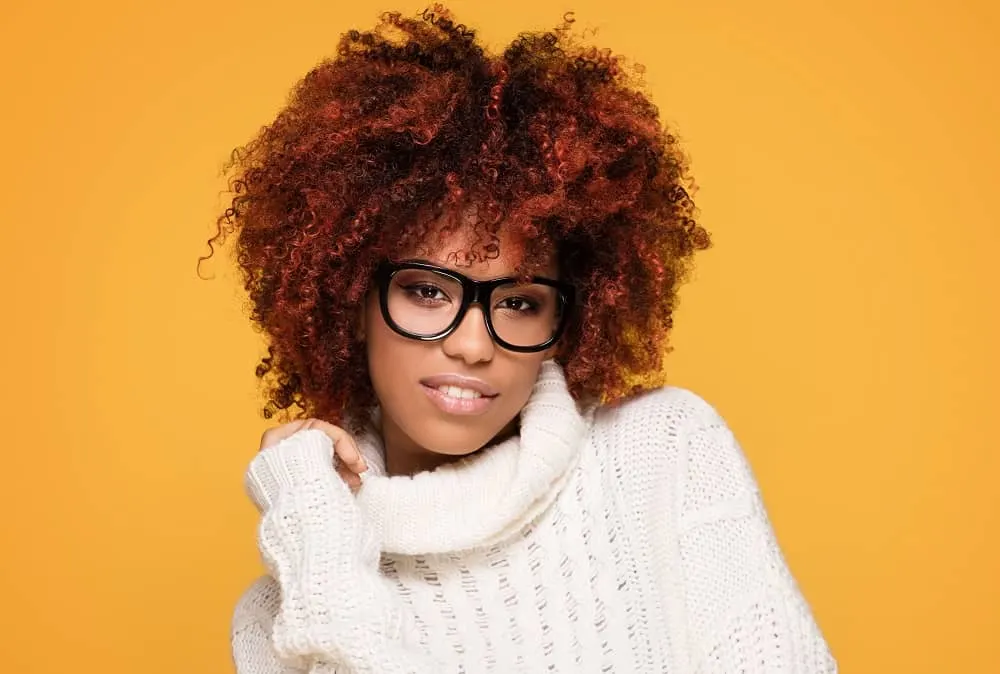 If you're lucky enough to have thick hair with very tight curls, an above-the-shoulders black hairstyle with wispy bangs is a must try. Add any shade of red highlights with or without some caramel or blonde highlights for a spicy touch of color.
7. Ponytail with Piecey Bangs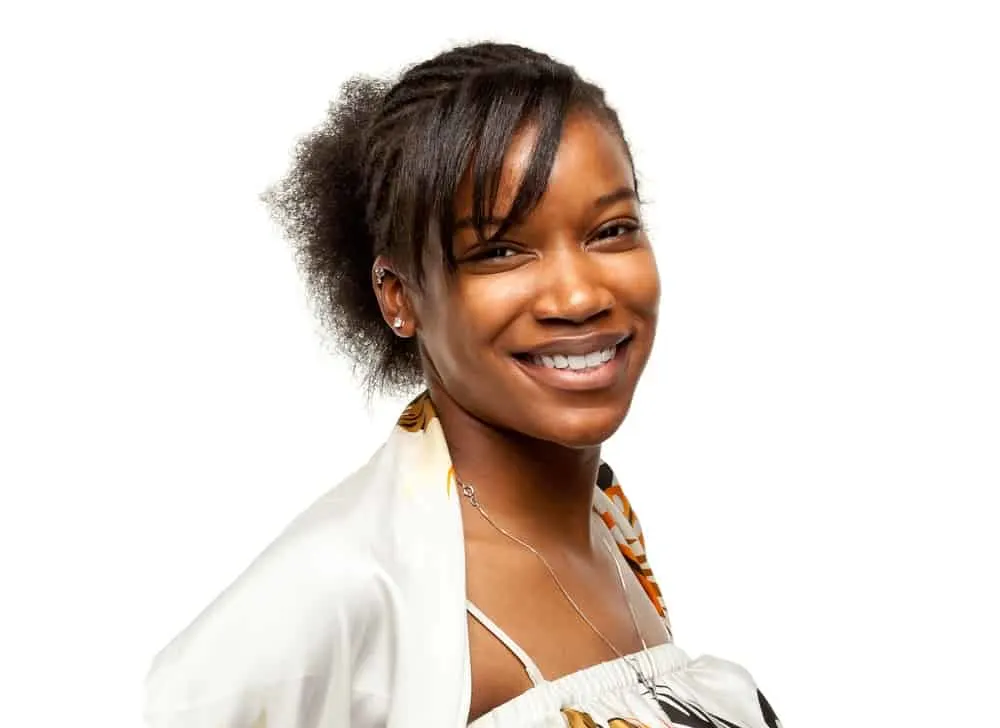 A classic black ponytail with cornrows works well as both a sporty hairdo and a chic one when you neatly comb out piecey bangs that fall to the side of your face.
8. Rolled Blonde Bangs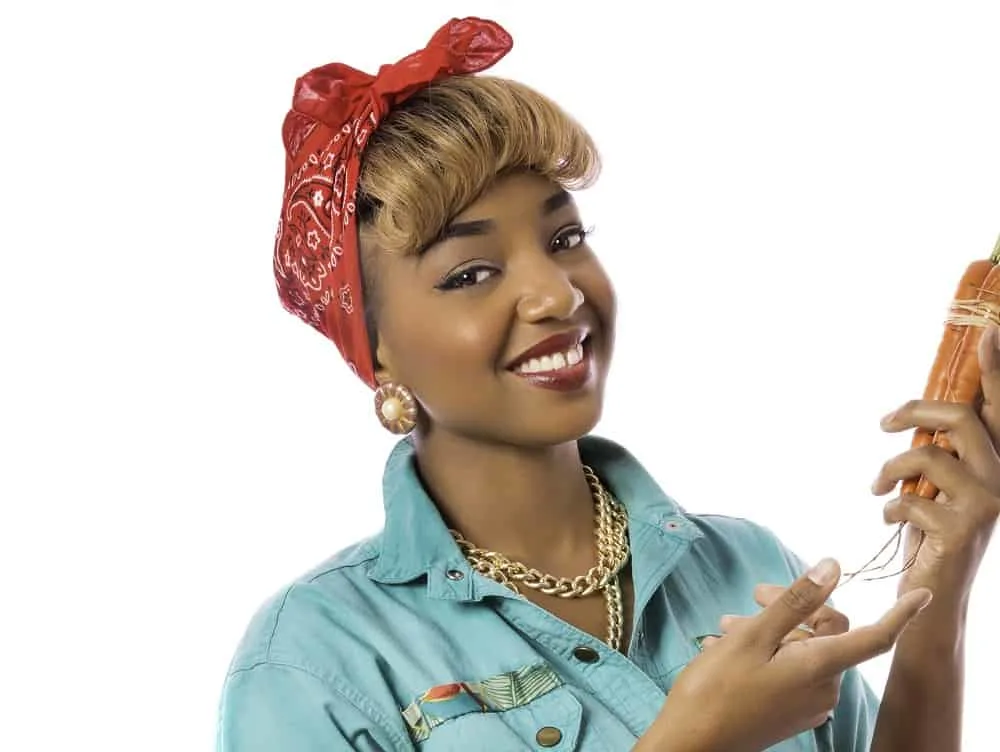 We're getting major pin-up vibes from the rolled bangs on this black hairstyle! Gather your hair into a high bun, then cover it with a bright red bandana. If you're feeling the need for some color, feel free to add blonde or caramel highlights!
9. Low Bun, Blunt Bangs
If an elegant hairstyle is what you need for a special night out, go with this soft low bun that you can wear with an edge by adding short bluntly-cut bangs to. The angled cut keeps them from being too harsh of a detail.
10. Short Black Hair with Bangs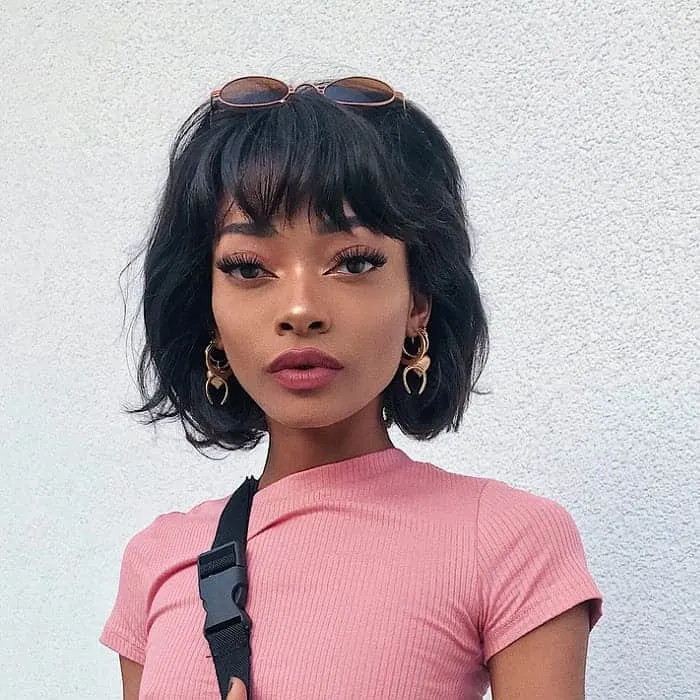 For a short wavy hairstyle, tousled bangs look best for a relaxed look. When going out on a date, straighten them for a more fancy look.
11. Long Hair with Bangs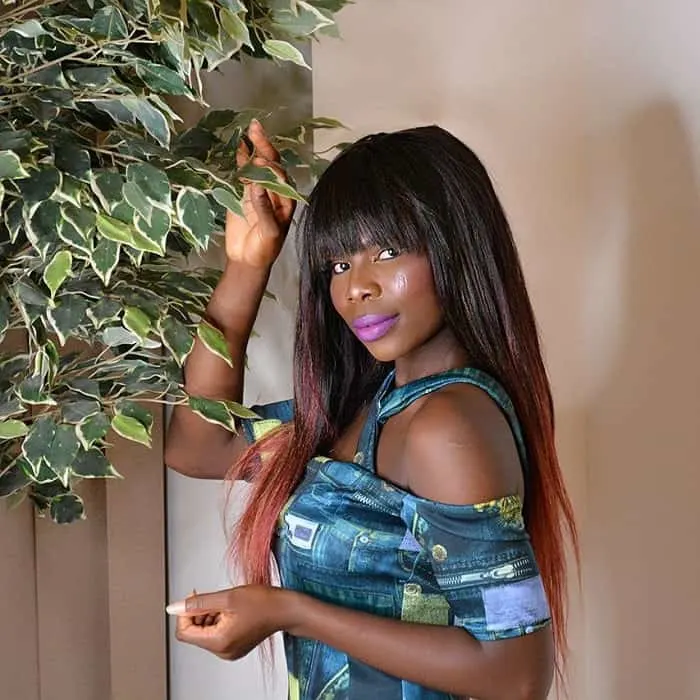 Long straight black hair is perfectly polished with straight bangs to match. Whether your hair is one all over color or a gorgeous ombre, you'll look beautiful.
12. Medium Hair Bangs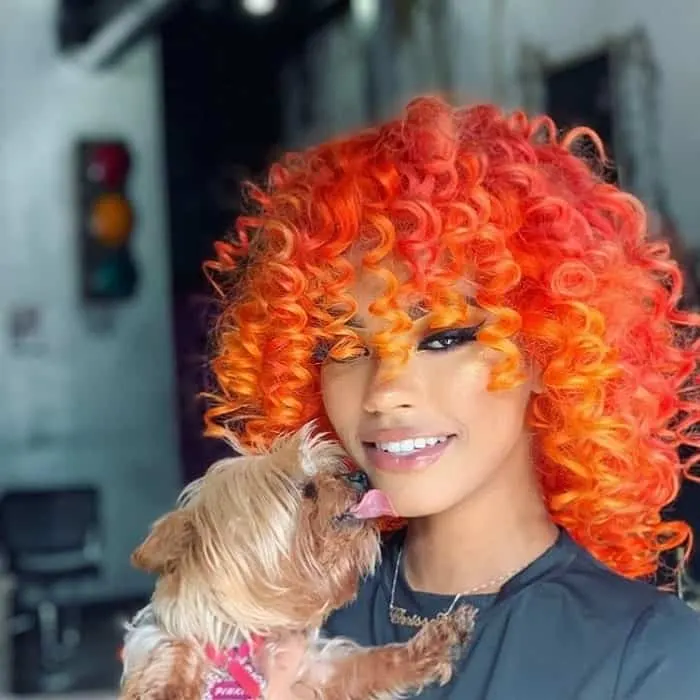 For kinky curly hair, keep it all above the shoulders for a springy and perky hairstyle. A pop of electric color like this mix of dark and bright orange will make it glow even more.
13. Ponytail with Bangs for Black Girls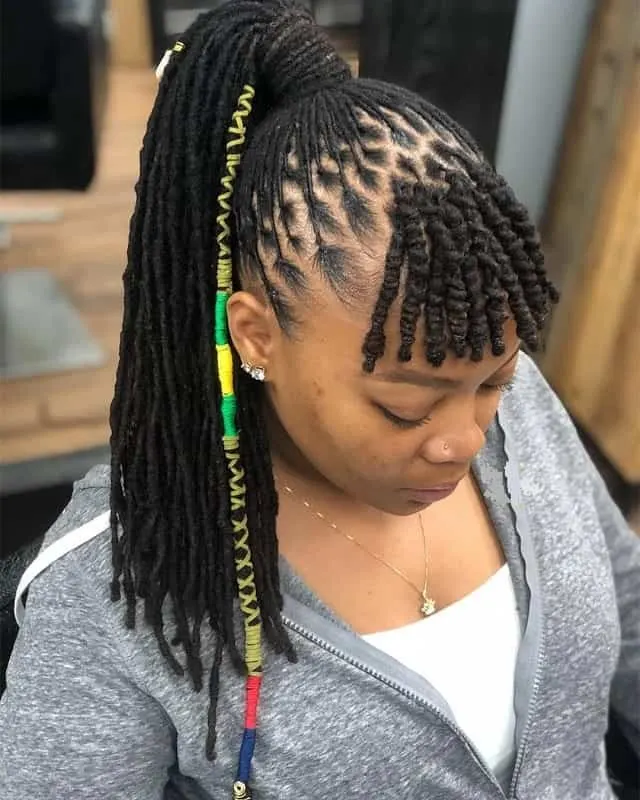 This long twisted black ponytail accessorizes easily with different colors of wrapped yarn. The bangs are twisted as well and meet just above eyebrows for a neat yet feminine style.
14. Curly Hair Bangs for Black Girl
Springy curls are saturated with turquoise color on this black hairstyle with bangs. It takes the whole look from predictable to pretty. Don't be afraid to try a color from the rainbow.
15. Black Hair Bun with Bangs
For that special wedding or other formal event, this smooth updo wraps up pretty purple and shows off layered bangs beautifully.
16. Braided Bangs for Black Hair
To feel like a queen, have your stylist braid your bangs. You can either leave the rest of the hair loose or wear it up in a gold-wrapped bun.
Women with super curly hair will love the way this shoulder-length layered bob flatters the jawline and frames a round face with its thick bangs.
18. Wavy Black Hairstyle with Bangs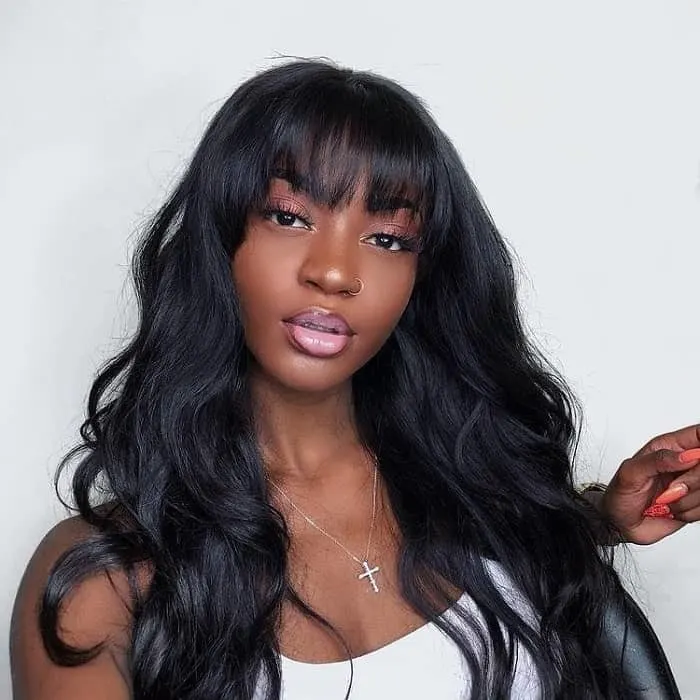 Soft waves and thin straight bangs can be worn as a relaxed style during the week or weekends or as a glammed up and easy look for date night.
19. Straight Bangs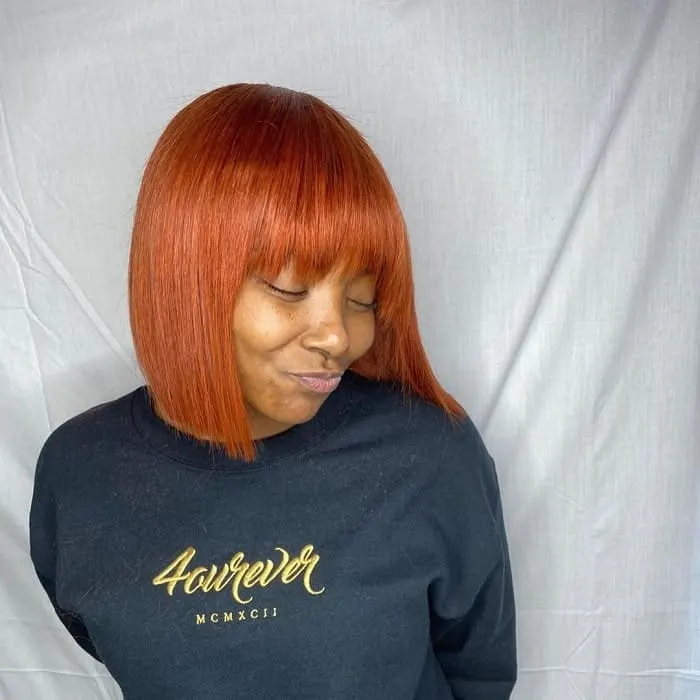 A straight bob has a blunt cut but you can also ask for a choppy cut or razor ends for a fun built-in style. Clip side pieces back for a quick look or leave it all as-is.
20. Pixie + Bangs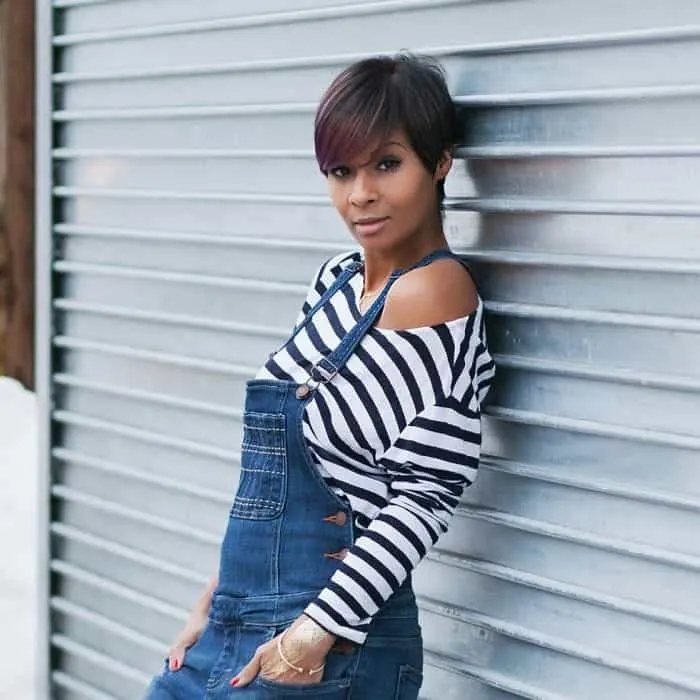 For the women who don't want to fuss with their hair too much, a pixie cut is a super cute option. For this straight style, part bangs at an off center angle.
21. Blonde Bangs for Black Girl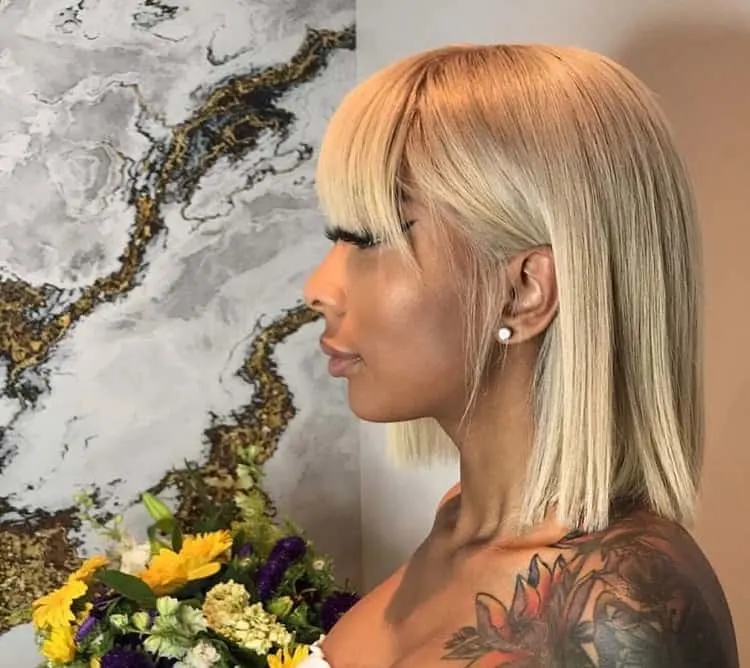 To complement skin tone in a gorgeous way, color your hair a medium blonde. Whether hair is pin straight or it has a little wave, this look is golden.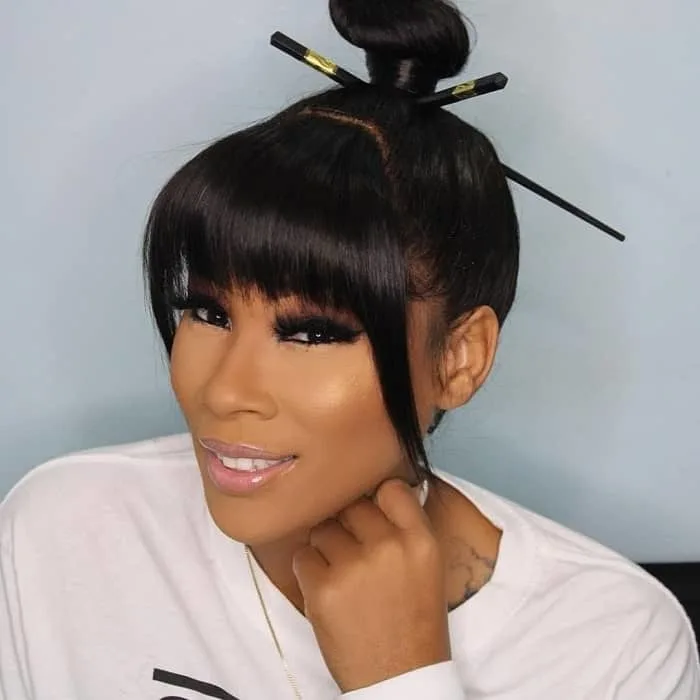 Chopsticks are a fun uncommon accessory you can use to liven up your usual updo. Leave two outside pieces longer to frame the face.
23. Black Wispy Bangs
These long wispy bangs for black women come past the eyebrows and are totally modelesque when paired with long straight hair. When it's blowing in the wind, you'll be hard not to notice.
24. Black Blunt Hair with Bangs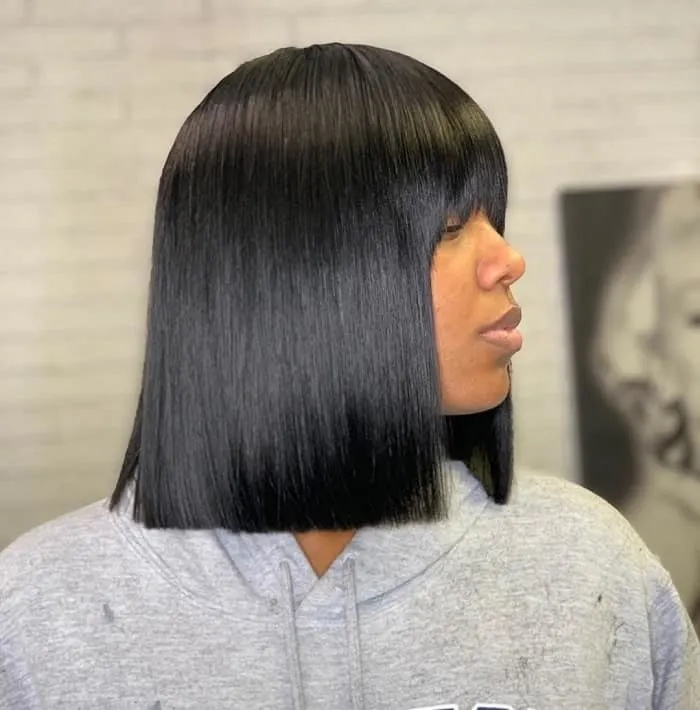 So you want Cleopatra's hair? A blunt shoulder-length cut is your ticket to hair envy. To keep frizz away use a heat protectant when flat ironing or hairspray to hold everything in place.
25. Black Swoop Bangs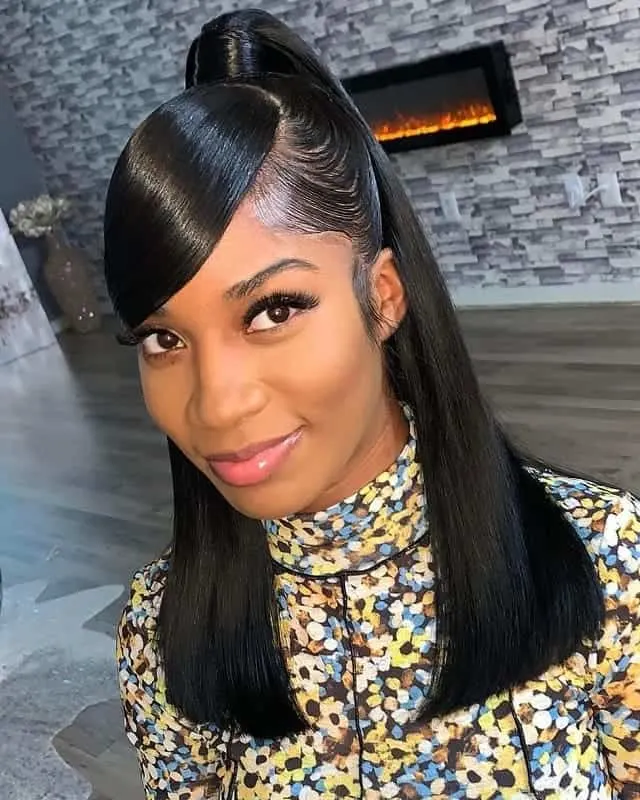 Models from the 60s would love the way this swooped bang is making a comeback. It flatters even the most oval-shaped faces and draws attention to the eyes.
26. Colored Bangs for Black Girl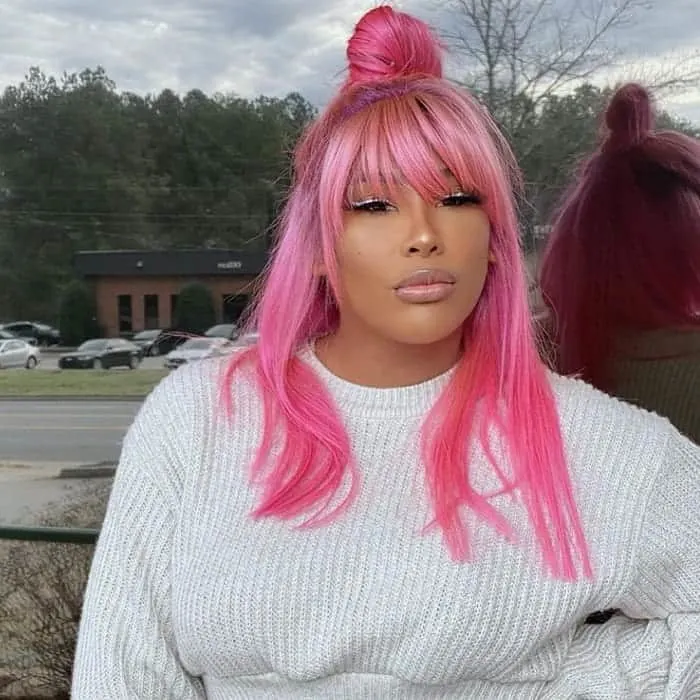 If you love experimenting with color, try hot pink this time around! Pull half your hair up into a small bun above straight bangs and your look is ready to go.
27. Side Bangs
Older women who fancy going shorter with their hair will appreciate a wavy or curly hairstyle that gives thinner hair more volume. The side bangs is easy to shape and breaks up dimension in the face as well.
Layered hair is not only easier to style and maintain, but it gives a better overall shape than hair that is one length. A combination of different highlights adds to the overall style.
29. Black Hair with Thin Bangs
If you have thin hair, short black hair with bangs that stops at the neckline is super feminine. Thin bangs are also cute as they don't overpower the look and are easy to manipulate for specific styles.
30. Black Weave with Bangs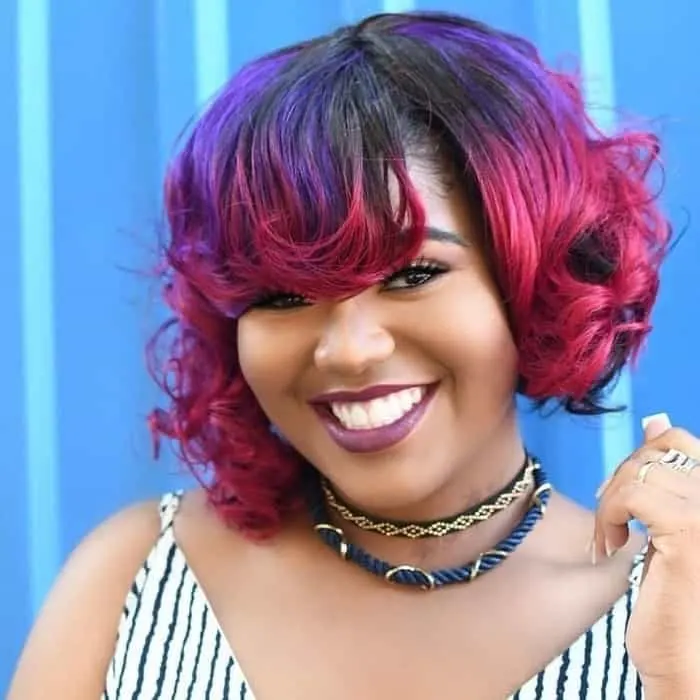 A rich magenta brings beautiful color to the ends of a curly hairstyle. Swooped bangs that are parted off-center help break up a round face but are also perfect for a special event.
If you didn't already have plans for this weekend, now you do! Head to your nearest stylist and show them your favorite bangs hairstyle from the black women above. A few tips to remember: for black women with large foreheads, long straight bangs will cover the most area and small foreheads look best with side-swept or curtain bangs.