Taylor Swift styles her hair with simple yet stylish haircuts. We simply cannot help but admire the seamless and remarkable transformations of this beautiful pop star.
The ever changing best Taylor Swift hairstyles are an integral part of the effortless charm she exudes. Swift always plays up her classic, elegant, and all-American vibe to the hilt and seriously rocks it.
Best Taylor Swift Hairstyles Ever
Taylor Swift is popular not only for her music but also her effortless country girl charms. Of course, we all admire and imitate the best Taylor Swift hairstyles in order to play up her effortless, All-American vibes and artful sophistication.
She may be the queen of drama and the center of constant gossip, but boy, this girl sure knows how to play up her hairstyles and keep her looks spiced up. But unlike most pop stars, Taylor has never taken the trashy route or dyed her hair hot pink like most pop stars.
Instead, she flaunted her Southern-belle features and curly tresses with infectious charm and beauty. But later as she grew older, we saw her giving up on her long curls, and flaunting edgier, sharper and shorter hairstyles.
If you want more scoop about the best Taylor Swift hairstyles, here's all that you want to know and more!
Long Blonde Tresses – 2022
This year the singer has grown her hair longer than usual. While receiving a doctorate in fine arts at NYU, Taylor wore her dirty blonde hair loose on one side with soft waves. Her piece-y bangs and red lips with a tilting graduation hat looked iconic as usual.
Loose Waves – 2021
Taylor Swift's sparkling crop top and tight skirt bedazzled everyone at the 2021 Brit awards. She went for bright lips and nude makeup while the stunning hairstyle was a throwback to her 'Red' era featuring gorgeous loose honey blonde waves tousled at the back with neatly-brushed bangs grazing the eyebrows.
Two-Toned Highlights – 2020
The American songwriter kept her cool during the summer of 2020. She flaunted her signature blonde locks with bright blue and pink highlights for a pop of color on the head. Shaggy shoulder-length layers and tousled bangs completed her carefree look along with soft pink makeup.
Pink Ponytail – 2019
During a rare appearance at the iHeart Radio Music Awards, Taylor Swift rocked one of her best hairstyles. She expressed her bold streak with bright pink highlights in between her usual blonde babylights that matched her sequin romper. She styled her hair in a chic ponytail with bangs framing her face at the front.
Curly Side Updo – 2018
Taylor went back to her flawless curls from 2009 at the Billboard Awards of 2018. She looked like an ethereal goddess with her short tresses gathered and pinned down on one side of the head while some of the ends were left to stick out. The singer coupled her updo with sleek side-swept bangs and berry-pink lips.
Country Girl Locks – 2007
In 2007, Taylor was the country girl who won every heart in America. Her voluminous curly ringlets looked adorable and even today are one of the best Taylor Swift hairstyles. The style added an innocence and softness to her feature that was simply infectious.
Bang Bang Baby – 2010
In 2010, TaylorSwift shunned the country girl looks and went for sleek bangs and dead straight hair. The look did wonders to highlight her sensuality, and of course, sharpened her features. We must admit, after flaunting her curly noodles for so long, this hairdo was a lovely change!
Selena Gomez Hairstyles That Created Big Buzz
Sleek & Sexy – 2012
Two years later, Taylor retained her sleek and straight hair with shorter bangs and artful layering. She retained her look classic and chic, and began flaunting red lipstick which later became Swift trademark!
Side-Swept Charm – 2013
The onset of 2013 brought quite a change in our favorite pop star. She shunned her teenage bubbliness and started experimenting with sharper and more mature looks.
This parted fringe and brushed out curls hairdo was one of Taylor Swift's best hairstyles because it worked wonders for her image of a young adult without killing her infectious country girl charm.
Chopped Curls – 2014
Taylor Swift had obviously had enough of flaunting her long tresses, and this chopped curly bob was a delightful change on this gorgeous Pop star. The curly bob was one of Taylor Swift's hottest hairstyles because it accentuated her features and added a striking sharpness to her face.
Slicked Back & Sensual – 2015
In 2015, the diva stepped out at the Elle Awards in this drop dead sensual hairdo, which is definitely one of the best Taylor Swift hairstyles ever. Her slicked back bob looked insanely sexy.
Bob Obsessions – 2016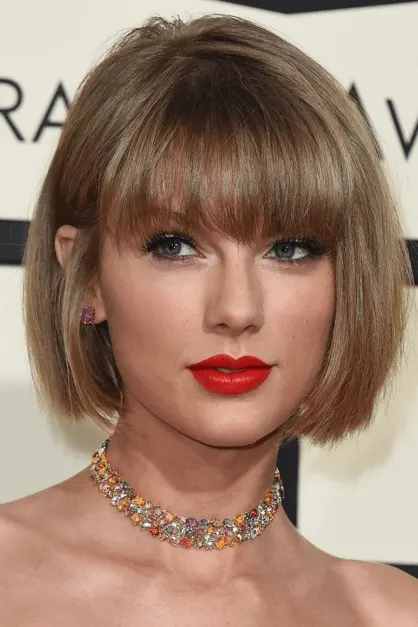 This gorgeous chin-length bob that was spotted in 2023 is one of the best Taylor Swift hairstyles and is definitely her chicest look ever.
7 Hair Colors Katy Perry Wore Well
Bleached & Bold – Taylor Swift Latest Hairstyle in 2016
For the cover of Vogue Magazine, Taylor Swift flaunted one of the boldest haircuts and hairstyles ever by channeling her inner Marilyn with this bleached blonde bob.