Selena Gomez's hairstyles are not quite the evolution that we see most actresses or singers take with their hair. This young actress is clearly not one to deviate from her own 'hair norm.'
She is a creature of habit which, for those seeking inspiration from Hollywood, some might find frustrating. For those who can appreciate stability in style with the occasional cut or flare, Selena Gomez just might be the gal for them. Who said you must change your look? Sometimes, it's okay to stay in your lane.
Selena Gomez Hairstyles
Let's take a journey over the years and peek at Selena's most popular hairstyles that created a buzz in the hair community.
1. Smooth Tight Bun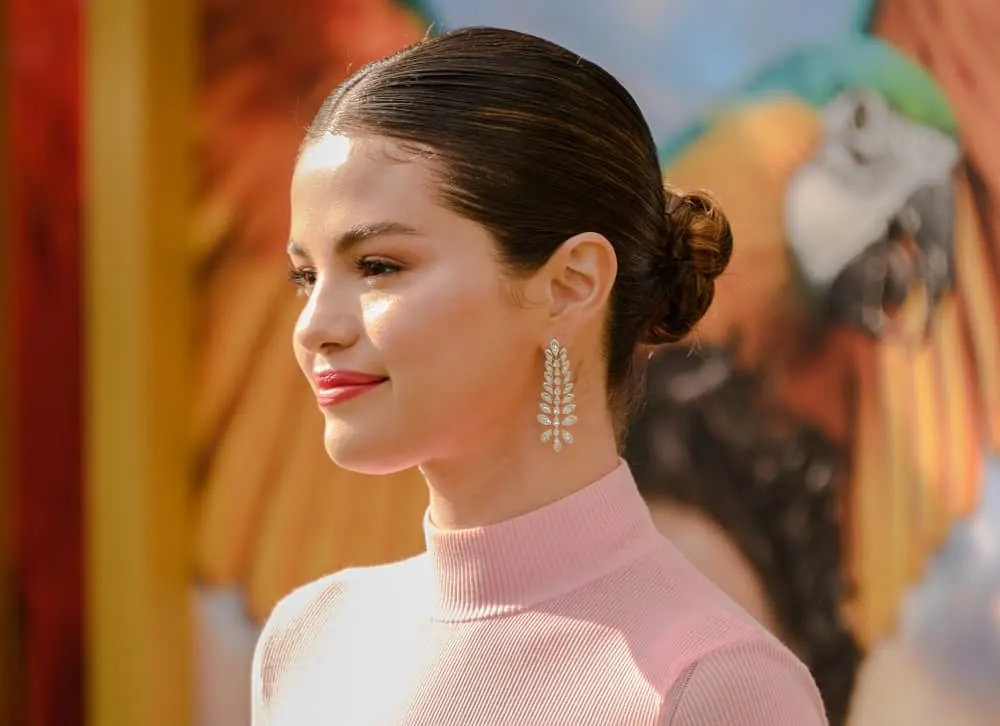 Instead of a soft, casual messy bun, Selena chose to rock a sleek and tight bun at an awards show. Her hair was parted in the center instead of combed straight back, and the bun was secured low.
2. Straight Angled Bob
When she wanted a more mature hairstyle, Selena Gomez chose a sleek, straight angled bob with light brown ombre. Since her face already has the perfect bone structure, bangs weren't needed, allowing her eyes to shine.
3. Loose Jumbo Braids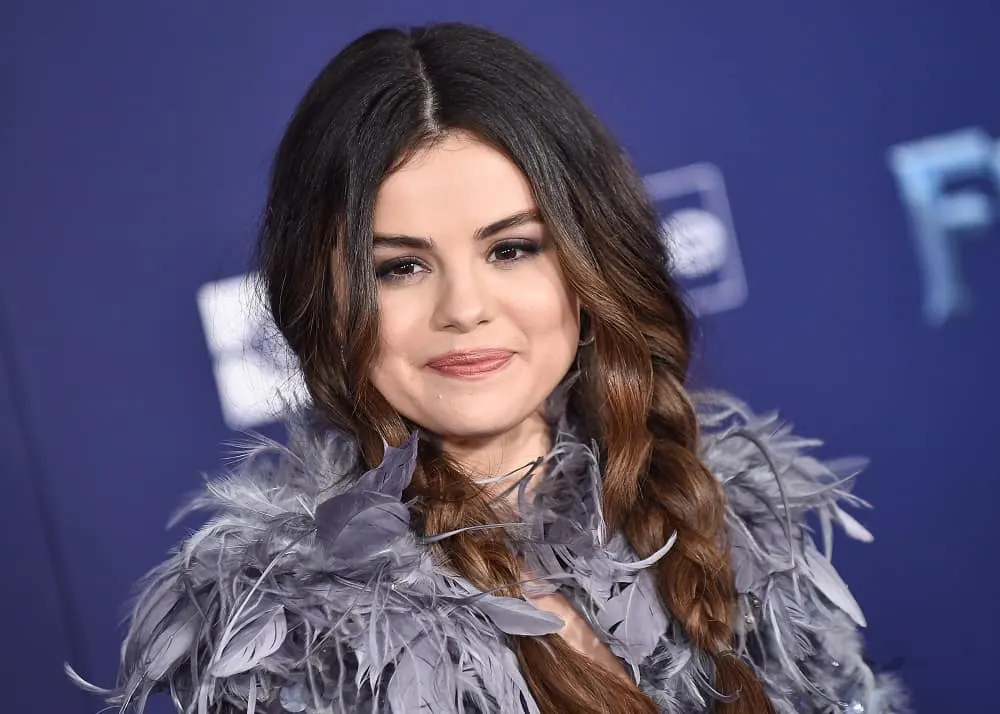 To get a soft, bohemian hairstyle, Selena chose two low braids. Their thick, loose styling made hair appear thicker. Tendrils on either side of her face were the final finishing touches.
4. Half Straight Half Wavy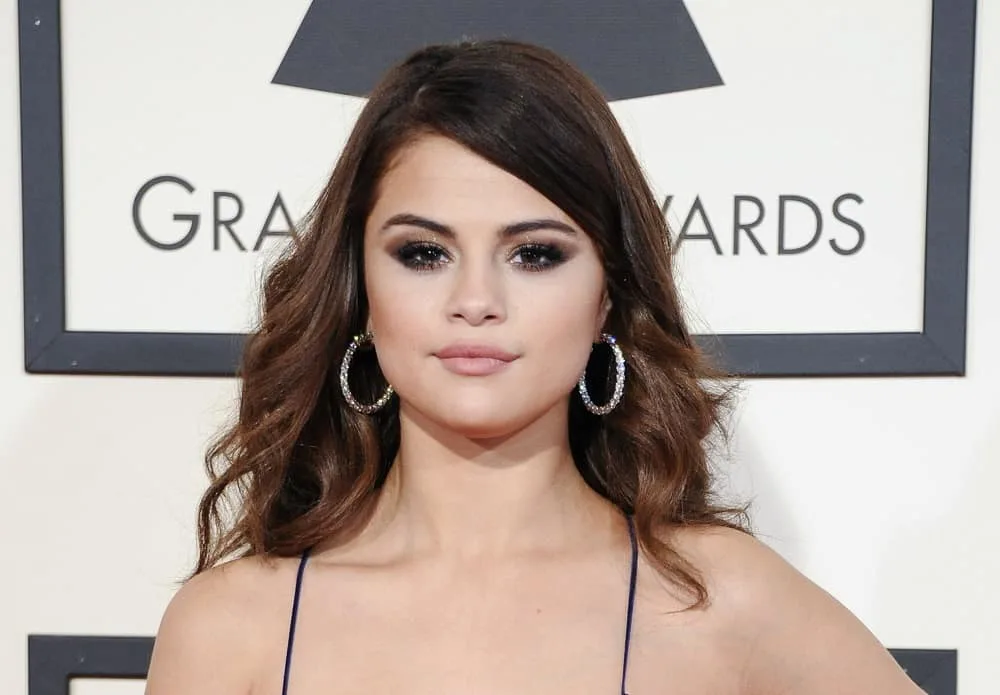 A small off center part was just the beginning of Selena Gomez's long glam hairstyle. A straightened top half led to long loose waves. Her shiny diamond earrings popped nicely against her hair's dark brown color.
5. Textured Light Blonde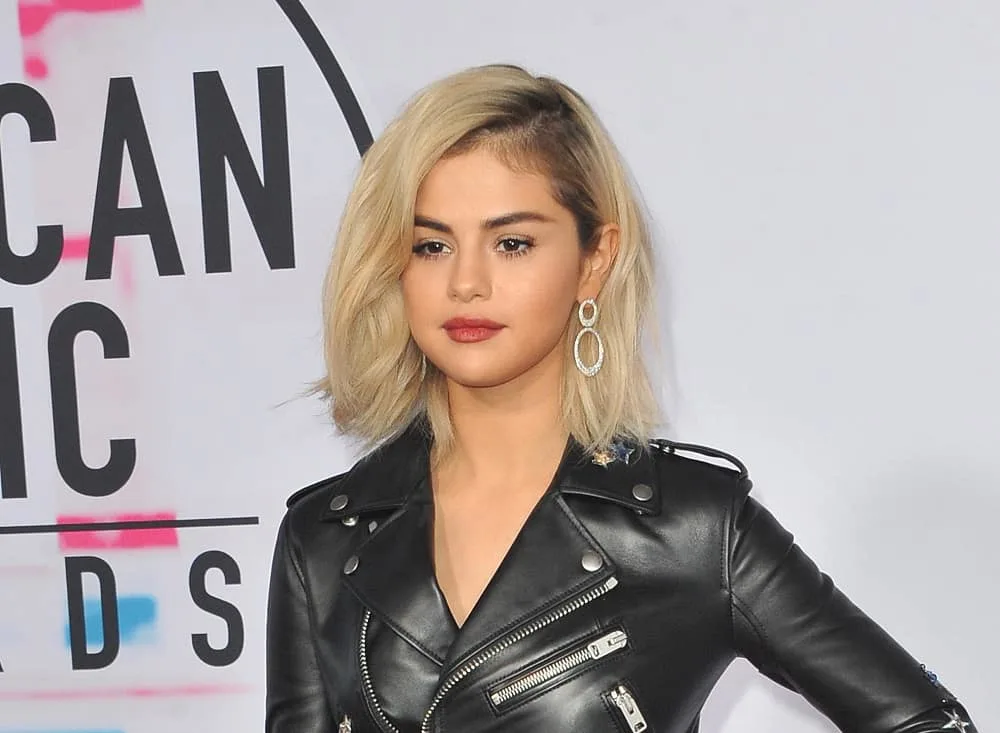 Part of being young and beautiful is rocking a leather jacket with a badass hairstyle. Selena's short textured bob was oozing sex appeal, especially with its light blonde coloring. A soft pink lip perfectly complemented the light hair color.
6. Long Hair Pinned Up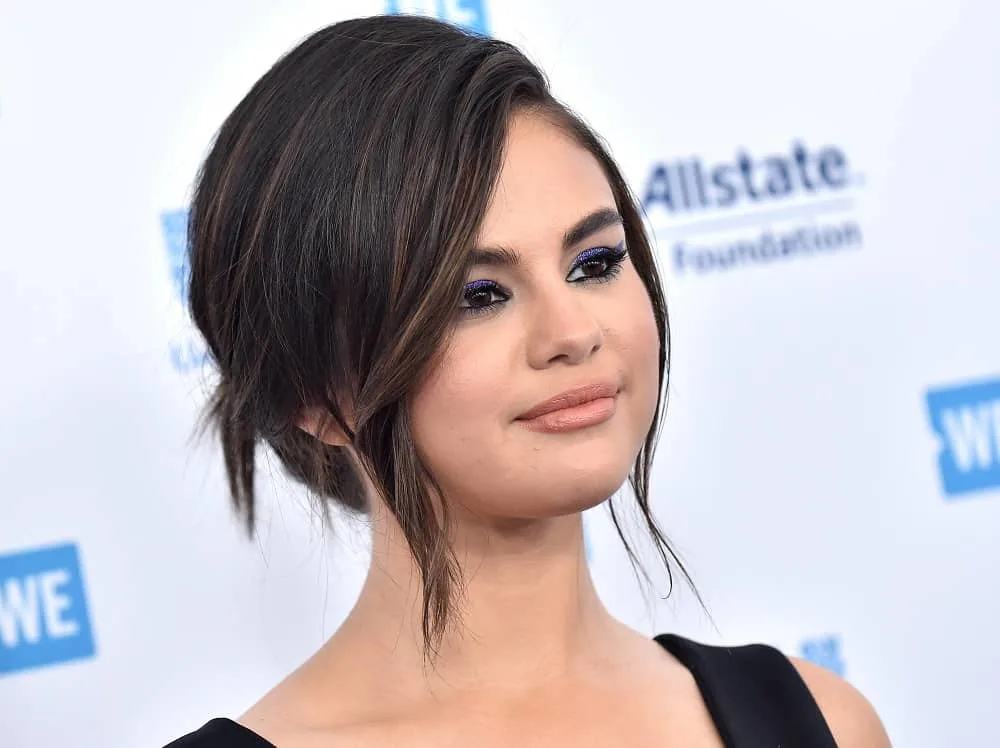 To make a pinned up hairstyle less plain, Selena Gomez wore a heavy off center part. It helped with emphasizing the shorter pieces of hair up front, which she wore loose to soften her face.
7. Glam Waves
Selena gave a nod to old Hollywood when she flaunted her long brown hair in smooth soft waves. Using rollers will help you get a similar hairstyle. For sleekness, nix frizz with a heat styling serum.
8. Half Updo with Beachy Waves
It's a cross between beach babe and bohemian flower child when we see Selena's long wavy locks in a half updo. Whether you use fake or real flowers, don't be afraid to load them up for color and character.
9. Sporty Sleek Ponytail
The sleekness of this half ponytail nicely complements the curly bottom half. Rock your own ponytail like this or make it a little higher for more attitude.
10. Selena's Big Texas Hair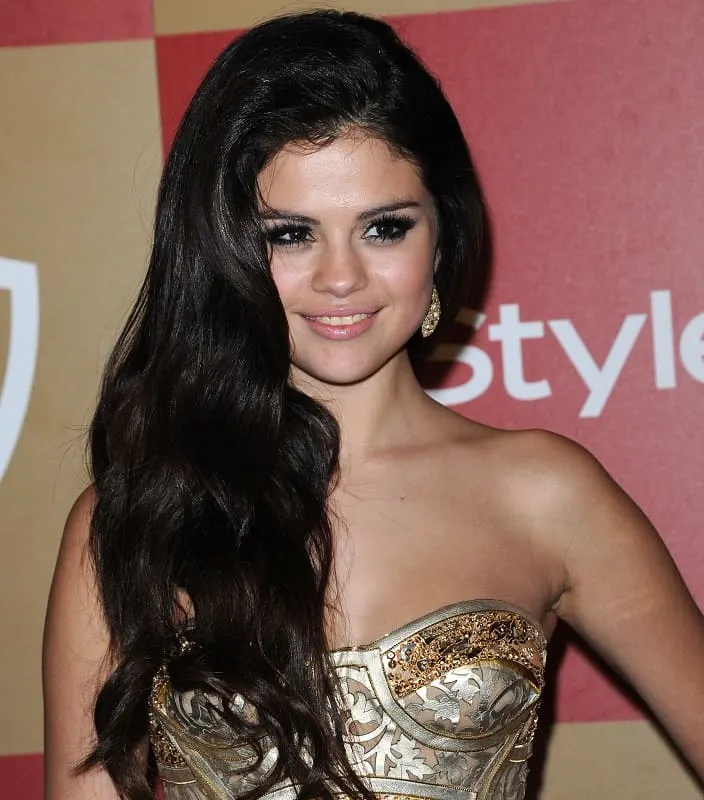 Everything is bigger in Texas, and the same is entirely true for Selena's 2013 hair. She is wearing the necessary part with subtle waves embedded within the length of her Big Texas Hair. There's nothing spectacular about this hairstyle itself, but for those who love hair that has length, you might appreciate the volume and natural color.
11. Flat Iron School Girl Haircut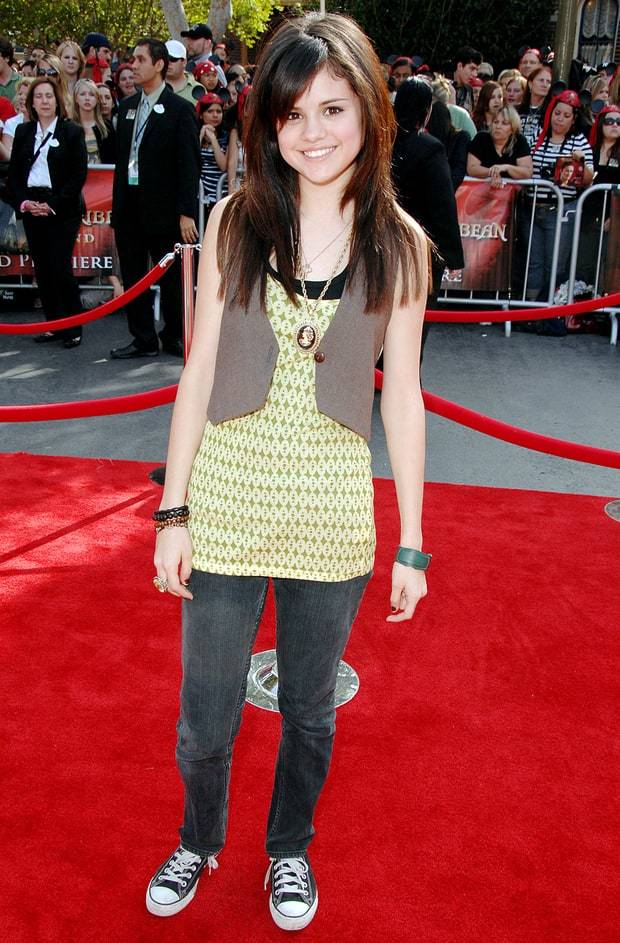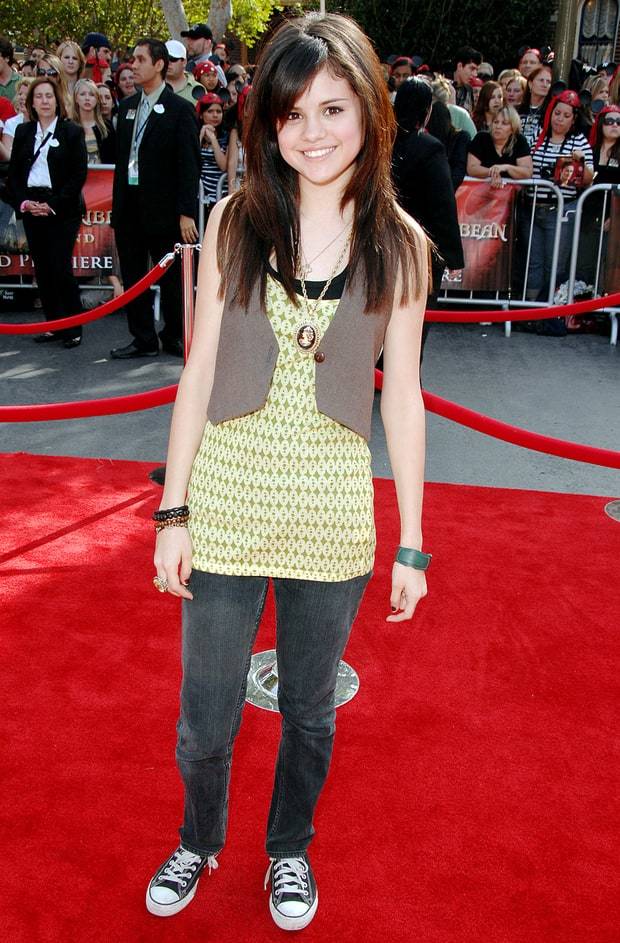 Selena's flat iron school girl hairstyle is age-appropriate. Here usually, slightly curly and kinky hair is flat-ironed but still puffy somewhat in areas where her hair is noticeably attempting to revert to its natural state. Notice that the ends are even, but other components of this hair have layers.
12. Selena Gomez's Girl Next Door Hairstyle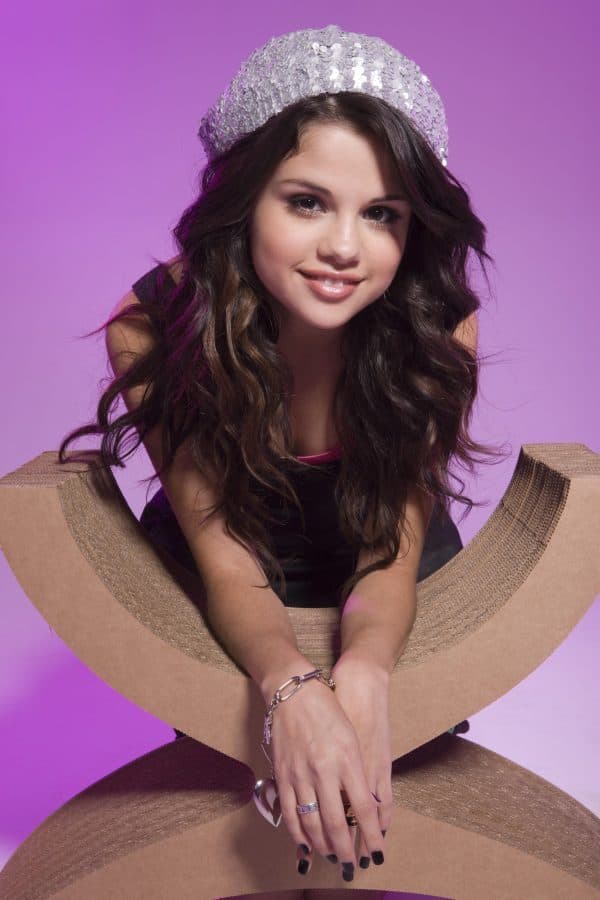 Selena's Girl Next Door hairstyle is lively and fun in this image. As opposed to the previous style, this hair is perfection. There are waves in these tresses which give Selena a youthful but more girlish look. The beret adds a bit of fantastic style to the overall presentation.
13. Medium Length Bob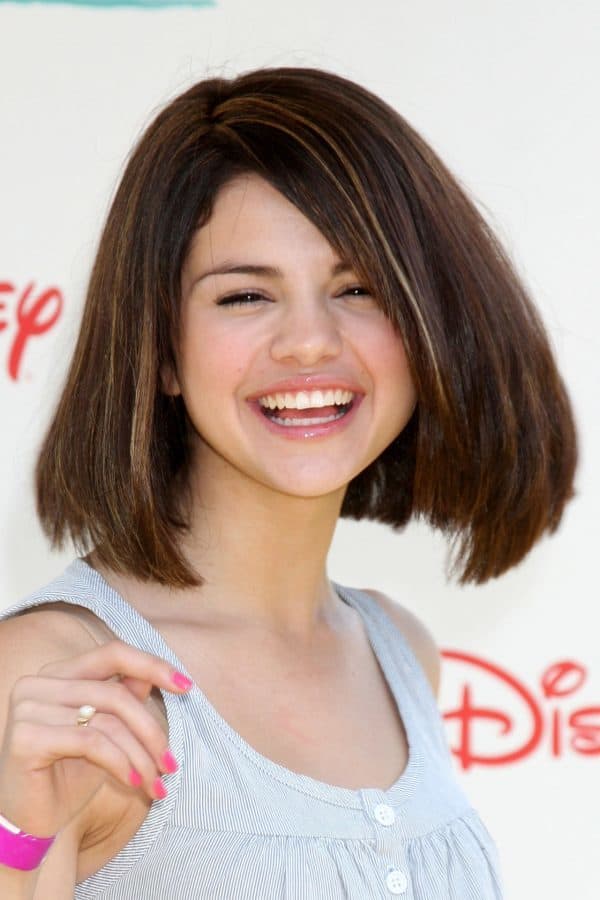 Medium Length Bob haircut by Selena Gomez just might be the one time in which we saw her make a sharp adjustment to her brand and look. Nonetheless, the style was rather becoming for her and created a slightly different style for the young actress.
The style contains highlights and low lights which further accentuate the clean cut. Nothing is fascinating about the cut other than it being a sharp change in Selena's style, but it is a pleasing cut for the shape of her face and age.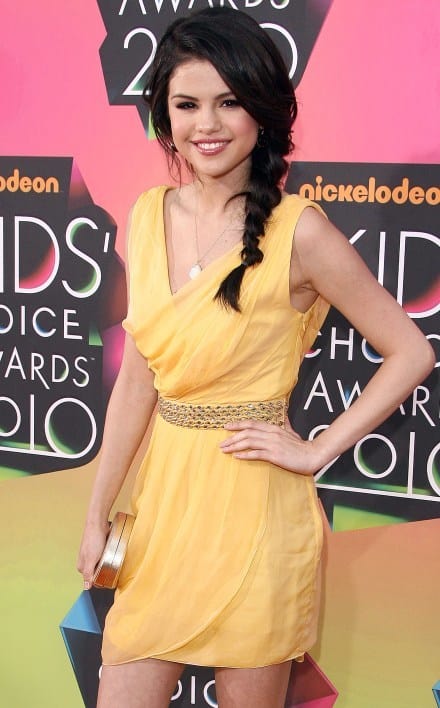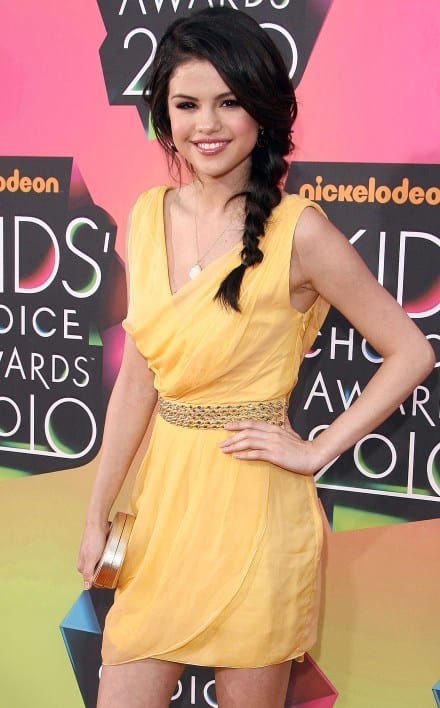 Selena's Side Ponytail Braid Hairstyle is a soft and mature look. Her dark tresses flow loosely but still cleanly into a braid, and one cannot help but appreciate this shift from her usual look of long hair. It's a very safe style which perhaps is a testimony to her inner conservative, mature spirit.
15. Selena Gomez Long Hairstyle with Big Curls
Selena's long hairstyle with the fundamental part on the side is a standard style that any girl can wear. Again, it shows that Selena does not deviate a whole lot from her everyday look. Her hair color is a bit lighter and makes her go-to style a bit more vibrant in appearance, but the style is one that is easily achievable with the right curling iron.
16. Selena's Single Braid Faux Hawk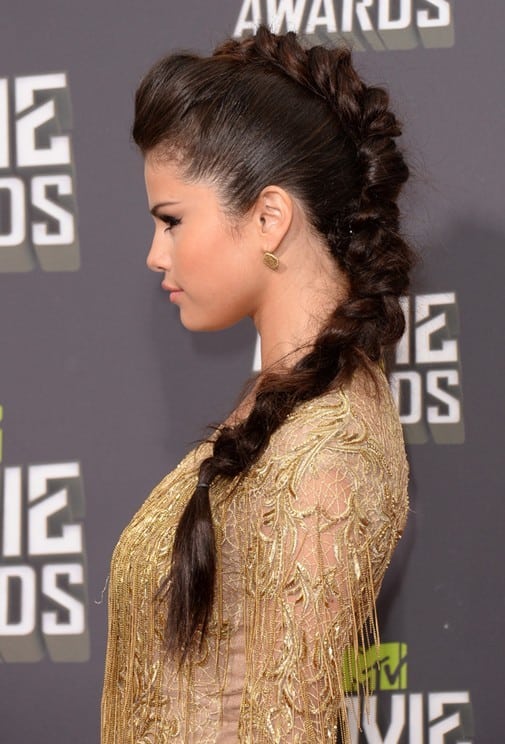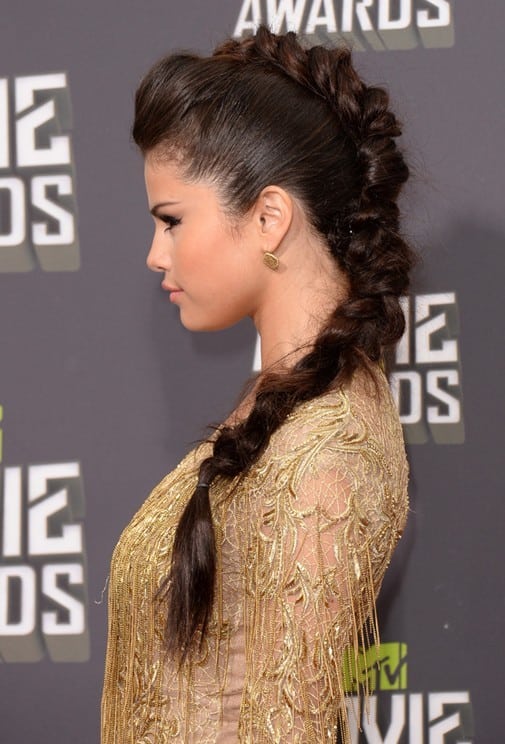 Braid Faux Hawk is perhaps the most daring of a style we will see Selena dare to embark upon with her dark tresses. Takes a lot of extra hair to create this look if you're interested coupled with a lot of holding spray. However, it gives her a nice princess-like look and is a pleasant departure from her usual style.
17. Middle Part with Bronze Bayalage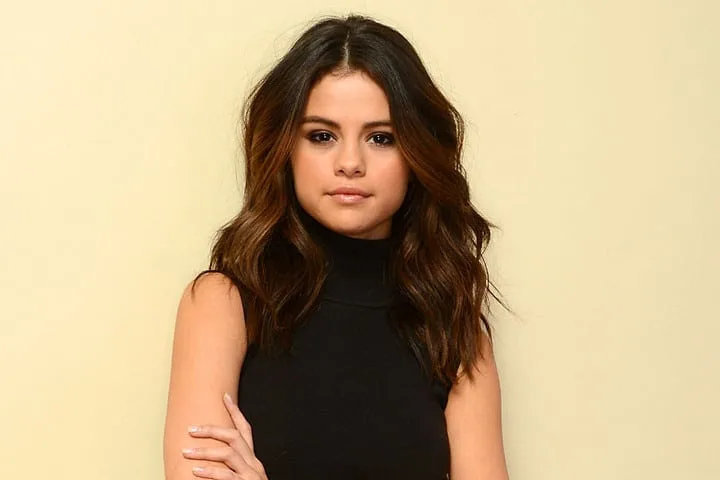 Selena Gomez's Middle Part Hairstyle with a tinge of brown and bronze bayalage is yet another conservative take on Selena's typical stylings. These wavy tresses are refreshing with a hint of evolution for Selena. It's classy and gives testimony to the fact that she's not a little girl anymore. It's a mature style for a young woman.
18. Selena Gomez's Black Hair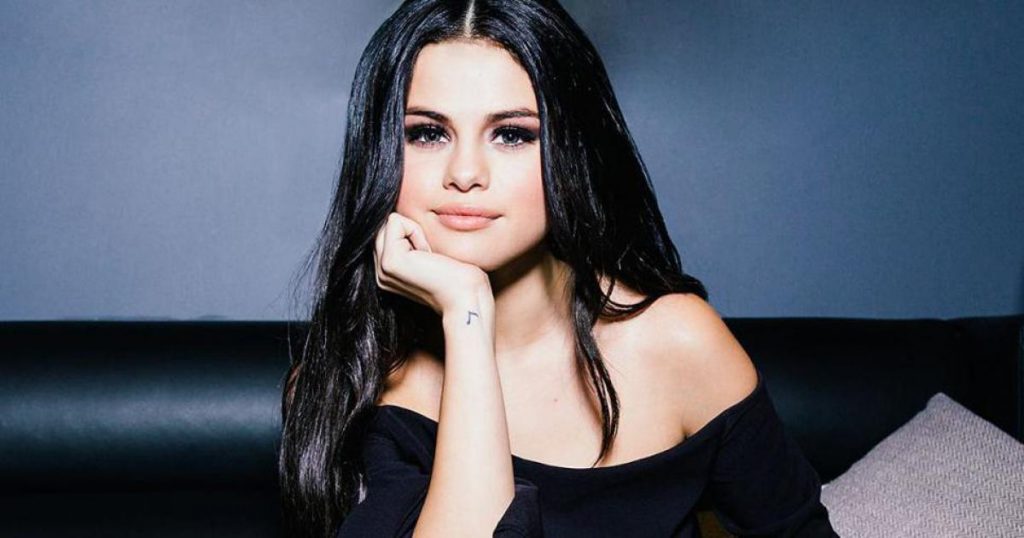 For those seeking a masterful change to Selena's look, keep in mind that you probably will not see that, however, this sleek look for Selena is somewhat of a shift. Darker hair and a straighter look are probably as good as it gets with actress and singer, but the black hair aligns with the evolution of the individual who has shared her trials and tribulation.
If you have heard Selena Gomez speak, you know that she is mature beyond her years. It also gives a bit of insight into reasons why she might not change her look very often. She seems to be a guarded soul. This quality might contribute to why she does not take very many chances with major hairstyle shifts. Should her hairstyles be classified as boring? Probably not. She's a creature of habit.