Miley Cyrus's hairstyles are iconic when it comes to how to best wear medium to short cut hairstyles. From platinum blonde to blonde tips, Miley Cyrus' haircuts are fascinating and trendsetting for divas who love a short hairdo. Here are 25 timeless hairstyles worn by Miley Cyrus that will continue to turn heads in 2023.
1. Two-Toned Shag
Miley Cyrus is the star of punk hairstyles. Here she combined choppy layers with curtain bangs while all the strands were brushed forward to fall on the face. She also went for a black underlayer that popped from beneath the blonde locks.
2. Messy Appeal
The American singer looks sexy even when messy. Her curly bangs graze the eyes with fluffy waves falling on the shoulders. When recreating this style don't forget to rock a pastel blue eyeshade as it is what sets the look on fire.
3. Wolf Cut
The wolf cut is one of the best exotic hairstyles Miley Cyrus has ever rocked. The actress cut off her thick blonde tresses into choppy layers, thin ends, and straight-cut bangs giving off some serious 70's rock star vibes.
4. Soft Curls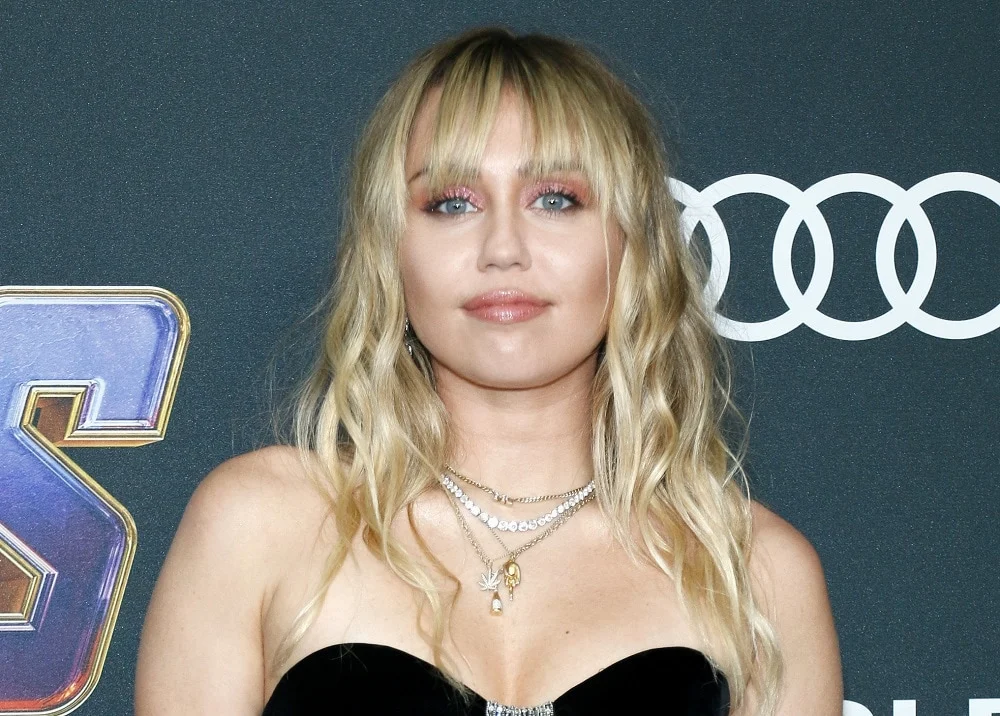 Soft curls are enough to steal the show and this look proves it. To copy Miley's exact hairdo all you need is a curling iron. Brush out the curls to loosen them a bit keeping the bangs perfectly straight on the forehead. Voila!
5. Slicked Down
Instead of slicking back her locks, the songwriter with her brown hair, took part in the wet hair trend with a deep side parting. The strands were tucked neatly behind her ears while delicate light blonde highlights imparted a subtle glow to her face.
6. High Ponytail
All girls love a high ponytail and so does the Hannah Montana star. The tresses are pulled back to be secured in a hair tie at the top with a chunk of hair wrapped around the base of the pony. Simply chic!
7. Side-Tousled
Miley goes easy on her hair every now and then. On one occasion she went for loose side-tousled waves while her perfectly swooped fringe was the real star of the show. Sport this style on an oily hair day and you won't regret it!
8.Half-Up Style

While performing at the MusiCares gala 2019, Cyrus coupled her black sequin dress with a classic half-up hairstyle. A strand or two were left to frame her face with dark roots proving that a low maintenance hairstyle can look stunning too.
9. Retro Finger Waves
Miley looked just like Marylin Monroe with these gorgeous finger waves! Rock this retro look at least once by creating S-shaped waves using some mousse, duckbill clips, and your fingers.
10. Long Bangs + Undercut
This exotic hairstyle that Miley Cyrus sported in 2013 to blow away her fans is still in style today. The blonde top is kept long enough to fall over the sides and back while long choppy bangs cover the forehead at the front.
11. Voluminous Bob
The pop singer shed off her girly appeal with a lady-like voluminous layered bob. The caramel roots are teased giving off bouffant vibes with blonde highlights and flipped-out ends spicing up the vintage hairdo.
12. Ruffled Braid
Cyrus wowed everyone while showing off her long tresses with a messy side braid. The shorter strands were side-swept to frame her face and kept all the attention on her soft makeup. Easy-breezy!
13. Elegant Updo
The American television star sported an elegant updo at the MTV Awards of 2011. Her long blonde locks were pulled back in a twisted bun with a barely-there middle parting. This look can be regarded as the perfect hairstyle for formal events.
14. Long Auburn Locks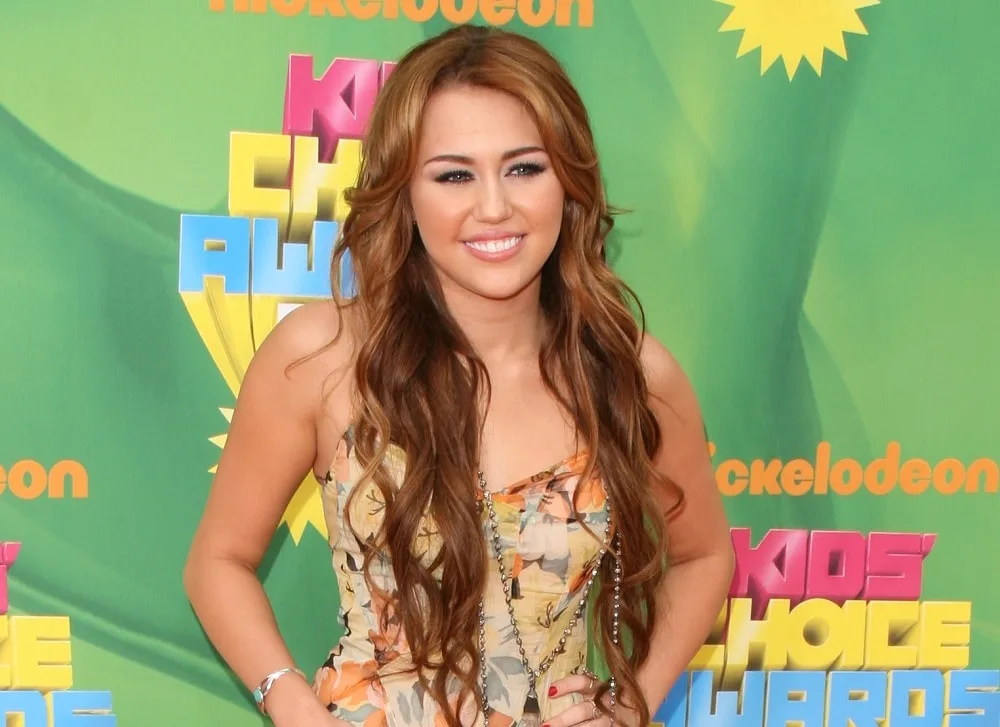 A throwback to Miley's Hannah Montana days where the actress looked like a real-life Rapunzel with her long auburn locks layered softly to reach the hips. She rocked on the red carpet with luscious waves tousled at the front.
15. Chic Chignon
When enlisting Miley Cyrus's hairstyles it is impossible to overlook her hairdo at the Annual Academy of Country Music Awards 2011. Her off-shoulder dress coupled with a disheveled side-swept chignon bun and face-framing bangs made her look like an ethereal goddess.
Miley Cyrus' pixie, platinum blonde style demonstrates that a good hairdo never goes out of style, particularly for someone with the right bone structure and youthful face.
17. The Miley Short Hair
Miley Cyrus' short haircut is a low-maintenance style that can make a casual or fashionable statement. In this picture, a simple part on the side with minimum volume shows that less gives us so much more.
18. Miley Cyrus' Platinum Faux Hawk
Yes, this Miley Cyrus platinum faux hawk is simple yet, abundantly stylish. While this platinum faux hawk gives her an edgy look that is reminiscent of the American singer Pink, this gorgeous hairstyle is easily transferrable to a night on the town.
Who says girls cannot rock a good pompadour? Miley Cyrus' platinum pompadour once again gives her a look of edginess but also chic elegance for a night out. For those looking for a style that is all about personality, Miley Cyrus' platinum pompadour is a wonderful option. Her hair neatly lays down on the sides and back while the hair up top is rising towards the heavens!
20. Short Boy Cut
There's nothing like a good comb over on a guy, but Miley Cyrus' comb over proves that this style is not just for the boys. Rather, this technique demonstrates the versatility of a good haircut and how to show off a good platinum color. Miley's hair has a close cut on the sides and back, and hair is of medium-length up top.
Miley Cyrus' short bob cut is a lovely change of pace if you ever decide to soften your look without adding an excessive amount of length to your hair. If you are an African American woman, here some are stunning short bobs for black women.
22. Long Bob Cut
Miley Cyrus' long bob cut demonstrates what a few extra inches can do for you coupled with a deeper strawberry blonde color. This long bob hairstyle embraces the shape of her face. You can also try long bob with side bangs.
23. Miley Cyrus' Ponytail
Miley Cyrus' ponytail is a signature look for her these days, showing that every girl loves a good ponytail. The great thing about ponytails is that if you do not have enough hair to create this look, you can always purchase a premade ponytail or a few hair extensions tracks to create this look.
24. Platinum Wig
Every girl should have a good wig on hand to create a new and exciting look. Miley Cyrus' platinum hair is an excellent example of how wigs can be a beautiful accessory to completing a look. Wigs are a fantastic way to alter your look without having to disturb your hair.
25. Miley Cyrus' Wavy Hair
Wavy tresses do not appear to fade at all but instead, travel from year to year as a fashionable hairstyle. Miley Cyrus demonstrates that the wavy hairstyle is still a way to create a new look and an incredible opportunity to accentuate hair that has color.
These are just 25 examples of Miley Cyrus hairstyles that are transferable for 2023. Miley shows us that a good hairstyle can be soft and sleek or edgy and formal.