Katy Perry's hairstyles are so vivid, full of energy, and never dull. The singer loves experimenting with her hair, whether we're talking about adding hair extensions, wearing wigs, or making dramatic cuts and changes. She's sassy and fierce and knows how to take advantage of her perfectly oval face.
Katy Perry Hairstyle Timeline
2008: Long, wavy black hair with side-swept bangs
2009: Retro pin-up style with a medium-length bob and blunt bangs
2010: Shoulder-length jet-black hair with soft curls and highlights
2011: Blue wavy bob inspired by her "California Gurls" music video
2012: Pink and purple candy-colored hair with loose waves
2013: Long, dark brown hair with a side part and loose curls
2014: Medium-length green hair with a sleek, straight finish
2015: Shoulder-length bob with a purple color and side-swept bangs
2016: Bleached platinum blonde pixie cut with a side part
2017: Short, tousled golden blonde pixie cut
2018: Slightly longer, choppy pixie cut with dark roots and platinum blonde ends
2019: Shoulder-length, wavy lob with a rich blonde color
2020: Medium-length, platinum blonde hair with loose waves and a side part
2021: Long, wavy dark brunette hair with a side part and subtle highlights
2022: Half up hairstyles
2023: Dark updos, finger waves, and bangs
Katy Perry Hairstyles
Katy Perry's hairstyles are unique and she's quite a trendsetter in her singing field and in the beauty and hair department. She always has iconic appearances on stage, on red carpet, or on TV shows, and she's not afraid to show off her bubbly and amazing personality.
If you love Katy Perry as much as we do, check out the images below and let her looks inspire your future hairstyle. Also, don't forget to tell us in the comment section which is your favorite moment or appearance of our gorgeous Katy.
1. Ballerina Bun
Katy Perry always loves to amaze and stun her fans with her new hairstyles. The brunette singer opted this time for a top ballerina bun and a faux fringe.
You can replicate her look by pulling all the hair up and wrapping it on a sponge donut. Choose a faux fringe that matches your color and clip it in the center of your head.
2. Wide Finger Waves
Katy Perry is such a versatile artist and she always amazes us with new, uncommon hairdos. To draw all attention to her beautiful ocean-blue eyes, the artist chose an updo with bangs swiped to the side.
She created wide finger waves that give her a retro elegant look. The singer wore a voluminous fur on her head and completed the look with long dripping earrings.
3. Half-up Buns
One of the best Katy Perry hairstyles is this half up half down hairdo with space buns. To recreate her look, part the hair in two sections, the upper and the nape part.
The top section should be parted again into two sections which you will use to build two rolled buns.
4. Side Bangs with Top Bump
The singer looks stunning with both short and long hair. The hairstyle features a side asymmetrical fringe with a big top bump.
You can create the bump by teasing the hair with a comb and fixing it with hair spray. The rest of your tresses can fall on your back, in a cascade.
5. Voluminous Waves
One thing is for sure, the American singer loves a voluminous hair. A hair bump with waves and curtain bangs is a great way to show off her milky skin, frame her face and emphasize the color of her eyes.
If you want to highlight your facial features just the way she did, go for a jet-black hair color that will make you look thinner and you will end up with a new fabulous look.
6. Pink and Blue Highlights
Mixing jet-black hair with pink and blue highlights is definitely a good idea when you crave a look that is truly breathtaking and steals all the glares.
And Katy Perry knows her way around hairstyles! She chose this color mix-up for a gorgeous lace dress, for an upscale event.
7. Blonde Pixie
Katy Perry is certainly not afraid to chop off her hair and go for a short pixie haircut. She did it several times and we can always expect a dramatic change from her. And to be honest, you can't ignore how this hairdo highlights her perfect face shape and flawless skin. Also, it's clear that blonde nuances brighten her eyes and make her look breathtaking.
8. Long Wavy Ponytail
The American Idol judge won our hearts more than a decade ago thanks to her looks and her sweet and powerful voice. Also, she has that cute childish vibe even when she rocks a glamorous outfit and hairstyle. We can all agree that she is mesmerizing with both short pixies or impressively long manes, right?
9. Space Buns
Katy Perry made several look changes over the years, and this simple hairstyle with long hair pinned in two space buns is one of the most iconic. This brunette look suits her like a glove because it makes her eyes stand out and provides such a great frame and contrast.
10. Retro Look
Bob hairstyles are no strangers for Katy Perry and she loves a good old-fashioned retro hairstyle with tips styled inwards. She showed her innovative skills by picking a plastic headband and geometrical earrings that give the whole look a modern twist.
11. Middle Part
She has attitude, style and she's never afraid to act like a rockstar. And her long brunette hairstyle proves it. The hairdo uses hair extensions that are layered and create a great face frame, elongating her face. They are slightly waved, messy and certainly look good on stage.
12. Dark Roots with Bun
Showing dark roots on a red carpet? Not a problem for our dear Katy Perry. She styled a flawless top twisted bun and brushed her baby hairs to create mini finger rolls. Sideburns are thick and waved to give the hairstyle a more romantic touch.
13. Pixie with Undercut
Katy Perry has always been a badass and expressed this side of her personality through her hairstyles. So combining a blonde top for the pixie with a brunette undercut will undoubtedly gain attention for you, as it did for her. Follow Kathy's example and go for a strapless dress if you want to show off your neckline and collarbones.
14. Electric Blue Hair
This hairstyle is by far the most iconic and beloved choice she ever made in terms of hairstyles. She also inspired so many women to embrace their true colors and sport vivid and electric hair nuances. Katy Perry stunned everybody with those short straight bangs and long curly hair. And the way she combined that hairstyle with diamond dresses blew us all over our feet.
15. Katy Perry's Purple Hair
This purple ombre demonstrates that even color as powerful as purple can give a gal a soft and almost ethereal look. While this Katy Perry hairstyle is a traditional, long look, the purple adds a great mystique. You can also try these purple curly hairstyles or black + purple mix to get a unique hairstyle.
16. Green Hair
Katy Perry's medium length, wavy hair is already vibrantly gorgeous as is, but the green color gives attractive energy that makes this style very attainable to the everyday girl seeking a new look. Green ombre is also another awesome option if you like a little ombre shade.
17. Katy Perry's Chameleon Hair
Every hairstyle by Katy Perry has been something special and innovative. Her chameleon hair color and the added ponytail is a great look for a party-like atmosphere.
Top 10 Funkiest Miley Cyrus Hairstyles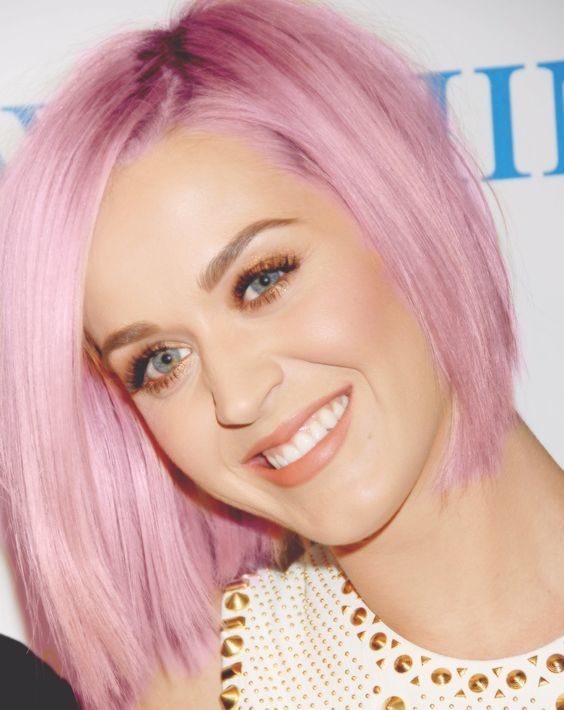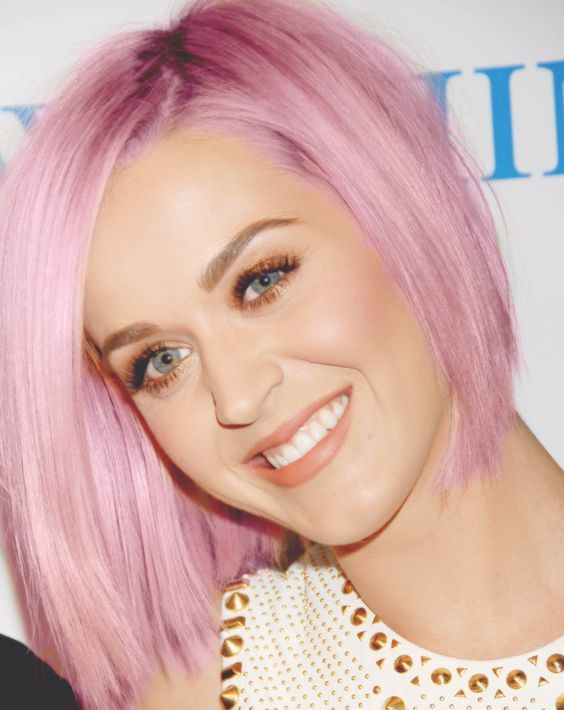 Katy Perry's soft pink long bob cut demonstrates that you can take a classy style and jazz it up with a little bit of color. Also, color does not have to be loud. This color demonstrates that a vibrant color can instead be soft and subtle.
19. Katy's Hot Pink Hairstyle
A throwback to the 1920s, this style is a true classic, modernized by a splash of hot pink color. Pink ombre and pastel pink are also two great options.
Katy Perry's top knot is already a sensible but stylish look; however, the midnight blue color acts as a compliment to her eyes. This choice in hair color is a beautiful example of why it's important to choose hair colors that compliment you in more ways than one!
21. The Katy Perry Blonde
Katy Perry's blonde hair will make you take a second look. It seems to fly in the face of her natural brunette locks while demonstrating that blondes just might be capable of having more fun.