Viking braids are a new take on a very old hairstyle for men. Centuries ago, Viking warriors would wear braids in their hair as a special badge of honor. They would wear their braids when they fought. It is a real symbol of strength and virility. We have brought together a selection of Viking braids for men.
How to Do Viking Braids for Men
Viking braids are actually really easy to do. You should separate the section of hair that you want to braid into three parts. Pull the leftmost section of hair into the center, so that the strand now sits in the middle.
Then pull the rightmost section of your hair over into the center. Repeat this pattern until you have completed the whole length of your hair. Here we have put together 33 best examples for you to choose the best one for you.
1. Triple Braids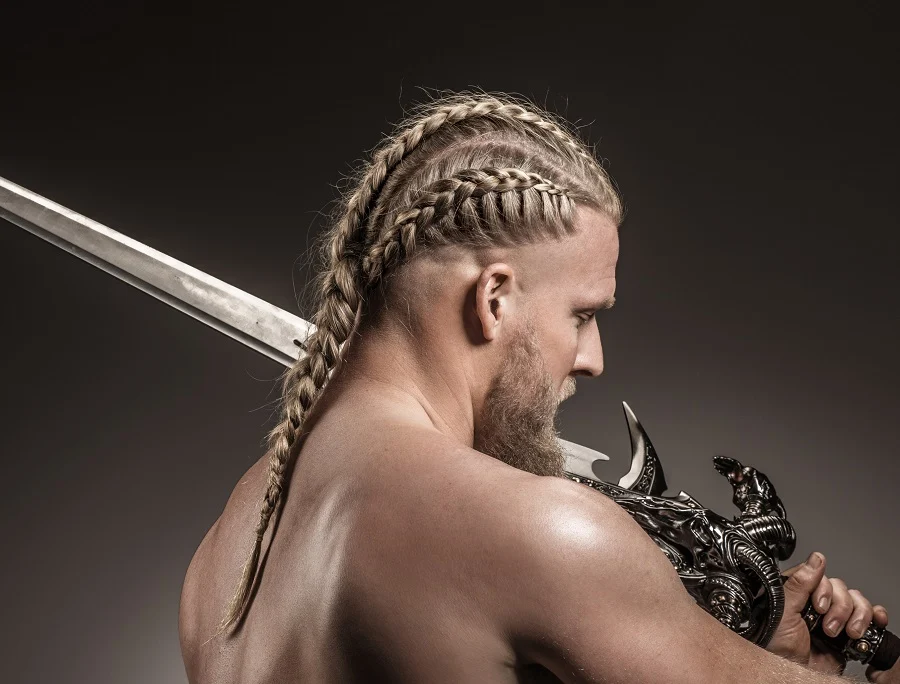 If you look closely, it's hard not to appreciate the details of this braid. The center braid is an inside out style, while the two side braids are French braided. This look creates lots of contrast, especially where hair comes together at the nape of the neck. It's not exactly for the simple guy, but it's definitely for the Viking that wants to make a statement.
2. Feed In Braids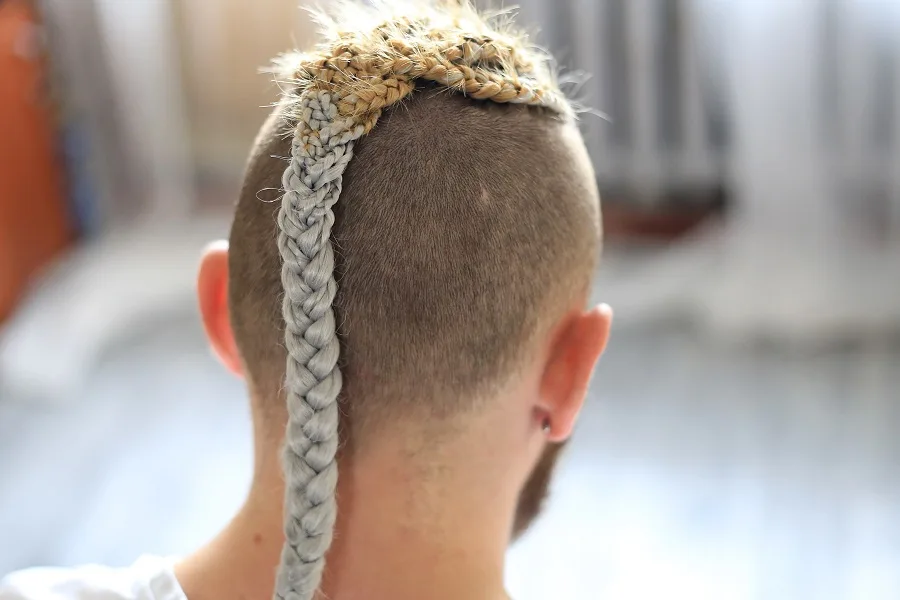 Feed in braids are great for achieving a braided look when you don't have enough of your natural hair to create the look that you desire. By braiding in extensions with your natural hair, you can have a cool style, like this simple braid that begins from several others on the top of the head. It's perfect if the rest of your hair is buzzed as well.
3. Ponytail Braid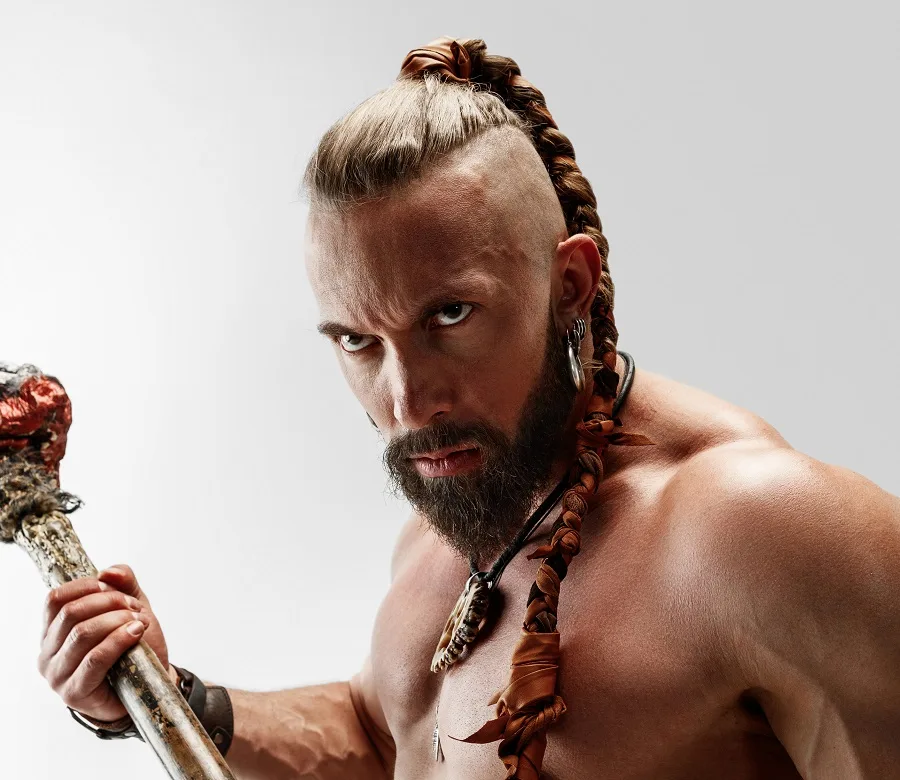 This simple style is a classic for a reason! Whether you've got a bald fade like this guy or not, a ponytail braid is as protective as it is stylish. To achieve, smooth hair back and gather into a high ponytail style. Secure with a hair tie and from there, braid hair simply down your back.
4. Smooth French Braid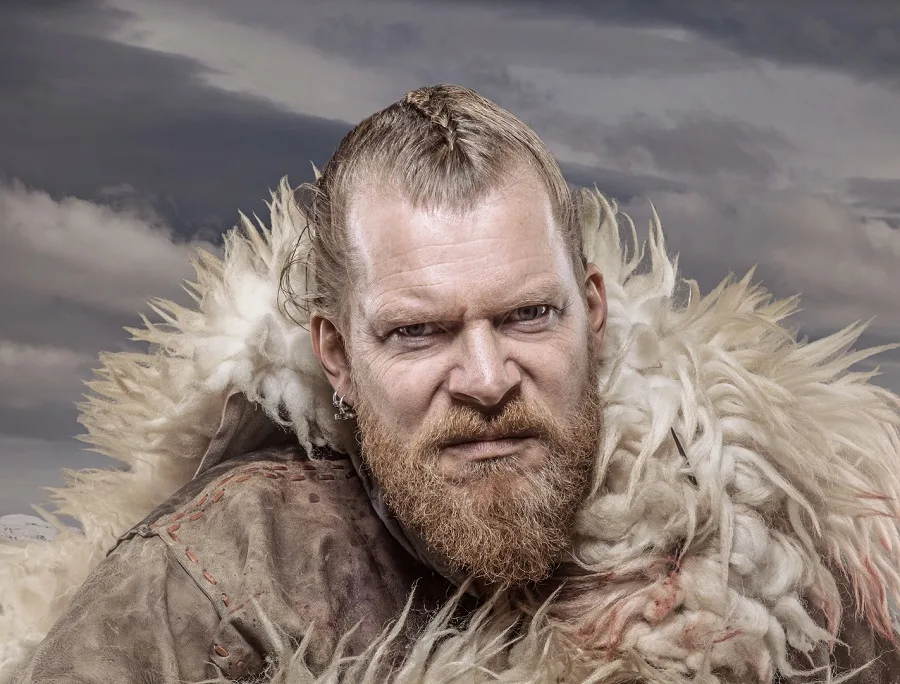 This sleek style is as protective as it is interesting. It is up to you as to how thick you would like to make your French braid, but we happen to like the balance between smooth hair all over and this tinier French braid running down the center of the hair. It makes the braid part of the overall style, not necessarily the main feature.
5. Easy Cornrows with Medium Fade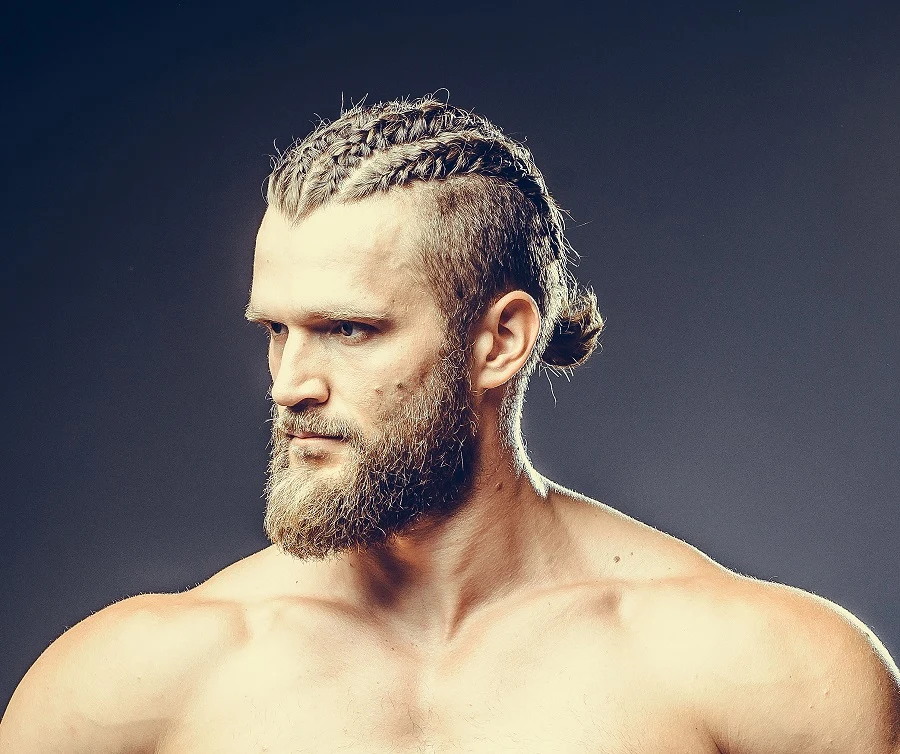 Cornrows are braids that start at the top of the forehead and are braided closely at the scalp, all down the back of the head. These chunky braids will protect your hair while also serving up serious style. It looks great when contrasted with a medium fade style. Pull the look together with a low man bun secured at the back of the head.
6. Straight Back Braids with Beard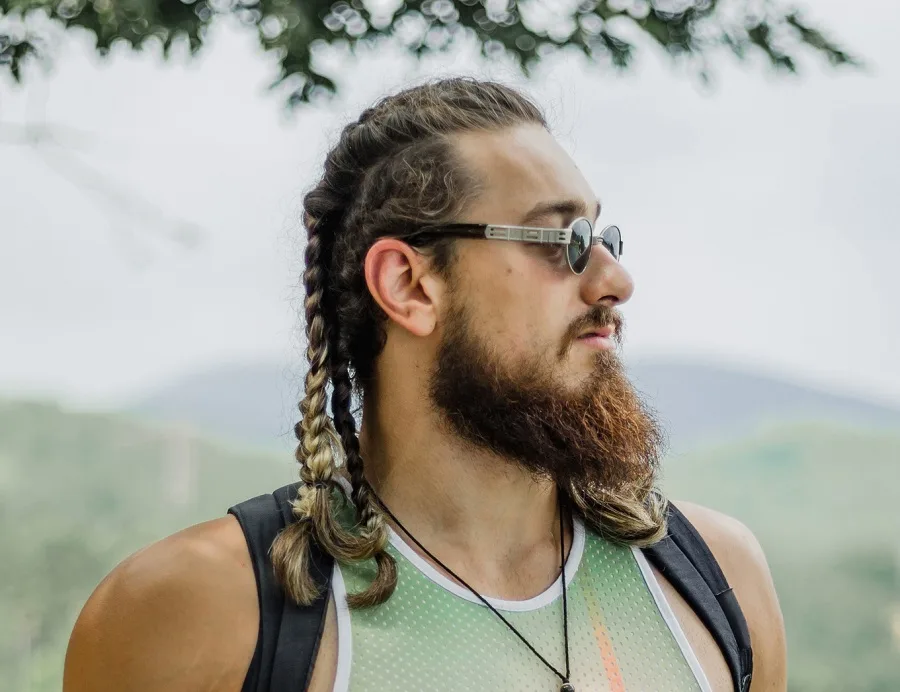 It's easy to see why adventurous guys might choose this straight back braided style. It's not only attractive, but it makes hiking and sports easy with a functional, protective style. Additionally, simple braids down the back of the head pair perfectly with beards of all sizes.
7. High Fade Braids
Guys with short hair, have no fear! You too can rock the sexy Viking look that you crave. All you need is a few inches on the top of the head to create tightly knit cornrow braids that run to the back of the head. We love the way this hair looks with a super close bald fade all around and a longer, shaggy beard at the chin.
8. Funky Fishtails
This braided style uses a variety of techniques to create a varied look. At the center of the back of the head is the main event, the fishtail braid. This plait is wide and thick, and looks great when surrounded by several other smaller braids done in the traditional fashion. Try this if you have medium to long length hair.
9. Gathered Box Braids
Having trouble growing braids on all your own? Box braids are a perfect style for attaching braids to your naturally short hair. This look not only protects your hair and encourages it to grow, but this looping and gathered style is very interesting. It contrasts well with the simplicity of a high bald fade.
10. French Braid and Side Braids
Sure, you can try a French braid style, but why not bump up the interest a little bit? Small side braids that feed into the larger, dominant French braid style that runs down the back adds a little more excitement to an otherwise classic style.
11. Mini Base Braids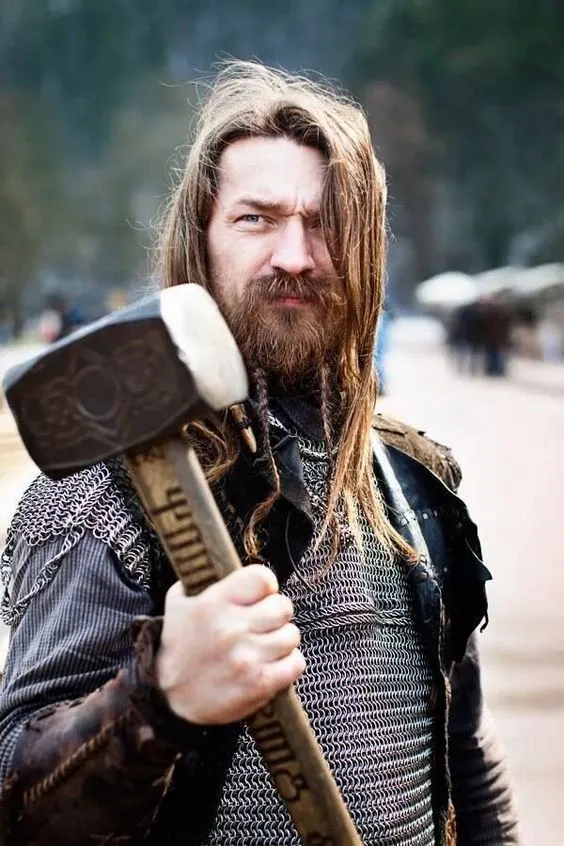 Thin braids can be worn in the underlayers of your hair. Putting braids into your base layer creates a really subtle Viking effect.
10 Veracious Viking Braids for Women
12. Back Combed Hair with Braids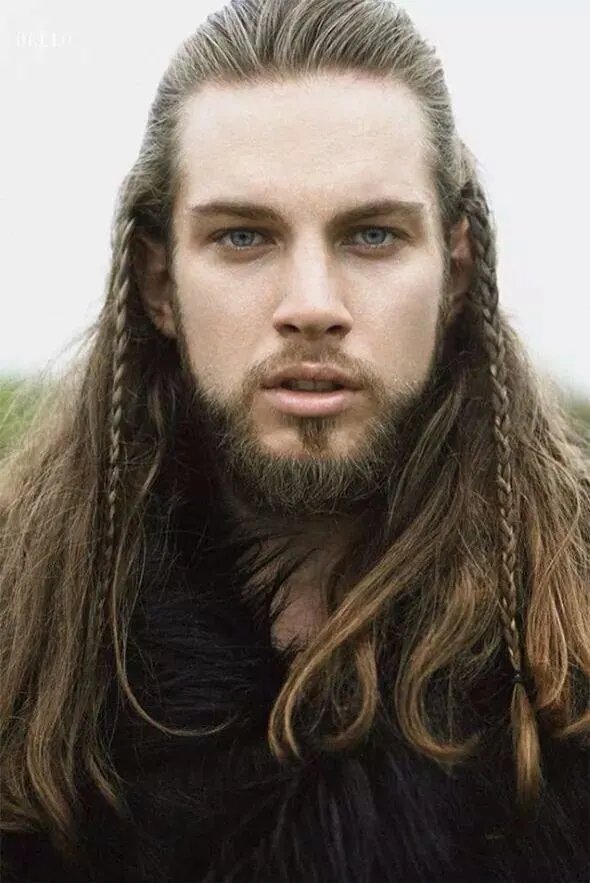 Frame your face by combing you hair back and adding braids to your side hair. These Viking braids will sit on either side of your face and create a symmetrical hairstyle.
13. Light Waves + Long Hair Braid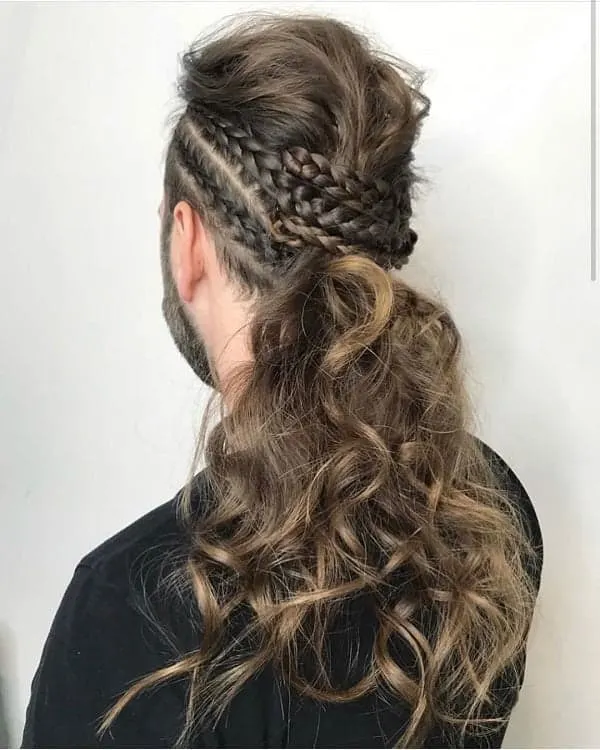 When you take your hair out of your braids, you will notice that it falls into light waves. Always use a fine-tooth comb and good quality conditioner to keep your hair knot-free.
14. Braided Beard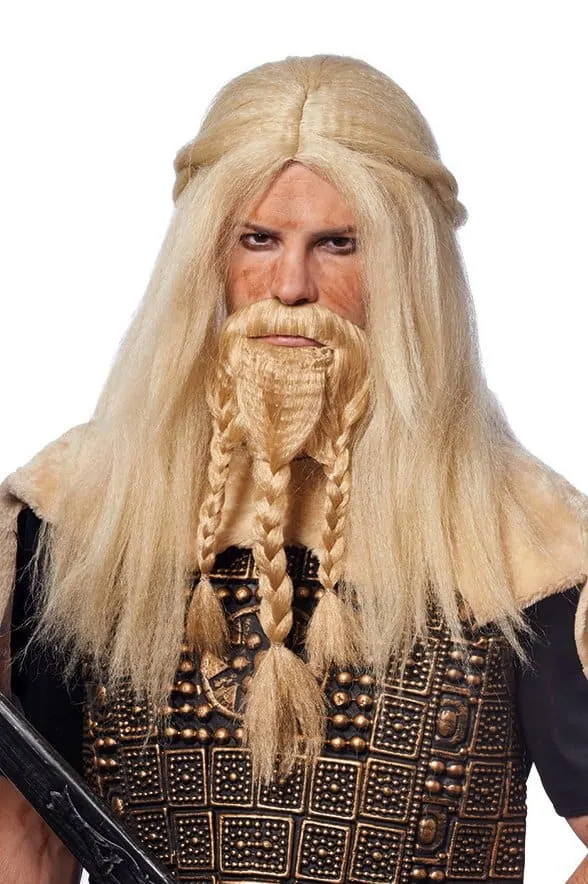 Braiding your beard takes the Viking trend to a whole new level. To do this style in real life, you will need to soften your beard enough to make sure that it is pliable.
15. Viking Cornrows for Men
Put thick cornrows type braids into your hair for a really different look. These braids will trackback along your scalp to give a tight and clean look.
10 Incredible Individual Braids for Men
16. 3 Braids for Viking Look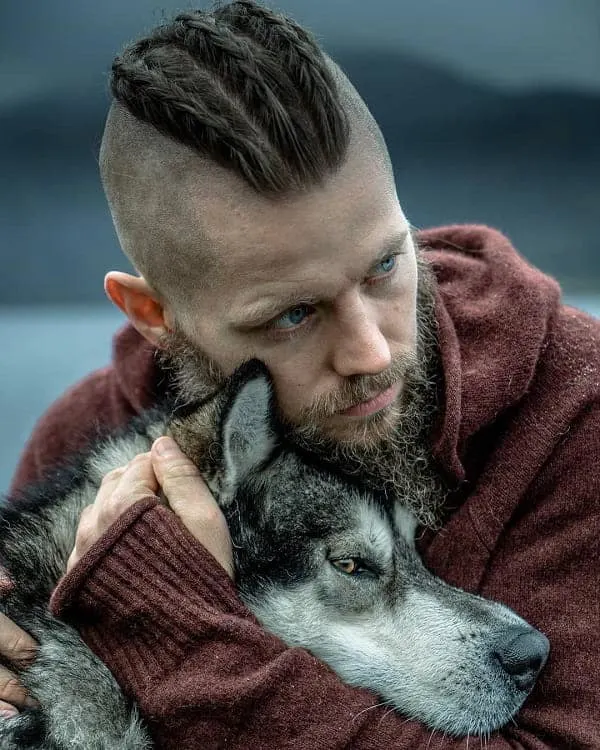 The Viking hairstyles inspire many of the coolest hairstyles today. The one presented above has shaved sides and a long top that can be knitted in 3 braids. It is ideal for men with a V-shaped or receding hairline.
17. Faux Hawk Braids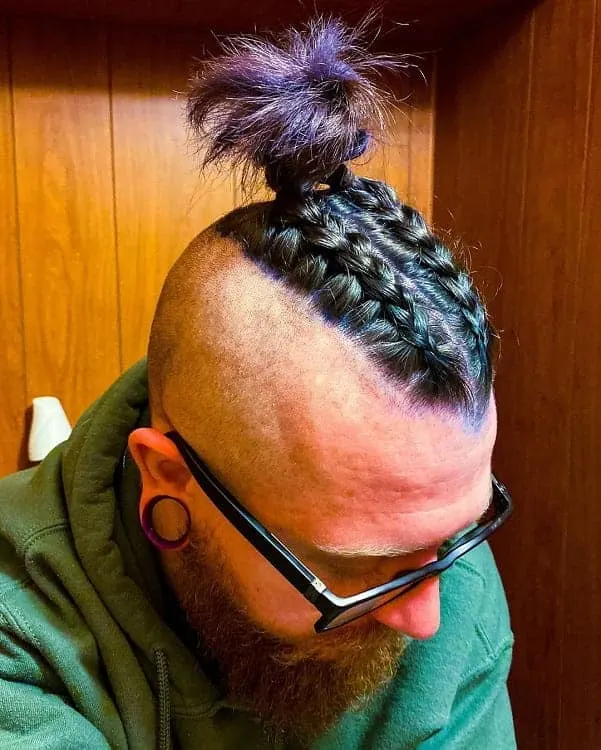 Adapt the Viking hairstyles to 2021 by shaving your sides and creating two Dutch braids for the top. They will meet in a frizzy bun, and will look exceptional if you add a pinch of color. Grow a long beard, and the look will become perfect even for men with thick black-framed glasses.
18. Nordic Braids Style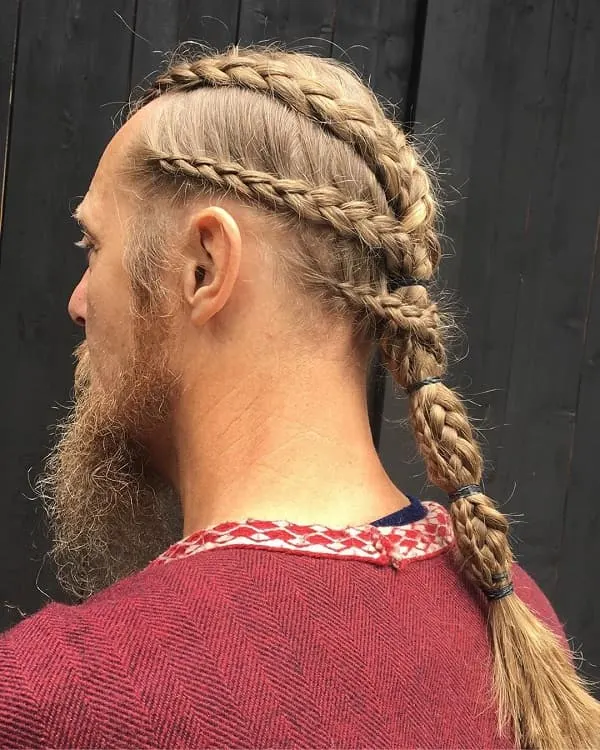 When you have long hair, a Viking hairdo with braids will instantly place you in the spotlight. Tie all the knits in a low ponytail and secure it multiple times.
19. Viking Braided Ponytail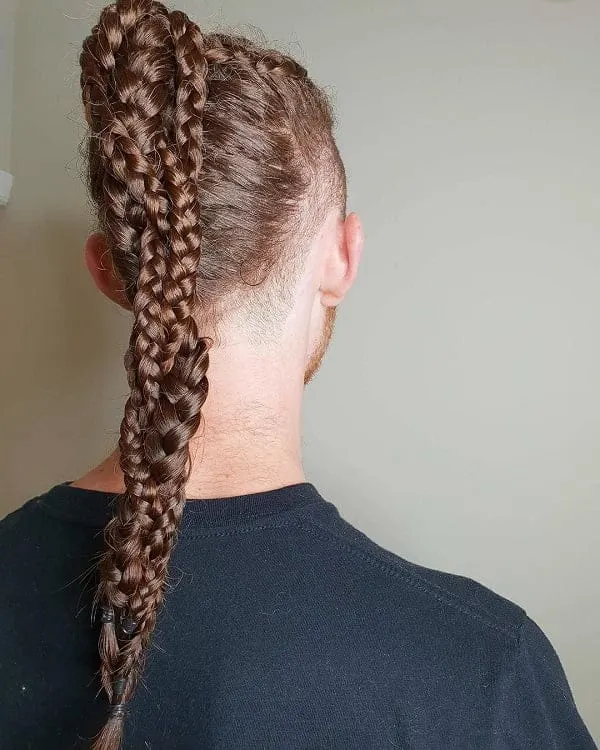 If you have long hair, that doesn't mean you can't still look like a badass. Inspired by the Nordic hairstyles, this ponytail will look fabulous. Pin the whole hair in a pony and split it into multiple braids.
20. Viking Braids for Old Men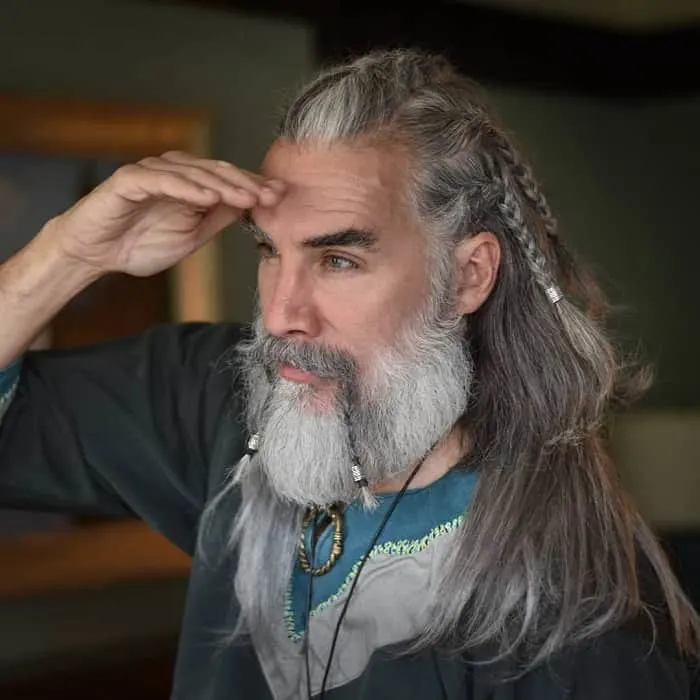 A Scandinavian hairdo can suit men of any age, especially those who are over 50. Don't mind the gray hair; it will make your haircut look even better.
Create a half up half down Viking hairstyle by styling multiple braids for the top. Wear your beard long and knit the long mustache. Decorate the braids with metallic jewelry.
21. Short Braids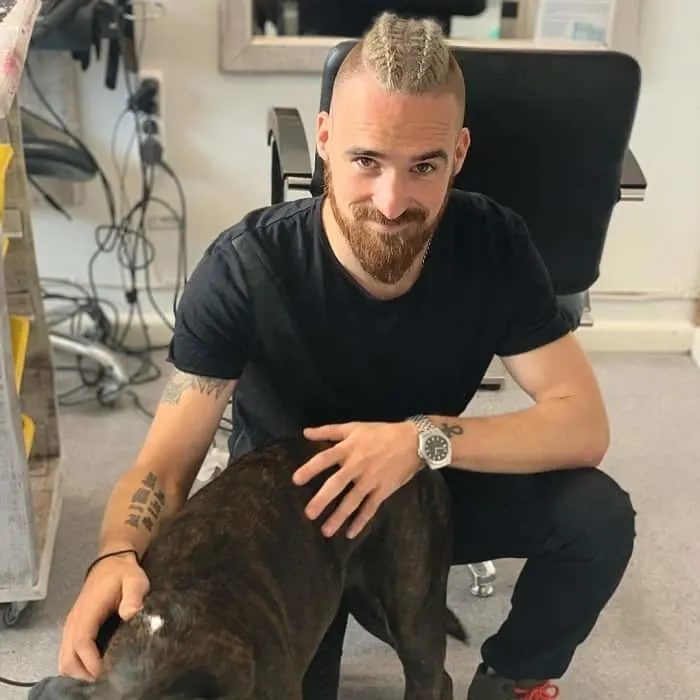 For this hairstyle, you need at least medium top hair that can be sectioned in two pieces and braided. As for the beard, it will look fabulous if you groom it in a pointy shape.
22. Braids with Shaved Sides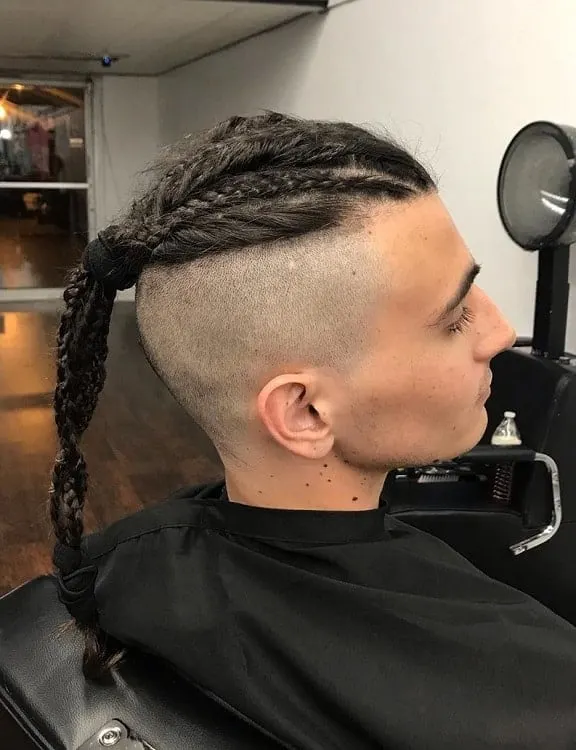 Shaved sides are quite common when it comes to adapting Viking hairstyles for 2023. Maintain the top long and create cornrows that you will tie up in a ponytail. Twist the braided pony and secure it again at the bottom.
23. Viking Dreads + Braids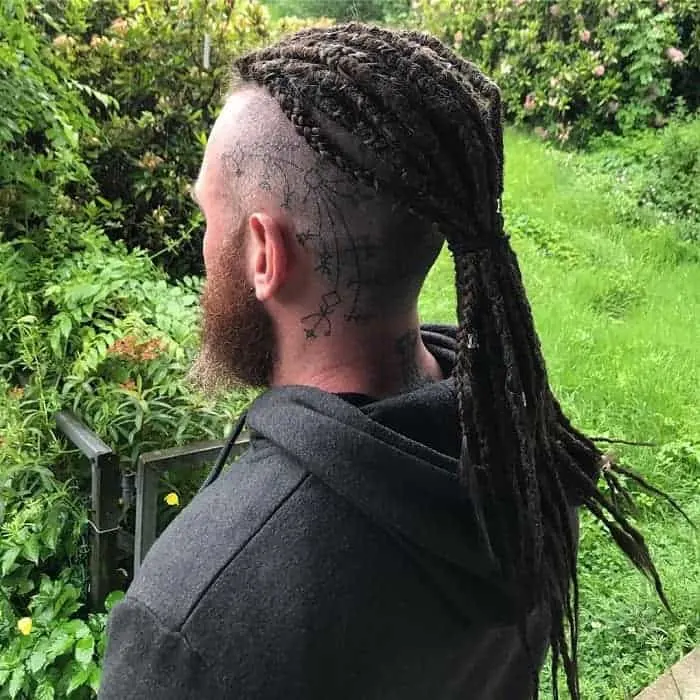 Dreads and braids are a great pair when you want to obtain an edgy, cool look. If you have scalp tattoos, this hairstyle was designed for you. Braid and create dreads for the long top hair and secure them in a pony.
24. Viking Style French Braids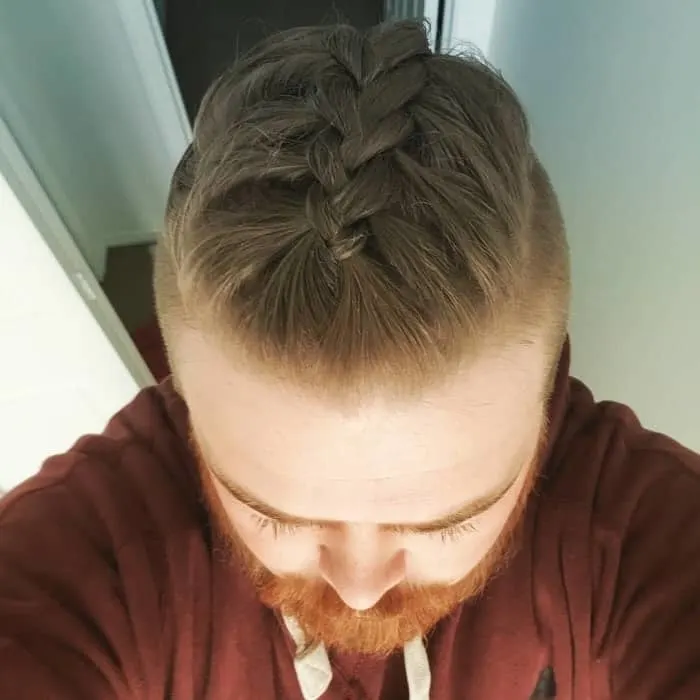 Taper the sides and maintain a long quiff that you can knit in a French braid. The hairstyle is ideal for those men who aren't comfortable with their V-shaped hairline. Also, to get that Viking look, maintain your beard long but beautifully groomed.
25. Viking Braids with Beads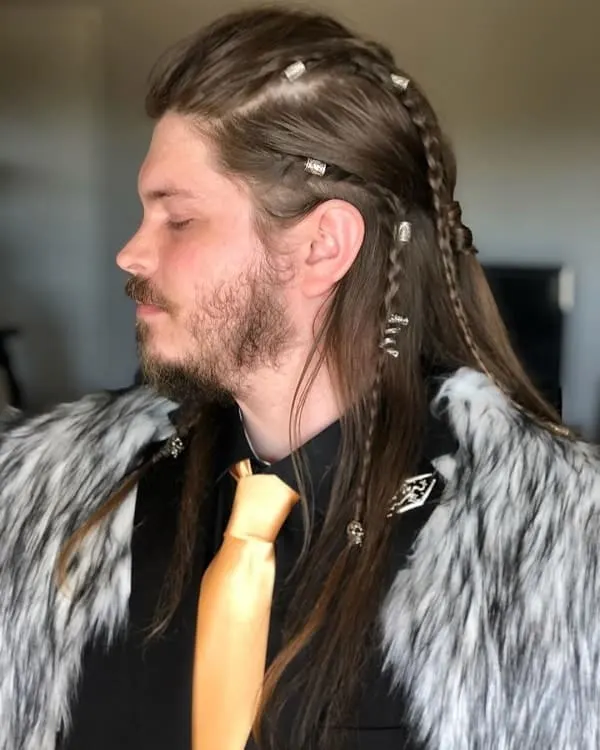 Beads are ideal for you when you desire to obtain the most out of your long man. Build a powerful look by creating braids and accessorizing them with metallic beads. Grow your facial hair to achieve that fierce appearance.
26. Mohawk Braids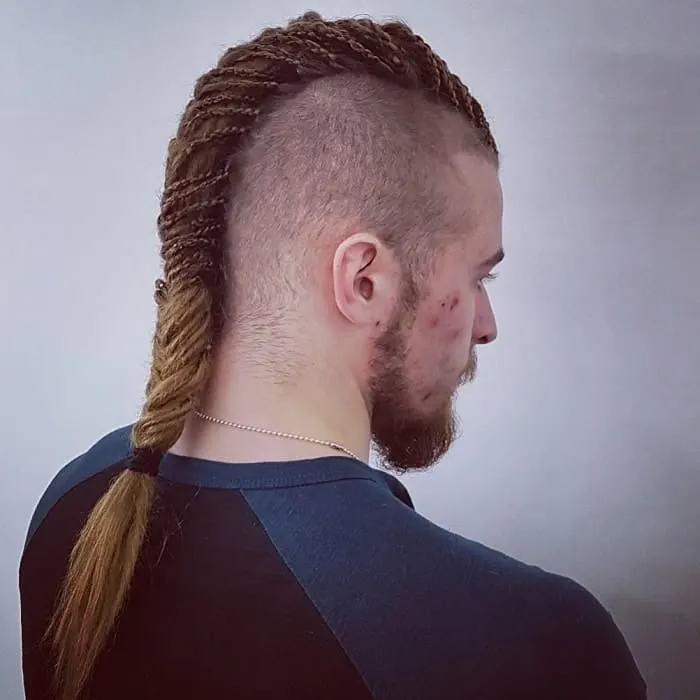 Use a short trim for the sides and braid only the edges of your long top. Create a twisted braid that has height and looks like a small mohawk. Secure it quite close to your nape area, leaving the ends untied.
27. Side Braids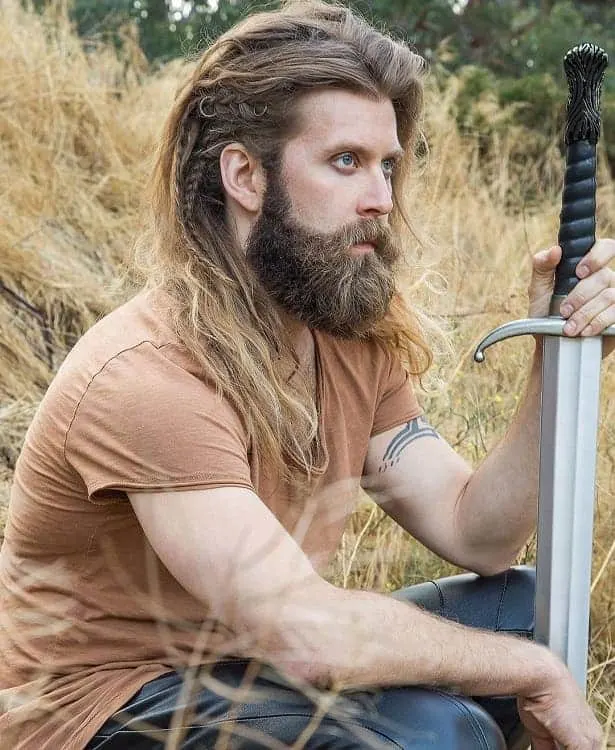 Instead of shaving your sides, create braids that you can decorate with silver hair rings. Tousle the rest of the mane to obtain that careless effect. Your beard should be thick and adequately groomed.
28. Viking Warrior Braids
Pin your top hair in a ponytail and create various types of braids on the lower part. Use beads or white threads to decorate the knits. A long ducktail beard will help you get that Scandinavian look that men adore in 2023.
29. Intricate Braids for Viking Look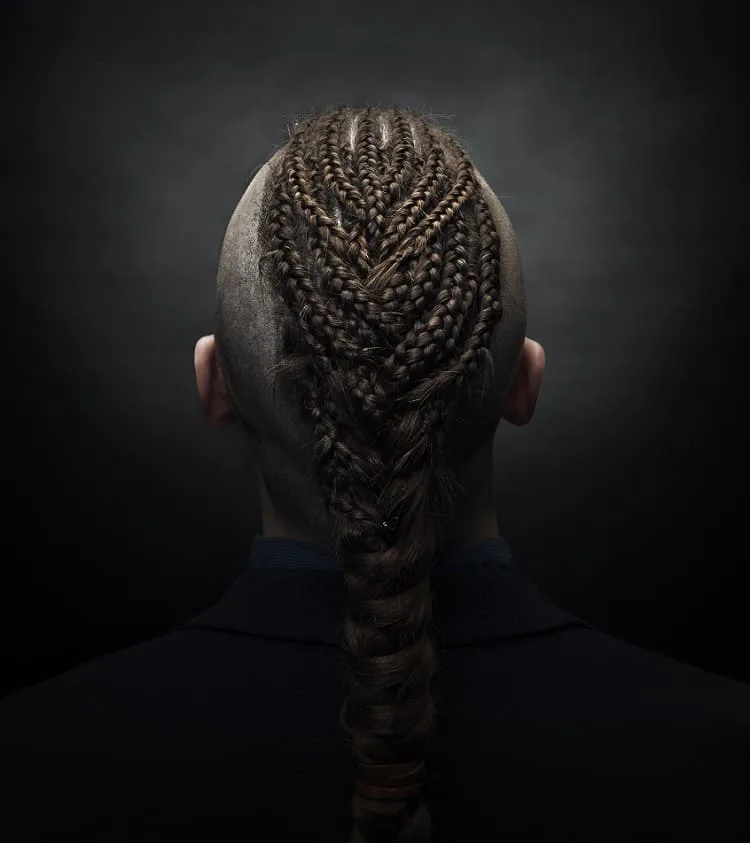 To recreate this Viking hairstyle with braids, you must shave your sides. For the top, start creating cornrows that you can use to build a French twist. You will beautifully capture that Nordic appearance and still look modern and cool.
30. Braided Ponytail with Long Beard
For this look, the beard is probably the most eye-popping feature. Keep it shorter on sides and longer in the chin area. As for your hair, all you need to style is a twisted ponytail that can fall on your back or one side.
31. Long Viking Braids for Men
Get a unique look that is both modern and fierce. Shave the sides and back and create braids for the top. Use a leather piece to pin the knits in a ponytail. Repeat the procedure two or three times until you run out of hair.
32. Various Braids for Viking Hairstyle for Men
Create a gorgeous Viking hairstyle with braids by splitting your hair into multiple sections. Build the main braid on top of the head and pull off smaller knits on sides. You can even knit the sideburns and let them fall in front of the ear.
33. Braided Mohawk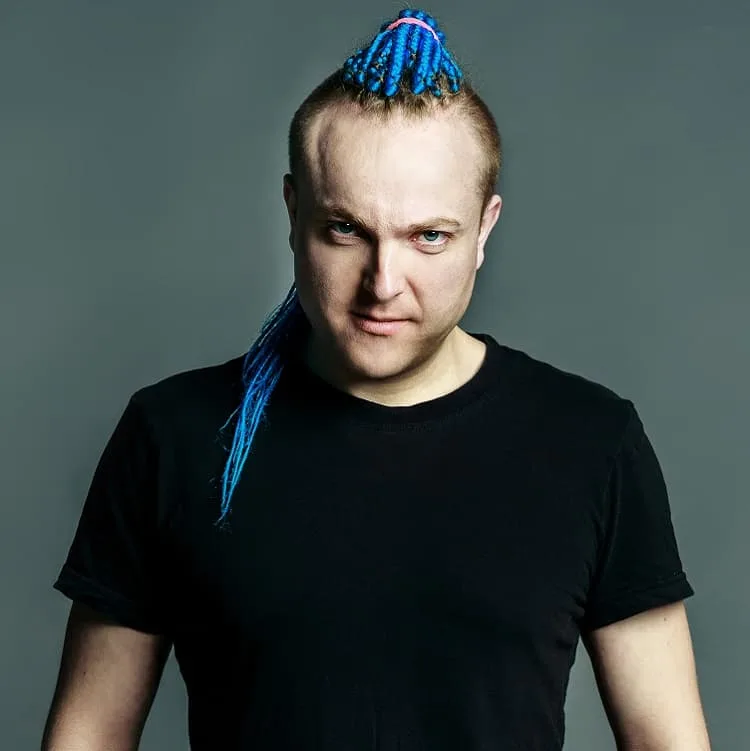 Jumbo hair can be an excellent asset for those who want a badass look. If your hair is short and cut in a long quiff or pompadour, hair extensions will help you get that edgy Nordic hairdo. Braid the colored hair starting close to the scalp and cut it to achieve the desired length.
Guys with long hair can look great if they take the time to put their hair into Viking braids for men. This hairstyle for guys really mixes the old with the new.