Braided hairstyles are a fantastic choice for kids because they are a lot of fun to do. When your child is very little you might have to help them to do the braids, bu t once she gets a little bit older she will love to style the braids herself. Braids for kids are also a great way to keep your child's hair under control whilst she is out having fun.
Natural Hair or False Braids for Kids
It is easy to braid most types of natural hair, but some hair may need relaxing or softening before it will braid properly. If you do need to use a relaxer or a softener, make sure that it is safe for sensitive skin. Do not allow your child to use it without supervision. On the other hand, you can easily put in fake braids for kids if you don't want to (or can't) braid her natural hair. There is a range of different braided hair extensions for every colour of hair. Braiding is actually one of the simplest and safest ways to add extensions to young hair. Below are some of the most popular braided hairstyles for kids.
#1: Wavy Braids for kids
To give her braids some subtle waves, you can plait her small braids into bigger ones. Send her to sleep and then unpick the bigger braids in the morning. Her hair should stay in gorgeous waves.
#2: Baby's First Cornrows
Start plaiting your little girl's hair into cornrows from a young age. Cornrow braided hairstyles for kids are a great way to keep her hair under control and out of her eyes whilst she plays.
#3: Cornrows with a High Pony
Pull her hair up into a high pony tail and then let it flow freely down her back. It is a perfect kids hairstyle if she has beautiful little curls.
Top 30 Cutest Little Girl Hairstyles Ever
#4: Braid Band with Sleek Hair for Kids
Draw in hair from the front of her head and use it to form a band of braids across the top of her head. Leave the rest of her hair down in a gorgeously sleek style.
#5: Cornrow Braids with White Beads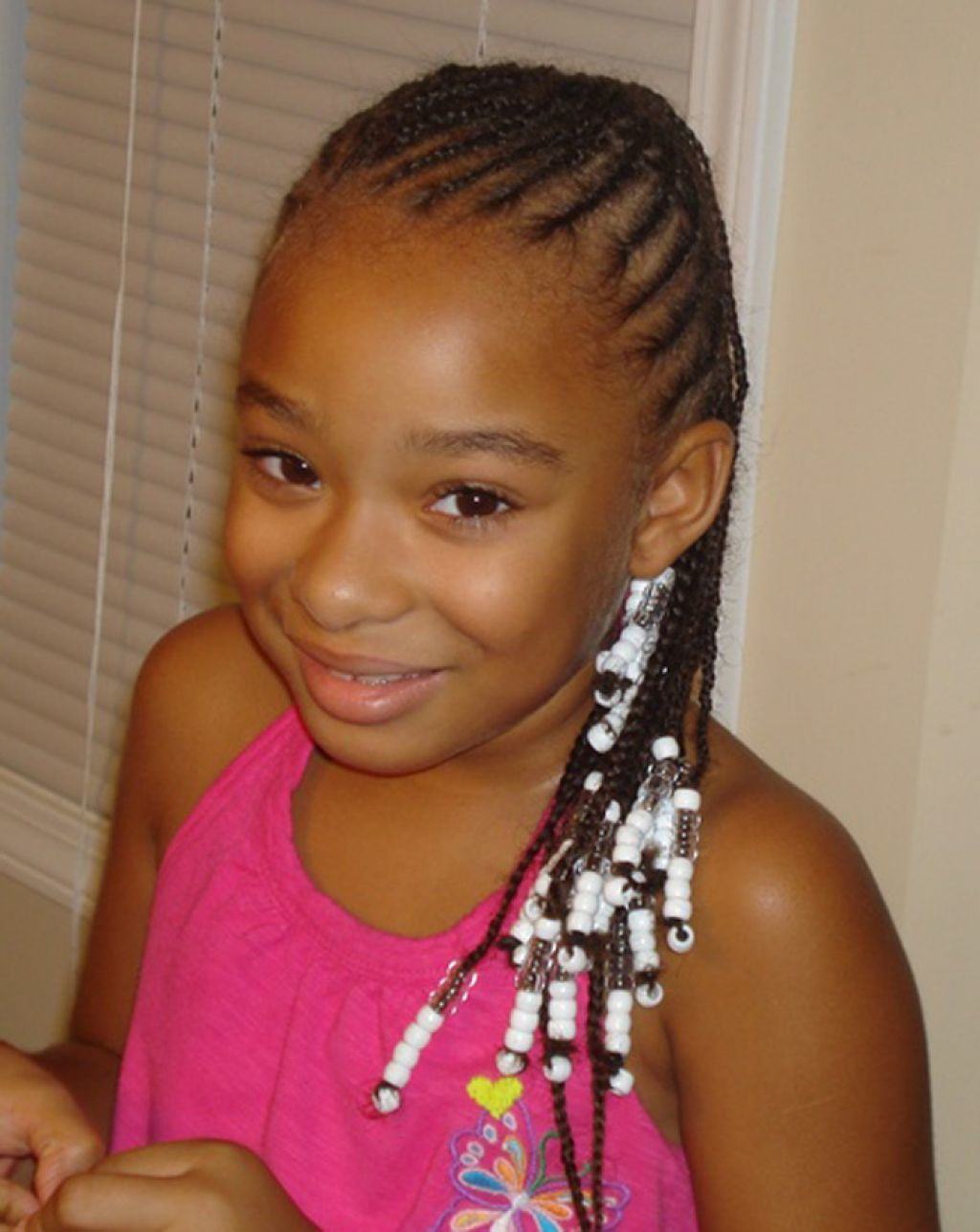 Cornrow braids for kids look really cool when they are styles with fun beads. They can choose their own beads. White Beads look great against dark coloured hair.
#6: Cornrow Art
Cornrow braids are very versatile. You can use cornrows to create amazing patterns in your hair. Try latticework or creating different shapes and patterns.
#7: Chunky Twists
These chunky twists are a big and bold choice. The hairstyle looks really unusual because of the texture that the twists create. It's a really fun style of braids for kids.
#8: Braided Bob
A bob hairstyle is a really cute look for a child. You can make a great braided bob using lots of little microbraids. Use braided extensions if she doesn't have natural long hair.
#9: Cyclone Braids
Give your daughter a braided style with a twist by plotting her cornrows in a twisted cyclone formation.  The rows should form a spiral formation.
#10: Geometric Hair with Beads
Geometric patterns are great in braids for kids. It is easier and quicker to braid in straight lines, so they are perfect for impatient children. Finish off each braid with a few subtle beads.
#11: Kids Swept Over Hairstyle
Instead of keeping all of her beads on one side of head, she can style her braids so that they sweep over from one side of her head to the other. She will love this funky look, because it will be quirky and different.
#12: Bold and Bright Beading
If your daughter really wants to stand out, let her choose bright and bold beads for her hair. Let her change the beads to match the outfit that she is wearing or allow her to choose colours that really show her personality through her hairstyle.
#13: Thick and Chunky Braids for Kids
Chunky braids can be easier to style than thin micro braids are. If you choose to do thick braids like these, then you may only be able to pull 7 or 8 braids together across the whole of her hairstyle.
#14: Clip-On Accessories
Hair accessories can be both fashionable and functional. Use a cool hair accessory to fasten braids for kids into a cute little updo hairstyle. There are thousands of different accessories and clip-ons to choose from.
#15: White Bow
Pull her braids high up onto the top of her head and then secure them with a bow. Let her ponytail fan out from the bow in a gorgeous formation. A white bow represents childhood and innocence.
#16: One-Sided Wonder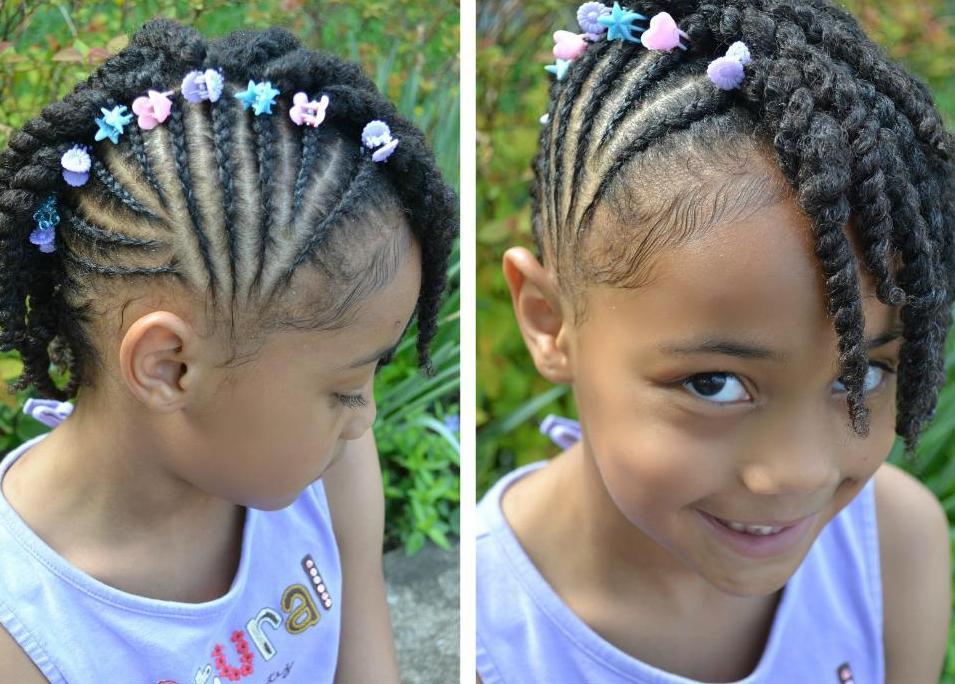 Create tight little cornrows across her scalp on just one side of her head. At the top of her head, braid in much thicker and chunkier braids. Mark the demarcation between the two areas by securing the hairstyle with some fun and funky clips.
#17: Twisted Crown
Give your little princess a cool new look by creating a twisted braid crown for them. Start the braided hairstyle at the side and front of her head, then bring the braid the back. If her hair is long enough, you can leave a braided section hanging down.
#18: Multi-Coloured Magic
Coloured beads allow you to have hundreds of different options when you are creating braids for kids. Let your child choose which beads they would like to wear as part of their hairstyle. Coloured beads allow you to keep the braids themselves relatively simple.
#19: Back-to-Front
African-American kids look so cute with this type of braided hairstyle. Plot cornrows into her hair travelling from the front of her head to the back. Clip her braids up and then pull her hair forwards so that it sits in a really cute style.
#20: Up and Down Braided Hairstyle
Take her hairstyle to another level by mixing high styling with low styling in this fantastic braided hairstyle for kids. Pull half of her hair up into a high style at one side, but leave the rest down at the alternating side.
#21: Classic High Braided Pony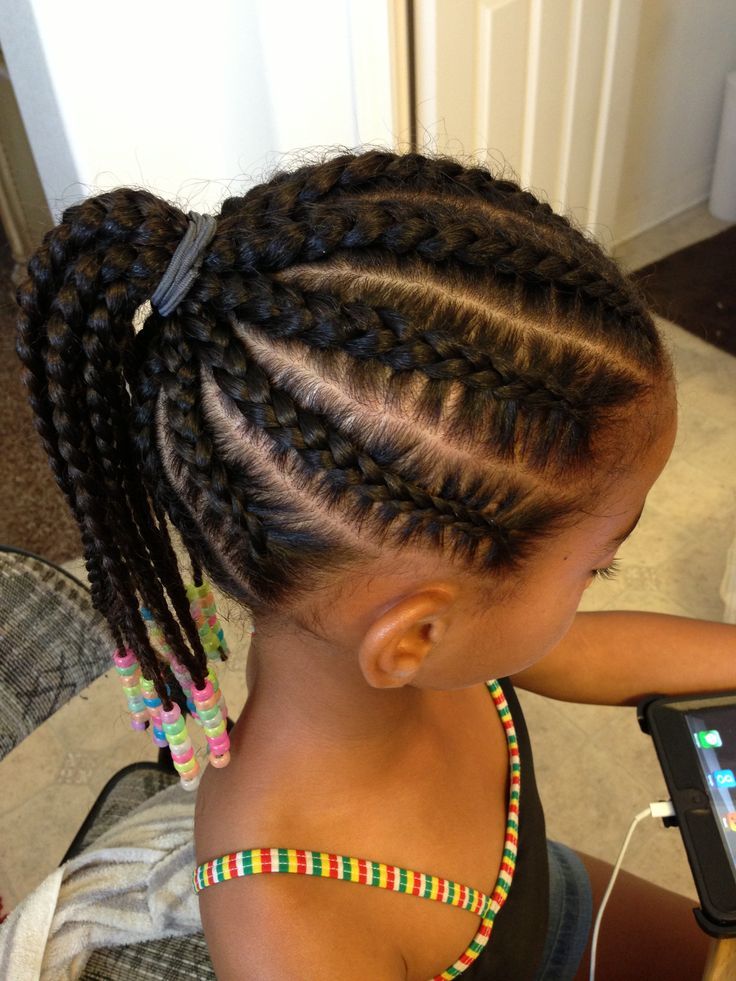 A high ponytail is a classic style for anyone who has braids, whether they are adults or children. It is an easy style for kids with braids to do for themselves. All that they need to do is pull their hair together at the top of their head and then fasten the hairstyle securely.
#22: Sunshine Yellow Beads
Yellow beads are a great choice for any child who is happy and smily. This colour is reminiscent of sunshine, happiness and the outdoors. Beads like these help to give braids for kids a really playful and fun edge.
#23: Cornrows with Kinky Curls
Work cornrows into her hair along the top section of her head and then stop the braids as they move away from her scalp. Pull her free hair up into a high ponytail. Allow her gorgeous natural hair to flow downwards with lots of kinky curls.
#24: Pink and Silver Beads
Another cute braid for the kids. Pink and silver beads are a great combination for your daughter's braided hairstyle. Silver is a very good colour for a princess, whereas pink is an excellent choice for a girly girl.
#25: Flowing Curls
Tiny cornrows along the top of her head can make way for big flowing curls. This is the perfect style to choose if she is looking for a kids hairstyle for a birthday party or hairstyle for a beauty pageant.
#26: Cornrows with a Chunky Central Braid
Weave beautifully straight cornrows into her hair until you get close to the middle of her style. Draw all of the hair in together to make a brilliant chunky braid right down the middle of her hairstyle.
#27: Curly Tips
When you are making braids for kids, you can give the braids a few extra cute touches. Instead of completely sealing the ends off in the style, wrap them around a pencil a few times to give the ends an adorable little curl.
#28: Braided Crescent

Create a thick crescent braid on either side of her head and then pull the two sides together at the back of her head. Make braided crescents by rolling all of the braids around one another.
#29: Heart-Shaped Cornrows

If you are feeling very artistic when you are styling braidded hairstyle for kids, then you can curve her cornrows around to create a heart-shaped pattern. Enhance the style even further by adding heart-shaped beads to the end of her braids.
#30: Caramel Highlights
For a little bit of a different look, put a few caramel highlights into her hair before you braid it. Once the hair has been completely braided, you will see a few fun and funky caramel specks throughout her hairstyle.
#31: Sunburst

Start braiding all of her cornrows from a single point close to the front of her head. Fan out all of the rows so that they form a glorious sunburst formation. Keep the sunny theme going by capping all of her braids with bright summery colours.
#32: Hair Down
As your child grows a bit older, she may start to want a more mature style of braids for kids. Wearing her hair down can help her to look a little more sophisticated without taking away her youth and innocence.
#33: Short Bob with Medium Braids

A short bob hairstyle with medium braids is a really cute hairstyle to choose for your little girl. Keep her hairstyle short so that her bob curls underneath her chin. This style looks great with a cheeky smile.
#34: Half-Up, Half-Down

Draw the top sections of her hair up into a high ponytail on the top of her head. Leave the rest of her braids down. This creates a cool mixed style which would be good for any occasion.
#35: Overlapping Crescents

This gorgeous crescent pattern is ideal for those who want braids for kids with a different. Start each crescent close to the back of her head and over to one side. Bring the crescent braid towards the front of her head and then around again towards the back. Leave the rest of her hair down if you want to.
#36: Hair Bow with Braids

Braid thin horizontal cornrows until you get to the centre of her head, and then make one chunky braid up towards the top of her head. Leaving her hair free from braiding, create a big bow from her hair. This braid hairstyle for kids is a really fun choice.
#37: Twisted Top
Twist the micro braids around so that they sit in high wheels on top of her head. Tuck the twisted wheels in tightly to prevent them from unraveling. This cool braided style for kids looks great on younger teenagers.
#36: Chunky Braided Crown

All little princesses will love a chunky braided  crown hairstyle for kids. Style the thick braids so that they make a full circle around the top of her head. Leave a few short braids down for extra effect.
#37: Reddy Steady Go

Red is a really fun and funky colour choice if you are trying to jazz up the braided style for kids. Add a few red strands to her hairstyle to add a splash of colour. Put some red beads into the braided hairstyle as well for maximum effect.
#38: Peak Hair

You can still put braids into shorter haircuts, although your options will be very different. Plot cornrows into their style which runs backwards to a point. Give the hairstyle a slight peak at this point.
#39: Twisted Ponytail

Make a ponytail with a difference by twisting two sets of chunky braids together with one another. This will create an unusual but really cool texture to her hairstyle.
#40: Braided Pigtails for little kids

Pigtails are a classic hairstyle for children. If your child has braids then you can still pull her hair up into a high pigtail on either side of her head and then allow her braids to fan out. This is a great kids hairstyle for the playground.
Young hair really suits braiding, which is why braids for kids is such a popular hairstyle choice. If you and your daughter cannot decide which braided hairstyle you like the best, then you can work your way through the list until you are able to find your favourite one. Happy Braiding!