Braids have never gone out of style and each one of us has plaited our hair every once in a while but wearing a conventional braid keeps all the attention at the back. Here is when side braids come into play to liven up those lifeless long tresses. These are quite versatile and with a bit of change, you can have a new look every day.
Step by Step Tutorials for Side Braids
We have coined the following chic side braids hairstyles for women along with tutorials to help you achieve them with ease.
Voluminous Dutch Braid
This jumbo side braid tutorial is simple and easy to achieve.
Step 1: Crimp the hair to achieve a voluminous fun texture.
Step 2: Sweep the hair on one side and start entwining it just behind the hairline.
Step 3: Continue to the ends while incorporating all the strands.
Step 4: Pull the strands loose, creating a fluffy side Dutch braid, and secure with a hair tie.
Side Braid with Donut Bun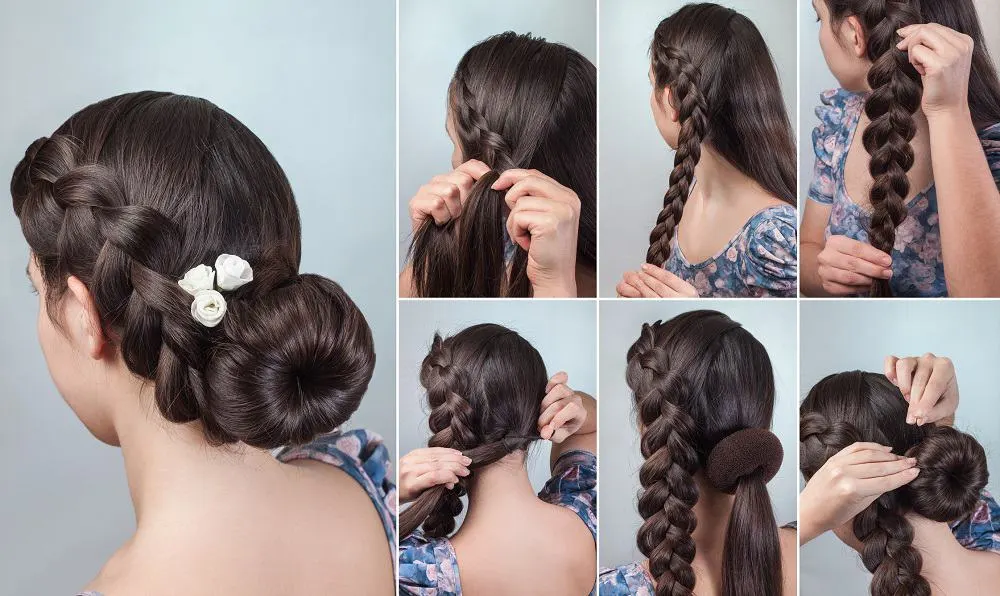 Here is an elegant hair look suitable for formal occasions.
Step 1: Brush out the hair with a deep side part and separate the side locks from the remaining hair.
Step 2: Braid down the separated chunk and pull the strands loose while securing the braid with a hair tie.
Step 3: Use a donut to style the remaining hair in a low bun.
Step 4: Use bobby pins to secure the bun in place and wrap the braid around it. Top it off with white roses.
Four-Strand Braid
Love a four-strand braid but find it difficult to achieve? Don't worry, we have got an easier way for you.
Step 1: Secure the hair in a low-side ponytail with a middle part.
Step 2: Divide it into three equal sections.
Step 3: Entwine two sections into braids while the third middle one is pulled alternatively through both of them.
Step 4: Loosen up the hair resulting in a four-strand braid hairstyle.
Messy Fishtail Braid
A ruffled look can be achieved with a side fishtail braid. It is characterized by taking thinner strands compared to other braids and knitting them to the end.
Step 1: Detangle the hair with a deep side part.
Step 2: Take thin strands from the upper half part of the head only and begin knitting them in a fishtail braid. Leave the remaining hair loose.
Step 3: Secure the end with a rubber band and tug the strands loose for a ruffled look, with a few falling on the sides of the face.
Side Waterfall
Although this hairstyle seems complicated, it can be easily achieved by following simple steps.
Step 1: Begin by entwining the side into a half-French braid.
Step 2: Leave the third strand to fall down each time while plaiting the hair resulting in a waterfall braid.
Step 3: Knit the cascading strands and pull them through the main side braid.
Step 4: The front braid is the tightest while the succeeding ones are comparatively looser resulting in an intermeshed pattern.
Cute Heart
Rock a cute braided heart on one side of your head by following our step-by-step guide.
Step 1: Brush the long mane with a side parting.
Step 2: Separate them into two chunks and braid them down. Secure with rubber bands.
Step 3: Loosen the braids and twist them around in circles.
Step 4: Join the braids together to create a heart shape using hairpins. Keep the style in place using hairspray.
Ruffled Side Updo
A messy side updo couples perfectly with a braid.
Step 1: Begin by adding loose waves to the hair.
Step 2: Separate the strands along the hairline from the remaining side-swept locks.
Step 3: Braid the separated side in French style and pull it loose and secure it.
Step 4: Pull the remaining hair halfway through a hair tie.
Step 5: Use as many hairpins as needed to secure the dangling strands up in a ruffled updo.
Beachy Vibes
Go for a beachy look by adding bouncy curls to the hair. Here's how to do it.
Step 1: Add bouncy curls to the medium-length blonde hair.
Step 2: Separate the side locks just behind the front fringe and braid them down.
Step 3: Pull loose the entwined strands creating a loose bubbly side braid secured with pins.
Step 4: Tug out strands on both sides of the face and top off with cute flowers.
Messy Look
Another undone look that seems complicated but can be achieved with a little effort.
Step 1: Comb out the hair with a deep side parting.
Step 2: Divide the side locks into two separate chunks.
Step 3: Braid the second one leaving the first one loose.
Step 4: Tease the crown area to style half of the hair in a messy bun.
Step 5: Twist the front strands leaving some of them loose and connect them along with the braid to the bun at the back.
Step 6: Finish off by securing the remaining hair up with a clip.
Simply Chic
This stylish braided look is the easiest to achieve among all.
Step 1: Add bouncy curls with a curling tool and brush them out, creating luscious waves.
Step 2: Go for a deep side parting with one side being styled in a simple braid. Pull the strands loose.
Step 3: Secure it with a bow hair tie at the end to stand against the remaining tresses.
Fun Ways to Try Side Braids
Have a look at these amazing ideas to style side braids and get all the attention.
1. Interconnected Mesh
An ideal way to keep the hair out of your face is by dividing one side of the side-swept locks horizontally into two sections. The upper one is twisted while the lower one is braided with interconnected strands between them.
2. Braided Fringe
Another manner to rock a side braid with loose tresses is by intertwining the side-parted fringe towards the face rather than away from it resulting in a braided front that won't go unnoticed. Top off the chic look by adding loose waves to the remaining hair.
3. Bohemian Style
Turn around some heads by braiding the strands halfway on the top while the sides are braided to the ends leaving the remaining hair loose at the back. Add different types of hair rings for a bohemian appeal.
4. Elegant Look
This side braid hairstyle for women is to die for. Perfect for long locks, this sleek hairstyle features a knitted bang braid continuing to the ends of the side-swept chestnut hair. Top off this elegant look with medium-sized bright flowers.
5. Dreaded Jumbo Braid
A long dreaded mane looks deadly enough to keep all the eyes on you. Achieve this punk look by dreading the strands at shoulder length and weaving them in a single jumbo braid falling on one shoulder. This look is ideal for ladies who love a voluminous braid.
For those who find braiding difficult the pull-through method is a way out. Go for two side low ponytails and divide the upper one into two sections pulling the lower one through and continuing to the end with the loose front stands accentuating the face.
7. Rope Twist Braid
On busy days, this rope twist hair look is effortless to achieve. The side-parted hair is sectioned into two chunks that are twisted around each other. This hairstyle is easy to maintain and remains intact the entire day.
8. Festive Side Braids
This cornrows-inspired bold hairstyle is ideal for a festive occasion. The highlighted fluffy curls are side-swept with one side being knitted tightly into three chic medium braids to contrast against the remaining hair.
9. Intricate Design + Side Ponytail
Young girls will surely love this hairstyle. The side is entwined into braids extending away from the ear and secured with multi-colored hair ties giving off rainbow vibes. The strands are further interconnected creating petals of a flower while the rest is styled in a high side ponytail.
10. Carefree Look
Tame your long thick hair on the lazy days with ease. Take the side locks, twisting one of them while braiding the other and incorporate them into a loosely entwined French braid at the back. Tug out some strands at the front to accentuate the carefree mess.
11. Chic Bun
Here is another hairstyle that never goes out of fashion. The front is styled in a fishtail braid that is wrapped around a donut bun at the back. The top is teased to create some volume making this hair look perfect for both informal and formal events.
12. Two in One
Get creative by combining two different styles in one braid. One side of the head is styled in a fluffy Dutch braid that transitions into a fishtail braid reaching the nape of the neck. Secure the hair in a chic low ponytail finishing off this unusual look.
13. Bubble Braid
Bubble braids look fun and can be achieved in a flick. Pin back the front hair leaving two strands at the sides that are curled. Add hair ties at regular intervals on the low side ponytail while pulling the strands loose in between for a bubbly appeal.
14. Fuchsia Magic
Look like a character from a fairy tale with this bold look. Spice up a classic French braid by dyeing the hair in a vibrant fuchsia hue and entwining it loosely. Shine through the crowd by adding as many embellished hairpins and clips as possible all over the hair.
15. Side Cornrows
Another fun way to try side braids is by going for a cornrows-inspired hair look. Limit the cornrow braids on one side of the head while the remaining hair is side tousled. Incorporate blonde extensions while entwining the strands for a stylish two-toned appeal.
16. Simple and Sassy
Middle-aged and elderly women can also take part in the side braid trend while showing off their greys confidently. This look features a brown ombre on natural salt and pepper hair with one temple being braided and tucked behind the ear for an edgy look.
17. Box Braids + Jumbo Twist
Box braids are perfect to tame kinky curls and look flawless on black women. Side part the hair and plait it down to the ends while adding extensions if needed. Complete the look by styling the braids in a jumbo twist falling on one shoulder.
18. Side Braid for Short Hair
This unique medium bob hairstyle is an excellent idea if you are planning to go to a lavish event. Flip most of your hair on one side, and for the other area, create a shortcut around your ear. Just above it, knit a French braid to part the short hair from the longer strands. Give your hair volume with some weaves. Have a look at these side braids with weave too.
19. Side Long Braid
You can quickly reproduce this princess look by selecting a thick strand from your long bangs. Braid it to the back and use some bobby pins to pin it. Slightly pull out the edges of the braid to make it look more extensive and outstanding.
20. Side Braid for Medium Hair
For this hairstyle for women with side braids, you need to master the hair knitting. Split your hair in the middle and choose one part, which you will split again in two. Take the upper part and braid it in three braids. As a tip, create an ombre before this if you want it to look exactly like the image.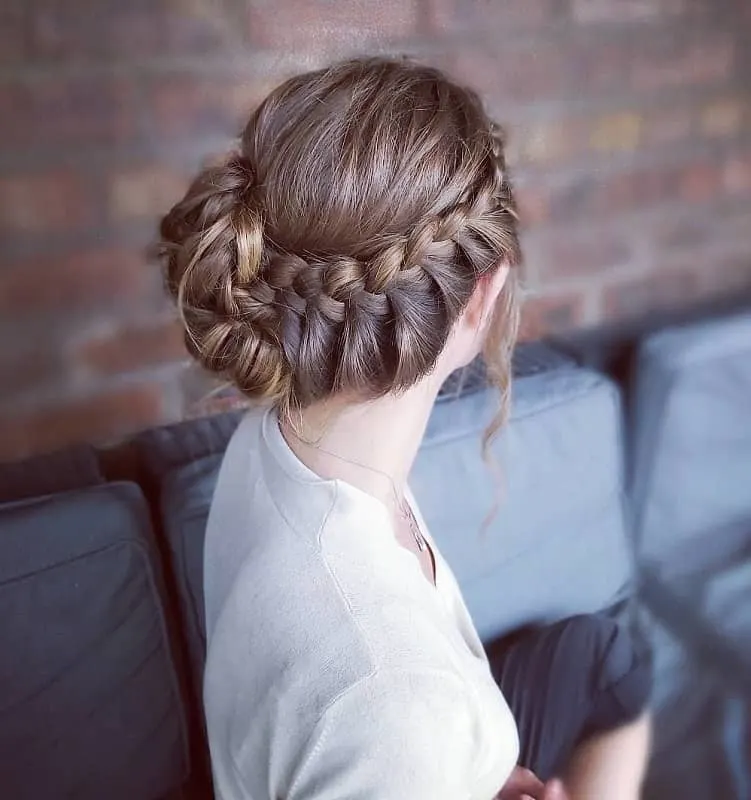 This hairstyle for women with side braids will make you feel like a real queen. Start from your forehead and braid a crown on your head. Tie the ends in a big braided bun. To make it look more impressive, slightly pull out the lower strands that form the braid.
These braids are a real delight! Get yourself your favorite color of jumbo hair, and on one side, direct your braids downside while on the other part, they go upwards. The best viewpoint about this hairstyle is the place where the two directions of braiding start combining.
23. Multiple Braids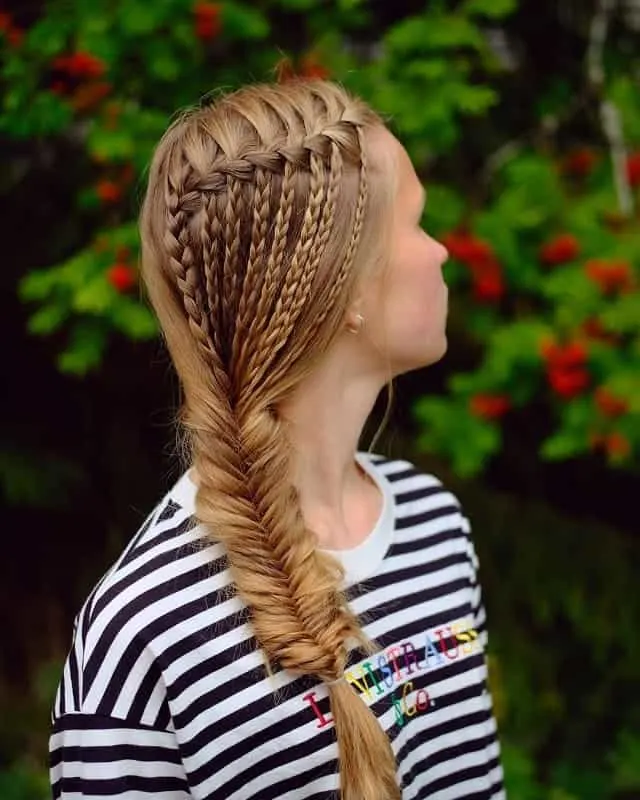 This fun braid features multiple braids from the side that extend down from one main braid. Where the ends all come together at the neck, the hair is braided into a fishtail. While this look does require a bit more effort to create, it is stunning and sure to impress.
24. Thick Upside-Down Braid
This long side braid is incredibly thick and is braided upside-down so that it looks like it is running up the head instead of down. Leaving a few loose strands around the face softens the look, and finishing the braid in a fishtail makes it unique.
Stunning Front Braid Styles for Women
This is a much looser style, which means that it automatically looks much more casual than some of the other options. The hair is gently braided back from the face and the strands are allowed to fall loose with the other hair, creating a sweet look that is easy to do.
Rather than letting the French braid get thinner to the end, this look ensures that the braid stays nice and thick all the way to the elastic. It's a bold look and requires a little skill to ensure that the braid is loose enough to look thick while still being tight enough to stay in place.
27. Smaller Braid with Highlights
This is a much smaller braid on the side of the head, but it really stands out thanks to the highlights in the hair. Long waves are free around the face and shoulders, and the end of the braid is allowed to join this mass, making it look very cohesive and ensuring that the style looks put together.
Side hair braids don't have to be tight, as this look shows. It's a much looser braid with plenty of loose strands of hair that fall down around the face. Allowing these strands to hang free gives the braid a careless appearance that is very attractive and relaxed.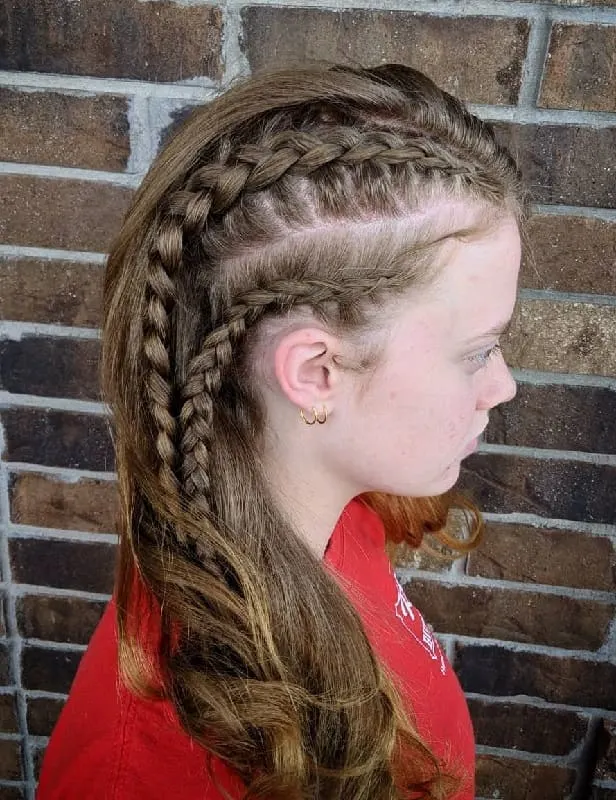 Instead of just one braid, adding a second braid is a great way to shake up the style. These double braids are tightly braided to the side of the head, which means that strands aren't going to come loose. It's a great style for any busy woman on the go.
Adding beads to double braids makes them unique and ensures that this style is eye catching. Here, the beads are added to the hair around the forehead, which helps to break up the monotony of the style. It's a fun look and one that is very attractive and keeps hair out of the face.
Stunning Perm Hairstyles with Braids for Women
What really sets this look apart is the fact that it has multiple smaller braids that are braided up to the top of the head. There, the hair is collected and fluffed up so that it has the appearance of a faux hawk. It's a bold look, especially when the hair is heavily highlighted and has dark roots.
Tendrils allowed to hang gently around the face help to soften up this look. The thick braids pulled back to the side from the forehead look great when they are gathered into a low bun, which gives the look some weight and heft.
This braid comes from the front of the head and is braided all the way around the back of the head. It's thick and bold and shows off the darker roots of the hair. The hair is then pulled into a side ponytail for a fun and flashy finish.
34. Loose Braid with Red
Any braid will instantly look much more interesting when there is a pop of color added to the hair. Red is a popular choice, as it looks great with any natural hair color and is sure to catch attention. Here, the red sticks out in the large braid, adding interest and depth.
35. Criss-Cross Braids
Smaller braids can look unimpressive on their own, but when paired with other braids and crisscrossing them, they are much more interesting. These braids on side cross each other and then the ends of the braids are hidden underneath the loose hair on the back of the head.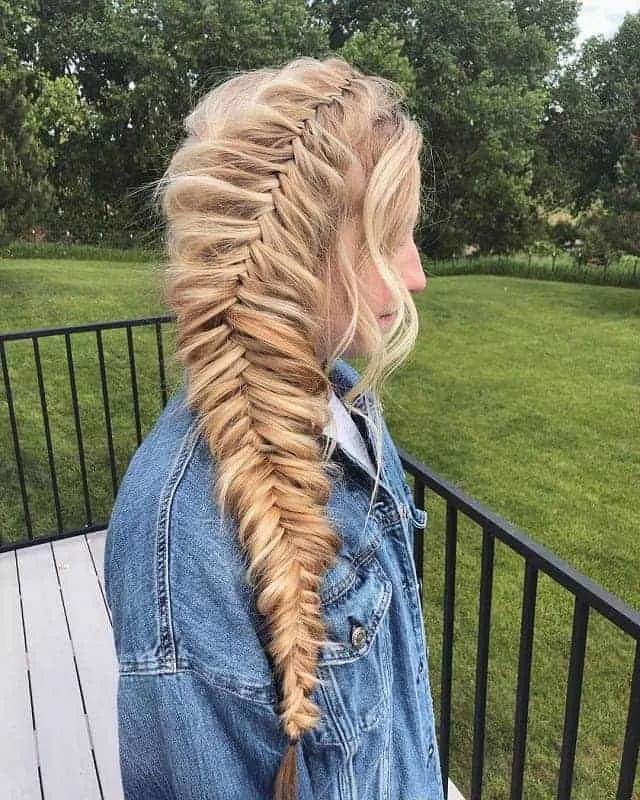 Small fishtails aren't a great choice for women who have a lot of hair. Oversized fishtails, on the other hand, are impressive and eye catching. This is a loose and feminine look that is not great for busy activities, but is a great option for dances and other parties.
37. Braided in a Circle
Side braidings don't have to be straight, as this look shows. Curved braids that travel in a circle and then are bound together and allowed to hang with the rest of the hair are a fun update. This look does take more practice since it can be difficult to braid in a circle.
Thick braids are impressive, especially when they are allowed to hang at their full length. This great braid is fat and thick and hangs all the way to the waist, creating an interesting look. It's a bold statement down the side of the head.
39. Side Fishtail Braid
Fishtail braids typically are braided to run down the back of the body, but this look is unique. Instead of the braid falling down the back, it is braided to hit the shoulder and then rest on the front of the body. The double fishtail design is unique and a lot of fun.
The many smaller braids in this style all are braided away from the side to the top of the head. There, they are joined together with the rest of the loose hair to create a mass of curls. This is a great way to control curly hair and still enjoy volume and movement.
Heart Braids Styles That Oozes Cuteness
41. Attractive Pink Braid
Rose gold is a fun hair color for women to experiment with, as can be seen here. The light pink color blends in perfectly with the deeper natural red and is a fun pop. Additionally, the braid is braided upside down, giving it a bit more interest than a typical braid would have.
FAQs About Side Braids
Here are some frequently asked questions about side braids.
Are side braids cultural appropriation?
Side braids often keep hair away from your face and add a bit of edge to your outfit. Side braids work for all hair types and colors.

However, cornrows are not for all hair types. Cornrows and side braids are not the same things.
Wearing cornrows could be considered cultural appropriation, while traditional side braids are not.

If you are unsure of the style, veer away from it or talk with people in the industry that you trust.
Are side braids still in trend?
Side braids are still trendy, especially in hairstyles for formal events. These braids are looser and generally flow into a side ponytail or a low bun. At present, this is still an acceptable, cute, and fun hairstyle to spice up any old bun or ponytail.

A side braid is perfect for keeping bangs or small hairs out of your face throughout the day. Overall, side braids are still trendy. However, you should style your hair regardless of trends as long as you like the look and it works for you.
Is side braid a professional hairstyle?
Professional hairstyles for people with long hair require that the hair be neat, kept out of your face, and styled nicely. Side braids meet all of these criteria. It is also a good hairstyle to add texture and volume to your hair.

Side braids also create dimension to your hair which increases the style of your overall look and self-presentation. Bringing a level of individuality to work with hairstyles while keeping it professional is a good way to set yourself apart from everyone else.
Side braids hairstyle is fun, attractive, and a great option for any woman who wants to look and feel her best. These 41 styles are great options for women of all ages. Since they vary in difficulty and final appearance, any woman can easily choose the right one for her.