Braids are beautiful, but sometimes you need a break! As much as we love intricate braiding patterns, that tight tension on your edges and hours sitting in the styling chair can get old real quick.
But going braid-free doesn't mean you have to sacrifice style. There are so many cute and easy no-braid hairstyles that are perfect when you need to give your hair and scalp a rest.
No braid hairstyles can be as easy or as detailed as you want, and it works with any hair type. All you need is a decent hair length to work with!
Twists, loops, and criss-crossed hairstyles can all turn your hair into a stunning optical illusion that makes it appear as if it's braided.
Fashionable Non-Braided Hairstyles
You don't need a braid to be gorgeous! Check out these 16 hairstyles including ponytails, buns, locs, and twist-outs without a single braid.
1. Twisted Low Ponytail
If you have some time to spend on styling, try this low braidless ponytail featuring plenty of twists. It's best for hair that is at least medium length so it looks its most voluminous.
2. Wavy Hair with Claw Clip
Take one small section of hair from either side of your face, and gather it together in a ponytail in the back.
Twist and flip the ponytail before securing it with a hair claw. Fill the bottom half of your hair with large spirals or loose waves.
3. No Braid Pigtails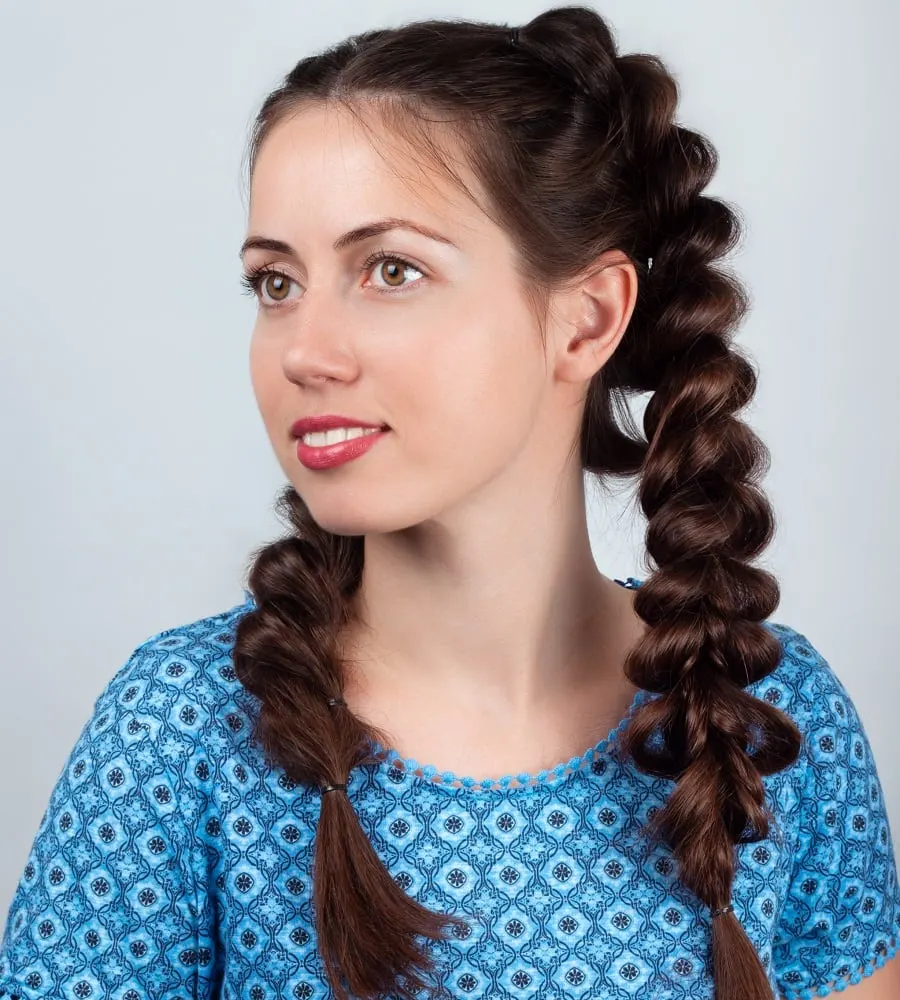 Pigtails are typically braided hairstyles and are very popular among teenagers. However, there are also pigtails without braids.
No-braid pigtails are a quick and easy way to style hair, and they can be dressed up or down depending on the occasion. They are also a good option for women who have fine hair.
To create this hairstyle, divide your hair into two equal sections. Tie each section with a hair tie at the desired height.
You can adjust the tightness of the hair ties to create a looser or tighter look. You can also accessorize your pigtails with headbands, clips, or flowers.
4. Loop Ponytail
This looped no braid ponytail for straight hair is basically a flatter version of a bubble ponytail. Make several ponytails down the back, leaving some hair loose to criss cross and wind through.
5. Angled Pull Through
If you know how to do a pull-through ponytail, you can make this angled hairstyle to dress up your medium-length or long hair. For fancy occasions, tuck in some flowers to make it romantic.
6. High Wrapped Ponytail
If you have extra long hair or want to rock extensions one evening, secure your hair up high in a slicked-back peppy ponytail. Wrap one strand of hair around the base to disguise a hair tie.
7. Twisted Bun
A mid-height twisted bun is the elegant no-braid hairstyle you need to try next. Simply make a ponytail slightly above your neckline.
Twist and loop small sections of hair in opposite directions and pin them in place with bobby pins.
8. Straight Criss-Cross Updo
Style up your typical hairstyle by turning a plain half ponytail into this intricate beauty.
Make two sections straight down the back, then take small sections of hair on either side and criss cross them through down to the neckline.
9. Knotted Ponytail
A soft, low ponytail is the hairstyle you need to add to your life. Instead of braiding, the hair is loosely knotted at small intervals. Secure it an inch or two above the end and you're done!
10. Half Up Bubble Ponytail
If you can make a bubble ponytail, you'll easily be able to do this no-braid half updo.
Turn two small sections at the side of your head into a bubble ponytail secured with neutral hair ties. Leave the rest of your hair down straight or filled with waves.
11. Bridal Bun
For your special day, choose a jumbo low bun with plenty of twists to make you feel like an elegant queen. Tease the crown for a little volume and don't forget to tuck in a pearled or rhinestone barrette.
12. Twisted Ponytail with Curls
To enhance the shape of the two twisted strands on this braidless half updo, tease the hair for volume. Use a pretty ribbon to tie the strands together and fill the bottom half of the hair with soft waves.
13. Inside Out Ponytail
As long as your hair is shoulder length, you can make this simple yet stylish half updo. Simply make a ponytail and secure it with a hair tie. Flip it inside out for an easy refreshing update to the classic look.
14. French Plait
Rich with volume, a French plait is a beautiful non-braided hairstyle for women going for a regal look.
Leave it as seen above or, for formal occasions, dress it up by weaving ribbon throughout or pinning it in jeweled clips.
15. Low Knotted Ponytail
Feel like a mermaid for a day with a low-knotted hairstyle. With the top half of your hair, make a loose ponytail halfway down your hair.
Then take small sections of hair underneath and twist them together over the top to make 'knots.'
16. French Fishtail
A French fishtail is intricate and elegant, both qualities you want in a formal hairstyle. Confidently wear this look to a wedding or prom and be prepared for heads to turn your way.
It's clear to see there are many options for a gorgeous no-braid hairstyle. The above styles will work for women of all hair skill levels and any of them would make a great alternative to your regular go-to. As always, be sure to practice so you can make it perfect!