A flower girl can be your daughter, niece, or a close relative you love and cherish. She will be so excited to be in the spotlight for your big event and she needs a proper hairstyle that makes her look fabulous while all eyes are pointed at her.
Moreover, black flower girls have plenty of opportunities when it comes to getting a proper hairdo for a wedding. And it's not all about braids, buns, or curls, but also about the accessories that one must include and integrate into the hairdo for a more effective and bold appearance.
Adorable Flower Girl Hairstyles for Black Girls
If you have an upcoming wedding, then you should definitely check out these unique flower girl hairstyles for black ladies that will flatter any young woman carrying a flower basket to the aisle.
1. Curls with Veil and Tiara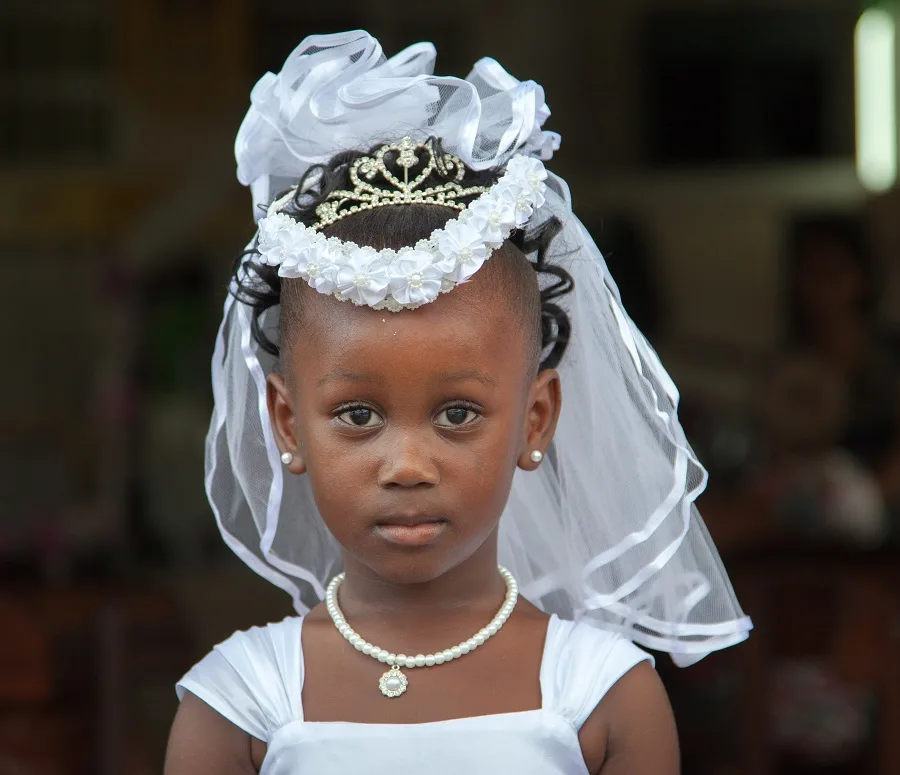 This hairstyle for black flower girls features a curly ponytail placed on the top of the head, with multiple accessories.
Add a short bouffant veil, place a tiara in the center of the head, and a white flower garland that slightly falls on the forehead.
2. Loose Curls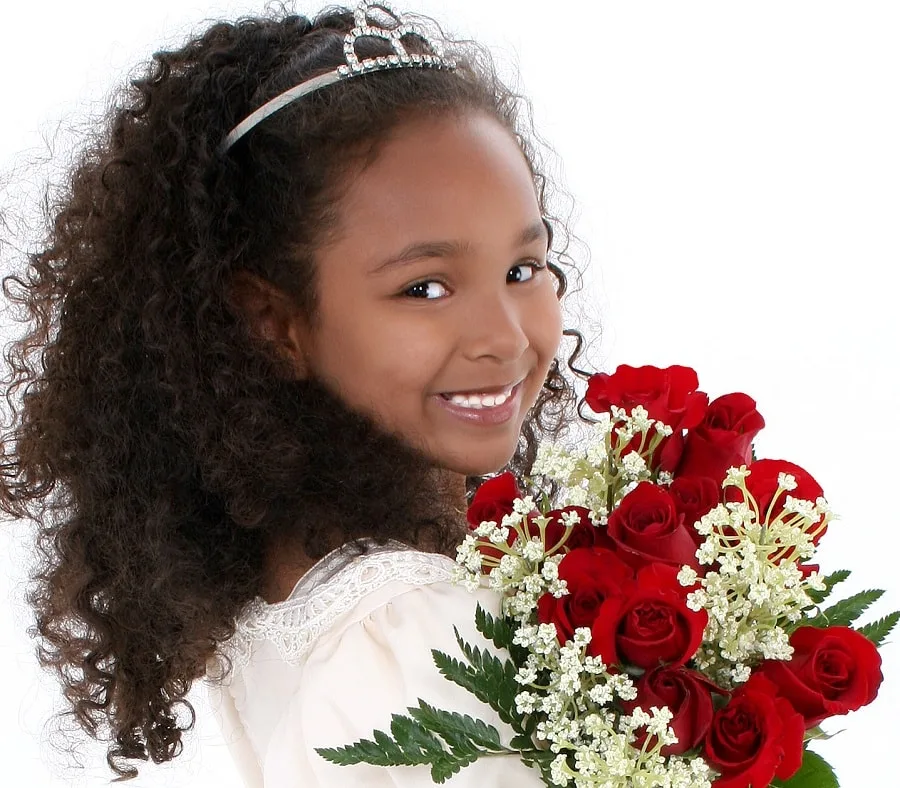 If your flower girl has thick, long, curly hair, why not let her show off her beautiful tresses? Let the hair fall in a cascade on the back and add a small cute tiara as decoration.
3. Top Ponytail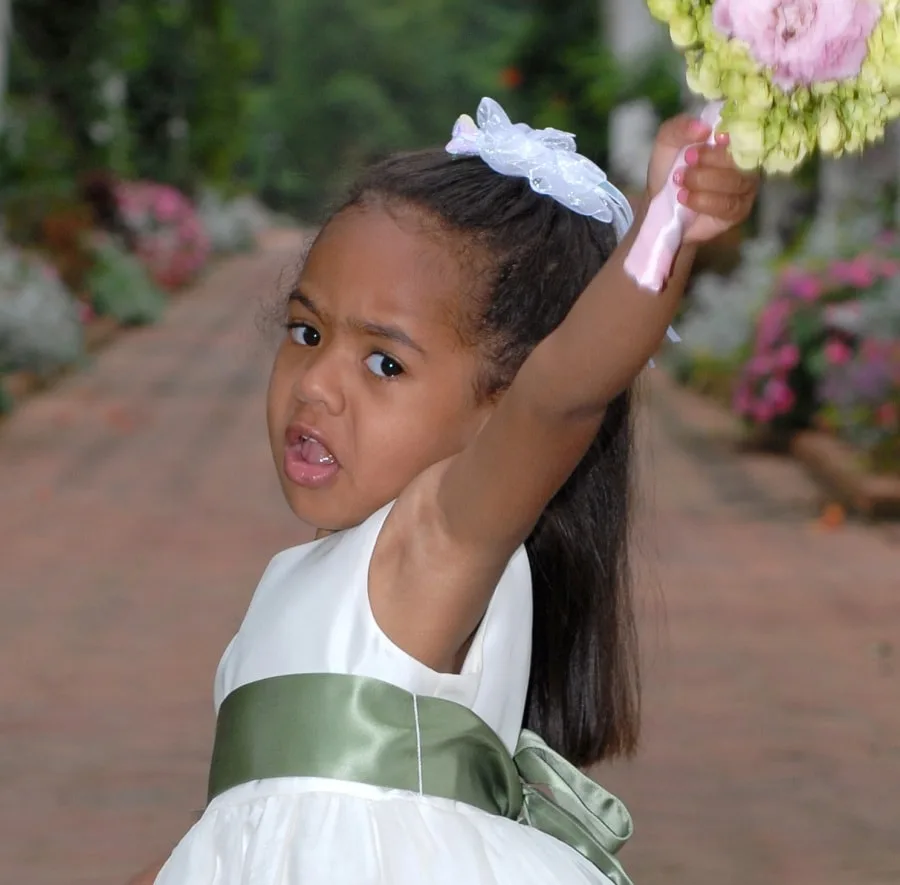 A cute hairstyle for little black girls. Ponytails are highly versatile because they are a great fit for any occasion, especially weddings.
For your flower girl, you can choose a simple pony, styled on top of the head and decorated with a white ribbon application.
4. Braids and Tight Curls
Some girls love a great hairstyle that gets all the attention, and this top curly pony is exactly what will do. To get the desired effect, go for cornrows for the sides and top and meet them in a tight pony.
Use a thin curler to get those ringlets and make sure you select small strands when using the heated tool. Also, because you don't want to damage her hair, we recommend you use a strong heat protection spray.
5. Box Braids with Beads
If your little young flower girl adores beads, this is the best moment to get her the hairstyle she adores. Go for box braids and four beads at the tips, for each plait. Let her choose the colors she wants.
6. Curly Ponytail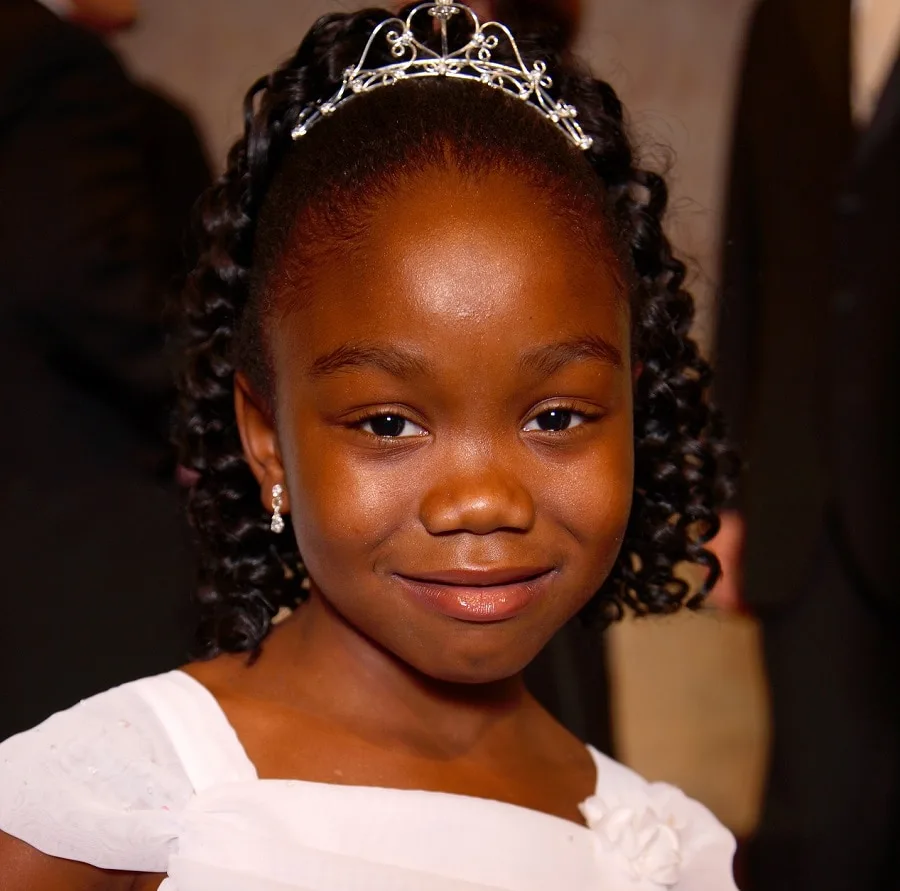 This ponytail hairstyle is perfect for curly-haired black flower girls and can be easily recreated without a fuss by pinning all the hair in a top bun.
Thoughrouly comb the hair so it looks sleek, with no bumps. Add a curly piece of extensions that you attach with clippers or a curly fake pony.
7. Perfectly Shaped Curls
To recreate these incredibly tight curls for your black flower girl, you will need a thin heated wand.
Select small strands of hair, wrap them around the tool, and push the hair up when removing the wand. Keep the top sleek and add hair gel to make it look perfect. Decorate with a rhinestone headpiece.
8. Cornrows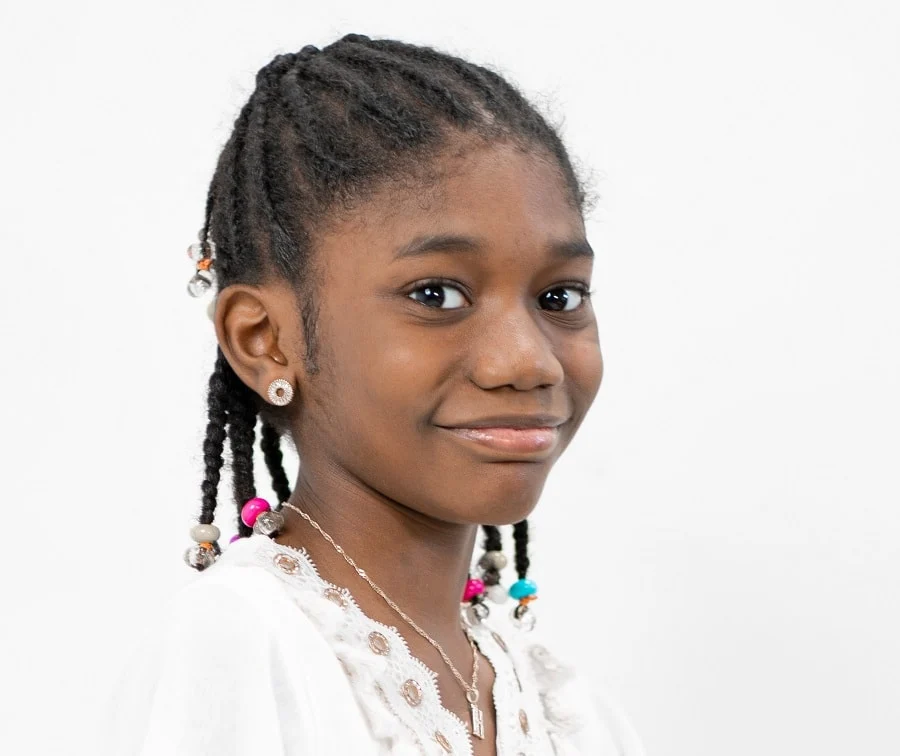 Create a half up half down hairstyle with cornrows and add colored beads as decoration. Pin the top braids in the back and let the nape plaits loose.
9. Flower Updo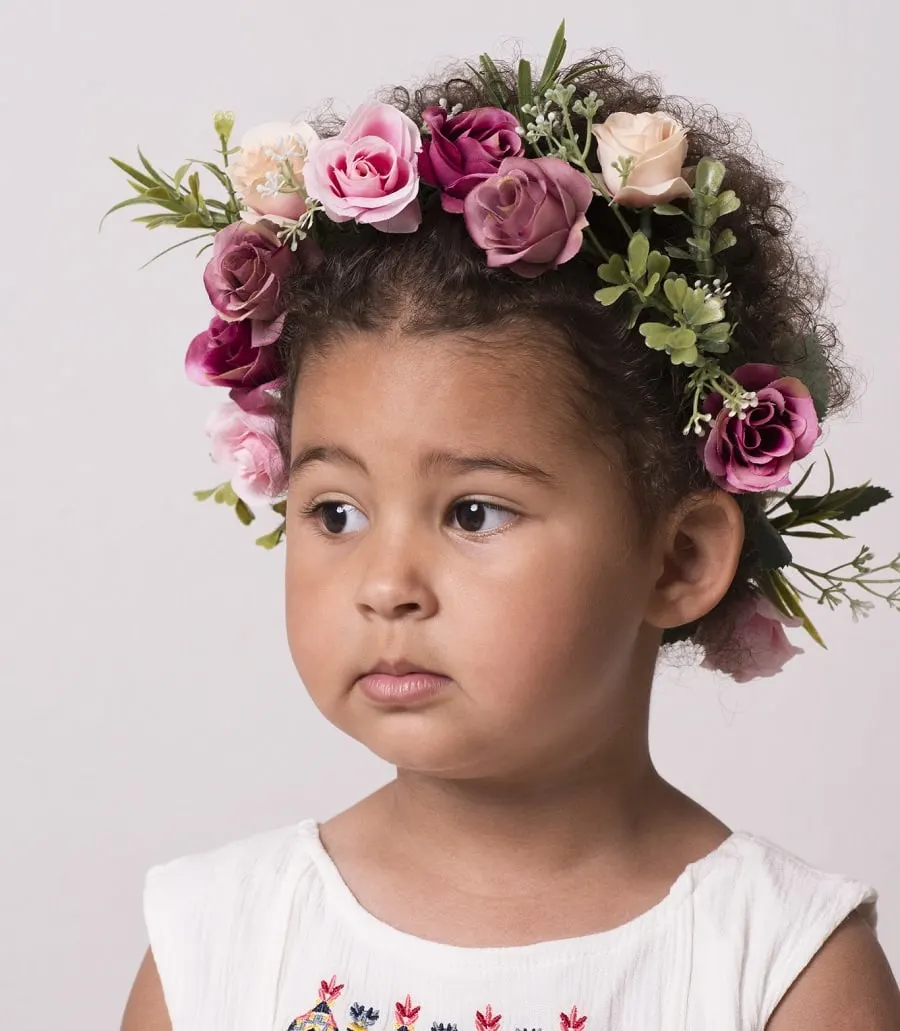 Emphasize those fabulous natural curls by creating an updo with an integrated flower crown. It will keep the hair away from the face but still show that beautiful texture.
10. Hair Up with Headband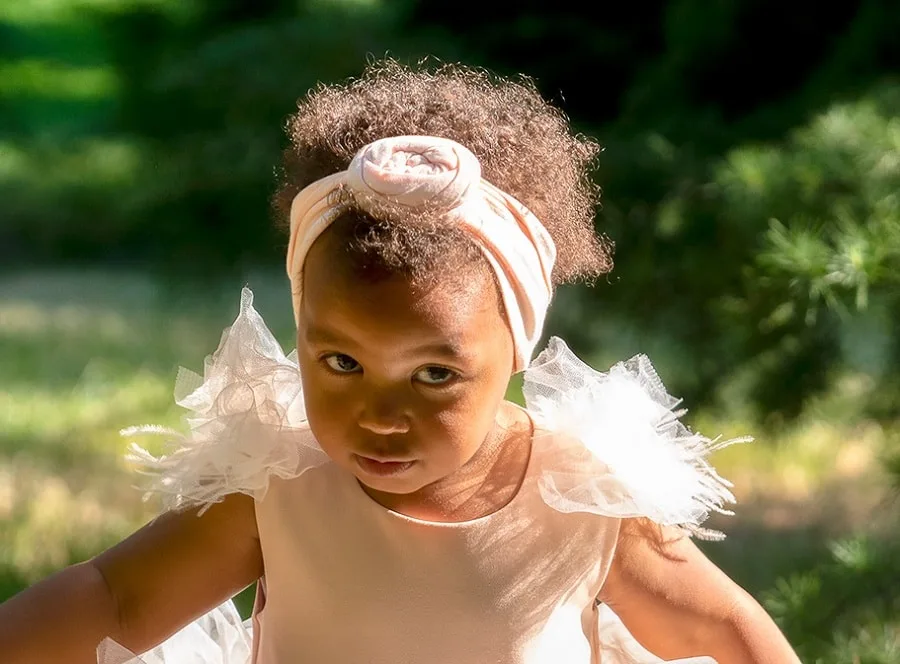 A simple, cute headband can be a great accessory for a black baby flower girl. She will spread not only rose petals from her basket but also a lot of joy.
The hairstyle shows off those natural curls and makes them look eye-popping and cute.
11. Ballerina Bun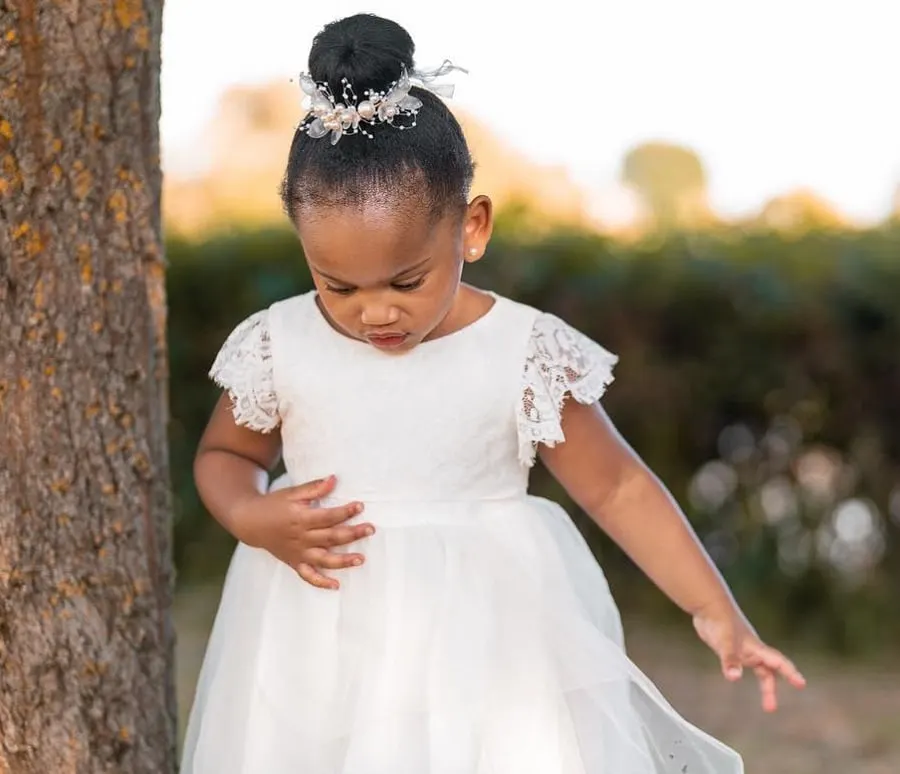 A ballerina bun is a marvelous choice for your flower girl. To obtain that rounded flawless shape for the bun, use a sponge donut. Straighten the hair and wrap it around the donut.
Decorate the updo with a wedding hair elastic with pearls and flowers.
12. Side Bangs and Cornrows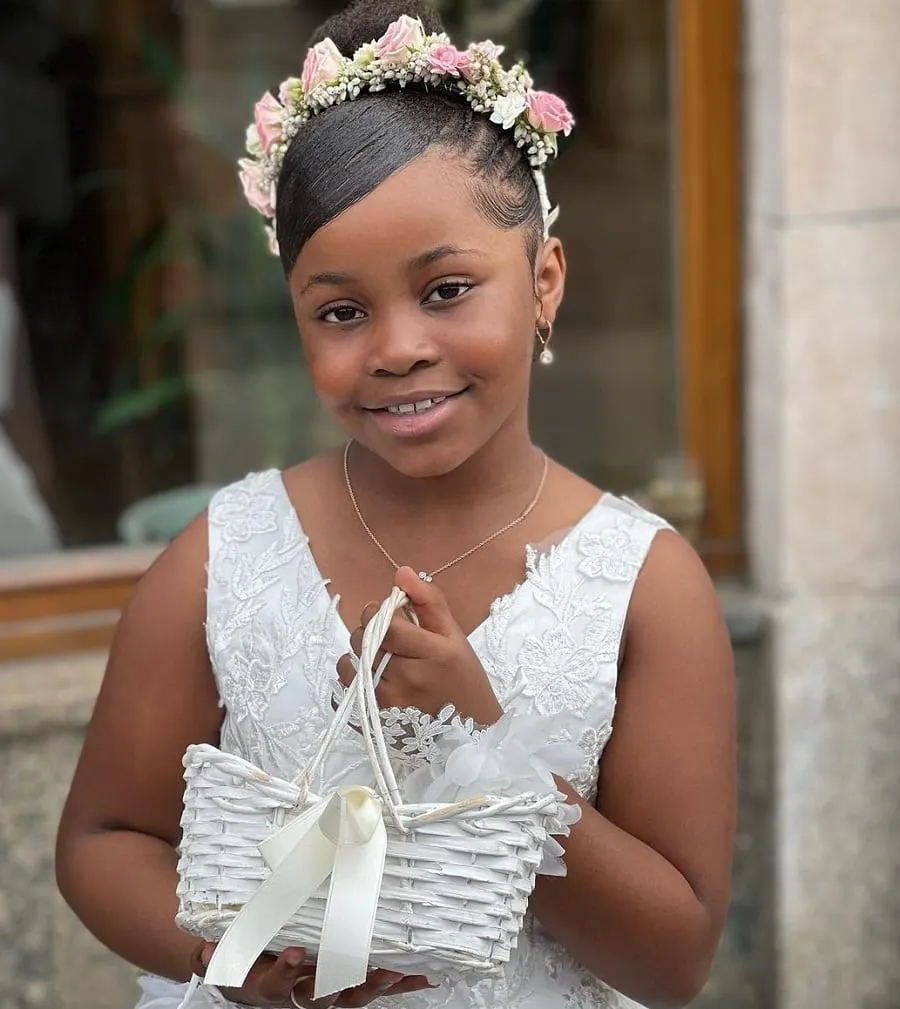 To recreate this hairstyle, you will need to apply a strong holding hair gel. Part the top to the side and arrange those bangs. On the other side, create a few cornrow braids and style the baby hairs using a toothbrush.
Go for a top bun and place a flower crown on top of the head to make your young lady look like a princess.
13. Big Top Bun
When your flower girl has long thick natural hair, it gives you plenty of hairstyling opportunities.
Choose a large top bun that is not too tight and still shows the texture of the hair. Add a pearled headband as decoration.
14. Space Buns
Space buns are playful and joyful and a great wedding hairstyle for a black flower girl.
Part the hair in two pieces and on each side, go for a small bun. Decorate each with flowers.
15. Top Curly Updo
For this curly updo, your goal is to emphasize those stunning curls. You will only need some bobby pins that you will use to secure the hair when lifted in the top back.
16. Braided Bun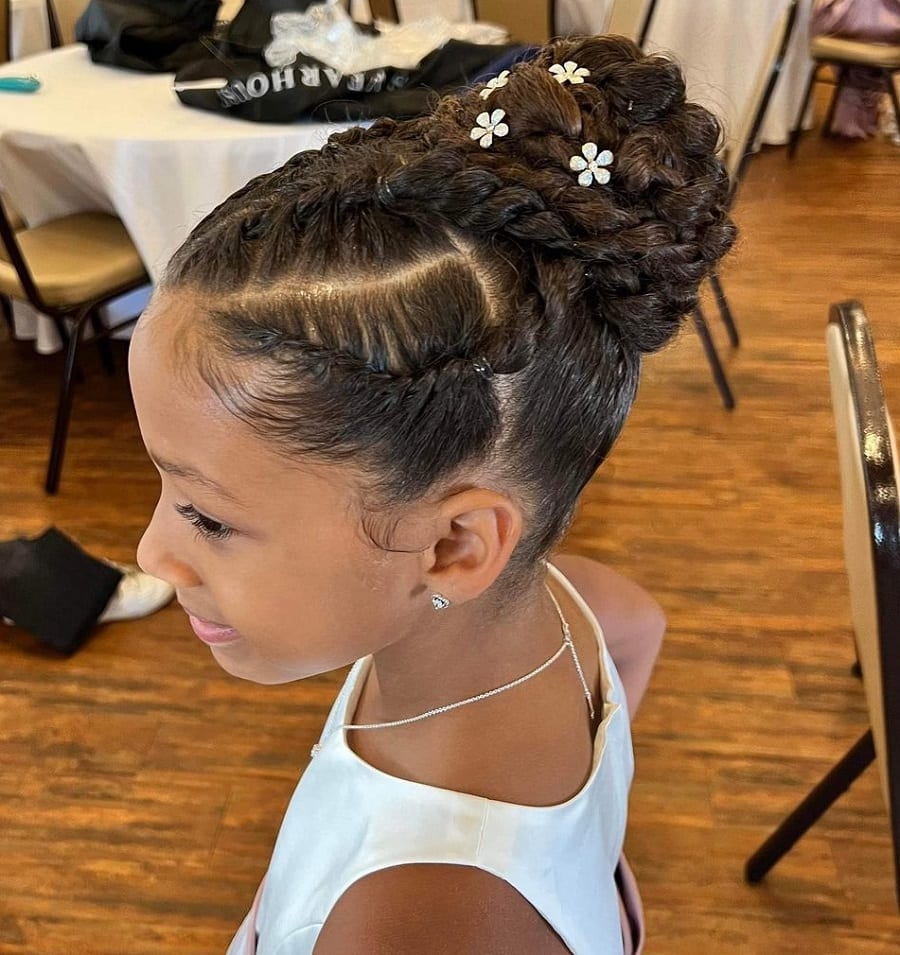 A braided bun like the one above will beautifully suit your black flower girl. For this hairstyle, you will part the top in three pieces, one on each side and one for the top.
Create cornrows and pin these braids in the top back building a fabulous intricate bun. Decorate with flower bobby pins.
17. Half Up Half Down
Such a wonderful hairstyle for a black flower girl focuses on natural coils and their volume. Opt for a half up half down hairdo with a top bun and loose ringlets in the back.
Complete the look with a gorgeous flower crown.
18. Ballerina Bun with Front Pony
Combine a sleek look with curls and a side top ponytail to obtain a unique look for the young lady that walks in front of you towards the aisle. Go for a ballerina bun and use a sponge donut to style that flawless construct.
Hairstyles for black flower girls are eye-popping and most of the time include cute buns, braids, sleek comb-overs, and loose curls. Moreover, colored beads, tiaras, and flower crowns or headbands can be pieces of interest in wedding hairstyles for these little princesses.
Trending Topic