While women love hair extensions and make all kinds of experiments with them, box braids for kids can be overlooked. Young girls look very impressive and adorably stylish with the box braids if they are attached correctly. It might be a little tough to deal with fine children's hair but a professional hairstylist can readily come up with a real masterpiece.
Don't be afraid to make a few experiments with your child's hair. In fact, box braid protects the locks while making them grow better and stay healthy longer.
How to Take Care of Kids Hair With Box Braids
Kid's box braids are not attached just for fun, they give the hair protection no hair care cosmetics can offer. If styled correctly, the box braids can help a girl's hair grow long and healthy. Frequent brushing, washing, can damage a young girl's hair causing it to break, grow thin, and lose volume.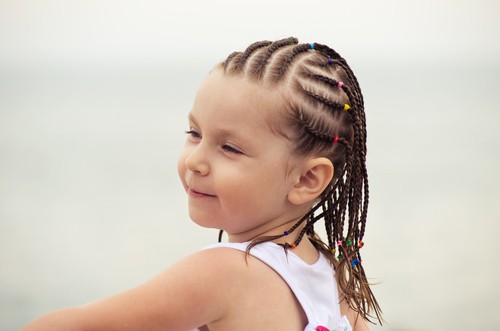 If you made a decision to use box braids as a protection for the girl's locks, you still have to follow a few tips in order to make sure that the braids are not doing more harm than good. Let's take a look.
Braided Hairstyles for Kids: Our Top Picks
Go to a Professional
Children's and adult's hair differ. Kids' locks have a tendency to get damaged where an adult's hair feels just fine. So even if you are a box braid guru, we would recommend asking a professional hairstylist to create box braids for your child. At least for the first time, so you can get the idea of what not to do.
Keep the Hair Moisturized
The kid's hairline requires plenty of moisturizing and so does the braided hair. You need to acquire a spritz bottle where you should mix water with a hair conditioner. Spritz your kid's locks once every two days and don't forget to pay plenty of attention to the hairline.
Don't Overdo
Even if the hair looks perfect with the braids and doesn't seem to require any touch-ups, don't keep the box braids attached longer than 2 – 3 months. In fact, once the two months are up, it's better to remove the box braids and let the hair rest for a while. You can redo the braids after about 10 days.
Box Braids for Kids
Once you see how amazingly the box braids can be styled on kids, you'll want your girl to get them. Such braids are not different for children than they are for adults. All you have to do is look for thinner types in order not to make the child's head look too huge.
Once you get the braids attached, you can let your imagination run wild with various hairstyles. If your kid has short and fine hair, the box braids can really improve its appearance.
Whether there is a special occasion coming up or you just want to experiment, these 35 options can give you a helpful hand.
Plenty of accessories is created specifically to make the box braids look even more amazing. Create two ponytails on the side of the head and add the beads on the bottom to give the hairstyle some volume and shine.
2. Up and down box braids for kids
Attaching extra hair to make the up and down style is a smart way to add your girl's hair some volume. Make sure not to overdo the extensions or the hairstyle might be a little hard to wear. Use differently sized braids for a more impressive look.
Crochet Braids for Kids to Try
Senegalese twists do a great job upping the volume on top of the girl's head. Meanwhile, these kid's box braided hairstyles can be as long as you wish. Allow the twists to flow down your girl's shoulders for a fashionable appearance.
4. Curls on the bottom
If you have a special occasion coming up, you can opt for really long box braids that have curls on the bottom. This pageant hairstyle can allow your child to feel like a real star without too much hassle.
5. Comb over
Thicker box braids on top and thinner on the sides create an appearance of a fashionable comb over. This is just one example of how you can create virtually any hairstyle using the hair extensions.