While women love hair extensions and make all kinds of experiments with them, box braids for kids can be overlooked. Young girls look very impressive and adorably stylish with the box braids if they are attached correctly. It might be a little tough to deal with fine children's hair but a professional hairstylist can readily come up with a real masterpiece.
Don't be afraid to make a few experiments with your child's hair. In fact, box braid protects the locks while making them grow better and stay healthy longer.
How to Take Care of Kid's Box Braids
Kid's box braids are not attached just for fun, they give the hair protection no hair care cosmetics can offer. If styled correctly, the box braids can help a girl's hair grow long and healthy. Frequent brushing, washing, can damage a young girl's hair causing it to break, grow thin, and lose volume.
If you made a decision to use box braids as a protection for the girl's locks, you still have to follow a few tips in order to make sure that the braids are not doing more harm than good. Let's take a look.
Braided Hairstyles for Kids: Our Top Picks
Go to a Professional
Children's and adult's hair differ. Kids' locks have a tendency to get damaged where an adult's hair feels just fine. So even if you are a box braid guru, we would recommend asking a professional hairstylist to create box braids for your child. At least for the first time, so you can get the idea of what not to do.
Keep the Hair Moisturized
The kid's hairline requires plenty of moisturizing and so does the braided hair. You need to acquire a spritz bottle where you should mix water with a hair conditioner. Spritz your kid's locks once every two days and don't forget to pay plenty of attention to the hairline.
Don't Overdo
Even if the hair looks perfect with the braids and doesn't seem to require any touch-ups, don't keep the box braids attached longer than 2 – 3 months. In fact, once the two months are up, it's better to remove the box braids and let the hair rest for a while. You can redo the braids after about 10 days.
Box Braids for Kids
Once you see how amazingly the box braids can be styled on kids, you'll want your girl to get them. Such braids are not different for children than they are for adults. All you have to do is look for thinner types in order not to make the child's head look too huge.
Once you get the braids attached, you can let your imagination run wild with various hairstyles. If your kid has short and fine hair, the box braids can really improve its appearance.
Whether there is a special occasion coming up or you just want to experiment, these 40 options can give you a helpful hand.
1. Braids with Threads
Yarn is a great replacement for Jumbo bundles when talking about box braids for kids. So, you can go for a mix and match type of hairdo by using a lighter color yarn when doing the knits. And don't forget about the parting, it will make a huge difference in the end.
2. Braids and Beads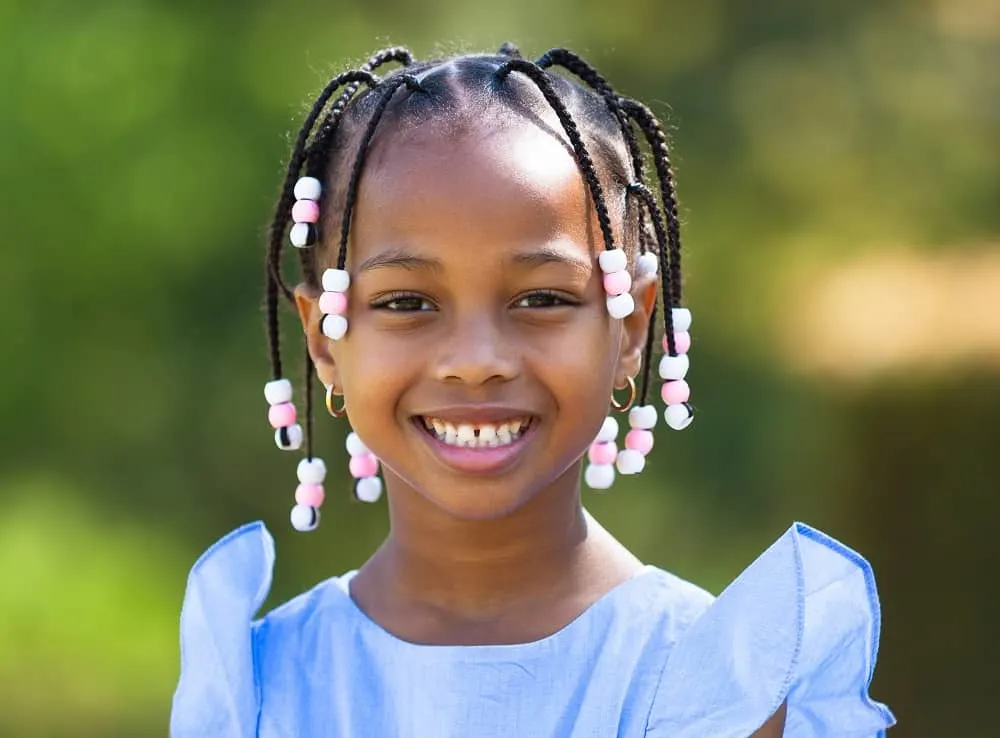 Kids have thin and puffy hair when they are young, but that doesn't mean you can't create gorgeous braided hairstyles. So depending on the volume and thickness, decide the number of knits and go for box braids. Decorate the ends with white and pale pink beads.
3. Thick Braids
Certainly, one of the most amazing ways to give hair more volume and thickness is through braids. Knit them to style a short bob haircut and part the hairdo in the middle. This will create a great frame for your kid's face.
4. Braids for White Girls
From a young age, most girls are in love with braids. Cornrows are the ones that should suit your daughter if she wants an hairdo that keeps the knit close to the scalp. And she will certainly love having bead decorations on the ends.
5. Pink Braided Space Buns
When your daughter already has long hair, using pale pink yarn will totally transform her look. It will create more volume and add that stunning pop of color. Also, if you're going for space buns, even if you use only the top hair, they will be voluminous and with a greater shape.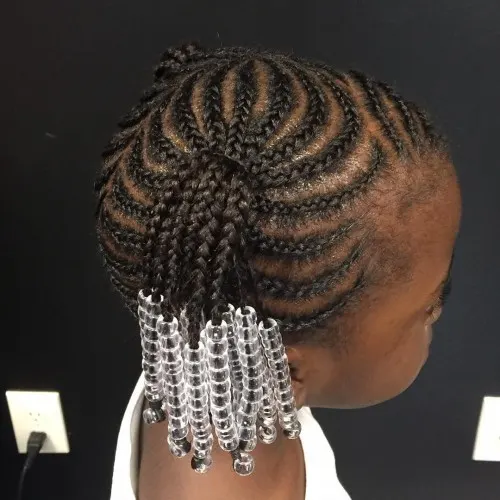 Plenty of accessories is created specifically to make the box braids look even more amazing. Create two ponytails on the side of the head and add the beads on the bottom to give the hairstyle some volume and shine.
7. Up and down box braids for kids
Attaching extra hair to make the up and down style is a smart way to add your girl's hair some volume. Make sure not to overdo the extensions or the hairstyle might be a little hard to wear. Use differently sized braids for a more impressive look.
Crochet Braids for Kids to Try
Senegalese twists do a great job upping the volume on top of the girl's head. Meanwhile, these kid's box braided hairstyles can be as long as you wish. Allow the twists to flow down your girl's shoulders for a fashionable appearance.
9. Curls on the bottom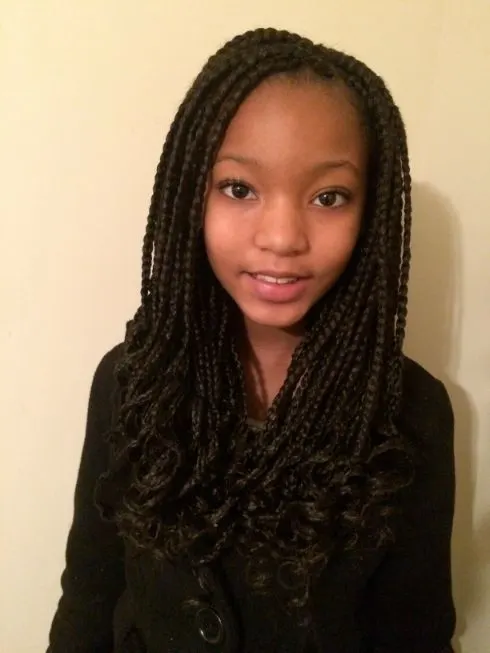 If you have a special occasion coming up, you can opt for really long box braids that have curls on the bottom. This pageant hairstyle can allow your child to feel like a real star without too much hassle.
10. Comb over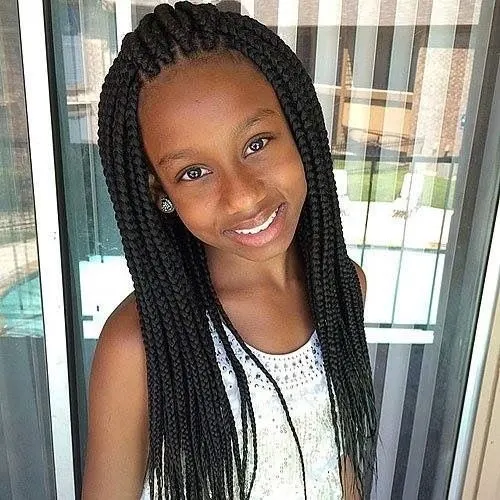 Thicker box braids on top and thinner on the sides create an appearance of a fashionable comb over. This is just one example of how you can create virtually any hairstyle using the hair extensions.
Once the braids are attached, they might not be too comfortable to wear due to their length and volume. Come up with smart hairstyles to make your girl look and feel special. Tie the side strands on top to make a high ponytail.
12. Brighten up
While dyeing a kid's hair might be out of the question, using box braids to add the mane some color is a smart move. Check out how the girl can look with dyed locks by buying differently dyed braids.
13. Braid designs
A professional hairstylist can create a real braid masterpiece on the girl's head. Instead of making nice and straight cornrows, you can opt for amazing twists and turns to come up with a real road map.
14. Braid the braids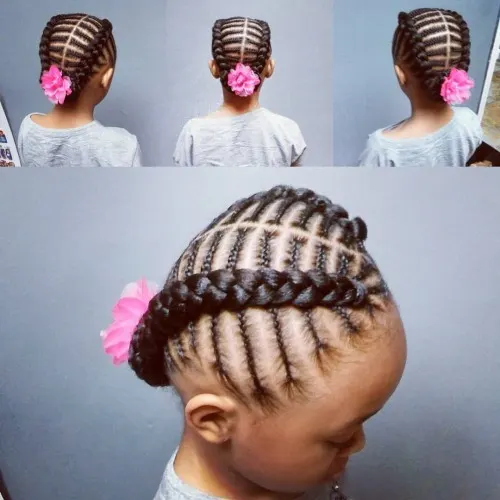 If your girl's hair is thin and you can't attach too many voluminous hair extensions, such braids can be a great way out. While looking very stylish, they can keep the hair out of the girl's face and always appear neat.
15. Perpendicular braids
While we are used to seeing vertical braiding, perpendicular braids are also in style. They create great grounds for various hairstyles, such as side ponytails. Choose the braid positioning before going to the barbershop.
Mohawk can look adorable on a young girl when you use box braids to make it. Cornrows with hair extensions can add the volume where it's needed and remove it where the hair should supposedly be shaved.
17. Beautiful orange
This amazing hairstyle can easily be achieved by using a professional approach to box braiding. Your little girl needs some patience to sit through the styling but in the end, the result will be magnificent.
18. Simple ponytail
Collecting the braids into a ponytail seems is easy to make and looks beautiful. Play around with different ponytails and pigtails in order to make your kid's box braids look special. Use differently colored elastic bands.
19. Lovely hearts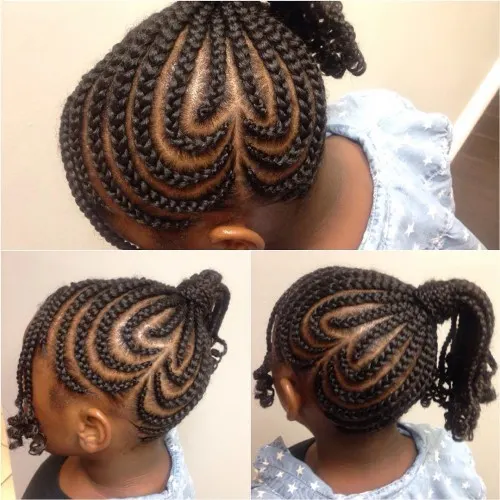 This lovely heart braids design can be improved with a side pigtail. Collect the hair on one side to outline the hearts made when the braiding was done.
20. Twist and turn
Senegalese twists with some curly locks on the bottom can either create a stunning updo or allow the hairstyle to look voluminous and brilliant. Just two ponytails can turn flowing braids into a fashionable creation.
21. High and mighty
Add some volume you always wanted with the box braids collected into a high ponytail on top. You can let the hair extensions come loose on the bottom in order to create a cascading hairstyle.
22. Box braids bow style
Take the bow hairstyle to a whole new level that will put everyone around your kid in an "aww" moment. Recreate the box braid hairstyle for kids by styling it in a zigzag pattern then, tie these cute braids into two mini buns. Leave a bow shape at the back of the head and accessorize it with clear white beads.
23. Unicorn box braids
These vivid box braids for kids look stunning when fall over both sides of the shoulder. The unicorn colored lowlights provide a delightful and energetic look that your young girl would surely love to wear especially in the summer season.
This big braided fun is ideal for sports kids who always want to keep themselves engaged in extra-curricular activities. It can be a smart choice to wear for summer vacations.
If your girl has coarse and thick hair texture, you can get her with this low maintenance look. To preserve the hairstyle structure, cover the hair with silk cape while sleeping.
25. Cute three ponytails
These cute box braided ponytails are ideal for 3-5 years old active kids. This kid's hair divided into several sections, is giving the resemblance to palm trees from the scalp. Tie these braided sections into three playful ponytails and adorn these further with lively beads.
Level up the kid's box braiding game and make it super-funky by loading the braids with an ample amount of colorful hair beads and ribbons. To make the braids uber charming, style them into a half-up hairstyle.
27. Kids waist-length box braids
This beautiful box braid looks great on little girls with natural waist-length hair. You can achieve it easily as it does not involve any intricate design. The tips are kept unbraided while braiding the top hair; colorful ribbons are incorporated in few braids for animated features.
Keep your kid's tresses stylishly playful with well-nourished and polished hair texture. Young girls with medium length hair can wear lemonade box braid for easy to maintain styling look.
The touch of white braid exhibits the cool element of this particular braid. Lemonade braids are styled into Side sweep pattern which provides poise features to young girls.
29. Kids ombre box braids
Box braids provide you hundreds of styling ideas that you can implement on your kid's unmanageable hair to add a vibrant and adorable element to their appearance. It is one of the most elegant choices that you can choose for your girl to accentuate the braid design.
The top includes several parallel braided sections that are tied into a high bun. The dark plum Ombre and fetching copper braid rings will add a fascinating factor to your kid's braids.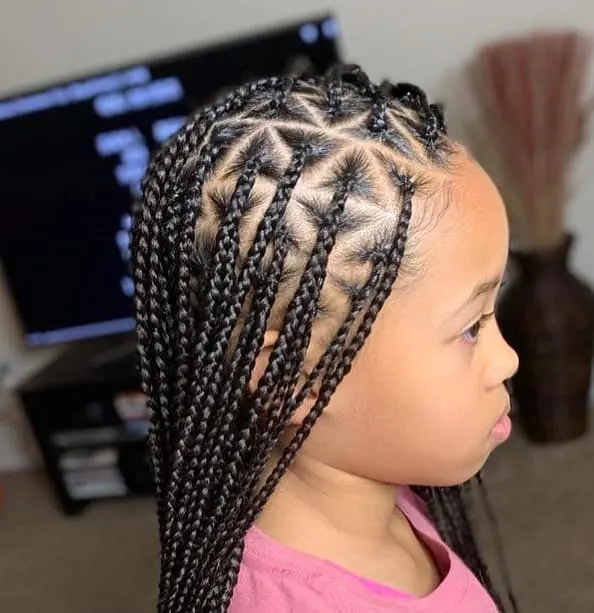 This type of box braid for kids is extremely versatile featuring creative and pleasing aesthetics. It is highly manageable and requires low maintenance. Keep the kids scalp clean by using the good quality elixir to maintain the polished expression of this braided style.
31. Bohemian box braids
This incredible version of kid's box braid features big braids along with unbraided soft curly hair strands. It is extremely light in weight and will make your girl to feel no more than a princess. The braids are kept free and can be sweep on the shoulder's sides as well. It goes great for parties, special events and regular days.
32. Blonde slays
Box braids hairstyle for little girls do not have to be simple all the time when your little one can carry it gorgeously. This particular style features long box braids with blonde highlights. You can style it into a simple side sweep hairstyle, half up half down hairstyle or captivating double fishtail braids, according to your desire.
33. Jumbo Box Braids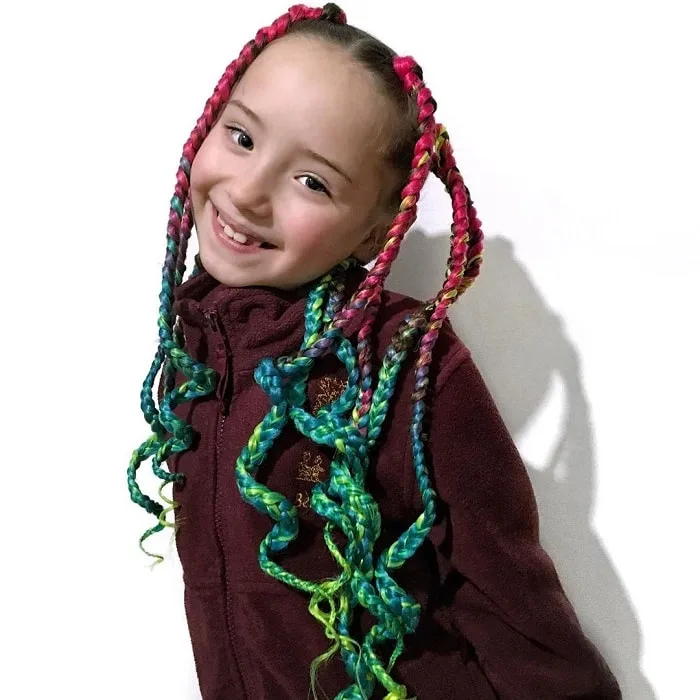 Part the hair in four sections and use rainbow Jumbo bundles for the box braids. Make them chunky and build them in layers, shorter in front, longer in the back. Roll the knits on a rod and dip it in hot water to get that fabulous curl.
34. Crochet Box Braids for Kids
Combining textures and colors will make your daughter fall in love with her new box braids Buy curly bundles and get her box braids. Use colored threads and wrap them on the top braids, adding a dazzling touch.
35. Rainbow Box Braids
Rainbow braids are every little girl's dream. Instead of using synthetic hair, you can buy colored hair. Braid the hair close to the scalp and when you reach half the length, tie it down. She will look like a real-life doll. So adorable!
36. Medium Box Braids
A pop of color never hurt anybody, so for your daughter's hair, use a nuance close to her natural tresses. Include a few orange braids and tie the top to the back. And don't worry about those bumps.
37. Kids Curly Box Braids
Box braids are always fun and ideal for kids who want a hairstyle that expresses their vivacity and youth. So, first of all, you need a few colored bundles that are already curled. Bend the Jumbo hair strand in two. Use only one part to style the braid, and let the other fall near the knit.
38. Ombre Box Braids
For this particular hairstyle with braids for kids, the color of the Jumbo hair plays the most important role. You need vivid colors that create an ombre. Also, make sure you don't make the knits too tight at the roots. You don't want to apply too much pressure on her scalp.
39. Short Box Braids
If your kid has blonde hair, she'll love a mix between her natural hair color and a bright purple. And you can cut the knits to your liking, styling a bob hairdo with the top flipped on one side. And if she goes to a school that doesn't impose too many regulations, she'll be admired by her whole class.
40. Box Braids for Kids with Light Skin
These flawless box braids won our hearts in an instance! They are impeccably knitted and pinned in a high ponytail. And those decorations work like a charm! Those golden decorations give the whole hairstyle a very jazzy vibe.
We hope these box braids for kids made you want to go out and experiment with children's hair. No matter how complicated the hairstyles look, they can easily be achieved by a professional. Make a choice and go for it!