Are you here to check out some cute braided ponytail hairstyles for kids/ little girls? Well, you're in the right spot! We rounded up the cutest ideas that will have your little one thrilled.
There is something about kids and braids. They simply love them in all shapes and forms. That is why you should definitely do your best to make them happy and help them have a unique hairstyle.
Lovely Kids Braided Ponytail Hairstyles
Our experts have shortlisted the sassiest braided ponytail hairstyle for kids that both you and your daughter will love!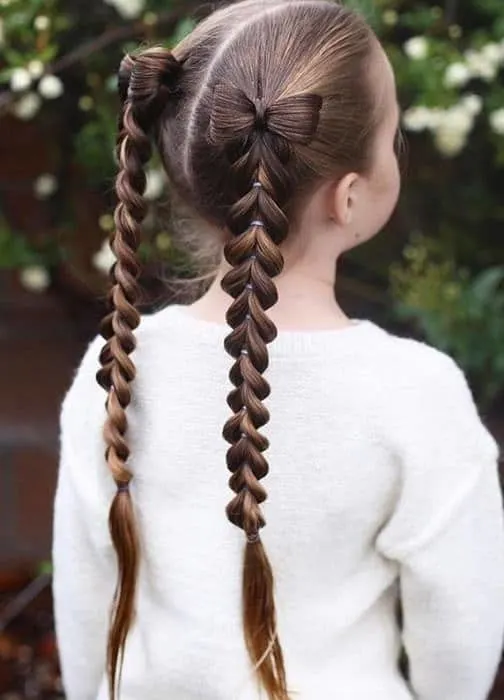 Instead of one, make it two ponytails. Decorate them with a bow for the young lady to be even cuter.
Ideal for: This kid's braided ponytail is such an adorable look. Starting with the hair ties and the bows, it is everything your little girl dreams of.
How to Style: YouTube tutorials are a great place to start! Stock up on loads of hair ties. It won't take more than 10 minutes to create this fancy look.
2. So Many Braids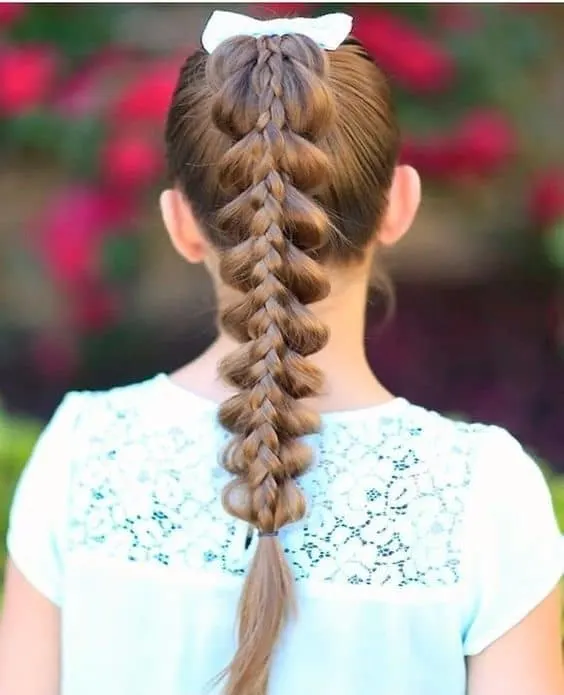 Try combining any two braids in a kids ponytail. You can choose whichever you like. This mane features a fun pull through braid style.
Ideal for: It's great for long hair, which gives you the space to experiment with more styles at the same time. And, the ponytail looks richer.
How to Style: Opt for a two-in-one style with both a three-strand braid and a pull-through one.
Four and five-strand braids are a great substitute for the classic one. These two ideas are not as easy, but the final braided ponytail for kids look says that it will be worth it. Spare some of your free time to master these techniques.
Ideal for: Amazing braided hairstyle for little girls. They'll be so happy to try something new.
How to Style: Put the hair up in two ponytails. Braid the top one in a four-strand braid and include the rest in the low pony.
4. Side Braids Pony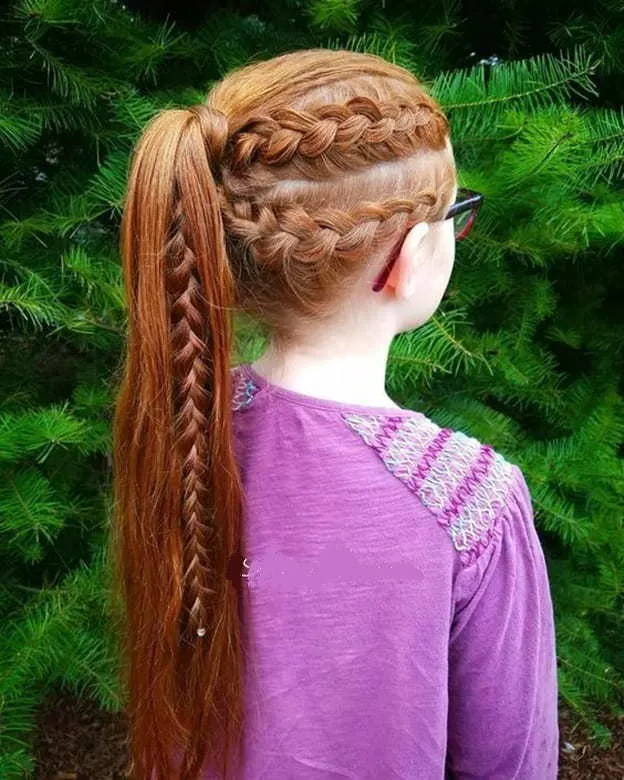 The chances are you already know how to make a Dutch braid. Amp up the game with two on each side.
Ideal for: Both short and longer hairdos can opt for this kids braided ponytail look.
How to Style: Start off with the Dutch styles on the sides. Once you're done, put the hair in a high pony and even add an additional braid in for things to be more interesting.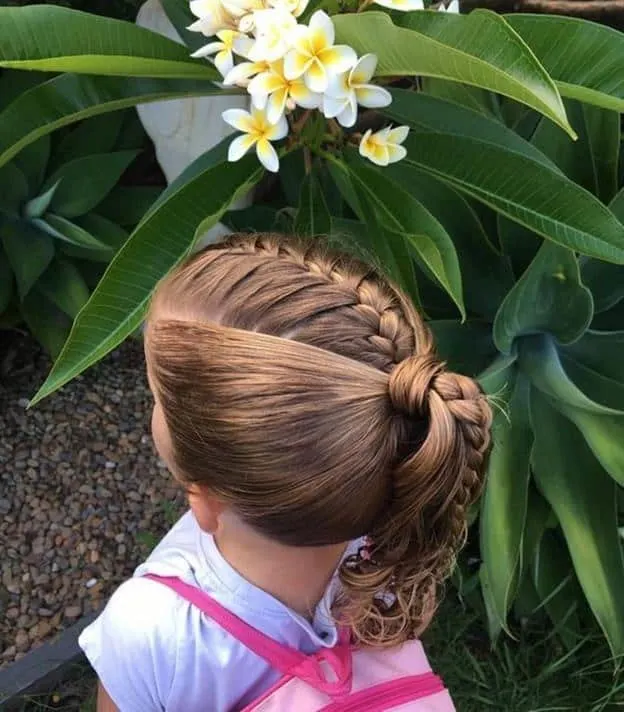 Here comes a classic that never gets old.
Ideal for: It's great for when you don't have too much time to experiment with new looks.
How to Style: Do a French braid Mohawk in the front and add another classic one to the kids braided ponytail hairdo.
6. Triple Braiding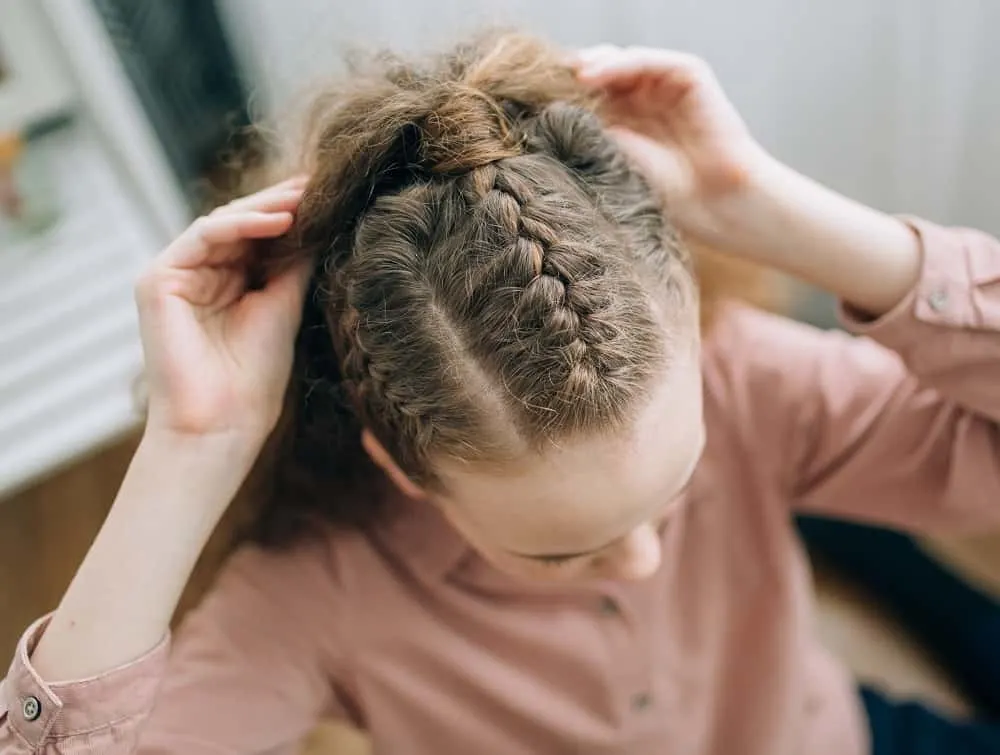 Take a simple ponytail up a notch with this hair idea.
Ideal for: Long-haired girls who want to keep their strands away from the face.
How to Style: Create a French braid at the center with another two on the sides and wrap a chunk of hair around the base of the ponytail.
7. Plaited Heart
Teach your little one to celebrate the love around her with a cute hairstyle.
Ideal for: A birthday or princess-themed party.
How to Style: Start braiding both sides of the middle part at the crown region moving out towards the back creating the perfect heart shape. Eye-catching!
8. Simply Chic
Who said braided ponytail hairstyles for kids need to be elaborate?
Ideal for: An everyday look when your little girl does not have the patience of getting her mane styled.
How to Style: Plait the top from front to back and gather the remaining strands in a high pony. Done!
9. Micro Braids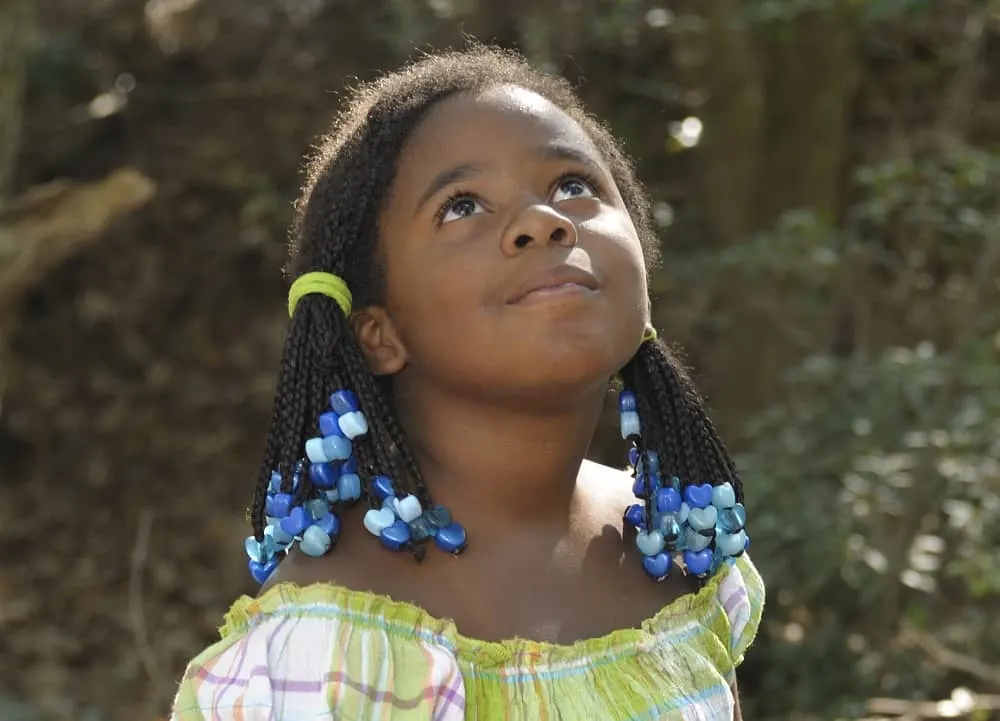 Micro braids are perfect to protect a little one's hair from any damage.
Ideal for: African-American girls with kinky afro curls.
How to Style: Plait the entire head using extensions if needed and add colorful heart-shaped beads at the ends. Finish off by gathering the knits in two pigtails.
10. Braided Headband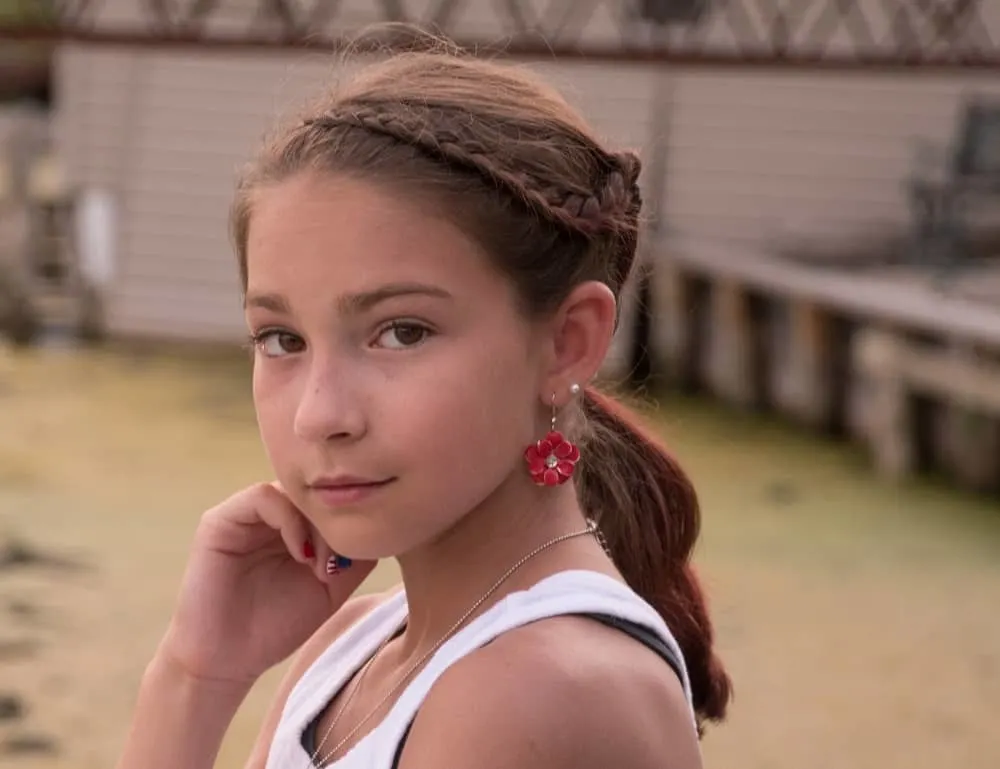 Little ladies love headbands then why not create one from their own hair?
Ideal for: Girls with medium to long locks.
How to Style: Knit the strands at the front from ear to ear or opt for a parting and braid towards the sides with a ponytail at the back.
11. Accessorize
Recreate this look on your girl for her sports day at school.
Ideal for: Girls loving elaborate hairstyles.
How to Create: Use white yarn while creating cornrows at the front and wrap it around chunks at the back of the head till the ends. Assemble the strands in a low ponytail.
12. Twintails
Another hairstyle that never goes out of fashion.
Ideal for: The beach, a special occasion, or as an everyday look.
How to Style: Plait both sides of the middle part into French braids and add scrunchies near the base of the head for the twintails to sway with the wind.
13. Double Dutch Braids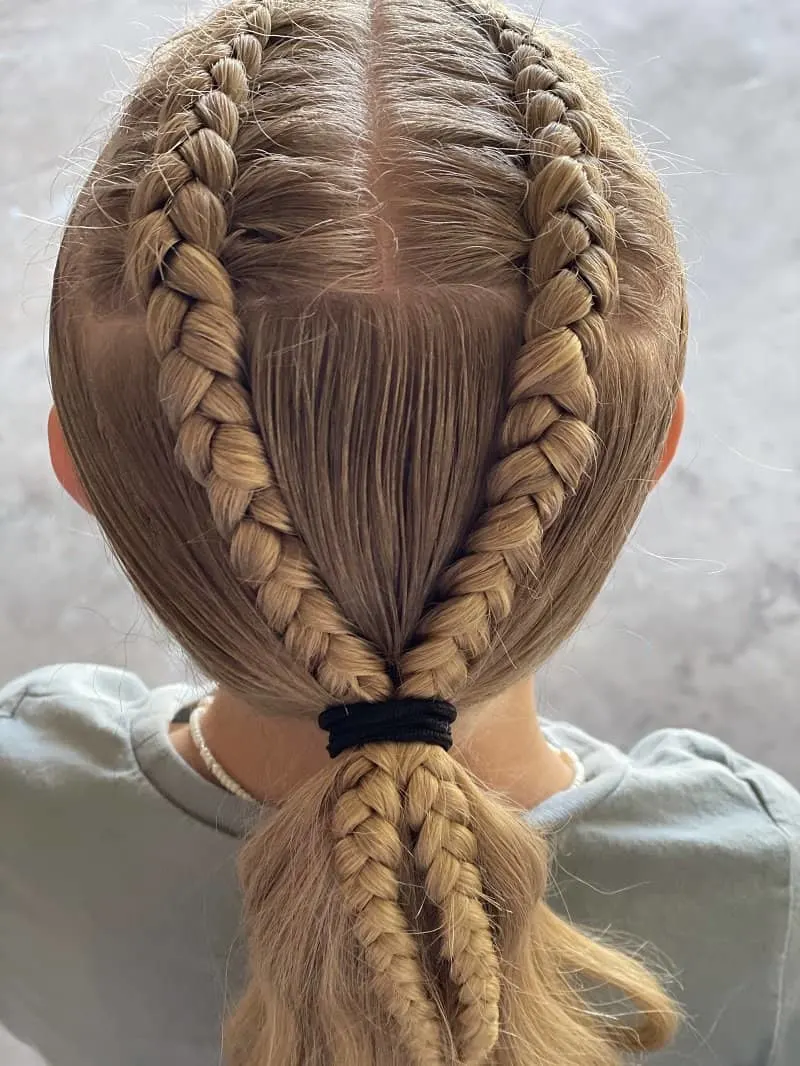 Classic and cute that's what Dutch braids are!
Ideal for: Taming a long mane on a hot summer day.
How to Style: Create two inside-out braids on the top and gather them in a low ponytail along with the other strands at the back.
14. Pop of Color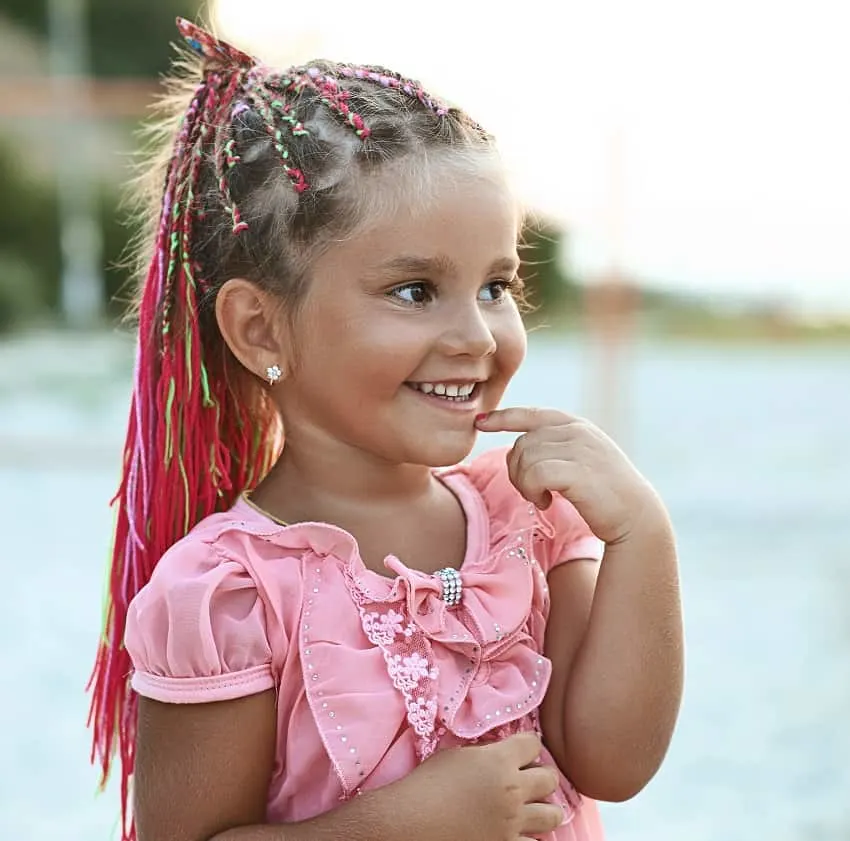 This colorful braided ponytail hairstyle is sure to stun your little kid.
Ideal for: Girls who want a long mane instantly.
How to Style: Section the hair and incorporate colorful extensions or yarn while braiding the chunks going as long as you want. Top off with a high ponytail.
15. Get Creative
When it comes to braids for kids, creativity is off-limits!
Ideal for: Moms and daughters who want to experiment with new hairstyles.
How to Style: Create a Dutch braid starting from the back, move around in a loop with a French braid on the other side, and secure at the base with a hair tie.
16. Catchy Cornrows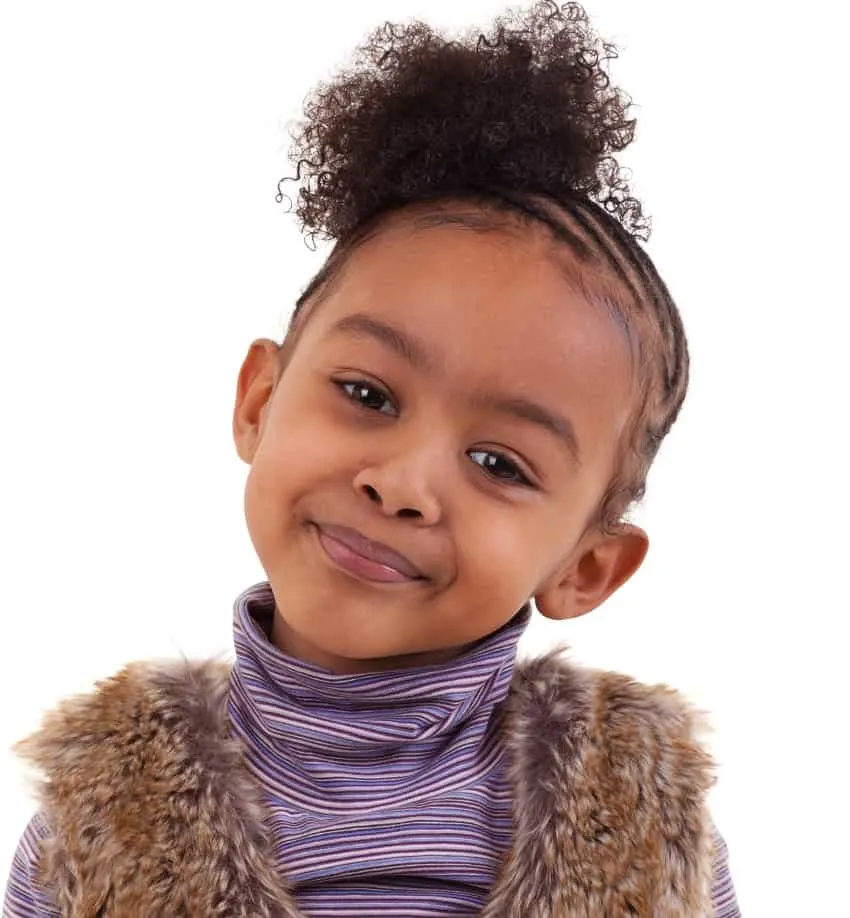 Cornrows come in handy when taming unruly tresses.
Ideal for: Mixed-race and other girls who are fond of a braided scalp.
How to Style: Direct the plaits towards one side, styling the remaining curls in a fluffy puff sitting on top of the head.
17. Basic Braided Ponytail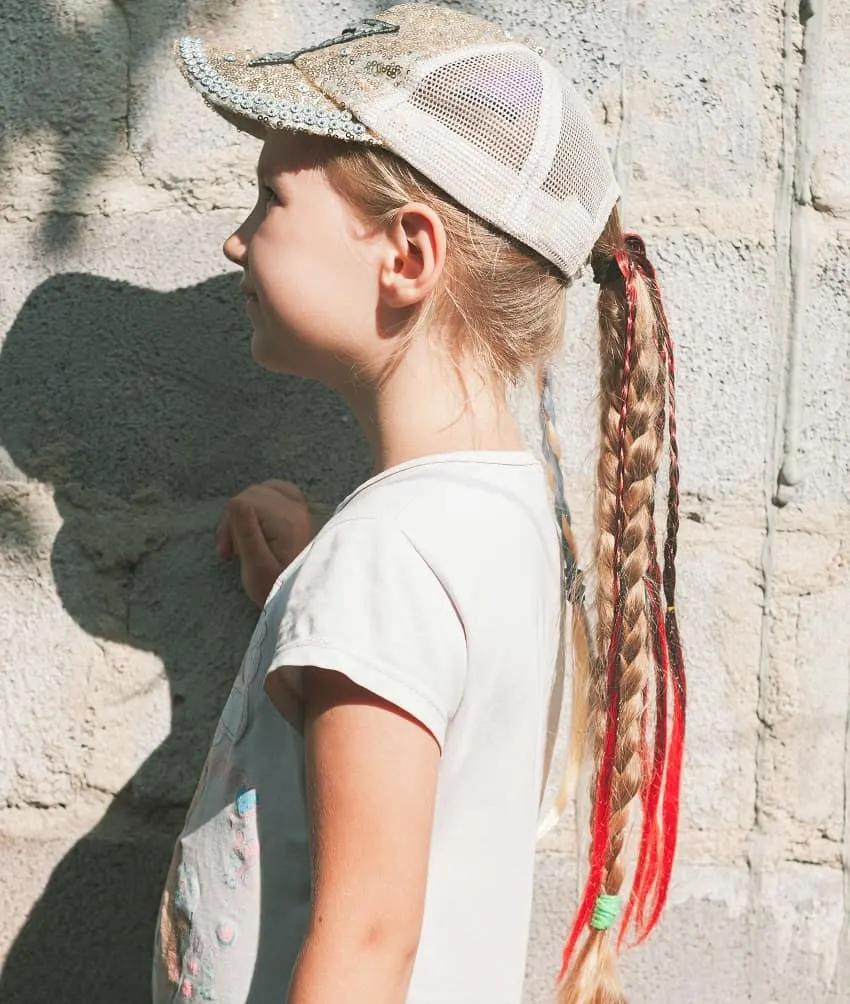 Why complicate when a simple look does the job?
Ideal for: Girls who love wearing baseball caps.
How to style: Pull the hair through the hole and plait it down in a simple braid to dangle at the back. Easy-breezy!
18. Side Braids
A simple braided ponytail hairstyle for kids that every mother can recreate effortlessly.
Ideal for: Little fashionistas who want to stand out.
How to Style: Entwine the front strands and pull them back in a cute ponytail along with the remaining locks.
19. Pretty in Pink
Using temporary extensions once in a while surely won't harm.
Ideal for: Little girls who are fond of the color pink.
How to Style: Wrap the synthetic braids around the ponytail and incorporate them while plaiting the hair, skipping some to dangle freely at the front and back.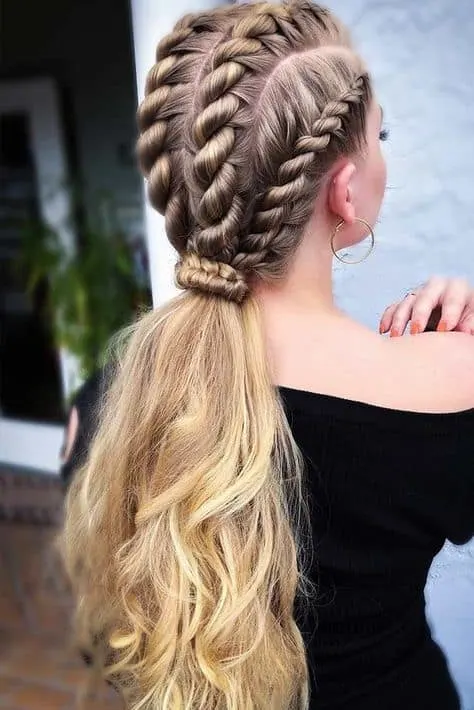 Remember that gorgeous rope braid that you could see all over Instagram? There is another version of it and it's even cooler. It is the French rope twist braid and looks absolutely fabulous.
Ideal for: Great for moms who want to learn any possible type of braid for their daughters and themselves as well.
How to Style: Do several French rope braids, then put the hair in a low ponytail. Finish off with a different braid that will cover the hair tie.
21. Cute Fishtail Pony
Everyone loves a good boho side fishtail braid. A classic braided ponytail for kids.
Ideal for: Great for fashionable young ladies with a cool style.
How to Style: It all begins with a chic pull-through braid on the side. If you can do it, great. It not, opt for a classic French one. When you do the pony, add a messy fishtail style.
These are the most adorable kids braided ponytail hairdos that you can opt for your little princess this season.