Some men start to worry when their hair begins to thin out, but there is no cause for concern. Haircuts for Balding men are a natural process for many men and some guys choose to go for a balding look. Balding men are even considered to be sexy and virile by some prospective partners!
Balding Men Haircuts
There are plenty of celebrity men who are starting to go bald or who have chosen to sport a hairless look. Bruce Willis is an excellent example of a macho celebrity who rocks a balding hairstyle.
Daniel Craig's hair is also starting to thin out. Acting legend Patrick Stewart has also rocked a balding hairstyle for years! Take a look at some dashing haircuts for balding men.
1. Receding Hairline
When you have a receding hairline, a short haircut is something that you should put on your list if you are a balding man. Get a fade on sides and side-swept bangs.
2. Comb Over + Bald Fade
Thin hair needs a proper hairstyle, especially if you are a balding man. For your sides and back, you need a high bald fade and for the top, go for a comb-over that will add volume.
3. Short Haircut for Older Men
The best haircuts for balding older men are short trims like buzz cuts or fades. Don't worry about those gray spots because a short cut will make those white hairs beautifully blend.
4. Curly Gray Hair
There are a lot of balding haircut techniques that can help any black men look fabulous. If you have curly hair, style your hair with foam to get that glorious texture and backcomb it.
5. Veri Short Cut with Extended Goatee
When you are struggling with a balding crown, the best haircut is probably a buzz cut. Draw all the attention to your beard with an extended goatee.
6. Haircut for Bald Crown
This simple short cut is masculine and ideal for men whose hair is starting to get thinner, especially in the crown area. You can keep your sideburns long, framing your face.
7. Haircut with Bangs
If the corners of your forehead are starting to become bald, you can always go for a haircut with bangs that will cover those spots. Keep a stubble beard if you also want to look younger.
8. Long Shave with Bushy Beard
Take the focus off of your balding head hair with a mightily impressive beard. Large bushy beards are considered to be very fashionable at present.
9. Clean Palate
Embrace your baldness, rather than trying to hide it. Clean shave your head so that it is completely smooth and free from hair. Grow a full beard and get one of the most desired looks by most adult women.
10. Sexy Stubble
Set your beard trimmer to a minimal length and then use it on your head hair. Cut your beard and your mustache to the same length to create a uniformity within your look. This style considers as one of the best haircuts for balding men.
11. Halo
With a halo cut, the hair is left thicker around the sides and back of the style. The haircut works best on men who have a darker natural hair color.
12. Crew Cuts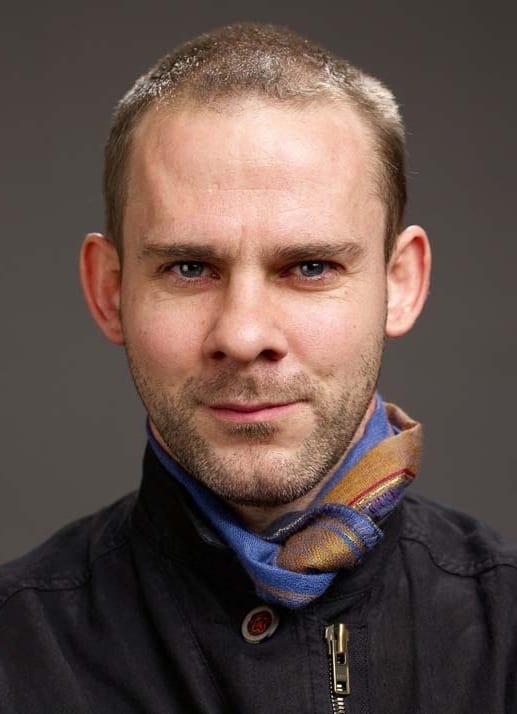 You can easily hide a receding hairline with a short crew cut hairstyle. Crew cuts look great on guys who have blond or sandy colored hairstyles.
13. Bald with Beards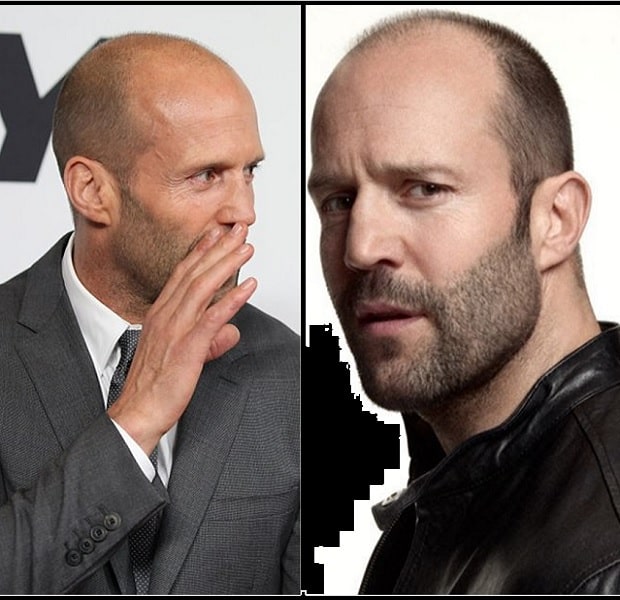 Even Hollywood stars experience balding problems, but with the proper haircut, you can look so masculine and sexy, just like Jason Statham. He went for a buzz cut and a short beard, and you can too try this option.
14. Mohawk Hairstyle
The faux hawk is the perfect hairstyle for men with a receding hairline. It not only elongates your face but makes those empty forehead corners look less prominent.
15. Burr Cut
One of the best things about a burr cut is certainly its low maintenance. It goes so well with a short beard, and you can go out without caring about your hair.
16. Buzz Cut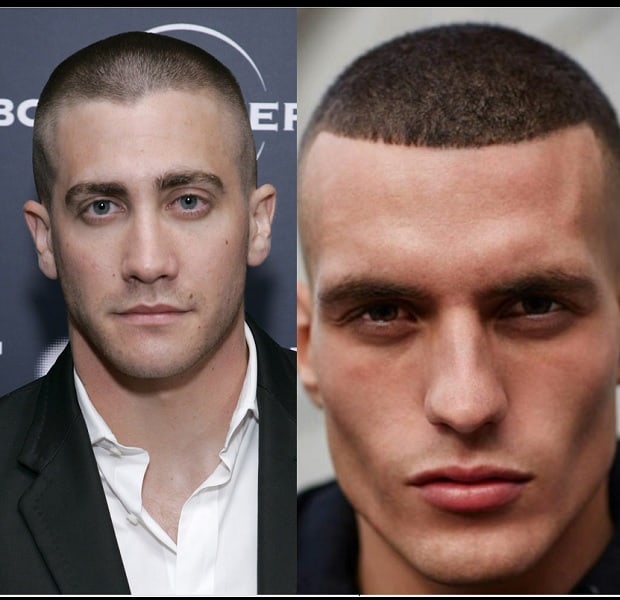 Jake Gyllenhaal is a big fan of buzz cuts because they make him look masculine and hot at the same time. Keep a clean, shaved face and get ready to break some hearts.
17. Hugh Laurie Hairstyles
Hugh Laurie experiences a bald top spot, and he easily covers it with a longer top that he messily styles. He also goes for a stubble beard that varies in length.
18. Kevin Spacey Hairstyle
Kevin Spacey has a large forehead and a thin hair that he styles on one side. He prefers a clean face or a short stubble beard every time he is spotted at events and galas.
19. Shaved Head with Moustaches
When you have a balding problem, probably one of the best options for you is to go for a fully shaved head. You can approach things differently and go for a thick mustache and a full beard.
20. Full Long Beard + Ultra Short Hair
If you have a bald spot on your crown, go for an ultra short cut and style a three-lined design on one or both sides. A full beard that is well defined will certainly make you stand out.
21. Skull Crown Design
If your bald crown is a problem for you, try something extravagant and get yourself a drawing or even a tattoo in that area. A skull drawing that fades into your hair is perfectly suitable for Halloween.
22. Prince Charles Short Cut
Even the royalties struggle with hair loss and if you find yourself in a similar situation with Prince Charles, opt for a short cut.
23. Marine Cut
Marine cuts are short but very stylish. Even if they are simple, they highlight your facial features and draw all eyes to your beard. Wear it short and keep a short mustache.
24. Short Cut for Men with Glasses
When you're getting bald, you find yourself in quite a fight to keep your good looks. A perfectly groomed beard and thick black-framed glasses will get all the attention, minimizing the hair loss.
25. Tom Hardy's Messy Look
Even your idols experience hair loss and balding problems, and Tom Hardy is one of them. He fights back with a messy look and a beard that extends on his neck.
26. One Side Swept Top
If you want to cover a crown hair loss, keep your side hair longer and use it to cover the bald spots. Also, get that gentleman's look by wearing a short mustache.
27. Bald Crown + Beard
Sean Connery was a real gentleman and he always looked imposing. He will be remembered not only for his mind-blowing movies but also for his killer looks.
28. Buzz Cut + Temple Fade
Temple fades are very trendy in 2021, and if pared with buzz cuts, they will create an excellent frame for the face. Define the edges of your buzz cut and your beard and get a mustache.
29. High and Temple Fade
If you experience baldness in the corner of your forehead, get a high and a temple fade. Wear a thick mustache and a short stubble beard.
30. Messy High Top
Messy hairstyles are ideal for men who experience early hair loss. Use hair gel and lift your top and mess up with the hair from your sides.
There are plenty of wonderful choices for men who are starting to lose their hair. We also have plenty of lists for men who have lots of hair. Check out some of our other favorite hairstyles for men on hairstylecamp.com