Balding is a common and natural phase for a man who has just crossed his middle age. Although losing hair is not so uncommon for anyone over 60, some may feel embarrassed, while others try to hide it using a wig.
But embracing thinning hair with some attractive hairstyles will surely make any man feel confident. From brushed back to a buzz cut, there are numerous hairstyles for balding men over 60. This guide puts together some of the top styles for any old man.
Cool Hairstyle Ideas for Balding Men Over 60
Check out the following hairstyles for balding men over 60 to get an idea of how you can use your thinning hair in your favor and look cool confidently.
1. Messy Side Part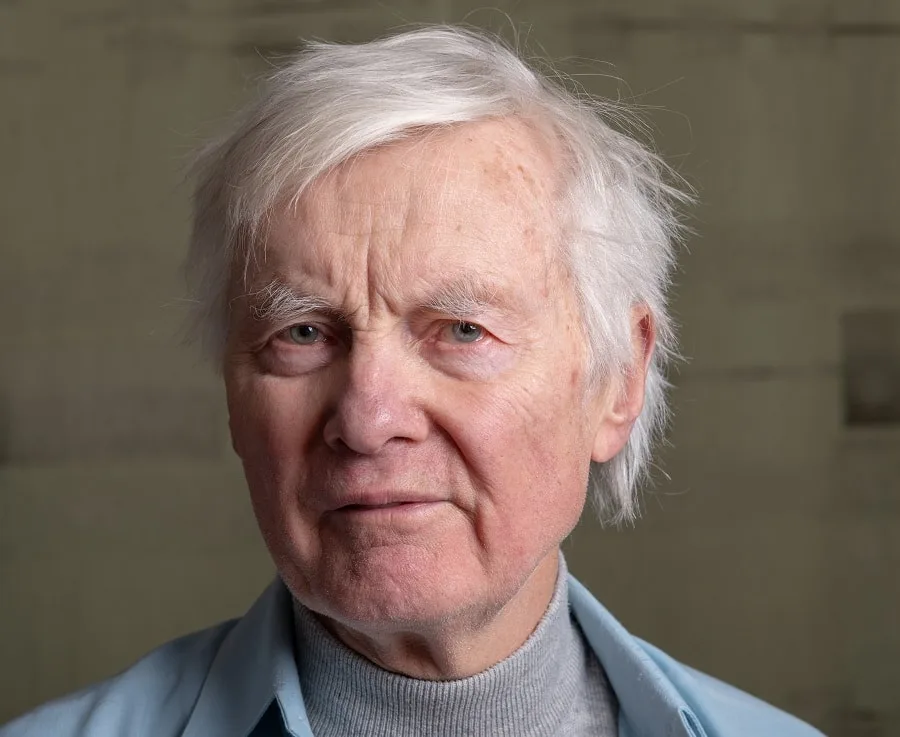 It's a great hairstyle for men over 60 with thinning hair. Keep the hair on the top of the head slightly longer and messy while cutting the sides and back to a shorter length. You can sweep it using your fingers and avoid combing for a messy appearance.
2. Brushed Back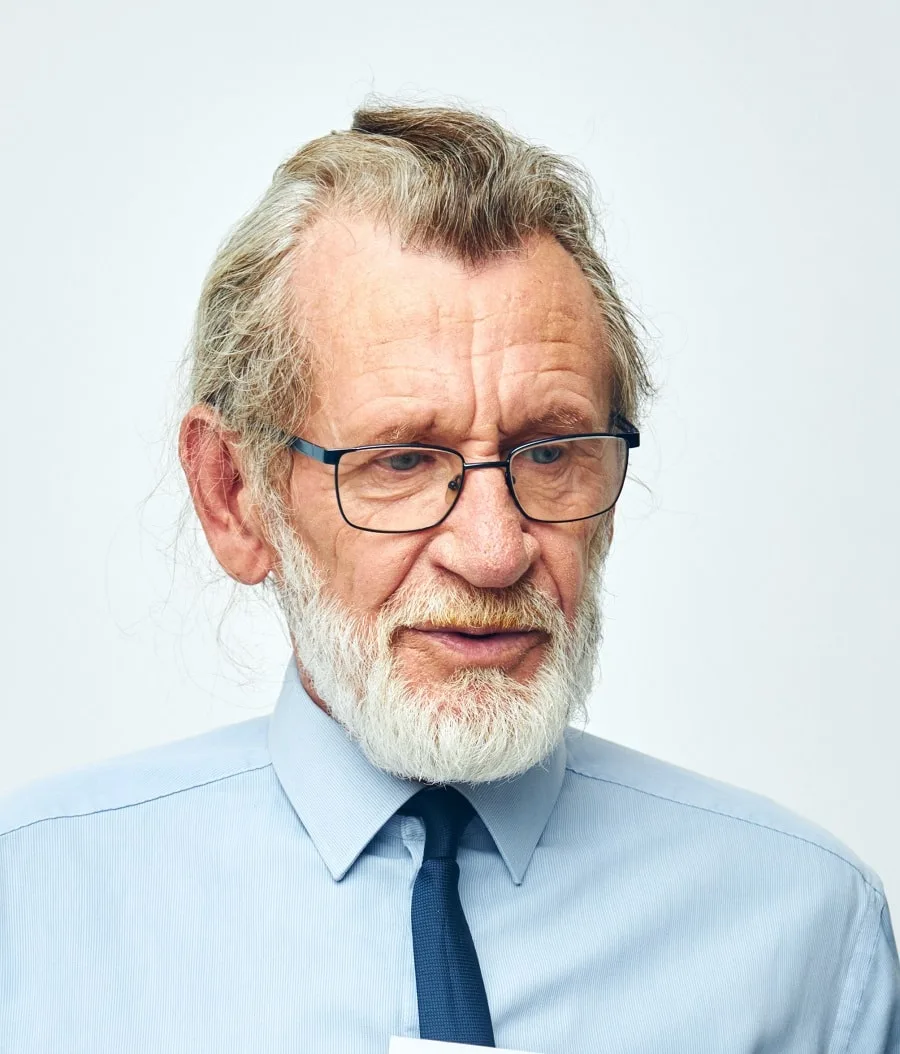 This is a great option for men with receding hairlines who want to maintain a polished look. As it doesn't require parting, you can brush the top with your finger or a hairbrush. It can help to cover any thinning or balding areas and add volume and body to the hair.
3. Buzz + Sideburn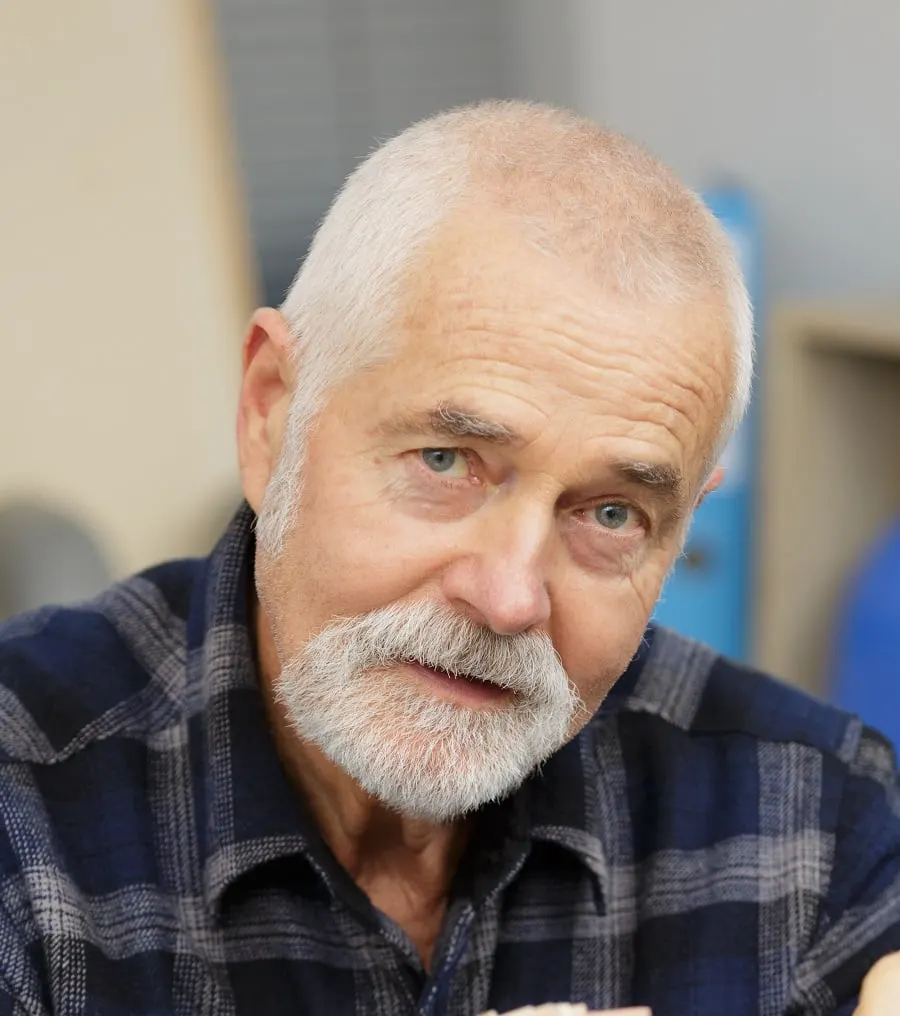 It involves trimming the hair on the head down to a very short length, typically using a clipper with a guard size of one to four. This creates a clean and crisp appearance with a long sideburn. You can create a confident and fashionable appearance with regular trimming.
4. Balding Fine Hair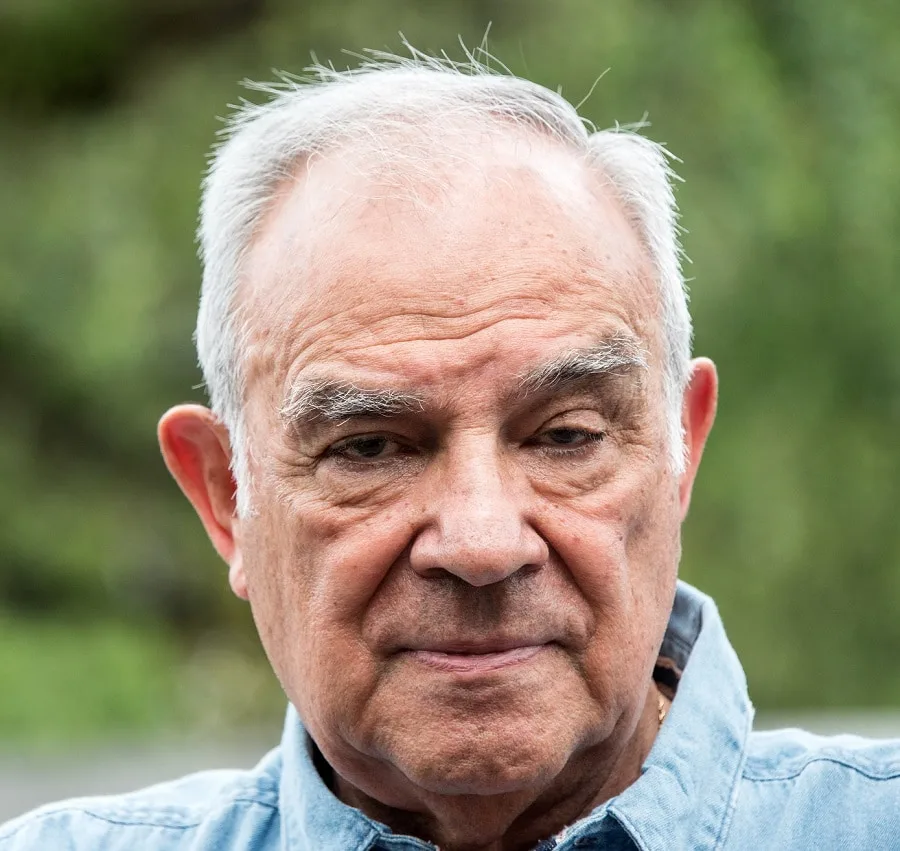 This hairstyle is perfect for men over 60 who have had fine hair all their life but are balding now. Keep the hair on the top of the head slightly longer and cut the sides with scissors. Achieve the look by sweeping it to one side, using a comb.
5. Swept Back Length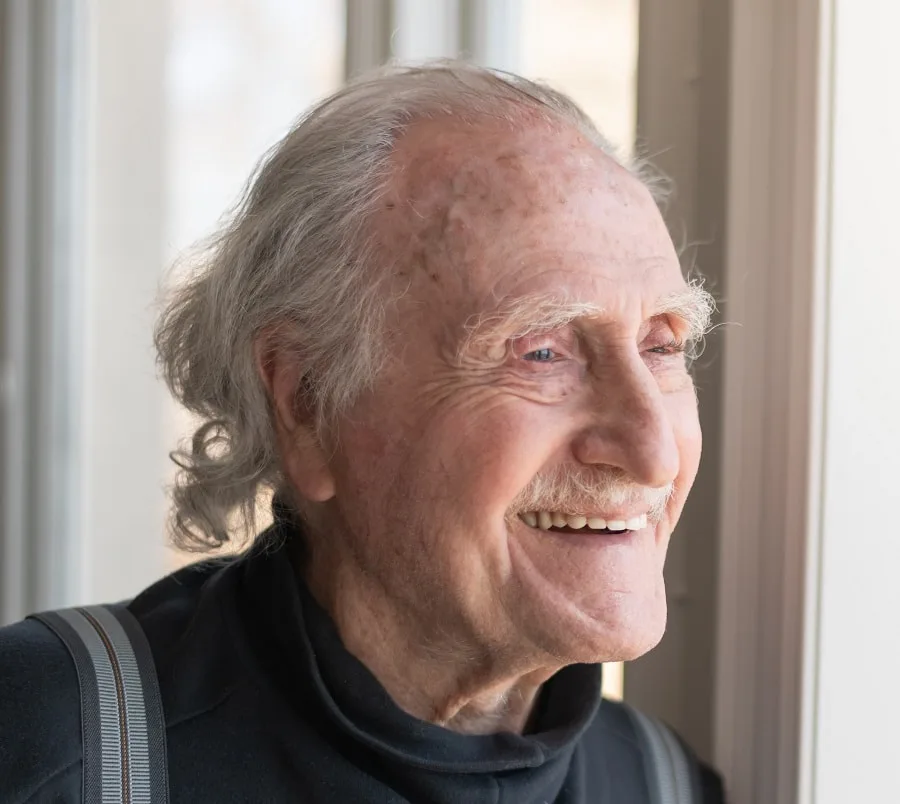 If your hairline starts from the crown of your head sweeping the long hair to the back is an excellent option, as it can give a smooth appearance. Keep the hair on the top of the head longer and style it by combing it to the back.
6. Brushed Balding Crown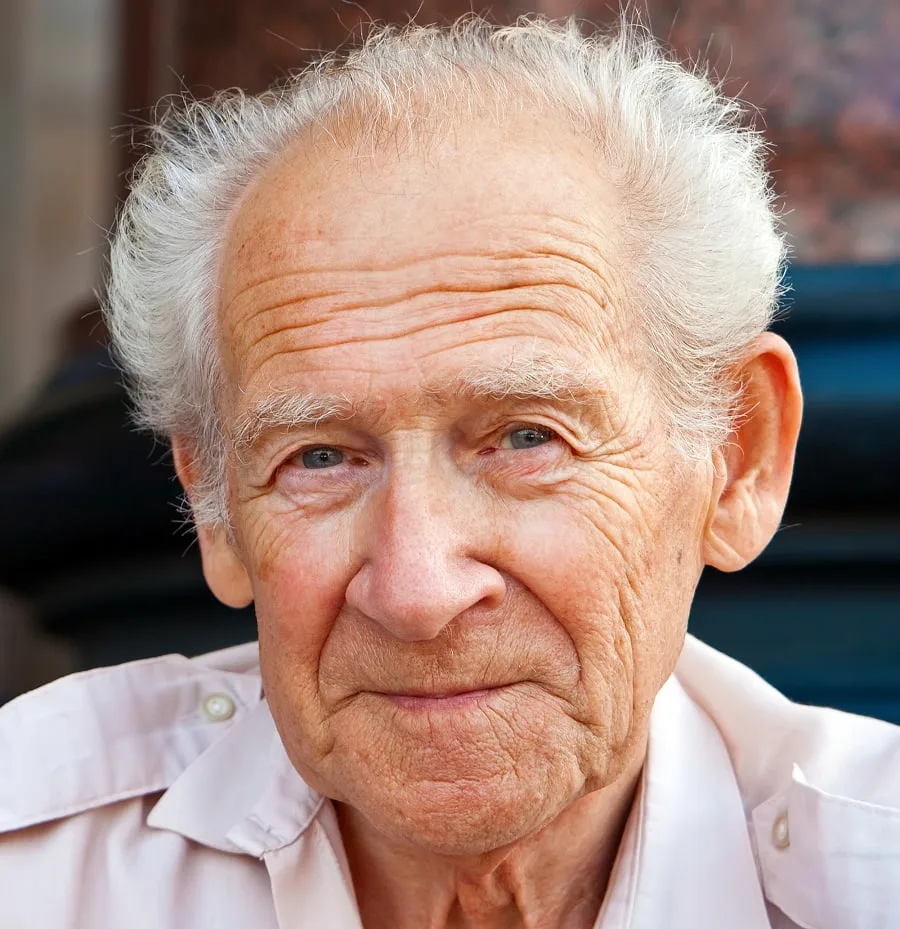 If you are over 60 with thin white hair on the top and thick hair on the sides, you can brush back the whole head. This will make the hair fluffy and add some volume to the sides.
7. Slick Back Ponytail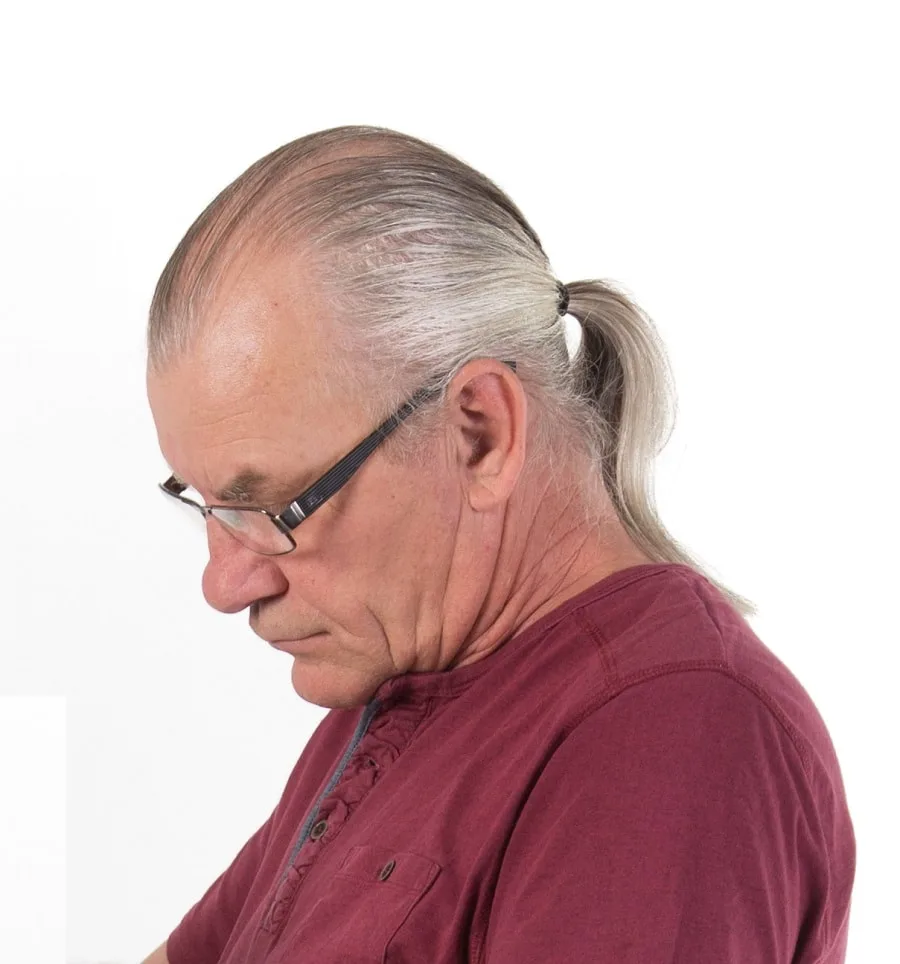 Pull the long hair back into a ponytail using a styling product to achieve this look to create a smooth and sleek appearance. This helps cover any thinning or balding areas on the top and adds volume to the back.
8. Fine Comb Over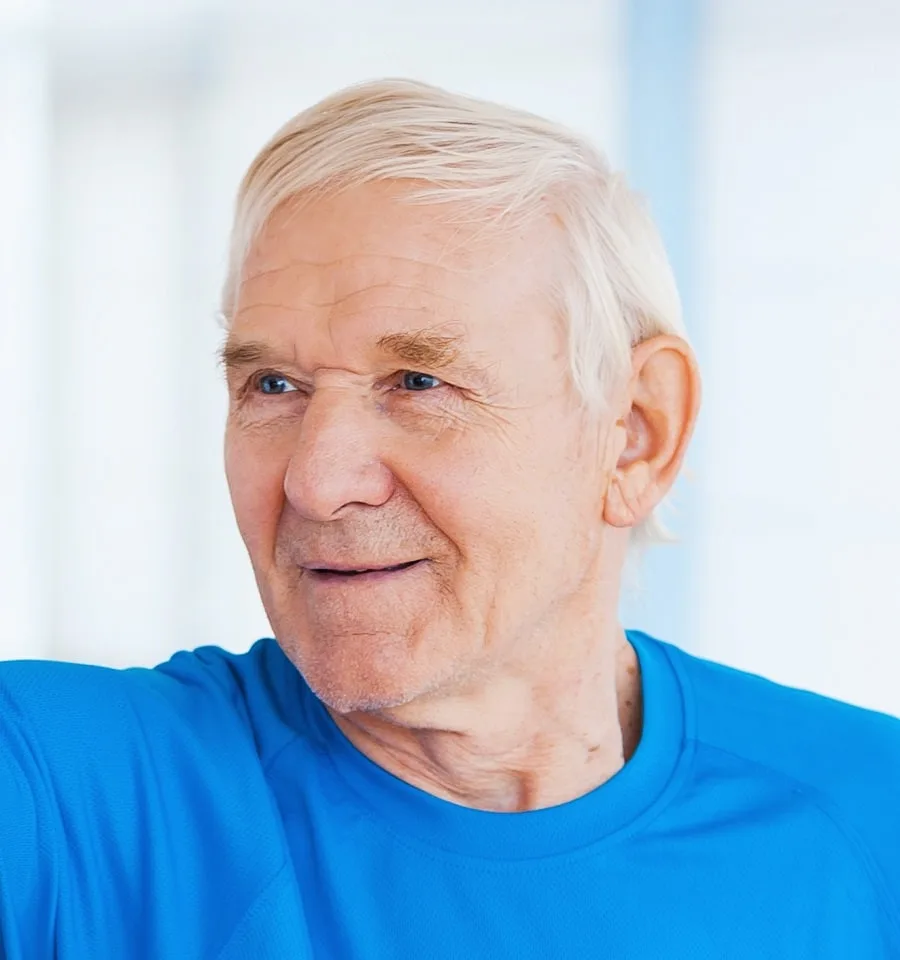 This slight wavy comb-over style is suitable for men in their 60s with balding hair as it helps to camouflage the thinning hair in the front and adds more flair to the simple style. To achieve this look, keep the hair medium, comb it from the side, and sweep it over to another side.
9. Wavy Angled Sweep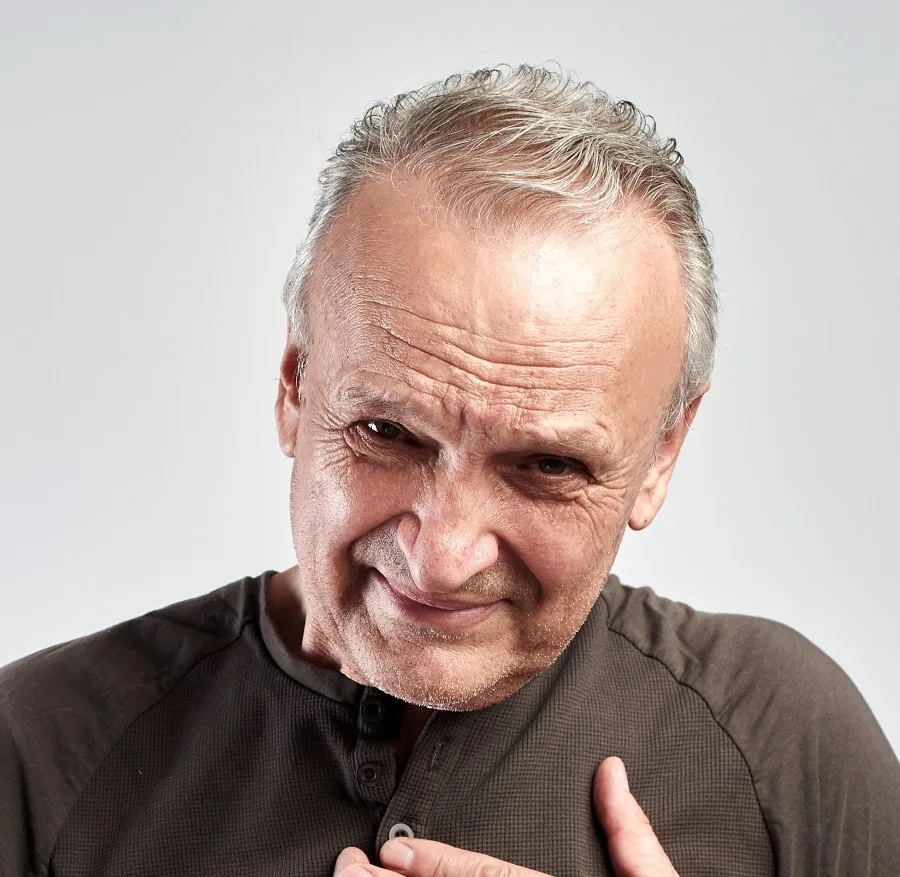 It is excellent for people who want to give their thin hair a fluffier look. This style can be achieved by adding some hair gel and brushing the hair to the upward side. It will take away the attention from the receding hairline.
10. Short Comb Back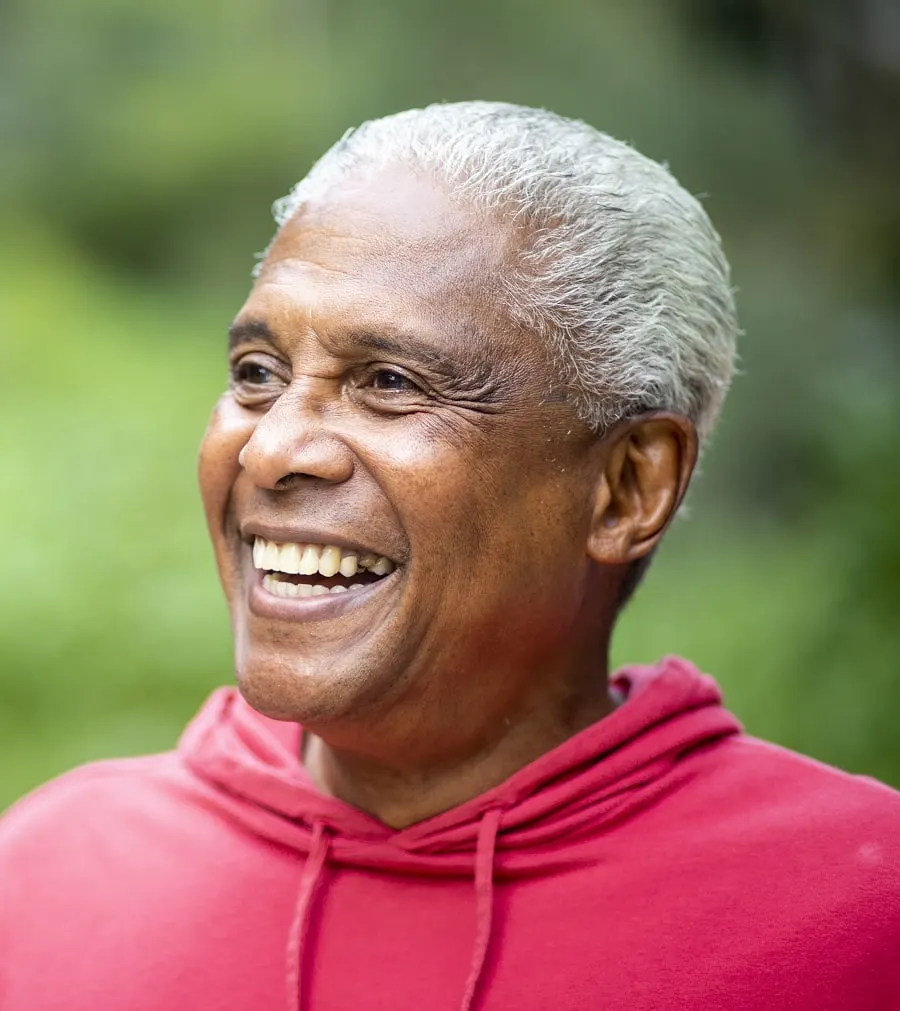 To achieve this look, simply have an evenly distributed short scissor cut all over the head. Brush the hair back towards the crown of your head, using a styling gel to help create glossy appearance. This style is perfect for balding hair as it adds volume and texture without being too overpowering.
11. Slicked Comb Over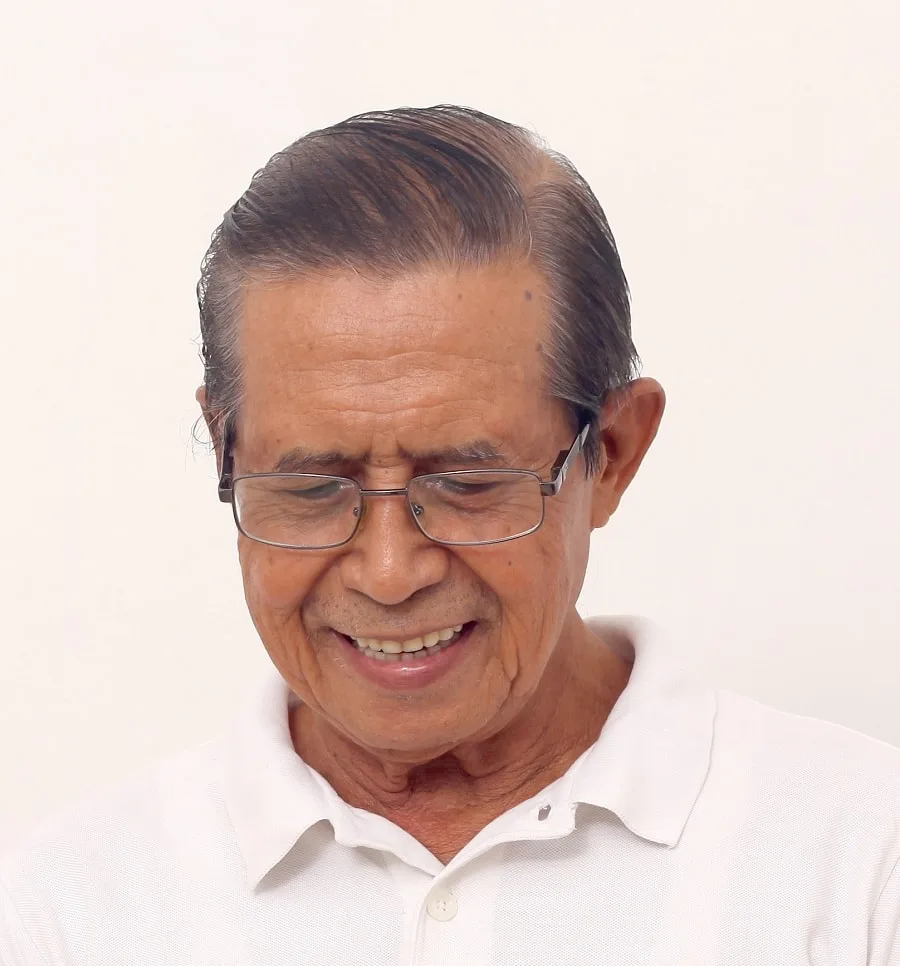 A slick back style for balding men over 60 helps to hide any bald spots on the top. To get this style, add a generous amount of hair gel. Next, comb the hair up towards the corner with a fine-toothed comb. It is a great way for a man with baling hair to diversify the formal style.
12. Side Swept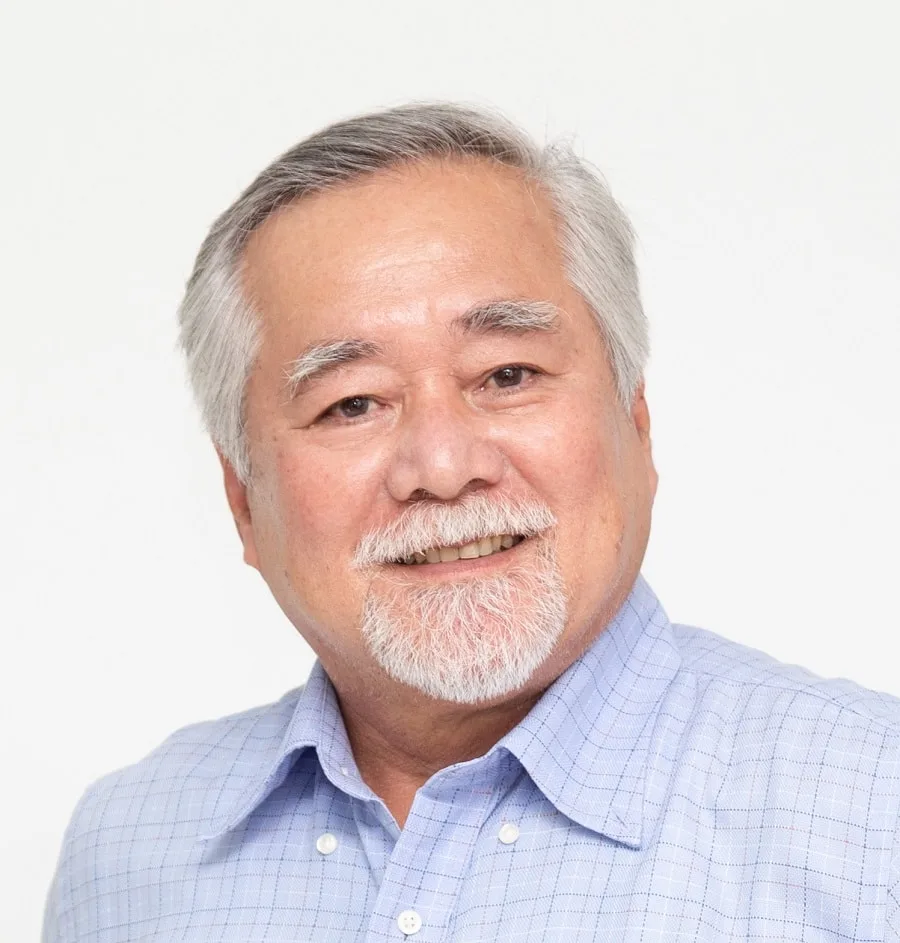 If you have already lost some hair on the forehead but contain hair on the other parts of the head, you can sweep the hair from the side to give more volume. This will provide you with an elegant look. Also, you can add some features by keeping a French beard.
13. Forward Sweep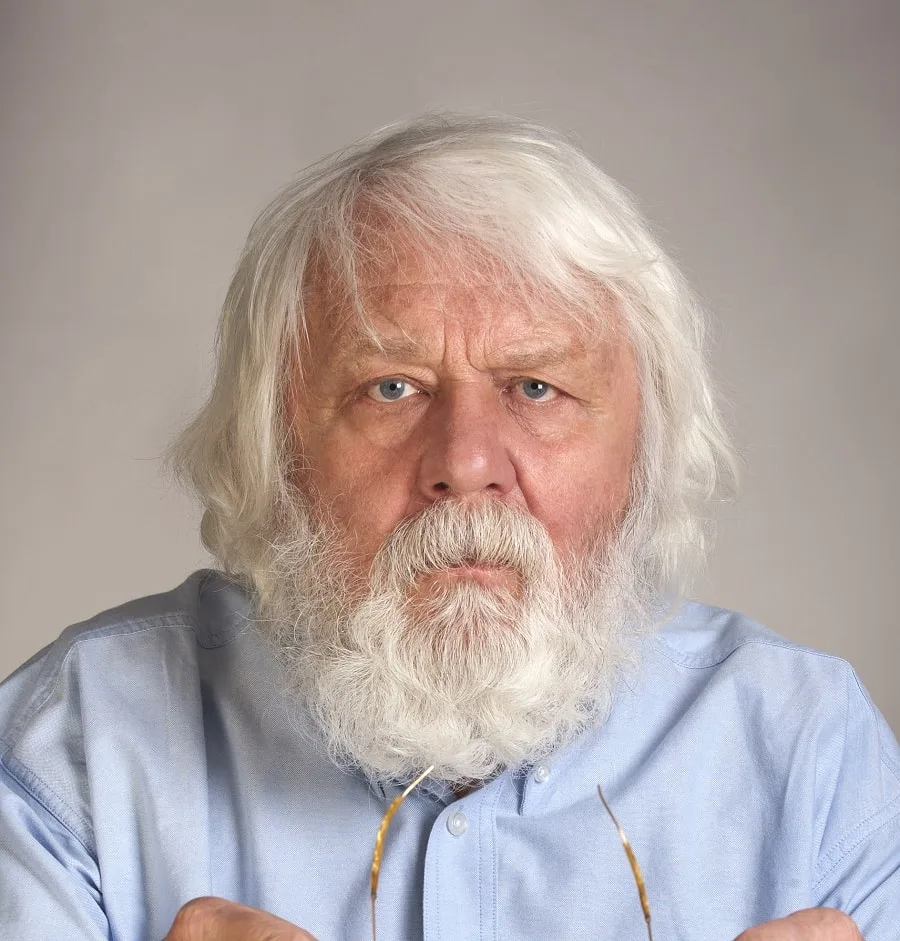 It is ideal for men who want to cover the balding top by forward sweeping long hair from the crown of their head. The full beard with a connected mustache gives a respectful vibe to this overall look.
This classic hairstyle features sweeping angular bangs to one side of the forehead and lets the sides hang down while covering the ears.
14. Thin Faux Hawk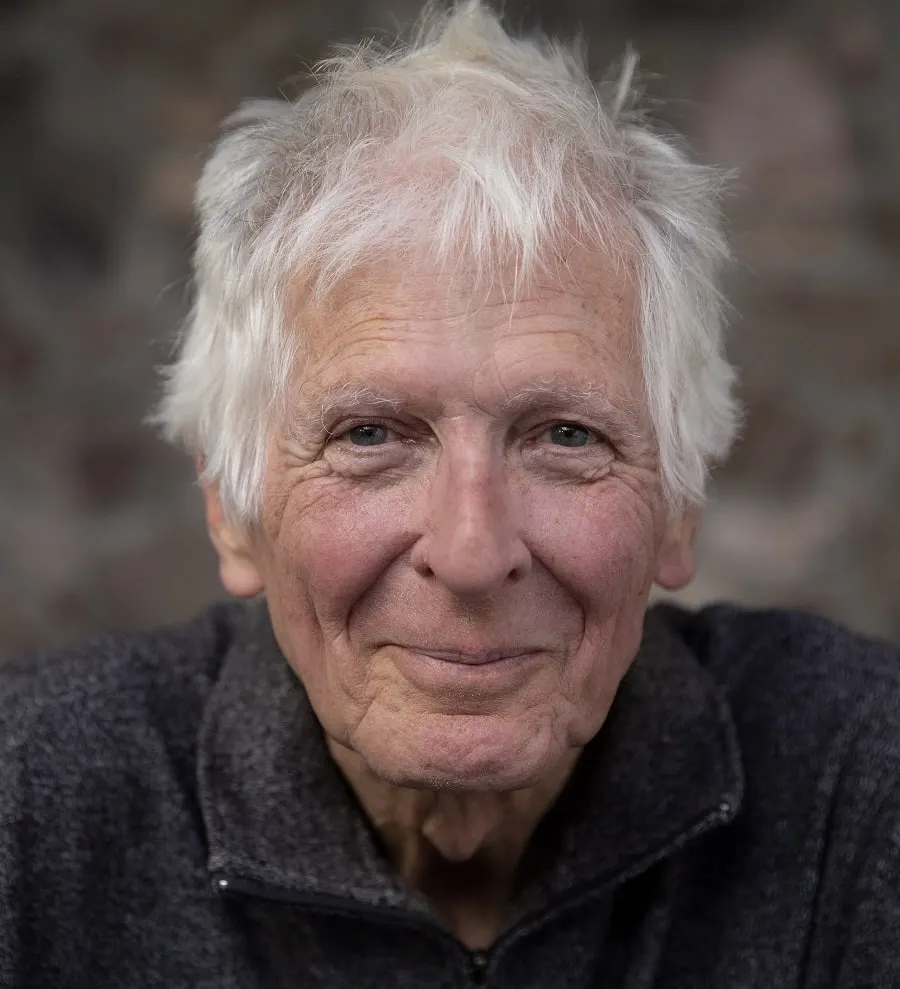 It differs from the regular faux hawk as you don't fade or cut the sides short. To style it on our thinning feathered hair, use your hand to create a spiky texture. Finish with a sweep forwarding the front hair.
15. Long Feathered Hair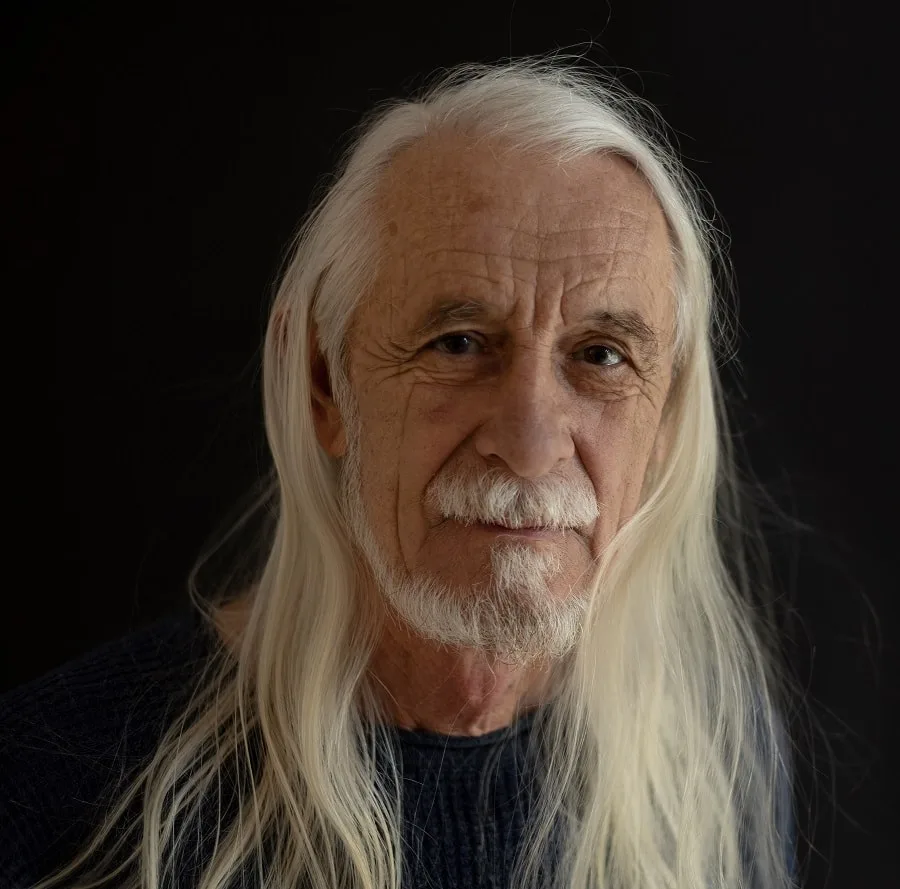 If you want to return to your crazy young days, keep your thinning hair long. To get this look, grow your hair for a year, or two and let the long hair hang down beyond the shoulder. It will distract the focus from the balding hairline and help you look younger.
16. Thin Bob + Combed Back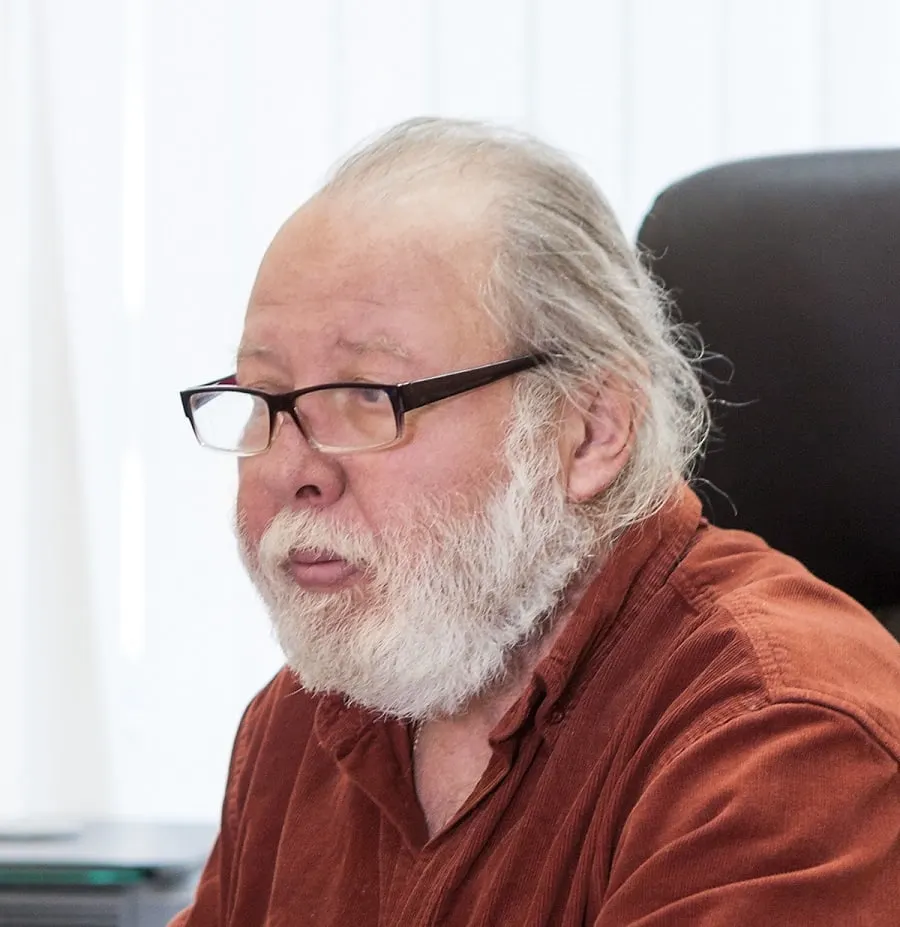 This old men's hairstyle is perfect for those who want to cover up the balding crown of the head. To achieve this look, whatever hair remains on your head, keep them long and comb them back. This will get you a low-maintenance long hairstyle at 60+ years of age.
17. Receding Hairline + Brush Back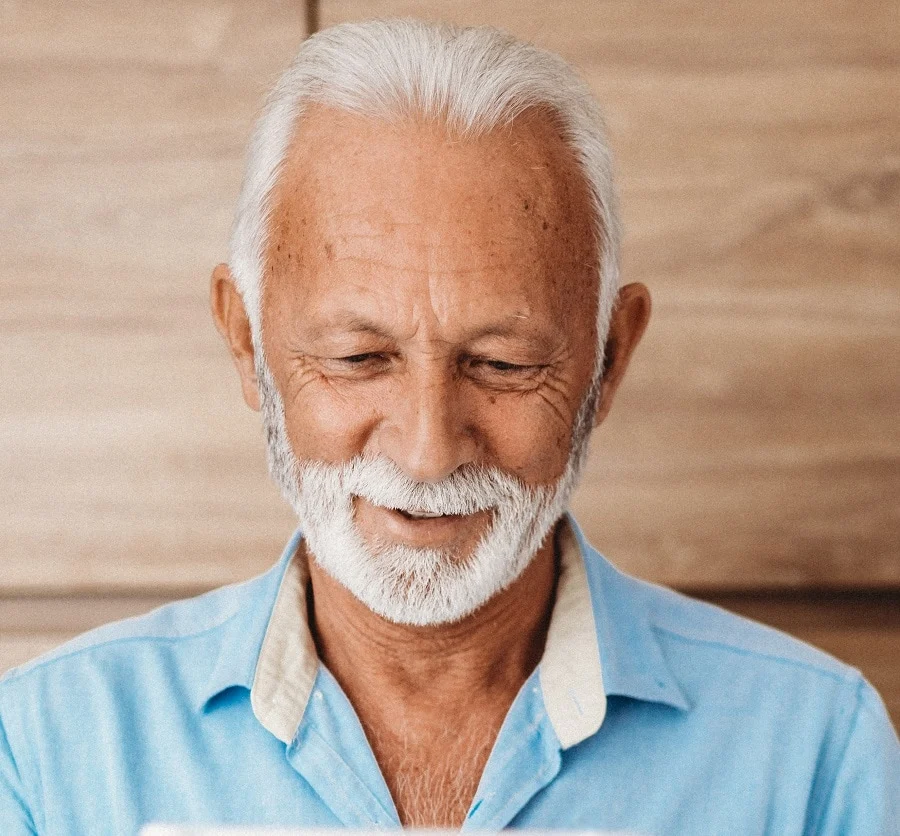 It is an excellent appearance for a man with a receding hairline as it emphasizes the look without giving too much attention to the hairline.
To create a defined look, add some light hold gel and brush back the top to keep the hair away from the face.
18. Buzz Cut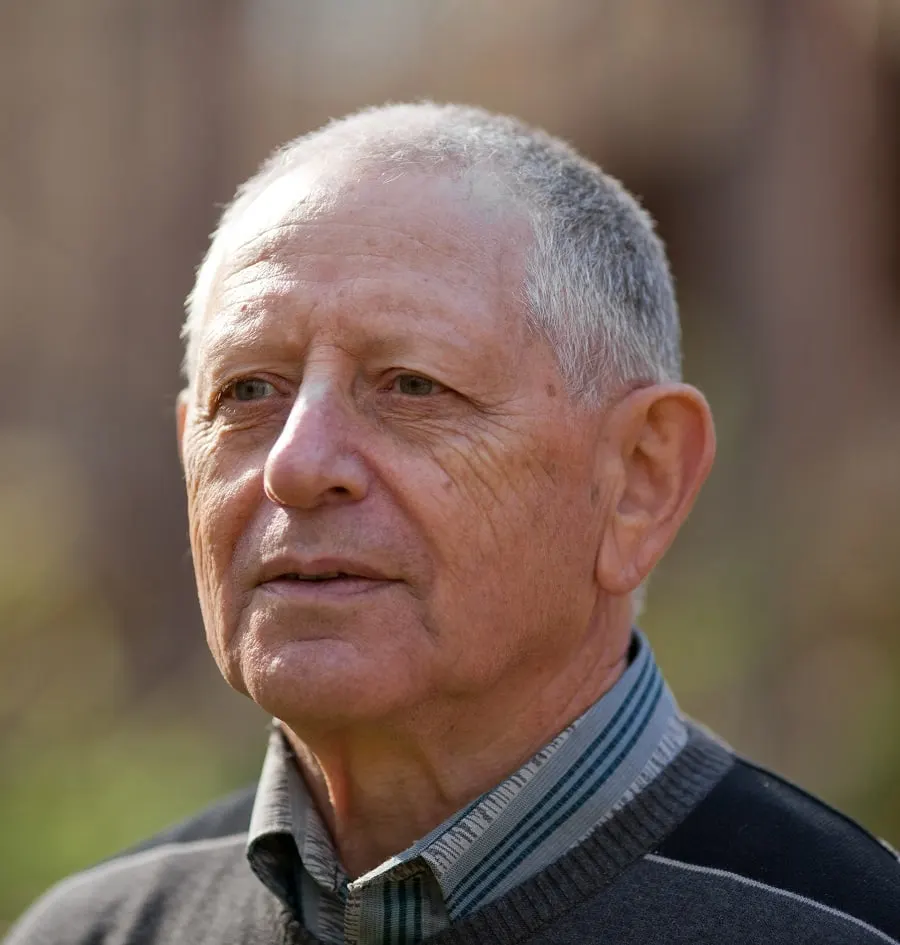 The buzz cut is perfect if you want to appear younger than your age. It is seamless if the sides of your hair are not thin. It's best to keep the length shorter than a traditional buzz cut to help the side appear thick.
Don't let your baldness hold you back anymore. Choose an appropriate look for you from this list of amazing balding hairstyles for men over 60, and we promise you will not feel hair loss is a curse anymore.