Black men are usually very fearless when it comes to their hairstyles. They're free to experiment, especially when they're creating braids. There's probably not a single other group of people who invented so many different braided hairstyles for black men. Since their hair is thicker, this hairstyle gives them a break from it.
Inspiring Braided Hairstyles for Black Men
Black men are brave enough to adopt any unique hairstyle. We have handpicked 30 most amazing braided hairstyles that any black man can try.
1.
box braids for black men
2.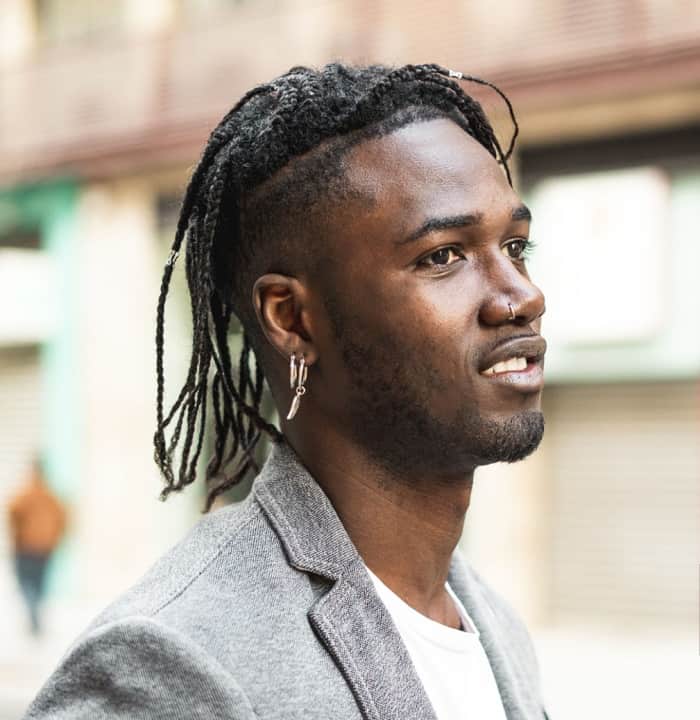 3.
short hair braids for black men
4.
twists braids for black men
5.
6. Enjoy Being Extra Man Braids
If you're up for a very good challenge, then this braided hairstyle is for you. The long hair on top should be symmetrically braided while leaving a small strand hair on one side. Then you need to create a regular braid with that strand and tie it with a golden accessory.
7. Inside Out Perfection
Black men can look their best even with the simplest braided hairstyles. This hairstyle proves that point completely. When you have healthy black hair, all you need to have is preciseness and patience.
8. Long Braided Hairstyle for Black Men
Black hair is perfectly suitable for various cornrow hairstyles. Once you manage it properly, it can adjust to any hairstyle you style it into. For this reason, a lot of black men enjoy making gorgeous cornrow hairstyles. Those that have long hair usually tend to look the best because it adds to the dramatic look.
9. Twisted And Braided
Don't let anyone tell you that you can't have all the fun in this world with your hair. The great thing about this particular braided hairstyle for black men is that it combines preciseness with more laid-back elements. Your sides always need to be well-groomed but you can keep the top part as messy as you want. Those braids at the top will just add to the volume.
10. Tiny Cornrows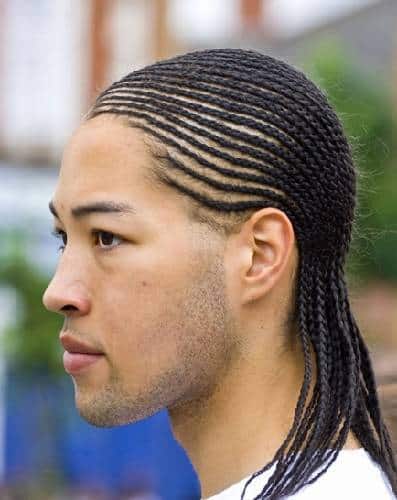 Only the most patient men choose this hairstyle. You will probably need a professional to create this hairstyle for you because being precise and highly focused is the key here. Tiny cornrows make black hair look shiny and elastic which is usually hard to achieve with other hairstyles.
11. Fish Braids on The Next Level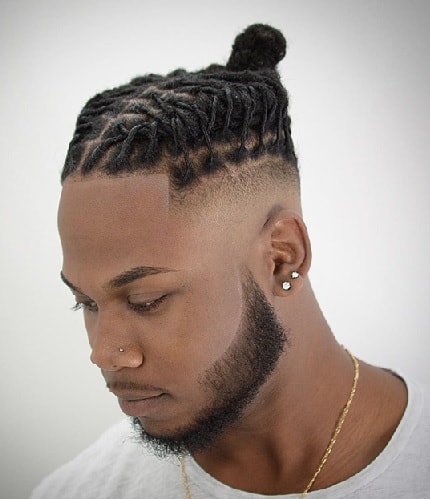 Yes, fish braids look stunning on black hair. But, this hairstyle combines fish braids with other elements that are just as unique. When you're braiding your hair, make very clear and tight distinctions between your strands. This adds to the dramatic vibe you're creating.
12. Full Crazy Afro Hairstyle
Having braids from here to there in a full afro hairstyle is a must. Afro hairstyle would be nothing without a couple of really well-defined braids. Because Afro hairstyle is quite challenging to keep looking well put together, it's best to create one large ponytail to keep everything in place.
13. Keeping It Fresh
Research some good hair professionals in your area and fulfill your greatest hairstyle dream. Cornrows make for a unique hairstyle that every black man needs to try out at least once in his life. If you find a really good professional, he'll be able to make a real art piece with your hair.
Black men braided hairstyle with bun can look mediocre sometimes. One way to really freshen up your braided hairstyle is to leave the very ends of your braids. Just lightly twist those ends and leave them as they are. It makes a contrast from the rest of the braid.
15.
16.
17.
18.
19. Black Men Braided Hairstyle WIth Patterns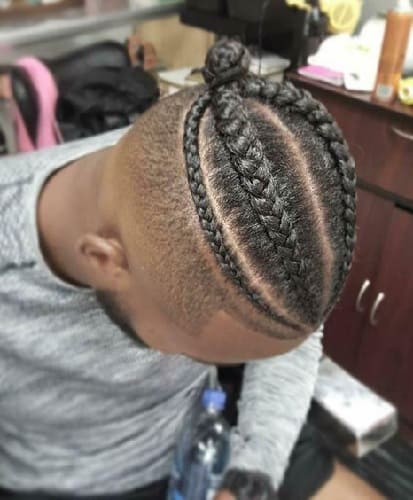 Businessmen who love experimenting with their hairstyles are usually in the search for new hairstyle ideas. They still want to look professional, but they just want to spice things up a bit. Black men who are like this tend to create sleek braids.
20. The Details
Small braids look so good not only because they make black hair more flexible. They also look good because they make very unique shapes on the scalp.
21. Extremely Detailed Cornrows
When you're ready for a change in your hairstyle, it's best to go all out. Cornrows can make you look different, unique and very stylish.
22.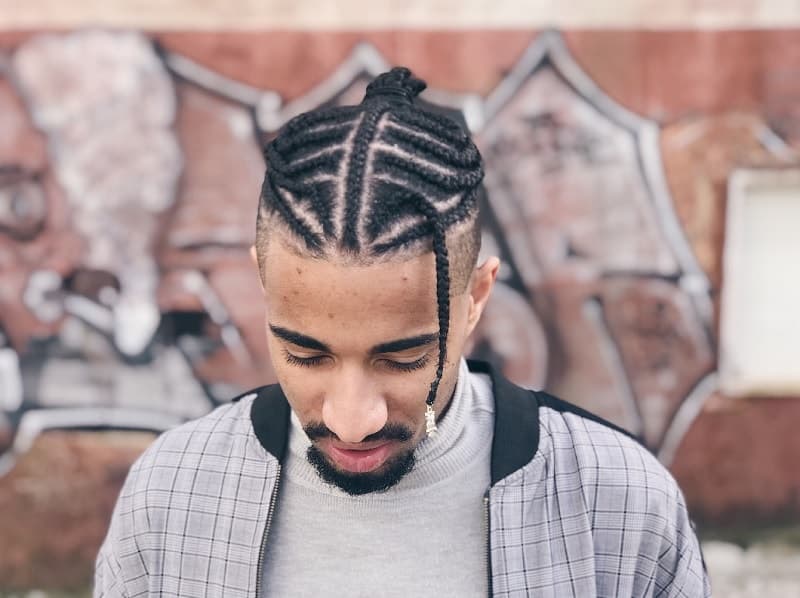 23.
24.
25.
26.
27.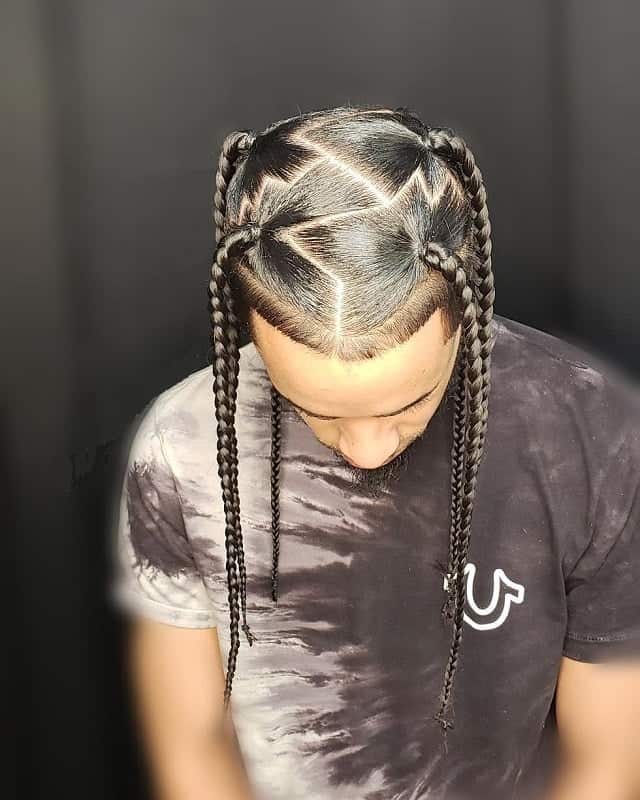 28.
29.
30.
Braided hairstyles are more popular than ever among black men. It's easy to see why once you go through some of the hairstyle possibilities. So hurry up and try some of these cool hairstyles to get a funky look.