Black men are usually fearless when it comes to their hairstyles. They're free to experiment, especially when they're creating braids. There's probably not a single other group of people who invented so many different braided hairstyles for Black men. Since their hair is thicker, braided hairstyles gives them a break from styling struggles.
Inspiring Braided Hairstyles for Black Men
Black men are brave enough to adopt any unique hairstyle. We've handpicked 30 amazing braided hairstyles that any Black man can try.
1. Box Braids
Instead of styling your box braids straight back from the hairline, switch up the look to make one box braid in a small section of hair at the front of your head. Then use the rest of your hair to make the 'straight back' box braids.
2. Thin Braids with Temp Fade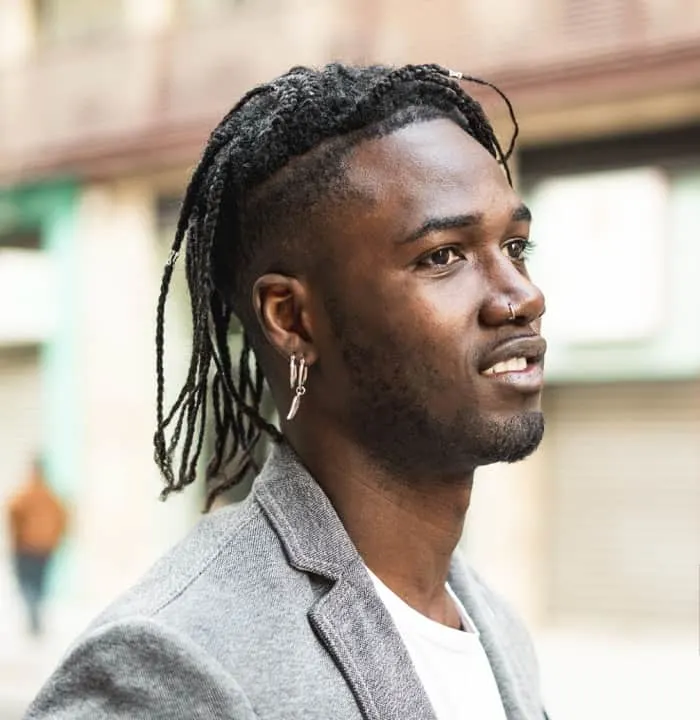 Thin braids may take longer for Black men to style, but the result will be quite handsome, especially if you add a temple fade. This will sharpen up the sides and define your hairline with a shaved line.
3. Short Hair Braids
If you're a Black man who prefers shorter braids, consider this curved fade hairstyle. The braids are styled in rounded curves and gather together in a man bun, with two braids loose near the face.
4. Twist Braids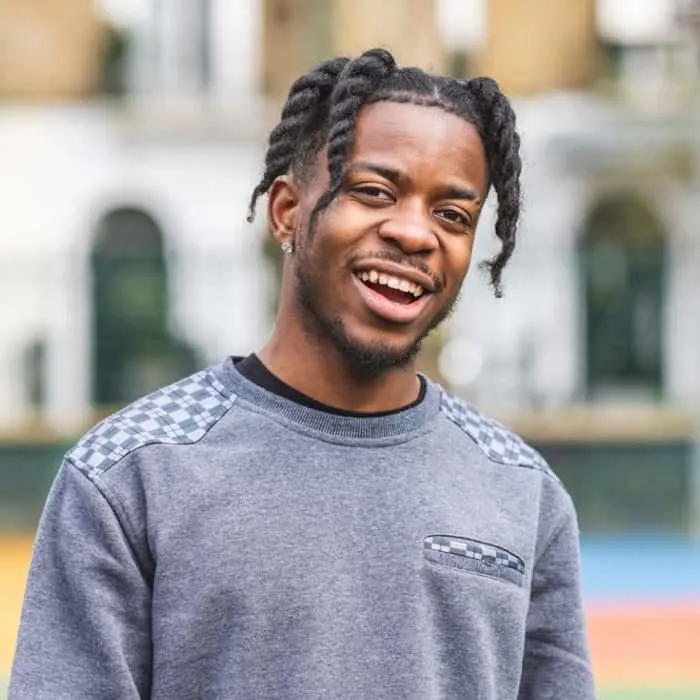 Two or three thick twist braids take only minutes to make and will tame your natural black hair into a sleek style.
5. Thick Curls with Long Braids
If your hair is very thick and curly, it's perfect for this fun braided updo. Make two ponytails with the top and bottom halves of your hair. Leave out two sections of hair behind the ears to make extra long braids.
6. Enjoy Being Extra Man Braids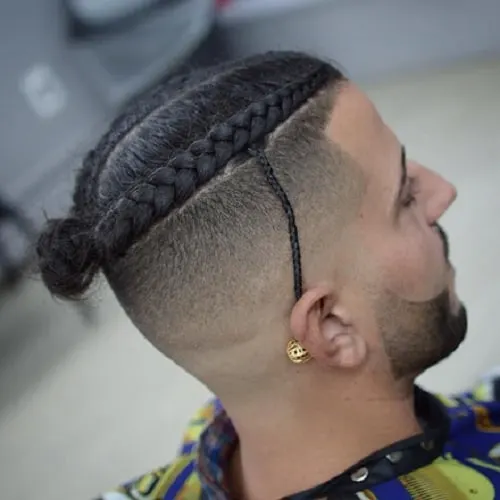 If you're up for a very good challenge, then this braided hairstyle is for you. The long hair on top should be symmetrically braided while leaving a small strand hair on one side. Then you need to create a regular braid with that strand and tie it with a golden accessory.
7. Inside Out Perfection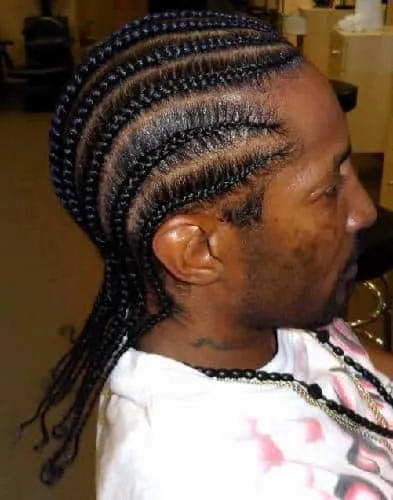 Black men can look their best even with the simplest braided hairstyles. This hairstyle proves that point completely. When you have healthy black hair, all you need to have is preciseness and patience.
8. Long Braids for Black Men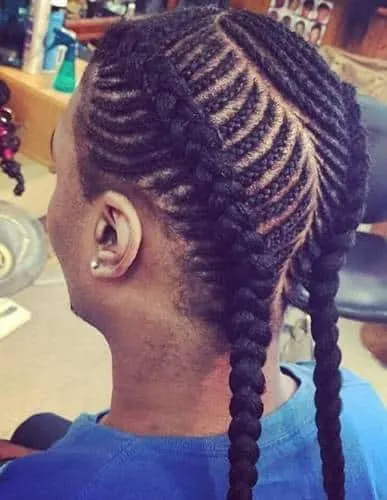 Black hair is perfectly suitable for various cornrow hairstyles. Once you manage it properly, it can adjust to any hairstyle you style it into. For this reason, a lot of Black men enjoy making gorgeous cornrow hairstyles. Those that have long hair usually tend to look the best because it adds to the dramatic look.
9. Twisted And Braided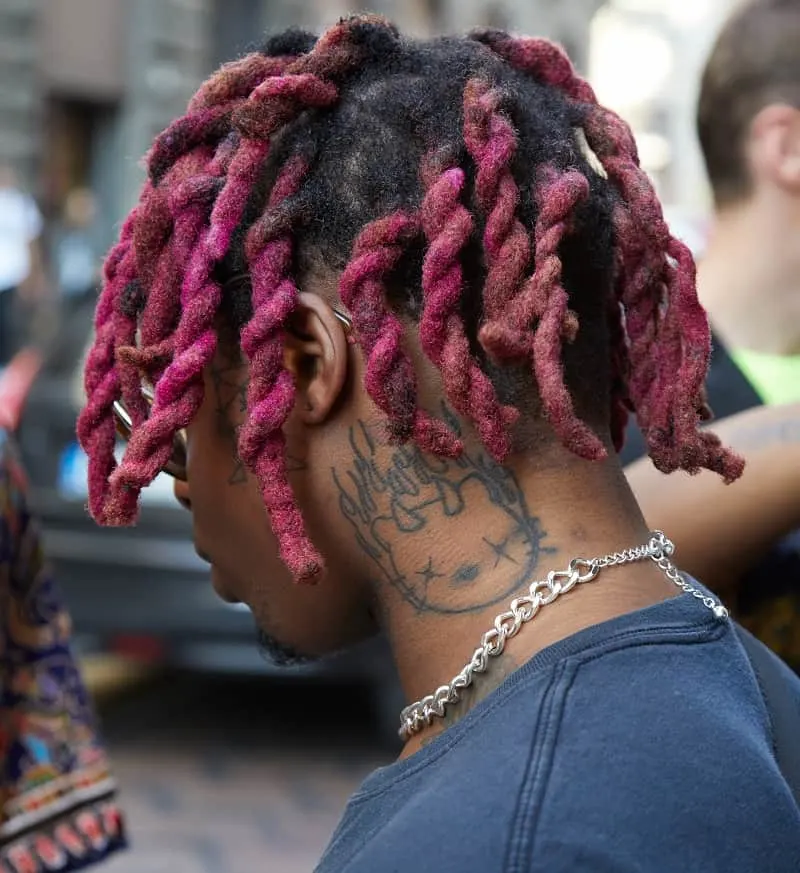 The great thing about this particular braided hairstyle for Black men is that it combines preciseness with more laid-back elements. Your sides always need to be well-groomed but you can keep the top part as you want. Braids at the top will just add to the volume.
10. Tiny Cornrows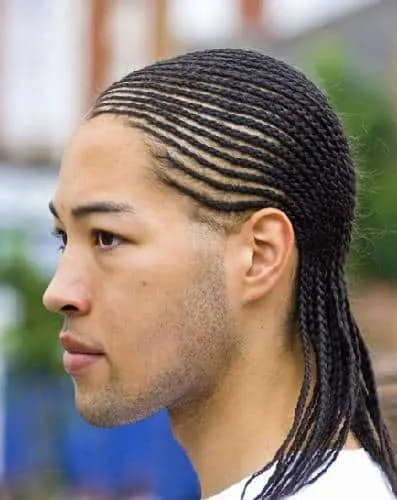 Only the most patient men choose this hairstyle. You will probably need a professional to create this hairstyle for you because being precise and highly focused is the key here. Tiny cornrows make black hair look shiny and elastic which is usually hard to achieve with other hairstyles.
11. Fish Braids on The Next Level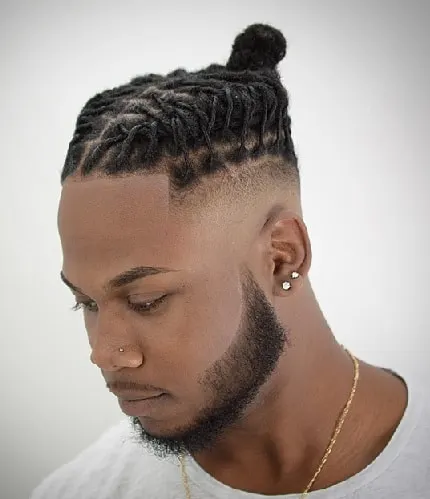 Yes, fish braids look stunning on black hair. But, this hairstyle combines fish braids with other elements that are just as unique. When you're braiding your hair, make very clear and tight distinctions between your strands. This adds to the dramatic vibe you're creating.
12. Full Crazy Afro Hairstyle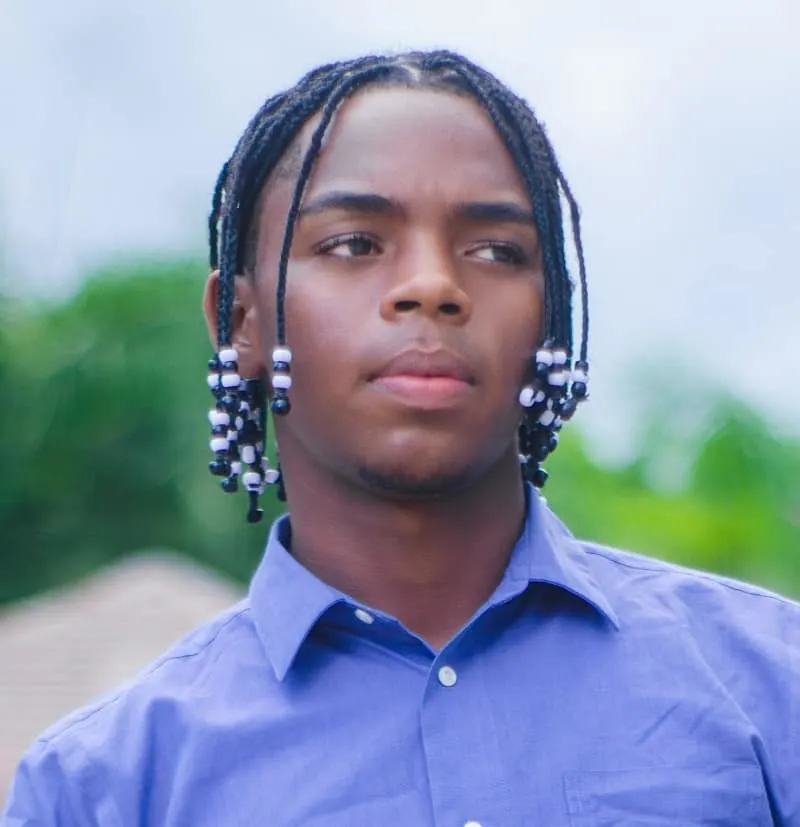 Having braids from here to there in a full afro hairstyle is a must. An afro hairstyle would be nothing without a couple of really well-defined braids. Because afro hairstyles can be quite challenging to keep looking nice, it's best to create one large ponytail to keep everything in place.
13. Keeping It Fresh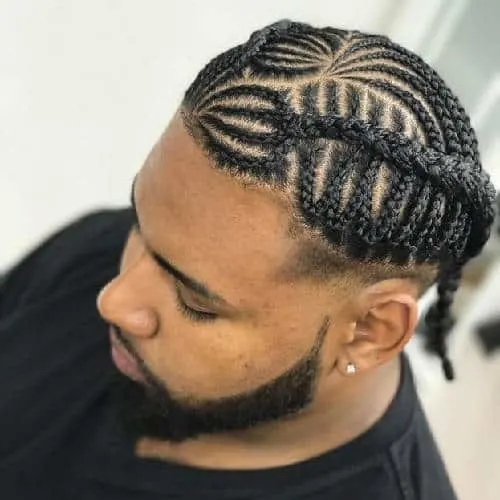 Research some good hair professionals in your area to get these cornrows, a unique hairstyle every Black man needs to try out at least once. A professional will be able to make a real art piece with your hair.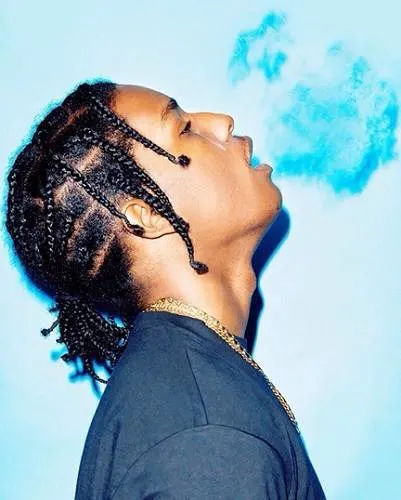 A braided hairstyle with a bun can look mediocre on Black men sometimes. One way to really freshen up your braided hairstyle is to leave the very ends of your braids. Just lightly twist those ends and leave them as they are. It makes a contrast from the rest of the braid.
15. Zig Zag Braids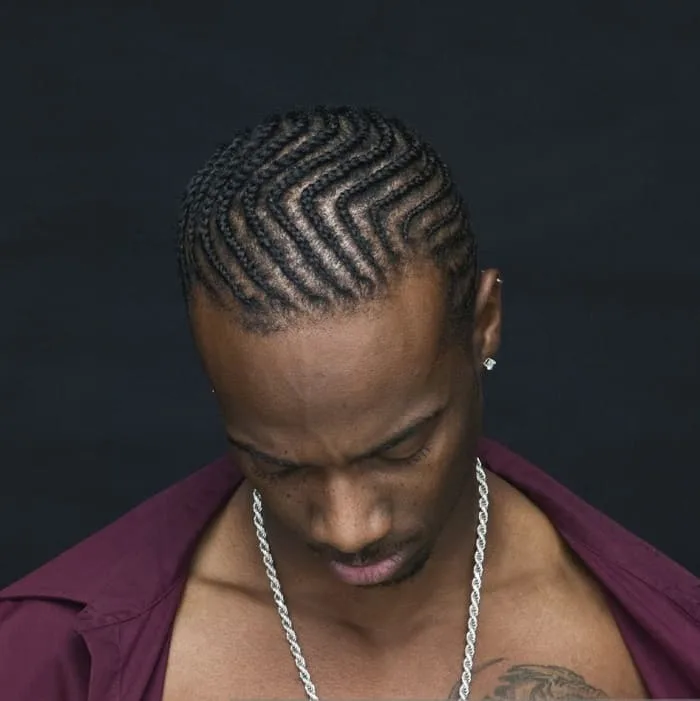 Another option for a Black men's braided hairstyle is to style your braids in curved zig zags. The shape of these thin braids is flattering to any face shape and very pleasing to the eye.
16. Braids with High Fade
Gold hair cuffs shine against black hair, as does a little bit of blonde hair color. Go for a mix of thin and thick braids in the top half of your hair, using a high fade to edge up the bottom half.
17. Zig Zag Braid Fade
Black men with long hair definitely have more length to play with when it comes to braided hairstyles. Thin zig zag braids freshen up a fade on this long curved braid look.
18. Brick Layer Braids
If you have a little more time to spare on a braided hairstyle, we recommend these detailed brick layered braids. Any Black man will show the world he appreciates the attention to detail with a style like this.
19. Black Men Braided Hairstyle with Patterns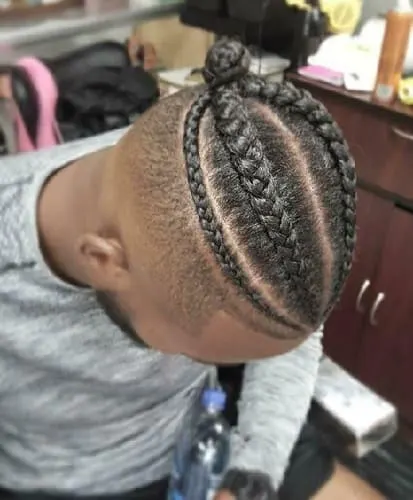 Businessmen who love experimenting with their hairstyles will feel and look professional with these sleek curved braids.
20. The Details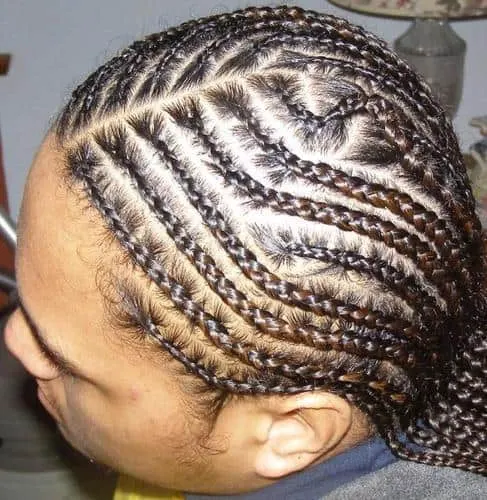 Small braids look so good not only because they make black hair more flexible. They also look good because they make very unique shapes on the scalp.
21. Extremely Detailed Cornrows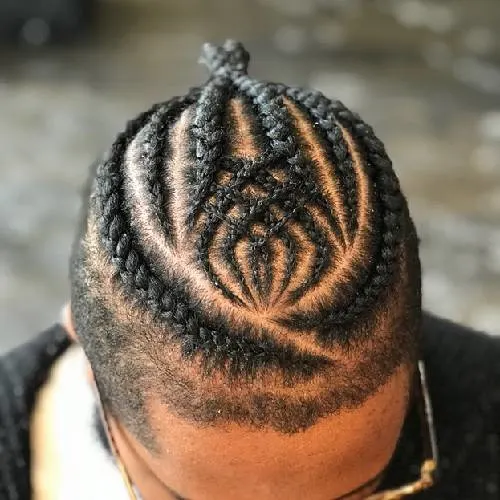 When you're ready for a change in your hairstyle, it's best to go all out. Cornrows can make you look different, unique and very stylish.
22. Braided Man Bun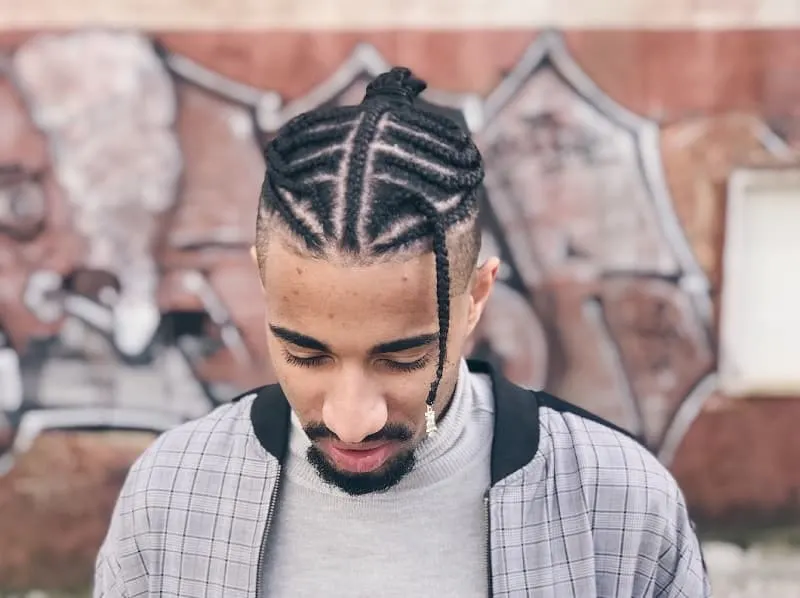 One braid in the hairline separates handsome symmetrical braids in this man bun hairstyle. The bottom half features a sharp gradual fade. If you choose to leave a braid or two loose around the face, top off the ends with beads or string.
23. Connected Braids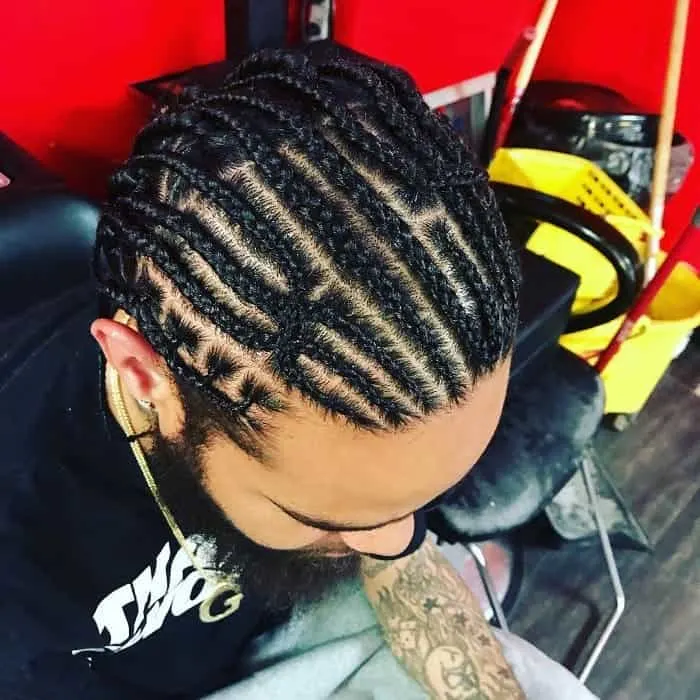 Black men who choose a thinly braided hairstyle should remember that thin braids allow for intricate patterns to be easily seen. This style features straight braids, some of which are connected for a special detail.
24. Twist Braids with Temp Fade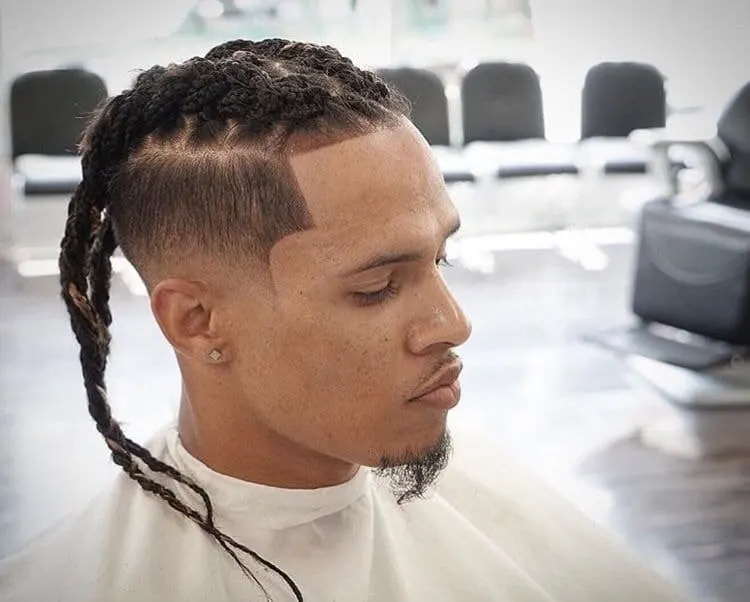 A temple fade is one of the best ways a Black man can highlight his fresh hairstyle. This one leads the way to a gradual fade and highlights thick twist braids made with natural hair and thin braids.
25. Braided Ponytail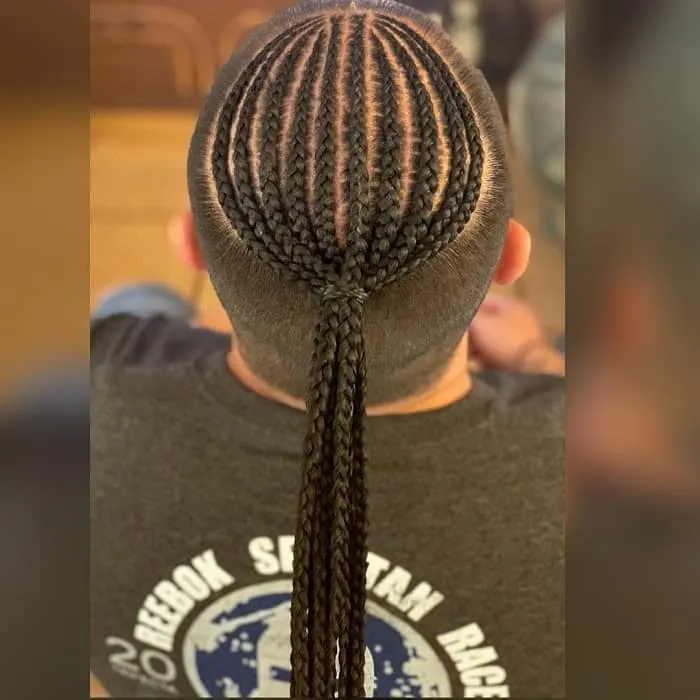 Whether your hair is long or you're okay with extensions, extra long braids are the way to go if you want a braided ponytail. Accentuate the lengthy style with a buzzed undercut.
26. Buzzed Line Fade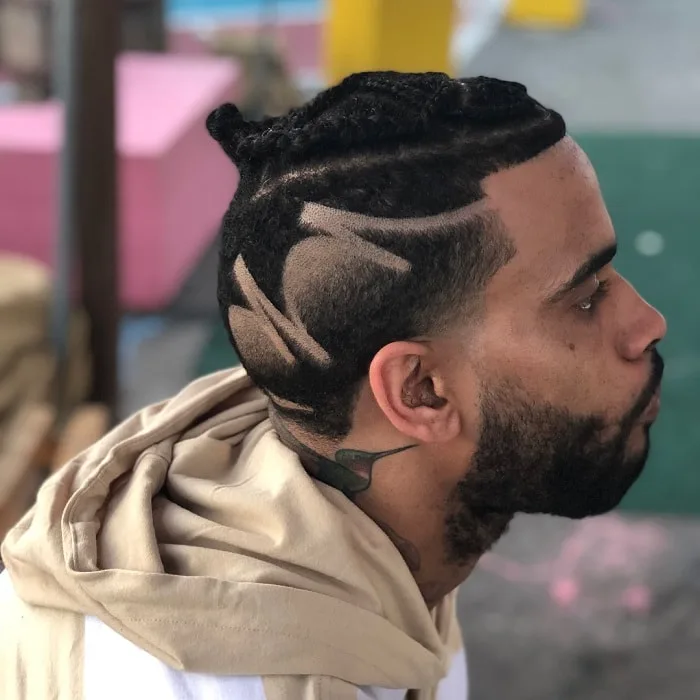 Braided hairstyles for Black men stand out much better when loaded with detail. The bald shaved lines in a gradual fade seen here really draw the eye in, making a stylish foundation for a braided bun up top.
27. Zig Zag Part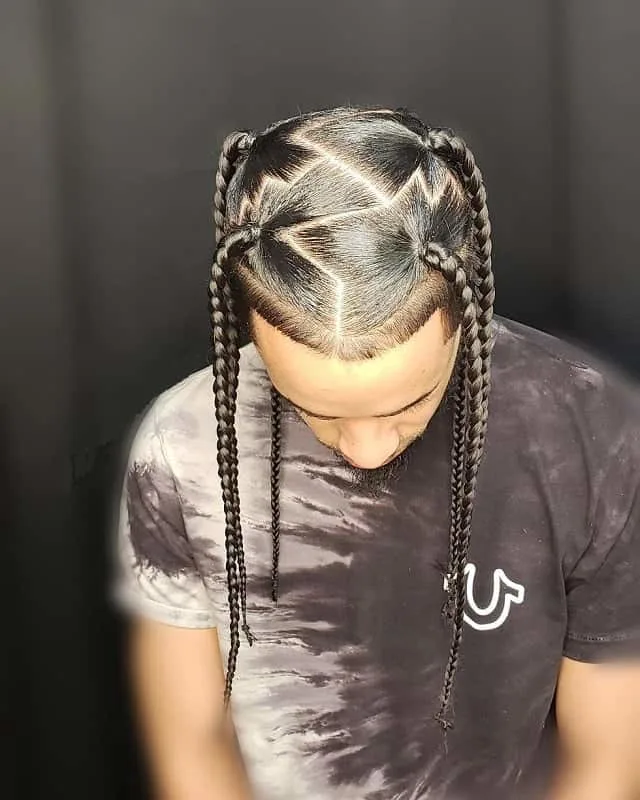 Why choose a simple part in your hair when you can make it unique with a zig zag line? We love the way these long braids stand out with a temp fade, as well.
28. Blue Man Bun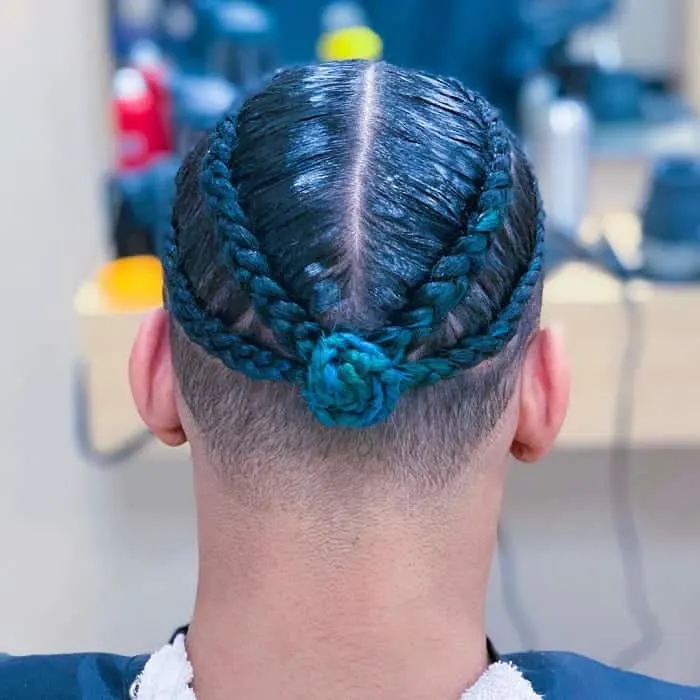 Not only does blue hair color make braids colorful, an undercut keeps your style fresh and makes for a neat neckline.
29. Box Braid Combo
Whether you're an older Black man or you have a little boy wanting to feel like a prince, this handsome combination of thin and thick box braids in intricate detail will have you feeling amazing.
30. Silver and Black Braids
For an easy edgy pop of color on black hair, consider a couple silver highlights or extensions. This braided man bun has a little more personality with the shiny addition of color.
Braided hairstyles are more popular than ever among Black men. It's easy to see why once you've seen these hairstyle possibilities.