A new and fresh trend has been in the spotlight this year and it's called the man bun braids. It combines everything we love about experimental hairstyles.
There are no rules, you can be as creative as you want to be. Even if you choose a less demanding style, your hairstyle will still stand out from the rest. So, if you're ready to have fun with your hair, it's time for you to grow it out and start braiding!
Popular Man Bun Braids
1. Simple Fish braid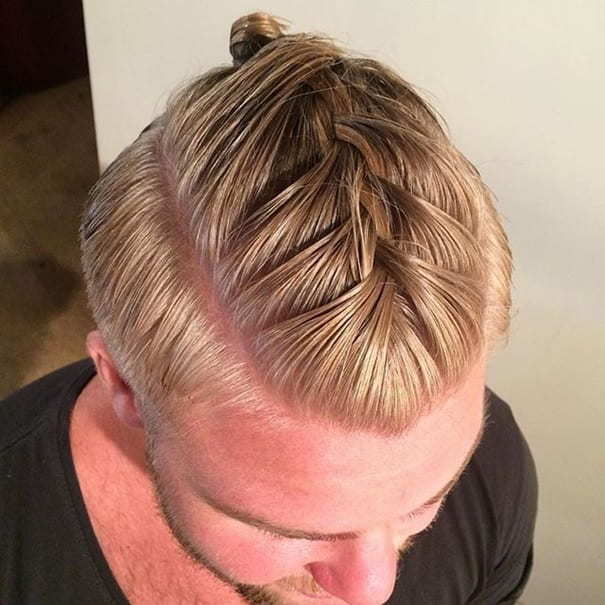 Man bun braids don't have to look complicated to look fashionable. Sometimes it's enough if you just make a really good fish braid and put the rest of the hair in a bun. Simplicity is the key in this hairstyle.
2. Upside Down Fish Braid
This type of man bun requires some more skill. Instead of braiding the hair on the inside, you need to pass strands of hair underneath each other. This way of braiding gives you more dimension and uniqueness to your whole look.
3. Side Braids With A Fade
You've probably experimented with a fade haircut in the past few years. This year it's time to add a nice twist to this hairstyle that we all learned to love. Instead of putting the whole long part of your hair in a simple bun, make small braids on the sides. Secure those little braids in to small buns and comb the rest of the hair to the back.
4. Cornrow Man Bun
Cornrow man bun is the best way to keep you stubborn hair from your face while looking fashionable and cool.
5. Voluminous Fish Braid
There is no better way of creating amazing volume than with man bun braids. Here, it's important that you keep gently pulling on your hair while creating the braid. The result will be a messy yet gorgeously voluminous hairstyle. The bun on the back should be tied upwards.
6. Cornrows With Hair Art
You can make the good old fade haircut way more interesting with some hair art. It's important that you find a really good professional that's able to execute your idea. Braiding hair into a cornrow and then making a bun will make the hair art stand out the most.
7. Well Defined Cornrows
Cornrows are best visible when you make them really tight. For this hairstyle, you should make smaller and bigger braids. This will add a completely new dimension to your hair. Just make sure to not make this hairstyle too often, just to avoid possible damage to your hair.
8. Trendy And Sporty
Who says that people who play sports cannot have fashionable hairstyles? This Man-bun with braids is a perfect hairstyle that can effectively keep the hair from your face while making you look amazing. Create smaller braids that will last for a long time during your training.
9. Well Defined Fish Braid With A Fade
Fade haircuts make a perfect transition from short parts of hair to the longer parts where the fish braid is. If you want to make this transition even more defined, put bigger strands of hair into the fish braid.
10. Perfect Symmetry
For black men braids who love looking put together, there is no better hairstyle than this one. Create two perfectly symmetrical braids and then add a small hair accessory to secure the bun.
11. Simplicity At Its Best
For younger men who are experimenting with their hair for the first time, it's best to stick to simple hairstyles. A simple bun that is slightly pushed upwards can transform your style. Practice adding small braids on the sides of your hair for a more playful look.
12. Small Cornrows With Accessories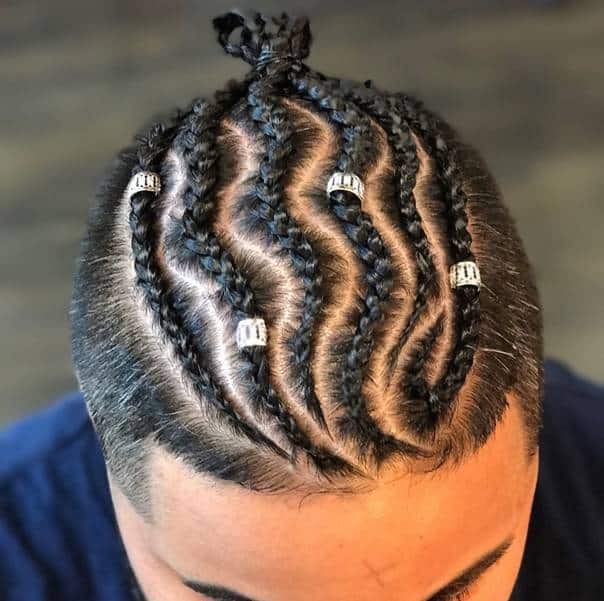 Cornrows are always a good idea for black hair. They keep the hair tight and make it look sleek and unique. Cornrows are also famous because of the creativity that can be expressed through them. Braiding the hair into little waves and then adding accessories is a great way to do that.
13. Two Sleek Upside Down Braids
Sometimes it's enough to just create two upside-down braids, but them into a bun and call it a day. Man-bun braids look special either way, so it's easy to spice up your look with them, even if you don't add any other twists.
14. Multiple Braids With Hair Art
If you're looking for new ideas on how to add dimension to your hair, this is a perfect way. Here, it's a good idea to use some oil while creating small braids, just to make them look shinier. The hair art is another important part of this hairstyle because it makes you look extra unique.
15. Straight Hair Man Bun Braid
Men with very straight hair usually find it hard to spice it up since whatever they do, it doesn't stand out. You can make a small braid on the side of your head the focal point of your hair. Put the rest of the hair in a high bun.
16. Crazy Amazing Cornrows
If you weren't aware of the possibilities of a cornrow hairstyle, this example will make your doubts disappear immediately. Only a very skilled professional can make this type of hairstyle. It will require a lot of time to make, but the end results is something you'll remember for a long time.
17. Three Fun Braids And A Big Bun
Long black hair can sometimes be hard to style in a unique way. If you want to add a cool twist to the well-known man bun braid, make that bun as voluminous as you can. Who says that the braids need to be in the focus?
18. Next Level Cornrows
If you were lucky enough, you have found a very good hair stylist, your hair possibilities are pretty much endless. One great way of making cornrows is by following the natural shape of your head. It adds symmetry and balance.
19. Hair With An Accent
The easiest way to make the braids stand out is by bleaching the top part of your hair. Whichever way you choose to braid your hair will look much better that way.
20. Experimenting With Colors
Teal colored highlights have gained major popularity in the past few years. Many young men tried them out and were amazing by the transformation. This Man bun with braids is a hairstyle is one of the favorite hairstyles for these men.
21. Business Casual At Its Best
Being a businessman doesn't mean that you can't have fun with your hair. Devoting some time in the morning to experiment with new hairstyles can be a great way to start off your busy day.
22. Elongated Look
Man bun braids look great on men with round faces because they create an illusion of an elongated face shape. The most important part here is to make the volume smaller and make a high bun.
23. Loose Braids
Men with silky hair might find it hard to keep the braid from falling apart. That's why it's a great idea to secure the braid with a bun at the end. This is a perfect hairstyle for men who want to look rebellious.
24. Silver Hair All The Way
If you followed any hair-related site or a magazine, you would have seen a huge rise in popularity of silver hair. Because hair with this color looks so special, it can easily be styled and then fit into various unique hairstyles.
25. Braids All the Way
Most of the man bun braids usually include a fade haircut. But, that doesn't always have to be the case. This hairstyle can look just as good, if not better, with overall long hair. The benefit of having long hair on the back of your head as well is that you can make even more braids.
26. Ready To Go
Asian people, in general, have really high-quality hair. This is why Asian men can pull off even the tightest man bun braids. The shine of their hair really adds to the overall great look.
27. Reverse Braids With A Fade
Many men choose to have haircuts with very sharp and clean edges. If you want to make this haircut look more laid back just add some reverse braids and a bun.
28. One Braid One Bun
The simplest ideas are very often the best ones. Instead of creating a fish braid that is very common with this hairstyle, make a regular braid from the very front part of the hair. Then just put the braid in a bun.
29. Fun And Fashionable
A straight line that divides the top part of your hair from the sides is a perfect way to make your man bun braid stand out.
30. Long Hair Don't Care
Men with long hair can create stunning braids and even better buns. If you're one of them, then show the world your amazing hairstyle with a man bun braid.
31. Box Braided Low Bun
Box braids are well known as being pretty versatile, and this is why you can use them to get a low bun. If you are a black man, this hairstyle will keep you glowing wherever you go.
32. Black and White Bun
You can create an eye-catching braided man bun out of your Afro short hair using some white threads when knitting. You'll get a black and white look that is suitable for any black man who craves attention and an unconventional look.
33. Twisted Braided Bun
Build your man bun out of twisted braids and get an undercut that will gorgeously define your features. You can also go for long thin sideburns and a short goatee beard.
34. French Braid
Build a French braided man bun and maintain your sides trimmed with the highest clipper. A long beard will make you look masculine and trendy at the same time.
35. Braided Dreadlocks
If you love dreadlocks, this man bun for Afro hair is a magnificent hairstyling option. Braid the dreads and opt for an undercut in the low back and on the sides.
36. Four Cornrows Low Bun
Section your hair and create 4 braided cornrows, which will meet in a man bun in the nape area. They should look perfect, so make sure you apply a lot of jam when braiding. You don't want any unruly strands sticking out.
37. Platinum Silver Dutch Braided Bun
A Dutch braided man bun will look tremendously cool on Asian guys, especially if they opt for a color change. A silver platinum blonde hair color will undoubtedly make them shine in any crowd.
38. Bun with Thin Braids
First, if you want to recreate this look, you need an undercut and grow your top hair as much as necessary to be tied into a bun. Go for a blonde platinum ombre and, on one side, knit two thin braids.
39. Reversed French Braid
Instead of starting your braids from the forehead, in this case, start knitting from the nape area and go up to the top. Once you reach the center of your head, create a messy rolled bun.
40. Box Braided Bun

If you have a V-shaped hairline, a samurai man bun with braids will make it look less prominent. You can also add a pinch of color by blending a few white and blue threads or hair extensions when braiding.
Watch The Following Video to Learn about How to Do Man Bun Hairstyle with Braids
Making braided man buns might seem like a daunting skill at first. But, you will surely be able to quickly develop this skill. Once you do, you will enter a whole other world of cool hairstyles that will make you look unique and trendy.