In the last years, braided hairstyles for men skyrocketed the trends and can easily understand why. The man bun era has fallen, and now it's time for these gorgeous man braids to rise and shine.
Braids for Men
There are loads of ways to get a modern, fresh look, and among our favorite, you can find the shaved sides hairstyle with a thick braid on top. We have prepared below an article that can inspire men with different braided hairstyles, and we're curious to know which one you'll get.
1. French Braid Half Updo
If you thought updo hairstyles were just for the ladies, you'd be wrong! We love this men's braided hairstyle featuring a small French braid on the top half of the hair. Try it on your short straight hair for unexpected edge!
2. Low Messy Braid
Whether you're just going to be out on the weekend or you're heading into the gym, a quick low braid is an easy look that gets hair out of the way. Just use fingers to comb hair straight back first!
3. Side Braids with Wavy Hair
These three tiny braids instantly edge up any man's short wavy hairstyle. Between the braids and the crazy texture, your look definitely won't be short on detail!
4. Box Braids with Natural Ends
Instead of box braiding your black hair from roots to ends, secure the braids about an inch from the ends. This men's hairstyle is ideal for men who have that naturally curly texture.
5. Thin Braids with Beard
For older men who have a thick beard and aren't afraid to rock a fun, bold look, go with a thin braided hairstyle and matching thin braids in your beard! Use colorful hair ties to secure each braid.
6. Braids with Bald Fade
Are you already rocking a fade undercut? For long-haired men, you can easily get this stunner of a braided hairstyle. Just make two long braids that begin at the hairline and braid through to ends. A bald fade makes this look an edgy winner.
7. Braid Extensions
If your hair isn't long enough to make lengthy braids, you can always get braid extensions to make your dream hairstyle a reality. These black extensions look great with light brown hair, but any color can express your style tastes!
8. Taper Fade with Braids
For short-haired guys, it's easy for you to get an edgy taper fade. The two levels of hair are very flattering for men with any face shape and they'll perfectly complement a highlighted braid ponytail up top!
9. Long Platinum Braids
White or platinum blonde braid extensions are certainly unexpected on men with a dark hair color, but if you're willing to be brave, you can rock it! Go for long length for statement and style.
10. Fishtail Braid on Long Hair
Fishtail braids aren't just for the ladies either! We love a thick luscious braid on a guy with long hair. You can even take two sections of hair from either side of your head to make a criss cross loop in back!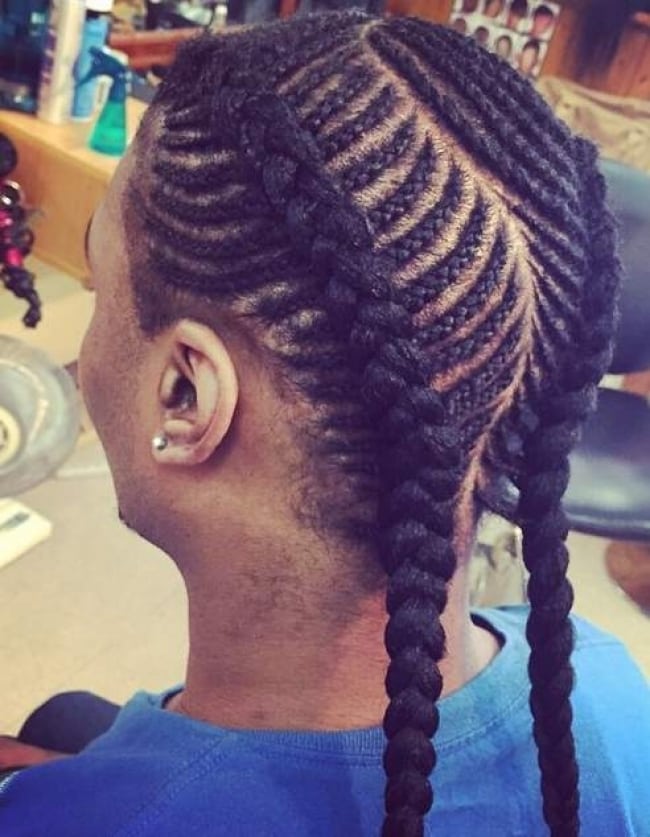 Many of today's hottest braided hairstyles originated in the Black community. Observe the skill level here—it's not just a hairstyle, it's art.
12. High Top Braids
High top braids are made by shaving the sides and back of the head, then pulling the top of the hair into a ponytail with braids involved. Whether you braid the base of the ponytail or the ponytail's strands, you'll look good no matter what.
13. Braided Men Ponytail
If you have a mohawk or a hairstyle with a fade or an undercut, a braided ponytail is easy to create. Platinum highlights add a fun extra touch of style.
If you don't have a lot of hair to work with, tiny braids combined with a fade will still add style.
15. Undercut on Man Braids
While some undercuts stop at the middle of the back of the head, this one goes almost all the way to the top, making a braided bun highlighted with electric blue truly stand out.
16. Boy Braids Style
This is a men's hairstyle that will work for any age. Straight rows of horizontal braids top the crown of the head but are rounded out and gathered into a bun while a fade is the finishing touch.
17. Braids with Beard
A scruffy beard is a surprisingly attractive pairing for tiny braids. If you have short hair, this is a style you can easily pull off.
18. Faux Hawk Braid
A blonde faux hawk is the focus of this hairstyle. Keep your medium fade trimmed up to make sure this style stays looking hot!
19. Twist Braids
Twist braids are a great protective hairstyle for black men. This style will last at least two months and only requires a bit of styling gel to keep strands smooth.
20. Warrior Braids
To get warrior braids, make one thin and one thick braid close to the ear on each side of the head. Leave the rest of the hair loose.
21. Small Braids
Small braids are another hairstyle that requires a bit of extra styling time at first but once it's done, you look amazing, it lasts several weeks, and you don't have to worry about it!
22. 3 Man Braids
When you don't have a lot of time in the morning, three simple braids is all you need for a quick style.
The undercut braid hairstyle is easy… after a lot of practice. To make a French braid look that smooth, you need patience and the ability to plait small strands of hair. Even if you don't have thick hair, don't worry! You can try this.
This hairstyle is absolutely mesmerizing. A new detail pops out every time you look at it.
This braids for men combines several braided haircuts into one cohesive look. It's not really an undercut, but the idea is similar.
26. Sharp Edges
Seriously, seek out someone who knows braids before attempting a hairdo like this. You want someone who knows what s/he's doing because these braids depend on the sharp angles, the zigs and zags.
70 Best High & Low Taper Fades for Black Men
27. Twisted Braids
A unique braided hairstyle for men. It all starts with a twist out. Those twists are then intricately braided into a woven hairstyle that you simply don't see every day. Every detail is perfectly done—that's impressive.
28. Jumbo Braids
A jumbo men's braid hairstyle just looks cool. It's a mix of sophisticated and urban. It's a simple 'do to achieve—start with two Dutch braids, plait them all the way to the ends, then roll them together into a neat bun.
29. Upside-Down Braided Topknot
Man braids that start at the nape of the neck and weave upwards are stunning. They're impressive, as well. Not only is this style a conversation starter, it also makes the man bun topping it look that much better.
For men who need a new natural braided hairstyle, this one's ideal. The cornrows are thick, not too tight, and follow the curve of the skull, then the ends are gently secured into a top knot puff.
Dreadlocks are their own hairstyle, but they're still versatile. You can always let them hang long and loose, of course, but a crowning top knot bun is also an option. It's both suave and a little bit chilly.
32. Thin Rows
Even if your hair is fine and of a different texture than the ideal type for cornrows, you can still pull off this white guy's braided 'do if you like. It typically results in thin but sleek braids.
33. Cornrow Bun
Here we've got another masterpiece of a men's braided hairstyle. Do you see how many braids are actually involved? The braided bun is like the cherry on top of the most stylish sundae.
34. Spinning, Spinning, Spinning
Never let anyone tell you that braiding isn't an art form. This braids for men is hypnotizing. This man is the most fly man who's ever been.
The thatch of hair topping this undercut is just long enough to handle a flawless French braid. It helps to keep it loose, plus doing so provides enough lift to create a debonair pompadour effect in the front.
There's nothing new about cornrows that lead into the men's braided bun. It's just getting mainstream attention now—because it's fresh as hell.
It has to be said that guys with curly hair typically do better with braided styles. The texture works well with the plaiting. On the subject of this particular look—yes. Yes to all of it.
With dreadlocks or extensions, you can go wild with your man braids. Do anything with them. Pile them on top of your head, plait them into a thicker braid, wear them in a thick ponytail—anything.

A dare to try a braided hairstyle for black men. As an example of thickly braided 'locks, this is perfect. That is a serious braid. That is Braid 2.0.
40. Suave Braided Ponytail
If you're going for smooth and polished, try this braided ponytail for men. Bonus points if you can wear a suit and work it like this.
This is a take on the braids for men seen in Braveheart, but really, it's a stylish example of how men can pull off Boho braid hairstyles. It's an accent, a detail.
Short & Sexy Crew Cuts for Men
Long hair offers us numerous possibilities, and we just have to dare to experiment and try out different looks. One way to show just how much you're proud of your long hair is to get on the braids for men bandwagon.
You don't have to do all hair in braids, and you can just create a few on the sides and accessorize them for an outstanding look.
If you're searching for unusual braid hairstyles for men, you may want to try out this look. Shave hair on the sides and leave the hair on top intact. Ideally, it should be long enough to allow you to create a braid. Mohawk braid is a great option for edgy and adventurous men.
Patterns are versatile, and that's exactly what we love about them. Everything you can imagine can be turned into an awesome pattern using tiny, slim braids. Men whose hair is naturally thick and coarse can benefit from this hairstyle the most.
45. Multiple Braids
Men with braided hair are creative, confident, and edgy, but it's easy to transform these styles into something elegant as well. Yet another amazing style you can create is to create multiple braids in your long hair. The best thing about these guy braids is that they work great with both casual and more formal outfits.
Some men are reluctant to experiment with hair colors, but it's a good way to do something new and experiment with different looks to update your image.
Let's not forget that adding some color into the mix will not only spice things up, but it will also accentuate your braids. For an even better effect, you can choose some unusual hair shade such as purple.
Do blonds have more fun? You can find out for yourself by trying out this hairstyle. Dye your hair blond and create two sleek and sophisticated braids. It's easy! Just bear in mind that men, like women, need to prioritize hair care in order to maintain the perfect shade of blonde.
Long hair gives us so many possibilities in terms of styling, but it can still cause a lot of stress when hair is getting in the way while we're working on something. Here's a tip that will help you avoid that hassle – create thin guy braids that pick them up in a ponytail. Shaved sides of your head and create some pattern of your choice.
Cool men know how to keep things casual but also easy on the eyes. Section your long hair to create braids on top and pick them up in the bun. Let the remainder of your hair fall down your shoulders, but you can also create a braid or two there as well.
We're witnessing the rise of men's buns, and that's beyond awesome. Buns are practical, easy to make, and let's be honest – they look great.
Here's a nice twist on the regular bun – braids. Make multiple thin braids and pick them up in a nice bun. This is probably one of the easiest braid hairstyles for men, and you should give it a try.
51. Braided Ponytail
Create a few short braids and merge them together in a tiny ponytail. For a cool vibe, you may want to shave your sides or opt for tapering and low fade.
How to Ask for Man Braids?
So, you have chosen braids for men. No what? First, go to a good salon. As you sit down with your barber or stylist, you may want to have a few pictures for reference. It all depends on what you want. Cornrows are entirely different from an accent braid, after all.
You also need to talk to your stylist about what's possible. If you're growing out a buzz cut, it's impossible to braid anything for a while. Hair that's very fine can't handle certain braids and styles, so you also need to make sure that the texture of your hair is compatible with the style you want.
How to Take Care of Man Braids
The texture and overall personality of your hair will also affect how you maintain it. Make sure you moisturize your hair with a product like coconut oil when you're maintaining cornrows or dreadlocks. Keep your ends trimmed to avoid dead ends, especially if you have layers in your hair.
Try a few deep conditioning treatments once or twice a month. Alter the position of your braids from time to time, as well—if you braid your hair in the same spots each time, it causes breakage. For that matter, protecting your hair is a good idea anyway, whether that involves using a sleep scarf or sleeping on a silk or satin pillowcase.
Can Men with Short Hair Get A Braided Hairstyle?
Looking to try different braids for men but have short hair? In order to pull off a men's braid hairstyle, your hair has to reach a certain length, of course. However, short hair can handle small, thin braids.
If you have an undercut and you're sporting a fairly long thatch of hair, you can easily create a French man braid. Of course, if your hair's only a few inches long, it's much more difficult to create even tiny braids, and depending on the texture of your hair, you might have to wait until it grows a bit longer.
It also helps if your hair is more or less all one length. It's possible to braid layered hair, but the braids tend to look choppy unless the layers are long, as well.
Now, if your hair falls below your ears or the nape of your neck, if it sweeps over your forehead or touches your shoulders, then you can wear practically any plaited hairstyle you like, from braided buns to long, flowing braids. Guys who have long locks and want to wear braids ought to look at a few YouTube tutorials so they can learn the various techniques themselves.
Don't be afraid to rock out with guy braids. Which braided hairstyle you've always wanted to try?