Inspired by the legendary Cleopatra, we introduce the bob box braids as the next big trending thing in the hairstyling world. In addition to being a protective style for your natural hair, they can be a solution for girls with shorter hair who wish to flaunt exceptional designs.
They are the retro-chic design that works with any kind of upcoming event. So, with the help of these tips and tricks below you will be able to master a whole new level of " drop-dead gorgeous."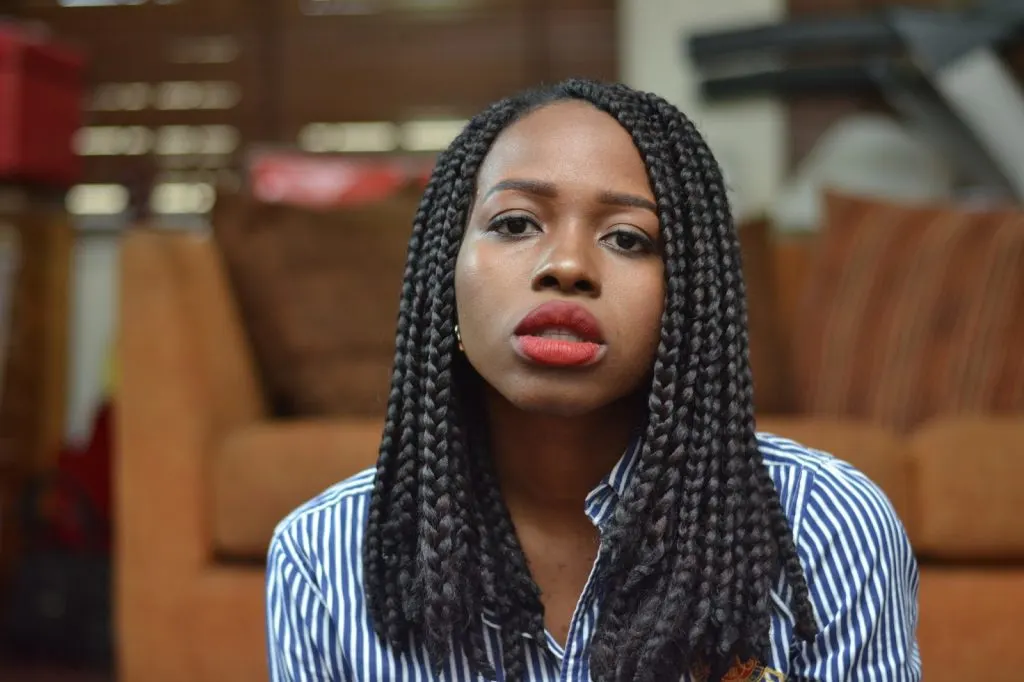 DIY: How To Make Your Own Bob Box Braids
Are you low on a budget to afford a trip to a professional hairstylist? Do you like to learn new skills and techniques to spice up your looks? With our tutorial section, we guarantee you to turn from a beginner to pro in a matter of minutes!
Tools Needed
Steps To Follow
Wash your hair with shampoo and conditioner because you need moisturized and damp hair to work better with braids.
Brush your hair to avoid any tangles.
Section your hair lock into 4 subsections and use clips to hold each section while working.
Make sure all the strands are of almost the same size and length.
Take a really tiny pinch of hair aside and then braid the entire section from top to bottom.
Secure the tips of each braid with an elastic band for a firm hold and longer life span.
Take three of the pinches of hair you put aside and cross over the left one under the middle one. Then do the same thing with the right pinch. Consequently, you'll get a box braid.
Best Micro Crochet Braids for Fashionista
How to Style Bob Box Braids
When hairstyles get complicated and seem too hard to accomplish, visual aids can come in handy! So, if you are having a hard time shaping your box braids here's a youtube video tutorial to guide you throughout the whole process.
So, to sum up in 5 simple steps:
Pick the desired length. You can choose from chin length, shoulder-length, layered, in between, pixie etc …
Decide the thickness of each braid. Thicker is better when it comes to boxing braids because they stand out easily and offer more volume.
Choose one of the top box braid styles below to be on the right track.
Try different colors to spice up your designs and grab attention.
Accessorize by adorning your hair with flashy and twinkly hair clips or cute floral bands.
Bob Box Braids
Even though the possibilities of bob box braids are endless, there will always be the top 45 designs that will guarantee you come out as cute as ever. So, instead of spending endless hours surfing the internet for the top-notch choices, check out our digital catalog below and copy whatever design you think suits you most!
1. Curly Ends
Go for a lighter shade without actually having to change your natural hair color. Use deep auburn hair extensions to create a short braided bob look while leaving the ends curly for a fun contrasting appeal. Top off with colorful hair cuffs.
2. Platinum Braids
Another way to stay on the lighter side is by selecting shiny platinum extensions. With a middle parting, incorporate the platinum strands to stand against the dark roots for a two-toned hair look. Add white pearls and wood beads for a funky finish.
3. Half Up, Half Down
Turn around some heads with this simple hairstyle. Section the hair and braid it down creating a short bob dangling above the shoulders. Add some red strands to create a highlighted effect and pin back half of the strands achieving the half-up, half-down look.
4. Blonde Bob
The shorter the braids are the more beautiful they will bend around the face. Incorporate light blonde strands while weaving the middle-parted hair. Pull out some curly strands loose from the chunky braids and let them dangle in between them. Don't forget the hair cuffs.
5. Knitted Top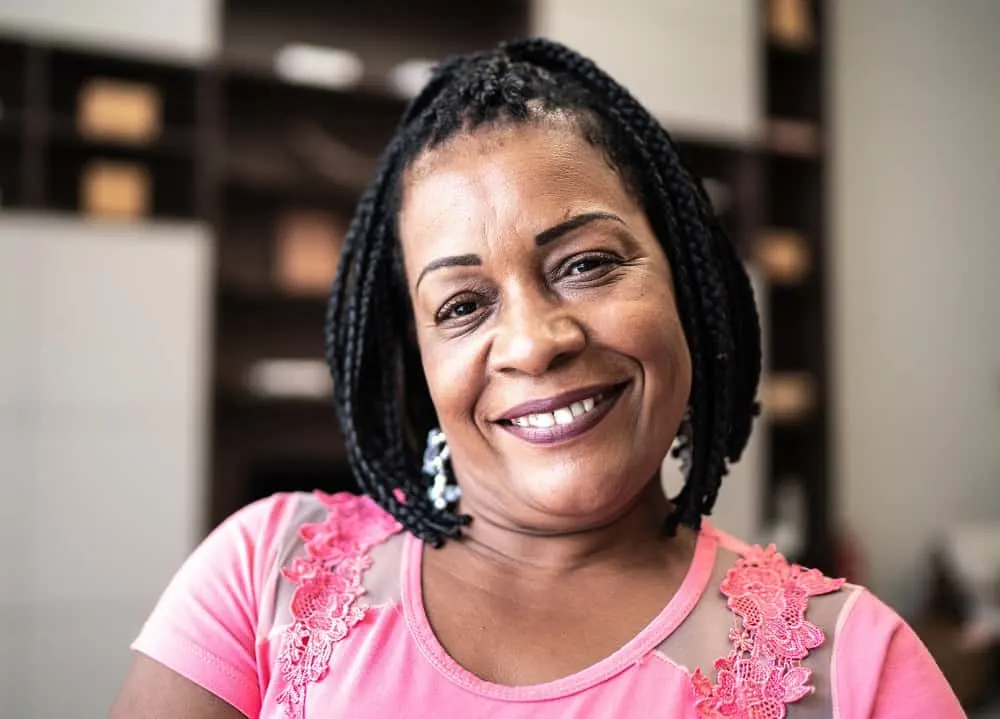 Middle-aged women can take part in the bob box braids trend too by entwining the hair to jaw length. Braid the top keeping the strands away from the face. This look is easy to maintain and can be kept for a few days.
6. Jumbo Box Braids
Opt for these jumbo box braids without thinking twice this year. Use more hair extensions in a chocolate brown hue to create chunky braids all around the head. Pin back the top ones and add hair cuffs to the ends for a chic appeal.
7. Pinned Back
A jaw-length bob looks undoubtedly stylish with box braids. Take the top strands and pin them at the back with two braids framing the face beautifully at the front. Set off this bohemian look by wearing-bright colored funky eye shades.
8. Go Purple
Box braids give you an endless choice of colors to flaunt on your head. Then why not go for these vivid ultraviolet braids? Divide the hair into rectangular sections and entwine it down. Add transparent beads to the braids to keep all the eyes on you.
9. Side-Swept Feed-In Braids
The feed-in technique makes the braids look thick naturally. Add the synthetic strands beyond the start of the hairline with a side parting. Tuck the braids behind one ear and settle down the flyaways with pomade and a toothbrush for a chic finish.
10. Add Some Beads
This simple hairstyle lies among the best bob box braids for 2023. Mix dark brown synthetic strands with the natural hair to plait them down with a simple middle part. Add transparent beads to the braids dangling above the shoulders to spice up the look.
11. Multicolored Braids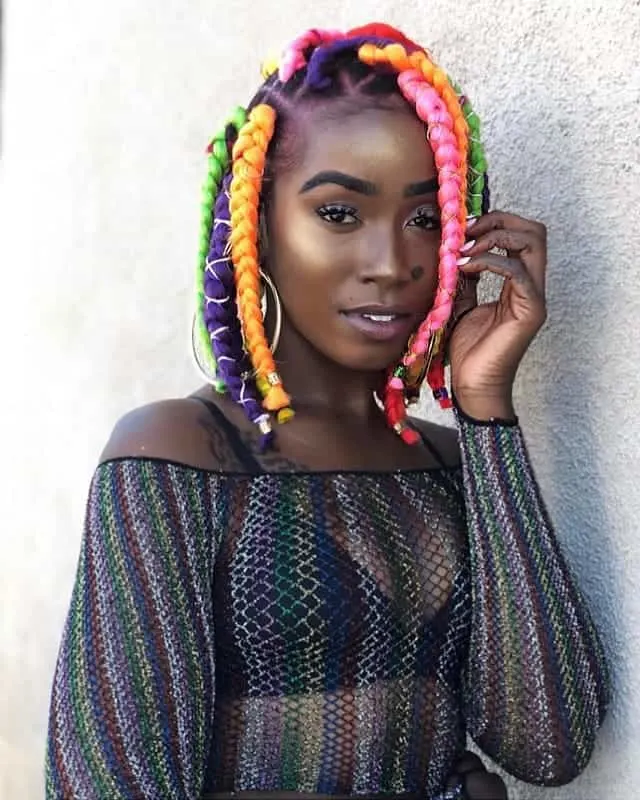 Colorful hair is trending this season. Recreate this look by choosing all the colors you love and incorporating them while braiding the shoulder-length hair with a side part. Amp up the style further by entwining some braids with threads and adding multicolored hair cuffs and hair rings.
12. Box Braided Lob
Many women traditionally wear their box braids long and past the shoulders, but this center-parted lob is adorable and maintainable. The platinum color gives it a nice bright pop.
13. Medium Bob with Box Braids
Medium bobs flatter women with oval faces. A light caramel beautifully complements black hair and a silver bead on a section of hair near the face is a super pretty detail.
14. Short Bob + Box Braids
The shorter your hair is, like this bob that stops at the jawline, the more likely it is that you'll have a curl at the ends. Accentuate them by adding small beads to the ends.
15. Jumbo Box Braids Bob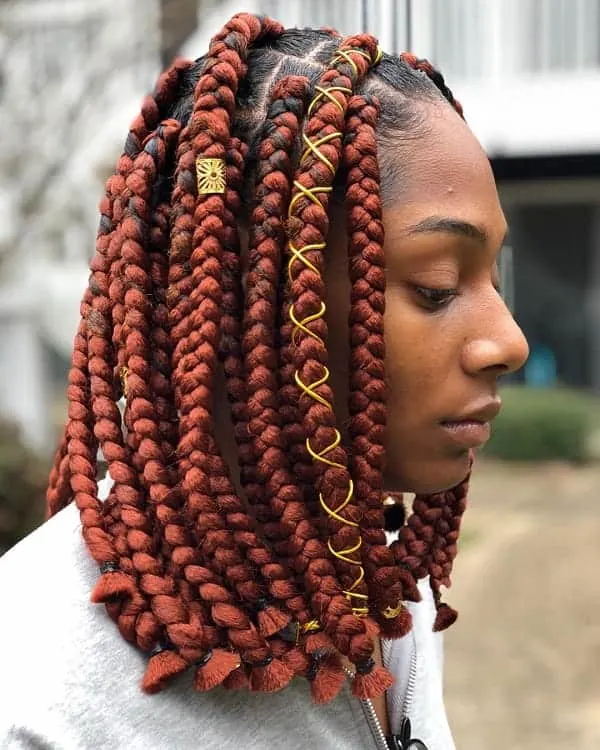 Want your hair to look thick? Go for jumbo box braids! They're thick and more noticeable, especially when you add colorful string or beads in silver or gold.
16. Bob Box Braids with Curly Ends
To get the curly ends shown on this bob, ask your stylist for box braids and to stop when about an inch from the ends. A heavy part will give you nice volume.
17. Chunky Box Braided Bob
When you're heading out in the evening, pull the top half of your bob into this cute updo. A bun or ponytail will give you a super chic look.
18. Crochet Box Braids Bob
If you hair isn't naturally curly and you're trying to grow it out, crochet box braids are a great style for the meantime. The braids mixed with curly hair is very feminine.
19. Bob + Burgundy Box Braids
Burgundy is one color that really flatters dark skin. Add the color to a box braided bob and finish the look with gold beads that will stand out against it.
20. Blonde Box Braided Bob
This blonde bob with box braids is not a common style, which is perfect for the woman who wants to be unique! Make the style playful by securing each braid with a light blue elastic.
21. Box Braided Ombre Bob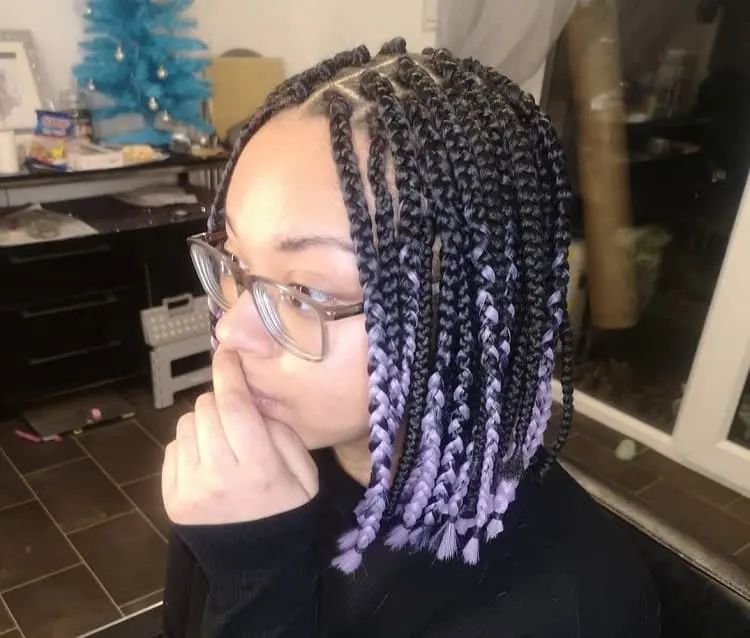 Want to add color to your hairstyle? A soft lavender is office-friendly and looks great as an ombre. Whether your skin is light or dark, it'll flatter your complexion.
22. Asymmetrical Bob Box Braids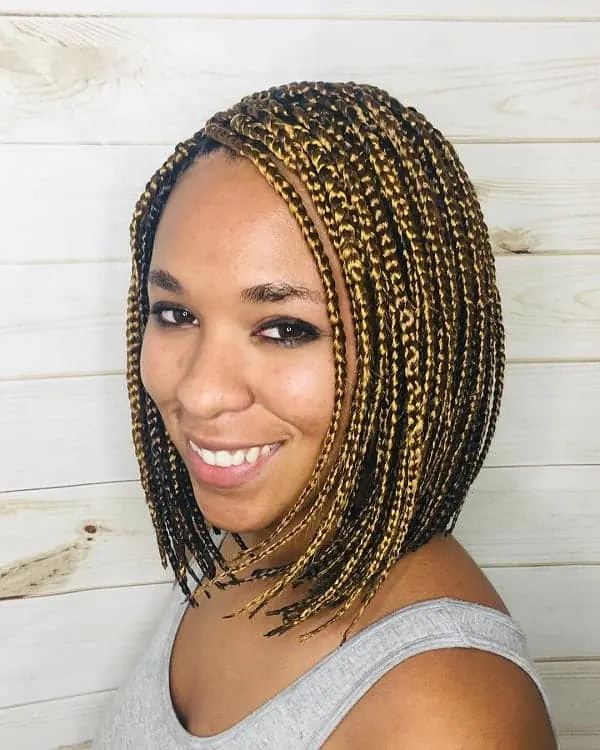 An asymmetrical bob with box braids is a fresh way to keep cool, especially during the warmer months. With short, highlighted layers all over, the hair will be off the neck but you'll still have long sections to pull up into a cute updo.
23. Twist Box Braids + Bob
Another way to make the hair look thicker is by trying twist box braids where a couple sections of hair are wound together. Add layers to a bob with twist braids to give shape to your style.
24. Gray Box Braided Bob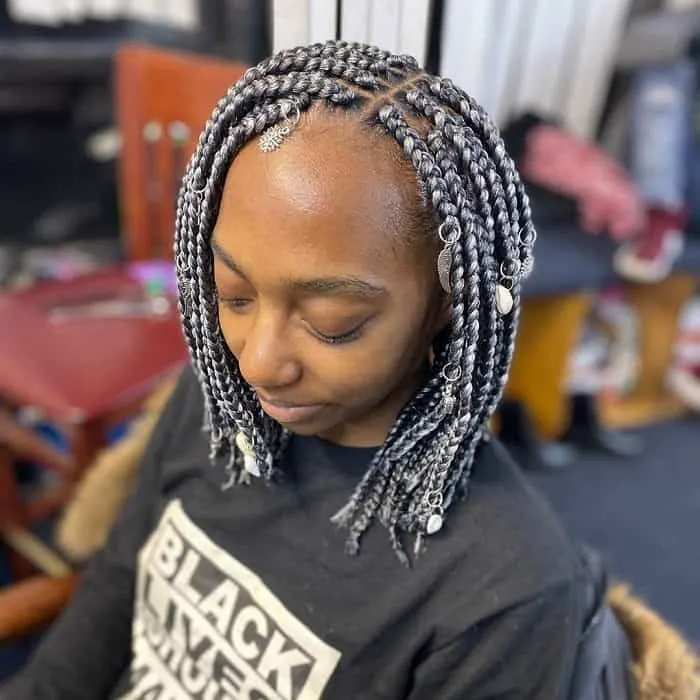 Another color that flatters dark skin is grey. This color gives your box braided bob a bit of a frost which, when paired with silver charms, is a style that will turn heads!
25. Bob Box Braids with Beads
If only a couple beads throughout your bob aren't enough, place them at ends and in the middle of the box braids. A dark red combined with detailed beads is another way to spice up your hairstyle.
26. Gold Hair Cuffs
Despite what everyone might be neglecting, accessorizing your hair is a vital step towards reaching the perfect bob box braid hairstyle.
So, instead of transparent elastic bands to make sure your braided tips stay in place, you can replace them with gold hair cuffs that multi-task as both securing the tips and boosting your fashion score! In addition to that, don't forget to get yourself the element of surprise that helps you stand out in the crowd.
For example, the style above props up a bun centered in the middle top of the head. While it might not be the best idea, but it will definitely turn everybody's attention to you!
27. Busy In Business
For all of you busy working woman out there who are going through hell every day in order to manage between house chores, raising up your kids, building a social life and maintaining a successful career, this design goes out for you.
Because in the middle of all of that, you certainly will fall behind on the beauty care factor. Yet, you still want to look and feel pretty.
So, adopting short braided hair that can last for 2 – 3 months period is an excellent choice for your situation! Because it is extremely low maintenance yet stylish.
28. Back Swept Bob Box Braids
Give your hair design a twisted dynamic turn of events with some back swept braids instead of letting them all hang on your shoulders.
Not only will it give you a more badass look, but also it will serve a functional purpose of keeping your hair out of your sweaty face especially on hot and humid days or if you are wearing them for your daily workout sessions.
29. Split Ends

For an elegant little black dress event, short bob box braids can rise up to the challenge. However, you need to avoid giving out a monotonic and boring first impression to show everybody that you have a lot more to offer than the others attending the event.
But how to do that? While everybody goes for braided hair accessories and elastic bands to secure their braided tips, you can try out burning the extra extensions instead of classically cutting them off. Therefore, that will leave a creative burn out effect to the tips and make sure they are perfectly secure.
30. Reckless Bobs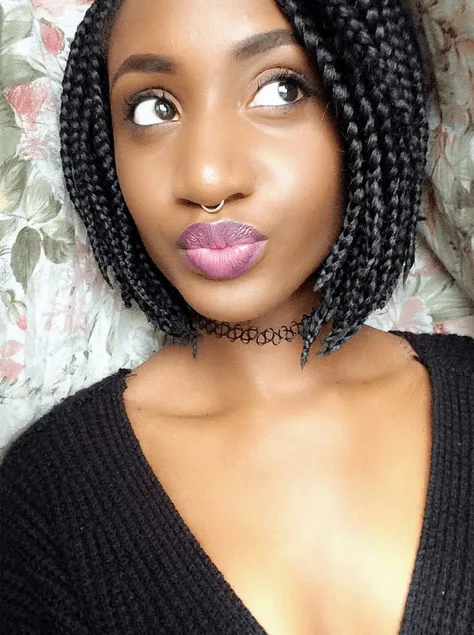 Bob box braids, barb wire choker necklace, nose piercing, and bold makeup are the ingredients for the ultimate rebellious woman look. So, if you are looking forward to rocking a new reckless badass look, bob box braids are never the wrong choice to flaunt your edgy desires.
31. Cow Girl Style
Have you ever wondered: " How can girls rock hats without ruining their hair design?", then prepare yourself to get an answer.
Because braids are practically the most efficient and durable hair designs of all, rocking a hat wouldn't even cause the slightest problem.
Thus, you can finally fulfill your fantasy of dressing up like you're in western America without worrying about the aftermath of wearing a cowboy hat.
32. The Perks Of Getting A Shorter Cut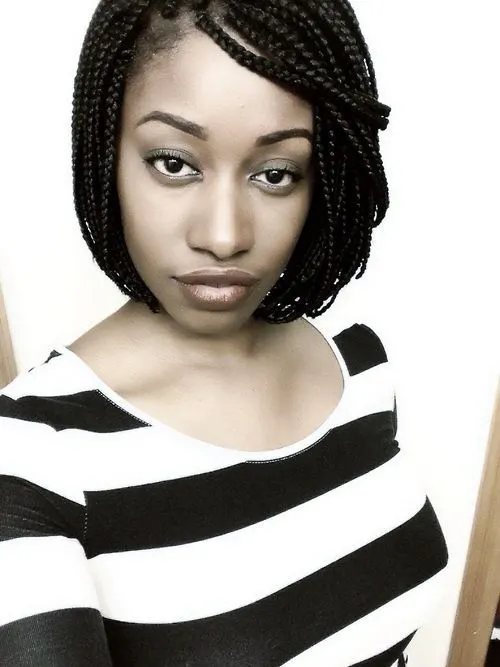 Shorter hair means less time hair styling and doing touch-ups and more time spent to focus on your wardrobe and makeup!
So, if you feel like you are lagging behind on the latest makeup techniques or you need to get yourself a whole new wardrobe ( or you are busy with situations that take up most of your time) then shorter hair is exactly what you need in your busy days.
33. Fun With Colors
Standing out might turn out to be easier than you think. Because while everybody else is trying to go over the top with their styling techniques to win over everybody's attention, you can simply take a shortcut.
This shortcut includes getting yourself a new flashy and bold hair color to make all eyes focus on you and you only! Check out the above pinkish braid choice and get ready to perform a brave move like that.
34. Bobs With Bangs
Are you looking for a hair design that will shed light on your inner beauty because you think you are getting too old? Gain a few years off your age with the amazing youthful effect that only bangs can offer.
There is nothing more cute and playful than combining the bangs with bob box braids for an ultra-chic yet casual look.
35. Layered Bob Box Braids
Layered bobs can form a beautiful silhouette that marks the hair surrounding your face to complete the masterpiece.
And what makes this design so great is that with it being shorter on the sides it gives out an inverted and dynamic look that no other design can possibly come close to. Along with the colorful braided strands that ascend accordingly and fade out into a darker color.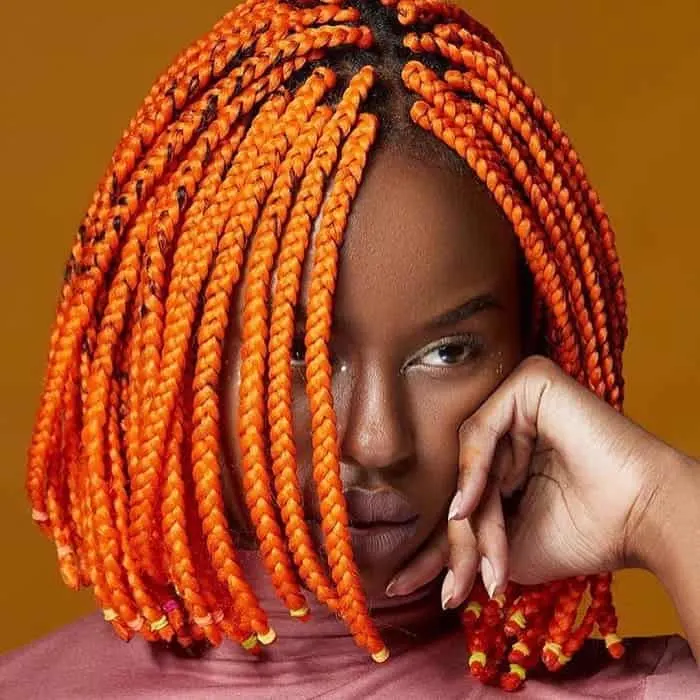 Finally, the bob box braids have been around for a while and certainly not going away for a while. Because obviously, the bob is the braids latest trendy upgraded boost. So, don't hesitate to go with the flow and copy any of these tried and true designs from the list above to be on the safe side.