Rubber bands combine purpose with pleasure. With these tiny accessories, you can secure hair close to the root to keep hair neat and pulled back. But rubber bands can also be used to create beautiful hairstyle patterns and styles. Use as many colors as you can find for one look, or match your bands to your outfit.
How to Do A Creative Rubber Band Hairstyle
To show you an easy but creative hairstyle using rubber bands, our hairstylist came up with the above hairstyle idea.
For this hairstyle you will need:
Rubber bands (colored or clear)
Hair brush
Hair spray
Hair clip
Satin ribbon (optional)
How to Style
First, separate the hair into two equal sections.
Put a hair clip on one section of the hair and put it aside for later.
Take a small section on the front top part of the head and tie it with a rubber band.
Take another small section below that part and tie it with another rubber band.
Repeat the same procedure until you reach the bottom of the head. At the end of this step, you will have a lot of ponytails on one side of the head.
Now take the first two ponytails and tie them together with a rubber band. Try to cover the second rubber band with the one that you are adding. Now the first two ponytails will be connected as one, take that one and the next one and attach them with a rubber band.
Repeat the same procedure until you connect all the ponytails and you get one at the end.
Add a few rubber bands on the ponytail leaving the same space between them until you reach the end of the hair.
Now, pull a little hair between the rubber bands to loosen it a little bit.
Repeat the same steps with the section on the other side of the head.
If you would like to cover the rubber bands at the end you can do so with a satin ribbon. Cut two long pieces for both sides and wrap it around the rubber bands going over and under the hair. Tie a bow on the bottom on the last rubber band. Smooth the hair on the sides with some hairspray.
Rubber Band Hairstyles
Some girls prefer to match their hair to their bands for an elegant, streamlined effect. Rubber bands can be tough on certain hair textures, so before you commence with your creation, remember to be as gentle as possible. With that said, let's take a look at 22 awesome rubber band hairstyles that are sure to inspire.
1. Section Ponytails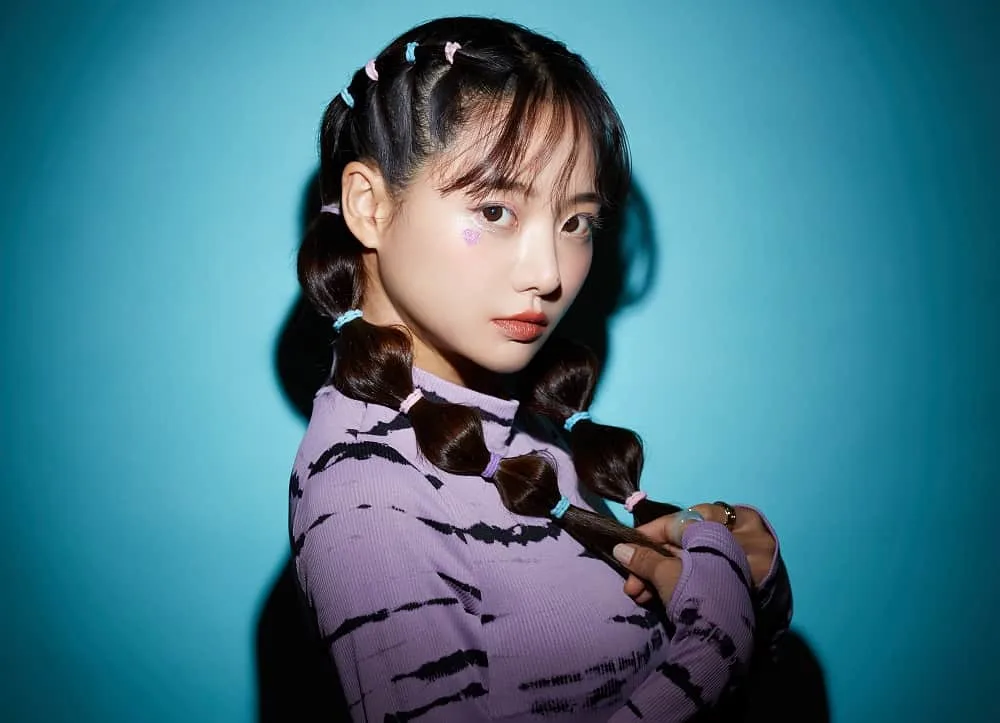 These fancy ponytails look a lot more complicated than they are, which makes them the perfect hairstyle to fancy up with colorful rubber and bangs! Just part your hair down the middle and start gathering small sections of hair in little ponytails that connect down to the end.
2. Tiny Thin Braids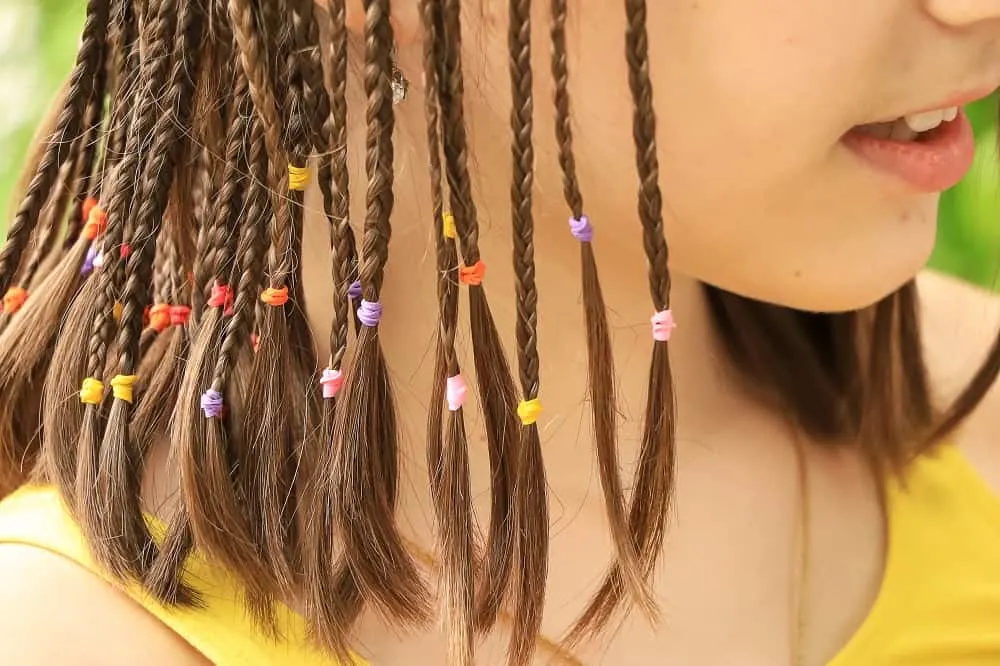 To get this fun rubber band hairstyle, all you need to know how to do is braid. No matter your hair length, make as many tiny, thin braids as you can, securing the ends with colorful bands.
3. Short Pigtails
Pigtails aren't just for little girls anymore! We love them on short hair, seen above, with soft side bangs. You can liven up this hairstyle by going for a bold hair color and choosing rubber bands in contrasting colors.
4. Half Cornrow Braids
Whether it's funky hair day at school or you just love fun hairstyles, this one should be at the top of your list to try. Simply comb in a heavy off center part, then start cornrow braids that curve across the head. Only braid halfway, leaving the rest of your hair natural.
5. Half Updo Ponytail
In this rubber band hairstyle, the bangs are a dark color that blends in with dark hair. If you like seamless, sophisticated hairstyles, go with this half updo, featuring a beautiful sectioned ponytail.
6. High Sectioned Ponytail
The white rubber bands on this high ponytail help draw the eye to the thick sections of hair. Wear it like this, or tease the hair a bit more for thickness and texture.
7. Low Rubber Band Hairstyle for Little Girls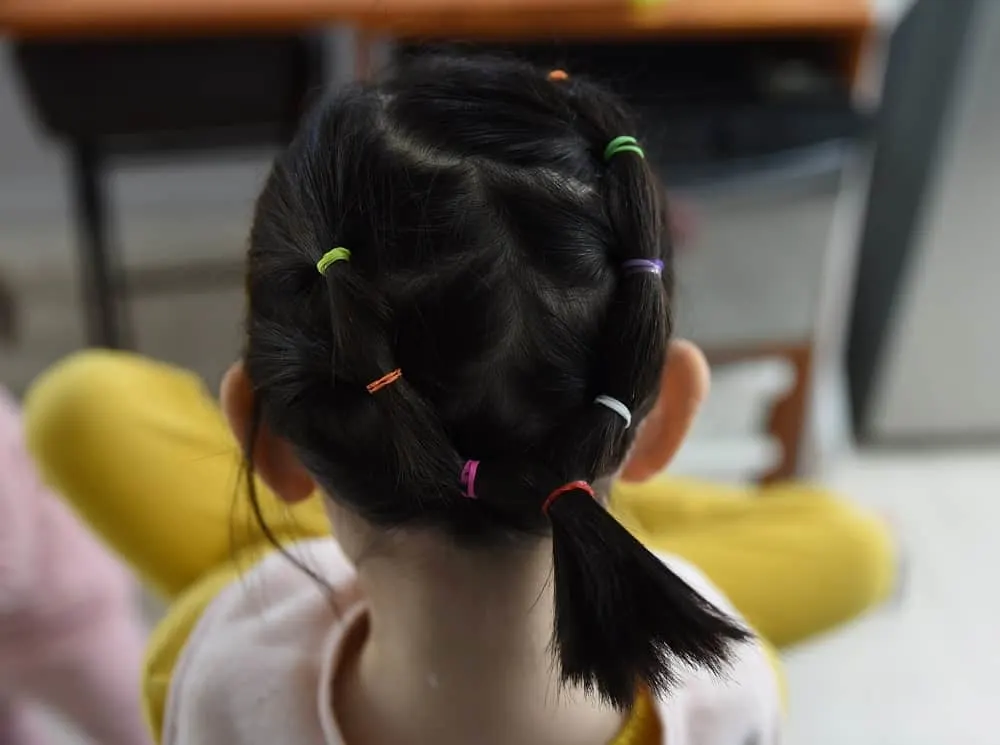 Sweet and innocent are the two words that come to our minds when we see this adorable rubber band hairstyle on short hair. Make a zig-zig or diagonal part before creating your sectioned ponytails that combine into one low one.
8. Rubber Band Hairstyle for Straight Hair
Rubber bands are great for styling straight hair as well. The tight stretch of these bands creates that extra grip on silky hair. Separate hair into 6 different sections at the top of the head and cross each strand for this loose lattice pattern.
9. Criss-Cross
Make a unique hairstyle with rubber band. This criss-cross look appears complicated but all that it really requires is a bit of patience. With this look, hair is fully pulled off of a gorgeous face while your pretty tresses frame your shoulders.
10. Rubber Band Hairstyle for Black Girl
Naturally thick, coarse, and kinky haired babes know the benefits of securing hair with rubber bands. The hair fasteners create the perfect tension for securing locks while adding tons of style. Use colorful bands to make gorgeous designs on the sides of your hair to complement your up-do.
11. Curly Hair + Rubber Bands
Rubber bands are our favorite way of controlling curly hair – with style! With this rubber band hairstyle, you can show off your natural, curly texture while keeping your hair out of your face. Try matching your bands to your outfit for a special day.
12. Ponytail with Rubber Bands
For a low key look, use rubber bands that match your hair color and concentrate styling to the top of the head. This hairstyle is neat, so make sure the rest of the hair is smooth. Pull it back with a sleek, low ponytail for stylish functionality.
13. Short Hair + Rubber Bands
It's harder to dress up short hair for a special occasion, but not when rubber bands are involved. Creating a beautifully patterned style like this is an easy way to wear glam up short hair for a big event.
14. Long Ponytail Using Rubber Bands
This long hairstyle is anything but simple! Embody this intricate look that focuses on patterns at the back of the scalp. In order to show off this unexpected look, pull long hair into a ponytail and wrap with gold twine.
15. Hairstyle for Little Girl
Rubber hand hairstyles are perfect for busy little girls always at play. Give your child a style that is not only cute but also great at protecting hair and pulling it back out of their face. Create the style with their favorite color or try this sweet rainbow look.
16. Rubber Band Headband
Rubber bands provide so much artful flexibility for hairstyles. Why not create a gorgeous headband style with rubber bands? This look is ideal for framing a beautiful face.
17. Rubber Band Hairstyle with Weave
You can absolutely rock rubber bands with a weave style. Secure small portions of the hair on the top front part of your head and pull the rest of the front portion of your hair into a top knot. Use a weave to wear hair luxuriously long or to fill out a ponytail or bun.
18. Braids + Rubber Bands
Rubber bands are ideal for securing tiny cornrows or other braids patterns that lie close to the scalp. Instead of using clear bands to secure your look, use bold colors so that the hair fastener becomes a part of the look.
19. Twist
Why not use playful rubber bands to secure your playful twist hairstyle? These bands not only dress up your look but also secure each portion of hair before creating the twists.
20. Rubber Band Hairstyle to The Side
This is one of our favorite rubber band hairstyles. Here, they provide a trendy detail to otherwise simple curly hair. Secure small sections of hair close to the root using colorful bands in whatever pattern that suits your desires.
This gorgeous bun is anything but ordinary! If you're looking to make your up-do stand out, why not use rubber bands to add inspiring detail? Let the rubber band pattern and precise edges complement the natural texture of a high bun.
22. Half Up Half Down Braids
Half-up hairstyles are hot right now, especially with a bun to top it off. Securing the hair at the top of the head with white rubber bands makes this look feel even fresher.
The above rubber band hairstyles to get your creative juices flowing, but the look that you achieve in the end is truly up to you. Show off your colorful personality with a variety of bands or keep it chic and monochrome. Use rubber bands all over for the ultimate fastening style or create a headband with your bands. So, how will you wear your next rubber band hairstyle?