Braids have long been a popular hairstyle for men of all ages. But box braids for men are a modern twist on the classic look that's sure to turn heads. Keep reading to find out why box braids are the perfect style for any man looking to stand out from the crowd.
Do Box Braids Look Good on Men?
Yes, men can absolutely try box braids, and they look great if done correctly!
Box braids are a stylish, versatile hairstyle that can give any man a unique and eye-catching look. Also, they are easy to maintain. You can try dozens of hairstyle variations, from a sleek, high ponytail to a low, voluminous man-bun. Plus, you can accessorize the braids with beads, charms, and even hair ties.
Box braids are also an excellent way to protect your hair from damage, as they can help keep it healthy and moisturized. This is especially important for men who have naturally curly or kinky hair, as box braids can help to retain the moisture in your hair and prevent it from becoming dry and brittle.
How Long Do Box Braids for Men Typically Last?
Box braids typically last for 4-6 weeks, depending on the individual's hair type and the maintenance of the braids. If you take care properly, your box braids can last up to 8 weeks.
However, note that the longer the braids are kept in, the more likely they will start to unravel and tangle, so it's best to have them redone or removed after 5-6 weeks.
How to Take Care of Men's Box Braids?
Keep your hair and scalp clean. Gently shampoo and condition braids regularly.
Avoid tight styling that can cause breakage.
Keep braids moisturized with a light oil like olive oil, coconut oil, or jojoba oil, etc.
Avoid extreme heat.
Untangle and re-braid the hair as needed, preferably every 5-6 weeks.
Take a professional braider's help if needed.
Box Braids for Men
Men's hairstyles have come a long way in recent years, and box braids are a great example. Check out the images below to see how box braids can help you make a manly statement.
1.
2.
3.
4.
5.
6.
7.
8.
9.
10.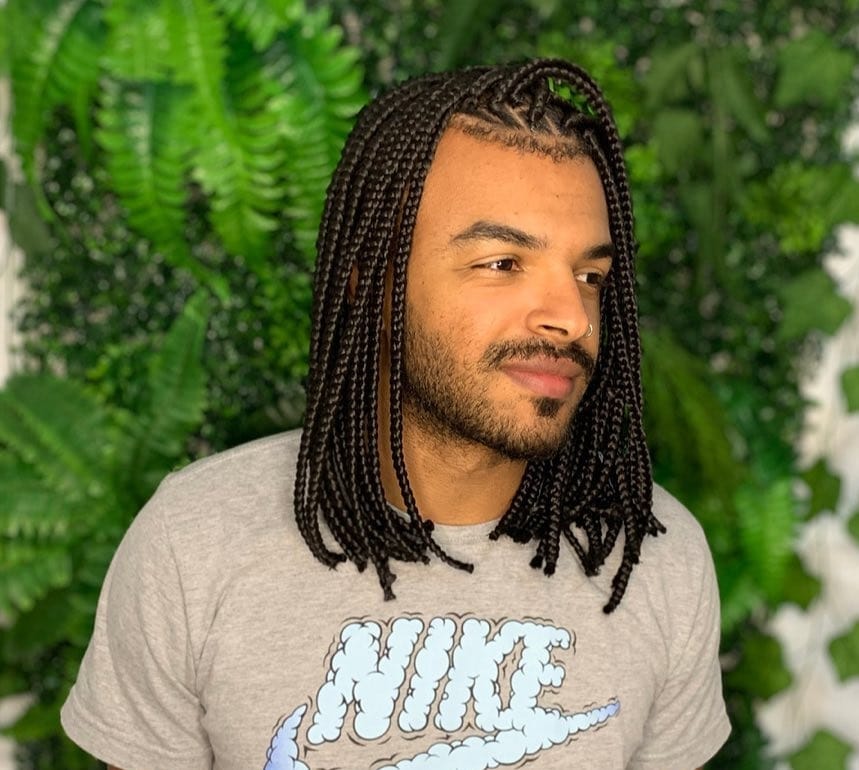 11.
12.
13.
14. Box Braids with Highlights
Using a lighter shade than your natural hair color, you can create a new look with your box braids. These are all the same size and feature some braids with dreaded ends.
15. Box Braid Man Bun
Many women think long hair on a guy is hot! So when you get those box braids, rock a handsome man bun. It's low maintenance and pulls together in just a minute!
16. Ponytail with Undercut
Having a lengthier hairstyle will enable you to rock a more textured look, like these box braids that gather together in a ponytail. The ponytail draws the eye to the edgy undercut and you can add a fade for extra style.
17. Thin Caramel Box Braids
A box braid style that come to about chin level is the perfect length for men displaying a gorgeous color like caramel. No need to add the color all over, a few highlights will do!
18. Undercut Fade + Braids
By adding an undercut fade to your long box braids, you can rock this edgy ponytail framed by smooth sides. It's a great look for the office and handy at the gym when you're deep in a sweat session!
19. Electric Blue Box Braids
If you choose to get braids in a bright color, like the electric blue seen here, you'll see small pops of your natural hair color in the box braids. For short hair, make the braids in a thin width; this will help make your face appear thinner too.
20. Thin Braids with Beads
The shiny chin-length box braids here are finished off with stacked beads of alternating black and white. Copy this style or consider a different color combination to reflect your personality.
21. Long Braids with Bald Fade
The long box braids here create a ruggedly handsome style, especially for men with a full beard. Make sure those braids really stand out by asking your stylist for a bald fade.
22. Sparse Mini Box Braids
Guys with thinner hair will only be able to style in short box braids. Style your hair neatly to create a grid pattern across your scalp.
23. Box Braided Man Bun
Match two hairstyles together by pulling your braided hair up into a chunky man bun. The man bun is one of the most popular hairstyles of the twentieth century.
24. Box Braided Mohawk
Mix different cultures by plaiting your box braids into a Mohawk shape. This style blends African, Native American and Japanese influences in one hairstyle.
Pull your hair up into a ponytail for a nice simple look. This will help to keep your hair out of your face so that you can go about some more important business.
More Box Braids Styles for Men
Wear long hair well by choosing stylish box braids for men. Box braids are a great choice for guys from any culture.