If you're a guy and you pay any kind of attention to what's going on in the music world, you've probably seen the famous chin-length haircuts of celebrities like Justin Bieber and Zayn Malik.
If your hair is longer than your chin, you can easily transition from your current haircut to this trendy style. The hairstyle is a popular choice because it can be styled to work with any hair texture.
You'll be happy to know you can put your own touch on the look too: choose from short layers, bangs, highlights, and much more to make it your own. Take a look at our favorite 31 versions below for ideas.
Trendy Chin-Length Hairstyles for Guys
Feeling stuck with your long or medium-length hair and want to make a change? Pay a visit to your barber and bring this list of men's chin-length haircuts with you!
1. Shaggy
What is there not to love about this sexy shaggy haircut for men? Get the bedhead style easily by using a little gel or mousse and styling mostly straight hair forward with your fingers.
2. Half Up
One of the nice things about having chin-length hair when you're a guy is you can quickly it out of your face by putting the top half up. Secure it in a ponytail or a man bun for easy style.
3. Tousled Curls
Is your hair full of curls or waves? Then it's perfect for the tousled look. Maintain a few inches in length and you'll easily be able to use your fingers to muss the hair about with a bit of mousse.
4. Flipped Ends
For men with mostly straight chin-length hair, opt for a low-maintenance look with a bit of character.
Start by parting your hair in the middle, and use your fingers and hair product to make the ends of your locks 'flip' out.
5. Chin-Length Bob
Men can rock bobs too! The manly version isn't all that different from a woman's bob. You can add some layering around the front or not, then simply part your hair slightly off-center and you're good to go.
6. Chin-Length Curly Haircut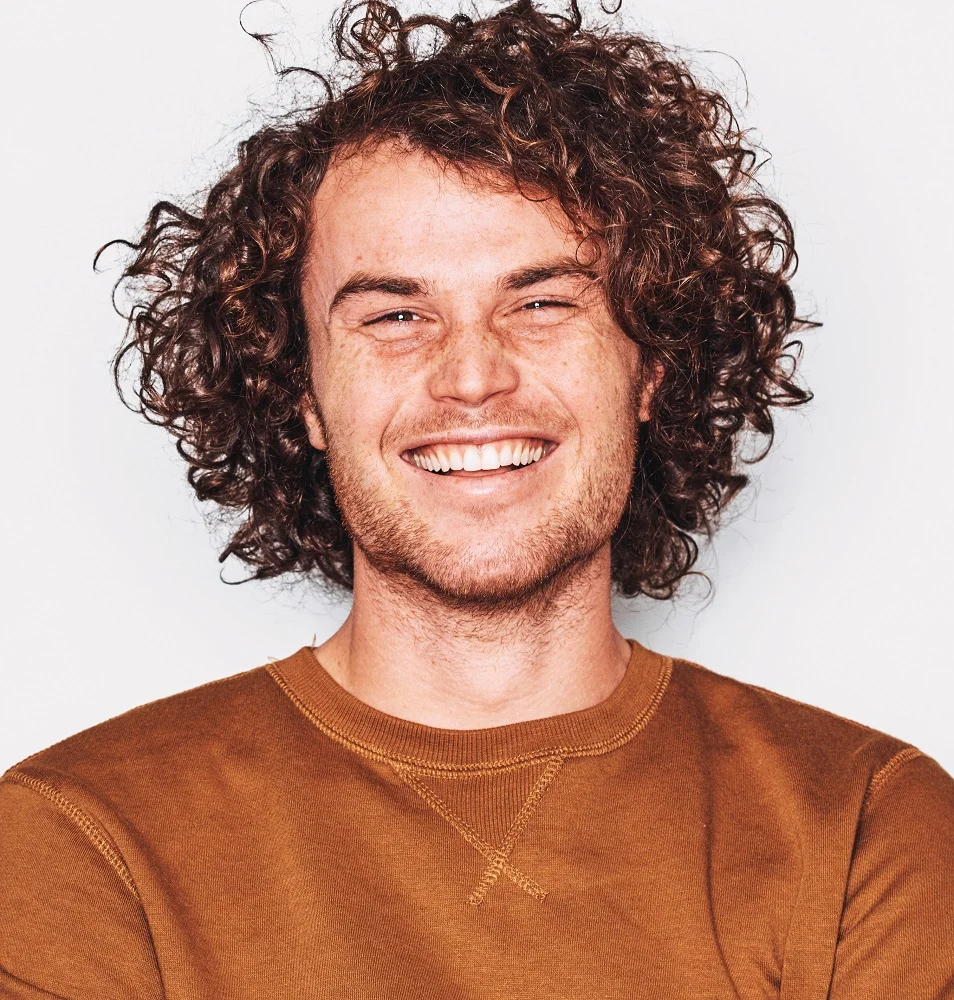 Curly hair on men is gorgeous and it looks more stunning when kept long. Cut your curly hair to chin-length, and ask your stylist to give it some layers for shape. Part it off-center for a switch in dimension.
7. Braids with Ponytail
For Black men growing their hair out to be chin-level, why not go for classic braids? These micro-braids feature a lot of detail right up front and can be gathered into a ponytail or bun for workouts.
8. Messy Half Hairstyle
On Asian men with straight chin-length hair, the easiest look you can rock that's got a little attitude is a half-up haircut.
Make it a little messy by haphazardly gathering hair together in a ponytail at the back, leaving a good section of hair loose on either side of your face.
9. Blonde Slicked Back Hair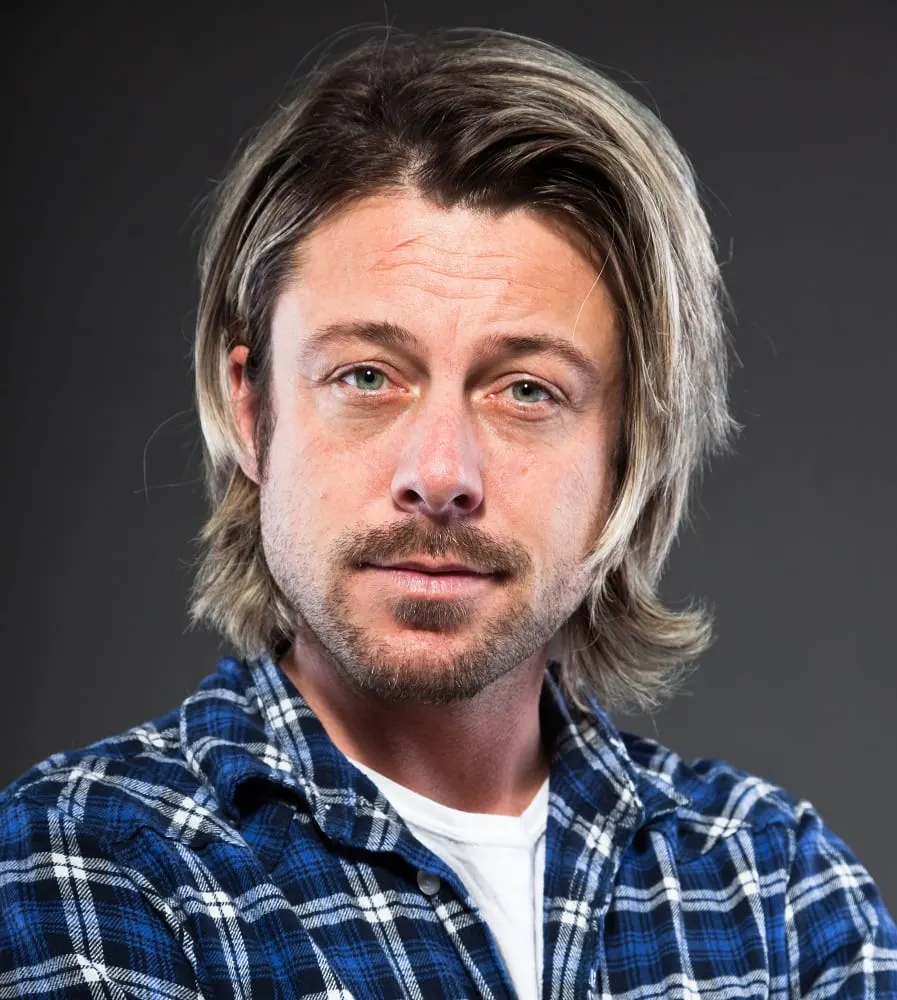 Besides the awesome blonde highlighting we see going on with this men's haircut, we love the short layers that are easily noticeable on straight hair. Slick it back away from your face with mousse or gel.
10. Low Ponytail
A ponytail or half ponytail secured low right at the neckline is a popular look for men with longer hair to sport. Wear it for your regular daily look or when you're heading to the gym with the guys.
11. Angular Fringe
For a more mysterious and moody haircut on straight hair, try a chin-length haircut with an angular cut bang. Part your hair off center beforehand to help your stylist create a heavier fringe.
12. Ash Blonde
Older men with long hair to work with shouldn't be afraid of experimenting with a little color.
For example, a nice ashy blonde is quite flattering on most skin tones and will highlight your natural hair texture.
13. Fine Wavy Chin-Length Hair
If you're dealing with fine wavy hair, we understand the struggle it can present as far as styling. Make your chin-length hair look fuller by scrunching in mousse, which will enhance waves and control frizz.
14. Chin-Length Haircut for Square Face
The ladies will absolutely swoon if you choose to sport an 'I woke up like this' slightly messy and wavy haircut. The key is in those face-framing layers that flatter a square face.
15. Slicked Back Haircut
Heading out on a date night? Make your hair look like you put a lot of effort into it by slicking it back with mousse, not a gel that will make your hair all stiff-looking.
16. Choppy Chin-Length Hair
Guys with chin-length hair and a full beard are encouraged to give their locks lots of short layers for shape. No matter how you style it, your hair will look like you spent a lot on the cut!
17. Chin-Length Haircut for Older Men
If you're an older man with chin-length hair, go for a sophisticated business-like haircut. We like this one, featuring a middle part and flipped-out ends.
Smooth the hair down by using a bit of hair serum on the palms of your hands.
18. Messy Hair with Hat
Whether you're choosing to rock a messy hairstyle or you just didn't have enough time to style your hair in the morning, pop a hat on top of layered straight hair and let the ends peek out from underneath.
19. Wavy Layers for Men with Glasses
If you're a guy with any type of texture to your hair, short layers will help to tame and shape them into something other than a bush.
The shorter pieces around the face are the perfect length for parting your hair into a flattering off-center part that complements glasses.
20. Chin-Length Dreadlocks
For Black men, dreadlocks are a popular protective hairstyle, so there's no bad in choosing to rock them for yourself. To flatter your face shape, add face-framing layers.
21. Brown Hair with Bangs
If you have a round or curvy face shape, chin-length hair is helpful in hiding those rounded angles. This brown hairstyle features parted bangs that are a good idea for men with a round face too.
22. Side Swept Wavy Hair
For an edgy version of the chin-length haircut, shave one side of your head. The opposite side needs only a little mousse or paste to bring out its natural wavy texture.
23. Curtain Fringe
If you thought curtain bangs were only for women, you'll be surprised to see what a great compliment they make on long hair. This is a great low-maintenance hairstyle since only the bangs require trimming.
24. Feathered Waves
For men with thick wavy or curly hair, treat those locks to feathered layers to give the ends a lift and boost in volume. Wear your hair parted off center for the most flattering look.
25. Brushed Back with Highlights
Heading somewhere fancy and need to look the part? Brush your back with a comb and smooth it with a little hair serum or mousse to nix flyaways and look your sharpest.
When you reach the ends, you can angle your hands to create a little flip.
26. Heavy Part with Short Layers
Another edgy version of the chin-length haircut with a punk-like twist includes this style with a teased front, heavy side part, and short razor-cut layers. This style is best for men with straight hair.
27. Short Hair with Bandana
No one will dare say you aren't badass when you have a black bandana to accompany your haircut.
Tied around the head, it'll flatten layered hair but still show the shape. Since you can't see the part, you can comb it in wherever you want.
28. Gray Hair with Middle Part
Salt and pepper hair on older men can be quite handsome, but the key is in how you style it.
You won't need to spend much time on this chin-length haircut, which you only have to part in the middle and smooth down.
29. Thin Hair with Lifted Roots
Is your face slender or long? Balance it out with a layered chin-length haircut that has lifted roots. Simply part hair at the side and tease in a little hairspray or work in some mousse with your fingers.
30. Surfer Chin-Length Hair
Straight, wavy, or curly – blonde-haired men can easily get the surfer dude vibe by giving their hair a wet appearance.
We recommend smoothing it with mousse since gel will only make it stiff and flatten out that fluffy gorgeous texture at the ends.
31. Brown and Blonde Short Waves
Light brown or blonde highlighting in brunette hair is a great way to lighten your look, especially have you have thick waves or curls. Add short layers to give your hair more volume and shape.
By now you have possibly realized there are many chin-length hairstyles for men of every face shape and hair texture.
The key is in styling it right and knowing the angles of your face. When in doubt, see your barber for their recommendations on which look will be best for you.
When you see how your look changes handsomely from building in short layers, experimenting with your hair part, or even incorporating bangs, you'll wonder why you didn't try the chin-length haircut sooner!