There's a certain preconceived notion about men's ponytail, but it's time to lay it to rest. Haircare and styling belong to everyone. If you've got a head full of long, healthy, luxurious hair, then it's your bound duty to play with it, experiment with it, and do it up in as many different ways as possible. Start with the ponytail and you won't believe how quickly you acquire an appreciation for buns.
The Man Ponytail Is Officially Evolving
Once upon a dreadful time, ponytails for men were either mere afterthoughts or sculpted, over-moussed disasters. Now, it's not just acceptable for men with impressive tresses to experiment with new hairstyles, but it's also downright encouraged—as it should be. There are way too many flattering things to do with your hair to limit yourself, bro.
#1: Loc'd and Looped High Ponytail
Need to keep your dreadlocks out of your face? Pull them high atop your head, secure them with a tie, and then loop them into a messy half bun. Follow the example shown and utilized your locs themselves to hold your man ponytail in place.
#2: Men's Half Up Ponytail
There's nothing like a half ponytail to keep the hair out of your face. It's a trick that girls and women have known about for years, and there's no reason dudes can't benefit from it, too. You get all the joy of long hair, but you can still show off your sculpted forehead and epic full beard.
#3: Halfhearted Bun
The lazily looped bun is another trick the ladies know and love. You pull your hair back as usual, then half-heartedly tuck and twist it through your elastic. You always end up with something more or less exactly like this: a casual ponytail hybrid that's laid-back, stylish, but practical. Browse the popular bun hairstyles for men.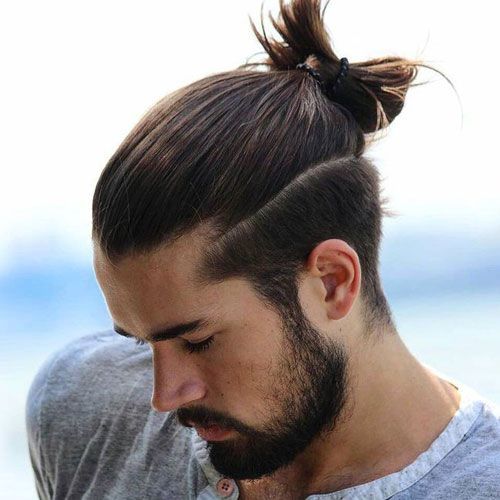 A lot of attractive ponytails for men are paired with a haircut that involves shaved or closely cropped sides. It's an excellent solution for growing out the men's undercut.
#5: Men's Braided Undercut With Ponytail
Love the look of an undercut but don't want to commit to cutting your hair? Separate the top half of your hair and secure it into a ponytail, covering your elastic with a section of your hair. Braid the underside into tight cornrows and use a wax or pomade to smooth down everything in the back. You'll have the sexiest man ponytail ever.