Braided bangs are gorgeous and suitable for everyday use. There are also braids with bangs variations that'll make you stand out even in special events like a wedding, a party or a night out.
New Ideas of Braided Bangs Hairstyle
Braided bangs are fairly simple to style. You can start by taking a deep side part, then take the top layer of your bangs, and braid down, pulling forward as you go. Then secure them where you want.
That is a general principle, but if you want to be more creative and daring, here are 40 braids with bangs to help you get started.
1. Box Braids with Bangs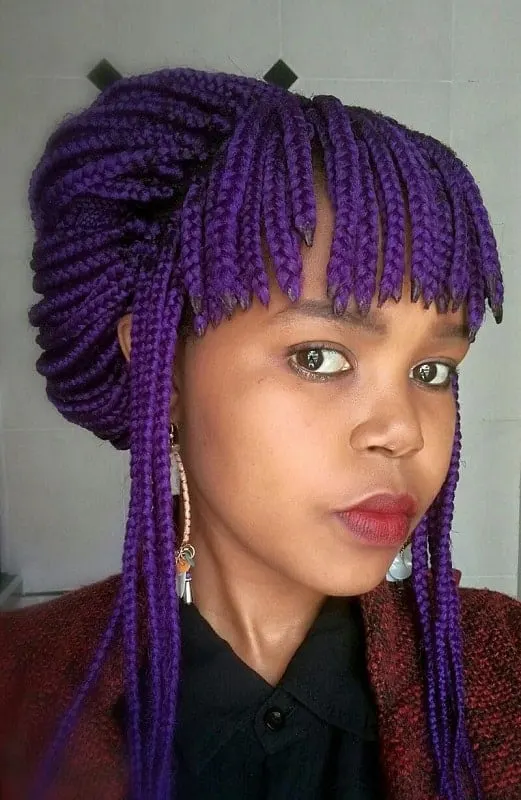 You can style box braids just like regular hair! Use electric purple Jumbo hair for your knits and style a relaxed bun in the back. Box braids that start from the top of your head can be cut to create a fringe that reaches your eyebrows.
2. Straight Hair with Braided Bangs
Cut your hair into a long inverted bob and create a braid that starts from one side of your head and reaches the other. Make sure you are knitting downwards, not close to your scalp.
3. Curly Braided Bangs
3C curls can look stunning if you let your hair loose and create a big braid for your bangs. Accessorize this hairdo with a hat under which you can tuck the braided fringe. Wear a pair of black rounded sunglasses for a glamorous look.
4. Braided Bangs for Black Hair
If you want to make your African American hair longer, bob braids for black women are a choice you can't ignore. Pin all the twists in a high ponytail and use a wide pink scarf to tie them all up. For the front, cut your braids into bangs and accessorize them with small sea shelves.
5. Braided Bun with Bangs
Choose a stunning ginger hair color and opt for a round fringe that is longer on sides. Pin all your hair into a low bun and knit a braid that you will wrap at the base of the bun. Pull out a few strands from the sideburns area and create a few loose curls.
6. Swoop Bangs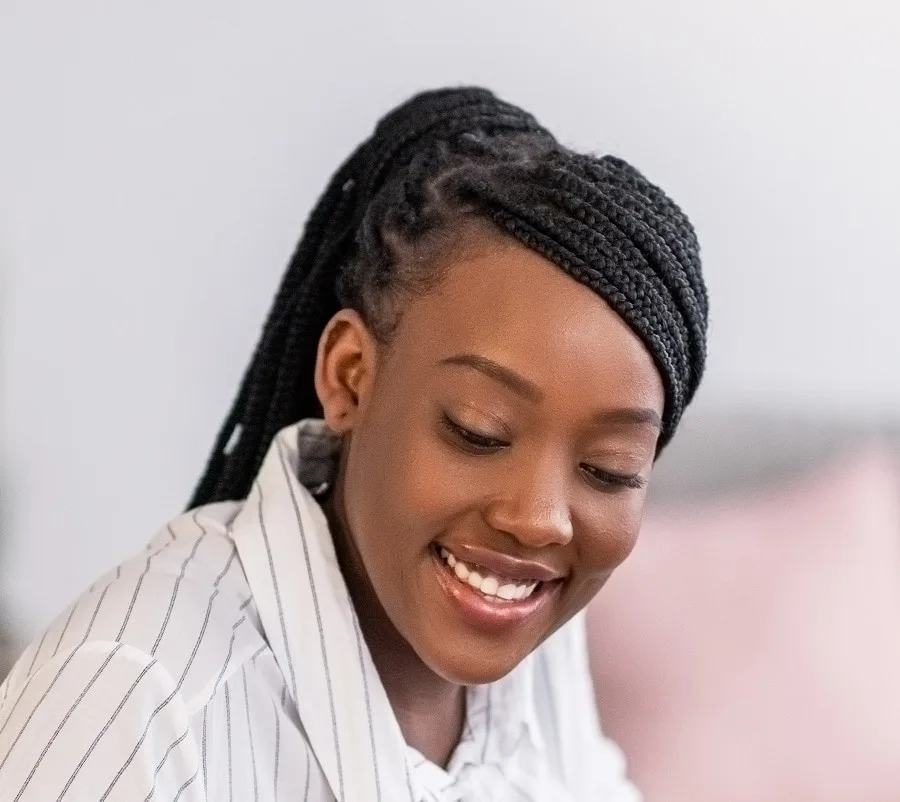 School-going black girls can copy this look as an everyday hairstyle. The box braids are gathered in a high ponytail while those at the front are swooped from one side and tucked behind the opposite ear creating stylish side-swept braided bangs that won't be ignored.
7. Wispy Fringe + Pigtails
Set step into the world of bangs with a light and feathery wispy fringe. Asian ladies can part their strands in the middle and plait the remaining tresses into two pigtails dangling at the front. Top off the look with soft makeup. Adorable without a doubt!
8. Waterfall Hairstyle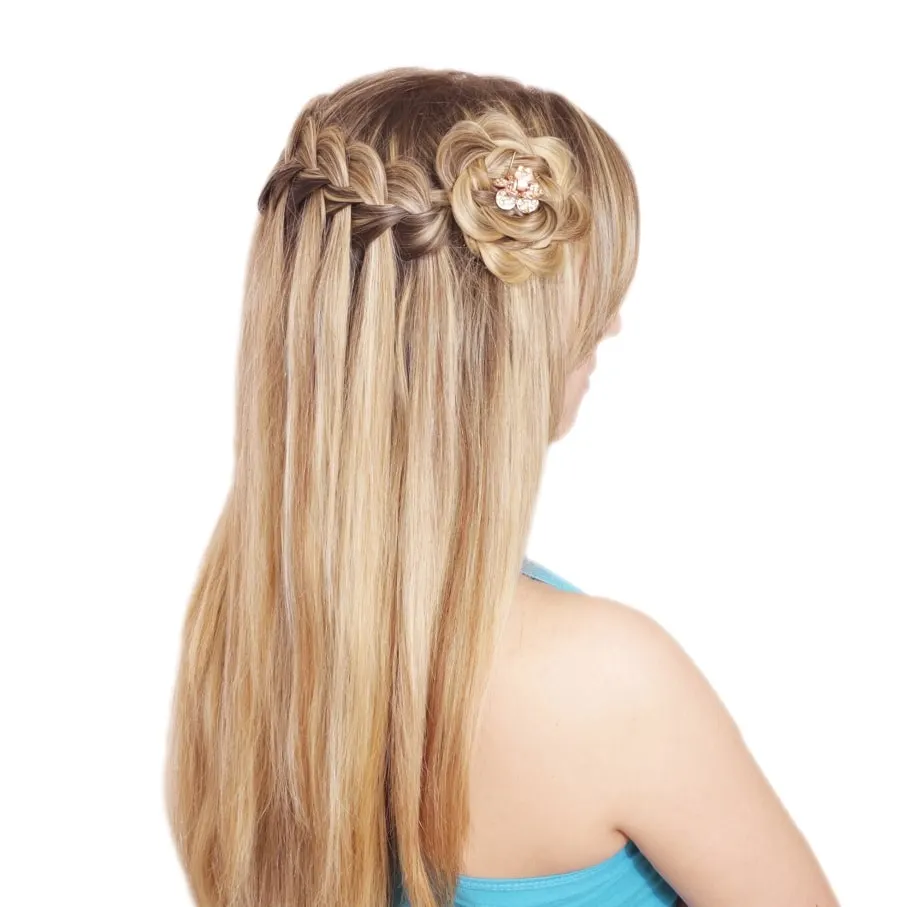 A waterfall braid is undoubtedly one of the prettiest hairstyles of all time. Plait two chunks incorporating another one from the top portion and let it fall through the braid to create the cascade effect. Continue from one side to the other and wrap the knit around in a cute flower bun. Voila!
9. French Lace Braid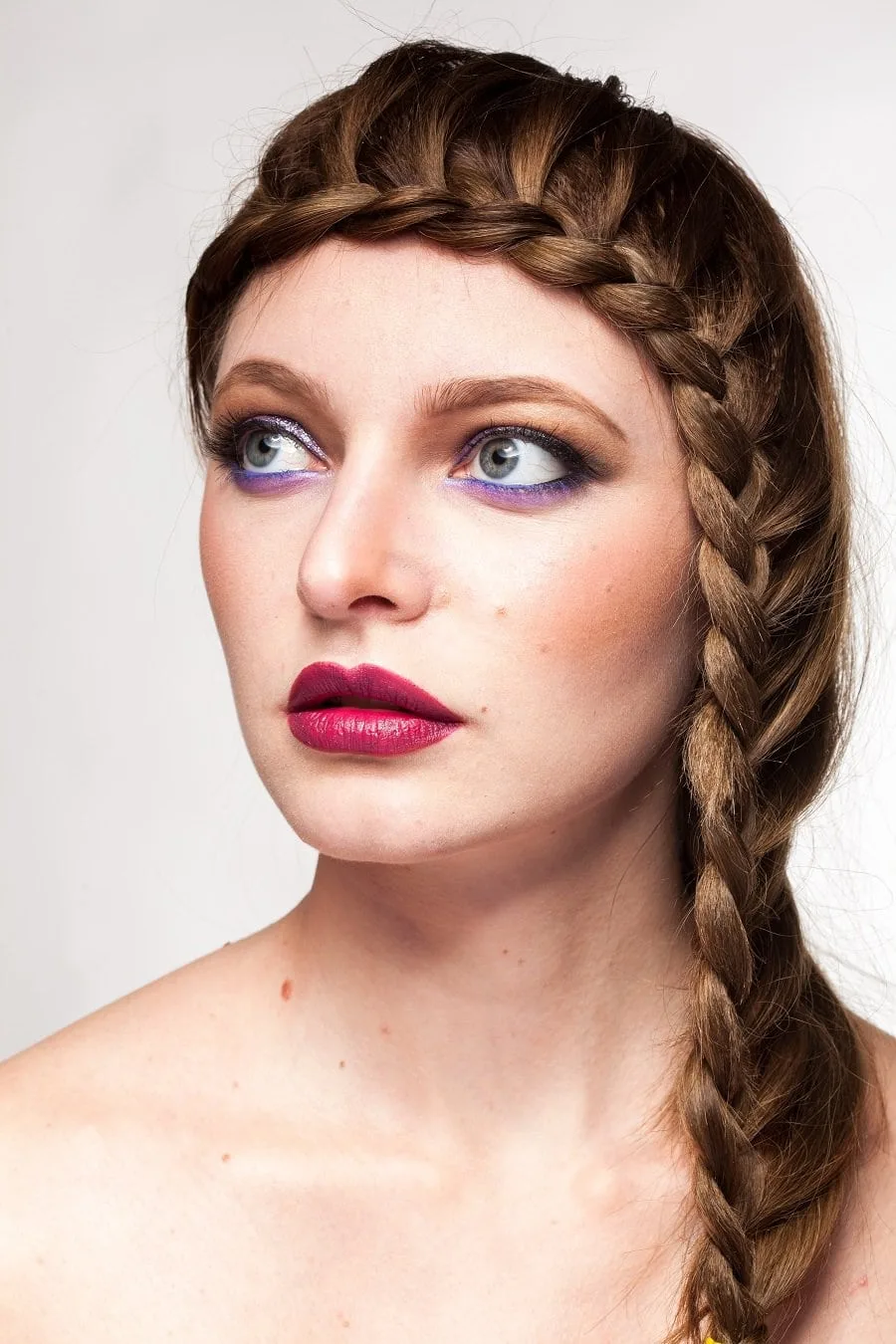 Turn around some heads with this chic braided bangs hairstyle. Crimp the locks for some extra volume and tousle them on one side. Start plaiting the strands in French style and continue to the end towards the opposite side leaving no hair behind. Eye-catching, right?
10. Chic Twist Back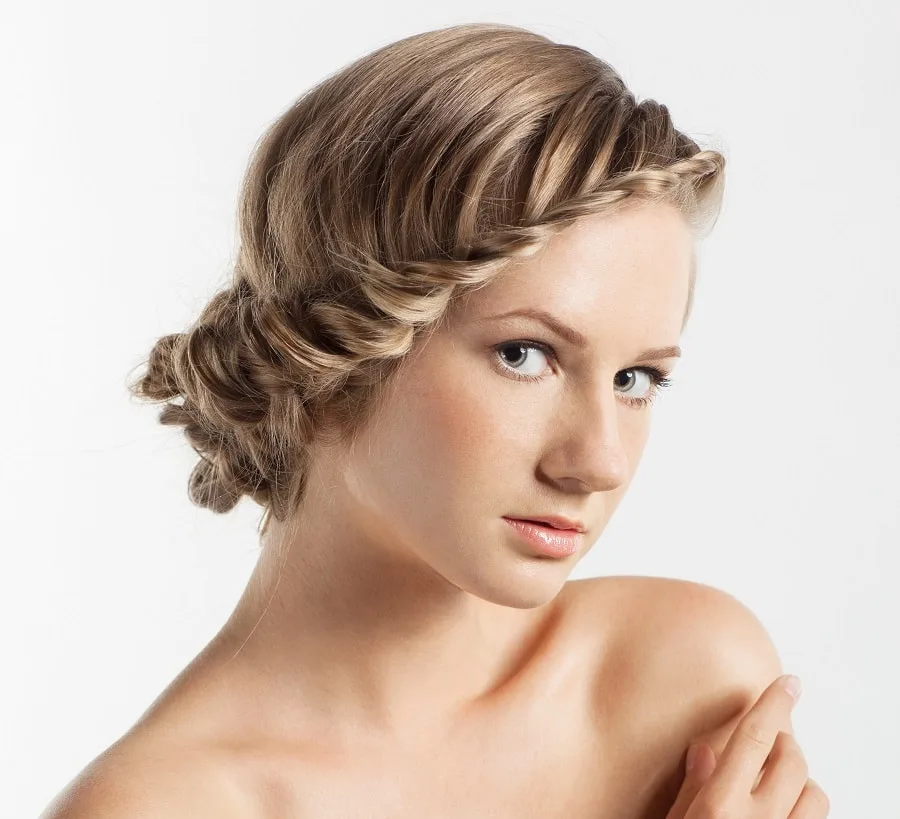 Find braiding difficult? Try the twist-back style. Take two strands at the front and twist them around incorporating more chunks while moving towards the back. Style the remaining tresses in a low bun and secure with pins. This look is perfect for any formal event.
11. Blunt Bangs + Side Plait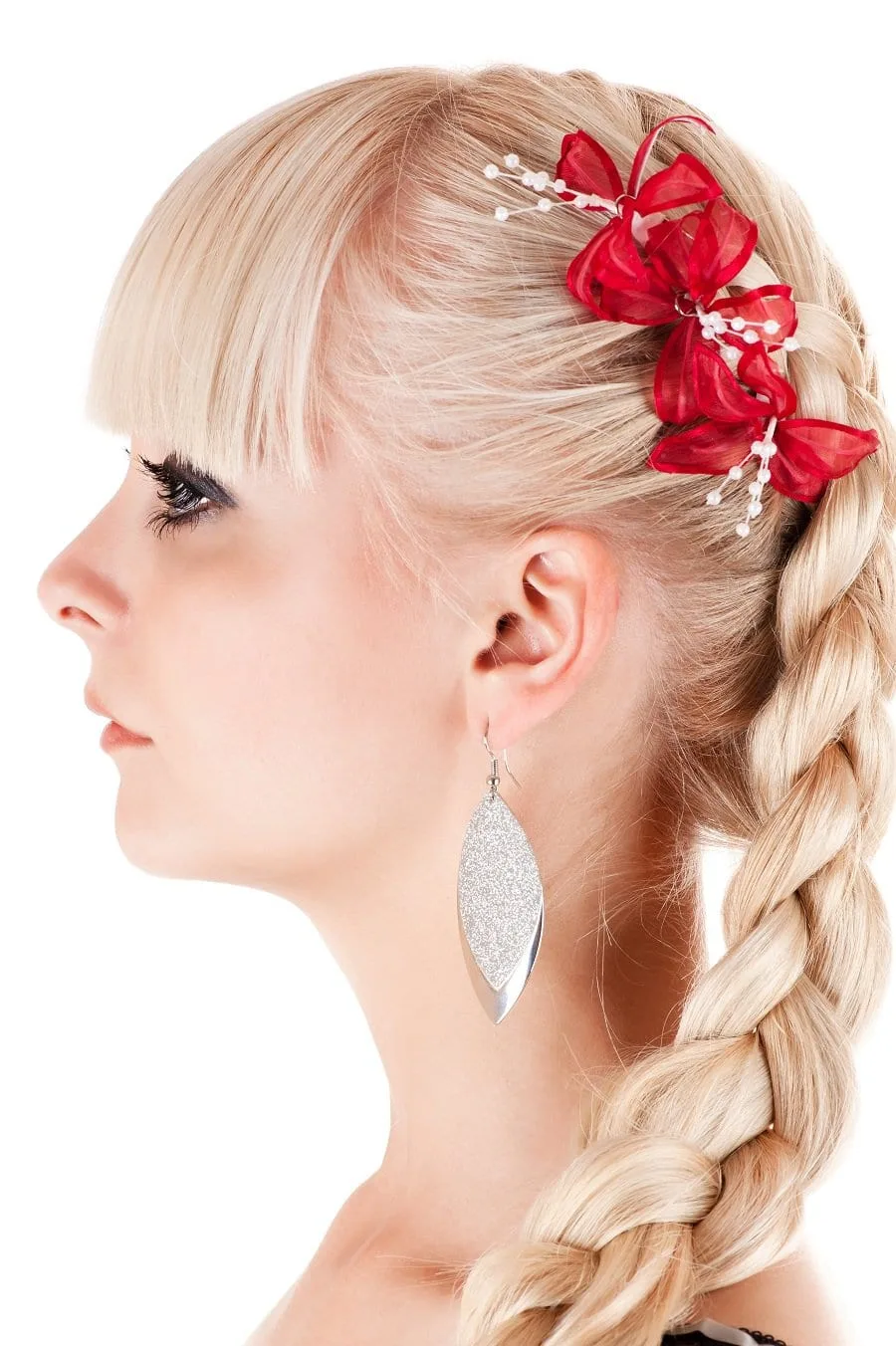 Blunt bangs cut straight across the forehead highlight your best features and make any simple hairstyle look ten times more attractive. Couple them with a side-swept Dutch braid that falls forward on one shoulder and finish off with a ribbon hair accessory. Easy-breezy!
12. Milkmaid Braid
Opposite a crown braid, the milkmaid braid is pushed away from the forehead. Style two braids and wrap them around the head with stylish faux bangs at the front. The remaining strands are wrapped into two low-lying buns with a beret hat bringing the style together.
13. Micro Braids Lob
Micro braids are a protective hairstyle that is laborious to achieve but the effort is worth it once done. African-American ladies can recreate this look by cutting the strands from the center of the head along the brows producing bangs and coupling them with a shoulder-length lob.
14. Side-Swept
These braided bangs are sure to steal the show on any occasion. Divide the deep side-parted strands at the front into two sections and plait them in a French braid with a fishtail braid running above it before pinning them behind the ear. Accentuate the layered tresses with loose waves and done!
15. Tribal Vibes
Tribal braids come from different African cultures and are characterized by various patterns and adornments like beads and hair cuffs. The front braids frame the face like a curtain fringe while the remaining cornrows dangle at the back. Complete the look with jumbo-sized wooden and transparent beads.
16. Accessorize
Make a style statement by swirling the box braids in a top knot bun and wrapping it around with shiny gold yarn. Add as many iridescent beads as possible on the front strands and some around the bun too. Set off the look with shiny loop earrings. Jaw-dropping isn't it?
17. Half-Up Look
Young girls can pair their braids with bangs to stand out from their friends. Add beads to match your little one's outfit and incorporate blonde extension when knitting the hair creating an ombre effect. Finish off with a half-up ponytail.
18. Vintage Vibes
Those who like vintage hairstyles can keep all the eyes on themselves by plaiting down their side ponytail. Swoop around the braid to sit on the forehead while pinning the end beneath the base of the pony. Put on a beret tilting it on one side and get ready to rock.
19. Senegalese Twists
FKA Twigs' hairdo at the Barclaycard Mercury Awards is a true inspiration for those thinking about Senegalese twists. The tight twists at the front cover the entire upper part of the face. Add a few twists to the remaining long tresses and set off the look with beads. Chic!
20. Knitted Low Ponytail
Rock a vibrant hair shade without applying a drop of dye on the head. How? Opt for feed-in cornrows and incorporate bright red strands when knitting the hair. Style the braids in a low ponytail with bangs at the front adorned with jumbo beads.
21. Space Buns
Flaunt your kinky afro curls with utmost confidence by styling them in funky space buns. Spare the front strands and twist, fold, and wrap them around creating faux bangs sitting on the forehead. Don't forget the shiny hair cuffs!
22. Braided Curtain Bangs
Sport long braids with curtain bangs to get noticed from a distance. Add caramel and light blonde extensions for a highlighted appeal and instead of cutting the front plaits, twist and twirl them to elongate outwards creating a curtain fringe and fix in place with some yarn.
23. Plaited Crown
Wear those long tresses like a crown on your head! Plait the strands and wrap them around the circumference or top of the head covering the forehead like bangs and put on an ivy cap. Try the look with a half-up hairstyle and you will love it!
24. Halo Braid with Bangs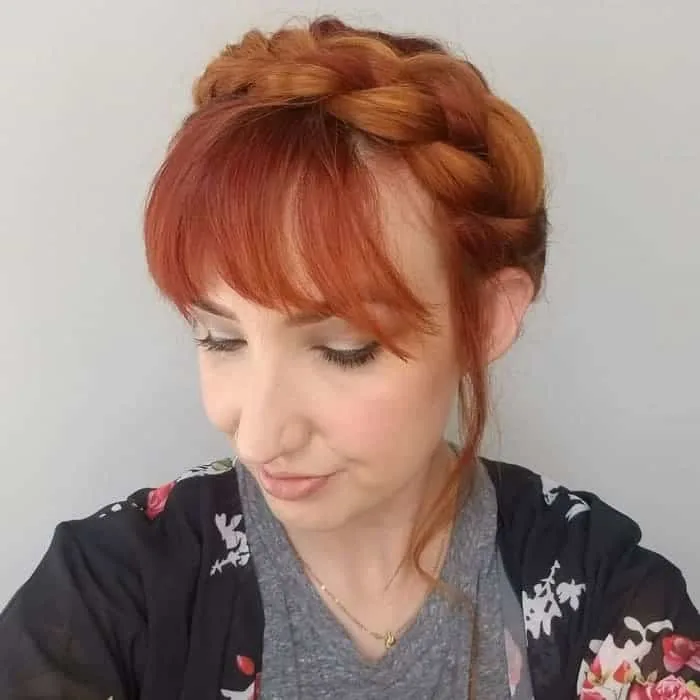 Hallo braids for women look astonishing, especially if you previously dyed your hair into a ginger color. Knit a low twist and wrap it around your head to create a crown, until you reach the starting braiding point.
25. Braided Mohawk with Bangs
You can look astonishing by braiding three cornrow braids on one side. Curl the rest of your hair, and in the crown area, give your hair dimension. This way, you will create a small curly mohawk that can become your trick up your sleeve for a party.
26. Jumbo Braid with Bangs
Does thin hair give you struggles? Jumbo hair is here to change that. Box braid your bangs and pull all the hair up in a high bun. Use 3 or 4 packs of black hair extensions to create a ponytail that will be tied down here and there.
27. Cornrow with Bangs
Who said you couldn't mix the braiding types? On one side, style some cornrow braids for black women and use hair extensions to extend your locks. Create twirls and style a big braided French bun in the back. Also, don't forget about the bangs! Twist it and flip it on the unbraided side.
28. Crochet Braids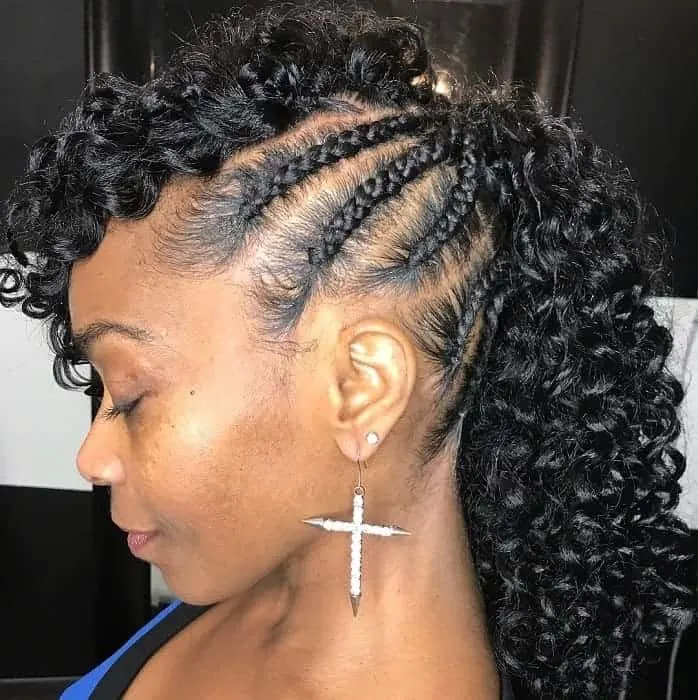 Crochet braids for black women can help you get the proper texture for your hair and the length you always craved for. Reach out for some curly hair extensions and add them while braiding one side of your head. For the rest of the head, attach them at the base and style a stunning curly hairdo.
29. Headband Braid with Bangs
30. Long Braided Bangs
Whether you want your hair loose, or you like the daisy bun version, the bangs with braid add fun and modern elements to your preferred hairstyle. This style is more convenient for long bangs.
You can create it by starting to braid from the top layer of your bangs down, and then dragging it back to finally mix it with the rest of your hair and tying it in a low bun. If you have unwanted loose pieces of hair, a bit of hairspray will surely help.
31. Updo + Braided Bangs
Updo hairstyles are elegant. But sometimes they can even be much too elegant. When you are young and fresh, enjoying your youth, you want a hairstyle that will fit the occasion, but you don't want something boring that will make you look a decade older. That is why these are there to save the day. They will add extra spice to your perfect sleek bun and you will glow looking like royalty.
This side-swept braid brings romance to any story. If you want to win the heart of that special someone and look great on your first date, this braid is perfect for you. It is so subtle and gentle and it will make your inner beauty and kindness shine brighter than a diamond.
33. Braided Bangs + Low Ponytail
Being able to rock bold and unique hairstyles is a gift. Use it to your advantage and tie a low side ponytail that brings together your side-swept braided bangs and the rest of your hair. You will leave everybody's heads turning at your gentleness while also being brave enough to show your character. Make everyone fall in love!
Many women enjoy wearing ombre because it gives their hair some extra dimension. And as beautiful as it looks on its own, not every hairstyle looks good when you have an ombre. But if you braid your bangs carefully, bringing them to a side ponytail, you will bring the best out of those highlights in your hair.
35. Vintage Braided Bangs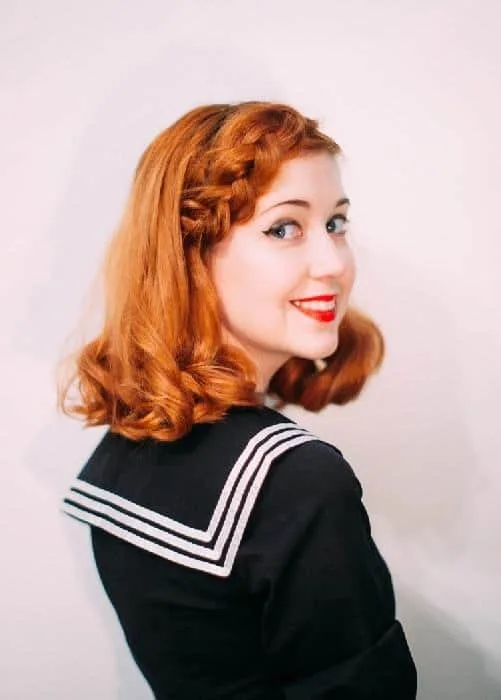 If you are a girl that is into vintage looks and you would like a time machine to take you to the 1950's, this is the right place to find some inspiration. Make an elegant loose braid from your bangs, tuck it behind your ears and curl the ends of the rest of the hair. Add some red lipstick and you are good to go.
36. Large Braids and a Low Bun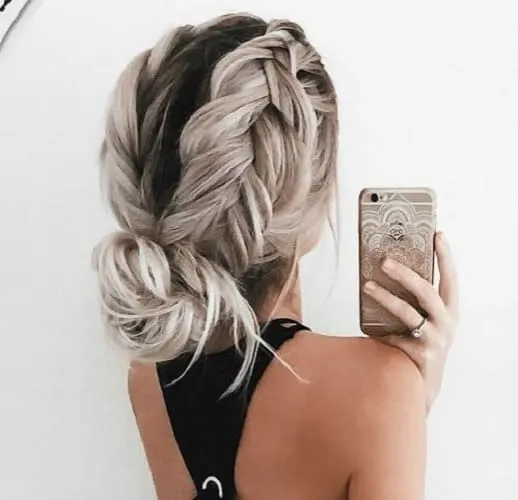 If your hair is long, you can try parting it in half and making big, loose French braids out of both halves and once you've braided them on both sides to the back of your head you can tie them into a bun that could be loose or sleek, depending on the occasion.
37. Twisted Reversed Updo
If you love braids, why not add a cute twist to them. You can start braiding from one side and bring it to the other. That way, the style will turn out to be more chic and different. Don't be afraid to show your uniqueness.
38. Box Braids With Beads
Another hairdo for black women that will go well with a round-shaped face is the box braids with bangs. If you are skillful with braiding, then go ahead with this style. This is an edgier style that can be enhanced with beads.
39. Double Dutch Braid With Front Bangs
The double dutch braid with bangs is easy to create a style that suits short and long hair. This style might require some effort initially, but after some time, you will be able to complete the look in a few minutes.
40. Side French Braid
This is another hairstyle for medium hair that can be styled quickly. You can achieve an amazing look by adding a simple braid to your casual look. Use hair products such as defining lotion to add grip and smoothness.
We hope that these braided bangs hairstyles will help you find something new and interesting to try. Let us know which one you're going to try!