Braided bangs are gorgeous and suitable for everyday use. There are also braids with bangs variations that'll make you stand out even in special events like a wedding, a party or a night out.
New Ideas of Braided Bangs Hairstyle
Braided bangs are actually fairly simple to style. You can start by taking a deep side part, then take the top layer of your bangs, and braid down, pulling forward as you go. Then secure them where you want.
That is a general principle, but if you want to be more creative and daring, here are 31 braids with bangs to help you get started.
1. Box Braids with Bangs
You can style box braids just like regular hair! Use electric purple Jumbo hair for your knits and style a relaxed bun in the back. Box braids that start from the top of your head can be cut to create a fringe that reaches your eyebrows.
2. Straight Hair with Braided Bangs
Cut your hair into a long inverted bob and create a braid that starts from one side of your head and reaches the other. Make sure you are knitting downwards, not close to your scalp.
3. Curly Braided Bangs
3C curls can look stunning if you let your hair loose and create a big braid for your bangs. Accessorize this hairdo with a hat under which you can tuck the braided fringe. Wear a pair of black rounded sunglasses for a glamorous look.
4. Braided Bangs for Black Hair
If you want to make your African American hair longer, bob braids for black women are a choice you can't ignore. Pin all the twists in a high ponytail and use a wide pink scarf to tie them all up. For the front, cut your braids into bangs and accessorize them with small sea shelves.
5. Braided Bun with Bangs
Choose a stunning ginger hair color and opt for a round fringe that is longer on sides. Pin all your hair into a low bun and knit a braid that you will wrap at the base of the bun. Pull out a few strands from the sideburns area and create a few loose curls.
6. Halo Braid with Bangs
Hallo braids for women look astonishing, especially if you previously dyed your hair into a ginger color. Knit a low twist and wrap it around your head to create a crown, until you reach the starting braiding point.
7. Braided Mohawk with Bangs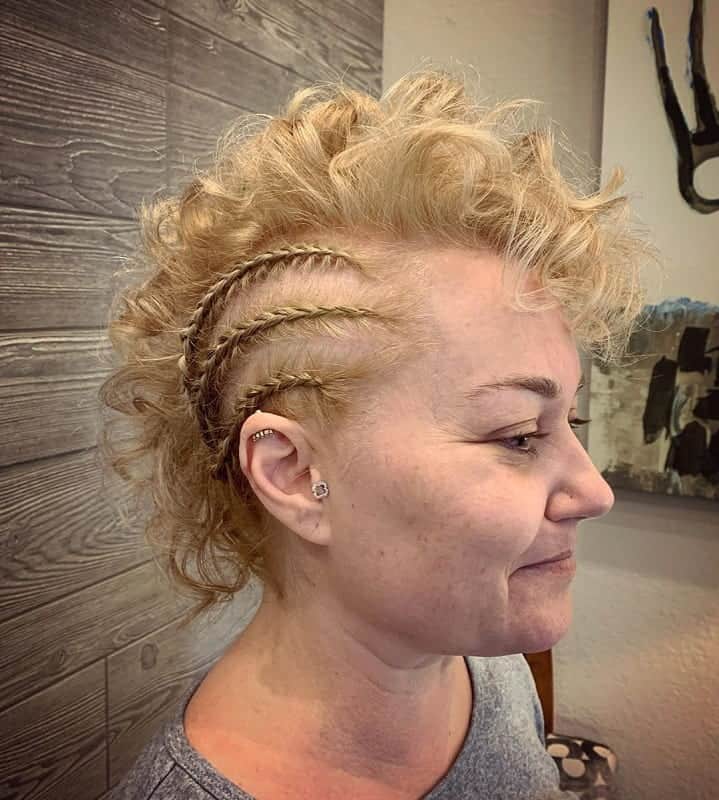 You can look astonishing by braiding three cornrow braids on one side. Curl the rest of your hair, and in the crown area, give your hair dimension. This way, you will create a small curly mohawk that can become your trick up your sleeve for a party.
8. Jumbo Braid with Bangs
Does thin hair give you struggles? Jumbo hair is here to change that. Box braid your bangs and pull all the hair up in a high bun. Use 3 or 4 packs of black hair extensions to create a ponytail that will be tied down here and there.
9. Cornrow with Bangs
Who said you couldn't mix the braiding types? On one side, style some cornrow braids for black women and use hair extensions to extend your locks. Create twirls and style a big braided French bun in the back.  Also, don't forget about the bangs! Twist it and flip it on the unbraided side.
10. Crochet Braids
Crochet braids for black women can help you get the proper texture for your hair and the length you always craved for. Reach out for some curly hair extensions and add them while braiding one side of your head. For the rest of the head, attach them at the base and style a stunning curly hairdo.
11. Headband Braid with Bangs
12. Long Braided Bangs
Whether you want your hair loose, or you like the daisy bun version, the bangs with braid add fun and modern elements to your preferred hairstyle. This style is more convenient for long bangs.
You can create it by starting to braid from the top layer of your bangs down, and then dragging it back to finally mix it with the rest of your hair and tying it in a low bun. If you have unwanted loose pieces of hair, a bit of hairspray will surely help.
13. Braided Bangs with Bobby Pins
This braid bangs style is made for a fair maiden whose loveliness and kindness will make everyone love her. It is also quick and super easy. Start by braiding the front section of your bangs and then secure that with bobby pins. As this hairstyle leaves your forehead exposed, it works best on oval face shape.
14. French Braid With Bangs
Don't be afraid to add something fresh to your long and smooth hairstyle. Creating the French braided bangs is always fun and quite quick. It's also easy to hide the end behind your ear with some loose locks. This hairstyle will never get boring and it will work best for medium to long hair.
15. Dutch Braid With Bangs
The large Dutch bang braids go splendidly with medium-length hair. This hairstyle is a little bit more complicated to create than the other ones. But if you are willing to give it some time and effort, you will go out looking absolutely gorgeous.
Part your hair carefully and start braiding this french braid with a twist – while braiding, place the strands of hair under each other instead of placing them on top of each other. Then secure it with a bobby pin behind your ear and you are good to go.
16. Updo + Braided Bangs
Updo hairstyles are elegant. But sometimes they can even be much too elegant. When you are young and fresh, enjoying your youth, you want a hairstyle that will fit the occasion, but you don't want something boring that will make you look a decade older. That is why these are there to save the day. They will add extra spice to your perfect sleek bun and you will glow looking like royalty.
17. Braided Bangs for Short Hair
When you have short hair, you often think that there is not much that you can really do with it. Even if you enjoy waking up with a hairstyle that doesn't require any effort, there are those days when you want to add extra something.
This hairstyle proves that the bangs can be braided beautifully even at short hair. If you make some effort to make this race braid, it will make your hair even more gorgeous and trendy.
This side-swept braid brings romance to any story. If you want to win the heart of that special someone and look great on your first date, this braid is perfect for you. It is so subtle and gentle and it will make your inner beauty and kindness shine brighter than a diamond.
19. Side Braids With Bangs
If you love your French braids, maybe you would be interested in adding a twist to them. Part your hair, and, starting from the top layer of your bangs, braid it backward. That way your hairstyle will look extra chic and original. Don't be afraid to show your uniqueness and get away from your everyday routine.
20. Braided Bangs + Low Ponytail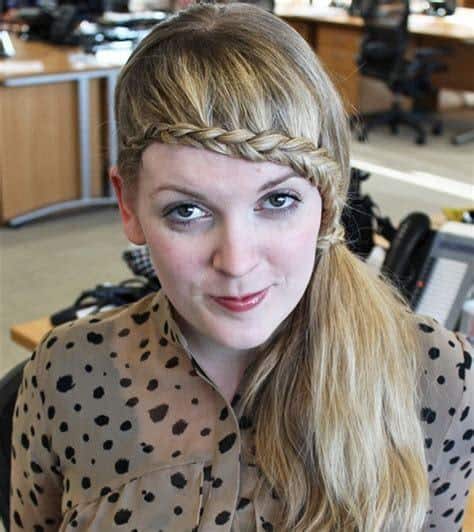 Being able to rock bold and unique hairstyles is a gift. Use it to your advantage and tie a low side ponytail that brings together your side-swept braided bangs and the rest of your hair. You will leave everybody's heads turning at your gentleness while also being brave enough to show your character. Make everyone fall in love!
Many women enjoy wearing ombre because it gives their hair some extra dimension. And as beautiful as it looks on its own, not every hairstyle looks good when you have an ombre. But if you braid your bangs carefully, bringing them to a side ponytail, you will bring the best out of those highlights in your hair.
22. Front Braid + Bangs for Blonde Hair
When you ask women ho they like to wear their hair, the most frequent answer that you will hear is – natural. But natural doesn't have to mean that you have to go out with your hair looking just like it did when you woke up. All it takes is a natural loose braid tucked behind your ear with the rest of your hair falling over it on the sides. Casual and pretty.
23. Braid Into A Ponytail With Bangs
If the summers are hot and sometimes you feel like every time you make a good hairstyle it turns into a mess within minutes, then this is the hairstyle that will enable you to live your everyday life while still looking perfect even through the hottest days of summer. The braid leaves your forehead exposed, preventing your hair from getting wet,  and comes into an elegant ponytail with the rest of your head.
24. Coronet Braided Bangs
Are you a princess or a queen? These braided bangs are in style right now and you'll look stunning. The rope braid goes around the head like a gorgeous coronet. You don't have to wait to be somebody's princess, just take a bit of time to try and create this fantastic look.
25. Vintage Braided Bangs
If you are a girl that is into vintage looks and you would like a time machine to take you to the 1950's, this is the right place to find some inspiration. Make an elegant loose braid from your bangs, tuck it behind your ears and curl the ends of the rest of the hair. Add some red lipstick and you are good to go.
26. Bangs in Two French Braids
This is another ideal hairstyle for short hair. If you want to do something different with your hair that is ideal for both casual, but also a little bit more formal occasions, you can braid your bangs into thinner braids that start at the roots of the bangs and go backward. Simple, pretty, yet classy and romantic.
27. Braided Bangs Ponytail
Another good idea for a special event that you want good for. Try braiding the whole section of hair on the top of your head in a big, wide, loose braid that goes backward and turns into a high ponytail that you can tease and curl if you want to achieve a very gentle, soft and elegant look.
28. Multiple Braids
If you are very skillful when it comes to braiding hair and you want to try something that is a little bit more on the edgier side, you can try braiding your bangs in multiple braids, as shown on the photo.
29. Large Braids and a Low Bun
If your hair is long, you can try parting it in half and making big, loose French braids out of both halves and once you've braided them on both sides to the back of your head you can tie them into a bun that could be loose or sleek, depending on the occasion.
30. Bangs With Half Braids
Who says that you need to put in a lot of effort to make a braid? Braids are great even when you're in a hurry. Try braiding your fringe backward, but not all the way. Once you've crossed the strands 6-7 times, you can tie the rest with a hairband and still look chic and casual.
31. Whole Hair Braided
To conclude our selection of hairstyles that include braided bangs, we have chosen this classy option. Start by parting your hair on one side and then braid it across the top of your head to the other side. From underneath the beginning of the first braid, braid your hair in the opposite direction going all the way across the back of your head.
We hope that these 31 braided bangs hairstyles will help you find something new and interesting to try. Let us know which one you're going to try!