Updo hairstyles with bangs are back and trendier than ever! These hairstyles have had their fair share of popularity in the early 2000s. Today, more and more women experiment with updos with bangs, which is why these hairstyles are now very creative.
Chic Updo Hairstyles with Bangs
We all know that this hairstyle will look absolutely perfect on women with larger foreheads and longer faces. But, if you don't look like that, you can still pull off this look.
You can experiment with different lengths of bangs. Apart from that, it's really easy to tease your hair and make it look more voluminous. Let's take a look at the many options that you have.
#1: The Retro Beehive Uodo With Bangs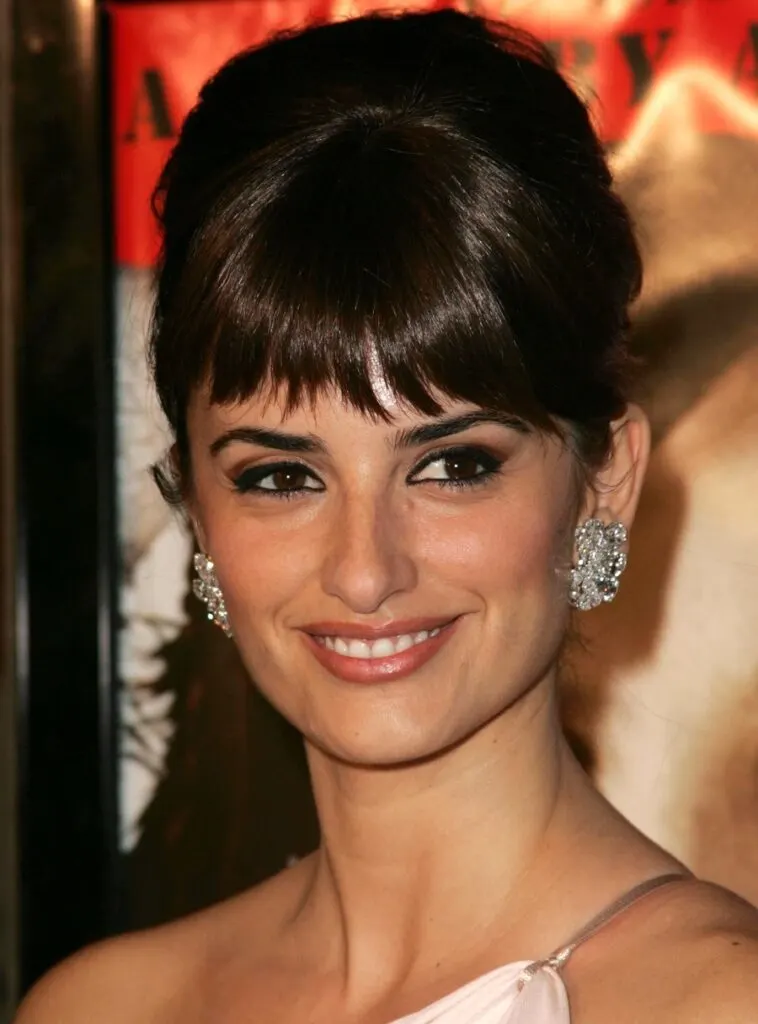 Channel your inner vintage vixen with this voluminous beehive updo. Ideal for those with medium to long hair, this look involves teasing your tresses, pinning them up, and letting your bangs rest naturally on your forehead. Great for special occasions or themed parties.
#2: Sleek Ballerina Bun with Side-Swept Bangs
Showcase elegance and grace with this sophisticated hairstyle. Suitable for all hair types, twist your locks into a neat bun at the crown of your head, while allowing your side-swept bangs to softly frame your face. Perfect for formal events or work settings.
#3: Side-Swept Fishtail Updo with Fringe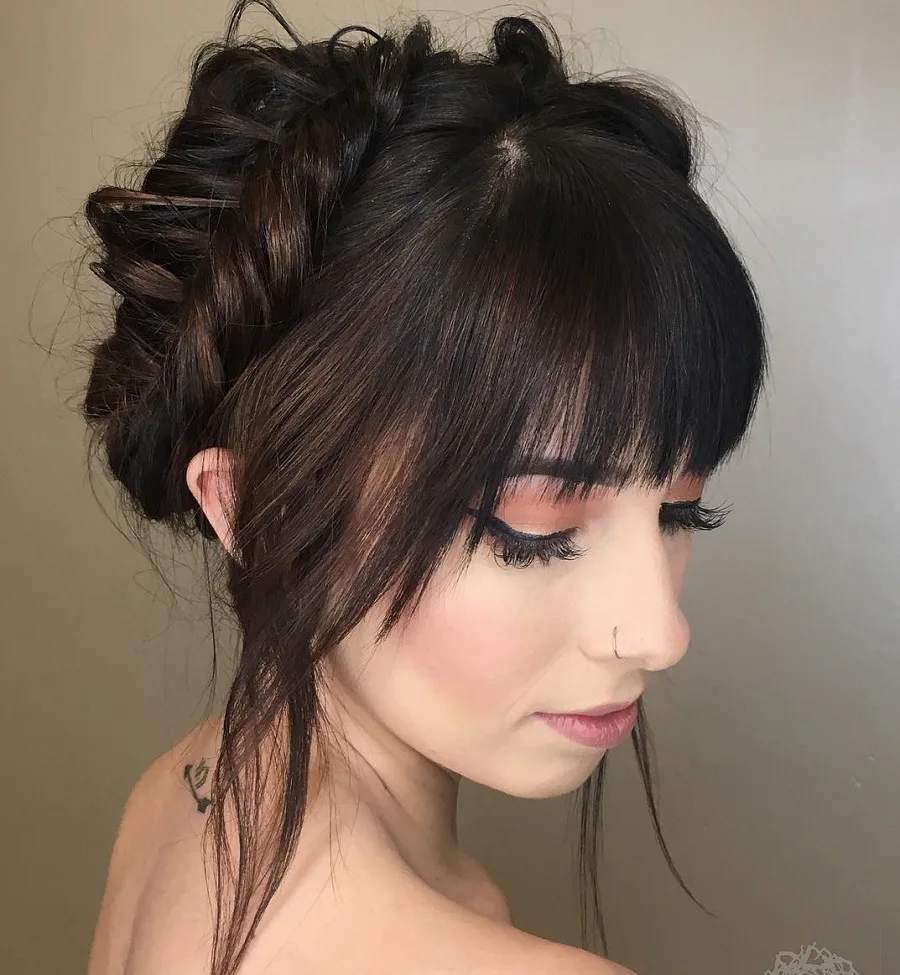 Create a mesmerizing, intricate fishtail braid with your long locks. Sweep it up into a loose, side-swept updo, and let your eyebrow-grazing bangs flirt with your face. A captivating look for weddings or other special occasions.
#4: Low Chignon with Blunt Fringe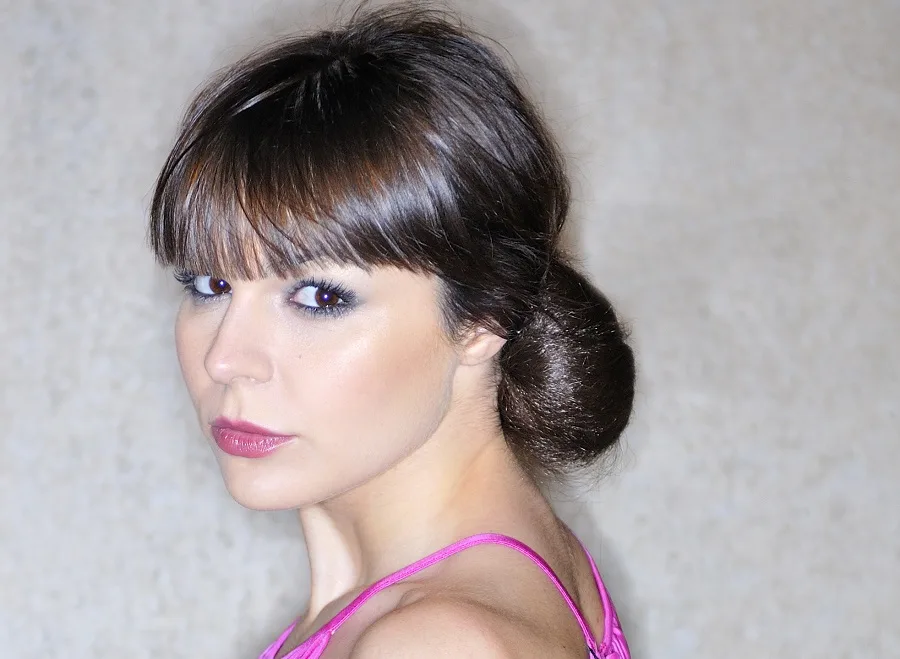 Keep it simple and striking with a low chignon updo, ideal for medium to long hair. Pin it neatly at the nape of your neck, and add drama with a full, blunt fringe. This style is perfect for a chic, everyday look.
#5: Bohemian Braided Bun with Wispy Bangs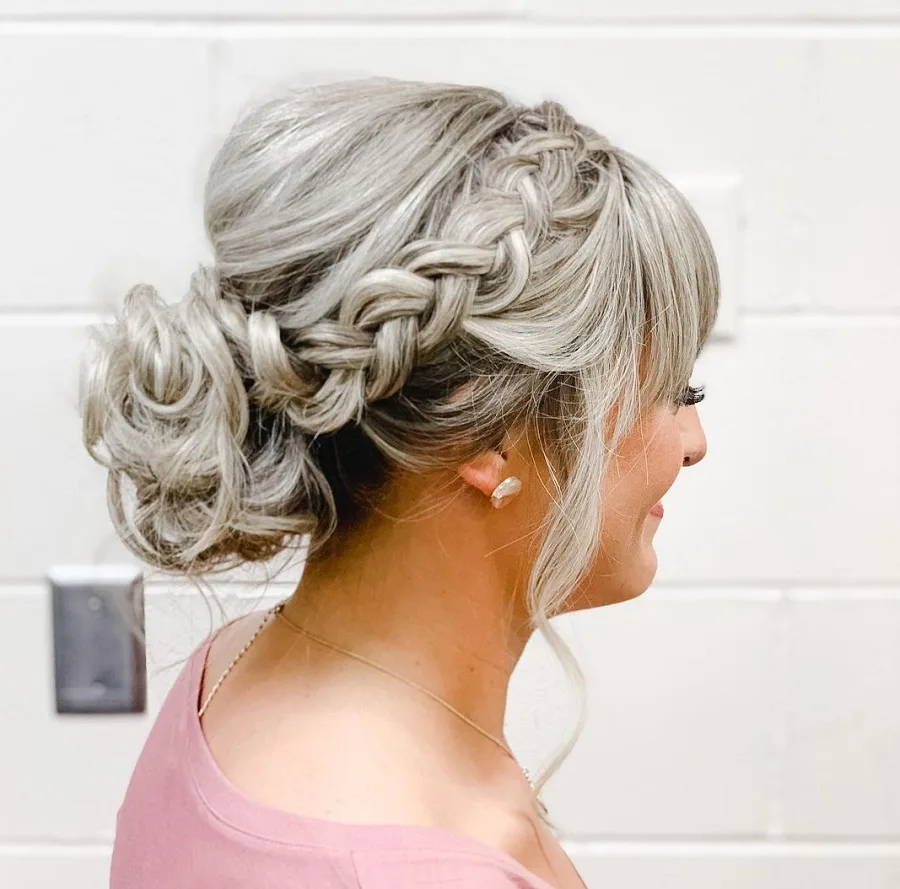 Embrace your inner boho spirit with this enchanting style. Create loose, cascading braids with your medium to long hair, pulling them up into a messy bun. Keep your bangs wispy and wild. Ideal for music festivals or casual outings.
#6: Romantic Tendril Twist with Side Fringe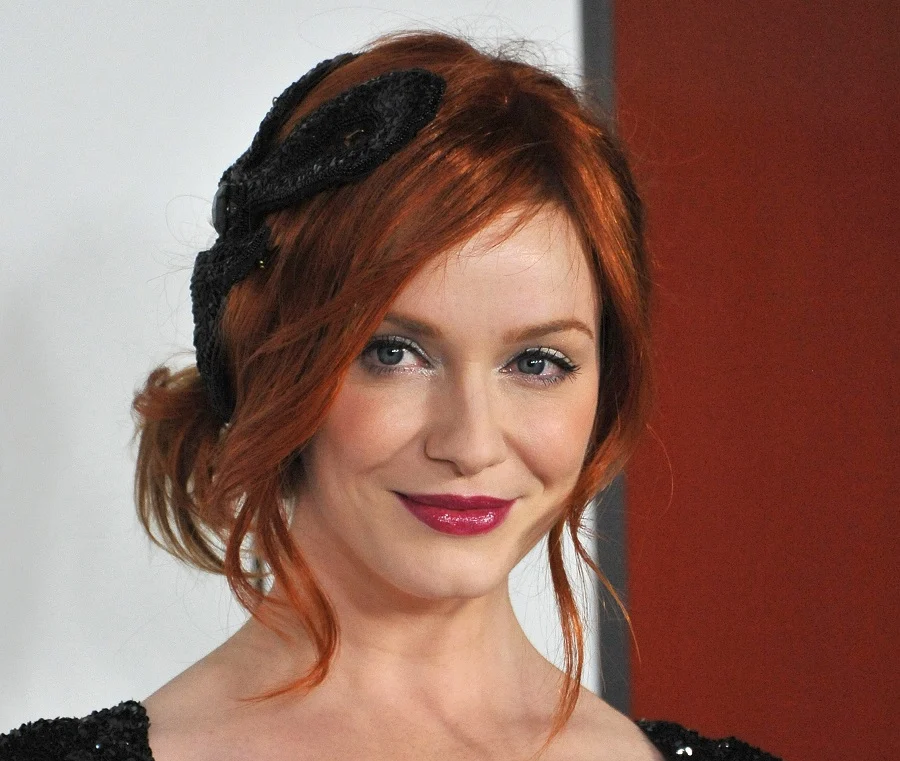 Get swept away with this soft, romantic hairstyle. Curl your medium to long hair into delicate tendrils, gather and twist them into a low updo, and frame your face with a gentle side-swept fringe. Perfect for date nights or special events.
#7: Regal Crown Braid with Curtain Bangs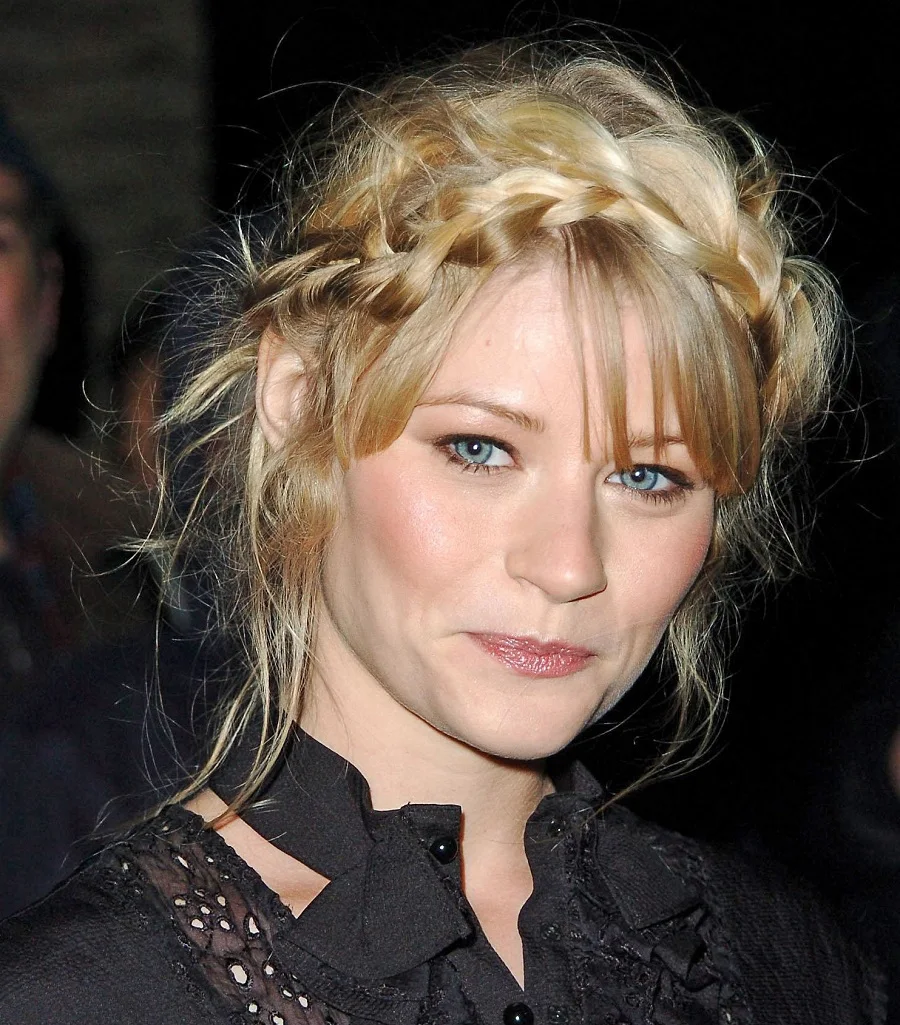 Feel like royalty with this queenly hairstyle. Plait your long hair into a crown braid, securing it atop your head, and add a touch of whimsy with wavy, curtain bangs. A stunning look for formal gatherings or themed parties.
#8: Edgy Faux Hawk with Wild Bangs
Dare to rock this bold hairstyle, best suited for those with short to medium hair. Create a faux hawk by pinning your hair up in sections, and let your untamed bangs take center stage. Ideal for concerts or nights out on the town.
#9: Classic French Twist with Eye-Grazing Fringe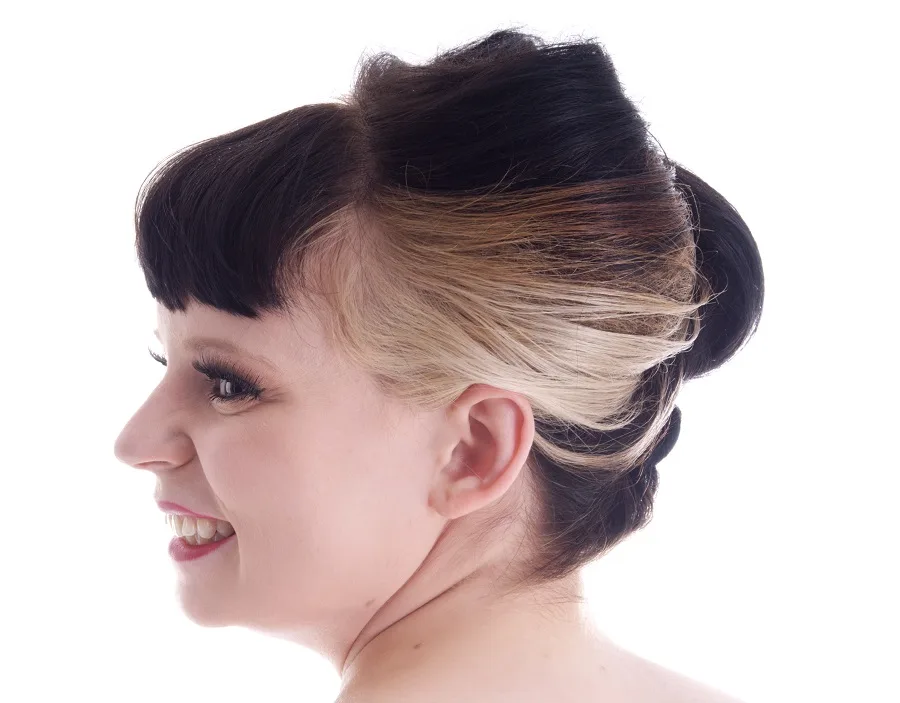 Master the art of timeless elegance with this chic hairstyle. Best suited for medium to long hair, create a French twist and secure it at your nape. Pair it with an eye-grazing fringe for a look that whispers "ooh la la." Perfect for formal events or classy soirees.
#10: Big Bun And Big Bangs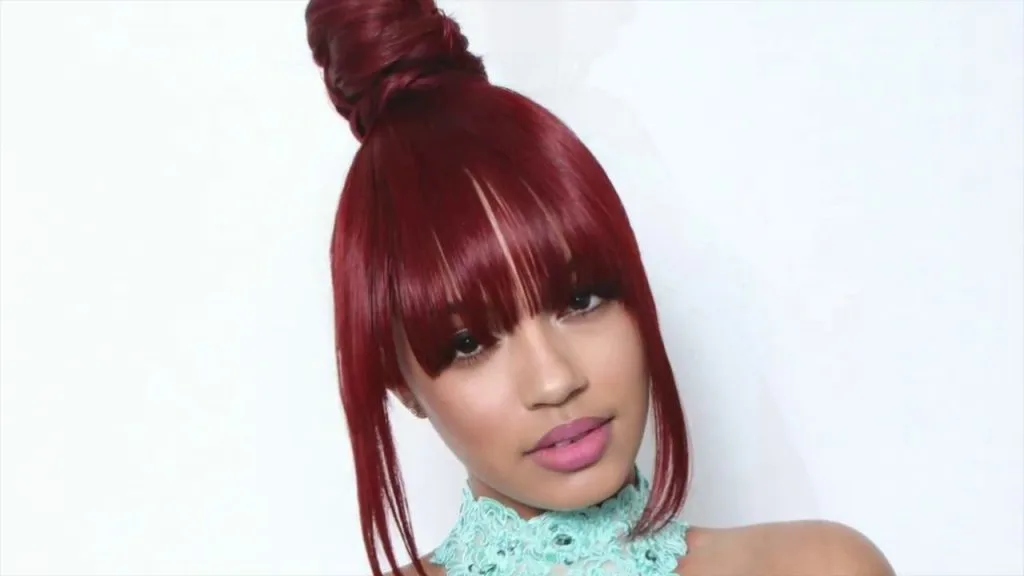 Going big on bangs as well as the bun is a bold move. But, if you're the type of person who likes to go big or go home, then it's perfect for you. To create a long bun, you should twist it upwards and away from your head. It's likely that your bun will not be stable on its own this way, so just make sure to put some bobby pins. This bun with really long bangs looks fantastic on everyone.
#11: Messy Low Bun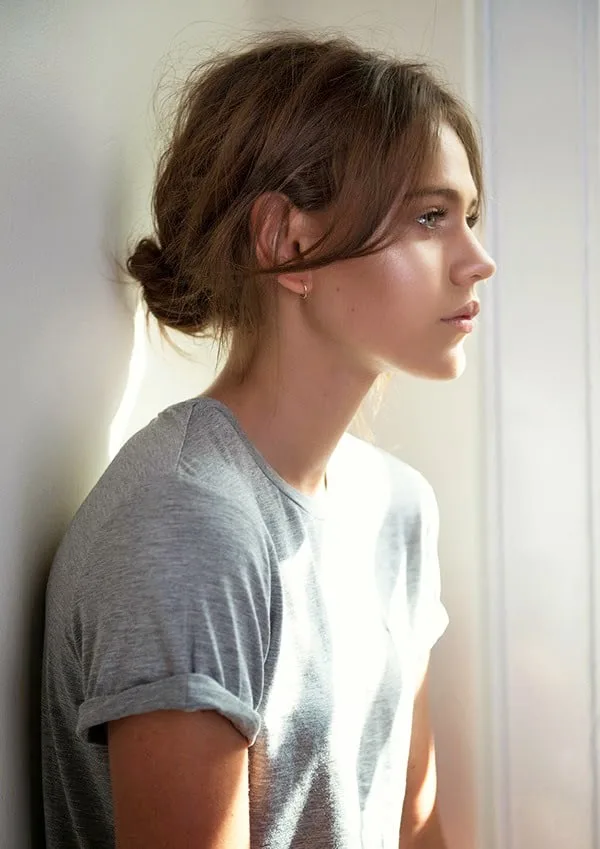 For those women who like looking natural, making a low bun will always be a perfect choice. When long and parted bangs are added to the picture, this whole style represents a stylish yet natural looking woman.
#12: A Top Bun with Spiky Bangs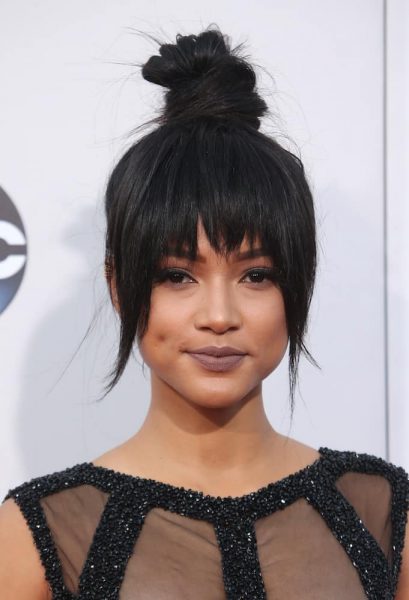 A top bun by itself is a statement hairstyle. If you want to have extra fun, you can also cut and style your bangs to look spikey. Don't be afraid to let your bangs cover a larger part of your face, it's an important part of this look.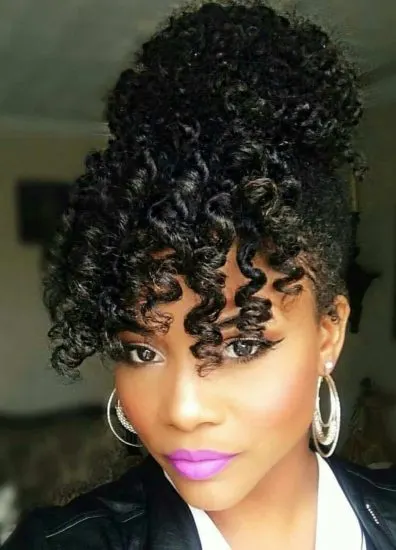 When it comes to updos for women with curly hair, creating a ban is always an excellent idea. The curls will make this regular looking updo so much more special.
#14: Fake Bangs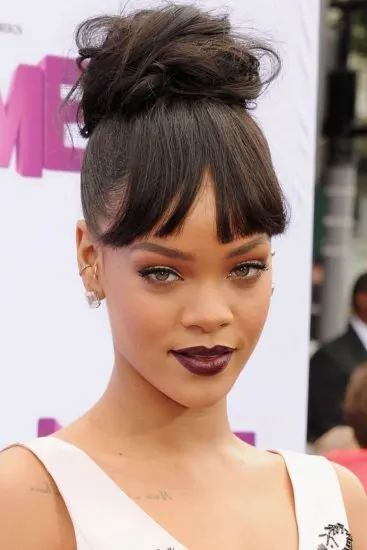 A decision to get bangs is often a hard one. Bangs can look crazy amazing on you, or they can make your whole appearance really bad. Good news is that you can experiment with fake bangs with this unique hairstyle. While creating a bun, don't put all of your hair into it, leave the desired length to create bangs.
#15: Sleek Parted Bangs With A High Bun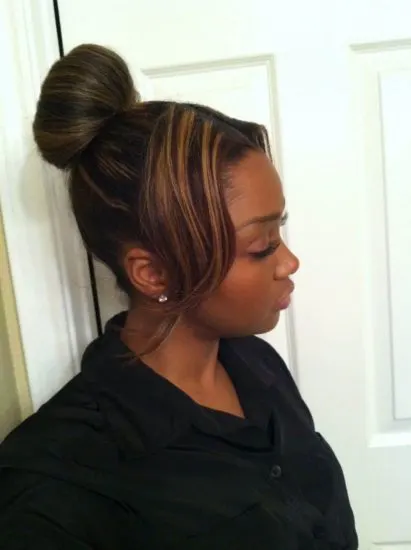 If you have black hair, but you prefer to have it be sleek, then this is an updo for you. Smooth parted bangs will elongate your face and make it look more elegant. A nice bun is going to let those fabulous bangs be the center of attention.
#16: Royal Curly Updo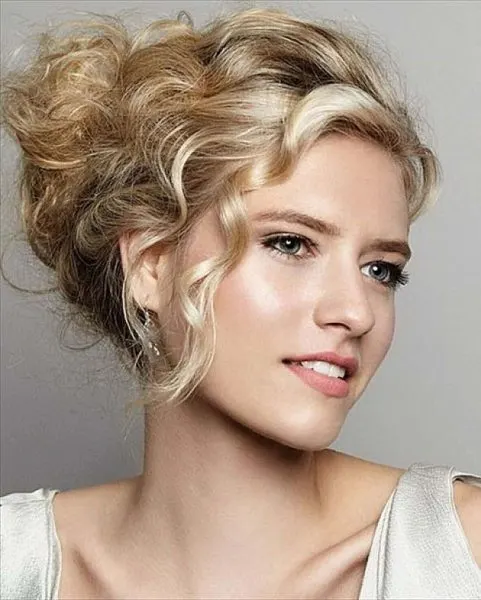 Those women who enjoy looking like princesses will love this one. This hairstyle will make you look graceful and pretty. It's quite easy to make, you just have to create well-defined curls and then put them into a very loose bun. Don't clip your bangs, let them fall on the sides of your face.
#17: Decorated Updo With Diagonal Bangs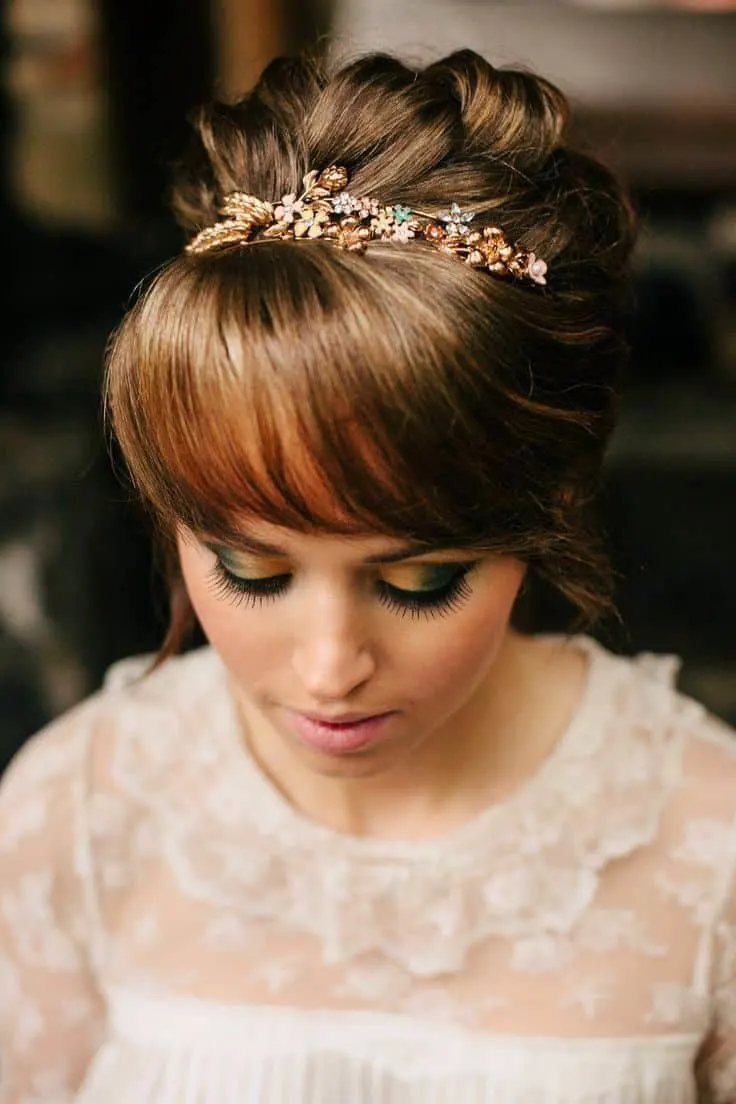 When you're preparing for special occasions, it's really easy to get caught up in hairstyles that are safe options. But, if you want to take just a little bit of extra time to choose a hair accessory, you can look stunning. Flower crown accessories are always a great way to decorate a lovely updo. After you've put on your "crown", just style your bangs so that they fall in a diagonal direction.
#18: Loose Updo With Perfect Bangs
If you're having trouble deciding between a rebellious and a simple hairstyle, don't worry, there is a middle ground. Curl your hair and create a very loose updo. Don't worry if some of your hair falls out of the bun. But, take extra care of your bangs, they need to look perfectly straight and firm. Using hairspray is a must here.
You'll Fall In Love With These Flat Twist Updos
#19: Wavy And Messy Updo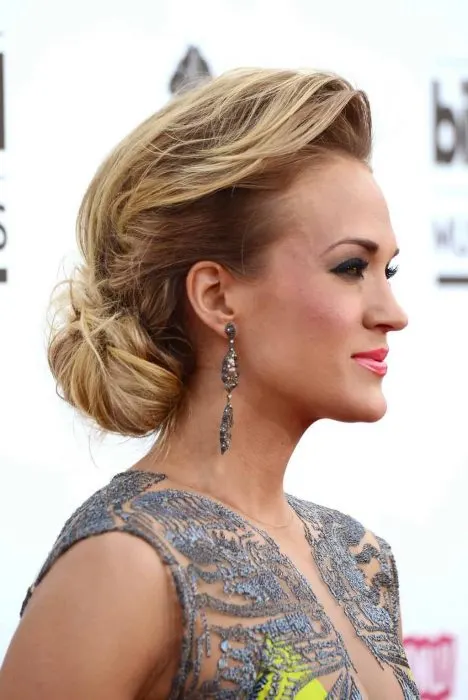 Who says that you can't go to a gala evening with a messy updo? Of course, you can, but only if you keep it looking classy. The best way to pull of a messy updo is to make your bangs wavy and to brush them to the side lightly. Use a large amount of hairspray so that your hairstyle stays in place and doesn't get messier than it should be.
#20: Braided Updo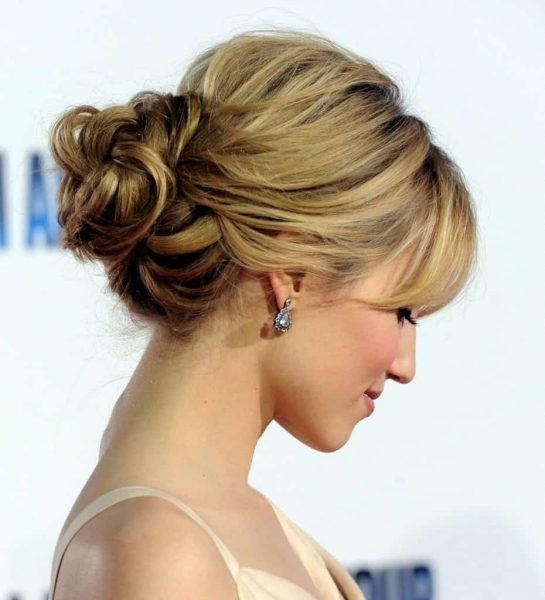 A braided updo with simple bangs is an excellent option for any special occasion. That's why many brides choose it, they know that they can't go wrong with it. To make this hairstyle stand out a bit more, you will need some patience while perfecting the bun.
When you have long hair, hairstyle options are pretty much endless. If you have long hair, the one hairstyle that you can pull of better than anyone else is a braided high bun with stylish bangs. Start from the bottom and braid your hair upwards into a fish braid. When you reach the top, make a big bun. Style the bangs so that they frame your face perfectly.
#22: The Classic Double Buns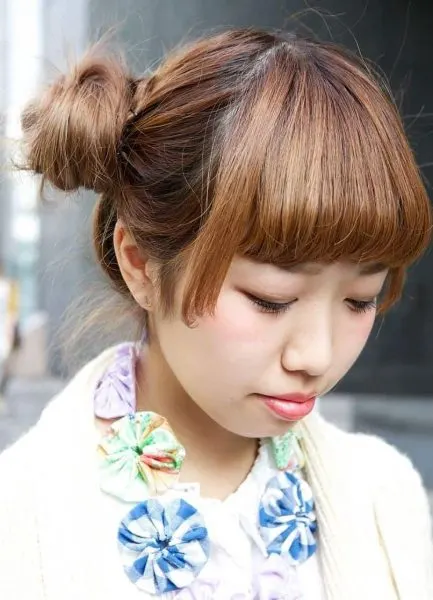 We're all obsessed with Asian culture. One thing that we happily adopted from this culture is their gorgeous double bun hairstyle. This hairstyle is easy to create with three simple steps. Firstly, leave part of the bangs on the side longer than the rest. Secondly, cut the middle part of the bangs regularly. Thirdly, create two buns on the sides of your head.
#23: High Ponytail With Parted Bangs
This is a hairstyle that a lot of younger women choose on a daily basis. Regular ponytails can look dull, so wearing a long ponytail can add some variety to your look. Parting your bangs will make your hairstyle look even more interesting.
#24: Throwback To The Sixties
Fifty years ago, women were all about making sure that their hair is well put together. They also wanted to have lots of volume in their hair. One of the easiest ways to achieve that look is with a French twist. This look can only be completed with sleek bangs carefully combed to the side.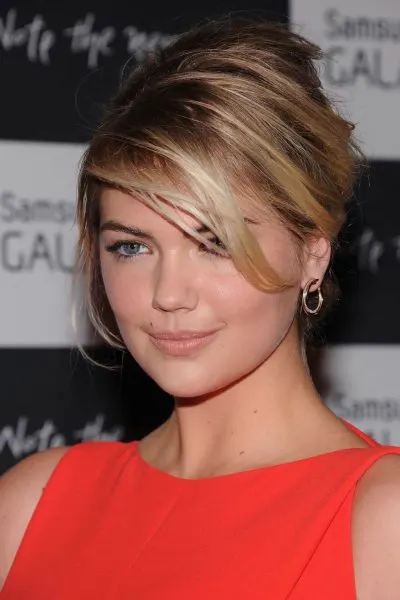 This is a winning combination if you want to look casual yet very elegant at the same time. A voluminous updo will make you look classy, while the side swept bangs will make this hairstyle more casual. It's an excellent option for a wide variety of occasions.
#26: Decorated Updo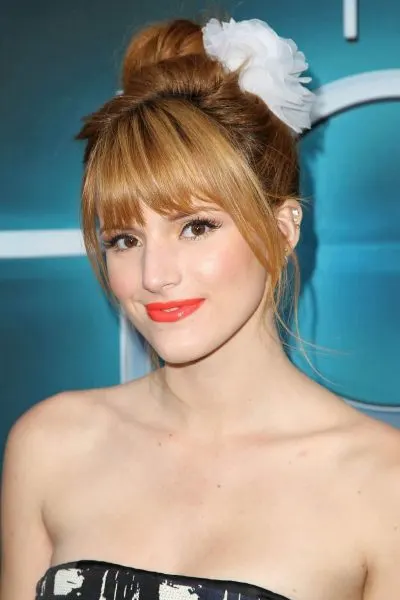 When you have a simple bun hairstyle, you're left with so many options of how to make it look extra fun. One great way to do that during the spring or summer days is with flower hair accessories. It's a gorgeous detail that will lay between your stylish bangs and your beautiful bun.
#27: Perfectly Symmetrical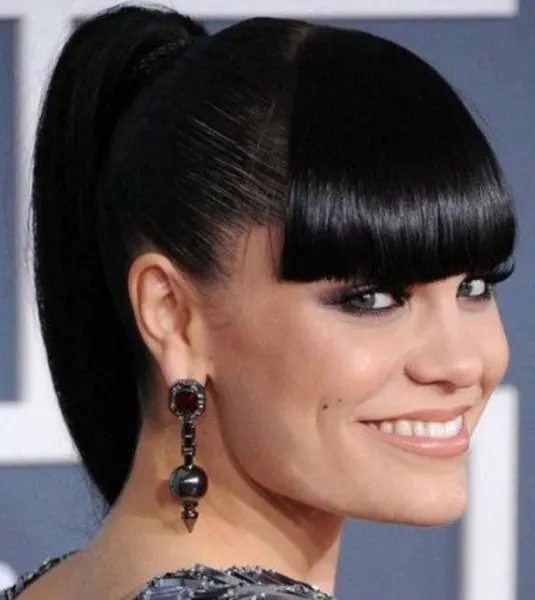 This is a hairstyle for perfectionists and for women who have symmetrical facial features. Bangs that are perfectly straight is not easy to achieve, and they need to be appropriately taken care of.
Once your bangs look perfect, you can move on to the ponytail. Here, the ponytail should be extra tight. Then just hide the hair tie by wrapping your hair around it and you're done.
#28: Golden Girl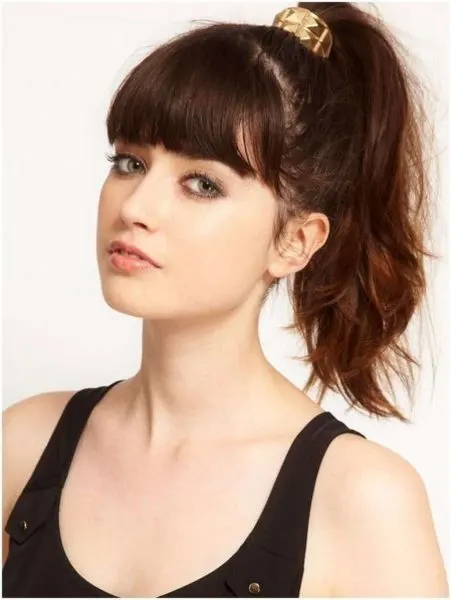 Some of us just can't bother to spend a lot of time styling our hair. If you're one of those people, you should know that taking your regular ponytail to the next level can be extremely easy. Find a gold hair tie and make a ponytail with it. Leave your bangs looking natural.
#29: Double Buns With Short Bangs
Younger women love playing around with unique hairstyles. This is one of those unique hairstyles, and it requires some courage because it requires cutting your bangs short. After taking that step, all you have to do is to create two cute buns, and nobody will look as unique as you. If you have a medium here, try these medium bangs.
#30: Ashy Blonde Updo for Weddings
If you are getting ready for the most important day in your life, opt for an ashy blonde color. Straighten your bangs and wear them on the forehead while the rest of the mane is curled and pinned in a voluminous bun. Add a crystal crown on your head if you want a look that will be remembered.
#31: Jet Black Updo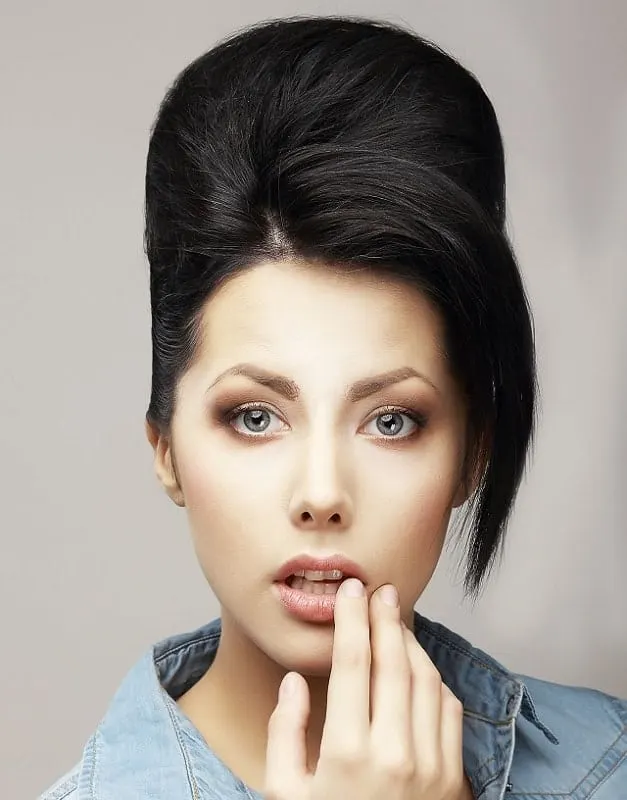 When you have fair skin and blue or green eyes, a jet black hair color will look pitch-perfect on you. Layer your bangs, let them reach your jawline and wear the fringe on one side. Use the rest of the hair to create a gorgeous big bun on top of the head.
#32: Crown Braid
If the texture is what you aim for, make sure you go for a sandy blonde hair color and some brighter blonde highlights. Wear those bangs on the forehead while you use that long hair to create a crown braid.
#33: Waterfall Braid with Low Bun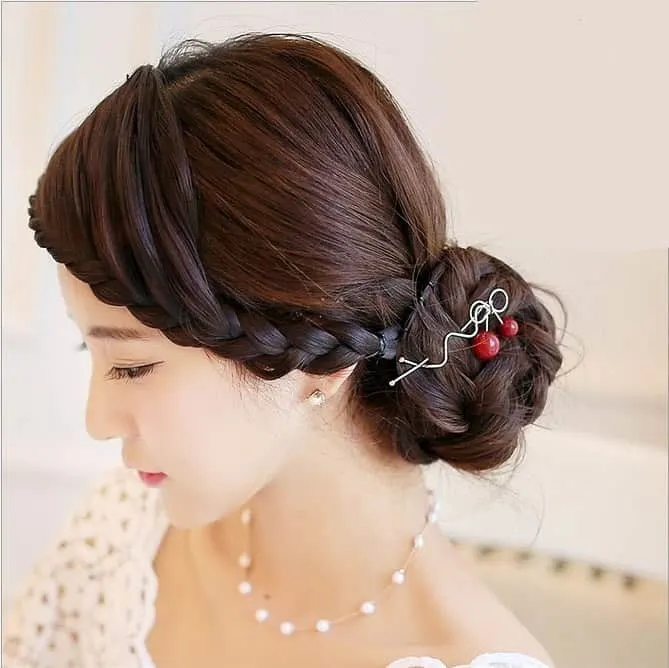 Use your bangs to style that unique waterfall braid. In the back, one side, create a braided bun and tuck the braid under the bun to create continuity. Decorate the hairdo with a delightful large pin.
#34: Faux Bangs
You don't have to cut your hair to obtain bangs, and we're here to show you how to do it. Create a ponytail on top of your head and roll it into a bun. Tie the whole thing again and let those ends loosen enough to arrange them on your forehead, creating a fringe.
#35: Afro Updo with Bangs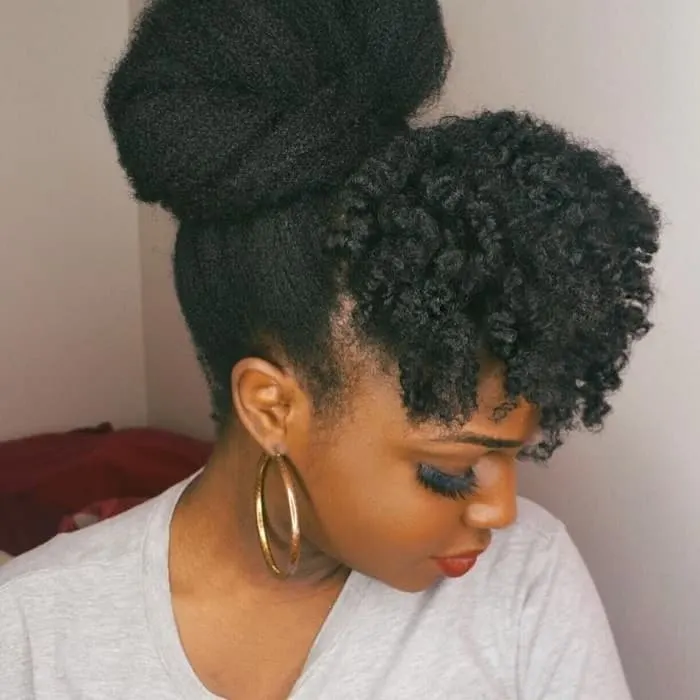 If you have long Afro hair, comb it and create a bun updo on top of your head. Maintain the curliness of your bangs and let them do their magic on your forehead. If you want more volume, you can even add some curly faux bangs.
#36: Braided Hairstyle with Crown
Create a halo braid around your head and pull off the edges to give the knit more volume. In the back, use the remaining hair to style a gorgeous updo for your curly hair. Keep your bangs straight and arrange them on one side.
#37: Wispy Bangs with Top Knot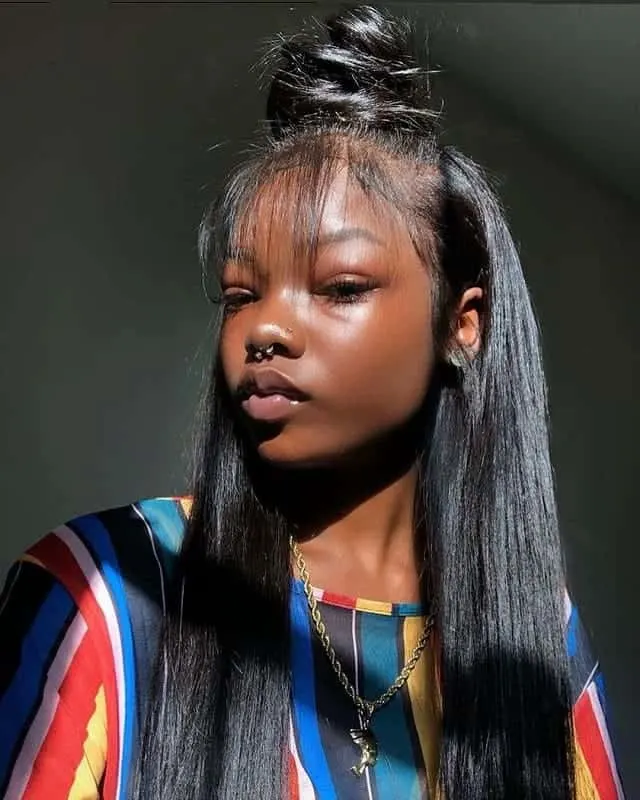 If you want a flawless modern look, Straighten your whole make. Take the top hair and roll it into a bun. Pull off a few shoer strands and create some see-through bangs.
#38: Braided Bangs and Colored Bun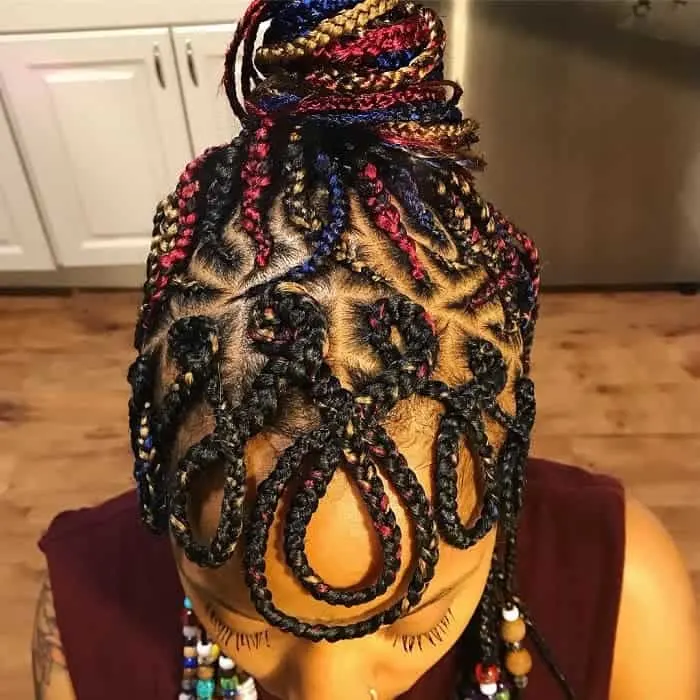 This intricate braids updo will make anyone admire your new hairstyle. Create a curved braid pattern and build it as a fringe. Braid the rest of your hair and add some blonde, blue, and red colors to those knits if you want your updo to look stylish.
#39: High Ponytail + Bangs with Beads
You can't wear this fantastic updo with braids without getting a lot of attention. Cut your bangs in a shape that follows your eyebrows and add wooden black and regular beads. Create tiny cornrows that are oriented upwards and pin them in a high ponytail.
#40: Short Ponytail
Even if you have short hair, you can still find a few marvelous updos with bangs that will make you look exquisite. Opt for pastel pink blonde color and pin your hair in a bun. You will look gorgeous!
#41: One-Sided Bangs with Bun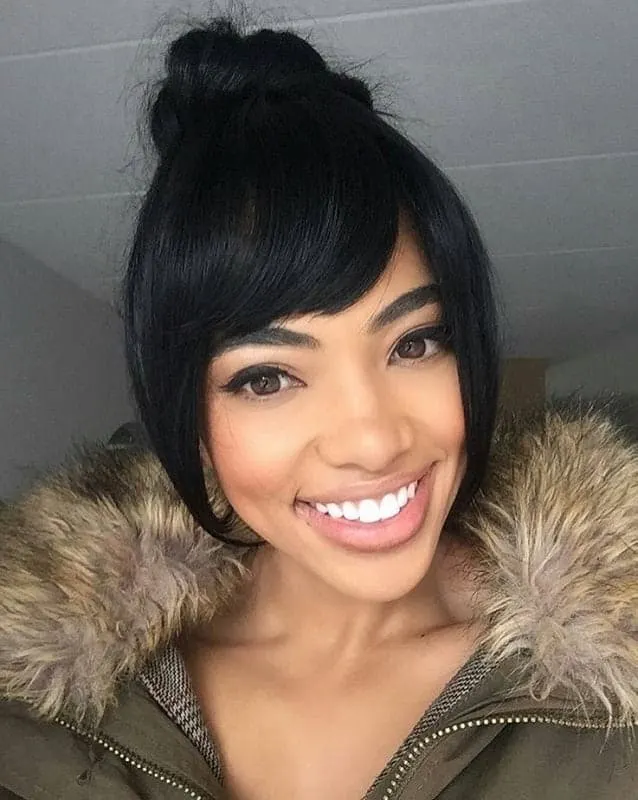 Create a marvelous frame for your face by styling a fringe that you can wear on your forehead, slightly tossed on one side. Opt for a braid and roll it into a bun if you want a glamorous look.
#42: Mohawk Bun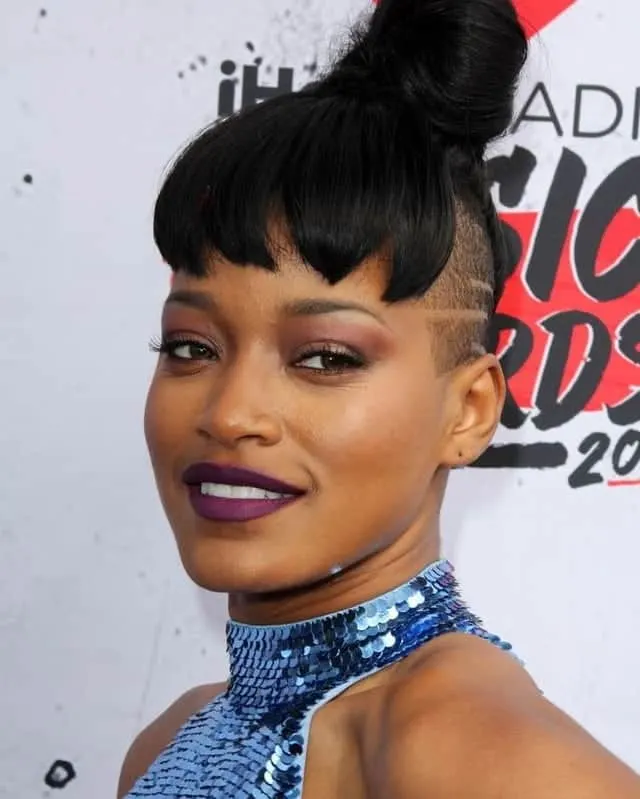 Mohawks can be styled in so many ways, and if you want to recreate the look above, don't be afraid to shave your sides. You can obtain different lined designs on each part and style a mohawk or a bun updo with bangs for more sophisticated occasions.
#43: Asian Hairstyle for Weddings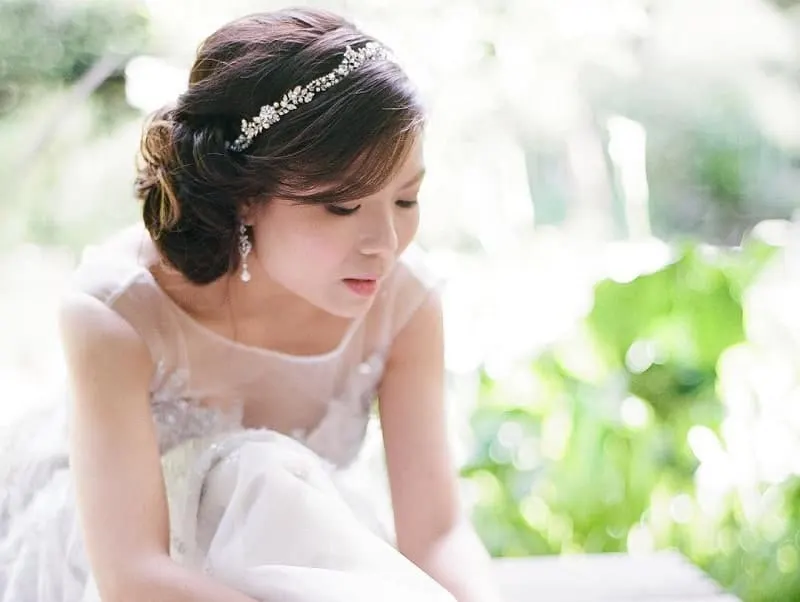 If you are searching for a romantic updo with bangs for your wedding, this hairstyle will look marvelous, especially if you are an Asian girl. Wear your bangs on one side and build a gorgeous bun on one side. Place a silver tiara on your head and complete the look with pearled earrings.
#44: Curly Lifted Bangs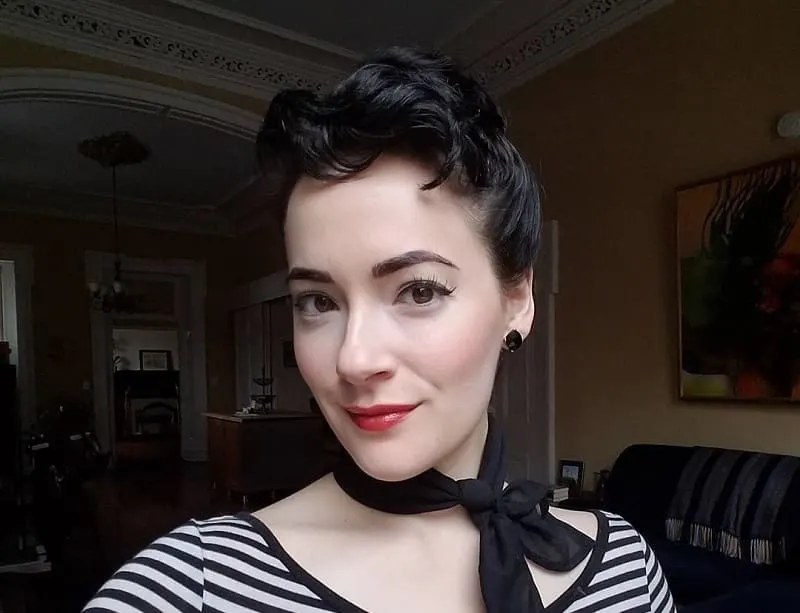 If you want to pull off a retro-inspired look, create a bun updo and orient your curly bangs slightly upwards. Make sure you define your eyebrows and use red lipstick.
#45: Half Up Half Down Braids
When you love eye-popping colors, you must try this green and pastel pink colored braids. Cut them short in front to create bangs and use the top to style two space buns. Wear the rest of the knits on the shoulders.
#46: White Creamy Dreads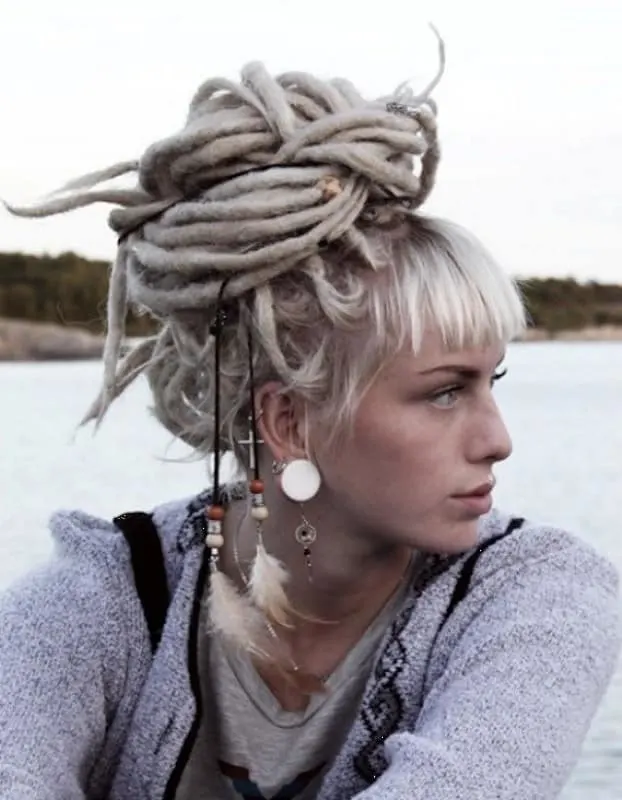 If you adore boho-inspired looks, go for short bangs, and build stunning dreadlocks. A white blonde ashy shade will work fabulously for that mane, and you'll be able to accessorize the updo with all sorts of jewelry.
#47: Twisted Braids
Any black girl will simply adore this updo with bangs. Opt for very thin twisted braids and create a half up half down hairdo. Build a knot bun on top of the head and build braided rolls to recreate those bangs.
#48: Updo with Head Wrap
Scarfs can be used in so many ways to build impressive hairstyles, and we're sure you will adore this updo with a bun and bangs that cover your eyebrows. The bun doesn't need to be perfect. On the contrary, it makes it look messy to obtain that relaxed look.
#49: Rounded Bangs and Updo for Long Red Hair
Pick a dark shade of red for your roots and a red ginger color for the rest of your hair. Go for rounded bangs and create a half up half down updo to give the hairstyle height. Straighten your hair to make it look flawless.
#50: Curly Ponytail with Straight Bangs
Spare your bangs when styling this updo and use an iron to straighten them. Get all your hair up and pin it in a ponytail. Your ringlets will look fantastic and totally give your hairstyle more volume and grace.
Updo hairstyles with bangs are incredibly versatile so every woman can find one that speaks to her the most. Step away from your fear of bangs and take it from there.