Long hairstyles with bangs for women are pretty adaptable to any outfit, skin tone, or face shape. These hairstyles are incredibly trendy, and anyone wishes for long gorgeous locks that can be braided or layered. This long hair requires a lot of attention but can look flattering if you take good care of your mane.
Long hairstyles with bangs look impressive whether the hair is curly, layered, or with a straight cut, and you can always create stunning color mixes, ombres, or stunning highlights that will make your strands stick out at any party or event you are attending.
Long Bangs Hairstyle Ideas
Whether your hair is curly, blonde or brunette, here are some trendy long hairstyles with bangs inspiration to ensure you can pull a gorgeous hairstyle.
1. Long Blonde Hair with Middle Parted Bangs
2. Long Hair with Side Bangs
3. Long Layered Hair with Bangs
4. Long Curtain Bangs
5. Long Hair with Messy Curly Bangs
6. Long Straight Bangs
7. Wavy Long Hair with Bangs
8. Long Black Bangs
9. Long Messy Shag + Bangs
10. Long Waves with Long Bangs
11. Low Ponytail with Bangs
12. Long Blonde Hair with Bangs
13. Thin Bangs for Round Faces
14. Long Bangs for Square Faces
15. Long Brown Hair with Bangs
16. Blonde Baby Bangs + Long Hair
17. Long Hair with Blunt Bangs
18. Choppy Bangs on Long Hair
19. Long Fringe Bangs
20. Blonde Fine Bangs on Long Hair
21. Wavy Thick Hair with Bangs
22. Long Permed Hair with Bangs
23. Messy Hair with Chinese Bangs
24. Long Weave Bangs
25. Messy Updos with Bangs
26. Thick Feathered Bangs
27. Over 50 Long Hairstyle with Thin Bangs
28. Wispy Bangs on Layered Hair
29. Long Braids with Messy Bangs
30. Long Hair with Bangs And Glasses
31. Long Pigtails with Side Bangs
A childish look like this one will instantly make you look at least five years younger. Parte your hair in two sections and bind each part into a high ponytail on one side. Let your bangs cover your forehead and slightly arrange it on one side.
32. Curly Hair with Bangs
With this stunning hairstyle for long hair with bangs, you will get impressive volume for your hair. Create some curtain bangs and make some waves for your long locks, tousle them style them the way you want.
33. Straight Curtain Bangs
Style long curtain bangs and gives your long mane a layered cut. If you have pale skin, choose a dark shade for your crown hair to achieve fabulous framing. Layer your hair and create a stunning light ombre for the tips.
34. Wispy Bangs
Wispy bangs are very thick at the base and layered at the tips. Spread them on your forehead and create layers for the rest of your hair. For the tips, create a dark burgundy color and spread your hair on your shoulders.
35. Long Ponytail with Bangs
Keep your bangs long, with a middle part. Pin all your hair into a ponytail and slightly pull your top hair to get more volume. For this long hairstyle with bangs, you can dye your hair in dark brown color.
36. Blonde Choppy Bangs
Create bangs that start from the top of your head and keep them short. Create the see-throw effect and dye your hair in champagne blonde color. A straightening iron will make your mane look impeccable.
37. Long Bangs for Round Face
If you happen to have a round face with prominent cheekbones, choose a long hairstyle with straight bangs. Choose a striking red color if you want a look that won't go unnoticed.
38. Updo with Long Bangs
Long hair allows you to recreate almost any hairstyle out there. Create a middle part for your bangs and pin all your hair into a big bun on top of your head. Select a few strands of hair from your sideburns and let the fall on your face line.
39. Black Braid with Bangs
A long hairstyle with bangs for black women is ideal if you want to look fabulous all the time. Cut your bangs straight and braid your whole hair on one side. This hairstyle will look stunning if you choose to accessorize it with a par of golden round earrings.
40. Middle Part Bangs
Style some layered middle part bangs and create a few blonde highlights. Use a curling iron to recreate these fantastic tight curls. You'll get a mesmerizing red-carpet look that will stun everybody.
41. Long Shag with Bangs
42. Colored Long Bangs
43. Chinese Bangs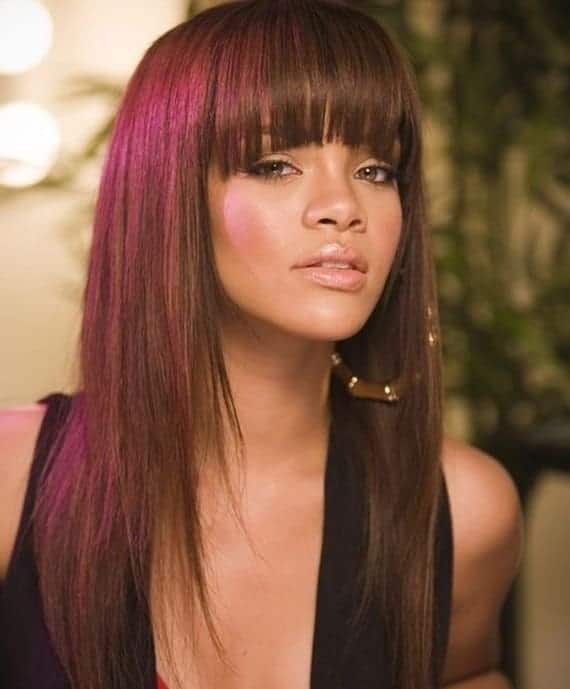 44. Straight Blunt Bangs
45. Bun Hair with Bangs
46. Thick Bangs
47. Long Thin Bangs
48. Pigtail Braids Hair with Bangs
49. Baby Bangs
50. Long Bangs for Chubby Face
51. Bangs for Woman Over 50
52. Feathered Bangs
53. Face Framing Bangs
54. Red Hair with Long Bangs
55. Long Bangs for Oval Face
56. Layered Hair with Side Bangs
57. Updo with Bangs
58. Bangs for Long Face
60. Asian Long Bangs
61. Straight Hair with Thick Bangs
Thick blunt bangs look great paired with long glossy locks, particularly if your hair is a rich shade of brunette. Ask your hairdresser to give you blunt straight bangs that are all the same length, and blow dry your hair with a wide flat paddle brush to make sure each hair follicle is as smooth as possible.
The key to maintaining this look is to have regular trims to ensure your hair remains in tip-top condition, and add a gloss spray or serum through the lengths of your hair to make sure it looks as sleek and shiny as possible.
If you are petite and have a round or heart-shaped face then softer bangs which sweep to the side and frame your face would suit you best. Ask your stylist to feather cut your bangs, cutting into them to soften them, rather than create a blunt straight look.
These bangs should be longer on one side than the other; sweep your hair across your face in each direction to decide which suits your face shape best.
For a look that is on-trend and ultra-modern, add soft balayage highlights to your long hair with bangs. This is a great way to color hair with bangs as the color is hand-painted onto the length of the hair, meaning your stylist can create a look that is unique to you.
This means that you can add the color to the ends of your hair without coloring your bangs, and your style will require minimal color maintenance even as your hair grows out and your bangs are trimmed.
64. Add a Blunt Fringe with Lots of Texture
Straight hair doesn't have to be flat hair, provided you use the right products. Adding bangs to your style is a great way to cut out some of its weight and add shape to a straightforward style.
Once you have your bangs in place simply add a texturizing spray or salt spray through the roots and lengths of your hair to create a style with plenty of body and movement. Injecting texture into your hair will give it a modern bohemian look that is bang on trend right now.
65. Long Bangs with Gentle Waves
If you have a square-shaped face then long bangs that taper towards the ends are perfect for you, helping to soften your face shape.
66. Layered Hair With Graduated Bangs
If your hair is thick, inject some volume into it. Create a unique hairstyle by adding several short layers and graduated bangs that will blend into the length of your hair. Blow-dry your style with a large round brush to create bouncy waves, and then spray into place using a strong hold hairspray.
67. Half Updos with Gentle Waves
Having long hair with bangs is an incredibly versatile style that can be worn in many ways. For evening events and formal occasions, why not pull your hair up into a simple updo?
Comb half of the length of your hair away from your face, and then pin it into a chic and straightforward style. This enables you to still show off the length of your hair and use your layered bangs to frame your face whilst injecting a little glamor into your look.
68.
69.
70.
71.
72.
73.
74.
75.
76.
77.
78.
79.
80.
81.
82.
83.
84.
85.
86.
87.
88.
89.
90.
91.
92.
93.
94.
95.
96.
97.
98.
99.
100.
101.
102.
103.
104.
105.
106.
107.
108.
109.
110.
When you choose a long hairstyle with bangs, you will discover that you can recreate all the hairstyles you wanted, adopt curls, waves, fabulous braids, and style astonishing wedding hairdos. Feel free do make creative hair dye combinations and you will be ready to rock any event.