Are you a brunette looking for a big hair color change, but having low-maintenance locks is super important to you?
Going from brown to blonde while still keeping things fuss-free was a dream too good to be true. But now, it's absolutely doable with blonde balayage.
Ready to be wowed? We're going to fill you in on brown-to-blonde balayage styles, offering you the best of both worlds with your hair color.
Let's find out how this technique can turn brunette hair into a dazzling masterpiece.
Why Choose Balayage for Brown to Blonde Transformation?
We love balayage for brunettes going blonde for a few reasons.
#1. Lower Maintenance Than Traditional Highlights
Taking care of your balayage is easy. Traditional highlights (foils done right at the root) can easily take you from brunette to blonde but they will leave you with an obvious line of demarcation (aka visible roots) in just a few weeks. This means you'll be back in the salon for a touch-up sooner than you wanted to.
Because balayage starts off softer at the root and gives most of the lightness to the mids and ends of the hair, it grows out more naturally and leaves a more subtle root. You can go 3–4 months before having to touch up your balayage!
#2. Balayage is Gentle on the Hair
If you haven't touched your brunette hair with hair color in a while (or never!)The health of your hair is probably a top priority for you.
Lightening with balayage keeps damage very minimal because it does not require the hair to be fully saturated in lightener from root to end or for hair to be tightly wrapped in foils to process.
Instead, the lightener is swept onto the hair's surface, saturating only the ends (which get trimmed regularly) and then placed flat against a foil or saran wrap for processing.
It's also easier on hair because you're able to have your hair colored less often making it harder for over-processing or overlapping which can cause breakage to occur.
Pro Tip: Line up your hair trim appointments with your balayage appointments (every 3-4 months) to maintain ultimate hair health!
#3. You Can Go Lighter Gradually or Do It All At Once
We love the versatility of balayage. If you've never gone lighter before and prefer to take it slow with the blonding of your hair, balayage can make that happen.
If you're ready to be blonde and walk out of the salon with a whole new look, balayage can do that too.
Because balayage is hand-painted, your stylist can do as much or as little coverage as you would like with the lightener.
Balayage can also be used with many different strengths of lightener and can be processed in different ways (e.g., with or without heat, with foil or without foil), so your stylist can adjust how they apply and process your balayage according to your preferred blonde shade.
*Pro-tip: Do a color consultation with your hairstylist before your balayage appointment to determine what your brown to blonde balayage expectations are and what you're hoping to achieve at your appointment.
Your stylist will be able to tell you whether or not you can go super blonde in one balayage session or if it will take 2-3 times.
A professional will take into account your starting hair color, your hair color goals, and your hair's health to give you a great idea of what to expect out of your first balayage appointment.
#4. You'll Still Feel Like Yourself only Blonder
Last but not least, one of our favorite reasons to choose balayage when going from brunette to blonde is because it won't leave you in shock after going from brunette to blonde.
Although you'll be a lot lighter overall, balayage allows you to keep a good amount of brunette depth at the top of your hair and uses your natural brunette color for dimension throughout your hair's mids and ends.
This takes away the shock factor of going root to end blonde with a heavy foil or bleach and tone. You'll be able to keep your makeup routine the same and wear clothing colors that flatter your brunette hair. You'll still feel like yourself only lighter and brighter!
Brown to Blonde Balayage Style Ideas
We can talk all day about how much we love brown to blonde balayage all day, but to truly inspire you to take the plunge into blonde balayage, we thought we'd share some of our favorite transformations.
Bring pictures of your favorite brown to blonde balayage photos to your hairstylist for inspiration.
1. Brown to Honey Blonde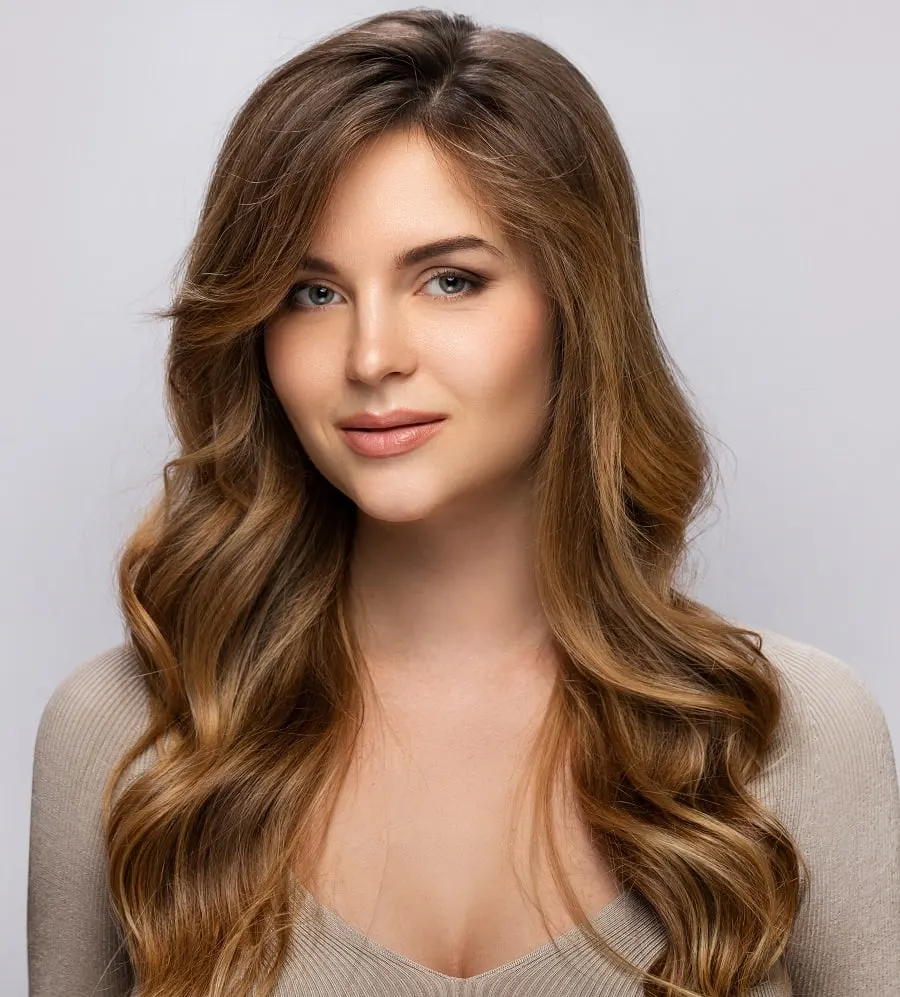 This brown-to-blonde balayage is the perfect example of how adding even darker blonde pieces to brunette hair can completely transform your look without having to go super light. We love the honey-blonde pieces against the dark brunette base.
2. Darkest Brown to Dimensional Blonde
If you are an ultra-dark brunette (levels 3 or 4), you may be wondering if it's possible for you to go blonde with balayage.
Take this before and after photo as proof that even the darkest brunettes can go lighter. This is a gorgeous example of how pretty ashy shades of blonde look against a dark brown base.
Keep in mind that something like this may take 2-3 balayage sessions in order to achieve the cooler tones and most importantly to keep the hair healthy.
3. Light Brown to Subtle Blonde
Maybe a huge transformation isn't for you but you still want to change it up! We love how subtle this cool blonde balayage is.
Something like this could be a great way to test out if you want to go lighter and if you decide you love it and want more, you can always go blonder at your next appointment.
4. Mousy Brown to Golden Blonde
This golden balayage is a dimensional dream! We love how the blonde really pops against the brunette hair that peeks out from underneath and at the root. Curling the hair helps to show off all the ribbony pieces of the balayage.
5. Warm Brown to Cool Blonde Balayage
Many brunettes have a lot of warmth in their hair but dream of icy blonde highlights. Don't let the warmth in your hair keep you from exploring blonde balayage. This before and after is an amazing transformation from dark and warm to light and cool and stunning!
Again a transformation like this may take a little patience and 2-3 salon visits, but as you can see from this before and after, it'll be well worth it.
So, check out these before and after photos of brown to blonde balayage to become inspired by the beautiful transformations!
Key Things to Remember:
Balayage can give your brown hair a big change while still keeping hair color maintenance to a minimum.
Balayage is gentler on hair than traditional highlights and allows you to go gradually lighter over time or become a blonde in one salon appointment, depending on what you're looking for.
It requires salon touch-ups every 3-4 months.