Are you getting tired of your old hair color? Balayage is a technique that will definitely breathe new life into your light brown hair.
It's a French hair coloring procedure that became popular in the 1970s. The hair color is swept by hand over small triangle sections of hair on a foil.
Let's be honest, both highlights and ombre are dying out, while balayage is getting more popular by the day. You can see celebrities that have chosen balayage for their light brown hair everywhere; on red carpets, runways, and on prestigious galas.
Modern Light Brown Balayage Hair
Softer and more natural balayage looks go amazingly well with lighter shades of brown hair. Doing balayage is the easiest way to make the hair color to appear more natural. This style will require very little maintenance. So, you don't have to worry, nobody will be able to see your regrowth line.
Since it's so low maintenance, it doesn't require constant visits to the salon for a retouch. That's why your hair will remain healthy.
Here is our list of the trendiest balayage on light brown hair color ideas you can try.
1. Short Light Brown Balayage Hair
2. Medium Light Brown Balayage
3. Dark Brown to Light Brown Balayage
4. Light Brown Balayage Highlights
5. Light Brown Balayage for Black Hair
6.
7.
8. Bob With Balayage Light Brown Hairstyle
The short hair balayage plus light brown hair looks amazing. It's great for younger women because it looks seamless and playful. If you're a fan of messy hairstyles, then an asymmetrical haircut will complete this whole style. Achieving a perfect balayage hair color on a short bob is a little bit harder, but if you choose a well-trained hairstylist your hair will look flawless.
Best Red Balayage Hairstyles We Love
9. Focus On The Tips
Maybe you're not so sure about this light brown balayage trend. Then you can do balayage only on the tips of the hair. It creates a beautiful subtle look and if you change your mind about it's easy to get rid of it. Since the roots of your hair are light brown don't worry about it being too extreme. Your hair will look naturally sun-kissed.
10. Straight hair
While simple straight light brown hair is becoming less and less popular these days, balayage adds a twist to it. It's more suitable for work because it doesn't look as messy as a classic balayage on curly hair. Blow drying the hair inwards creates a classy put together look which is perfect for older women as well. Make sure you choose an experienced hairstylist because mistakes are usually more visible on straight hair.
Caramel Balayage Hair Color Trends
11. Silver Balayage + Light Brown Mix Shade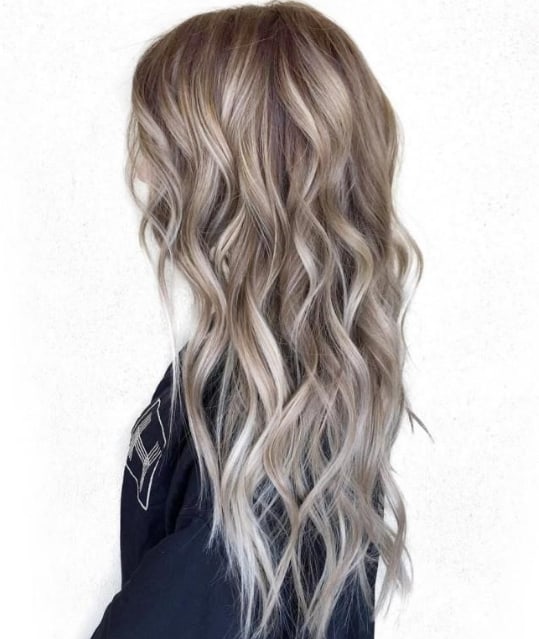 Why limit yourself to blonde and brown combinations? Show off your rebellious side by doing a silver balayage to your light brown hair. The silver color will compliment your light brown roots really well, so it's okay if they're visible. Silver balayage is perfect for those cold winter days. You can wear it with both curly and straight, blow-dried hair.
Difference Between Balayage & Ombre
12. Layers everywhere
The easiest way to add a new dimension to long layered hair is choosing balayage hair color. This balayage light brown hair is for those women who lust for volume. This glamorous playful look is a must-have this year. The messier the better is a rule you should follow for a perfect balayage on your gorgeous light brown hair.
Modern Light Brown Highlights for Brown Hair
As you can see, balayage can be easily applied to any hairstyle you have chosen. Light brown balayage hair is a perfect base for balayage because it creates a seamless look that we all want.