When it comes to giving your dark hair an update with color, brunette balayage is one of the best choices you can make. Balayage is applied from halfway down your hair in 'sweeping' motions for a natural look.
It focuses on using warm shades like golden brown, caramel, and light brown to lighten hair hair, and give it more depth and dimension.
Tips for Brunette Balayage
If your hair has been highlighted a lot already, you may need to darken and lighten it again first.
Choose your color based on your skin tone. Dark skin tones look best with golden brown; for a pale skin tone, try hazelnut brown; and for a medium skin tone, opt for warm blonde.
If you're doing a DIY job, be careful with how much you add.
Beautiful Ideas for Brunette Balayage
Wondering what the best ways are to rock brunette balayage in your hair? Check out our favorite 30 hairstyles!
1. Long Brunette Waves
Use brunette balayage to draw attention to the waves or curls in your long mane. With color this rich, you only need to comb in a middle part to be ready to take on the day.
2. Balayage on Spiral Curls
Is your hair naturally thick with tight spiral curls? A rich balayage will help enhance their shape and make you fall in love with your coils all over again. Layer hair for a little shape and to give curls new life.
3. Side Bun
Need a classy hairstyle for a special day? Your new brunette balayage will stun in an elegant low side bun. Leave a few tendrils loose alongside your face for softness, and top the look off with a bedazzled tiara or hair clip.
4. Long Dutch Braids
If you always feel like a little girl when you put your hair in braids, then try these boss lady Dutch braids in your long hair.
Not only do they gorgeously show off your brunette hair with balayage, they're easy to do and style in just a couple of minutes.
5. Space Buns
Space buns, or hair knots, are a great perky/preppy hairstyle. Simply part your hair down the middle, and make two high ponytails at either corner of the crown of your head.
Wind your hair around the ponytail, secure it with a hair tie to flaunt your balayage hair.
6. Messy Low Braid
This sexy bedhead hairstyle is one of the most gorgeous ways to flaunt your new brunette balayage locks.
Spritz hair with texturizing spray to create volume up top, then make a really loose low braided ponytail that is secured with a knot.
7. Half Ponytail
A half ponytail or messy bun is a commonly worn hairstyle for women these days. It only takes a minute to style and is effortlessly cute with a few loose face-framing tendrils. Try the low-maintenance look and see for yourself!
8. Wavy Lob + Balayage
For your shoulder-length brunette hair, opt for a chic lob. Work in some soft waves about halfway down to complement bronde balayage. With or without bangs, this is a winning hairstyle.
9. Wavy Hair with Headband
A headband doesn't always have to be worn to sweep hair away from the face. Part your hair in the middle and slide on a silky or patterned oversized headband. Fill your hair with waves for the perfect look.
10. Straight Hair with Brunette Balayage
Whether your dark hair is naturally straight or you just prefer to straighten it every day, a bluntly cut lob or other long haircut is a classy, sleek choice that will beautifully display brunette balayage.
For the base color, go for a brunette shade that gradually transforms into a blonde-brown hue for the tips. If you have a long mane, think about styling a few curls for the ends and part the hair in the middle to get a beautiful face frame.
Get a long bob haircut and part the hair in the middle. Opt for a balayage and style a few here-and-there caramel highlights that will make the hairdo look so damn delicious. Messy, smooth waves will also provide significant volume, and you will adore the new look.
13. Brunette Balayage Highlights
When you are styling a balayage for brunettes, don't be afraid to play with shades that make the hair color look warmer. This way, when designing an elegant bun and braids, those shades will pop out and provide a lot of texture and shine.
14. Brunette Ombre Balayage
Enlighten your mane with a fantastic brunette balayage that makes your tips look glossy and ravishing—style effortless curls for a modern and chic touch. Remember that you can also toss the bangs on one side.
15. Dark Brunette Balayage
When you have a dark skin tone, opt for a dark hair color for the roots and gradually switch to a warmer shade. Highlights can also be styled to obtain that marvelous contrast and shine. Swipe the bangs on one side and make your hair curly with a conical iron.
16. Light Brunette Balayage
Light brunette balayages and highlights go hand in hand, and this is probably one of the best examples. To make those marvelous shades pop out, straighten your hair, and wear it on the back.
17. Braided Balayage
When you want a look that gathers all the attention, this ravishing blend between waves and fancy braids is undoubtedly a hairstyle to go for. Make it look a little bit messy and relaxed and opt for a hair crown on top of the head.
18. Auburn Balayage
Ponytails are fabulous ways to make a brunette balayage stand out. Make a few cornrow braids on sides and pin all the hair on top of the head. Wave the pony to make those dark caramel tips pop out.
19. Curly Blonde Balayage
To make each curl look astonishing, opt for a brunette balayage that keeps the roots in a darker shade and the tips in a color that makes them look sun-kissed. Use hair gel to tighten the ringlets and obtain high-definition.
20. Wedding Balayage
Even if you are attending a wedding or other fancy event, this hairstyle will get you compliments all night. How could t not: the brunette balayage gives the tips a particular texture and glow. Create a low bun and place a sparkling crown on the low top of your head.
Brunette balayage doesn't mean brown, brown, brown. The brunette spectrum is just as rich and varied as any other hair color. Just look at this glorious coiffure. The streaks are cinnamon, caramel, and milk chocolate, all brightening up a mocha base.
From the blunt ends of the bob to the toasted almond tips, everything about this hairstyle is winning. blonde—and blonde-ish—streaks are the most common adornments for brunettes, but you can clearly see why.
Best Blonde and Red Highlights You can Try
23. Milk Chocolate Drizzle
The balayage spotted here is so subtle that you almost can't see it. You have to have an eye for colors and textures. Gossamer strands of hair are milk chocolate, which lightens up the dark brown of the natural color.
24. Vanilla Streaks
You might want to go a little lighter, in which case your brunette balayage is going to need some bleach. Don't worry; you won't end up with yellow or green toned hair.
An expert stylist can achieve just this kind of vanilla swirl. Just be advised that if your natural color is incredibly dark, you might need to have the balayage done a few times before you reach your desired level of blonde.
25. Gradual Brightening Brunette Balayage
The brightening here is so gradual—but that's the magic of balayage. The blending and balance are flawless. There's no abrupt change in color or extreme line of delineation. This is absolute perfection.
26. Face-Framing Color
Use balayage to draw attention to your face and brighten your features. It's simple. Pick a lighter color—lighter than your natural hair color — but make sure it complements your eyes and skin tone.
Tell your stylist what you want—more color toward the front, especially around your face. Notice how the bleaching of the top layer is very subtle, but underneath, she has a sheath of caramel.
27. Golden Tips
The fade from dark brown to light golden brown is exactly what brunette balayage is all about. Observe how natural that looks. This is the look to go for if you want it to appear as if you don't do anything at all to your hair. Don't worry—we'll never tell.
28. Two Shades Lighter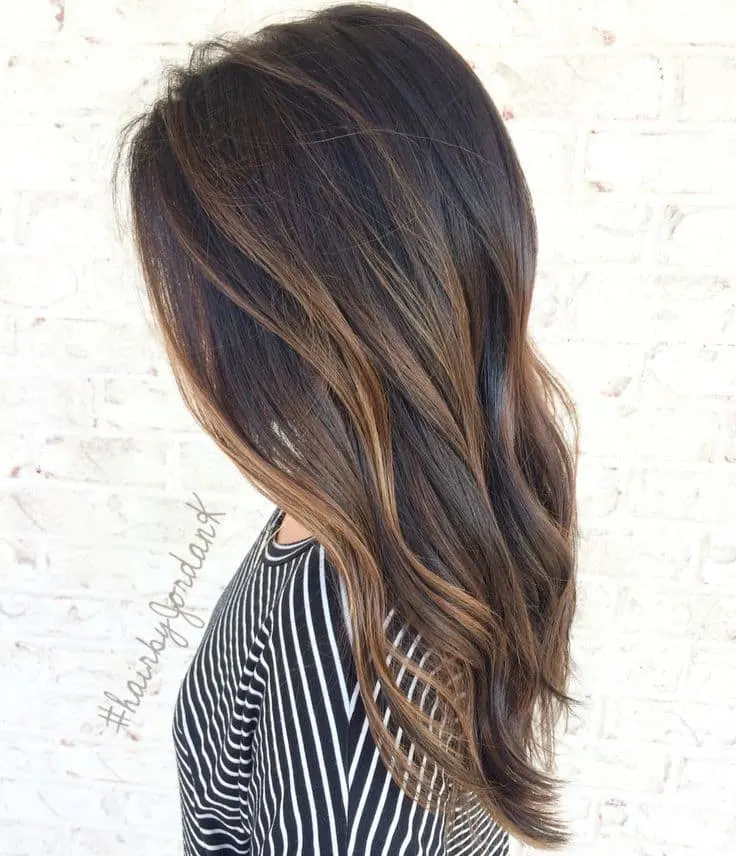 There's no need to choose an extreme color when you go for balayage. If your roots and/or natural color are dark, then anything lighter will pop.
Here's another stunning example of gradual change and gorgeous blending. See how a few streaks of gold start at the crown? By the ends, there's a smooth caramel/butterscotch shade.
30. Sun-Drenched
Spend enough time in the sun and you end up with natural streaks, right? You don't have to wait for the sun, or the summer.
A caramel as brunette balayage effect does the job even more beautifully, quite frankly, and you don't have to worry about sunburn.
Dark Honey Blonde Hair Colors for Women
Brunette balayage is perfect for any woman who doesn't want to make an outlandish or ostentatious change to her hair. Are you tempted by any of these looks?
FAQs
Brunette balayage vs. highlights – which is better?
Both are beautiful – it all comes down to what you want your final look to achieve. Balayage looks more natural, while highlights are obvious and stand out more in your hair.
How much does a brunette balayage cost?
As with any hair service, the cost of getting brunette balayage will vary according to your hair length and stylist. In general, the cost will range between $70 – $200.
Where should a balayage start on brunette hair?
Balayage typically starts halfway down the hair, but some women choose to have it start only a couple inches down from their roots.
How can I maintain a brunette balayage?
To maintain brunette balayage, avoid washing your hair every day, as too much can fade the color.

You'll also want to use a purple shampoo to nix brassiness, apply a hair mask at least once a month, and get your balayage touched up about every four months.