There's more than one way to rock a cowboy hat and it's not just at a country music concert or the summer fair.
Originally beginning with John Batterson Stetson, who created the American cowboy hat, the hats were often worn by Western farmers or ranchers who spent most of their time outside.
Now, thanks to the 21st century and creative designers and fashionistas, there are different types of cowboy hats and people are using these as another way to express their personal style.
You don't need a certain face shape or hair texture to rock them, which makes them the ultimate style accessory.
Types of Cowboy Hats
Want to order a cowboy hat online? Make sure you know how to measure your head, else you'll regret it later.
We are presenting you with different cowboy hat types. You can't go wrong with any of these 13 cowboy hat styles; try one on the next time you head out!
1. Cattleman Hat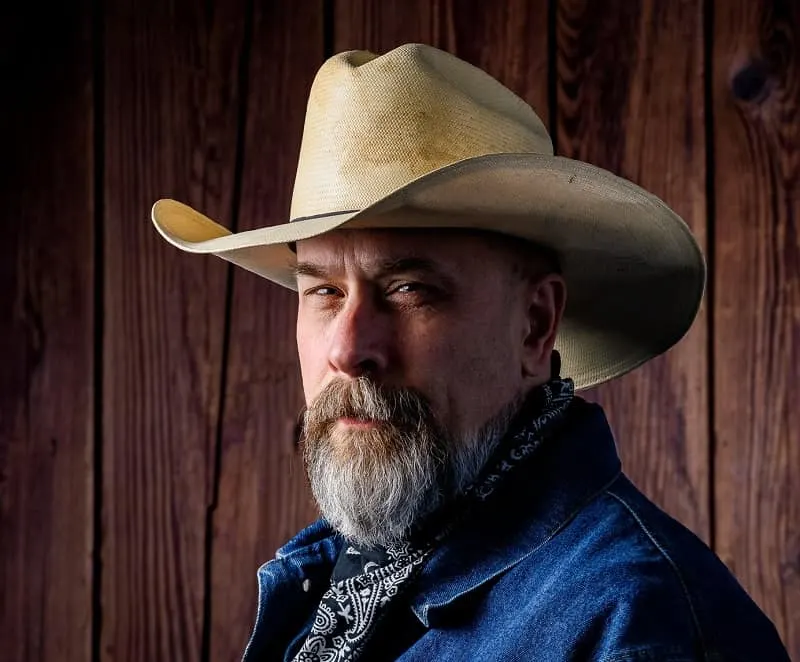 Whenever you feel the urge to be rugged and tough, a cattleman cowboy hat is the answer. It looks best on men who are older with some scruff or a full beard. Try wearing it with a neckerchief and a dark denim jacket.
2. Amish Cowboy Hat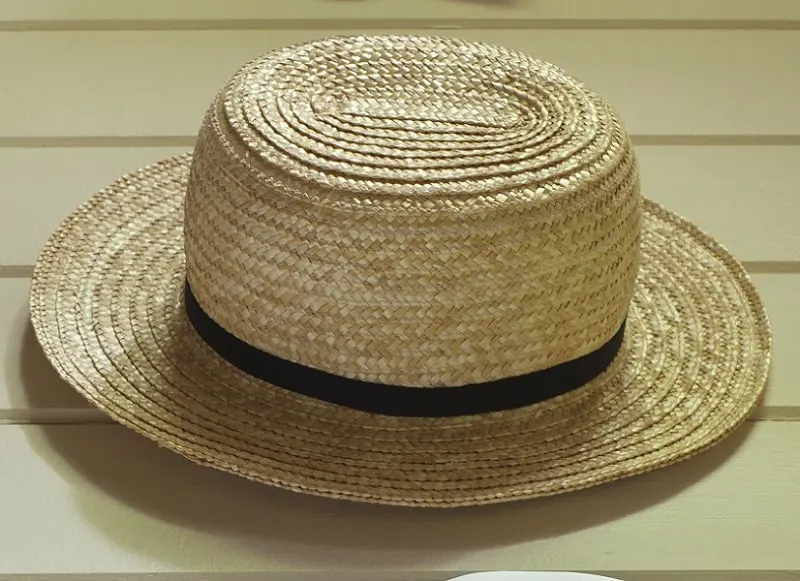 The Amish cowboy hat is flatter than a traditional cowboy hat. This type of men's straw hat looks cool. To add a bit of edge to your outfit, try an Amish cowboy hat in black… or try a white hat with a crisp white shirt.
3. Pinched Front Hat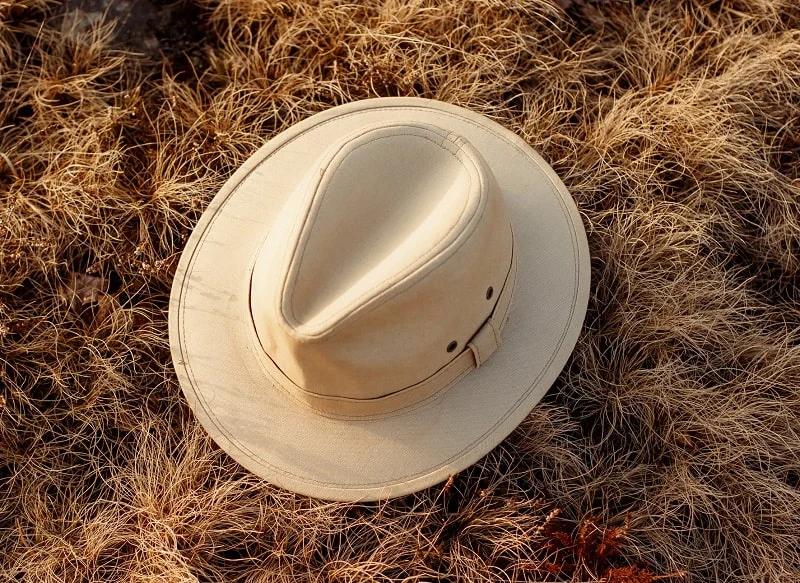 So named for its pinched appearance at the top, the pinch front cowboy hat comes in a variety of colors. With a light-colored tank top, wear the one pictured above, or for dark-colored clothes wear a dark one!
4. Flat Brim Cowboy Hat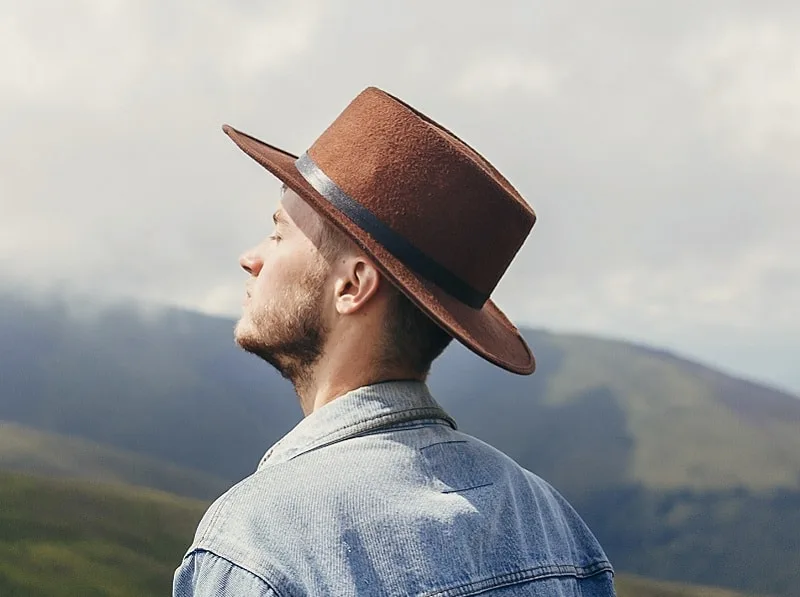 A flat brim cowboy hat is great for that hipster vibe and looks great on guys with round faces or small oval faces. Wear it with a jean or corduroy jacket or suspenders and a black and white outfit. Choosing a hat in a bright color like orange will help your whole look stand out.
5. Gambler Hat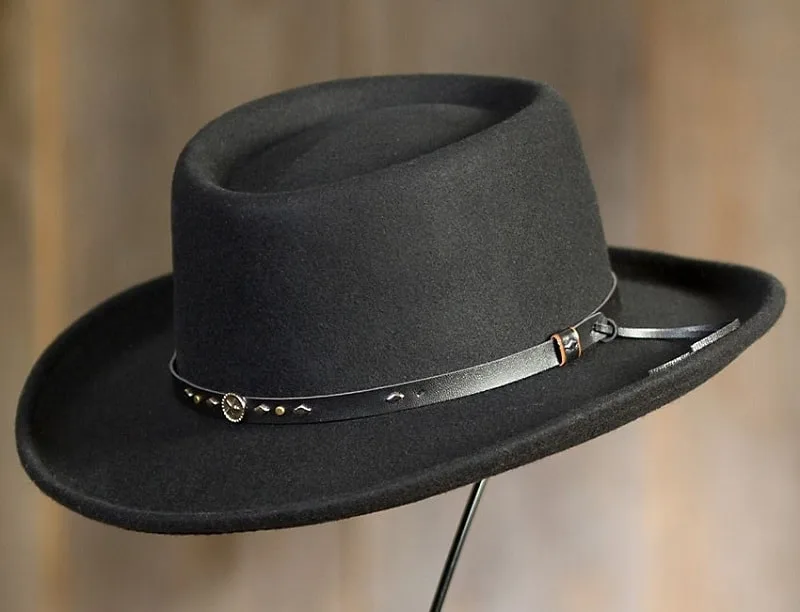 An oval crown and round wide brim sets the gambler cowboy hat apart from all others. This style is another great choice for adding edge to your look. Its dark color and jeweled accents are all the details you could ask for. If you have dark hair and dark eyes, this hat will look super sexy on you.
6. Tom Mix Hat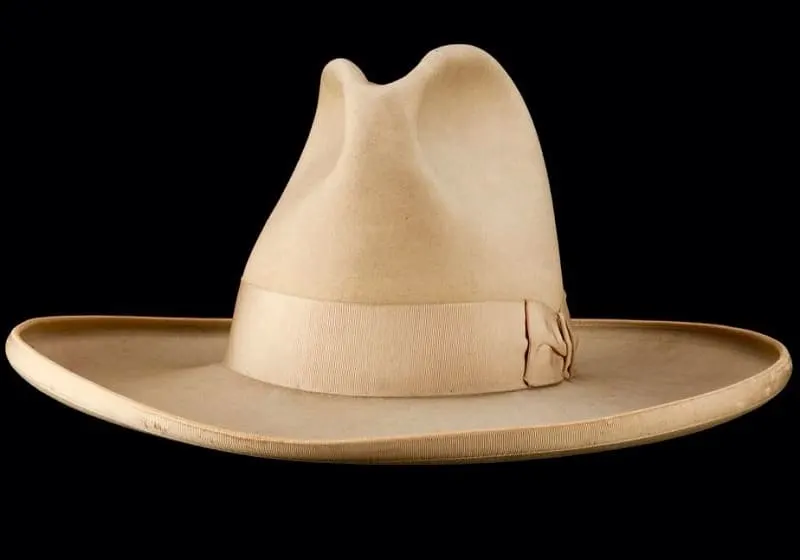 Tom Mix, the American silent movie star, was known for his 10-gallon cowboy hat. When your goal is to make a statement with your hat or be dramatic, the 10-gallon is the best choice.
7. Derby Hat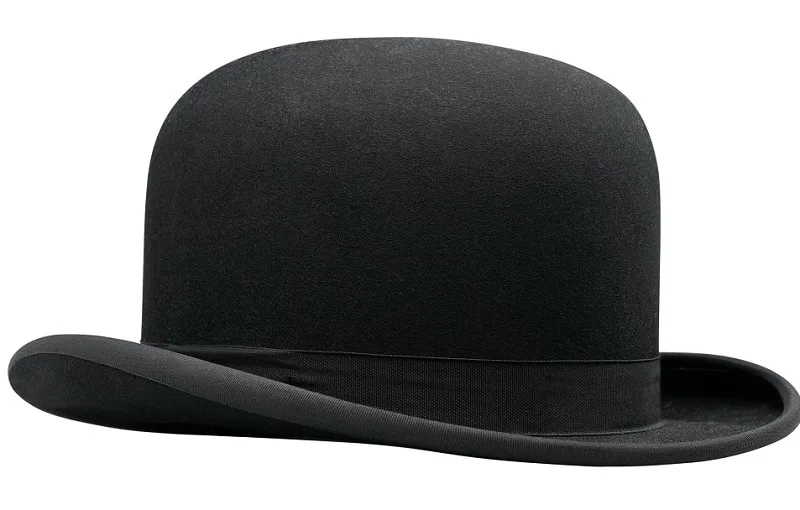 A derby hat is a smaller version of your typical cowboy hat. Also known as a bowler hat, the derby hat is a dapper touch to any formal evening outfit. Slick back your hair and top it off with this hat for suave style.
8. Gus Hat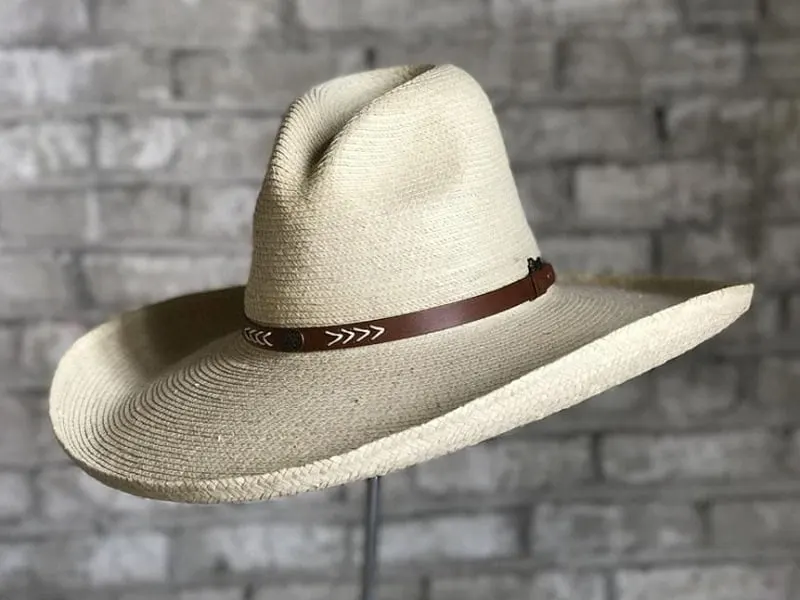 For classic cowboy vibes, go with a Gus hat. It's versatile enough that it works with both casual and fancier outfits. The classic white color is a warm addition to any look. On those days when you don't feel like combing your hair, top it off with the Gus!
9. Open Crown Hat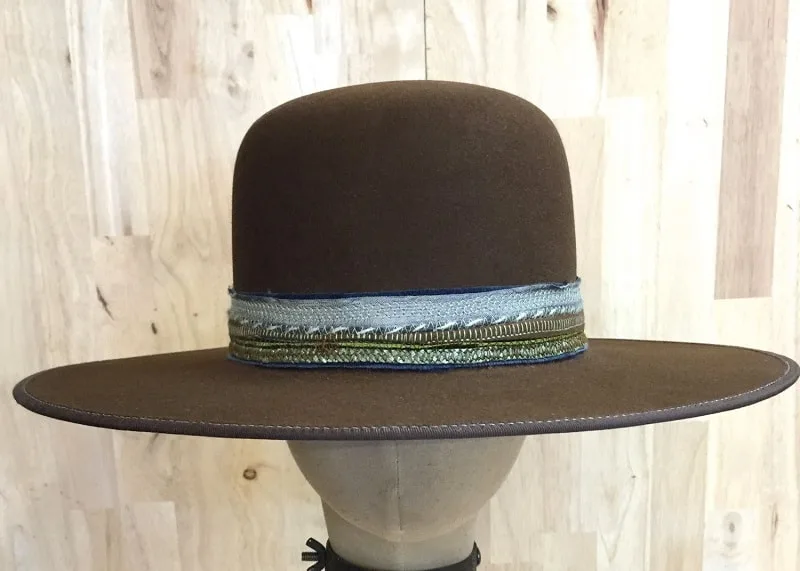 A wide brim hat like this one looks best on round or oval faces as it balances the face shape out. The dark color is flattering for all skin tones. To match your eyes and a medium or dark skin tone, try pairing the ribbon wrapped around the hat in a matching color.
10. Brick Hat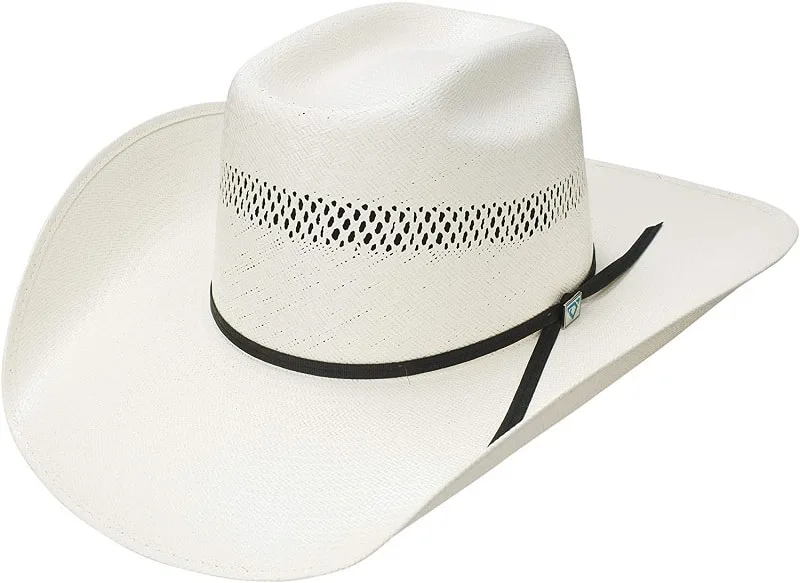 Usually seen on the "hot cowboys" from movies or country singers, the brick cowboy hat is a no-brainer when it comes to looking your hottest. It flatters men of all ages but will look better on men with those chiseled jawlines.
How to Deep Clean A White Hat and Get Rid of Stains
11. Puncher Hat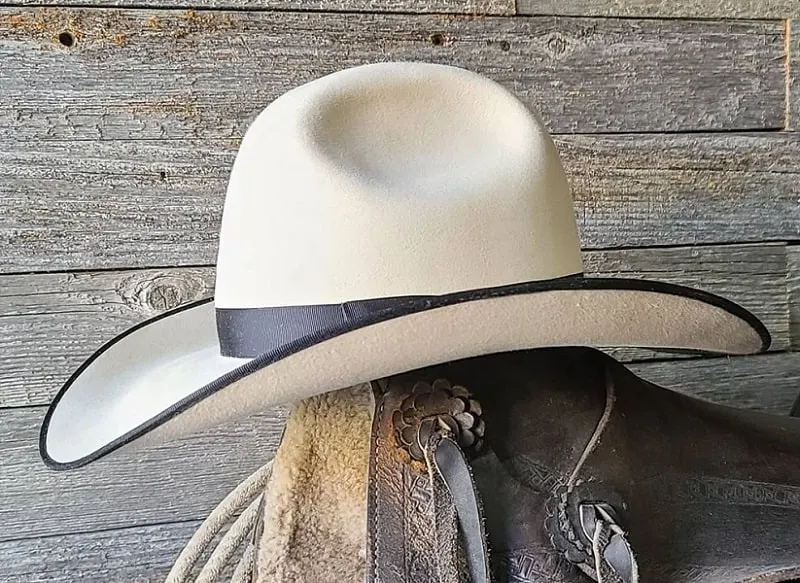 The crown on a puncher cowboy hat isn't too short or too big which makes it another great choice for all face shapes. While it too comes in many colors, the white with a black brim is a classic.
12. Ranch Hat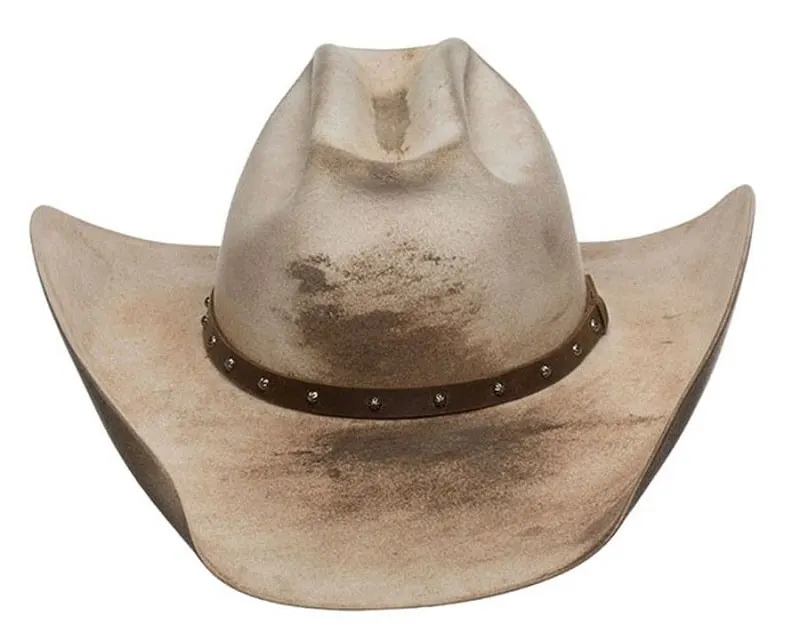 This worn in ranch hat may be just a little too rough for anyone other than someone who works outside. However, if you're heading to an outdoor event or the bar on the weekend, it's a great casual look.
13. Dakota Hat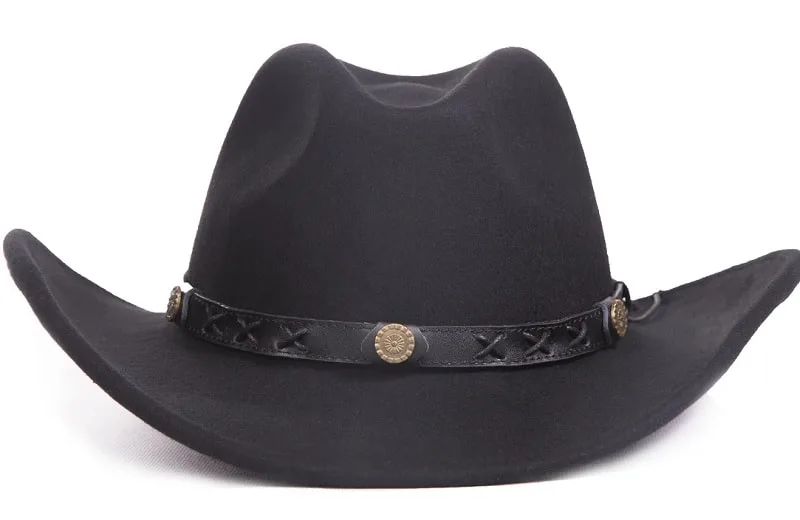 This timeless black cowboy hat is most often seen in newer cowboy movies. While the black is a typical color choice for bad boys and villains, it's also a hot choice for fancier occasions like weddings.
Hat Size Chart: What Hat Size Should You Choose?
Any of these cowboy hats would be a welcome addition to your daily outfit or whatever you wear on a night out. Don't underestimate the power of a well-designed cowboy hat!