More and more men nowadays understand that their image depends on a good haircut. That's why choosing the right hairstyle for men with round faces is imperative for guys who want to look striking. If your face is round, your goal is to make it appear more oval. This can easily be done with the right haircut.
A perfect haircut starts by considering your hair type and then the shape of your face. Round faces look great with high hairstyles. Thankfully, there are plenty of haircuts for men that include high hair on top. Everything from mohawks to spikes can be tried to see what you like best.
The Coolest Hairstyles for Men with Round Faces
Men with round faces need to spend a bit of time coming up with a hairstyle that will be enjoyable for them while looking good with the shape of their face. Not many men can come up with a unique hairstyle on their own. That's why this job is up to the stylist.
We are offering a nice collection of awesome and respectable round face hairstyles for men to make a good choice. Taking a look at what men have done with their hair in the past will give you an opportunity to find a suitable option for yourself.
1. Layered Long Hair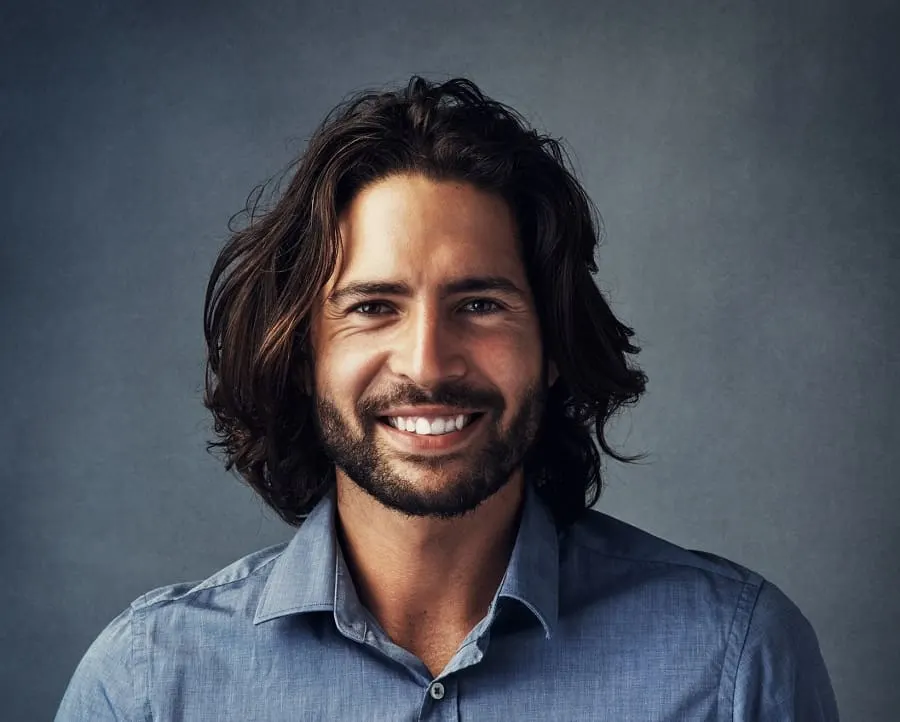 When you want your face to seem more oval, a few hairstyles for men with round faces can help you obtain that effect. This long layered hairdo is one of them. It is a great option for those with thick hair searching for a way to elongate their face.
2. Short Hair for Round Face
Get a stubble beard and a short cut to make your face look less round. That receding hairline can be less prominent if you opt for such a haircut that you can style in a messy way. It makes your forehead look bigger but cuts the roundness.
3. Blonde Long Ponytail
Longer sideburns help you create a frame for your face. As a guy with long wavy blonde hair, you can wear untied tresses to slimmer your appearance. If you want a more comfortable hairstyle, you can pin all the hair in the back in a low ponytail.
4. Stylish Pomp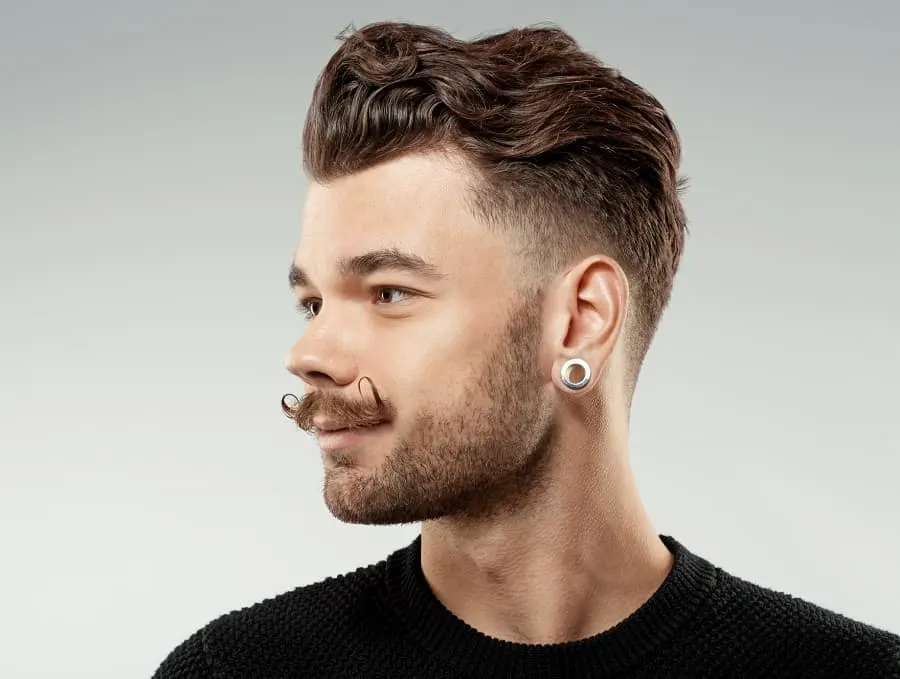 Create a stylish Pompadour hairdo. Use a medium fade on the sides and a slight wave or curl the top. For the face, keep a stubble 3 days beard and opt for a mustache. This hipster look involves rounded corners for the upper lip facial hair.
5. All Red
An undercut with a longer top is a great way to make a round face look less prominent. You can opt for a bright electric color like this modern red nuance to get more attention. Comb the top on the back but style a little bump to create height. This technique will help you create dimension, making the face less round.
6. Box Cut
Box cuts are perfect for men with coarse voluminous hair. The shape of this hairstyle for men with round faces resembles a box. It uses the texture of your hair and gives it shape and height. If your face is round, this particular hairstyle will create a longer appearance.
7. Emo Cut
Emo haircuts are perfect hairstyles for men with round faces. They feature long, asymmetrical cuts and bangs that make your face look elongated by creating numerous angles. You might use a hair straightener to make this hairstyle look absolutely flawless.
8. Bun Braids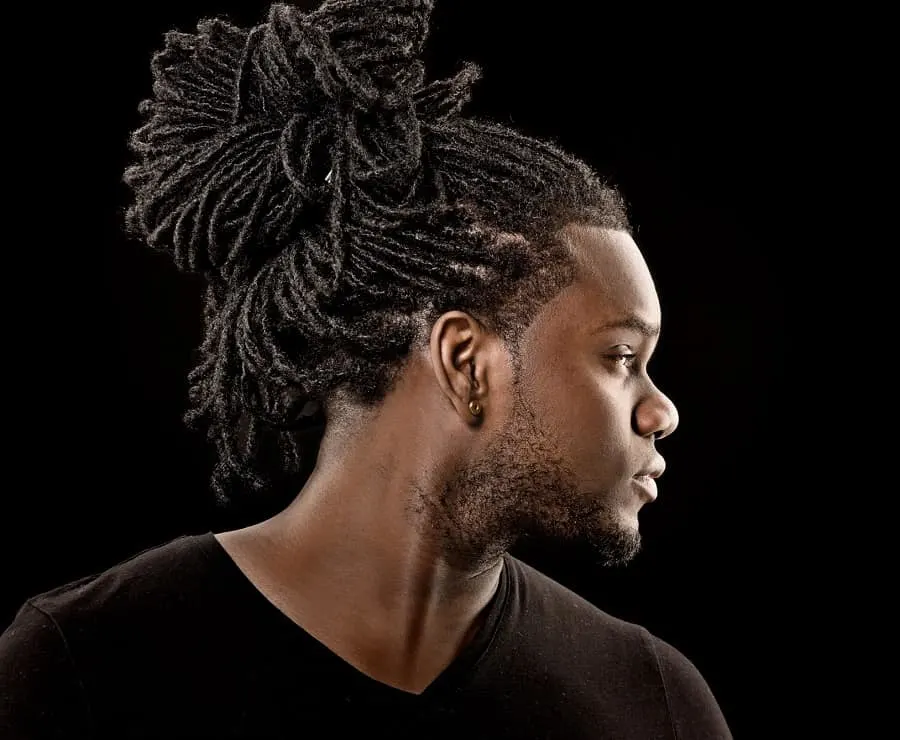 Coarse hair is high maintenance and requires extra care. You need to invest in quality shampoos, conditioners, or jams that help you detangle the hair easier. But, you also have protective hairstyles that can help you preserve your locks.
9. Curly Hair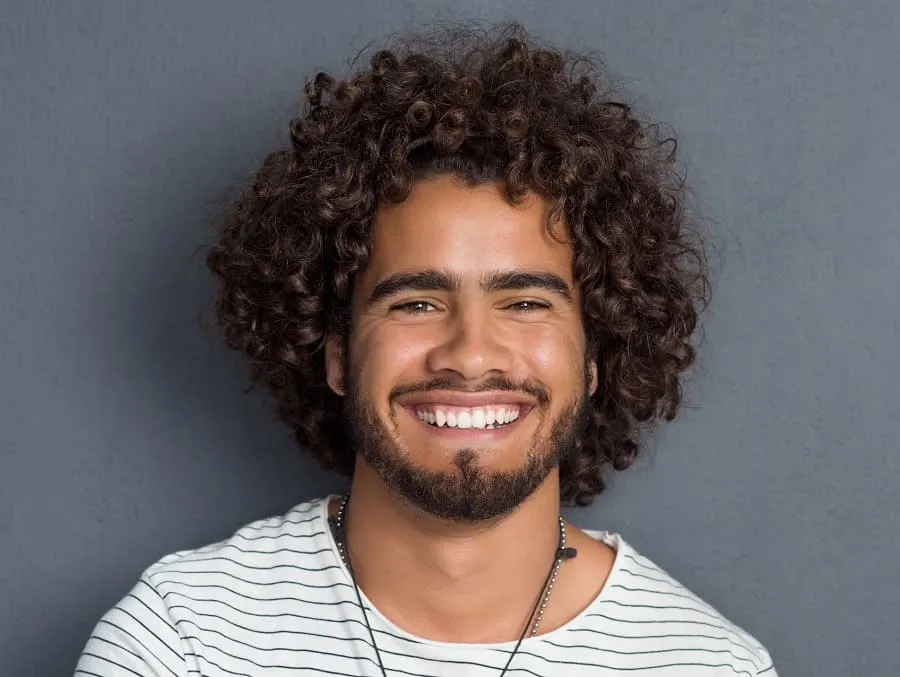 You might want to show that beautiful texture when your hair is curly. Even if this hairstyle is far from low-maintenance, a great hairstyle for men with round faces can help you get a hairdo that suits you. Remember that your curls will have bounce and movement if you opt for a medium length.
10. Colored Mohawk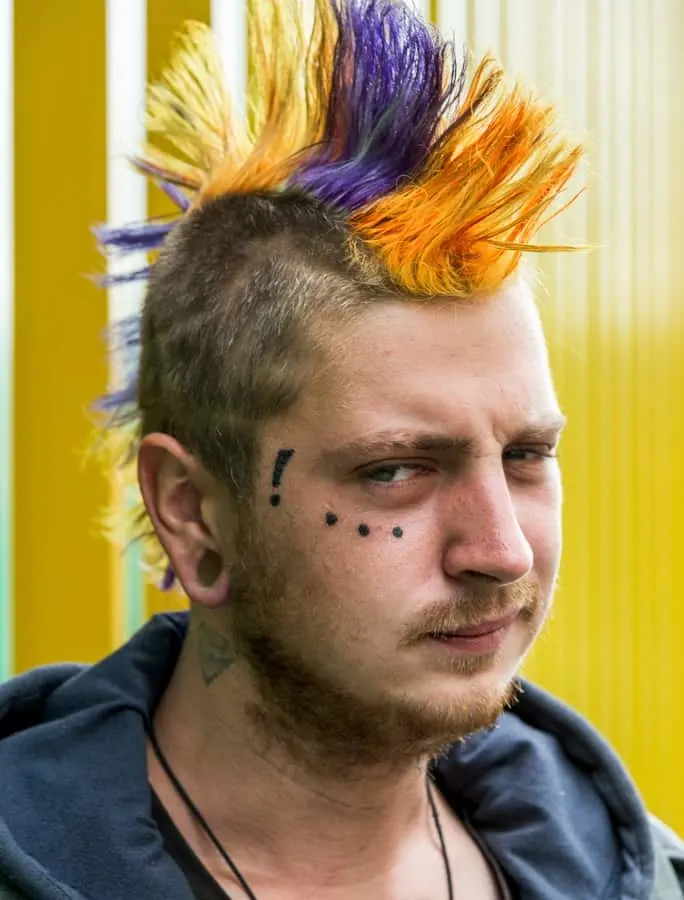 Colored mohawks are a great way to express your personality. Also, they are one of the best hairstyles for men with round faces. By styling them up, you will be able to elongate your face. Moreover, you can create all sorts of designs on one or both sides.
This is one of the simplest short hairstyles for men with round faces that both looks good and makes a face appear longer. It's a light taper fade with spikes on top. Spiking must be done daily to elongate the form of the face.
12. High Crest
There are plenty of crests to experiment with. It all depends on how long the hair on top of your head is. If you are brave enough to make it at least 5 inches, then spiking up will be fun and effective for your face shape.
13. Comb Over for Round-faced Men
A great way to open up your forehead and to keep the hair neat is to create a high comb-over. You will need plenty of gel to make this subtle transition from a spiky top to a neatly combed lock.
14. Soft Spikes
This is a good short haircut for men with thick hair. You can make the hair all the same length and spike it up in any way you like. Don't use too much hair gel. Thick hair will stand up on its own with just a dash of cosmetics.
15. Undercut haircuts for round face
This undercut is a wonderful choice for men who like classical hairstyles. The sides are cut short and the top is left long enough for all kinds of experiments. The contrast between the side and the top makes a face look longer.
Combing your locks backward will give you a romantic look only if you add messiness to the style. Allow one stray strand to fall down your forehead and you will definitely keep some pretty heads turning your way.
17. High and Mighty
If you are a lucky owner of thick and curly hair, you don't even need any styling to make your face look more oval. Just leave the top part of your hair about 3-4 inches long and it will stand up on its own.
18. Long Bangs
If you are a fan of bangs, you will appreciate this hairstyle for men with round faces. Bangs must be long to make your face appear elongated. Short bangs should be forgotten since they have a reversed effect.
19. Neat and Solid Cut for Round Faces
Guys with straight hair can allow themselves to play around with a lateral comb over. See how you look with your hair brushed to one side or another. Any asymmetry is appreciated in the world of fashion.
Adding a facial hairstyle to your haircut is a great idea when you need to play around with the shape of your face. Long and thin whiskers can become a great continuation of an undercut, helping your face look oval.
21. Elongated bob
The elongated bob is a popular long hairstyle among Asian men with round face types. This style will require you to go for regular touch-ups and will need daily maintenance. If you are ready for the challenge, go for it!
Mohawks and fohawks are great hairstyles for men with round faces. They elongate the face with the high locks on top contrasted with short hair on the sides. If you want an immediate effect, get a fohawk.
23. Nice and Curly
Men are often reluctant to flaunt their curls. However, if taking care of them doesn't scare you, you can sport the most romantic haircut of all times. Curly bangs will surely get you a lot of attention.
There is a huge variety of amazing mohawks you can choose from. Some of them can even be worn to the office. Your goal is to keep the top part as high and spiky as possible.
25. Creative Spikes
If you have long hair, you can enjoy all kinds of creative spiking. Take some gel and start experimenting. Look at this photo and copy the style. You'll find it easy to have fun with long spikes.
26. Feathered Top
Another cool short hairstyle for men with round faces. Not all spikes are easy to make. So if you have a great experience in spiking up your hair, you can go further to create complicated hairstyles such as feathered top. You'll need to allow yourself some time to learn.
27. Simple Comb Over
If your occupation doesn't allow you to go all out with hair experiments, you can go for a simple comb over. This is a perfect long hairstyle for men with round faces who don't like too much maintenance.
28. Eye-covering Bangs
Eye-covering bangs might not be the best haircuts for men with round faces since they make the face visually shorter. You will need to choose between very short, spiky bangs and very long bangs that go below the ears.
A great way to make your face look elongated is to play around with colors. High blond bangs coupled with dark locks won't just make you look stylish; they will help your face shape appear close to perfect.
Windblown looks suit guys with all face types as long as their hair is thick. You can use a little gel to spike your locks up and allow nature to do the rest. Girls like such messy yet romantic looks.
31. The Professional
If you are getting ready for a special occasion, this hairstyle is for you. Ask your stylist to create such spiky haircut and keep it as neat as possible. If you add some blond hue to your locks, you'll definitely keep the heads turning.
32. Very short
Fans of short hairstyle will appreciate this simple solution. Keep the hair about half an inch short and leave a little more in front for simple spiking up.
33. Careful Styling
If you have straight hair and like complicated hairstyles, you will need to spend some time experimenting with your locks. Consider arranging neat waves on top of your head and securing them with gel as you would a comb over.
34. Fun top
There are many interesting ways you can arrange the top part of your undercut. Try this one for a change.
Neat waves look great as the top part of your mohawk. Just don't forget to keep them this way by touching up when needed.
This is a perfect hairstyle for men with round faces. The mushroom cut makes your face looks longer and your appearance neat. The hair on the forehead acts as fringes, making the mushroom cut more prominent.
37. Gelled up Mohawk
Gelled up Mohawk is an interesting way to style your Mohawk haircut. It essentially brings out your features more clearly and gives a very appealing look.
This is an interesting way of styling your textured quiff hair. By keeping it long and loose and fading the cut on the edges, this look gives the appearance of a recent brush up on the hair. Which definitely looks very appealing and gives off a good vibe.
39. Short Asian Spikes
Having short spikes is an interesting way in which you can keep your look both funky and classic. This haircut for round face men blends in with any attire or occasion. It gives off the vibe of a very young person.
This haircut is a real-time experiment for men with round faces. Here the hair is longer spikes, with some of the side edges going up giving it the vibe of a Mohawk cut. The side edges give the cut a rather dramatic look. The thin, clean shave creates a clean line which makes this look furthermore unique and experimental.
Pomp is one hairstyle that can be arranged in multiple ways. Here, the style is side combed. It is then set sideways with the sides faded out.
A completely different outlook to spikes is the flared spikes cut. Away from the conventional spikes these are a little spread out and have no definite shape. This is what makes this round face hairstyles for men so outstanding.
43. Textured Hair Cut
If you have a round face shape, this is the look for you. This hair cut has little longer flicks which are little brushed aside to make the face look clean and yet show the density of the hair.
The style is essentially how you carry yourself. These long curly hair here are groomed properly and arranged in aside parting which makes them look really appealing and also suits the round face.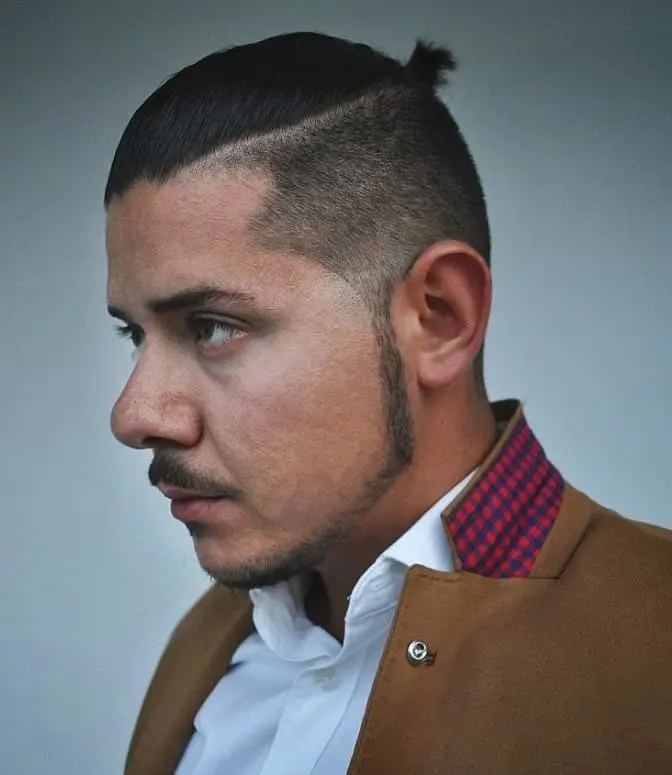 You can tie your front hair into a small pony. This makes you look very neat and classy. It is a very prim and proper style.
If you are fond of long hair, these long dreads are a lovely way to style your look. This hairstyle initially takes a little care, but once it is set, you can be all carefree about it.
If you have a round face and are looking for a hairstyle that can cover up your forehead, then this is the perfect hairstyle for you. The side parting is arranged with flicks in such a manner that when it is combed, you can cover your forehead up.
48. The Blue Hair Flip
Keeping the hues strong this is an impressive way to make a statement style. The hair is cut long, and the hair is completely dyed in a fun blue color. The back and sides are kept short.
The sides are given a fade haircut, whilst the middle portion of the hair is cut extremely short. This extremely fine haircut for men with round faces is easy to maintain and requires little or no attention.
The man bun is the chicest and simple way that you can maintain your long hair. Because men don't prefer long hair ideally so much, this is a literal escape between the two. You can essentially tie your hair whenever you wish to. Thus including many styles in just one haircut.
Breaking the typical stereotype, this afro haircut for men with round faces is literal the talk of the town cut. The spikes in this cut is a little down which makes the cut more different and denser.
A blade cut runs from the sides of the hair which distinguishes between the fade cut and the spikes. Also, the hair is in steps which makes the fade cut even more interesting.
Combed over with taper fade is one classic hairstyle for men with a round face. It complements the jawline, brings out the naturally angular elements, and cuts out weight from the round face. It is a clean and sophisticated cut that fits in with a round face brilliantly.
53. Skin Fade with Bangs & Beard
The skin fade along with the bangs and the complementing box beard is an appropriate haircut for men with a round chubby face. The beard provides the right contrast to the skin fade and the bangs on top. It also makes the chin look relatively angular to enhance the effect.
54. Skin Fade with Top Knot & Beard
This is a variant of the slick back hairstyle for men with a round face. The top knot adds to the eccentric and unique element of this hairstyle. It brings in a distinctly pointy and angular feed to the whole get up. The top knot also lends a sense of intensity to the face and highlights the masculine energy of one's personality.
55. Pomade with Tapering Razor Fade
This is undeniably one of the perfect round face hairstyles for men. It is sleek, sophisticated, low-maintenance cut that complements the natural roundness of the face. The beard along with it helps accentuate the features even more. This kind of haircut is ideal for corporates and in the office environment.
The sharp fade with a tapering end is always a suitable round face hairstyle for men. But the curls surely add a sense of exotic to the whole cut. Needless to mention, it makes the hairstyle look exceptionally cool and classy. It also makes this hairstyle standout wherever you may step out. This is a type of cut that no one will forget in a hurry.
57. Sharp Fade with Spiky Pomade
The sharp fade, the spikes, and the angular full-length beard accentuate the pointy look and takes attention off the roundness of the face. That is what makes this a great haircut for men with a round face. It helps make the face look a lot slimmer than it naturally is. In this context, the spikes and the beard complement each other naturally.
If you are keen on something really interesting, then you can surely try this round face hairstyle for men. It is one of those quintessentially exotic cuts that will always make you the centre of attention. It celebrates the roundness of the face but at the same time allows the right highlighting of the jawline for best impact.
This is a particularly appropriate haircut for men with a round and chubby face. It is a type of haircut that easily shifts the attention from the chubbiness of the face. However, at the same time, it helps retain the boyish charm and a super attractive jawline. This is also a low maintenance haircut and ideal for those who spend extended hours outside.
This is another variation of the pompadour. This wavy and short pompadour works brilliantly when you are looking for haircuts for men with chubby face. The stubble and hint of a mustache further accentuate the look. It also exudes a sense of subtle machismo that adds to the whole impact.
The pompadour in any version is one of the most attractive round face hairstyles for men. The golden highlights in here give it an exotic charm.
62. Ginger Slick Back with Beard
This is one of the most common haircuts for fat guys. While this hairstyle complements the round face, it makes the face look slimmer and therefore making you look relatively less round.
63. Pomade with Side Part & Sharp Fade
If you looking for haircuts for men with a round chubby face, this can be a great option. The thin beard line enhances the overall demeanor and does not make the face look as heavy as it would otherwise.
The buzz cut with a tapering end works well on most round face. In this round face haircut for men, the focal point shifts to the tapered angular end and the overall roundness of the head.
65. Vintage Side Part with Undercut
This is perhaps one of the most common haircuts for men with a round face. The longish bangs swept to a side with a distinct hard parting play on contrasting length to create a striking impact.
66. Short Bangs on Top with Taper Fade
The sharp taper fade works brilliantly, in this case, to take off considerable weight from the face. With the spiky short bangs on top, this becomes an ideal round face hairstyle for men. It is sober, understated without compromising the hint of style.
This is a common haircut for men with a round face. A versatile and a definitive cut, this is all about creating that sleek, sophisticated and suave look for those with a round face. This will, however, not be appropriate if you have a chubby face. The taper fade helps maintain an angular slant to the face.
This is another attractive option when you are deciding on the best round face hairstyles for men. The temple fade and the curly top make a face look slimmer and relatively more angular.
This is an exotic option when deciding on a haircut for round-faced men. The golden braids and the faded bun take the attention of the roundness of the face. The little soul patch also accentuates the angular illusion. This will be particularly appropriate for those with a round chubby face.
Side part hairstyles are always the best option. This above haircut is perfect for the round shaped face men with a receding hairline. Pair it with a short beard for a more cool look.
These amazing yet very simple men's hairstyles with round faces can be created in a matter of minutes. Ask your hairdresser for more tips, then go ahead and get the cut you've always wanted.