Jewfro hairstyles are not only for Jewish men. Although the term Jewfro is made by combining Jew and Afro, the term is now lovingly used to describe any Afro-type hairstyle on a man who is not of African origin.
Jewfro hairstyles come in lots of different sizes and styles which depend on the natural hair type of the wearer. The style that you choose will depend on your hair type.
What Is A Jewfro?
Curly hair tends to be a typical hair trait among Jewish fellas and that's is how the Jewfro came about. It can sometimes be referred to as the 'white afro' or 'bro fro' due to the fact that this hairstyle is typically seen on white or lighter haired chaps.
It was particularly popular in the '70s when everything that was fashionable was larger than life.
The cut generally involves encouraging a rounded and even hair shape across the top of the head, often cutting the hair all to one length which gives that curved and full-bodied appearance.
That being said, you can modernize the Jewfro to suit your own face shape, hairline and personality; by introducing tapers, fades and color.
Jewfro Versus Afro: The Differences
You will often find that the Jewfro and the Afro have some similarities in that they are both styled to make the best of a natural hair type. Both encourage the hair to embrace its inherent volume and to stand up and out from the scalp.
The main difference, however, is that African American hair, which is the archetypal culture toting the Afro have entirely different hair genetics than Caucasian hair that often rocks the Jewfro. This includes the fact that African Americans have fewer hair strands, thinner hair strands and hair strands that alter in thickness from root to tip.
Therefore, you will find that the Jewfro, and Caucasian and Asian hair in general, tends to withstand styling more and with less damage and breakage.
How To Make Your Jewfro Look Good
So, you may think that as the Jewfro is all about making the best of natural hair that it will involve very little work and maintenance. However, the key is in the cut so that you make the best of what nature gave you!
Condition those curls: Conditioning is the key to make use of those curls. So after shampoo, use an ultra-conditioning treatment or apply a leave-in conditioner after washing when your hair is still damp.
Ban the brush: Brushes are the enemy of good curls as they break up the natural 'clumps' of hair that form perfect ringlets. If you do need to detangle then either use your fingers or a wide-toothed comb.
Less is more: Shampooing too frequently can dry out hair as it washes away the natural oils created by your tresses. Wash your hair a maximum of 3 times a week and you will notice a difference in how well your hair curls.
Product placement: You may think that applying hair products can help tame those curls but the beauty of the Jewfro is in its ability to puff out from the roots! Products can often weigh hair down which is not what you want. So, if you want a good looking jewfro then you're going to have to wave goodbye to your favorite waxes and lotions!
Curly Jewfro Hairstyles
Jewfro hairstyles can be quite unruly if they are not cared for properly. Using special Afro shampoo is a great way to look after your Jewfro style. These shampoos and conditioners are designed to keep your hair well-hydrated.
This can prevent individual hairs from snapping and breaking. Alternatively, you should try using women's curl shampoo or styling products.
#1: Medium 'Fro with Tight Curls
Very tight curls will make a 'fro look smaller and they mean that your 'fro will seem to grow at a much slower rate. Monochrome hair color will add intensity to a hairstyle like this one.
#2: Mini JewFro with Shiny Curls
Bigger thicker curls are easier to give shine to because they tend to hold their shape better. Scrunch a wet-look holding product through natural curls to give added shine to your Jewfro hairstyle.
Fohawk Fade Haircuts for Men in 2021
#3: Jewfro Hairstyle with Thin Beard
A small 'fro hairstyle looks really intense when it is matched up with a carefully trimmed beard. Full beard coverage gives the look intensity and seriousness. This style looks artistic and professional.
#4: Shaggy 'Fro
A shaggy Jewfro hairstyle is one which is a little bit floppy and wild. The shagginess of a 'fro can depend on the strength of individual hair fibers. These styles tend to have a little bit more bounce when you are moving about.
#5: Caramel Jewfro
Some people find that the longer (or bigger) that their hairstyle gets, the lighter that the color becomes. The hair may become sun-bleached. A caramel Jewfro will usually suit people with olive skin tones.
#6: Wild Style
Show off your wild personality with a completely wild hairstyle. If your hair is very difficult to tame, then throw caution to the wind and let it go crazy.
#7: Perfect Jewfro
Perfect Jewfro hairstyles are 'fros which form a perfect crescent. In addition to this, all of the curls are picture perfect too. This is a great hairstyle for men who like to be well-groomed.
#8: Parted 'fro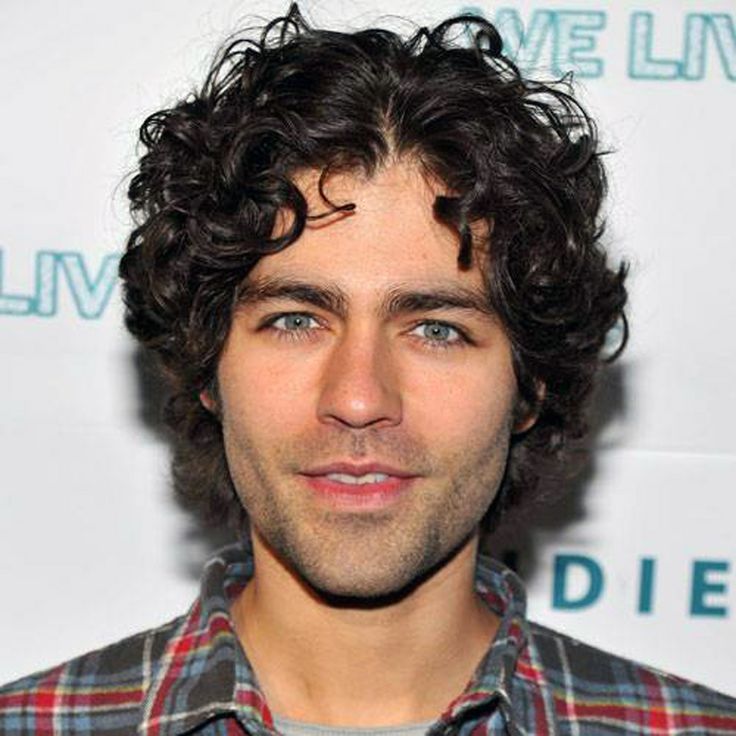 Floppier hair can be styled more easily than African-textured hair without the need for additional styling products. Use a comb to pull a light parting through your hair. This will enable your fringe to fall gently to either side of your face.
#9: Big Curls
A 'fro with large curls actually grows quite quickly. Men with straighter hair can also achieve this type of 'fro by getting their hair chemically permed.
#10: Big Jewfro Hairstyles with Tight Curls
Growing a large Jewfro hairstyle takes a lot of dedication, especially if your hair has very tight curls. Use moisture-rich men's hair conditioner on your hair regularly to help to keep it looking great.
#11: Tinted Tips
Pay homage to 90's boyband style by tinting the tips of your hair with a blonde or caramel hair color. This style works best if you have a small Jewfro hairstyle with tight curls.
#12: Mini Jewfro with Medium Tight Curls
A mini Jewfro with medium tightness curls is often associated with teenage guys who are trying to grow their hair out for the first time. The look can help to give adult men a child-like innocence and youthfulness.
#13: Trimmed Back Style
Trim the sides of your hairstyle so that it has height rather than width. Because of the shape, trimmed back styles barely look like Jewfro hairstyles at all.
#14: All-consuming Afro
This Afro-inspired hairstyle looks a little bit like it is taking over! The hair completely covers the forehead and the hairline is nearly covering the eyes. Shaggy hair like this creates a very playful hairstyle for men.
#15: Fine Curls
It is easy to introduce more volume to a men's hairstyle by styling the hair with very fine curls. If you have thicker curls in your Jewfro hairstyle, you can separate them out by running your fingers through your hair.
#16: Mini 'Fro
Keep your Jewfro hairstyle in check by trimming it whenever it gets too long. This will keep your hairstyle to a very manageable size. Regular trimming can also help to keep your curls tighter.
#17: Mega 'fro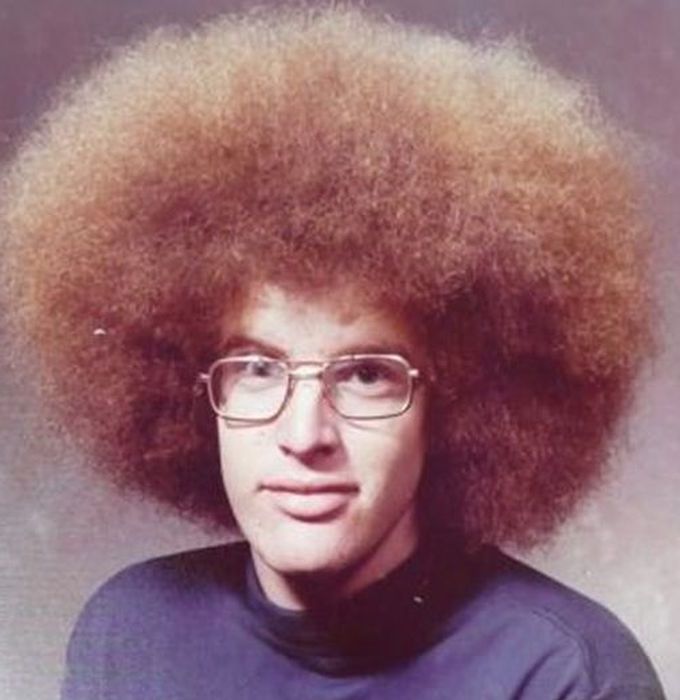 With a mega 'fro hairstyle for men, you can go as big as you dare. Keep growing your hair for as long as you want. Keep your hair properly nourished with special Afro haircare products.
#18: Sandy Hair
A thick sandy-colored Jewfro looks softer and less intense than black or dark brown options. Separating out the curls with your hands will also help the style to look light and airy.
#19: Teased Jewfro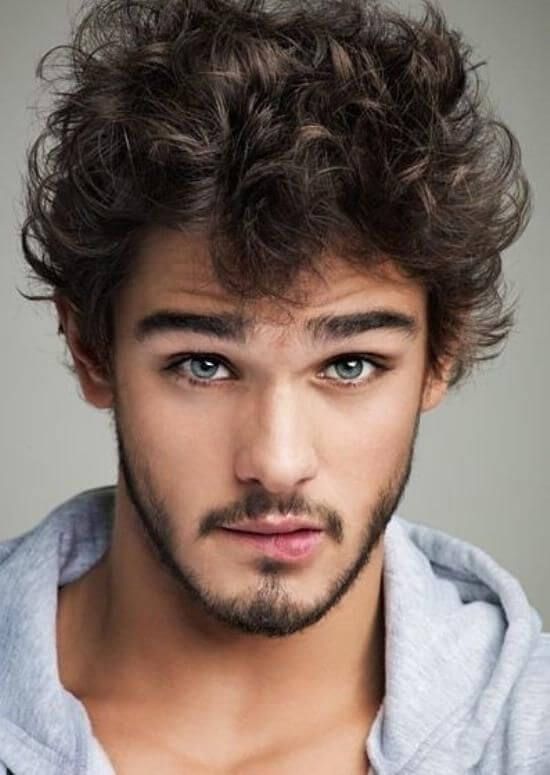 Use your fingers and some styling gel to tease your hair outwards from the main body of your Jewfro. This helps to give Jewfro hairstyles a more modern look and add volume.
#20: Mature Jewfro
A small, tidy style is the perfect hairstyle for an older man. Keep the hair trimmed so that it is long enough to curl properly, but is not so long that it will become unruly or wild.
Pompadour Haircuts for Classy Men
#21:
#22:
#23:
#24:
#25:
Jewfro hairstyles are a brilliant option for guys who are bored of classic hairstyles. Curly styles like these allow you to express your individuality and they are perfect for guys of any race. We have plenty of other cool lists of hairstyles for men who want to stand out from the crowd.