Some men don't want to fit into a pattern and just love trying out a crazy and weird hairstyle that tells a lot about their personality or, for example, tastes in music. On the other hand, others fancy a more wacky look when doing cosplay or attending a themed party.
However, no matter your goal, the options you have are limitless, and all you need is creativity and inspiration. You can play around with with electric colors, undercuts, spikes, or mohawks.
Best Crazy Hairstyles for Men
If you need inspiration for your next crazy hairstyle, scroll down and check out these amazing wacky looks!
1. Blue Spikes
One of the most common crazy hairstyles for men involves lifted spiky hair that is dyed in an unconventional color like this neon blue.
To make sure the shade will look eye-popping, bleach your hair and then apply the semi-permanent paste.
2. Teased Pompadour
If you're having a themed party and want a look that will really stun your audience, then take advantage of your natural hair color and pull off an outstanding look.
Extend your hair by applying some hair extensions and tease your bangs to cover them. You will be able to create some sort of thick long pompadour mohawk with a messy aspect and a lot of height.
3. Extra Messy Hair
Love unconventional hairstyles that don't fit the standards? Then try this messy hair that resembles a cuckoo's nest!
Tease the roots, and add texturizing spray and hair gel to build as much volume as possible. You don't need to give it a certain shape, create that messy aspect until it feels right.
4. Coarse Goku Spikes
Who said you can't create a spiky look out of coarse natural hair? You don't even have to do a special trim to get this men's crazy hairstyle!
Section your hair and use a styling mouse to shape the pieces into spikes. Make sure the tips are glued so the hairdo will last.
5. Football Hair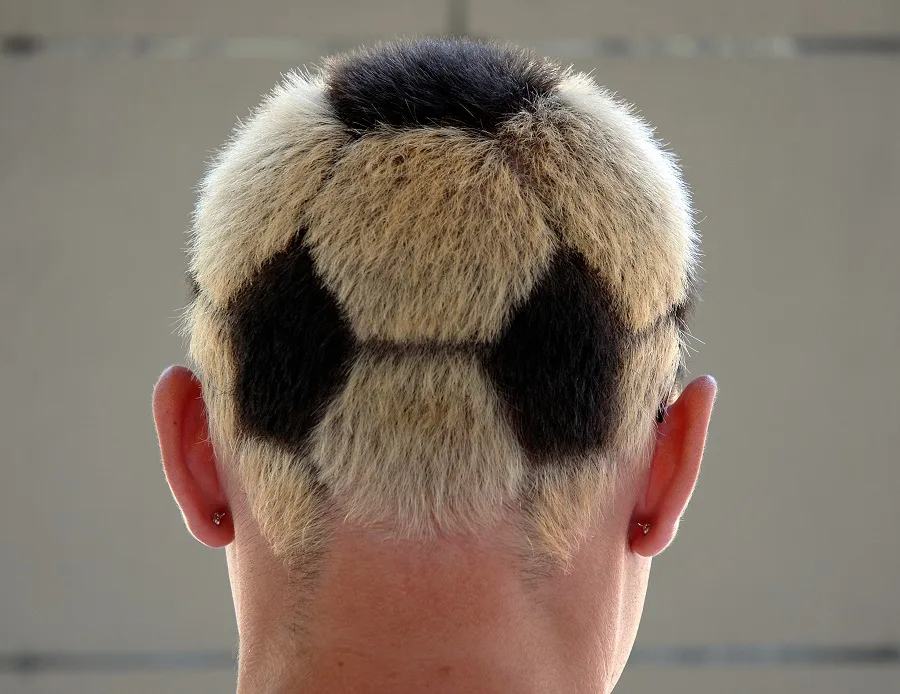 Are you a big football fan? Then show your love for this sport through your next hairstyle!
Next time you're going to watch a game, bleach all your hair and create hexagonal partings resembling regular footballs. Paint some of these partings in a darker color and highlight the partings.
6. Wavy Long Mohawk
When you have long blonde way hair and want a spectacular look, you have so many styling options. And one of the most appealing ones is this amazing mohawk with braids.
To recreate it, you will first need to part the sides from the top because you will use this hair to style three thin braids. Lift the hair and use tons of hair spray to make the hairstyle last.
7. Strawberry Strands
If you're feeling crazy and crave a short look that really stands out, go for a buzz cut with two long strands in the corner of the forehead.
Bleach these pieces and dye them in a strawberry blonde color. If you want them to look like antennas, lift the roots to get that curve.
8. Indigo and Black Dreads
Dreadlocks are a common hairstyle, but that doesn't mean you can't crazily style them. Dye them black and in a vivid blue-indigo color.
Shave one side and swipe them all to the side. Go for a stubble beard to make sure your hairstyle will get all the attention it deserves.
9. Sleek Top With Messy Ends
Do you think that sleek hairstyles are too boring? Then you must try this bowl cut with a middle part. Use hair gel to get that sleek look, then tease the hair and mess it up.
Add hair spray and fluff it to create as much volume as you need.
10. Cross Shave
If you want a crazy hairstyle for men that really gets all the attention and looks wacky and nutty, you will love this!
Shave the top and the sides and keep a longer piece in the back. Use the trimming machine to style an imperfect cross out of that hair.
11. Huge Curly Wig for Men
If you normally wear your hair short and want to give your friends a good laugh, then you must try this crazy look. Buy a huge curly wig and messily arrange it.
It is not necessary to buy a qualitative piece, because you will probably mess it up when fluffing it to create that huge volume.
12. Wig Mohawk
Want to surprise your colleagues with a wacky hairstyle? In this case, you don't need to trim your hair, because there are plenty of crazy mohawks that you can buy and easily attach and remove.
Opt for a piece that only covers the center of your head and allows you to style your own hair upwards and blend the mohawk.
13. Blown Away Afro
If you have naturally coarse hair and are searching for an unconventional way to style it, this is a must-try.
Comb the hair to the back and up, maintaining its natural volume, and creating that blown-away aspect. Use styling products that lift the roots and preserve shape and dimension.
14. Shaved Top
You need to be a bold person to pull off this look and wear it like there's nothing wrong with your hairstyle.
Go for a shaved top but maintain length on the sides and in the back. Connect the hair with a beautifully groomed beard.
15. Tangled Top Hair
We can't even imagine how hard it is to comb and detangle that top piece. No reason to ruin your hair like that!
But if you love a crazy hairdo, you better use hair extensions that you might apply on a mohawk.
16. Multicolored Mohawk
If you already have a mohawk, make it look crazy by parting it into pieces that you will dye in different nuances.
If you want this change to be reversible, you might want to buy colored hair spray or semi-permanent dye that you can easily remove after a few washes.
17. Lifted Huge Curls
This crazy mad professor hairstyle for men that are already in their 50s will come as a great shock for your friends, students, or family.
If you want a wacky cosplay, wear a curly wig and lift the hair as much as you like. Reduce the length in the back so the ultra-long top gets all the spotlight.
18. Red and Yellow Liberty Spikes
Want to present yourself as a rebellious bad boy? Then a mohawk is the right approach! Use the trimming machine for the sides and keep the top longer.
You will dye this part with red and yellow dye after you've previously bleached your strands. Style the mohawk, then trim the hair to get that blunt look.
19. Flower Side Design
If your goal is to amaze and stun people each time you leave the house, this hairstyle will definitely have this effect.
Keep the top longer and style it to build a spiky mohawk. On the sides and back, go for a bald fade and ask your barber to apply a lotus flower design. To extend it to the temple, you can use black and white powder.
20. Sleek Lifted Strands
If you think a Pompadour has height and volume, what do you think about this look? The crazy hairstyle features hand-picked strands that are abundantly styled with strong hair gel, lifted, and then curved.
Each piece falls over the other, providing a scally effect.
These crazy hairstyles are perfect for men who want to transform their coiffure into a bold statement. From insanely long mohawks, impressive curls, and amazing color mixes and blends, these awesome hairdos are perfect for themed parties or goofy cosplays or moments.