One thing is sure; all men want to sport sexy dope haircuts. Actually, it's not a hard thing to accomplish because there are loads of trims that will make any guy look so stylish and sexy all day. It doesn't matter if you are a young or old guy, you will easily find something that will suit you like magic.
What Is A Dope Haircut?
Most dope haircuts feature all types of fades that are gorgeously combined with razored designs, Pompadours, and asymmetrical cuts. Hair colors play a crucial role in getting the perfect hairstyle, and we advise you to visit your colorist because he can help you find out the most suitable shade.
Dope haircuts will not only look great on you but will also grow your self-esteem and make you feel more attractive. Girls and people around you will notice your charm and confidence, and it might be a mind-blowing transformation for you.
Trendy Dope Haircuts
Among the hairstyles you can choose from, you can find high, mid, or low fades, comb-overs, and even mohawks. These trims will guarantee you a cool look if styled in a modern manner. Check out the examples below, and feel free to let your creativity run wild.
1. One-Sided Hairstyle with a Dope Design
A dope haircut design can be pulled off by guys who are not afraid to get all the attention when entering a room. You can get a high taper fade on one part of the head and a razored design. As for the top, build height and slightly comb the hair on the other side.
2. Dope Messy Hairstyle with Temple Fade
A dope fade haircut will draw all the attention to your messy quiff. You can also style a hard part that will create a disconnection between the fade and the quiff. Keep a perfectly shaved face if you want a clean aspect.
3. High Fade and Dope One-Sided Comb Over
If you want to impress, you need a dope haircut for your straight hair. Get a high fade on both sides and comb your quiff slightly on one part and on the back. Use a wide-tooth comb and some texturizing hai spray.
4. Dope Afro Hairstyle
This dope haircut for black men gorgeously frames the face, while the short, well-defined beard completes the look. Use a special sponge for those coils if you want to keep them in one place. Because you need to use jame when styling the curls, they will look shiny and well defined.
5. Dope Mauve Silver Haircut
There's no limit when it comes to hairstyles, and this dope haircut with a fringe is just the proof you needed. Go for a silver mauve color for your top and bangs and sport a very short cut on sides. Those bangs should be asymmetrically cut and styled on the center of the forehead.
6. Messy Haircut with Dope Highlights
A messy dope haircut is perfect for all sorts of occasions. It gives you that careless look that women love and some blonde highlights will really spice things up in the color department. Keep your sides and back in a short trim while you boost your roots and quiff. Texturizing spray might also be your best friend for this hairstyle.
7. Comb Over with High Fade
This is by far a dope haircut for all Mexican guys who want a modern touch and to reveal their olive skin tone. Get a high fade and comb-over that long top. Make it look sleek with some wax or hair gel.
8. Black and Blonde Combo
When you want a dope blonde haircut, you can easily combine bright nuances with dark color shades. Get a comb-over and add a bit of height to that top if you really want a color that amazingly stands out.
9. Dope Gentleman Haircut
As a true gentleman, you need to look sharp and perfectly groomed all the time and a dope haircut and a beard will give you just that. Get a medium-long beard with a mustache and a high fade with a hard part.
10. Dope Spiky Colored Hair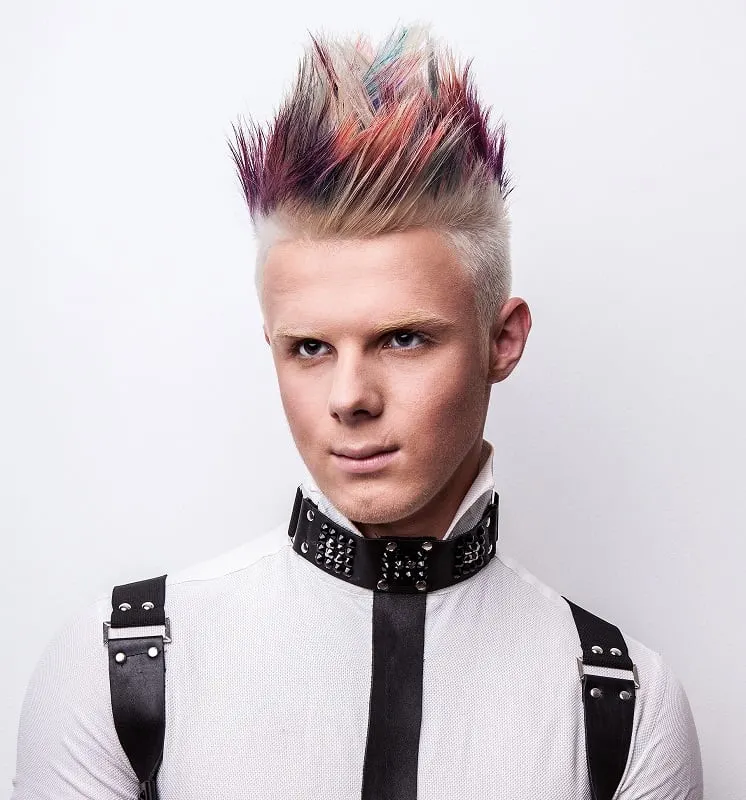 Spiky haircuts look dope, especially if you go for a short trim on sides and a long top that you can dye in your favorite nuances. Layer those long strands, and don't forget to change your eyebrow's color into a platinum blonde shade, to fit the whole look.
11. Dope Braided Mohawk
Men's dope hairstyles frequently include braids, for both black and white guys. They add a touch of coolness and transform any hairstyle into a chic, brilliant choice. You can also complete your look with some awesome rounded glasses.
12. Ginger Comb Over
When you have fair skin and ginger hair, you want to show off that stunning contrast. This comb over is a dope haircut for young guys who want a bold choice. It doesn't have to look perfect, by the contrary, if you messily style the top it will look more appealing.
13. Haircut with Side Part and Short Beard
A dope haircut with a side part that creates a connection with your short beard is definitely going to make you look so damn hot. Make sure you're always gorgeously groomed and the mustache and the jawline beard are shortly trimmed.
14. Fade with Highlights and Stubble Beard
A short haircut is so dope! Get a temple fade and for the top, build some blonde highlights. Use hair gel to get that awesome texture and style your hair upwards. A stubble beard will also complete the look.
15. Straight Comb Over
If you are a white guy with straight hair, go for a haircut with an undercut. Comb over your tresses and make sure you get that awesome height. If you want to achieve this fullness, we strongly advise you to use the blow dryer because it will also boost your roots.
16. Curly Hair with Highlighted Tips
A curly dope haircut will give your ringlets a makeover that you will certainly love. To emphasize that texture even more, you can dye the tips in a caramel blonde color, making your hairstyle unforgettable.
17. Half Black Half Blonde Dreadlocks
Dreadlocks will add a lot of value to your whole appearance, and if you opt for two contrasting colors, your locks will certainly pop out. Shortly trim the sides, and you will also be able to mask that V-hairline.
18. The Artistic Underlines Look
The very first dope haircut on the list is artistic designs in an undercut. The top hair can be kept in any style from spikes to front or backcomb hair, but the sides are undercut in which hairstylists add artistic lines to create abstract designs that look really amazing.
19. Curly Front-Side Fringe Look
Men who like having fringes in their curly hair should go for this haircut. The hair is shorter at the back and bushier towards the front. It looks awesome from every angle and one must surely try this style if they have hair that is curly and ginger-colored like the one shown above.
20. Curly Mohawk
A mohawk looks super fierce on men that love wearing this dope hairstyle. If you have curly hair and you want more definition to your curls, then go for this dope mohawk haircut which has tapered sides with dyed top hair.
21. The Neon X-Shape Undercut
Men, who are extremely daring and confident about their looks, should try this neon hair color with x-shape underlines at the back. This would go with any hair type, be it afro hair or silky buzz cut hair.
22. The Hot Nerd Next Door
If you're a guy who wears glasses but feels that there is no such hairstyle that would look great with eye spectacles, then you are wrong. In fact, a dope haircut's definition is a guy with glasses and a dope cut.
One can keep their front hair a little longer from the ones at the back and use hair wax to pull the front hair into pointy spikes.
Ideal Hairstyles for Men with Glasses
23. Front Hair Cow Licks
When you get up from the bed, you see so many strands of hair flicking in random directions that are called cowlicks. One can use this as a proper dope hairstyle as an everyday look as long as you know how to maintain them.
Before chopping all the hair off into a buzz cut, go for a two-tone hair dye and a faded undercut like the one in the picture. It has two shades of grey; one dark and one light which looks super dope.
Men, who prefer looking like a gentleman, but with a dope haircut, should go for this look. The top hair has some nice layers that are roughly combed back and the sides are undercut with a messy beard.
26. The Extra-Dope Look
Men who are care-free and think that nobody's judgments about them matters should definitely opt for this extra-dope look. The hairstyle is fairly unusual as you can see in the picture; the hair is styled in a wild slanted Mohawk with a mirrored beard style which is why it has been given the title of "Extra" Dope look.
27. Long Afro Hair Strands
Most men with afro hair prefer going for dope haircuts. It's because this is most common in them and it actually became popular amongst afro-haired men. This style requires the hair to be shaped like a square box, but with the front strands to be hanging long and loosely over the face.
You may like: