As we get older, our hair undergoes changes that make styling it for special occasions like weddings a bit of a challenge. However, there's no need to feel discouraged! Plenty of gorgeous hairstyles are perfect for wedding guests over 50. Whether you have short, medium, or long hair, there's a style that will suit your hair length and texture.
Stunning Hairstyles for Wedding Guests Over 50
In this blog post, we'll be sharing 16 stunning hairstyles that are ideal for mature women attending weddings. From elegant updos to chic pixie cuts, we've got you covered! So, if you're looking for some hairstyle inspiration for the next wedding you attend, keep reading!
1. Pixie Haircut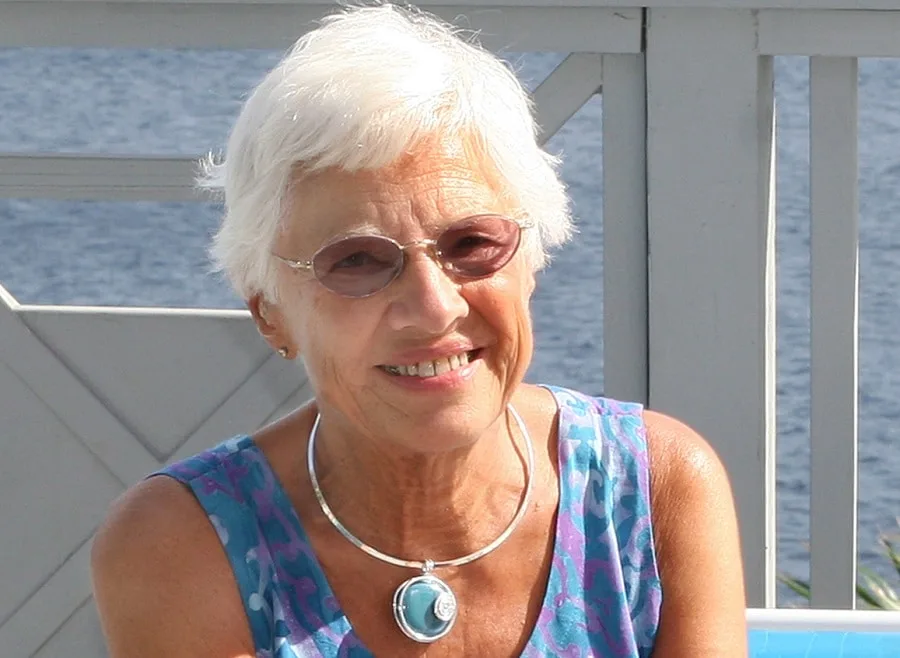 For an easy-to-manage hairstyle, the pixie haircut usually works best. And when it's time to go to a wedding, there isn't too much styling that needs to be done. Just comb it, spritz a little hairspray, and you're done.
2. Beautiful Long Brown Hair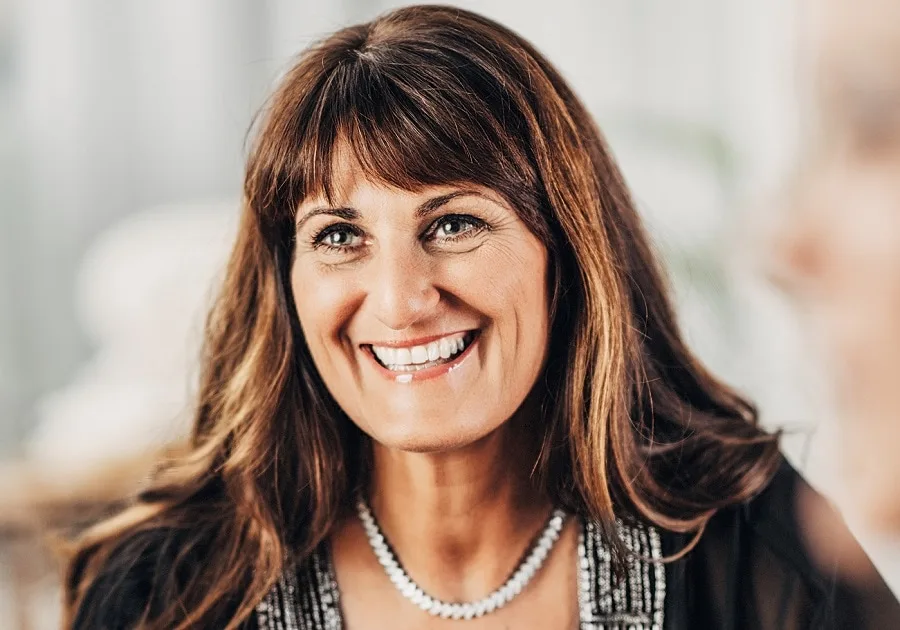 Long brown locks look stunning with a few auburn or blonde highlights. We love how this woman kept her wedding hairstyle simple by just highlighting around the face and keeping it down for a natural look.
3. Side Braid & Hat With Large Flowers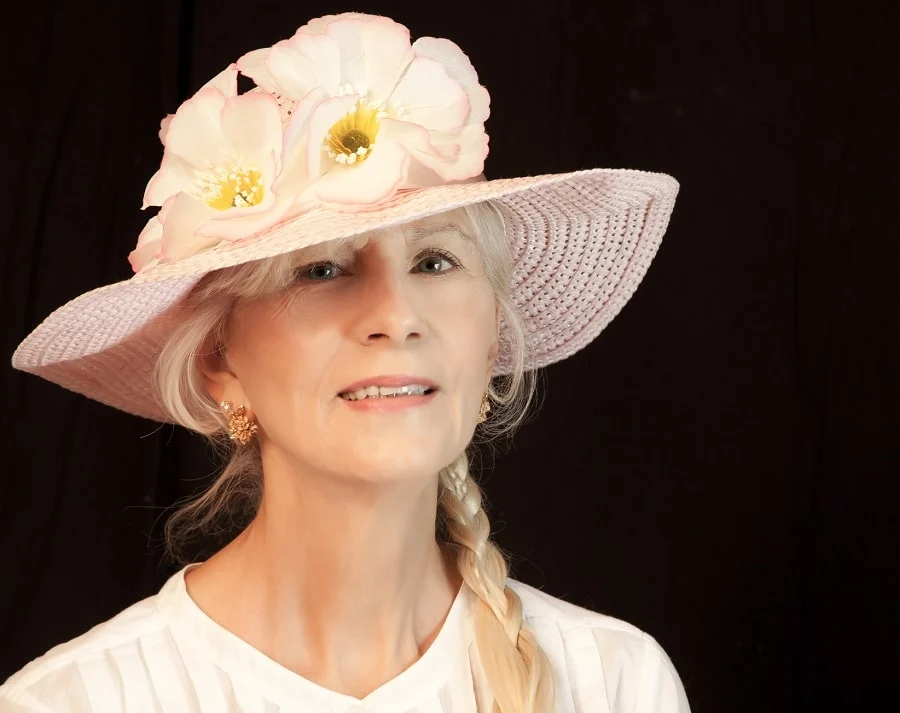 Have fun with your wedding guest hairstyle by creating a pretty side braid and adding a hat with large flowers. It's the perfect look for a spring or summer outdoor wedding.
4. Updo With Curls & Bangs
For a more classic or traditional look, go with a stunning updo with loosely tousled ringlet curls, bangs, and soft tendrils of hair around the ear. It's a timeless wedding hairstyle for guests.
5. Blonde Shoulder Length Hair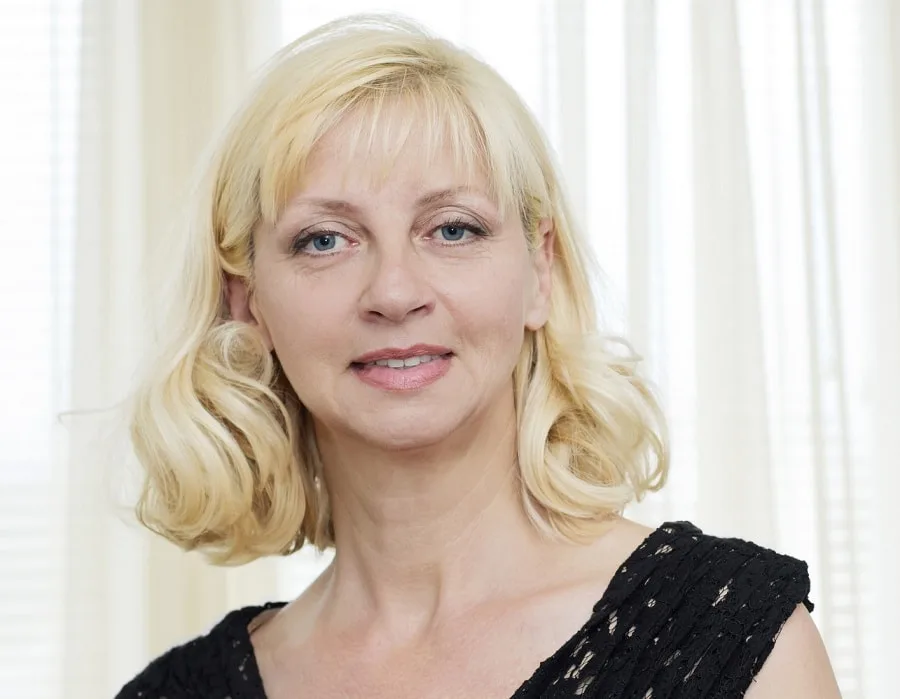 Another minimalist wedding hairstyle for women over 50 is to go with your normal do. For this mature woman, she rocks a side part, some wispy bangs, and added some big curls to the bottom of her hair for volume.
6. Glamorous Long Side-Swept Wedding Hairstyle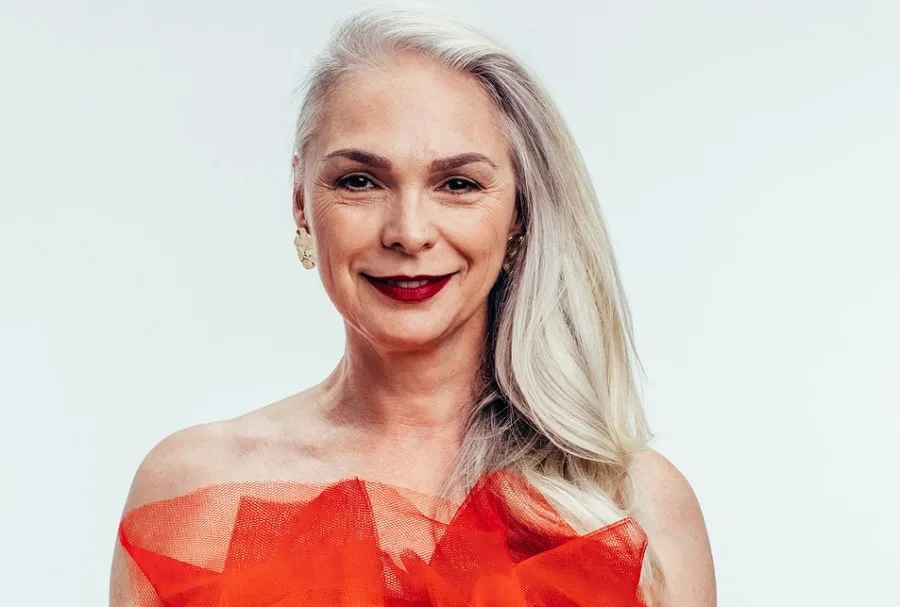 We love this look! This mature woman is certainly a style diva, and with a dramatic dress, all she needed to do was sweep her long beautiful hair to the side and add a bold red lip.
7. Wedding Updo With Green Plumes Of Feathers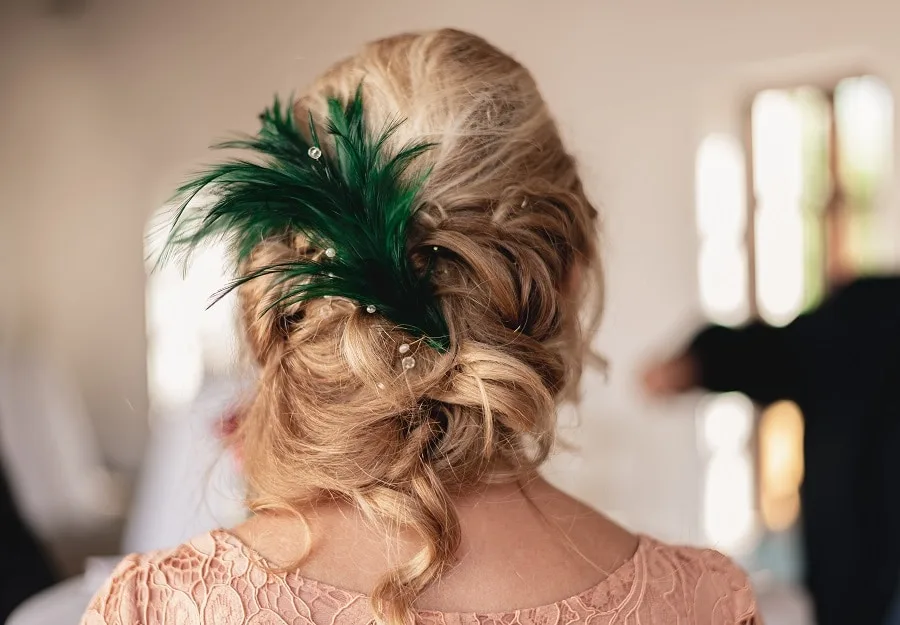 Weddings are a wonderful time to get dolled up, so yes! It's perfectly acceptable to create a glamorous wedding updo as a guest. This wedding guest hairstyle has some curls pulled into an updo and a dramatic hair accessory featuring dark green plumes of feathers.
8. Side Part Simple Hairstyle With Pink Flower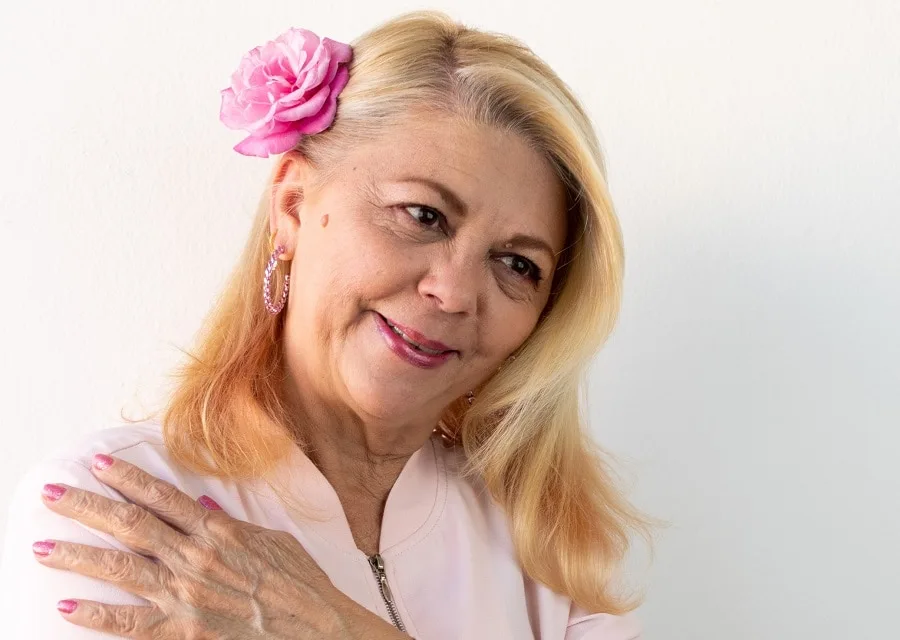 Another example of keeping it simple…shoulder length hair in various shades of blonde doesn't need much to look fabulous. This woman simply styled it with a side part and tucked a pretty pink flower behind her ear. Matching lipstick and nail polish finish her look perfectly.
Beautiful Hairstyles for Wedding Guests Over 50
9. Go Big Or Go Home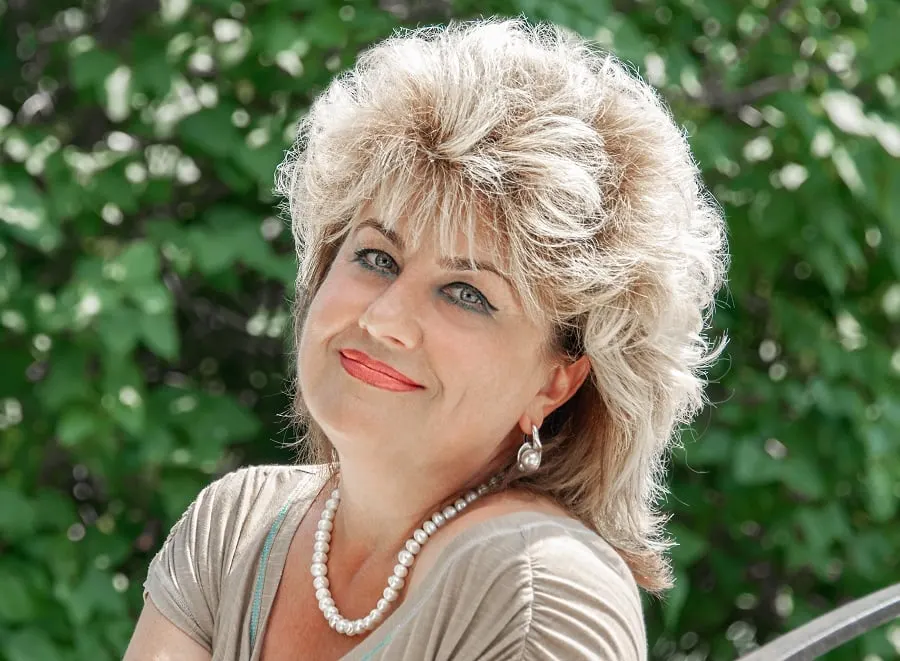 Yes, girl! Another wedding hairstyle that we love!! Big volume on top, wispy bangs, and shoulder-length hair in the back create a wonderful wedding day look. It's a little reminiscent of the 80s and 90s when big hair was trendy, but we love it!
10. Loosely Styled Updo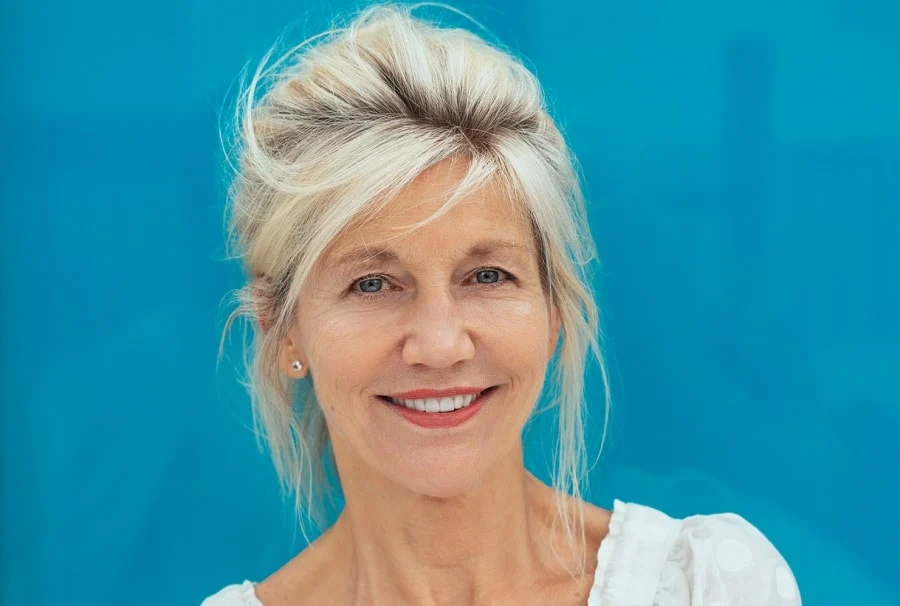 Updo's reign supreme at weddings, and this one is awesome! Volume on top, wispy bangs, and tendrils of hair framing the face are just perfect. You can dance the night away without having to worry about messing up your hair.
11. Modern Short Wedding Hairstyle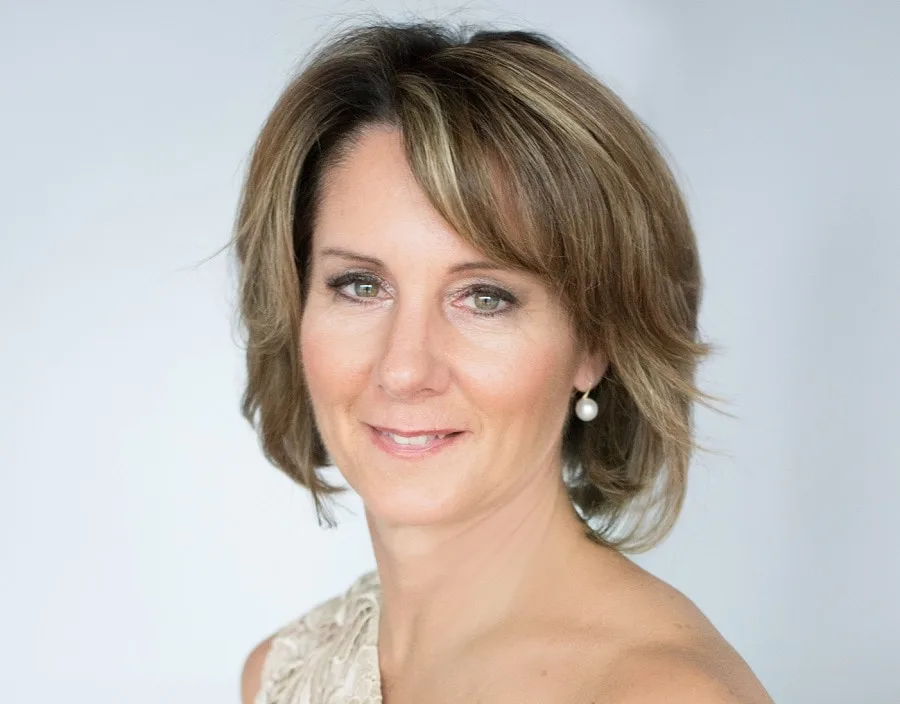 For the trendy and glamorous woman over 50, a stylish and modern short hairstyle is in order. We love the soft and subtle highlights and the side part with structured bangs that flow to the side.
12. Pincurl Updo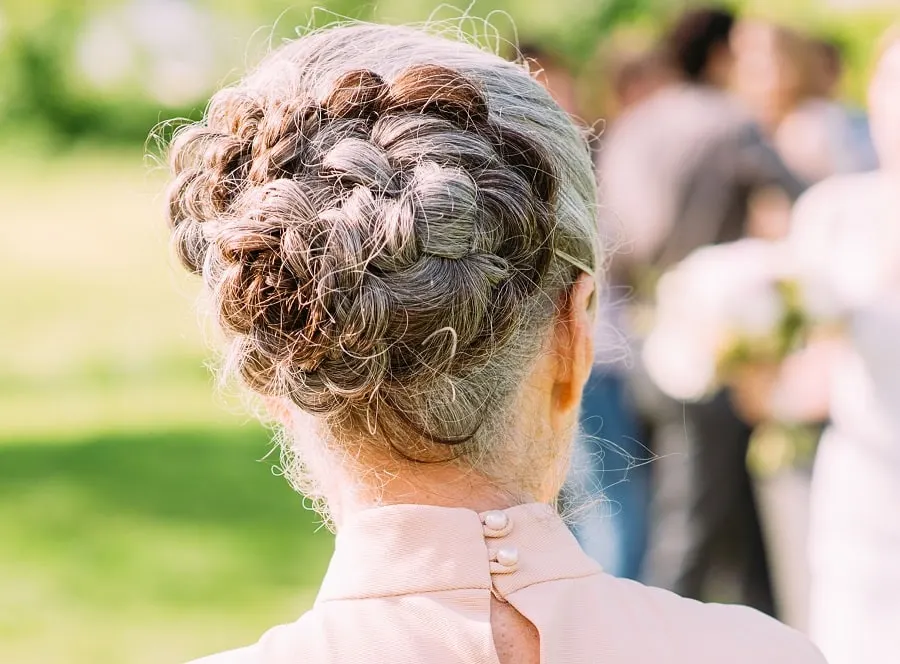 If you have a lot of hair or long hair, an updo with structured pin curls would be great! We love how this one is neatly styled, featuring different hair colors.
13. High Bun Wedding Guest Hairstyle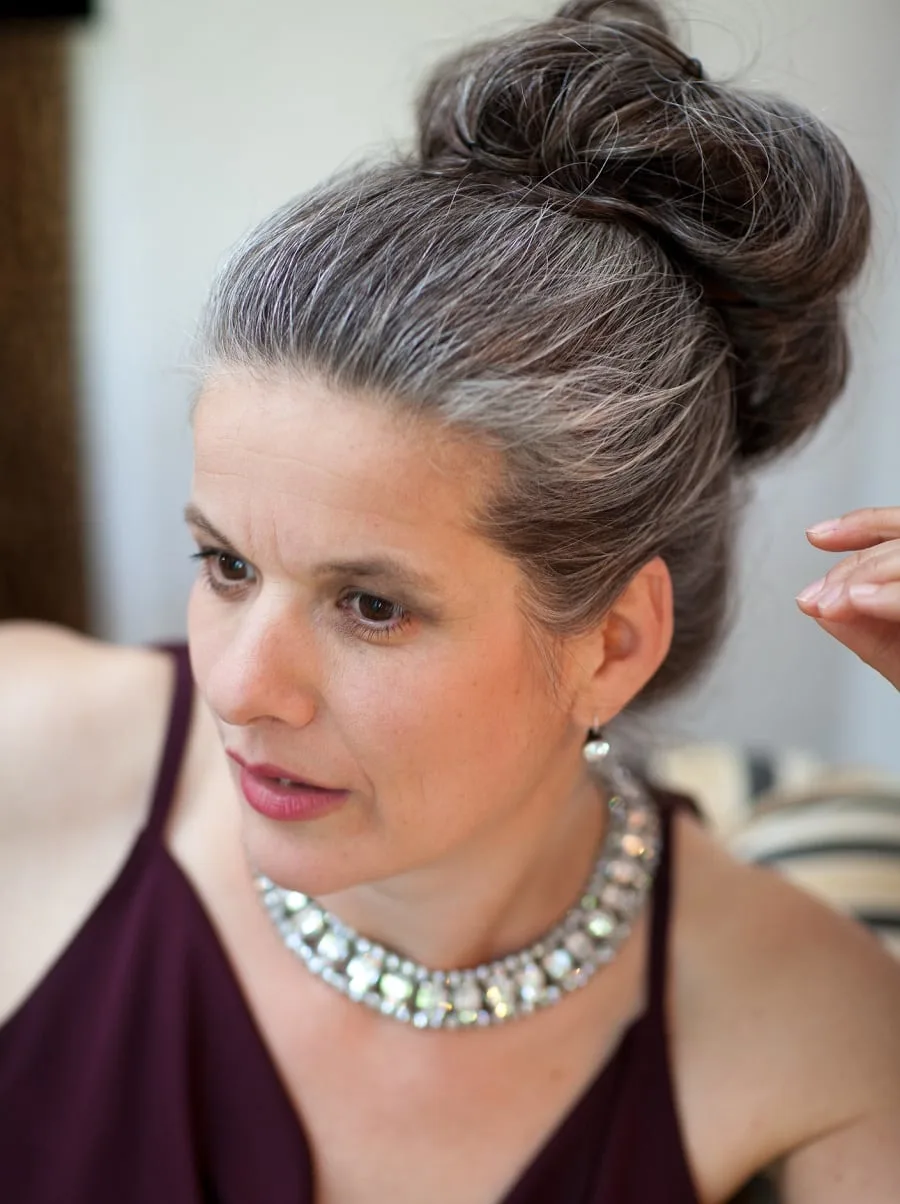 Nothing says formal better than a high bun and fabulous jewelry, so this style is a great choice if you're attending a formal wedding. We especially love that this woman is embracing her grey hair and wearing it natural. So, just add your high bun and get dressed. So easy.
14. Short Hairstyle With Bangs & Curls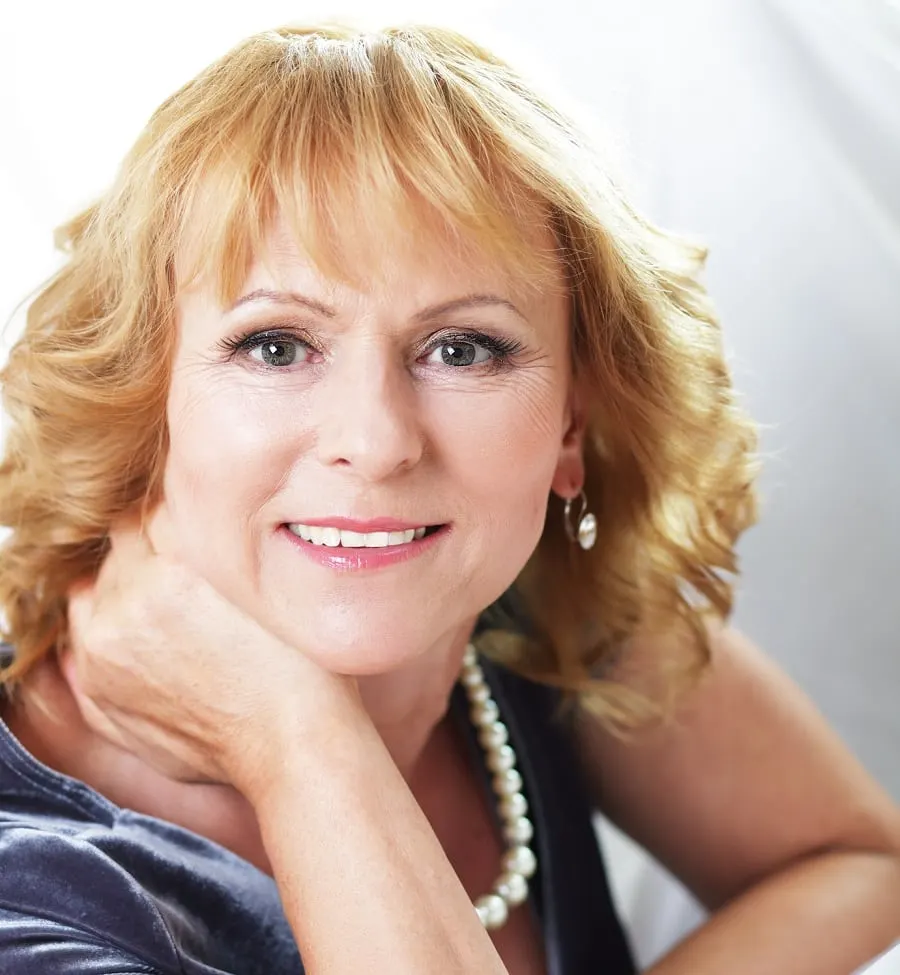 There is no doubt that short hair is easy to manage, but what we love about them is that they frame the face beautifully. All she needed for this wedding guest hairstyle was a few curls all around and some hairspray. With the bangs and the length, her face is highlighted perfectly.
15. A Fascinating Fascinator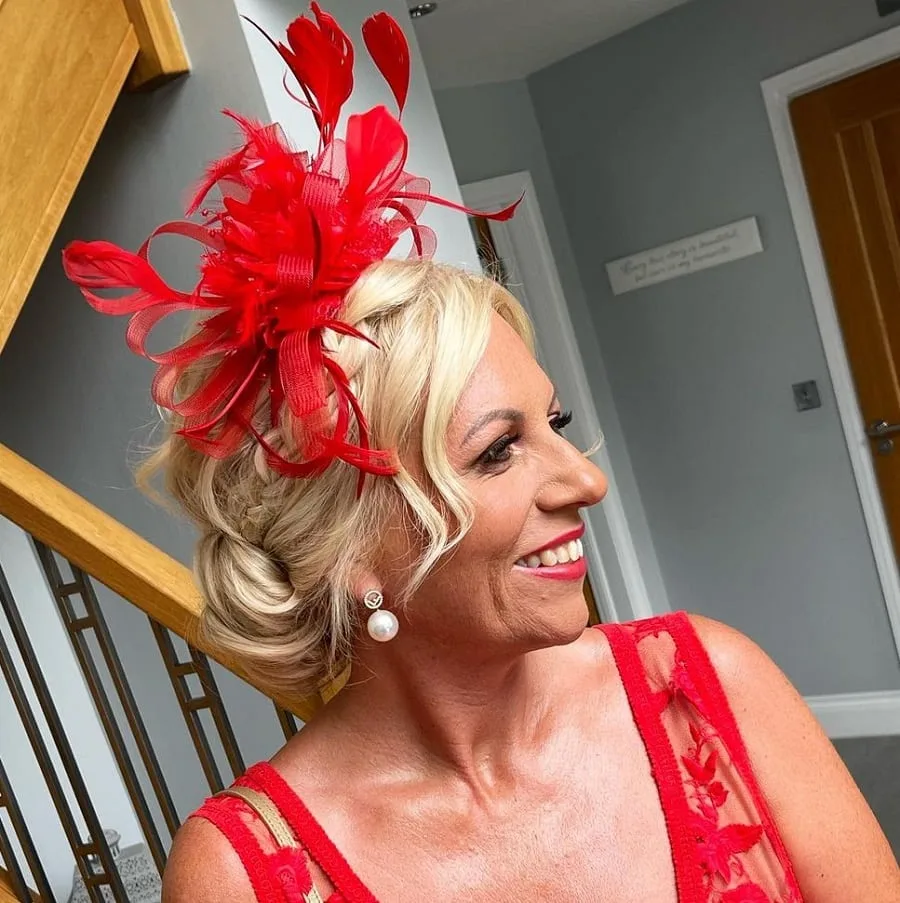 The blonde updo with a low chignon, side braid, and large red hair fascinator with feathers is a chic and sophisticated hairstyle that's perfect for a wedding guest. The hair is styled into a sleek updo with a low chignon at the nape of the neck. A braid is incorporated on one side of the head to add texture and interest to the hairstyle.
But, the hair fascinator is the centerpiece of this look, with its large size and bold red color making a statement.
16. Sophisticated Chignon & Large Blue Fascinator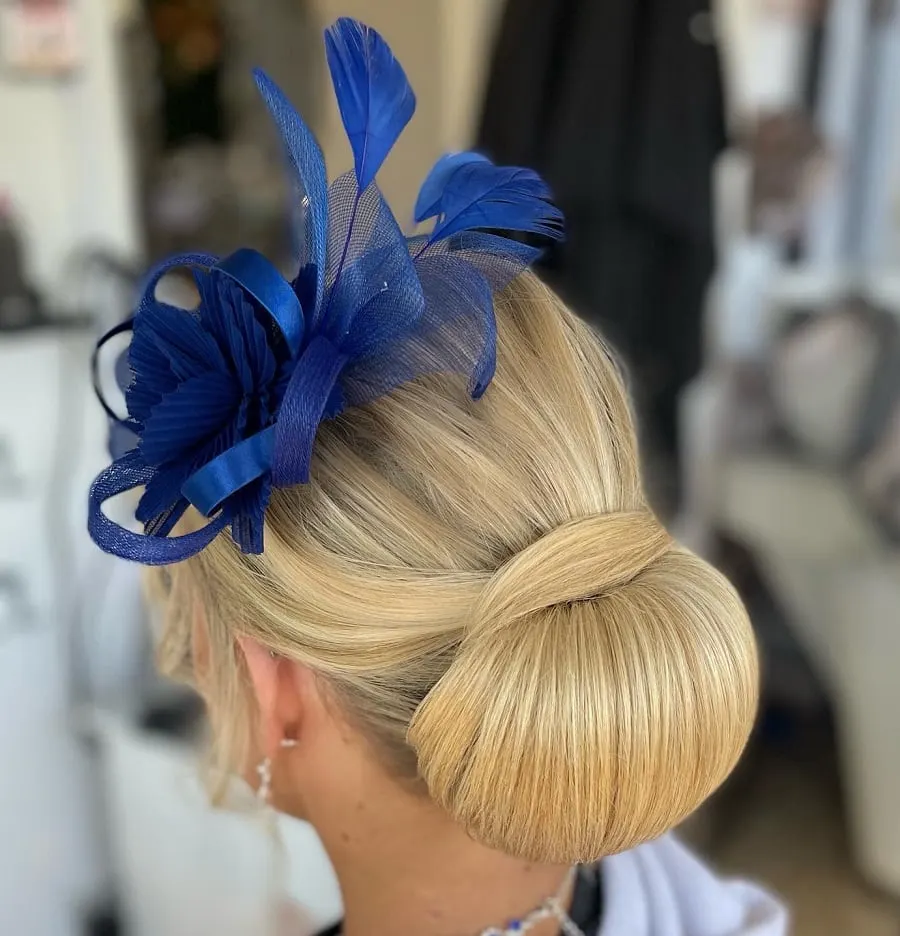 An elegant, sophisticated low chignon that is flawlessly styled is one of our favorite wedding hairstyles. A few wispy pieces of hair around the ear and a large blue wedding fascinator are all she needed to complete the look. It's fabulous!
There are plenty of beautiful and stylish hairstyles for wedding guests over 50, regardless of hair length or texture. From chic updos to playful accessories, these hairstyles offer various options for women who want to look their best on this special occasion.
Whether you prefer a classic, timeless look or something more modern and trendy, there's a hairstyle that will suit your style and personality. Remember, the key to finding the perfect hairstyle is to experiment and try different options until you find the one that makes you feel confident and beautiful.
So, if you're attending a wedding soon, consider trying one of the hairstyles we've discussed to make a statement and turn heads.