Is a deep conditioner or hair mask really necessary if you've already bought the regular hair conditioner in the same product line? I mean, for real? These things cost! It might seem like all conditioners are about the same.
But come take a closer look. We'll show you how deep conditioners and regular conditioners do very different things. Below, we'll also dispel a few misconceptions about deep conditioning, talk about the benefits of and ingredients in hair masks, and present a few of our choices before going into detail on how to deep condition your natural hair.
The Difference Between Regular and Deep Conditioning
For natural curly hair, deep conditioning is a process that allows proteins, moisturizers and nutrients to penetrate the hair shaft. In this sense, deep conditioning differs from regular conditioning, which only deposits a coating on the hair shaft to improve manageability. A deep conditioner targets the inside of the hair shaft. It enhances the quality of the hair over time.
The Benefits of Deep Conditioners for Natural Hair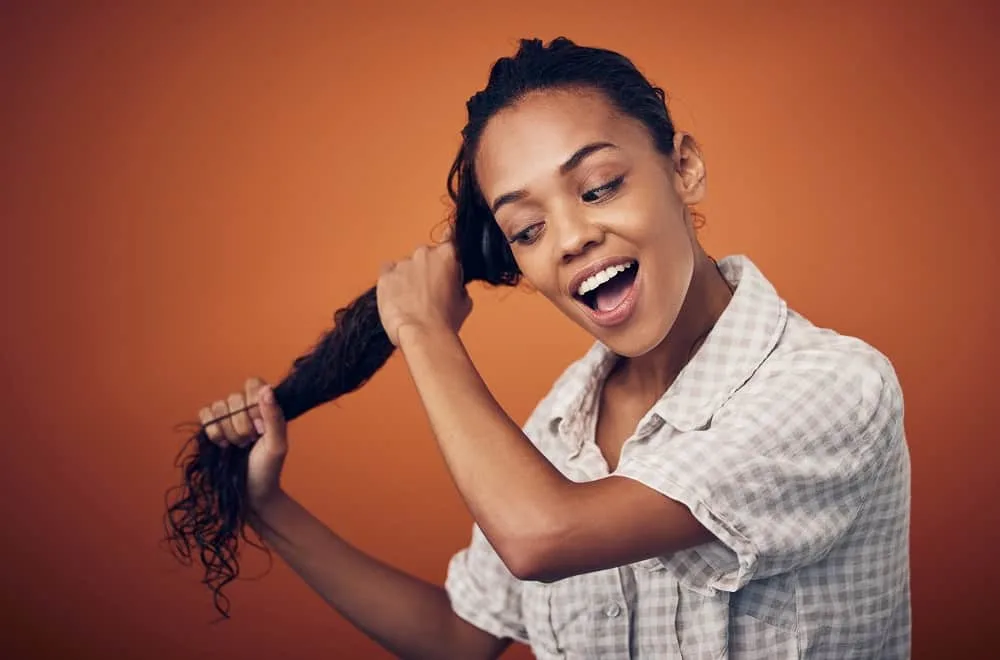 Deep conditioners continue to improve the integrity of your hair with each use, while a regular conditioner can be a cosmetic fix. Deep conditioners:
Stop the hair from splitting: The hair splits at the ends. This is where it is most vulnerable. If the hair above the split is very strong, the split has less of a chance to spread upward and destroy the hair strand. A regular conditioner will attempt to stop split ends by coating them, but this is cosmetic and not a long-term fix.
Beautify the hair: Everyone wants juicy locks. One way to get beautiful hair is by enhancing the inside of the hair strands with deep conditioning. A regular conditioner might contain oils that sit on the surface of the hair strand to give sheen, but the effect doesn't last.
Aid hair growth: Deep conditioners help your hair to grow longer by strengthening it from the inside. When natural hair is strong and moisturized from the inside, it won't snap off at every turn. It has a greater chance to grow. A regular hair conditioner can aid hair growth, too, by coating the hair and protecting it from breakage.
What Ingredients to Look for In Deep Conditioning Treatments
If you're looking for added strength, elasticity and hydration for your curls, there are a few key ingredients that will help. Look for these in the deep conditioner you choose:
Humectants: These will be the ingredients that have a high moisture content and can relay hydration past the hair cuticle into the hair shaft. Look for aloe vera, flaxseed gel, coconut water or agave nectar. Humectants are hydrating and help your hair feel smooth and strong.
Emollients: These are the butter and oils that add softness to the hair, making it feel smooth. They also provide nutrients to the inner core. Look for palm oil, shea butter, flaxseed oil, cocoa butter, almond oil, olive oil, coconut oil or avocado oil. Emollients help increase the elasticity of natural hair, so that it doesn't snap easily.
Hydrolyzed proteins: These are proteins that go through a chemical process to enable them to fit through the hair cuticle. They go inside the hair shaft to bond with existing protein there, repairing damage and filling in gaps. The result is stronger hair. Protein can be drying, so it works best within a formula that contains humectants and emollients.
`
Other additions: You can also look for ingredients that stimulate the scalp to grow more hair, like caffeine, essential oils of peppermint and lavender, fixed oils like castor oil and black seed, and herbs like rosemary.
How to Deep Condition Your Natural Hair
Deep conditioning needs heat, but that doesn't mean you have to dust off your mom's old heating cap or go buy a new one. Here's how to keep things simple:
Getting the right temperature: The deep conditioner only needs to be at body heat to work, so you can just heat a bowl of conditioner inside another of boiling water.
Adding to wet hair: Once it's very warm, apply the hair mask to freshly washed, wet hair. Hair that's just been washed has all product residues removed, and the mask can enter the hair shaft easily. Also, the pH of shampooed hair is usually a bit alkaline, which allows for an easier entry of key ingredients.
Retaining heat: Then cover your hair with a plastic cap to retain the heat. If you like the retro feel, okay, use a heating cap.
Timing the mask: Leave the mask on for at least a half an hour. Some types of active ingredients, like hydrolyzed proteins and coconut oil, need more time to do their jobs. So if your deep conditioner contains these, try to leave it in the hair overnight.
Rinsing: Rinse off the mask with cool water. This will help close the hair shaft to lock in moisture.
Using a leave-in: Use a leave-in conditioner after you rinse off the mask. It will coat your hair to help keep all your nutrients inside the hair shaft. A leave-in at this stage will also add extra protection against dryness and keep your hair super-soft.
Knowing how often: Deep conditioning daily will cause too much moisture to enter your hair strands, which causes a great deal of damage. The strands get swollen with too much water and can push off the scales of the outer cuticle layer. Deep conditioning weekly is a much better idea. Monthly is fine, but you don't want to go beyond that or you won't see the same benefits. Use a regular conditioner on the days you don't mask.
Of course, consistency is the key to making a deep conditioner work for you. If you invest in regular treatments, your lovely hair will make them worth it.
How to Deep Condition Natural Hair vs. Relaxed or Straight
To understand how to deep condition natural hair, just know that it's actually similar to the process of deep conditioning straight or relaxed hair. You can follow the same process for any hair type.
The difference is that because natural curls are drier and break easier, deep conditioning for textured hair will seek to address those issues. A deep conditioner for straight hair might tackle frizz instead or make the hair sleeker. So it's important to have the right hair mask for your type of hair.
Recommended: Learn to Curl Your Hair Without Using Any Heat
Our Choices for Deep Conditioning Natural Hair
Given that deep conditioning products work from within, we avoided listing those that focus on cosmetic benefits. For example, some deep conditioners contain silicone, a cosmetic ingredient that coats the hair and provides sheen.
But if it's coating the hair, some of the natural ingredients within the formula might have trouble making it inside the hair shaft. Similar issues occur with other hairdressing ingredients like polyquaterniums and carbomers. We only listed hair masks that are free of these three types of ingredients.
Camille Rose's deep conditioning mask is an algae-infused moisturizing and strengthening hair treatment. It's replete with vitamins, minerals and antioxidants. Cocoa and mango butter are blended into this intensive conditioner for maximum moisturizing benefits. This product is great for rejuvenating coarse hair, whether it is type 3 or 4.
Alikay's avocado mask provides much-needed moisture to the hair. Avocados contain vitamins B, E and C plus essential fatty acids that provide the nutrients needed to replenish the hair's strength, moisture and shine and to prevent breakage. The result is moisturized hair that feels wonderful and soft and grows longer. It functions well for every curl type.
SheaMoisture's castor oil mask restores strength to damaged, brittle and heat-treated hair. It promotes natural hair growth by supporting the hair's elasticity, reducing hair breakage and shedding. It's perfect for those who like to blow out their hair regularly and for fine, fragile hair.
Curlsmith's mask nourishes and moisturizes even the driest hair. It provides slip to enable detangling and makes the hair softer and shinier. Its texture is thick and buttery and it melts into type 4 textures.
Briogeo's curl mask moisturizes the hair and enhances slip, while boosting curl definition. The result is soft, shiny and bouncy curls. It contains rice amino acids for strength and tomato extract to help seal the hair cuticle.
Its oil blend of shea butter, castor oil, avocado oil and flaxseed oil contains rich fatty acids that nourish and condition curls. This is a lightweight formula that works best on fine curly hair.