There are many misconceptions about using natural oils for hair. The internet abounds with them. Oils are hydrating, unless they're not. They are emollient, unless they can't be. They grow hair, or perhaps they stunt hair growth.
You can find all these claims for natural hair oils. But how do various natural oils benefit your hair? We decided to rely on scientific reports.
Benefits of Using Natural Oils For Hair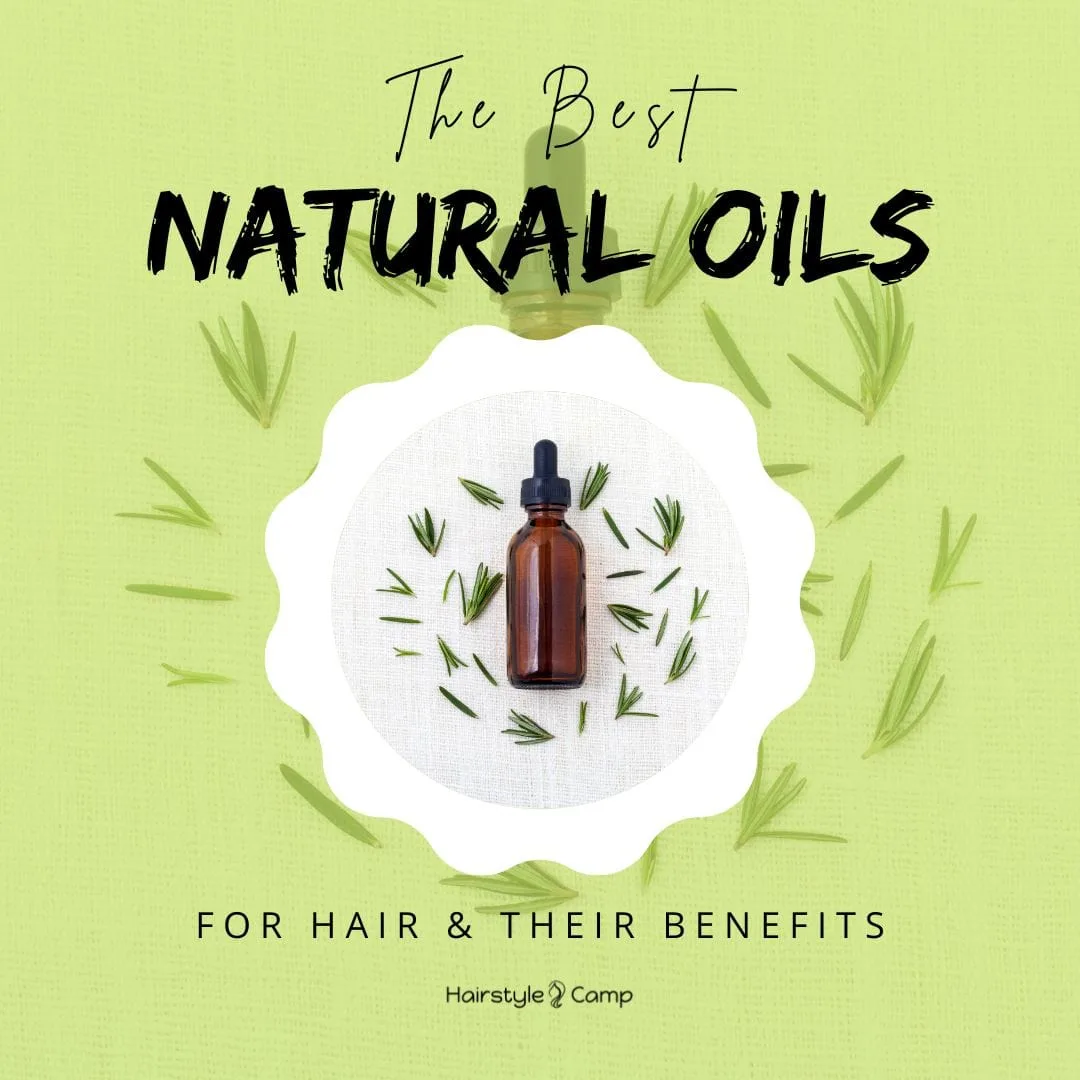 Before we get to the reports, it's important to know that some natural oils bring hydration while others repel it. Most contribute to hair growth and almost all are emollient.
One trick that can help you understand the basic function of an oil is to know whether it penetrates the hair shaft or sits on top of the hair. Just by understanding this, you'll have a pretty good idea of what you can use it for.
Oils that Penetrate
Oils that can get through the hair cuticle and penetrate the deeper layers of the hair are there to provide strength. These oils can also penetrate the scalp, so they provide benefits to the hair follicles as well.
This can be by making the hair follicles stronger so that your hair doesn't fall out as much, helping the follicles to hold on to hair longer so that your hair grows longer or helping them produce a better quality of hair.
Most organic hair oils do not penetrate readily. So, for most of them, you might not even know they have done so. They take two to 12 hours to penetrate, which is why for these kinds of oils, it's best to leave them on for at least that amount of time before expecting any benefits.
Depending on your hair type and texture, you might even apply them and let them stay instead of washing them out later.
Oils that don't Penetrate
Most natural oils penetrate the hair shaft, if not completely, at least to a degree. But some don't. Rice bran oil and jojoba oil are some examples. These oils have other benefits besides strengthening the core of the hair.
List of Natural Hair Oils and Their Benefits
Whichever the case, as long as you know how to use them, it's almost guaranteed that oils will improve your hair quality.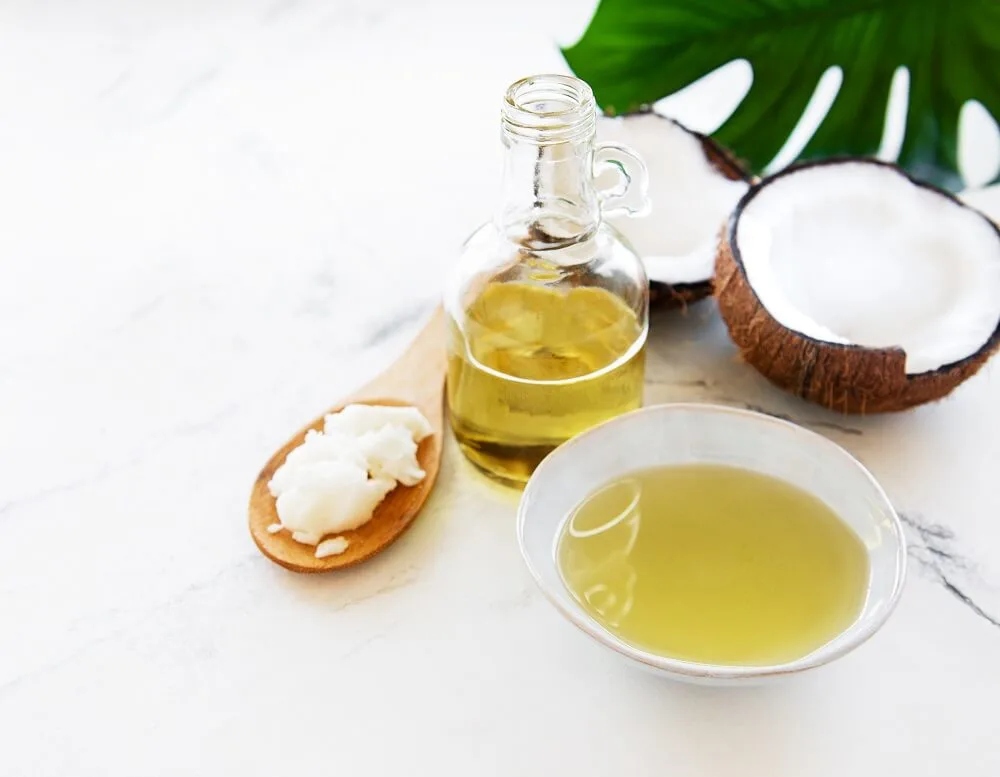 People in tropical countries use coconut oil almost daily for their hair, but this isn't so in northern regions. After spending a few years in the limelight, cosmetic companies are shunning this oil in the north! Why? There's a simple reason for this. Coconut oil freezes hard.
It is not for the colder months as it will freeze in the hair and make it difficult to comb, even in small quantities. This is a summer oil. Keep reading to find out why you shouldn't skip it when summer comes around.
According to research published in the Journal of Cosmetic Science, coconut oil is useful in preventing mechanical damage, whether the hair is healthy or damaged by corrosive substances like bleach.
This is because when it seeps into the hair shaft, it not only strengthens your tresses but it repels water. Therefore, the hair shaft doesn't become bloated with water when you wash your hair.
When the hair becomes bloated, the cuticle shingles rise, and it's easy to chip or remove them by combing. This happens when the hair is already damaged, but it can happen to healthy hair, too.
Coconut oil is one of the few oils that prevent protein and cuticle loss when combing the hair after washing, bleaching or even boiling. (Yes, they boiled hair during this experiment to see.)
Other research in the same journal claims that, regarding the scalp, coconut oil helps prevent harmful chemicals from seeping into the hair follicles and damaging them.
The research looked at how coconut oil can keep the shampoo chemical sodium lauryl sulfate from loosening hair in the follicular cavity, which leads to hair loss.
If you use other chemicals on your hair, it's probably worth having a buffering base of coconut oil on your scalp first.
Who Benefits Most from Coconut Oil?
Coconut oil is beneficial to all hair types. But it's essential for preserving the integrity of curly and coily hair. When the cuticle shingles rise on curly hair because of swelling, it causes much more damage as the structure of the hair bends and twists.
So what might have been a loss of a few cuticle shingles on straight hair becomes the loss of many more on curly and coily hair.
How To Use Coconut Oil for Hair
Coconut oil is best used as a pre-shampoo conditioner. Coat your hair and scalp in it and leave it on overnight to prevent hygral fatigue in your hair and damage to your scalp from shampoos.
While some use it after washing, we suspect it can cause dryness, as its primary job is to fill the hair and prevent water from entering.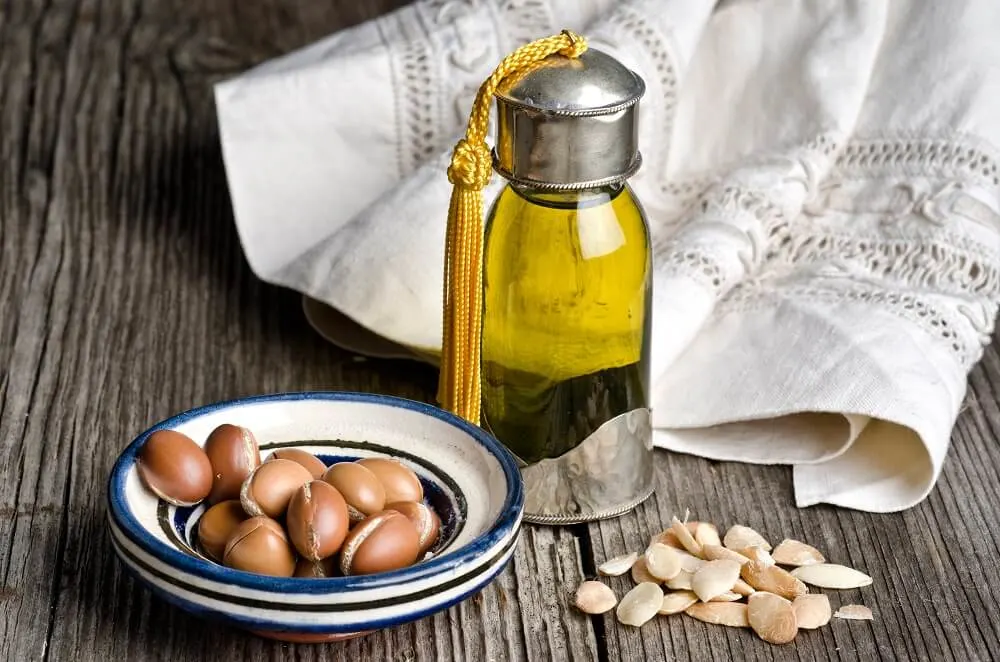 According to the Journal of Cosmetics, Dermatological Sciences and Applications, argan oil also reduces swelling inside the hair fibers. So, like coconut oil, it reduces the mechanical damage that can occur when the hair cuticle chipped away during wet combing.
However, unlike coconut oil, it only penetrates partially into the hair. Nevertheless, it can decrease damage caused by color treatments when used before the dye is applied.
Argan oil is also good for slowing hair loss, according to Research in EDP Sciences. It also moisturizes the scalp, according to the same journal. One of the reasons it slows hair loss is likely because of its anti-inflammatory properties, as noted by Oxidative Medicine and Cellular Longevity.
Who Can Benefit Most from Argan Oil?
Those who have hair loss that has inflammation at the root cause, such as frontal fibrosing alopecia, when the hair edges fall out, can benefit from massaging argan oil into the scalp in the affected area. Otherwise, argan oil helps all hair types.
How to Use Argan Oil for Hair
Argan oil is a typical ingredient in hair conditioners and works well within them to reduce hair cuticle loss. Conditioners allow the oil and other protective ingredients to form a film around the hair that is useful in preventing damage.
The oil that's left externally on the hair cuticle serves to lubricate the hair and provide easier combing and shine.
The Journal of Cosmetic Dermatology says that when used as a pre-shampoo treatment, argan oil can help protect the hair against oxidative damage. The Nanomedicine Journal says argan oil functions ideally in hair growth serums when combined with caffeine to limit hair loss.
3. Neem Oil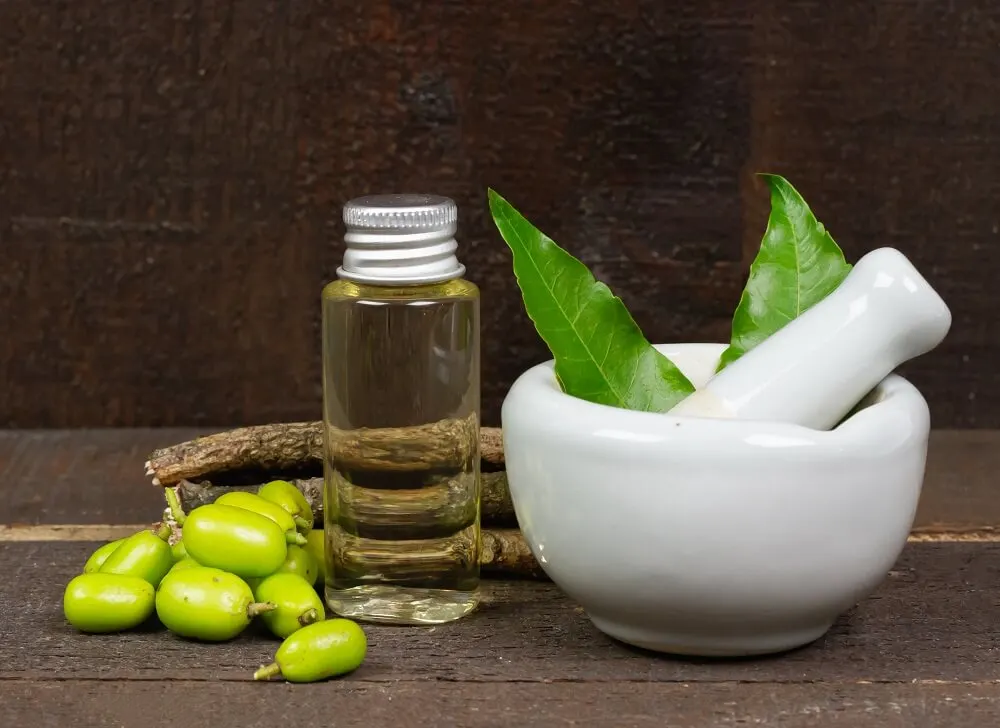 Advances in Pharmacology and Toxicology research claims neem oil is excellent for hair growth by virtue of it increases blood circulation in your scalp.
Who Can Benefit Most from Neem Oil?
Although neem oil is good for hair growth, in general, PHCOG.net notes that it is used in shampoos to aid those who have dandruff and helps control lice.
How to Use Neem Oil for Hair
The research in Advances in Pharmacology and Toxicology suggests you massage neem oil into the scalp to reach the hair follicles. By this means, it can promote hair growth and reverse some hair thinning.
4. Pumpkin Seed Oil
The Journal of Cosmetic Dermatology states that when applied as a treatment for women with alopecia, it increases new hair growth and just under the rates of minoxidil.
It also increases hair diameter, which is a good sign in those suffering hair loss, as miniaturization of the hair diameter presents first with alopecia.
Another study was conducted on men. They ingested 400 mg of pumpkin seed oil daily. The results, published in Evidence Based Complementary Alternative Medicine states that hair thickness increased 30-40% in six months.
Who Can Benefit Most from Pumpkin Seed Oil?
The person who has thinning hair and has noted in the areas of thinning the hair is finer, with a decreased diameter than hair in other areas of the head.
How to Use Pumpkin Seed Oil for Hair
Pumpkin seed oil can be massaged into the scalp daily or ingested to see more hair growth.
5. Black Seed Oil
The International Journal of Pharmaceutical Sciences and Research notes that a study showed significant improvement in hair thickness and diameter in patients who use black seed oil in their hair.
Black seed oil also reduces inflammation, which the study found was useful for those with telogen effluvium, when hair falls out in clumps due to stress or trauma.
Black seed oil also works to remove oxidative stress, according to the Journal of Pharmacopuncture. According to the Bangladesh Journal of Pharmacology, black seed oil also helps hair follicles retain hair, even under the duress of chemotherapy.
Who Can Benefit Most from Black Seed Oil?
Anyone who wants to grow more hair that's thicker. Black seed oil is beneficial for those with inflammatory alopecia like telogen effluvium and central centrifugal cicatricial alopecia — a type of permanent hair loss on the crown that normally affects women of color.
How To Use Black Seed Oil for Hair
According to the Bangladesh Journal, black seed oil worked better at a 5% concentration. So if you want to use it to retain hair, you can do so by adding it at 5% into another hair oil or lotion.
The study in the International Journal used black seed oil at only 0.5% of a hair lotion. So it would be diluted for the scalp, accordingly.
6. Grapeseed Oil for Hair
Grapeseed oil is an antioxidant that protects the hair from environmental oxidative stressors like UV rays and seawater. Even hot air is an oxidative stressor, which means blow drying the hair can cause significant damage, as well.
Grapeseed oil can protect the hair from blow drying when used in a conditioner. Oils shouldn't be used as heat protectants.
Grapeseed oil is high in omega-6 fatty acids.
Grapeseed oil works for almost all hair types and is especially beneficial for those with thin and fine hair.
It carries antioxidants, such as vitamin E, flavonoids, linoleic acid, and OPCs, which help with hair growth and vitality.
Linoleic acid in grapeseed oil is a natural remedy for baldness.
It can help elevate rashes, acne, and premature aging as well.
Some studies show it has natural moisturizing properties and can hydrate the hair without feeling greasy due to its lightweight texture.
It can smoothen the hair and prevent split ends or frizzy hair.
It can prevent DHT production, which helps weak hair follicles strengthen and reduce hair loss and thinning.
Grapeseed oil can also reduce dandruff due to its rich nutrients and balsamic properties.
It can strengthen weak hair and reinstate shine thanks to its rich quantities of omegas, vitamin E, and antioxidants.
Due to containing high amounts of phenolic compounds, it can also protect the hair from UV rays as well.
It can also help restore shine and vibrancy to dull and dry hair.
Grapeseed oil can also help decrease the visibility of scars, remove makeup, lighten the skin, and tighten pores, thanks to its rich omega-6 and omega-3 fatty acid contents.
It can also help reduce stress and anxiety if used for aromatherapy and aromatherapy massage.
Who Can Most Benefit from Grapeseed Oil?
Because aging in itself is an oxidative stressor, grapeseed oil benefits those who are aging. It can also help if you're regularly exposed to seawater or blow-drying your hair daily.
How To Use Grapeseed Oil
Many antioxidant conditioners contain grapeseed oil. Most contain other ingredients that work together with grapeseed oil to stop oxidative stress. If you blow dry your hair daily, such a conditioner will be more helpful than using the oil directly on your hair.
7. Jojoba Oil
Current Trends in Biomedical Engineering and Biosciences notes that jojoba oil is a liquid wax that conditions the hair by sitting on the hair cuticle and providing softness and sheen.
It does not absorb into the hair shaft. Jojoba oil is very similar to the hair's natural sebum, which works to lubricate and protect the hair strands.
Who Can Most Benefit from Jojoba Oil?
Those with healthy hair who don't need oil to penetrate into their hair strands will probably benefit the most from jojoba's added sheen to the hair. However, it can benefit anyone who needs shine and softness.
How to use jojoba oil for hair
People with oily hair will find that when they use jojoba oil as a pre-shampoo treatment, it helps to remove oil at the roots of the hair. It can also help remove product buildup as a pre-shampoo treatment.
After drying the hair, you can massage a few drops through the hair to increase shine and add moisture.
8. Shea Butter
Research in the Journal of Convergence found that hair conditioners with even a 5% concentration of shea butter can help protect hair before it's subjected to bleaching. The hair doesn't suffer as much damage and doesn't become as porous when used prior to bleaching.
The International Journal of Environment, Agriculture and Biotechnology found that shea butter also prevents dandruff, soothes dry scalp and helps to soften the hair.
Who Can Most Benefit from Shea Butter?
Those with any hair type can use conditioners that contain shea butter at low concentrations. Formulas with high concentrations of shea butter are used by people with type 4 coily hair. Some companies sell 100% whipped shea butter to benefit the same hair type.
How to Use Shea Butter
When used as whipped butter, shea butter softens type four hair and can even provide curl definition. Its light texture means that, when used sparingly, it can increase hydration and softness during the week between washes.
9. Castor Oil for hair
A doctoral thesis submitted to the University of Medicine and Pharmacy claims that castor oil keeps hair follicles healthy and helps grow hair that is subject to alopecia and other stress conditions.
Who Can Benefit Most from Castor Oil?
Those who would like to stop the progression of alopecia.
How to Use Castor Oil
The paper suggests that castor oil be used at a concentration of 35%. Castor oil is a very sticky oil and needs to be diluted before use. It can be diluted successfully with coconut oil and its stickiness won't be as apparent.
It should be massaged into the scalp. Note that it shouldn't be used full strength on very dry hair, as it can cause the hair to tangle horribly.
10. Avocado Oil for Hair
Avocado oil contains biotin to aid hair growth. It also has antioxidants to decrease the effects of oxidative stressors on the hair. It absorbs into the hair partially and leaves a nice shine behind.
Avocado oil is composed of vitamins, antioxidants, and monounsaturated fats. According to a paper from the National Library of Medicine, vegetable oils can coat the hair follicles on the scalp to prevent damage to the base of the hair and prevent hair breakage as the hair grows longer. Monosaturated fats contained in avocado oils are better able to penetrate deep inside the hair follicles as well.
Avocado oil can help keep the skin on the scalp moisturized and hydrated. That removes dandruff and stops the hair from flaking and drying out.
Avocado oil can help reduce breakage while brushing or tying up your hair.
Detangling your hair has never been easier, as avocado oil can lubricate your hair. All you need to do is apply the oil to the end of your hair. Coating the ends with a small amount of oil can make your hair smoother for combing and brushing. Combining avocado oil with a wide-toothed comb can make detangling more manageable and help spread the oil evenly across the hair.
Avocado oil can also offer protection from damage by environmental pollution. If you're traveling or live in a big city, you're bound to come across pollution, be under the sun, or visit the sea or the swimming pool. Avocado oil can offer protection from all of this, all with a thin layer of avocado oil.
Who Can Benefit Most from Avocado Oil?
Avocado oil provides moisture to dry hair.
How to Use Avocado Oil
Use avocado oil as a pre-shampoo treatment.
What About Mineral Oil, Petrolatum and Silicone?
These petrochemicals can be found in most hair care products. They are cheap and provide little benefit to the hair and can actually plug the hair follicles when used near the scalp. The benefit they provide is restricted to coating the hair to prevent damage.
They do this so well that moisture cannot enter the hair thereafter. This can be beneficial when dealing with humid environments, but sometimes using these can result in hair that's overly dry.
FAQs
Do national oils really help in hair growth?
Natural oils strengthen the hair and can lead to less breakage, which in turn helps the hair to grow longer. Some do aid with hair growth.
When should I use hair oil?
The most common method of using hair oil is before shampooing. With this method, you saturate the hair in oil and leave it on the hair for several hours before rinsing it out and shampooing the hair.
Does hair oil expire?
Hair oil can expire, yes. Most oils stay fresh for two years. Always check the manufacturer's expiration date.
Can I use hair oil on my beard?
Yes, hair oil can be used in the beard to create luster and softness. After taking a shower, massage a few drops into the hairs of your beard. Once it dries, the shine and softness will remain.
Does Wild Growth hair oil really work?
Wild Growth hair oil is a combination of different oils that strengthen the hair and contribute to growth. Yes, it works.
Does hair oil stain clothes?
It can stain clothes, yes. It's best to apply the hair oil, then tie your hair up or wrap it in a bun to avoid spillage.
Can hair oil cause acne?
If you're acne prone, yes.
Can I use coconut hair oil for cooking?
If the ingredients indicate that coconut oil is the only substance in the hair oil, yes, it can be used for cooking.
Can natural oil cause hair dandruff?
Natural hair oil doesn't cause dandruff. However, it can exacerbate dandruff if you already have it and your scalp is oily.
Can I use argan hair oil on my face?
Yes, as long as the ingredients indicate that argan oil is the only substance used in the hair oil, it can be used on the face.
Can I use almond hair oil on my face?
Yes, as long as the ingredients indicate that almond oil is the only substance used in the hair oil, it can be used on the face.
Are hair oils good for low porosity hair?
Yes, hair oils typically include oils in their formulas that can penetrate the hair cuticle and move into the hair shaft. So even if the hair cuticles are tightly closed, as with low porosity hair, hair oils can still be of benefit.
Why does my hair oil smell bad?
If your hair oil smells bad, the oils within it are likely rancid. It's time to throw it out.
Is hair oil good for oily hair?
Hair oil is only suitable for oily hair if the ends are dry. In this situation, only apply the oil to the ends of the hair, but never to the scalp.
Does natural hair oil protect hair from heat?
An oil with a very high smoke point can help protect the hair from heat if you're using medium heat, not high. However, it is generally not a good idea to use hair oils on the hair prior to using heat tools as they might fry the hair.
Can I use castor oil as hair oil?
Some use castor oil as hair oil, however, it is very sticky. Blending castor oil with a higher percentage of coconut oil is best to avoid stickiness in the hair.
Can I use oil on my hair extensions?
If your extensions are human hair, the hair will benefit from the oil. If the extensions are synthetic, the oil won't be absorbed and will only make them greasy.
Can I use hair oil on my skin or body?
Hair oil can be used on the body. But before using it on the face, make sure it is a pure oil that is in the bottle without extra ingredients like fragrance.
Can hair oil cause split ends?
Hair oils that are drying to the hair can contribute to split ends but not cause them. Chemicals and high heat cause split ends.
Will hair oil make my hair greasy?
It depends. If you use too much or the hair oil contains oils that sit on top of the hair, like jojoba oil, it could make your hair feel greasy.
Can serum and hair oil be used together?
Yes, if you are not applying the hair oil to the scalp.
Can I apply hair oil on wet hair?
Yes, you can apply hair oil on wet hair if your hair is very dry or frizzy. It will help lock in the moisture and is best when used with a leave-in conditioner.
Is hair oil good for curly hair?
Yes. Hair oil is excellent for curly hair. It is a mainstay for curly hair that is typically dry and frizzy.
How long should I leave hair oil in my hair?
Two to 12 hours is the time frame to leave in a pre-poo oil treatment before shampoo.