If you have colored your hair but require a toner, and you only have permanent colors on hand, then what do you do? Act smart and use the permanent hair color as a toner!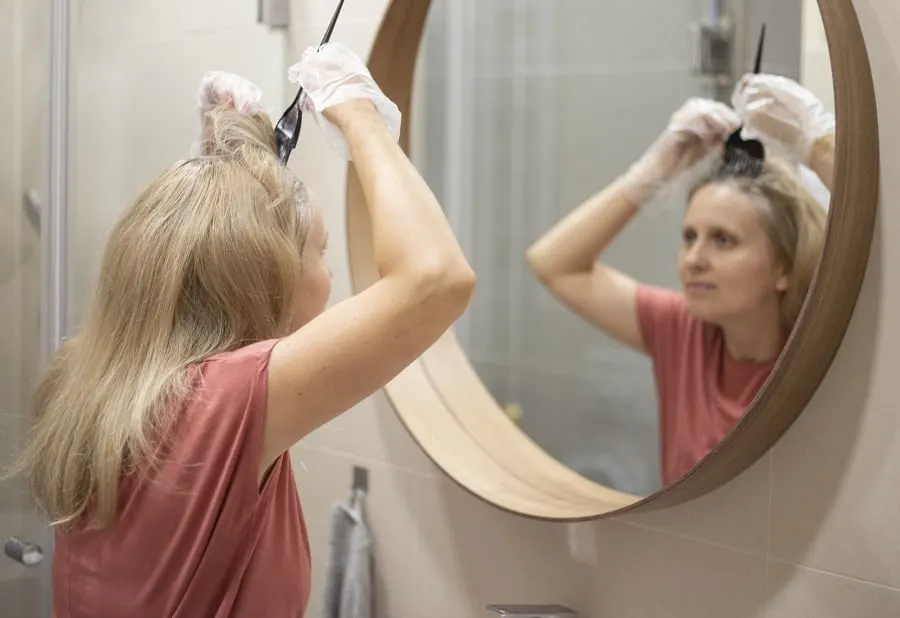 Can I Use Permanent Color As A Toner?
Permanent hair color CAN actually be used as a toner. However, a couple of things need to be considered:
Permanent hair color is advised to be used with a minimum of 10 vol peroxide maximum of 30 vol peroxide. The toner is normally only 1:1.5 vol peroxide. With this in mind, there are a couple of options.
You can use half water and half developer (1:1 ratio) to dilute the amount of peroxide. Keep in mind that it will take longer to process (20 minutes), as the processing time for permanent hair colors is longer than the semi or demi-permanent colors that we use for toning.
Pro-tip: It's advisable to use a porosity equalizer to ensure a great even outcome.

Leanesha Marrone
If you decide to use a permanent color with 30 vol peroxide, expect a dull outcome as permanent color does not have the same silk proteins that make the hair shiny and the hair will be dryer.
Tips to Maintain the Color
Remember, it is paramount to use salon-quality shampoo and conditioner to maintain the hair color. Salon quality shampoo maintains the pigment within the cuticle while it washes and closes the cuticle with conditioner to maintain the best possible life for the color.
If you use cheap shampoo it opens the cuticle and allows the beautiful color pigments to escape – hence reducing the life of your color, remember well-hydrated hair is healthy hair, which holds the color and maintains the integrity of the hair the best.
Pro tip: Ensure that the toner is right for your level of hair color, permanent or semi-permanent. The toner won't work if used on the wrong level hair or could make the hair too dark. They only work on the correct level.
Happy hair days!
FAQs
When should I use permanent hair color as a toner?
Permanent hair color can be used as a toner if you are in a pinch. Avoid using this method as your go-to toner. Using permanent toner can add unwanted lift to the hair and cause it to be a lighter level than you intended.
Can I mix toner with hair dye?
You can mix toner with hair dye. If you are not a hairstylist, avoid this at-home dying method. Mixing toner with hair dye requires extensive knowledge of how to mix the two while adhering to the proper ratios.
Can toner dye your natural hair?
Toner works the same on natural hair. It cannot lighten hair or significantly darken it but you might notice a slight color change due to the toner working its magic on your unwanted tones.

Although toners work on both natural and colored hair, they work best on colored hair because the cuticle has been opened from coloring and toner can penetrate the hair better making it last longer.
Is hair dye the same as a toner?
Hair dye is not the same as a toner. Hair dye can permanently alter the color of your hair. While toner will help even out your hair color after a coloring service or remove unwanted tones on colored or natural hair.
How can I make a toner with hair dye?
Making toner at home with hair dye requires you to follow the instructions of the dye carefully, and it requires you to know what color you need to use.
Here are a couple of guidelines to follow when picking the color for you:
● Ash-blonde helps remove yellow or orange tones.
● Purple and blue tones help neutralize blonde hair by eliminating the yellow and orange.
● The green toners will help remove orange or red tones from brown hair.

Once you have found the shade for you, follow the directions from the hair dye. Usually, you don't need to leave the toner on for more than 30 minutes.
Is using hair dye as toner safe?
Using hair dye as toner is not always the best course of action at home if you are not familiar with the necessary ratios. If you are unsure about how to execute this on your own at home, make an appointment with a professional stylist so you do not risk ruining your hair.
You May Also Like