Braided hairstyles are a fantastic choice for kids because they are a lot of fun to do. When your child is very little you might have to help them to do the braids, but once she gets a little bit older she will love to style the braids herself. Braids for kids are also a great way to keep your child's hair under control whilst she is out having fun.
Natural Hair or False Braids for Kids
It is easy to braid most types of natural hair, but some hair may need relaxing or softening before it will braid properly. If you do need to use a relaxer or a softener, make sure that it is safe for sensitive skin. Do not allow your child to use it without supervision. On the other hand, you can easily put in fake braids for kids if you don't want to (or can't) braid her natural hair. There is a range of different braided hair extensions for every color of hair. Braiding is actually one of the simplest and safest ways to add extensions to young hair. Below are some of the most popular braided hairstyles for kids.
Best Kids Braids To Show Off Your Lil Cutie
Whether it's the kind of hairstyle to take two quick seconds or hard fifteen minutes, this digital catalog of kids braids below has it all. Ranging from designs for your kids everyday playdates in the park to being the flower girls at a wedding or attending their best friends birthday party. So, don't forget to copy whatever design you like from the list below!
#1. The Fishtail Braided Bun
For mini fashion figures like your precious daughter, only the latest trendy hairstyles will suit her fashionista ego. So, you need to stay up to date with all the top hits. Consequently, we present to you the bun made out of classic fishtail braids. But why do we adore this hairstyle?
It is completely practical because it keeps you kids hair out of their face by holstering it up in a bun.
It is low maintenance especially if you secure it with enough bobby pins and an elastic hair band with a strong grip. Even though, one of the advantages of this design is that it doesn't require any pins whatsoever.
It is complex and one of a kind so it would be hard for your nemesis at school to be a copy cat because it definitely needs lots and lots of practice.
#2. The Feather Braid
In order to get your little cutie an eye grabbing hairstyle, you do not need to go the extra mile with a ridiculously complicated design. And since kids braids are all about the innocence of a soft hair strand then you should go with something simple yet picturesque. So, why don't you try the feather waterfall combo? It is really easy established and comes out as an amazing hairdo.
How to: Feather Braid?
Straighten out the hair by simply brushing it if it is naturally straight or by using a flat iron to make it easier for girls with naturally curly hair.
Pick a small section of hair and start with a regular braid. ( For newbies, this means you need to divide it into three subsections and start crossing each side subsection over the middle one.)
Start lace braiding it by picking strands from the left side only and adding it to the top piece.
Take a very small piece out of that subsection and then go ahead and do a regular braid as you leave that small piece out of the braiding process.
Lace again by adding from the top then crossing it over on the bottom section.Then pull off a tiny piece and cross it over.
Repeat and repeat until complete when you reach the back of the head. Finish it off as a regular braid.
Secure with an elastic band. However, a cute hair clip that matches her outfit would be perfect for little girl hairstyles.
Go ahead and drop the small pieces ( the feathers) to create the artificial waterfall effect.
Tip: Check out the video below for further graphic and detailed steps.
#3. The Ladder Braid Combo
This hairstyle incorporates the ladder braid technique. It is a whimsical design that gives little girls some extra cutesy points. Moreover, it works for any type of hair. So check out the tutorial below if you want to experiment this on your bundle of joy.
Tools needed:
Hair brush.
Rat tail comb.
Elastic bands.
Step – By – Step Procedure:
Even though this hairstyle might take up 5 to 7 minutes, it is totally worth the wait!
Go through the feather braiding procedure presented in the previous design.
Pick up a small section of hair under a feather braid and begin braiding a classic braid with one stitch.
Add hair from the top just like creating a lace braid.
Continue adding feather strands to the top of each lace braid.
Maintain a constant distance between the two braids to make sure the ladder effect is clear.
Braid your way around the head.
Finish off the strand without adding feather strands when you reach the other end of your head.
Secure the top with an elastic band.
Spritz with some fixative hairspray to avoid any flyouts.
However, if you want to watch a tutorial video by cute girl hairstyles just to make sure you got the steps right check out this detailed youtube tutorial video that explains all about feather braiding and ladder combos.
#4. The Mohawk
For African American cuties, kinky and frizzy hair needs much more care than you imagine. But don't fret because we have got you covered. So, since kids hate it when we style and groom their hair too often this practical design is low maintenance and would last longer than any other designs. Therefore, you wouldn't be worried about going after your kid from one sand box to another in the park to fix up their flyouts or move their loose strands from their sweaty face. And all you need for this hairstyle is simple cornrow braiding skills. Finally, don't forget to form them in peculiar irregular shapes like the twisted mohawk shown in the photo above for a bigger chance at catching everybody's attention.
#5. Crowned Princess
Some call it the headband braid, however, a crown will always sound better for little girls who have always dreamt of being enchanting princesses just like the ones they see on television. In addition, this design allows you to style your kid's hair while some of it still hangs over her shoulder. So, make your child's dreamy wishes come to life with this amazingly catchy design.
Wash the hair or spray it with water until it gets wet enough for easier styling.
Using a rat tail comb start with one side and section out a front section.
Tie the rest of the hair you wish to keep unbraided to keep it out of the way.
Divide it into three subsections and start off like a regular braid.
Add hair from the front after each stitch.
Go all the way around until you reach the other ear.
Secure the end with an elastic.
Clip the rest of the hair behind your ear.
#6: Wavy Braids for kids
To give her braids some subtle waves, you can plait her small braids into bigger ones. Send her to sleep and then unpick the bigger braids in the morning. Her hair should stay in gorgeous waves.
#7: Baby's First Cornrows
Start plaiting your little girl's hair into cornrows from a young age. Cornrow braided hairstyles for kids are a great way to keep her hair under control and out of her eyes whilst she plays.
#8: Cornrows with a High Pony
Pull her hair up into a high pony tail and then let it flow freely down her back. It is a perfect kids hairstyle if she has beautiful little curls.
Top 30 Cutest Little Girl Hairstyles Ever
#9: Braid Band with Sleek Hair for Kids
Draw in hair from the front of her head and use it to form a band of braids across the top of her head. Leave the rest of her hair down in a gorgeously sleek style.
#10: Cornrow Braids with White Beads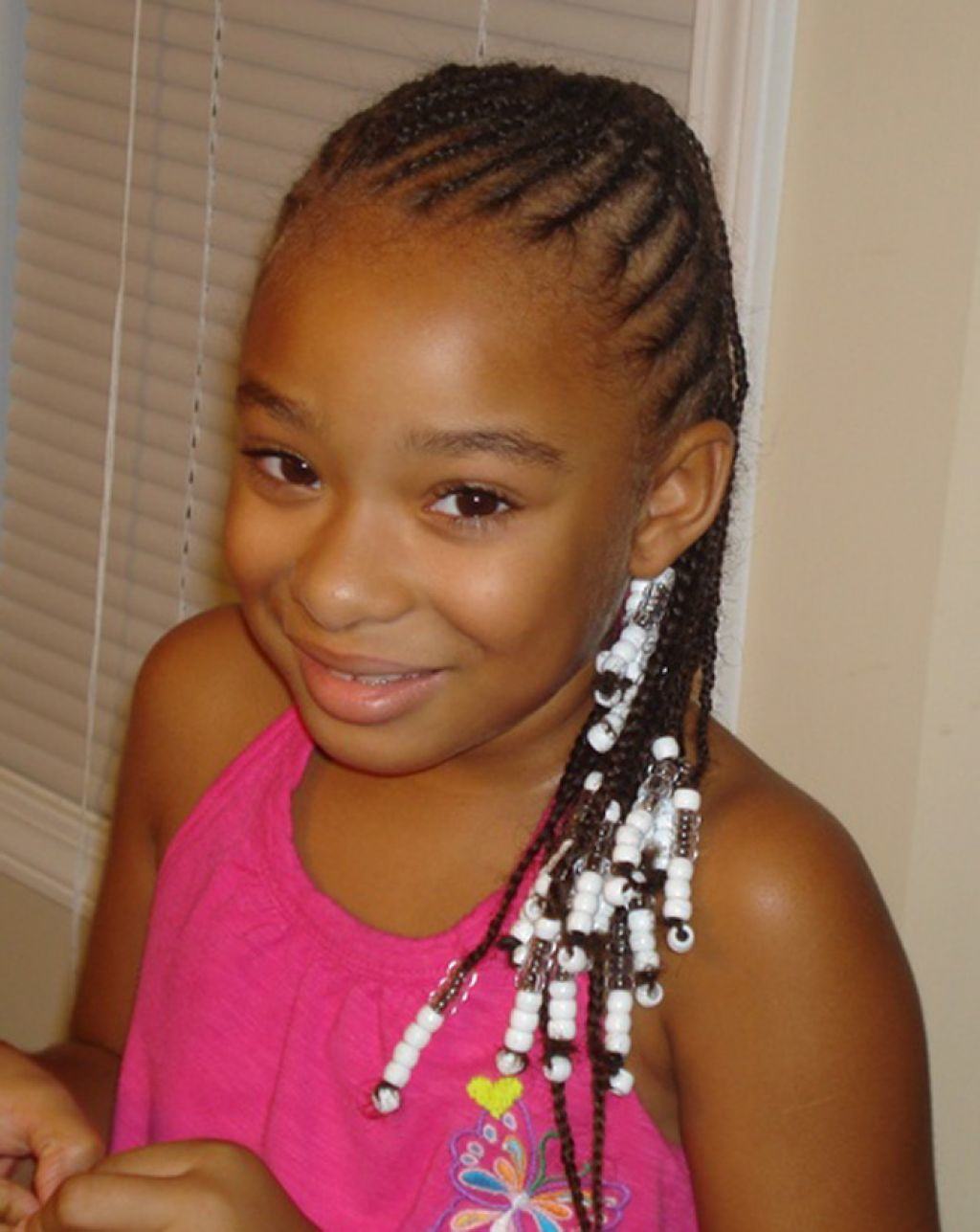 Cornrow braids for kids look really cool when they are styles with fun beads. They can choose their own beads. White Beads look great against dark colored hair.