Young girls are always searching for the best short haircuts for little girls that can make them look gorgeous. And holding all other factors constant, it is assumed that little princesses look adorable and cute in short hair as opposed to when in the long one.
Hairstyles for little girls with short hair, are numerous and there are quite some styles that can be experimented according to the girl's personal preferences, and the trends they love most.
Adorable Short Haircuts & Styles for Little Girls
So, if you are ready and yearning to learn about some of the trendiest and modern little girl's hairstyles, here is a list you ought to check out. Let's take a look.
#1. Bob with Bangs
Probably, the most common option that hits your mind when you think about the best little girl haircuts for 2021. This bob has many styles as well as the forward swept bangs. Besides, it is a standard chin-length bob that little girls love so much.
Check these Long Hairstyles for Little Girls
#2. Side Parted Bob with Streaks
This gorgeous side-parted bob haircut looks so cute and cool on little princesses. It frames the face amazingly with the extravagant streaks adding touch and elegance to this cute bob look.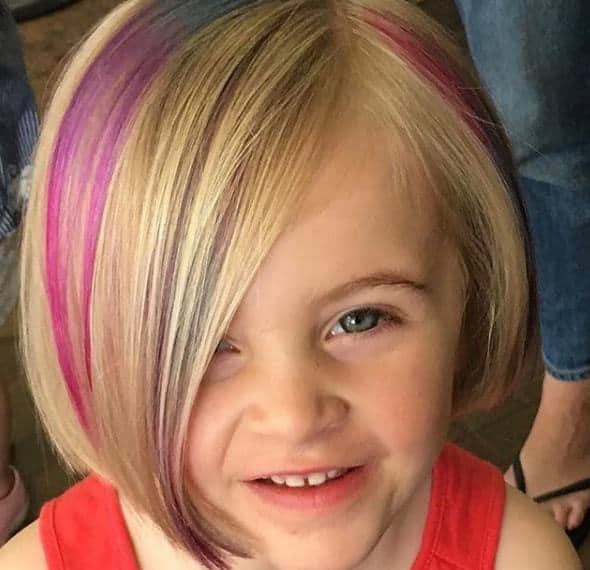 #3. Side Parted and Side Swept
This is sided more to a boy haircut that incorporates a chic side- part, and the frontal locks swept to the side for a perfect look. The haircut suits little dolls quite a lot.
Conventional bobs are ever trendy and in fashion. This is an ideal example of that. This glamorous bob haircut can be worn throughout the year, and it is probably the best hairstyles for toddlers with short hair.
This is a subtle variation of hairstyles for little girls with short hair thanks to the wavy touch that gives the style a definition. Besides, the extended fringe swept neatly to the side makes it look even more glam.
#6. Pixie Bob
This little girl pixie haircut is a blend of the features of a pixie haircut and a bob hairdo. It looks great on blonde hair. It also suits perfectly straight tresses with natural texture. Your daughter will adore this haircut so much. You should surely give her this gorgeous look!
#7. Short bob with fringe
What do you prefer to call this? A bob haircut? Well, maybe we can call it short haircuts for little girls with fringe. The hair is trimmed short enough that is rests on the ear and doesn't cascade to the chin. It is a hassle-free haircut for little dolls.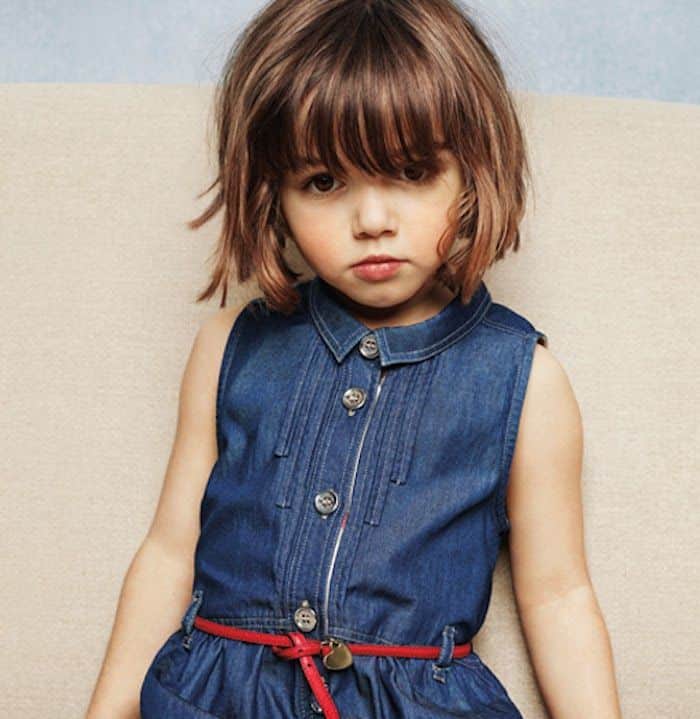 #8. Funky Bob Haircut
The beautiful hue streaks give this gorgeous stacked bob haircut a funky texture at the sides. Besides, it is a standard bob and can be created very quickly. The style is just exciting entirely.
#9. Short Hair with Bangs
Old is gold, and this haircut is gold. We have seen little girls wearing this hairstyle over the past few years and never go out of fashion. The tresses are maintained to the neck length from the back, and those gorgeous bangs on the forehead make it a hot cake.
#10. Side Swept with A Girlish Vibe
This haircut has a more girlish vibe with the manes at the back trimmed short. The hair at the side is let free to fall on the ears, and the neat side-swept frontal fringe gives it a stunning look.
#11. Side Swept Layers
This is yet another cute kids hairstyle for short hair. All those extravagant layers give it definition. A perfect edge cutting look is created by sweeping it well to the side while still maintaining that messy look to the cut.
#12. Short Pixie Hairstyle
This is a cool little girl pixie haircut. The tresses are extended on one side and maintained shorter on the other side, with fringes at the front which are cut short and side-swept. Overall is just gorgeous.
#13. Short Asymmetrical Haircut for Your Little Girl
This is an ideal little girl haircut with fine hair that is improperly grown out. The hair is first combed all around and asymmetrically cut. Small chunk is raised and secured with a hair band.
#14. Side Swept with waves
Another cute little princess haircut that is made adorable by the wavy texture at the sides. The hair is side parted at the top, and side-swept perfectly to the side while the entire look looks very boyish.
#15. Short and Boyish
Just as the title connotes, this is a more boyish look. It is side swept, and side parted with a subtle part. You cannot be looking for anything better and alluring as this little girl's hairstyle.
#16. Pixie Bob Variation
Bob hairdo on one side and a pixie cut on the other; this gorgeous hairdo looks as cute as ever. Essentially, it is entirely different as well. The top hair is swept to the front to get the final look.
#17. Cropped Back with Layers
If your little princess doesn't like much volume at the nape of her head, you can always eliminate it by trimming the hair short to almost the ear length. Leave some layers, and she will love the final look.
#18. Short Bob
This little cutie looks so adorable in this short haircut with bangs, and we are sure your little girl will appear pretty much the same. Just ensure you don't cut off those glam little bangs.
#19. Short Hair with Natural Texture
Chopping off the hair short doesn't imply you have to eliminate the natural texture of the hair of your little girl as well. This haircut is an ideal example for that. Just trim the hair short and then finger-comb it to the side to keep that natural touch.
Bob haircuts for little girls can be as versatile as you want. This is a classic example that is maintained unruly and naturally frizzy. There is absolutely no reason to style and later cut it to a bob length, just let the tresses flow freely. It looks great.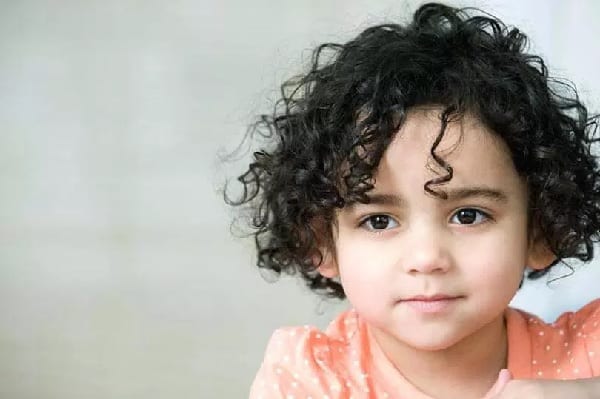 #21. Messy Bob Hairstyle
This is another gorgeous haircut for curly hair. It resembles the curly bob, but this one doesn't have many brutal curls. It is a perfect short hairstyle for little girls with curly hair. You can opt to part it at the side for a cooler cut.
#22. Little Girl Pixie
Pixie hairstyles are some of the common short haircuts for little girls, and they are famous for presenting a more of a boyish look to your little princess. It can be created in various ways to get varying looks. It is every girl's dream, and you shouldn't hesitate to try it for your little doll.
#23. Chin Length Bob
This is a cool selection for haircuts for little girls with short hair. The cute little bangs make it even more unique. When complemented with a sweet smile, her overloaded beauty will be unmatched.
#24. Unconventional Pixie
Same as standard pixie haircut, the difference in this is the fact that tresses are grown out at the sides covering the years perfectly. The hair at the top is maintained at the same level and swept to the side.
#25. Layered Short Hairstyle for Little Girls
This layered haircut is a suitable choice for a little girl haircut with fine hair. Besides, it is a low maintenance haircut that will keep your girl's hair out of her face. It is a charming hairstyle to try.
Other Hairstyles for Little Girls With Short Hair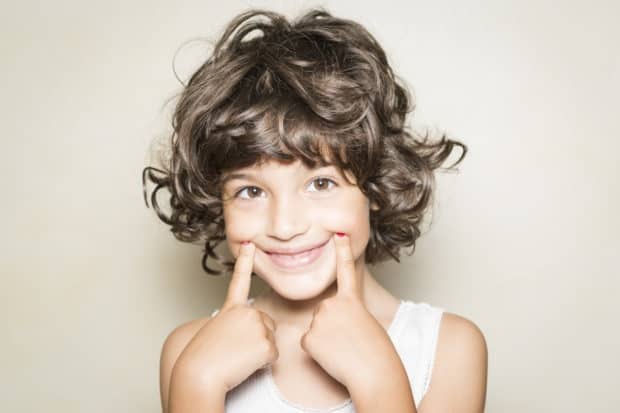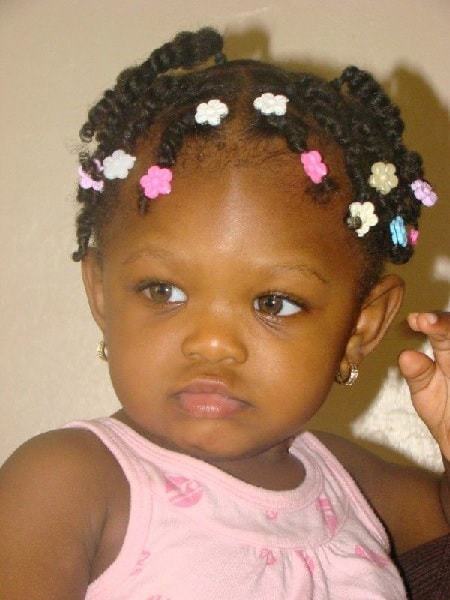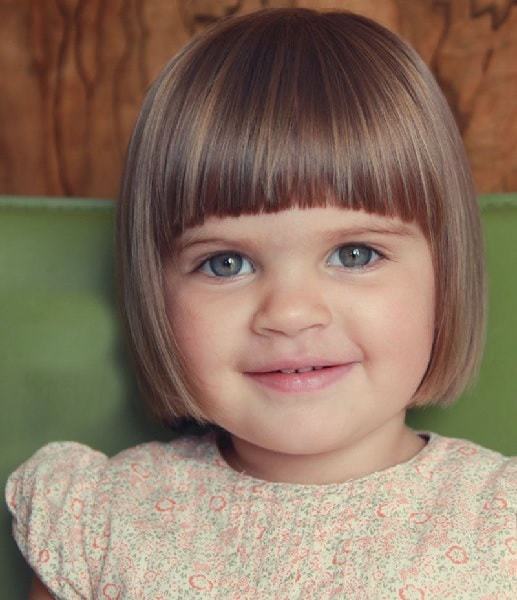 With all these beautiful short little girl haircuts out there and possibly many other choices available as well, it shouldn't be a daunting task selecting the best short haircut for your little girl. You just need to be mindful when deciding which one suits her face type and how adorable she will look in a particular haircut. We hope you will find the perfect hairstyle for your little girl that will flatter her looks, as well as make her happy and feel unique.