There is no doubt a plethora of little girl's hairstyles for long locks out there to choose from. However, chances are your little girl tends to keep her hair loose or in a simple ponytail. You can help her break away from boring hairstyles by giving her long hair an update with one of the trendy, fun looks below! She'll love how cute she looks and want to show it off to all her friends!
Little Girl With Long Hair – Things to Consider
When it comes to a new hairstyle for your little girl, consider the texture of her long hair. If it's frizzy, you'll want to regularly use a product to nix that.
You'll also want to regularly use a leave-in conditioner, which will help with healthy locks and keep it shiny and free of tangles. Prep your bathroom with a few standby products, and you'll be ready for whatever hairstyle she wants!
Long Hairstyle Trends for Little Girls
See for yourself how cute long hairstyles for little girls can be, then show this list to your favorite little one.
1. Little Girl with Long Cornrows
For little girls with thick hair, form five cornrows that flow from hairline to ends straight back. Secure each one with colorful hair ties so she can wear the rainbow!
2. Little Girl with Long Ponytails
Two low ponytails is one of the most classic looks when it comes to a little girl's hairstyle. Form them behind the ears off to the side so they'll easily drape adorably over her shoulders.
3. Long Blonde Hair for Little Girl
Blonde hair on little girls is one of the cutest things. Show off the color in a wavy or curly ponytail that is off center so it falls over one shoulder.
4. Long Dreads for Little Girl
For a little girl with long natural black hair, dreads are a pretty way to contain those locks. Leave them down or wind them up in a cute mohawk or bun with loose pieces topped with beads.
5. Long Hair Bun for Little Girl
Long hair on little girls looks gorgeous wrapped up in a ballerina bun. To contain those locks, wind up the ponytail before wrapping it in the bun.
6. Long Hair Updo for Little Girl
Instead of leaving an updo for long hair in just a ponytail or bun, you can try this fun bow hairstyle. It's perfect for formal occasions like weddings or school dances.
7. Long Hairstyle for Little Black Girl
Long braids are a great option for little girls with long hair. They keep the hair protected and stylish at the same time. Gather a section of the top into a side pony for a fun style.
8. Half Bun Updo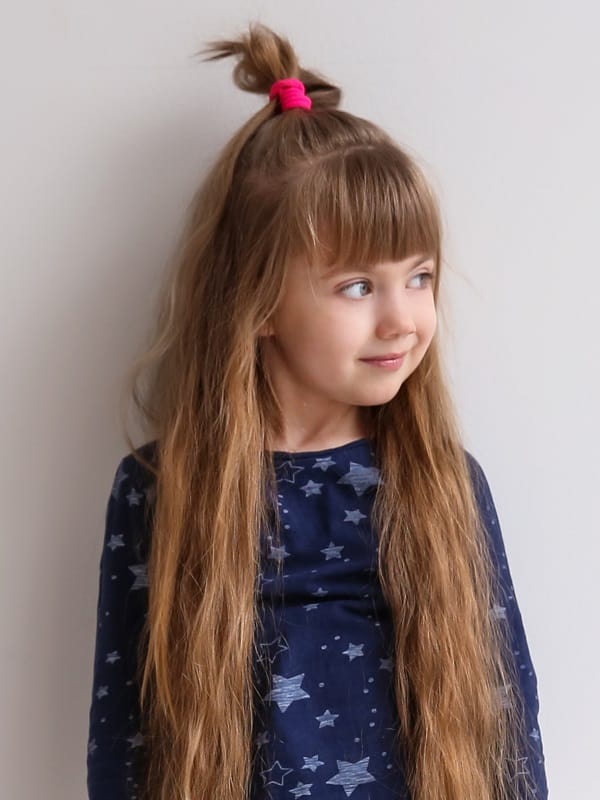 Especially on little girls with long hair and bangs, a half updo that's gathered in a half bun is super cute. It only takes a minute to make a ponytail and pull it halfway through for a stylish look.
9. Sectioned Ponytail
If your little girl's long hair tends to be unruly, try a medium height ponytail centered in the back of the head and sectioned off with colorful hair ties.
10. Little Girl with Long Afro Hair
I think we can all agree afro hair is gorgeous, right? So help your little girl rock her natural long hair by leaving it loose. Part it in the center and seal the hair with a leave-in conditioner.
11. Space Buns for Long Blonde Hair
Blonde hair is adorable as two space buns. Create two high ponytails first and then wrap the hair around the base. Don't be afraid of leaving some strands loose for extra cuteness.
12. Long Hair Crown Braid
A crown braid at any age is very boho. Your little girl will love how she feels like a flower child with her long hair wound up in a braid.
13. Micro Braided Half-Tie
This is a lovely hairdo for a little girl with long hair. It is composed of two subtle braids from two sides of the head, creating a half-tie at the back. Suitable for events like birthday party, this haircut can be matched with the cute white flock for a sexy look.
The Best Updos for Your Little Girl
14. Wispy Curly Bob
An effortless yet elegant long bob haircut for your little girl. A bob with subtle tresses to enhance your little darling's cherubic face. Little girl curly bob is simple to style and maintain for your little one. Match it with your light summer dress and this will guarantee you an overloaded cuteness.
15. Loose Curls with Headband
A simple curly haircut for your long haired little darling. Pamper your doll with loose curls and significant floral headband for an ultimate look. It is a simple hairstyle and ideal for events such as birthday parties.
16. Side Braided Hairdo
This fun and simple side braided haircut will upgrade your little girl's quotient up a notch. It is effortless to create and makes sure your toddler keeps all the stray strands off her face.
17. Side Half-Tie with A Bow Clip
This is a fabulous and trendiest way to style your little darlings long hair. It is easy to create and maintain for your girl. The bow hair clip further accentuates the elegance. Besides, no tresses fall on her face.
18. Casual Curls with Pouf Half-Tie
Very unintentional and carefree, these cute long hairstyles for little girls are popular nowadays. The curls and the pouf enhance volume to the haircut, and the half-tie makes the cut a hassle-free. It gives your little girl an opportunity to play around without the worries of the hair getting messy.
If your little doll likes no fuss, simple haircuts, then this hairstyle is a great inspiration for her. It is lustrous and super-fast to style haircut that will give her unfathomable confidence. It is an ideal haircut for summer afternoons.
20. Long Side Parted Waves
This is a bright and breezy hairstyle for your little princess! Who doesn't like luscious curls? You can go for a subtly messy and blown out style for a more relaxed look. This is a suitable hairstyle for little girls with long hair.
Cute & Comfortable Short Haircuts for Little Girls
21. Elegant Curly Layers for Little Princess
If you want to pamper your little princess all proper and prim, this beautiful hairstyle will come in handy. With loose waves cascading from the top, this layered hairstyle is fantastic and reveals the little lady in your little doll.
22. Medium Casual Layers with Bangs
The saying that less is more holds very true for this typical hairdo. It is a standard layered hairstyle for the little girls with long hair. It conveys an unintentional street sophisticated vibe to your cute daughter. This haircut is an ideal example of how a haircut need not be intricate to make a statement.
More Long Hairstyle Ideas for Little Girls
23. Long Hair with Curls
For those special holidays that require your little girl's hair to be dressed up, just use a curling wand to add in soft waves. A fun headband will help make it more playful.
24. Side Part Ponytail
No matter the day, add a side part to long hair and gather locks in to a ponytail secured at medium height. This is an easy hairstyle taking only minutes.
25. Casual Updo for Long Hair
Low ponytails work great for long hair on little girls. Whether it's a low bun or low ponytail, family and friends will still be able to see their soft tousled curls.
26. Braided Pigtails
Another hairstyle taking only minutes are two braided ponytails. Part the hair, create two ponytails at the back and braid almost to ends, securing with colorful hair ties.
27. High Pigtails
Pigtails can be worn at any height, but these high pigtails are secured directly at the sides of the head so they're the first thing her friends will see.
28. Long Hair Messy Bun
Messy buns aren't just for young women anymore! On a little girl with long hair, the style is adorable and perfect for those days when she'll be outside playing.
29. Flowered Hairline for Long Hair
When you just need to keep your little girl's long hair off her face, secure a few small sections of hair off the hairline with faux flower hair ties. Leave the rest of the hair loose.
30. Bow Updo
Another hairstyle great for fancy events, make a low or medium height ponytail with a bow design. Smooth it free of frizz and top with flowers.
31. Side Braid for Long Hair
Keep the hair picture-perfect for weddings and other occasions by braiding your little girl's long hair into a side ponytail at the front of the head. Secure with a bow.
32. Long Hair with Curled Ends
Not much needs to be added to this long hairstyle for little girls except for the tight springy curls at the ends. She can wear this hairstyle down and feel like her girly self.
33. Wrapped Side Braid
For this long hair, start a braid at the hairline and continue it around to the side of the head, securing with a ribbon or pretty colorful bow.
34. Twisted Ponytail with Curls
On long hair, twist a few sections of hair starting at the hairline, then gather them in a ponytail accented with a tiny braid. This style has so much detail, it's the ultimate look for long hair.
35. Box Braids for Long Hair
Little girls with long thick hair will love how box braids are so delicate and keep their locks out of their face. Clip the ends with flower barrettes instead of boring elastic bands.
36. Bow Half Updo for Long Hair
On this style, just take two sections of hair from either side of the head and secure in a small ponytail at the back of the head. Make this cute bow to let everyone know your little girl is a gift!
37. Braided Space Buns
To spice up space buns on long haired little girls, add braids to one side and leave the other plain. Wind them up in poofy buns accented with bright hair bows.
38. Long Hair Dutch Braids
Dutch braids for little girls with long hair are a super popular style. They take only minutes and leave hair pretty and wavy when unwoven at the end of the day.
39. Two Braids and Ponytail
Two thick braids decorate the sides of this little girl's ponytail. The hair is secured low which makes long hair look even longer.
40. Flowered Long Hair with Waves
Finished off long hair with waves and top with a mix of twists and braids. You can even throw in a cute headband to keep hair off the face.
As you can see, hairstyles for little girls with long hair are in no short supply. Show this list to your favorite little girl and let her pick which one she wants you to do first! We're sure she'll pick all of them.