Kiss traditional, tight braids goodbye and say hello to knotless braids with curly ends. Knotless braids offer a comfortable and natural look, while the curly ends add a playful twist to your tresses. This versatile braided hairstyle is perfect for both casual and formal occasions.
Knotless braids are easy on the scalp. They are, in fact, traditional box braids but without the knots near the roots used for anchoring extensions tightly with the natural hair.
Instead, the synthetic strands are fed in progressively along the length resulting in sleek plaits that lie flat on the head.
So if you are looking for a protective hairstyle that is the least likely to damage your mane, try the following knotless braids with curly ends to look like a queen in no time.
Knotless Box Braids with Curly Ends
Leaving the ends unraveled and curly is the latest twist to these protective knotless box braids that have been taking over the internet for a while.
1. Long Golden Brown Knits
The best thing about knotless braids is that they allow you to go as long as you want while rocking the brightest colors without even using a drop of chemical dyes.
Try these golden brown knits with jumbo square sections matching their length.
2. Side-Swept
Recreate this asymmetrical hairdo by carving out a deep side part when installing the plaits. You can either pin your feed-in braids back on one side or replace them with permanent cornrows instead.
Wrap the ends around flexy rods and dip them in hot water to achieve the most beautiful curls.
3. Ombre Braids in High Ponytail
Experimenting with knotless braids and coily ends but not trying an ombre look? Not fair!
Create a black to blonde gradient using appropriate synthetic extensions and flaunt your knits with a super-high ponytail that flares out on the shoulders.
4. Orange Braids + Half-Up Bun
Vibrant hair colors look flattering on dark skin tones and here is an example to prove it. Look like a rock star with bright orange braids and wrap them around into a half-up bun.
Leave those curly ends sticking out for a 'no-care' vibe.
5. Chunky Knotless Plaits with Bangs
Chunky no-knot braids look incredibly stunning as long as they don't put excessive strain on the scalp.
Spare the bangs to frame the face at the front while using extensions matching your natural hair shade. Adorn the knits with metallic cuffs for a boho-chic appeal.
6. Long Curly Ends with Electric Blue Streaks
Turn your knotless box braids with curly ends into a one-of-a-kind hairstyle by opting for extra-long coiled tips with shorter knits instead of going the other way around.
Opt for a couple of vibrant electric blue knits in between the black ones at the front for a pop of color around the face.
7. Snall Feed-In Braids + Earloop Highlights
Use plenty of hair mousse when knitting the hair to end up with sleek fine braids and minimal frizz. Carve out perfect box-like sections for a fun-looking geometry on the scalp.
Add blonde chunks around the ears and at the back too to mimic earloop highlights that won't be ignored.
8. Twist Bob with Coily Ends
Three-strand no-knot braids look attractive without a doubt but two-strand twists appear nothing less too.
Rock a classic bob with a side parting and layer the curly ends at varying lengths to avoid a blunt look. The finer the sections, the more natural your twists will appear.
9. No-Knot Cute Heart Braids
Heart braids have a place of their own. Use mismatched extensions to make those love symbols more noticeable above your ears.
For the remaining hair, go with triangular-shaped braids with fluffed-up curly ends, and flaunt your fresh knits with a classic half updo.
10. Half-Up Half-Down Braids
Instead of going for the usual uni-length long knotless braids, layer them with the shortest chunks framing the face.
The light brown synthetic strands are ideal to take a break from your natural black tresses while a knotted half-up ponytail will never disappoint!
11. Dip-Dyed Curly Ends
Make sure your curly ends stand out from a distance by adding false hair in any shade of your choice on the tips only keeping the remaining portion of the plaits natural.
The result will be a dip-dyed mane that is sure to drop some jaws.
12. Sleek Micro Braids
Talking of a natural look, these shiny micro knotless braids with curly ends just look like thick chunks of normal hair.
Lots of time is needed to entwine the braids while adding the extensions little by little to maintain a uniform width along the length. But the hard work surely pays off!
13. Pop of Red
Red and black create the hottest color combination. Spice up your pitch-black feed-in braids by adding chunks of bright red around the face only. You can also incorporate them above the nape to get peekaboo highlights.
Pull out some curls to accent the face with a knotted half ponytail sitting just behind the hairline.
14. Burgundy Gradient Braids
Burgundy works wonders on chocolaty skin complexions. Stay on the darker side by incorporating chunks of these reddish-brown strands seamlessly while plaiting down your black tresses.
Amp up your look by adding curls at varying heights. Although the gradient is low-key, it won't go unnoticed!
15. Messy Jumbo Top Knot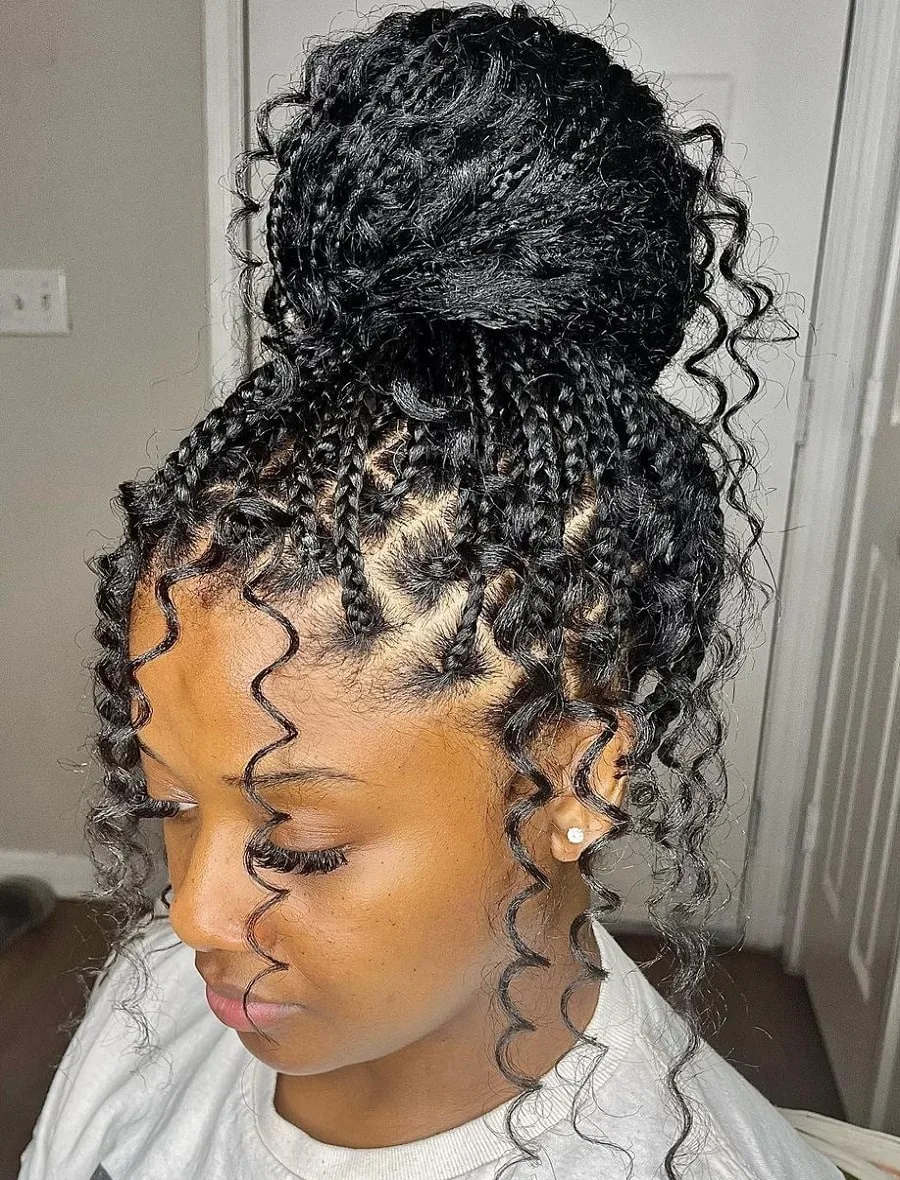 Curly-ended knotless braids are called goddess braids for a reason. They surely turn you into one!
Use curly braiding hair and pull out fine tendrils along the length with permed ends. Make a style statement by swirling the hot mess in an oversized top knot bun.
16. Multi-Tonal Goddess Braids
Add dimension to your boring locks by opting for different shades of brown and blonde to create a multi-tonal mix of braids and curls.
Skip the curly tips for a change and alternate fully plaited knits with loose wavy chunks. You won't regret it!
Knotless braids with curly ends appear natural thanks to the technique of incorporating the extensions seamlessly along the length. Although these knits are weightless and pain-free compared to knotted box braids, extra care is needed or otherwise, frizz may develop pretty quickly near the roots.