The gorgeous heart braids are ready to take over in 2023. Even if you are not a huge fan of braids, this is a type you'll certainly want to try. It's chic, cute and surprisingly easy to make. Below you'll find how exactly to pull it off with 15 examples for short, medium and long hair.
How to Do A Heart-Shaped Braid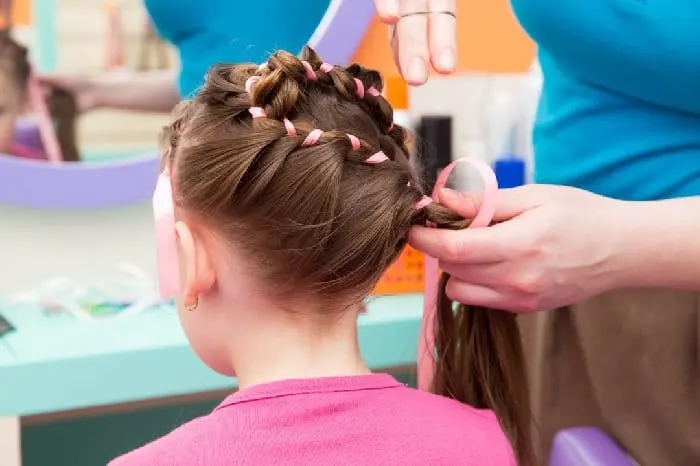 There are actually so many variations of heart braids, but this is the basic way to do it. Start with damp hair, so that you'll have more control. Use the middle part, and the first step is to get a small strand from the one side. It should be around 1.5 to 2 inches from the start of the hairline moving down the middle part.
This is the moment when you start with a French braid on one side and move towards the ear, shaping one half of the heart. Continue moving towards the back until you get to the middle. Then, you do the same thing to the opposite half. This is how you achieve the famous heart braids in only minutes. Tie the leftovers of the hair in a fun tie.
The following are the most beautiful Heart shape braid hairstyles for girls to rock regardless of their hair length and texture.
Heart Braids for Short Hair
These are the perfect braids for girls with short hair.
1. Triple Braid Hearts
Get your braiding powers ready to recreate a gorgeous triple braid style for short hair.
This hairdo is perfect for moms who actually have both time and patience. It's not a simple mane, so make sure that you try it several times before you nail it.
This hairdo features the braiding style we mentioned above, but with several braids in one. It works perfectly for short hair.
2. Get Playful with Hair Ties
Girls are always so infatuated with hair accessories. The more you use, the more they'll be obsessed with their new mane.
It's damn cute for both kids and moms. Small ladies who love color will be so happy with this type of heart braids.
Do the heart braid first, then put the rest of the hair in vibrant hair ties.
Simplistic Ribbon Braid Hairstyles for Little Girls
This style of heart braids hairstyle does not require the previous braiding technique, but it's such a simple one.
There will be times when you're simply not in the mood for doing detailed braids. This is when the mane above will come into action.
Put the hair in four ponytails and secure them with ties. Braid the two top ones two braids each and connect them to the low ponies.
You don't actually have to follow the guidelines to create a perfect braid. It's all in the imagination.
Accessorize the hair of your little girl with a fun experimental half-up braid.
Just start braiding two halves of the hair, and with the help of bobby pins, secure them in a heart-shaped half-up ponytail hairdo.
5. Unusual Heart Braid
This one might be even better and easier than the classic one.
It's so cute and every girl will literally be over the moon. This style is great for short hair.
Work your way into a heart shape by using fun hair ties. Finish off with a Dutch French braid in the middle.
Heart Braid for Medium Hair
For the next occasion, you can put your little girls' hair in a stunning ballerina bun upgraded with heart braids.
This mane would be so on point for a special event.
The first step is to divide the hair into two parts, one in the top and one in the bottom. Put both in a ponytail, and braid them in a classic braid. Divide the top one in two, and secure it with bobby pins in the shape of a heart.
Just when you thought that braids style can't get any better, we hit you with this example.
The heart-shaped pony will look impressive for any young lady out there.
If you look closely, you'll see that this is not a regular braid, but one made with four strands. Do it in the shape of a heart and put the rest of the hair in a pony.
8. Heart Braid On The Side
The best thing about medium hair is that you can be creative with both braided updos and other hairstyles.
It's great for young girls who prefer having their hair down.
To recreate the side heart-shaped braid all you need to do is follow the instructions at the beginning of the article. The only difference is the location.
The best thing about this hairstyle is that you don't even have to braid. You'll only need hair ties to achieve the final look.
Medium hair length can be challenging when it comes to heart braids. This is one of the hairstyles you can create without a single problem. It's also great for when you don't have enough time on your hands.
Divide the hair into three sections. Pull through parts from the hair ties and shape them like hearts. Accessorize the look with a cute flower.
Space buns and heart-shaped braids are the perfect combos.
If your kid has long hair and likes it when you put it up, this is such a cute option.
Start off with the heart style in the front. Put the rest of the hair in sleek double buns, which you'll also braid.
Heart Braids for Long Hair
Braids so amazing in long hair. Check these hairdos now!
11. Heart Braid for Little Girl
Two braids are better than one! Long blonde balayage makes the hairdo edgier and chic.
Great for moms who have more free time to experiment with a bunch of styles.
Mix two styles to also use that leftover hair that's in the middle.
If you've managed to grow the hair of your girl long, you should definitely make the best out of it.
Display the long and gorgeous hair with a special hairstyle such as this one.
Start off by curling the hair if it's not naturally curly. Do a regular heart braid and elevate the middle with a French one.
13. Use Accessories
A single, simple accessory can do wonders for your little girls' hairdo.
This lace braid is meant for when the young lady is all dressed up for an event.
Try doing double heart-shaped braids and include the accessories if you can as well.
Twins will want to copy this mane right away!
If there is a birthday party coming up, or an event at school, go and buy some hair glitter. It will make your girl so happy.
Do your regular heart braid and put the rest of the hair in two low braided buns. Decorate the finished mane with loads of glitter.
15. Heart-In-Heart Braids
Why do a single braid when you can opt for multiple? And you shouldn't even stop there. Continue braiding all the way down.
It seems like such a fun heart braided hairdo that both girls with long and medium length hair can try it out.
This can be a tricky one. You can start from the one in the middle and slowly work your way through the rest.
FAQs on Heart Braid
Is heart braid easy to master?
Yes. It's far from complicated, all you need is to practice it several times and you'll become a pro.
Which hair length is best for heart braids?
Any hair length can work with these braids, that's why we included examples for all three lengths.
Heart braids are so popular for a reason. They are cute, gorgeous and look stunning on young girls. If mommas can master the braiding technique, they can literally recreate any of the examples above.
Find some extra time with your little one, and they'll be thrilled to have the coolest hairstyle among their friends.