I personally am a big fan of knotless braids, and I prefer this method since before they were named "knotless" and became a trend.
I was always concerned with keeping my hair nice and long, and I rarely trusted another person with braiding or trimming my hair.
So, when I did my own braids, I figured out that the knot is not mandatory, and besides, it's actually more harmful than helpful.
My mother also used to braid my natural hair without a knot at the root when I was little, and from that, making my own small knotless box braids with synthetic hair added was just a matter of experiment, practice, and passion.
As lately knotless braids have become more and more popular, it is great to have this option on the market so you can opt for it instead of traditional box braids. I used to call them no-pain braids, but for sure, "knotless" is more accurate.
What Are Knotless Braids?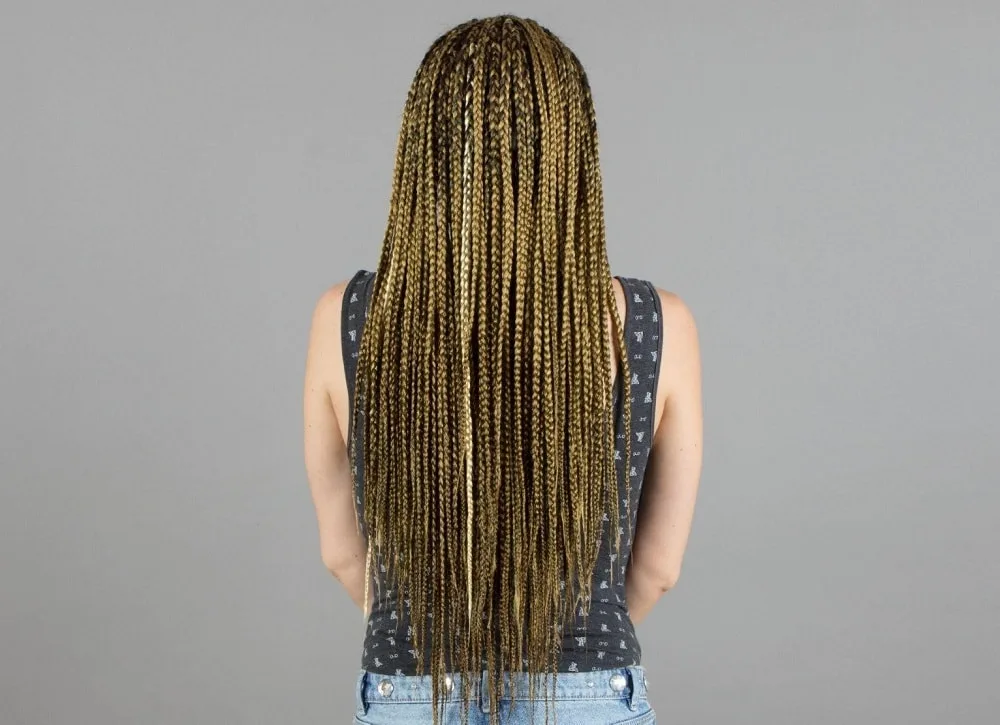 Knotless braids are braids made without a knot at the root.
Usually, box braids techniques imply making a knot at the start of each braid, where the synthetic hair is added by wrapping a piece of hair around the braid root, and this technique can be painful and harmful if tensed excessively.
Knotless box braids are still box braids, but the installation is knotless, with no wrapping hair around them, so they must be painless and healthier. You can read the differences between knotless braids and box braids here.
This braiding starts where the hairs naturally come together in a braid without being extra tensed.
The aspect of knotless braids is more natural than the one of traditional box braids, as the hair extensions are blended in, together with the natural hair. Everything else looks the same.
Myths About Knotless Braids
There are some myths about knotless braids that I'd love to destroy, and the first one is that knotless braids are more scalpy.
Myth 1: Knotless braids look scalpy.
The braids would look scalpy if the natural hair is not super thick and you add no synthetic hair at the start of the braid. But the fact is that you don't need to gradually add the synthetic hair if it isn't justified, and you can even add it all at the beginning of the braid if you know how to braid it so it would not slide.
You would need to gradually add the synthetic hair only if the hair is very thick and short, so there will be no difference when you're done with the natural hair and only the extensions remain.
Knotless braids would look full and thick if they're done right.
Myth 2: Knotless braids last less.
Wrong! They last as much as traditional box braids if they're done right and taken care of.
Myth 3: Knotless braids are more costly and take much more time.
If the braider is familiar with this method, it won't take more time than regular box braids, and the price would be equal to the traditional ones.
This is possible but it depends on the braider and the hair of the person being braided.
Myth 4: Knotless braids are flexible from the beginning.
Yes, they're supposed to be like this, however, knotless braids can also be excessively tensed, but it happens less frequently.
But this depends on location, hairstylists, and so on, so there are lots of places where knotless braids are more expensive and take much more time than traditional box braids.
Who Should Try Knotless Braids?
Anyone who experienced pain or hair breakage when they got braids, or anybody who just wants to avoid this, would better ask for knotless ones. There is less risk of getting overly tight roots.
If you have straight or thin hair, a sensitive scalp, or need to style your hair since the beginning of your box braids journey, then opt for knotless box braids.
Actually, I would recommend it to anyone who wants to get braids. From my point of view, there is nothing to justify the knot at the root. But maybe if you have short and textured hair, that might help the hairs stay in place longer.
Therefore, if you are used to traditional box braids and satisfied with them, and you have your favorite braider who knows how much to tense the knots, without damaging your hair, there is no problem for you to keep wearing traditional box braids.
Otherwise, if you're looking for a new braider in order to get either knotless braids or regular box braids, check their portfolio beforehand, and make sure knotless box braids would not look too tiny and scalpy, and that traditional box braids don't look excessively tensed.
How Long Do Knotless Braids Take?
Just like for box braids, working time (and the price) depends on the number of braids, length, and the braider's abilities. Manny and small braids would take much more time than a few thick ones.
Also, over-the-knee braids would take more time than down to shoulders ones.
There are special styles like bob box braids, which can take longer even if they're shorter, but these are exceptional cases.
On average, knotless braids take between 2 to 10 hours.
Full small-medium knotless braids, with no visible paths in between, up to the bottom of the spine length, would take around 6-7 hours.
How Long Do Knotless Braids Last?
In general, knotless box braids last around six weeks or up to two months if they're small and done right. Other factors like hair type, care, and maintenance, can influence how much they last.
There are methods to make them look new without rebraiding but just like traditional box braids, knotless braids form dreadlocks when growing, so they must be taken off if you don't want that to happen.
How to Wash Knotless Braids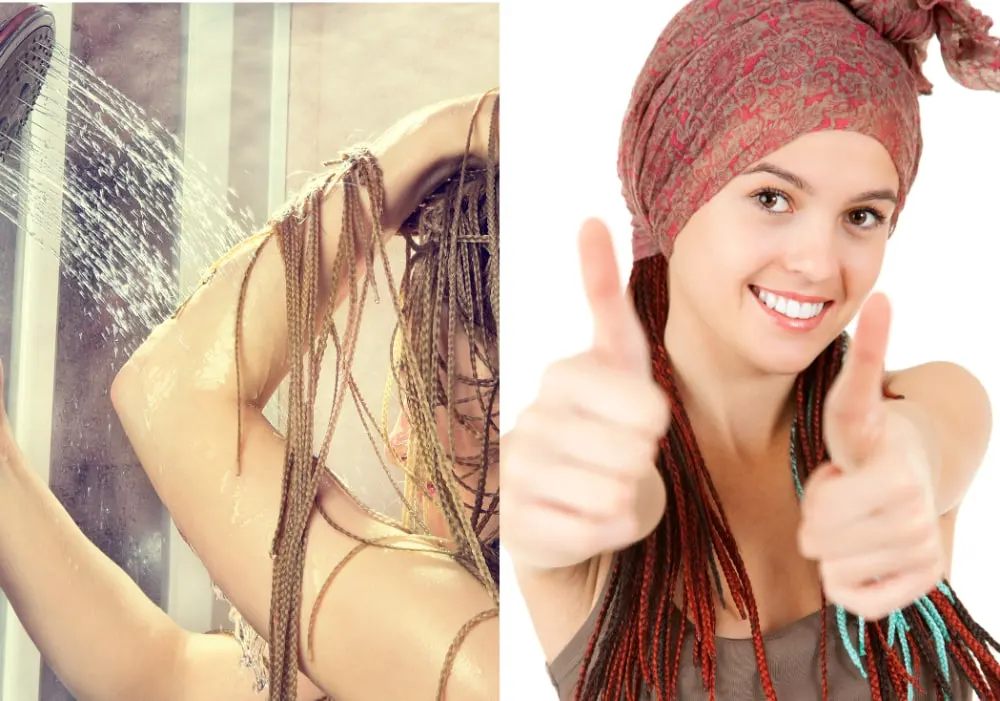 Whether they are traditional box braids or knotless, the washing routine is the same.
You have to get them wet in the shower, apply shampoo (preferably organic and combined with water) all over the scalp, between the braids, gently massage with the fingertips, and rinse off with plenty of water.
Repeat the procedure making sure there is no product left at the end, then depending on your hair type, use conditioner (don't use conditioner if you have straight hair).
Squeeze them as much as possible and wrap them into a towel (preferably a microfiber one).
Let them completely dry by themselves, or do some headbanging, stay in the sun, or if you want to use a dryer, protect them by doing the maintenance before, wrap a scarf on your roots and blow dry them like that so there will be no frizzy hairs.
You can also clean your braids using leave-in products, but you'll need a deep wash from time to time as well.
Things to Consider When Styling Knotless Braids
Knotless braids are usually more flexible to style from the beginning of your journey, and you can do this using nothing but your braids. It is very easy, you just need to get used to manipulating them.
There are tons of styles that you can try, which include buns, ponytails, curls, braiding the braids, or using accessories.
Whether they are traditional box braids or knotless, you can style them the same way.
Avoid tightening them excessively, so they won't get loose or damage your hair.
Knotless Braids Styling Ideas
Favorite Knotless Braids
1. Oversized Bun
Different shades of blonde braids gather together gorgeously in a high oversized bun. In this beautiful color, your complexion warms up while the thickness of your braids stand out.
2. Long Ponytail
A long knotless braided ponytail flaunts blonde ombre in a casual style. The combination of thick braids up top that then fade into thin braids at the ends is a beautiful style.
3. Half Up
If you have some texture in your hair that you want to show off, a half updo will get the job done. Gather braids up in a half ponytail for a cute, casual hairstyle to display curly ends.
4. Long Twists
Liven up a shoulder-length knotless braid hairstyle by using temporary gold color to offset black hair and brown highlights. This is a great warm color combination, but don't be afraid to go brighter!
5. Hot Pink Streak
Little girls love wearing their hair in braids and they'll love using bright colors even more. Treat her to a streak of bright pink to accentuate chunky braids.
Jumbo Knotless Braids
6. Sectioned Braids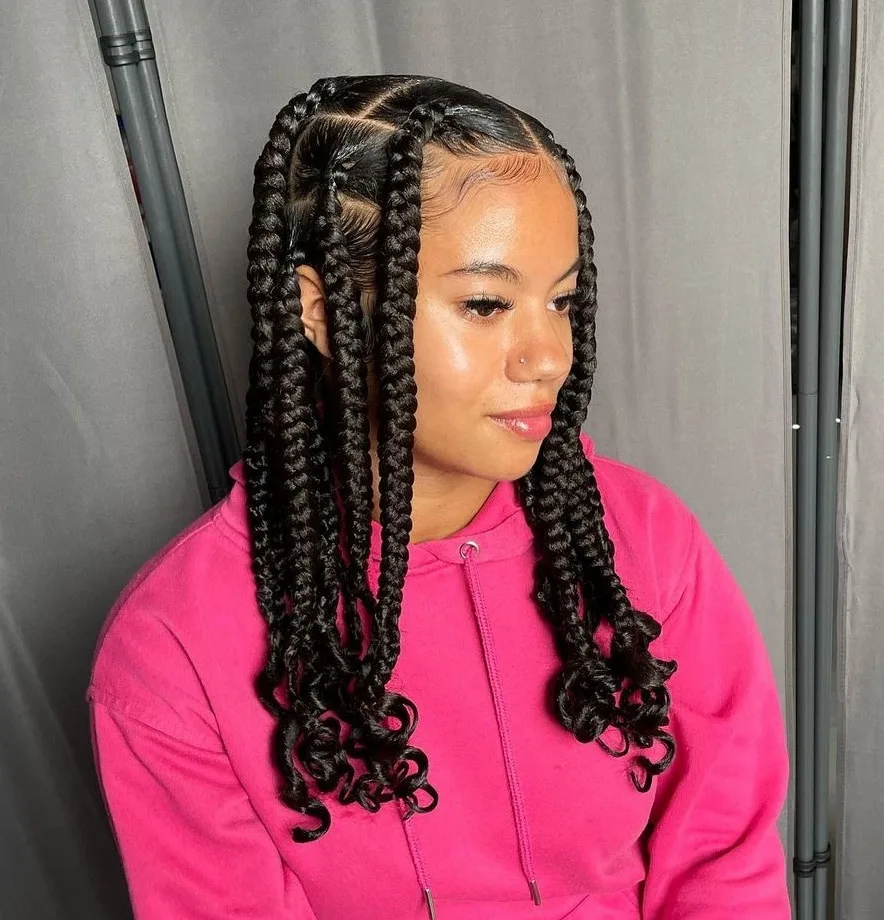 If you have thick hair, try jumbo knotless braids. Sectioning them out is a fun way to show off the thickness, and you can even leave a couple inches of the ends unbraided to flaunt curly ends.
7. Purple Ombre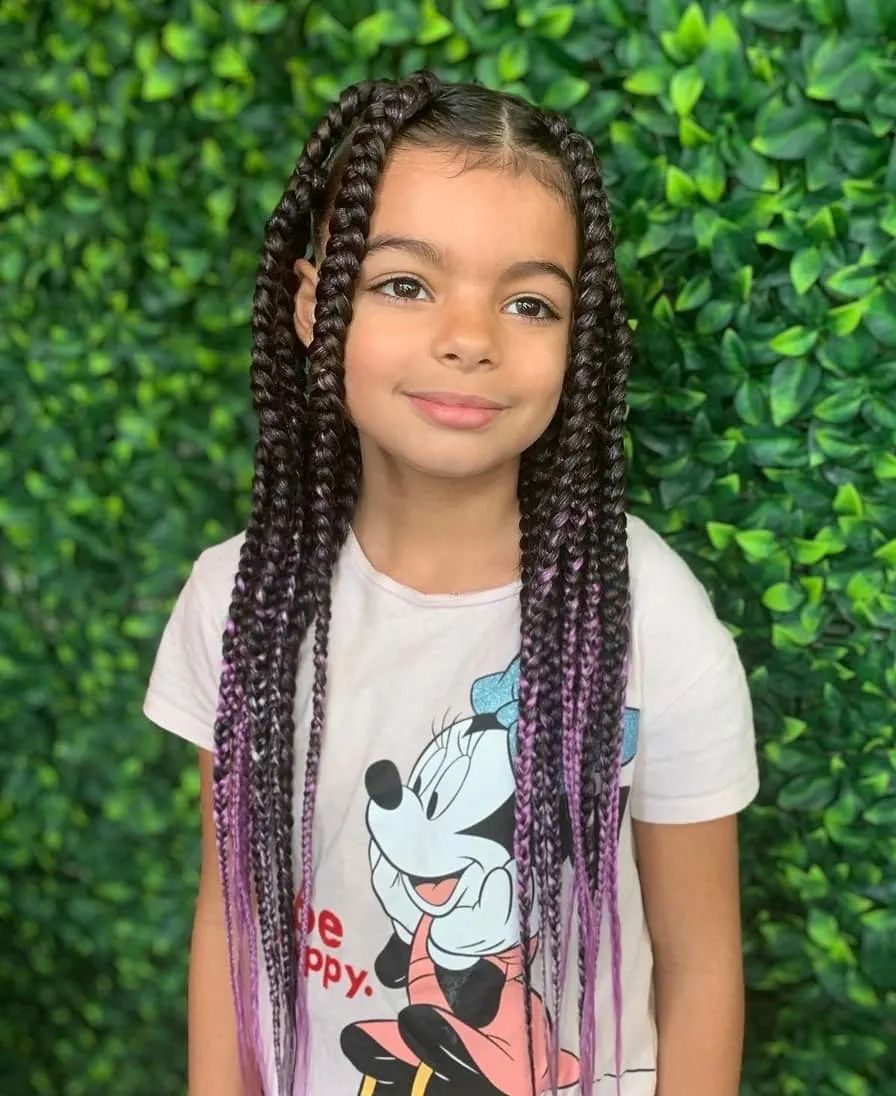 Little girls will love getting to wear pretty purple highlights in their hair. On long knotless braids, let her try light purple with gray or white for an edgy mix.
8. Bun with Red Color
Dark red is a hot bold color to use to accentuate thick braids. Gather most of them up in a high jumbo bun, being sure to leave a few strands loose and/or unbraided. If you're feeling creative, gently swirl baby hairs to give soft framing.
9. Light and Dark Blonde
If you're going to take the plunge and go bold, consider using light and dark shades. Part jumbo braids in an uneven line for a unique vibe that looks fabulous with a soft blonde.
10. Half and Half
If you opt for blonde highlights, you can choose to style them half and half instead of an even disbursement of color. These knotless braids feature curly ends that work with blonde to create a stunning hairstyle.
Knotless Braids with Beads
11. Space Buns
It's a new, peppy way to do the space bun hairstyle for girls with knotless braids and beads! Wind the braids around the ponytails and drape the beaded ends over the front, so they hang.
12. Medium Braids
A medium length of knotless braids is easy for young girls to manage. Plus, they can dress up the ends in cool patterns that feature their favorite colors. Here we see white and clear, but bright pink with dark purple would be super cute too.
13. Half Braids
From the gold bead cuffs to the burgundy-colored braids with curly ends, this is one knotless hairstyle every woman will want to try. Make the bottom curls luscious by using a curling iron with a large barrel.
14. Medium Red Knotless Braids
With shoulder-length knotless braids with beads, it's easy to make a statement by using a bright hair color. Try a fiery red and cap the ends with different-sized clear beads. To switch them up, why not rock black beads for an edgier look?
15. Light and Dark Blue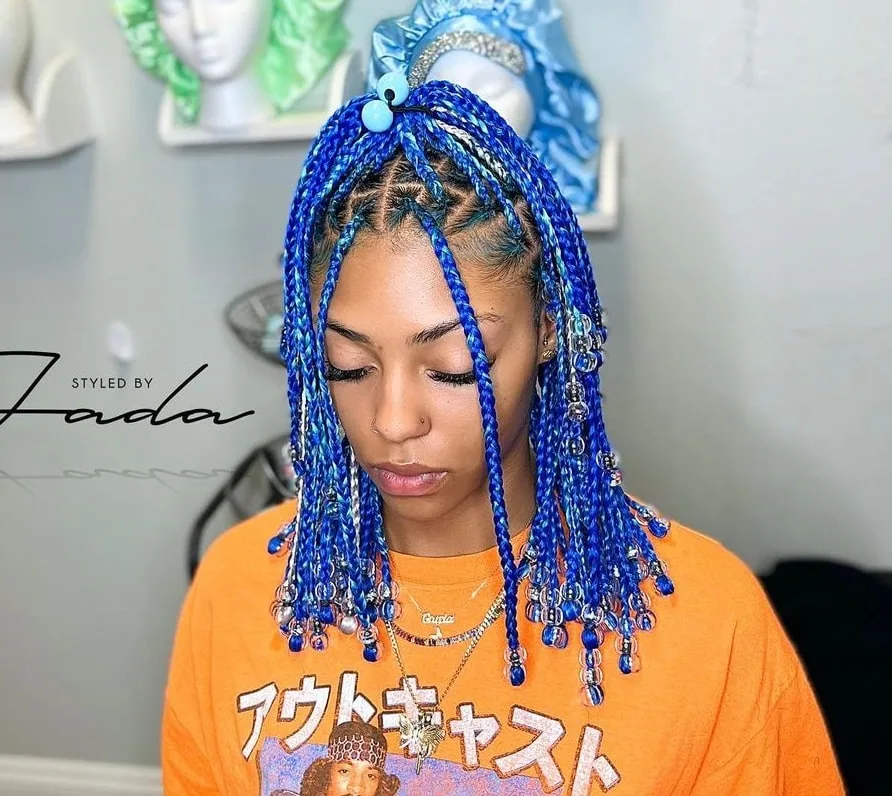 For Black women who love playing with hair color and accessories, these light and dark blue knotless braids with rounded clear beads was made for you! Styling it in a half updo will only show off the style even more.
Knotless Braids With Color
16. Golden Yellow
Heading on vacation or have a special day coming up? Make sure your braids without knots are looking their best by rocking a cool color, such as a golden yellow, which looks beautiful against dark skin.
17. Orange and Black
Whether you're rocking team spirit or you just love bright colors, orange will be there to make your braids look their best. If using orange, you only need a few strands highlighted in the shade to stand out.
18. Light Brown
Knotless braids with color don't have to be flashy. For a more understated style, choose light brown to go against black braids. It's easy on the eyes and is a great color to try out for even a short amount of time.
19. Hot Pink
We love how a small chunk of these braids is spotlighted with hot pink color. They create a more dramatic look than they would if they were evenly placed throughout the braids.
20. Ombre
Light red and golden yellow wouldn't be many women's first choice of color for knotless braids, but they work! Add them in an ombre to accentuate the length of your braids.
Knotless Braids With Curls
21. Bohemian
It's easy to create a relaxed, bohemian vibe in your knotless braids. Mix loose curly strands with braids for an instant beach-vibe hairstyle. To go an extra step, use different shades of blonde coloring.
22. Heart Braid
Heart braids are increasingly popular on girls of all ages, and one will look super cute on you too! Add it to the side or back (or both) of a high braided ponytail, leaving some hair loose to be naturally curly.
23. Curly Ends
Lush naturally curly hair deserves to be seen, so when you secure your braids, leave about an inch or two at the bottom loose to flaunt curls. The golden blonde above helps texture shine like the sun.
24. Thick Curly Ends
For Black women who have super thick hair, go for thin half braids that will allow you to put those beautiful curls on display. A bit of curl cream will define their shape. Push them over the shoulders and pair with a small half updo.
25. Blonde Space Buns
Love wild hairstyles that match your playful personality? Scary Spice herself would be proud of these large knotless braided space buns, which use light and dark blonde color to accentuate curls.
Long Knotless Braids
26. Light and Dark Brown
Be the envy of Black women everywhere with long tight curls like these. Use super thin braids in light and dark brown coloring to break up the curls. Wear down and over the shoulders for easy styling.
27. Long Burgundy Braids
Burgundy is a universally flattering hair color, and it's ideal for creating a whole mood on long knotless braids. These thicker ones also have a couple of sections of loose strands that peek through with their curly texture.
28. Thin Braided Updo
Dainty, thin braids are the perfect size for women who want to make their hair appear longer. When going out, gather braids in a small half ponytail, wrapping the base in a couple of the braids to secure it.
29. Edgy Long Braids
Fierce bright red color in long braids ensures everyone who sees you will notice your gorgeous look. Bright shades are great for making a statement, so consider orange or even yellow color too.
30. Long Blonde Ombre
To create the ultimate feminine look, opt for blonde ombre in long knotless braids. Also, leave a couple inches at their bottoms loose to define curls and keep the look soft.
Medium Knotless Braids
31. Fancy Updo
If you have medium knotless braids and have a special day to attend, a large braided bun won't let you look anything less than beautiful. Just tuck in a pretty flower hair accessory and you're good to go.
32. White Blonde
The gorgeous curled ends on these medium braids are beautiful enough without a sleek white-blonde streak to decorate the front half of hair. It's the perfect amount of color to add a special something to the look.
33. Half Updo for Girls
Help your favorite little girl or niece feel their prettiest with a cute half updo styled with a colorful or printed bow. Throughout the rest of the hair, strategically place butterfly or flower hair clips for easy detail.
34. Tight Blonde Curls
How could you not want to try these gorgeous blonde curls for yourself? Part hair off-center and leave half of your medium braids loose to style ends with perfectly spiraled curls. Brush baby hairs smoothly or swirl them for added softness.
35. Heart Braid
Another way to add detail to medium braids without knots is by making a pretty heart shape at one side. These are typically used with lemonade braids, but we love how the small shape is featured here with black and light brown braids.
Small Knotless Braids
36. Minimalist
Tiny braids are so dainty and sweet, and are ideal for making a neater look on medium-length braids. This style features them with large curled ends.
37. Long and Thin
A blend of light brown, blonde, and black shows off really long, small knotless braids. For an easy wake-up-and-go hairstyle, part hair in the middle and be on your way!
38. Small Braid Updo
In a pinch and need a quick going-out hairstyle? Gather small braids in a high or half ponytail and let their ends drape over the shoulders.
39. Light and Dark
Here's a great way to wear light and dark hair color at the same time: go half and half on small knotless braids. For the light half, go with a mix of white and light purple or lavender.
40. Funky Updo
Do you have a little girl who loves funky hairdos? Try this wacky updo for her small braids, adding beads in different colors to make shapes, and leaving some braids loose.
Knotless Box Braids
41. Red and Brown
A mix of red and brown in knotless box braids is a beautiful combination of colors and gorgeous against dark skin. It's done just right here with long braids and curly ends.
42. Purple and Hot Pink
The spiral curled ends of these box braids wouldn't be nearly as fun without their purple and hot pink color. We have a feeling no young girl or teenager will turn down a chance to have this style!
43. Extra Long Braids
Extra length in your hair is never a bad thing, especially when you have knotless box braids. There's more room to flaunt a beautiful color and it looks pretty enough when left down.
44. Ash Gray
Make an edgy statement with braids by using a moody color like ash blonde, gray, or silver. This knotless style features about an inch of loose ends and baby hairs smoothly brushed along the face.
45. Blue Streaks
Light and dark blue streaks of color in black knotless braids have no age limit. Focus them more on one side to easily switch up dimensions or emphasize a hair part.
Short Knotless Braids
46. Braid Bob
If you're looking for a low maintenance hairdo, a braided bob is your best option. These thicker knotless braids flatter a multitude of face shapes and curl in slightly.
47. Dark Blue
Short braids are manageable for kids and help ensure any unique color, like dark blue, is seen right away. Give your little one a chic bob of her own that she can also easily tie back in a pony.
48. Beaded Ends
Three or four clear stacked beads cap the ends of these short knotless braids. Since the braids are so thin, other details like pretty swirled baby hairs peek through easily.
49. Short Half Braids
Short hair doesn't have to be boring! Leave half of your braids loose to let curly texture take hold. Their soft texture will be a chic touch to any of your outfits.
50. Bob with Glasses
If you currently wear glasses, a knotless bob braids style is an adorable cut to flatter them. Part hair off-center for the best look, smoothing baby hairs to fill in the gaps.
Conclusion
Overall, knotless braids are a very useful alternative to traditional box braids, suitable for all who don't want to experience pain and hair breakage. The aspect, styling methods, washing, and caring routine are mostly the same.
My advice would be to go for it, and love your hair!
FAQs
Are knotless braids better than regular ones?
Knotless braids are usually pain-free as they are not excessively tensed, so there are fewer risks of breakage. It is better for the health of your hair and scalp.
How do I sleep with knotless braids?
To protect your hair from frizzing, wrap a satin scarf around your head, use a satin bonnet or sleep on silky pillowcases/beddings.
Should I wash my hair before knotless braids?
Yes, definitely, wash your hair the night before getting braids, so your hair will be clean and relaxed in the morning.