A wrap-around braid is here to transform you into a real fashionista with the most perfect hairstyle. It is one of those types that comes in a variety of sizes and shapes. You will be completely obsessed with it since it makes the perfect wrap braid hairdo for any day and any event.
Latest Wrap Around Braid Hairstyles
We rounded up 5 stunning wrap around braid style below. If you find it hard to choose only one, then try them all.
The French braid is a classic and usually, the type most women know how to do. This whole hairdo is very simple, meaning that you can recreate it yourself at home.
Ideal for: This is one of those wrap braid hairdos that will really come in handy for when you're getting ready for work, going out to dinner or you just feel like your hair is not looking its best.
How to Style: You'll need to create a side part and do two braids. One will start on the right side and make its way to the right. The other one is on the right, a shorter and smaller French braid. You can take whatever's left from the right one all the way to the back.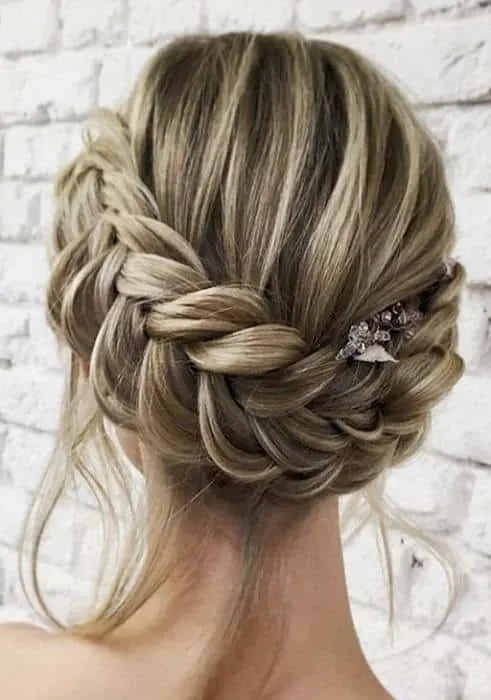 This type of wrap around braids are probably the most elegant ones that are so magical and feminine.
Ideal for: It will definitely help a bride flaunt an even more flattering look for her big day.
How to Style: Do a fun Dutch milkmaid braid that forms a crown around the head.
3. Symmetry Is Key
It's time to flaunt a much more complicated wrapped around braid. This one literally goes around and around in concentric circles.
Ideal for: It is ideal for young ladies who can't get enough of braids. Adults can work it for a special event. It's not much of an everyday hairstyle.
How to Style: You better call your hairstylists or any other braid pro that you know. This braided updo will not be so easy to copy. But it will sure be worth all the effort.
4. Diagonal Wrap Around Braid
This is a very similar hairstyle to the previous one, with the only difference that it also wraps the head around. It starts all the way on the left and ends on the right side.
Ideal for: It's perfect for long hair, that way the wrap braids will really make a huge statement.
How to Style: Start your pull through braid in the front on one side and take it all the way to the back of the other side. Wrap another strand of hair around it.
5. Really Wrap It Around
Have you been searching for a wrap around braid different from the ones on Instagram?
Ideal for: It's a unique hairstyle, completely different from everything you've seen before.
How to Style: This is the classic wrap braided hairdo, but with an added section on top, that wraps it.
These are the wrap braid styles that will be huge this year. Go through the styles and get one for yourself.