Kris Bryant is always on the field, letting people know how well he can play baseball. He has been playing baseball for almost a decade now, but he is still the star of this game. Besides his athletic abilities, Kris Bryant's haircuts are also the center of attention for many of his fans.
Even though he is mostly seen with only one haircut, it still makes many men curious about it so they can get the same. What's so special about Kris Bryant's hairstyles that men actively get it? We are going to explore all of this in this article.
What Type of Haircut Does Kris Bryant Have?
Kris Bryant is mostly seen with Faux Hawk. It features grown hair in the middle while the sides have a high taper fade. You can also call this haircut Kris Bryant's signature hairstyle in the MLB as he debuted it in one of his MLB tournaments.
Faux Hawk haircut is an easy hairstyle suitable for all hair types and doesn't require much hair care. This is why you can see Kris Bryant, a person who has to be on the baseball ground most of the time, getting this haircut. There is no need to buy extra hair care and styling products if you get a Kris Bryant haircut.
Top 5 Kris Bryant Haircuts You Should Try
Below are the top five Kris Bryant haircuts and hairstyles.
1. Basic Faux Hawk Haircut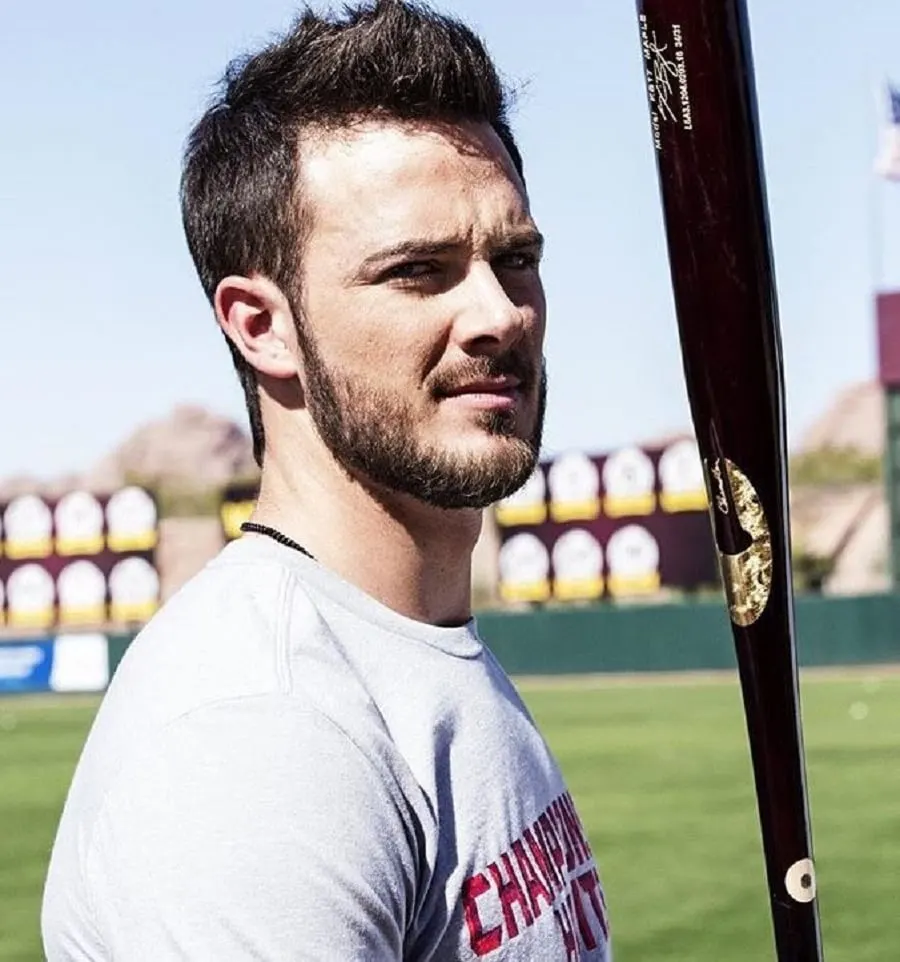 The haircut Kris Bryant can be seen with is the most basic type of faux haircut you can easily get from any hairdresser.
It features longer hair on the top of your head while the hair from the sides is cut shorter. You can style this haircut with regular hair gel or other hairstyling products to keep the faux cut in place. It is a perfect haircut for the summer season.
2. Faux Hawk Haircut With Fade
Kris Bryant was also seen with the faux hawk with fade. The hair near to his ear looks almost shaved, which makes the hair at the top appear fuller. This haircut gives your face a slender shape and helps make your jawline and cheeks prominent.
When you get a faux hawk with skin fade, you will observe that your beard also appears to get more density. Style this haircut with gel to keep the hair strands in place if you have thin hair.
3. Messy Hair
Apart from Faux Hawk, Kris Bryant was also seen with messy hair that was looking properly styled. His hair is cut nicely on the front and top of the head while the sides are shorter. His hair is naturally draped over his forehead, giving him a boyish look.
You can also create a messy fringe look out of this haircut. But we think that his hair looks great as it is.
4. Baseball Mullet
Baseball fans probably know about this haircut. Baseball Mullet has been popular ever since baseball started being played on American grounds. The mullet becomes the center of attention when the baseball players wear a cap.
Baseball mullet is perfect for people who do not have much time to book a hair appointment but still want a trendy hairstyle. It doesn't need styling and you can confidently let your mullet outshine you while wearing a cap.
5. Faux Hawk Haircut with Taper
If you don't want to cut your hair shorter, you can get a Faux Hawk haircut that features longer hair. Grown Faux Hawk is best for people with more hair density than usual and thicker volume.
Get a low-taper haircut with the usual faux haircut to give your hair a good finishing look. Use gel or other styling products suitable for your hair type.
Kris Bryant sports simple haircuts that suit his look. If you are a baseball fan, you should get this haircut as soon as possible. If you are not a fan, you should still get a Faux Hawk haircut, as it's unique and different from usual haircuts for men.